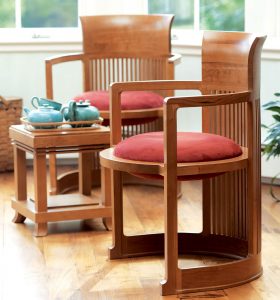 Elegant Seat
Originally designed for the Taliesin Residence in Wisconsin, the Barrel Chair is one of Wright's most well-known and loved pieces — and is also the product of over 30 years of development and revision, from its first incarnation in 1903 to Wright's final design in 1937, which is painstakingly reproduced in this Copeland Furniture replica. Use it in its traditional context around the dining room table, or as an eye-catching accent in a home office; $1,318; CopelandFurniture.com.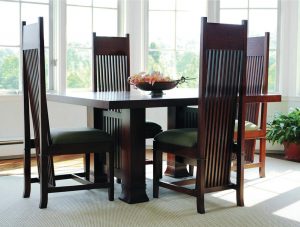 Intimate Setting
The perfect dining room table should be both elegant and intimate — a balance Frank Lloyd Wright struck perfectly in his Dana-Thomas Extension Table, designed in 1902. Seating 6 in its standard configuration, the deceptively simple design conceals two self-storing leaves which enable the table to expand to comfortably fit up to 12 people. Copeland manufactures their edition of this classic piece in Vermont in either white oak or cherry, with a choice of 4 finishes; $7,740; CopelandFurniture.com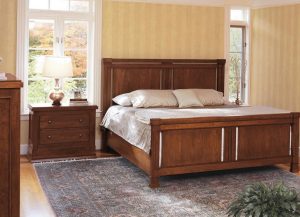 Perfect Rest
Simple and timelessly beautiful, this Meyer May Bed was designed over 100 years ago, a quintessential example of Wright's Prairie Era work. Wood posts and panels are separated by thin openings, creating a sense of lightness and grace in an otherwise solid and substantial piece. Originally a twin, Copeland Furniture adapted the piece in Queen, King and California King sizes without sacrificing any of the grace of Wright's design; $4,290; CopelandFurniture.com.
Design Management
At California Closets Miami, we realize how important time is to our busy clients' hectic lives. My goal, as a designer, is to help customers organize their space to increase efficiency and productivity. Simple steps, like adding drawers or utilizing accessories such as our belt racks, jewelry inserts and pullout valet rods can instantly increase organization by ensuring everything has its own place. I believe that designating specific spaces for storing items is the foundation for organization because it reduces clutter and makes lengthy searches for items unnecessary. Our solutions are especially important for parents. With the new school year, an organized storage solution will make mornings and getting ready for after-school activities a breeze. Additionally, our products are more than simply functional and efficient, they're also beautifully designed. We have a variety of options for customers seeking to create an elegant solution for their storage needs, including our custom-made sliding doors and our extensive line of Italian finishes. California Closets provides the perfect marriage of efficiency and design for our constantly busy, but eternally classy clients.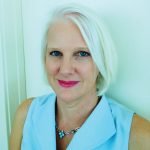 ABOUT THE AUTHOR
› Robin Annon is the Lead Designer for California Closets Miami. She has been providing custom storage solutions for Miamians looking to get organized without sacrificing fashion for function for almost 5 years; CaliforniaClosets.com/Miami.