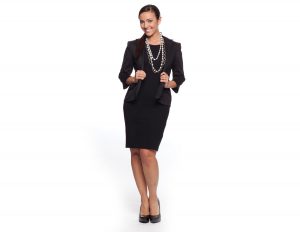 I often get asked by my clients how to properly dress for work-related events outside of the office. Even though you are out of the office, and often away from your regular co-workers, you need to keep in mind that you are still part of a business environment. So I recommend choosing simple garments. And by simple I don't mean boring pieces, or pieces that are too gaudy. Nor do I suggest necklines that are overly pronounced, or exceedingly short-length skirts. The goal to a successful work-related, after-hours look is to create a sense of balance between femininity and professionalism.
For a casual business lunch: Match a pencil style skirt with a neutral color blouse. Give it a modern and chic touch with a wide belt that frames your waist. Finally, accentuate the outfit with golden accessories.
For a formal business dinner: If you have a business dinner after work, a nice tailored suit is the perfect choice. Wear it with a specially detailed blouse, as this neck bowl pictured here, which gives a touch of sophistication to your look.
For an after-hours business cocktail: The goal here is to wear a feminine but discreet dress, the length to the knee or slightly above it. Give it a stronger feel by wearing a blazer. As for the shoes, it's always a safe bet to opt for a pair of pumps.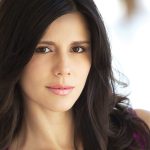 › Marisol Gomez is an Image & Style Consultant who helps individuals find their inner essence and then coaches them on how best to show it to the world. For more style and image tips, visit Marisol-Gomez.com.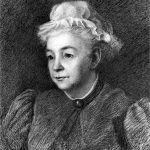 "Oh, never mind the fashion. When one has a style of one's own,
it's always 20 times better."
— Margaret Oliphant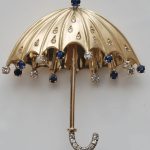 Staying Dry
In 19th Century England, umbrellas were considered a luxury item, as they were made from silk. Poorer types who wanted to keep dry could rent one for 1½ pence per hour.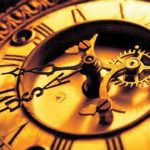 Haute Clocks
According to Ripley's Believe It Or Not!, the Comte d'Artois was known to have had a set of diamond buttons, each of which contained a miniature clock. Talk about over the top!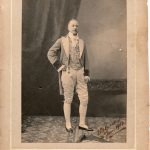 Darcy Style
As any lover of Jane Austen flicks is aware, the fashion among 18th Century English gentlemen was to wear pants so tight they could only be put on by being hung on pegs and jumped into.