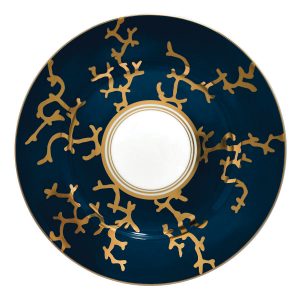 Organic Forms
Set your table to stun with the exotically gorgeous Cristobal Collection from long-standing favorite Raynaud. Designed by Interior Decorator Alberto Pinto, these richly-hued pieces sport a pattern stolen from the seas: branching coral in contrasting marine, white and gold. And of course, since they're from Raynaud, every item from saucer to platter is made of ultra-luxurious Limoges porcelain, requiring the work of 30 craftsmen from start to finish; Raynaud.fr.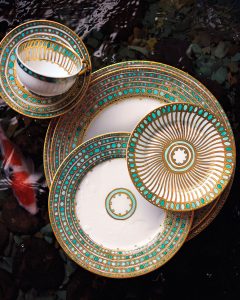 Ancient Vibe
Cicero called it the most beautiful of the cities of Greece: We're talking, of course, about ancient Syracuse. The home of Archimedes is also the inspiration for this stunning pattern from Robert Haviland & C. Parlon. The designers have captured the jewel-like tones of the waters that surround the legendary city, melding them into hand-painted, gold-edge patterns inspired by historic Greek art. It's truly a masterpiece worth investing in; Mottahedeh.com.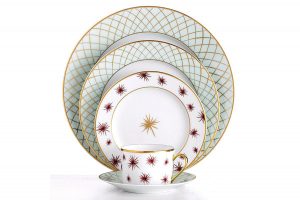 Gorgeously Retro
Combine 1940s-era forms with an elegant modern design accented with a touch of whimsy, and you'll have something like the Étoiles Collection from Bernardaud. Designer Hervé Van der Straeten has harkened back to the aesthetic of his favorite era in creating this stunning combination of burgundy-gold starbursts and delicately traditional gold weave on an eggshell blue background. Every piece is handcrafted and hand-painted on luxurious French-made porcelain; Bernardaud.com.
Hot Trends
Looking for the latest in furniture trends? Today's leather furniture is soft, tactile, homely, natural and comfortable… and very different from the traditional image of leather upholstery. These leathers, some of which are recycled, are treated today with sophisticated tanning systems. They feel soft, as though they were fabrics. Even the leather cuts and stitching follow this logic. To succeed today, each piece has to be special in its own way and different from the others, revealing the refined craftsmanship technique of years past. These pieces narrate their secrets as if they were the conversations that those pieces witnessed historically. The upholstery is designed to be a nesting place, a cradle and a special refuge. The final look has to be flexible, in that it is able to shape and cater to every whim — whether for sleeping, lying down, regaining energy, finally feeling at home, reading, meditating or dreaming. You can find this and other new trends at Internum & Design in the new collection from Baxter. And best of all, you'll be checking them out before anywhere else in the world.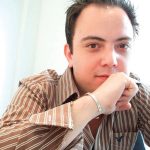 ABOUT THE AUTHOR
› Mauricio Garcia is an architect with 10+ years of experience in architecture and interior design. Throughout his career, he's worked with the top European furniture brands and is currently Head of the Internum & Design Miami team; Internum.com.