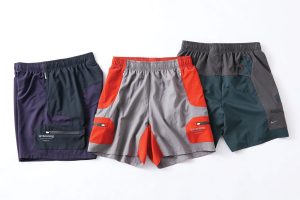 Active Shorts
If you're a regular runner, you know that choosing the wrong shorts or running pants can cost you some serious chafing and discomfort. These Fabric Mix Shorts from Nike's Gyakusou Line are made from a breathable material designed to draw moisture away from your skin far better than traditional cotton or polyester. Dryness means less potential for discomfort. They're also designed with seams on the outside, rather than up against your skin. While interior seams are great for jeans, they cause unnecessary friction when you're running. Add to that a paneled cut created to accommodate the motion of running, and you're light years ahead of typical trunks; $150, Nike.com.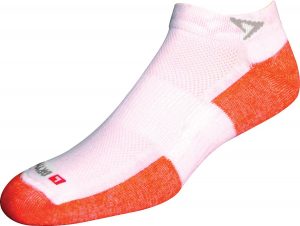 Happy Feet
Unless the game you're playing involves pushing buttons, your feet are likely to be a key part of your movement. Especially in sports that involve running, choosing the right socks can make an immense difference in your comfort level. These Maximum Protection Running Mini Crew Socks from Drymax use the brand's patented Blister Guard System to help prevent damage to your skin, and boast a light additional padding along the sole to help reduce impact without altering the fit of your shoes. They're also made from high-tech fabrics that pull moisture out and away — and when it comes to your feet, moisture is most definitely not your friend; $22.50, DrymaxSocks.com.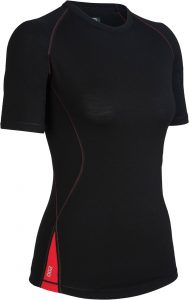 Feeling Sheepish
This SS Pace Crewe is made from a fabric with amazing qualities: quick drying, temperature regulating and naturally odor-reducing. What is this miracle material? Merino wool, actually. But don't start imaging working out in that itchy sweater your grandmother knitted for you. Icebreaker's merino is gorgeously soft, lightweight and comfortable. Just as it does for the New Zealand mountain sheep it came from, this material naturally helps keep you cool during warmer temperatures, and warm when it gets colder; $75, Icebreaker.com.
Skin Win
Far too many Americans, particularly young adults, don't understand how serious skin cancer really is. In fact, each year there are more new cases of skin cancer than the combined incidence of breast, prostate, lung and colon cancer. One in five Americans will develop skin cancer in the course of a lifetime, with melanoma the most common form of cancer for young adults age 25-29, and the second-most common for young people age 15-29. The good news is that with precautionary measures and early detection, the majority of skin cancers are preventable. Melanoma has a genetic basis, so it's imperative that families get checked on a regular basis. Melanomas have different appearances, but generally look like moles that have asymmetry, or irregular borders. They can also look like moles with different colors in them, or that are larger than 6mm, which is the size of the back of a pencil eraser. The most important thing is to be aware of how your moles look and if any of them change, you need to see your dermatologist. If you have many moles, you can have pictures or a map of your moles created for you by your dermatologist so that you can both keep track of any unusual changes.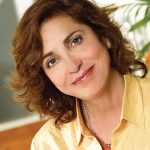 ABOUT THE AUTHOR
› Dr. Susana Khouri is a Board-Certified Dermatologist at the Dermatology & Plastic Surgery Center at 580 Crandon Blvd. in Key Biscayne. For more information, call 305.361.8200 or visit MiamiDermatologyCenter.com.