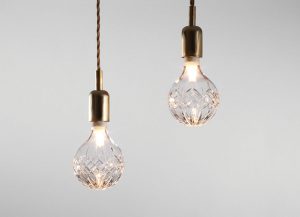 Faceted Glow
We love it in wine glasses and decanters. How much more gorgeous does crystal look when it's housing a light source? British designer Lee Bloom's Crystal Bulbs are each individually hand-blown from lead crystal, then cut into a classic faceted pattern. Best of all? The Crystal Bulb will fit any standard lamp. And no, it's not a standard incandescent — the bulb burns with a replaceable G9 Halogen bulb with 2,000 hours of light life; $172, LeeBroom.com.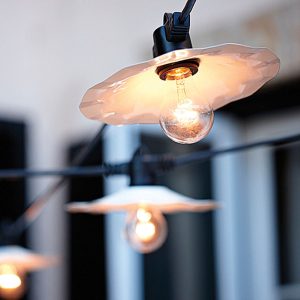 European Flavor
Like string lights? Great. But there's something a little less than classy about rows of glowing red chili peppers. For your outdoor space, opt for something more stylish like these options from Piazza. Inspired by the lighting designs seen at European cafés, each bulb is framed by a substantial, powder-coated metal shade. The included 25W bulbs provide a soft, romantic glow. It's a look you'll be happy to leave up year-round; $150, SerenaAndLily.com.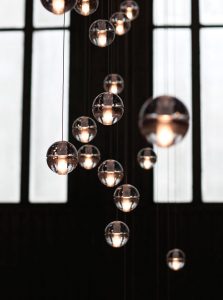 Modern Illumination
It's like bringing the stars into your home: Bocci's stunning 14 Series chandeliers come in a variety of arrangements that fill your space with clusters of softly glowing spheres. The seamed, cast glass orbs are lit with either a 10W xenon or proprietary LED, both replaceable. Each piece of glass is handmade, and therefore unique — the light sparkles off of bubbles and tiny imperfections in the glass, making for a truly stunning effect; Bocci.ca.
Perfect Line
Deciding what surface will best fit a space and why is one of the most difficult choices clients have to make. For some, maintenance is prioritized over the resistance of the material. Others do the opposite. But most people focus on the design. When it comes to this factor, our new TREND Line, whose base is predominated by different shades of grey, is a great choice. I see it as a reflection of life in a city in summer. It's a good fit for consumers who consider that going to the stores is something chic, who value design, quality, small oddities and the capacity and durability of products to improve their quality of life as a status symbol. It's a unique and balanced collection, soft and harmonious, where simplicity and purity are its hallmarks. But TREND is also designed for a healthy life, as our manufacturing engineering results in 0% porosity that makes unnecessary the addition of antibacterial chemicals. In addition to great design, TREND also means high hardness, impact resistance, flexibility, easy cleaning and low maintenance costs, which we consider key for our products. This new quartz COMPAC Collection shows how you can have great design without sacrificing your need for easy maintenance and durability. That's why I've been recommending it as a perfect way to make any space a unique and innovative place. It shows how our products are ideal for creating stylish and elegant spaces whether used in kitchens and bathroom countertops, or as flooring, tiling or any surface that withstands a high transit of individuals. It's just perfect!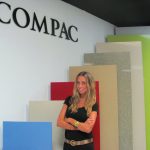 ABOUT THE AUTHOR
› Paula Molina is part of the U.S. Marketing & Sales Department for COMPAC. To find out more about COMPAC surfaces and how the company's team can help take your spaces at home and in the office to the next level, visit COMPAC.us.