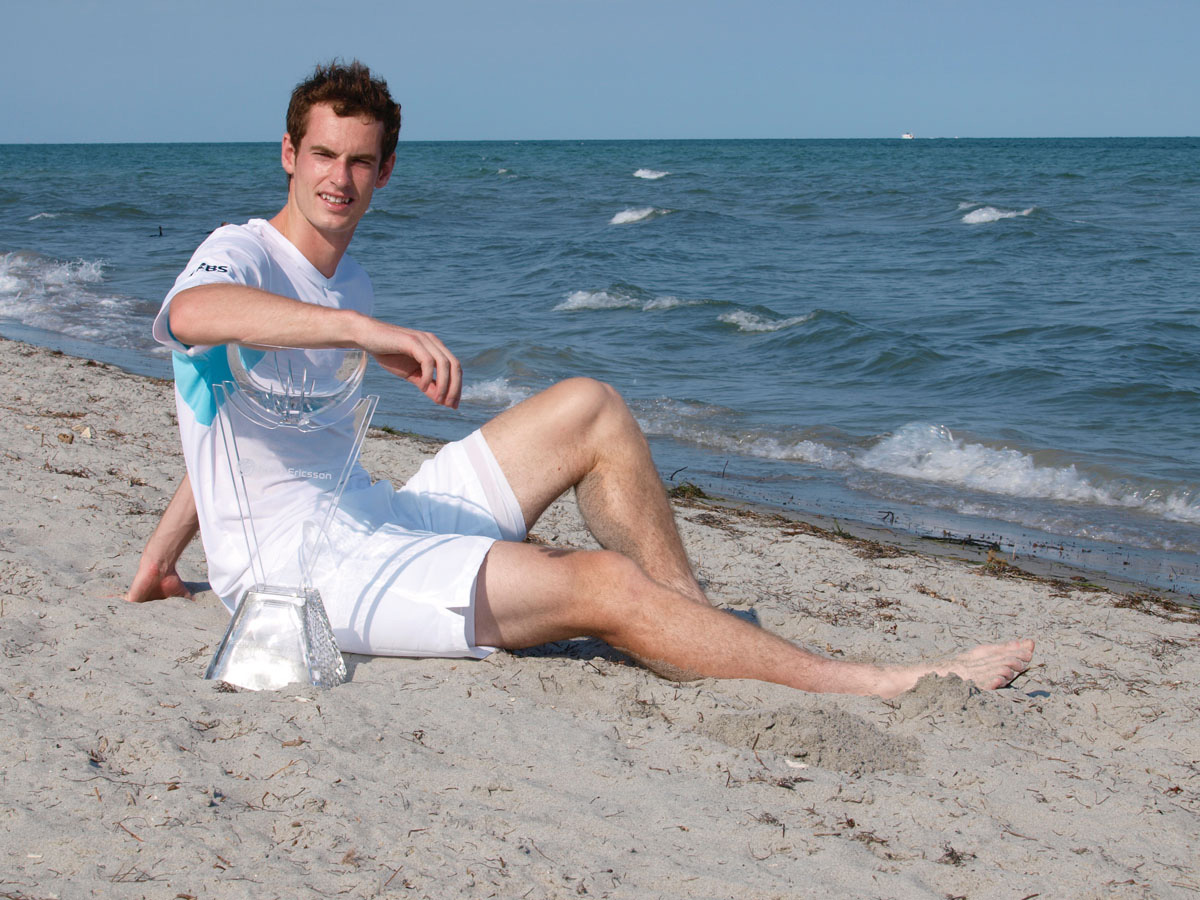 Andy Murray is building on a career that seemingly started when he was just a toddler. "I started playing tennis very early, around the age of three," he says. "I definitely remember having a mini-racquet when I was 2: a bright green thing with multi-colored strings."
Today, he comes in at 6'3 and 185 lbs., the right-handed pro player continues on a path paved by his athletically inclined family. Murray was born on May 15, 1987, to parents William and Judy, a former Scottish national coach. His maternal grandfather was professional footballer Roy Erskine, who played in the Scottish Football League. Naturally, the Murrays gave birth to prodigies Andy and his brother Jaime, who is also a professional tennis player on the ATP circuit.

With his bright-green racket and football influence, Murray grew up playing tennis and soccer, eventually choosing the former. "I love the fact that it's just you and your opponent on a tennis court; I guess that's why I love boxing too," he says. "I think it's really important kids have the chance to try loads of stuff, and we were lucky like that."
Luck, and lots of talent, seem to be a consistent thread in Murray's life. His South Florida connections began at age 12, when he won the prestigious Orange Bowl tournament in Miami, making him the only person in the under-12 event to go pro. At 15, he left Scotland for Barcelona to reign at the Sanchez Casal Academy. The rest was history.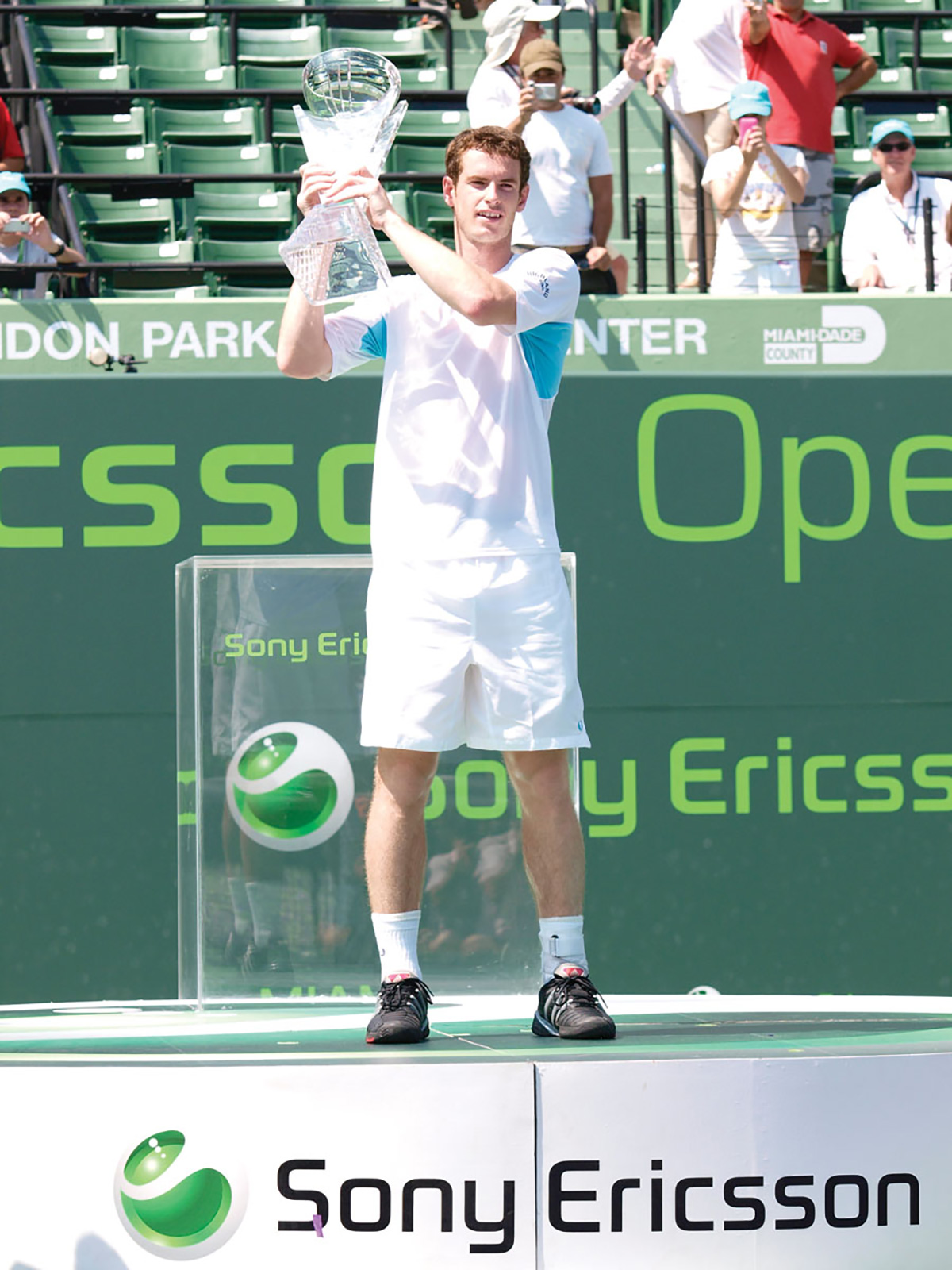 Fast forward to 2005 and Murray goes pro, making his debut at the Davis Cup where he became the youngest man ever to represent Great Britain. That same year, he made the biggest jump of any player in the Top 100, climbing a whopping 449 spots to land at No. 65. He was the second-youngest player (behind Novak Djokovich) in the Top 100. He made his ATP debut in Barcelona, winning his first match at Queen's. All this before reaching his first ATP final in Bangkok, where he fell only to Roger Federer.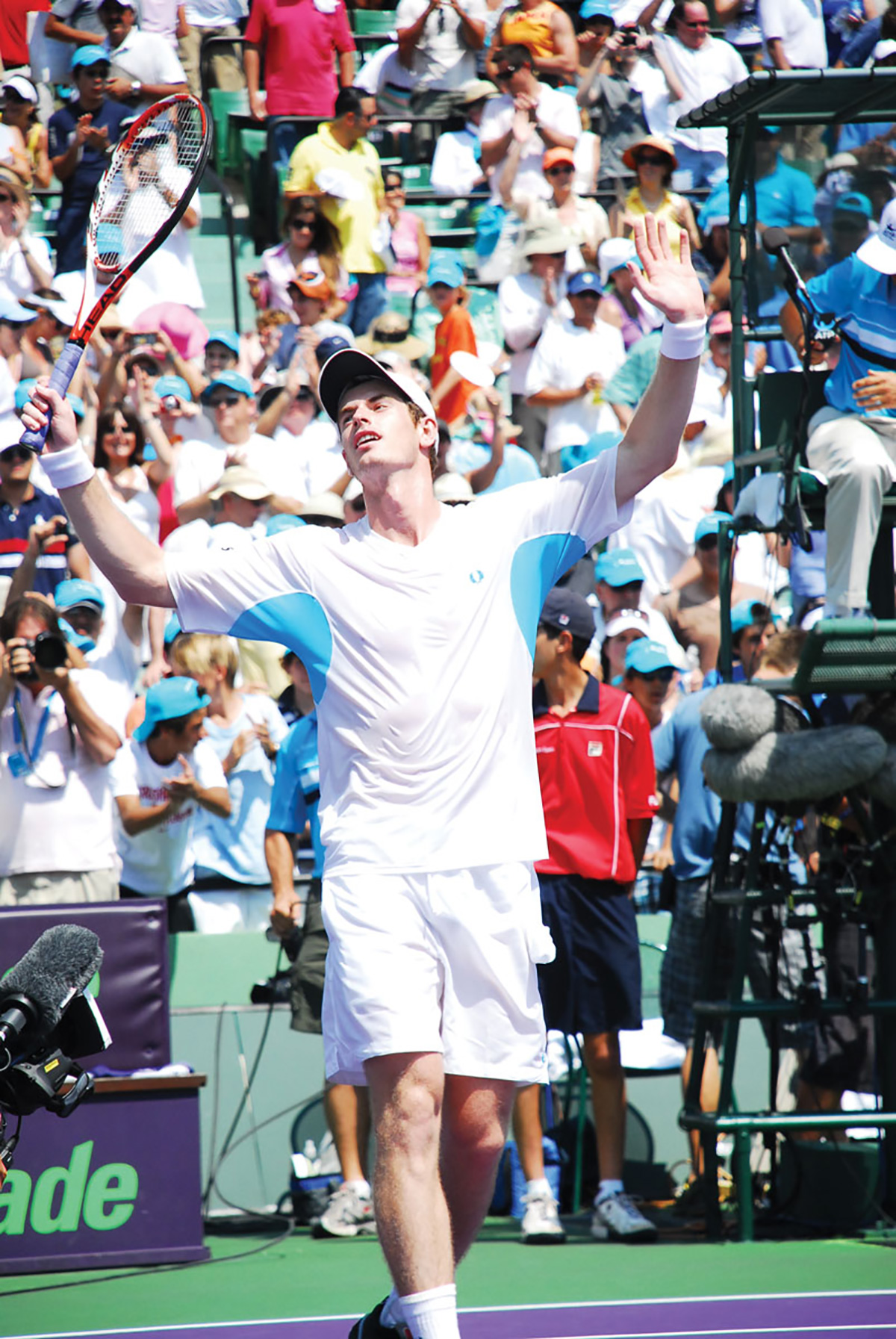 The year 2006 elevated him to No. 17, earning him his first ATP title in San Jose, where he defeated Andy Roddick. In 2007, he broke Top 10, and in 2008, he won a career-high five ATP titles. He shattered that record in 2009 with the six wins that landed him at No. 2.
Among them was a win on Key Biscayne soil, where he became the first British player in the tournament's 25-year history to earn the title. In the final match against Novak Djokovich, Murray dominated the first set for a 4-0 lead. While Djokovich seemed to make a comeback in the second set — coming up with a 4-1 lead — Murray fought back, winning the set 7-5 to secure the win.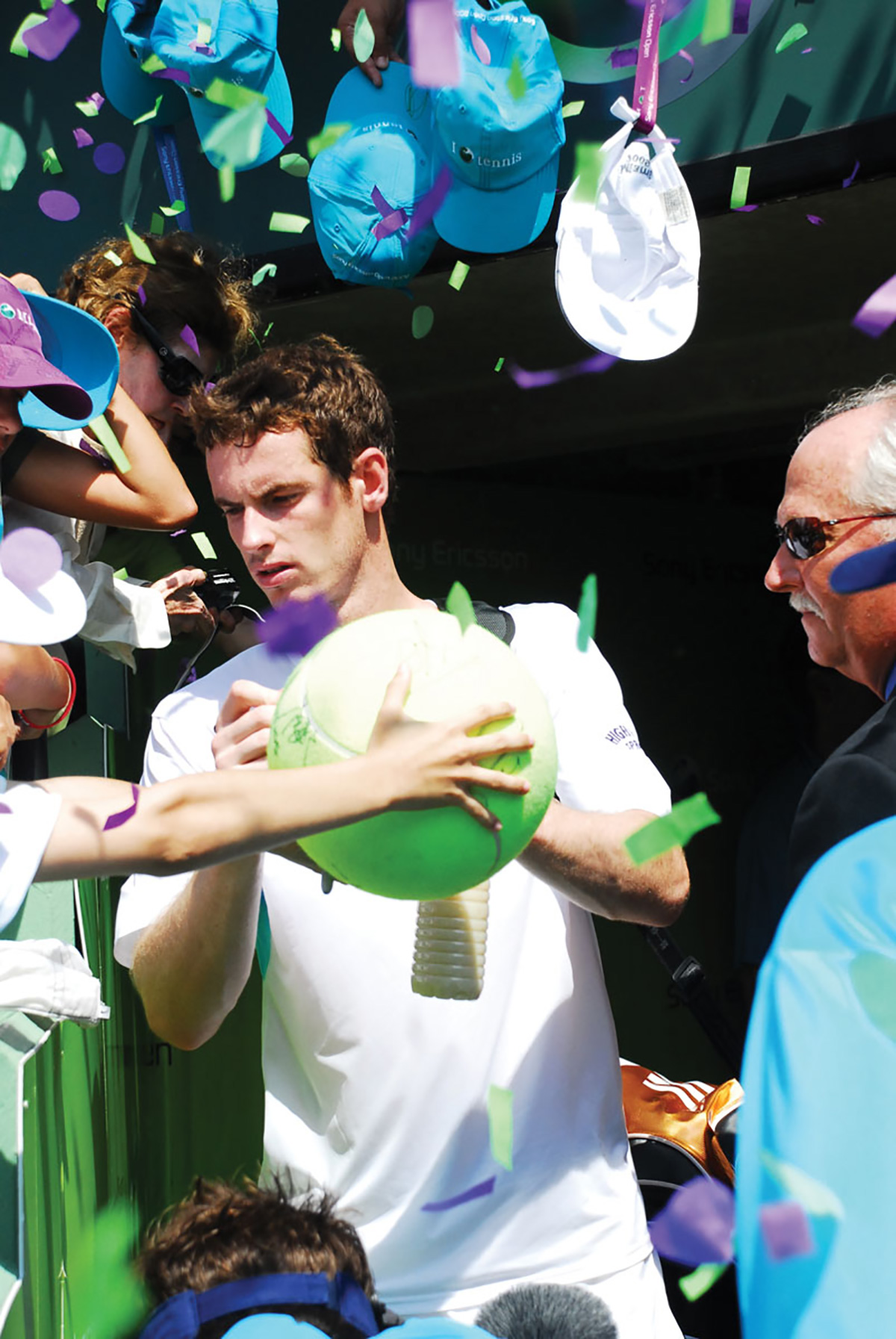 His top tip? "Watch the ball; you can't hit it properly if you don't know where it is," he says. And with that he's off to defend his title at the 2010 Sony Ericsson Open.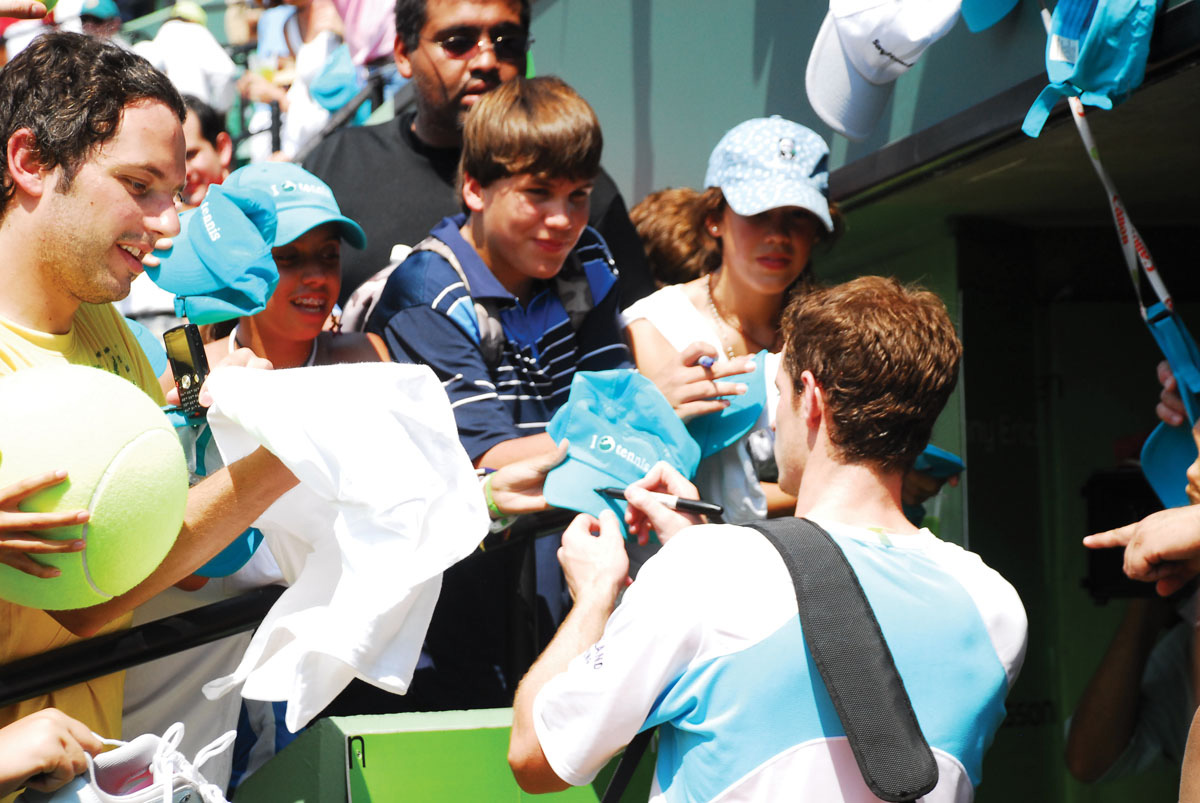 Q&A
Andy is just as involved with his fans on the court as he is off the court, answering questions posed by his devout fans through his Facebook page. Below are some of his favorite Q&A sessions:
Q: What are your top mental tips?
A: "For me it's about removing doubt by making sure you're as well-prepared as you can be. That's why I'm happy to work really hard in training blocks, and why I work hard in practice. It's because I want to arrive at a tournament knowing I've done everything I can."
Q: What's the best way of developing a powerful serve?
A: "The thing with the serve is not to see adding muscle and strength as the best way of getting more juice on it. It definitely helps, but the best starting point is your technique. It all starts with the ball toss — the serve all flows from there. It's really important to be consistent. Try and stay loose on your serve, too."
Q: What do you do to chill out after a match?"
A: "Dinner and lots of comedy DVDs! After a long match it's good to just switch off."
Q: Does Team Murray have any superstitions?
A: "No, not really. Well, other than Miles (Andy's coach). He's really superstitious. If I win a round, then we'll go back to the same practice court at the same time, and the same place for dinner. We all just go along with it!"