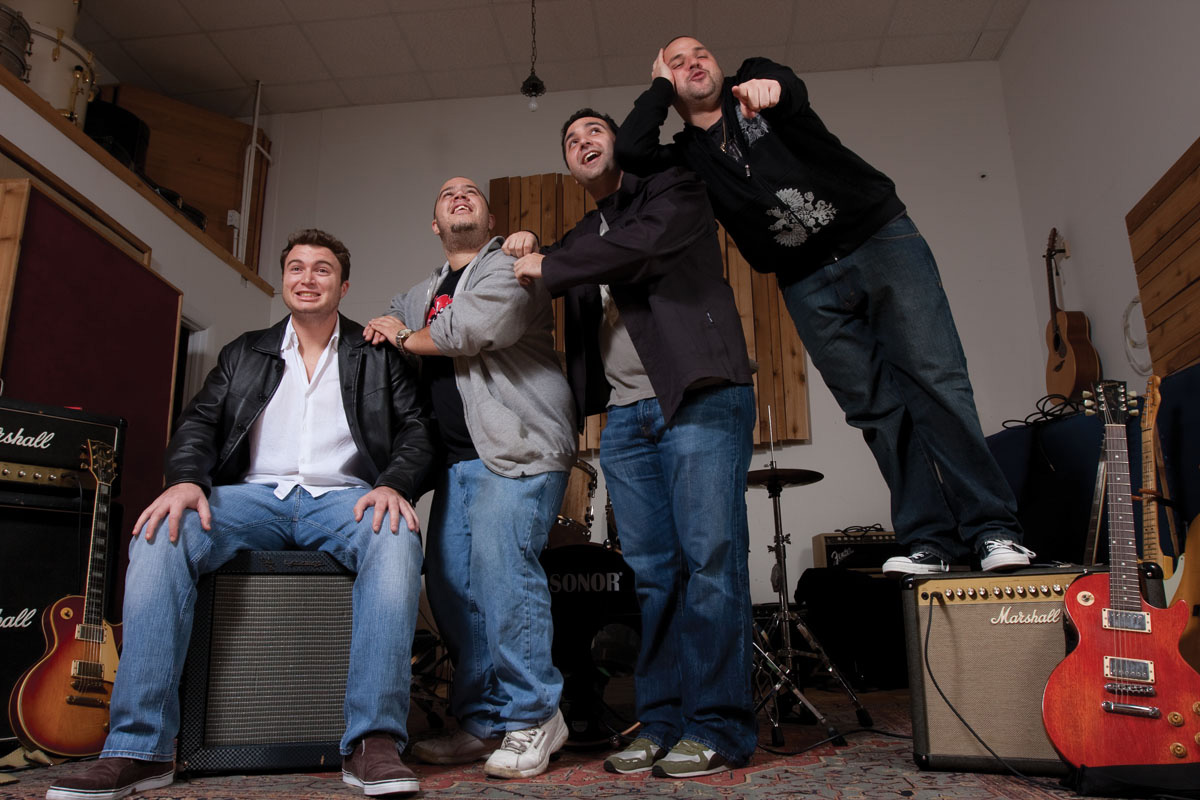 The stars aligned early in 2003 when Alex Batlle, Mike Portuondo, Brian Shervington and Alex Gonzalez-Kakouris (a.k.a. AGK) fused their instrumental talents to produce a genre of feel-good music that has made them one of Miami's most sought-after bands…just don't check your sense of humor at the door!
"The Keyrats have been able to combine a mixture of diverse backgrounds, creativity, and talents to produce what I think is one of the best sounds to come out of Miami," says the band's manager, Christian Fong. "It's a fusion of rock leads, reggae riffs and jazzy melodies with catchy hooks that seems to attract audiences of all kinds."
Now on their sophomore album, the 'Rats base their music on the long-standing notions of sex, drugs and rock 'n' roll. While some of their lyrics may be a cause of controversy, they recon it's one of the elements that makes the band unique. "We care, but we don't care," says AGK, the group's guitarist and backup vocalist, adding that the band's target audience is 18+.
Take the "Cooter" track as an example. Don't let the toned-down lyrics strone throughout the verses fool you into thinking this song is PG. Lines like "And when I see you standing there, with your blue eyes and blonde hair, I want to take you to my room, and show you what I can do," are hardly as explicit as it gets. At the same time, the band shows a much softer side in "Leaves of Paradise" and other tracks. According to the band's MySpace music page, they aren't simply a band fusing melodic reggae, Latin funk and heavy punk-rock; they also represent a lifestyle, echoing their experiences of growing up in the Magic City.
Regardless of how true their songs are to actual experiences, the band is known to bring down the house with their live performances throughout Florida, playing at popular venues that include Oxygen Lounge, Bolero, Dolce, Cefalo's and Boardwalk Tavern. "In 2007, we traveled the southeast with a 10-city tour beginning in Gainesville and ending on Key Biscayne," says Batlle, the band's lead vocalist and guitarist.
And while their music resonates throughout the Sunshine State and beyond, it all began on Key Biscayne. The band started playing live in the Bayside Hut, which at the time was managed by Portuondo, the bassist. It's where they threw the record release party for their debut LP album Don't Panic, and where they may have the release party for their forthcoming album.
The Keyrats' new, more mature album is currently in the recording stages, and will feature acoustic guitars and other instruments as well. It will definitely be one of those albums you can play from the beginning to end without wanting to skip any tracks," says Fong. "The beauty about the Keyrats' music is that everyone can relate to it one way or another — whether it's because you grew up on the Key and understand its lifestyle, or you're going through heartbreak, there's a song for everyone."

Although the band has yet to be signed by a major record label, it's bound to happen for a group that composes its music out of instinct. "Just the other day, I jumped in the tub subconsciously humming a song from my dream — I had to get out and write it down mid-shower so I wouldn't forget it," says Batlle of the last track on one of their albums. "My whole day was on hold until I finished recording the song in my home studio."
Despite a large fanbase and constant performances, these rock stars stay grounded as they face the challenge of moving forward during the current state of the nation. "Currently the economy is our biggest challenge," explains Fong. "We face venues with low budgets or bands that will play for little to nothing." As a result, they are holding on to their day jobs. Batlle is Assistant Parts Manager at BMW Motorcycles of Miami; Portuondo is an accountant; and AGK works in the hotel management industry. Meanwhile, Fong is a law student at the University of Miami. As a new administration leads the country on a path toward an exciting future, the Keyrats, too, are on a journey. "Our main goals are getting our music out to the masses, staying true to ourselves and our music, becoming better musicians and songwriters, and having more financial stability." And you can bet they're psyched to be grooving toward their goals while being able to march to the beat of their own drums — literally!