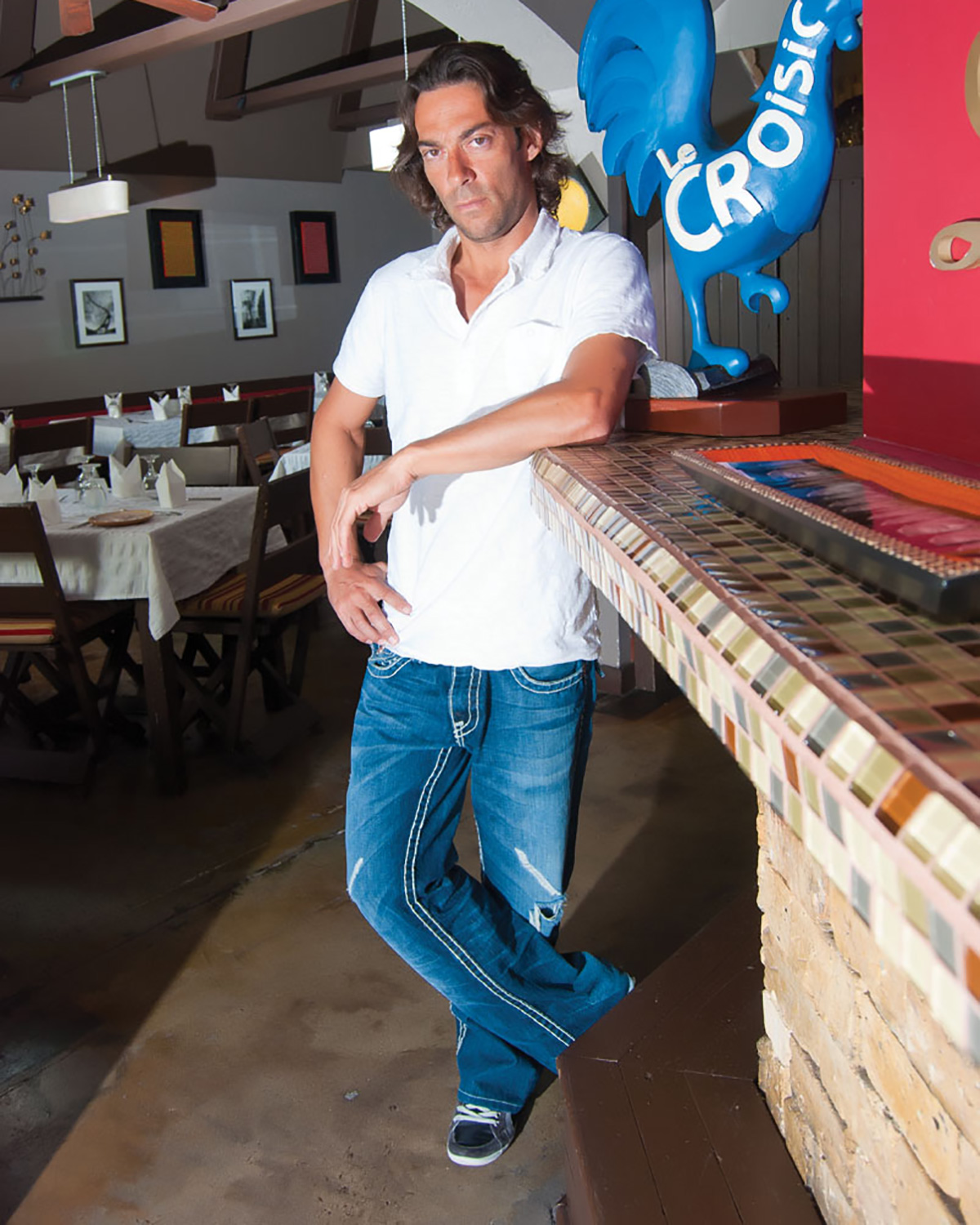 Resonant Cuisine
"I am a very firm believer that you are what you put in your mouth."
Beginnings are a crucial part of us, and no one appreciates this more than Oscar Quijano. "My father is a guitar player and a restaurateur in Leon, Spain, so both careers were part of me since childhood, and they have ultimately become my dual career," he says. Quijano launched his music career with his brothers Manuel and Raul as the band "Cafe Quijano" in 1998 before partnering with his wife, Adriana, five years ago to manage the chic Key Biscayne restaurant Le Croisic French Bistro, which she started in 1999. There, live music, great service and quality food are at the core of the couple's venture, and the enigmatic duo have been working full speed ahead ever since joining forces. Looking into his crystal ball, Quijano (who's favorite phrase is "se puede" or "you can") is nowhere near finished: Musically, his band will release a new album this fall, and Le Croisic French Bistro, he says, is "coming out strong" with sought-after catering services, cooking classes for kids and designer menus for private events.
Quick Facts
Breaking Ground: His band, Cafe Quijano, was the first Spanish group to be nominated for an American Grammy, and has enjoyed success ever since forming in 1998.
His mantra: "Study and learn — I believe there's no such thing as too much knowledge, and there's always something new you can learn."
If he wasn't a barman and a pop star: "I'd be playing music in the subway," he laughs. "Honestly, music is my life and I can't imagine living without it!"
Text by Cristina Zuazua; Photo by Antonio Eli
Oscar Quijano is Restaurateur & Singer at Le Croisic French Bistro; Open Wed.-Sat., beginning on Sept. 1; 180 Crandon Blvd., Ste. 117, Key Biscayne; 305.361.5888; Facebook @ Le Croisic French Bistro.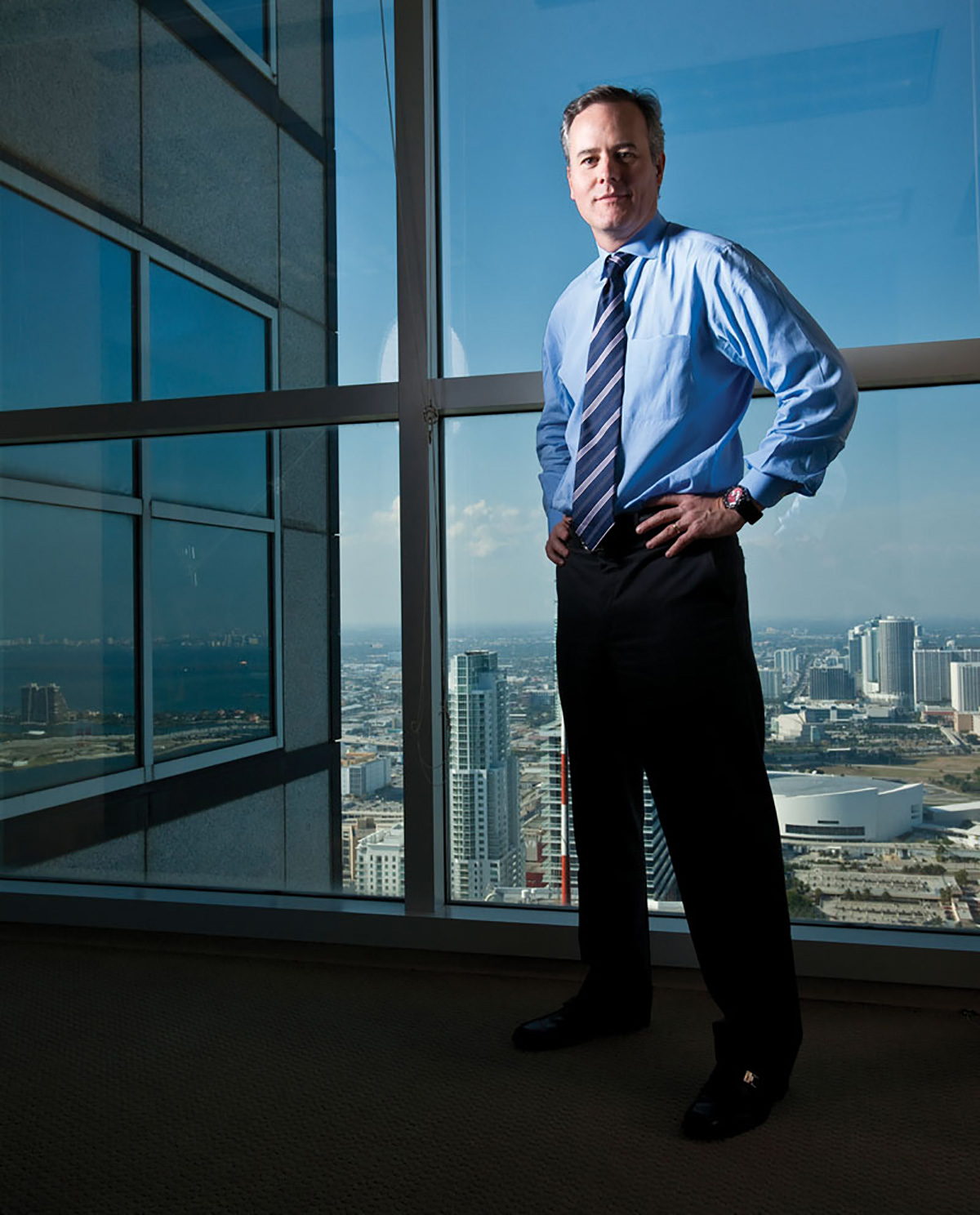 Good Counsel
"Our clients bring us more than their financial needs — they look to us to help make their lives better."
The wealthy in Miami have a myriad of financial options, but Patrick Dwyer helps them pick the right ones. As a Private Wealth Advisor serving the needs of ultra-affluent Miami families through the Private Banking & Investment Group at Merrill Lynch, he stresses that strong relationships with his elite clients is the key to providing them with the best guidance. "Through a one-on-one relationship with clients," he explains, "we provide sophisticated and highly customized solutions to meet their unique needs." As one of Florida's highest-ranking financial advisors, Dwyer manages a team of 6 people in Miami that currently advises 40 families. Among other things, they offer private banking services for their clients, which includes investing capital, estate planning, lending services, and advice on concentrated stock and risk-management strategies.
Quick Facts
Accolades are frequent: He was recently recognized as one of "America's Top 100 Advisors" in Barron's and has previously been included in Registered Rep's annual list of "America's Top 50 Advisors."
Must-have in the morning: "The Wall Street Journal and Financial Times."
He's a community man. "I'm the Chair of the Key Biscayne Community Foundation and on the Board of Trustees at Mercy Hospital."
Text by Cristina Zuazua; Photo provided by Burson-Marsteller
Patrick J. Dwyer is a Private Wealth Advisor at Merrill Lynch Private Banking & Investment Group; 200 S. Biscayne Blvd., Ste. 4500, Miami; 305.577.6929; PWA.ML.com/DwyerAssociates.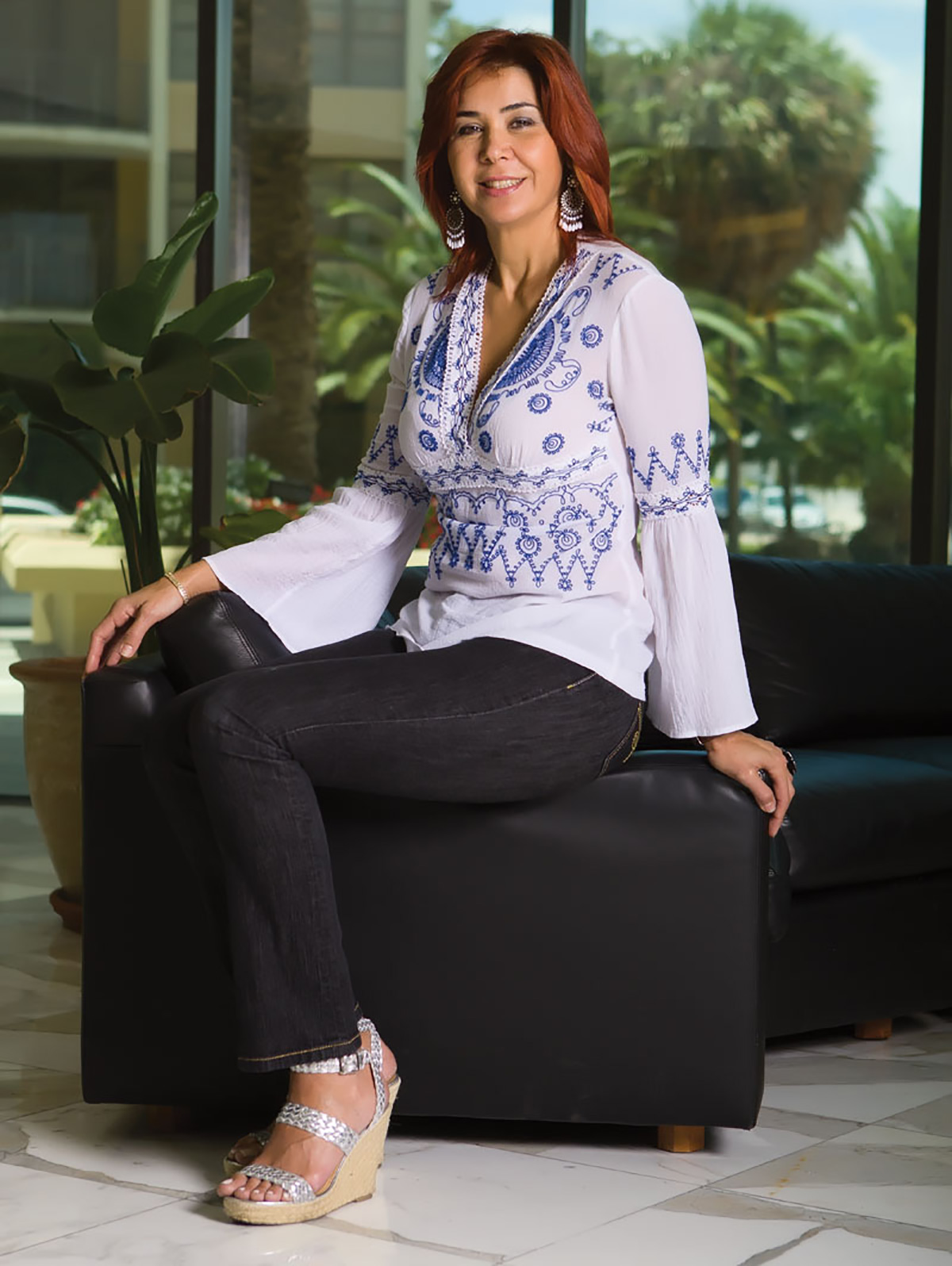 Intelligent Design
"The best part of any project is seeing it from the beginning designs to the end of construction."
When it comes to construction, Clara Garcia knows it's all about harmony. The animated entrepreneur began her studies in architecture in Cuba and wasted no time founding Adonai Design & Construction, Inc., in 1999 after obtaining her General Contractor license the same year. Just over a decade later, Garcia has grown her business so much that now she can organize the design, contracting and building processes into a coordinated whole. Crediting long hours and a love of her industry, Garcia has completed projects on everything from healthcare facilities to retail outlets and condos. Her work includes a "do unto others" philosophy, which makes her work stand out. Asked if she could see herself doing anything else, the ambitious Garcia answers: "I'd always want to be working in the design industry — perhaps in fashion or interior design — there's just so much out there!"
Quick Facts
How she stands out: "I tend to take each project I work on incredibly personally and I think this mentality really comes through positively in from the initial stages up through the final product."
The sweetest moments of balancing kids and a high-pressure career: "I love showing my daughters all of the buildings and homes I've designed and built. I hope it serves as an inspiration to them and they are proud of the work I do."
Favorite drink poolside: "That's a no-brainer: I love sipping on apple martinis!"
Text by Cristina Zuazua; Photo by Antonio Eli
Clara Garcia is the President & Owner of Adonai Design & Construction; 2519 Galiano St., Ste. 101, Coral Gables; 305.441.1365; AdonaiDC.com.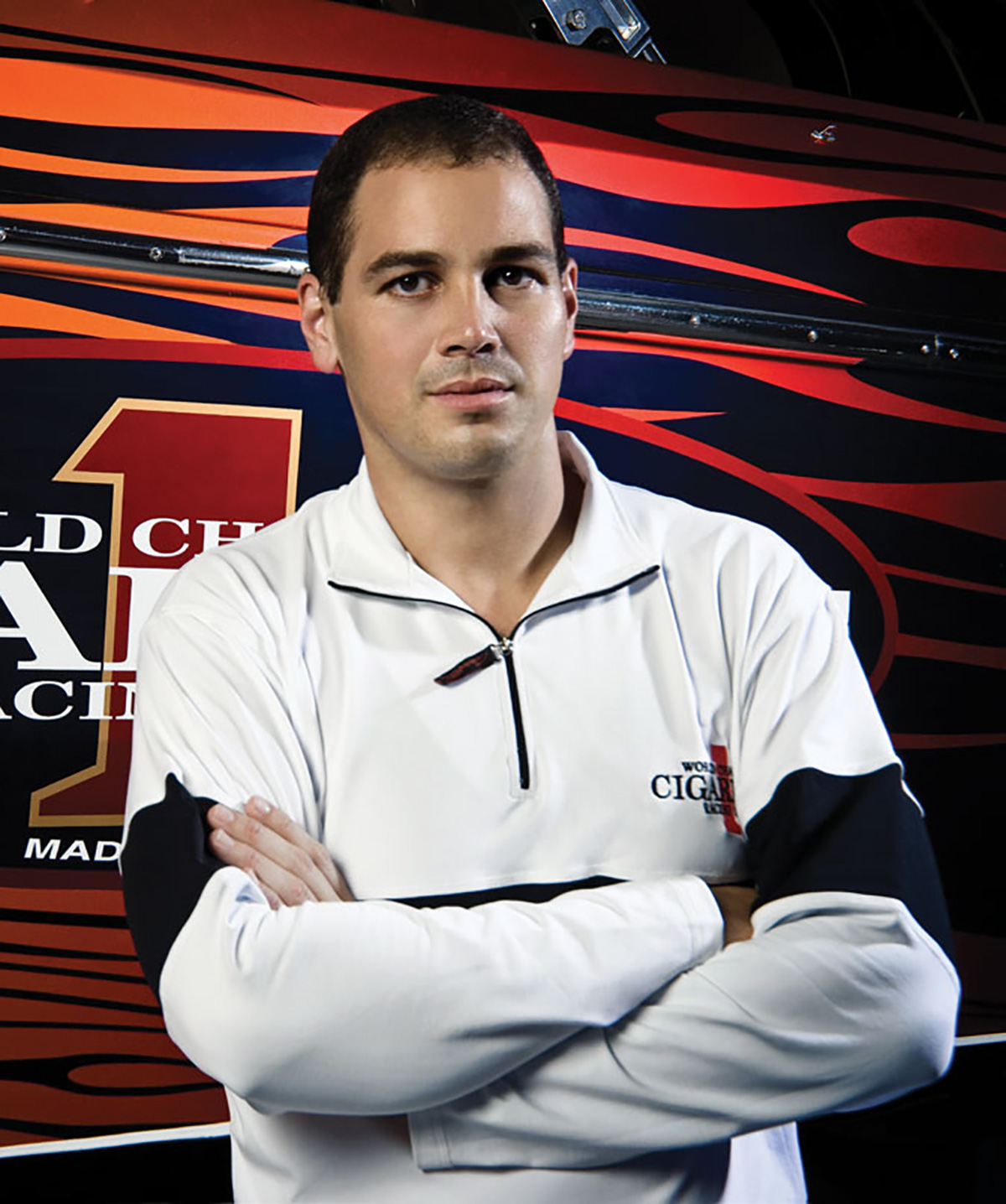 Boating Life
"The oldest memory I have is of fishing with my father on his boat. Boats are my job, my hobby and my passion!"
One of Hector Rodriguez's most memorable experiences — one of many — was riding in a Cigarette for the first time and going from Government Cut to Bimini in 38 minutes. He was immediately hooked, and made a career out of his newfound passion. "First and foremost, we sell boats," affirms Rodriguez, who serves as the COO of Cigarette Racing Team. "In my role, I get to do a little bit of everything, including handling overseas sales, working on manufacturing with factory operations and contributing to new product development." One of the best parts of his job is meeting with the customers when they see their finished boat for their first time and witnessing their delight. "It's very rewarding to see a customer's reaction when their dream becomes reality," he says.
Quick Facts
Secret to Success: "Consistency. I work hard to be consistent and always remember that nothing comes easy."
He uses his best childhood traits every day. "I'm a very patient person. I've been blessed with good people skills and find being patient usually resolves any issue."
What you might not expect: "I have a sweet tooth, love ice cream and I'm pretty handy with tools and computers."
To celebrate a victory, he goes out on a boat to a sandbar on a bright, sunny day.
Text by Sandy Lindsey; Photo courtesy of Cigarette Racing Team
Hector Rodriguez is the COO of Cigarette Racing Team; 4355 NW 128th St., Opa Locka; 305.931.4564; CigaretteRacing.com.