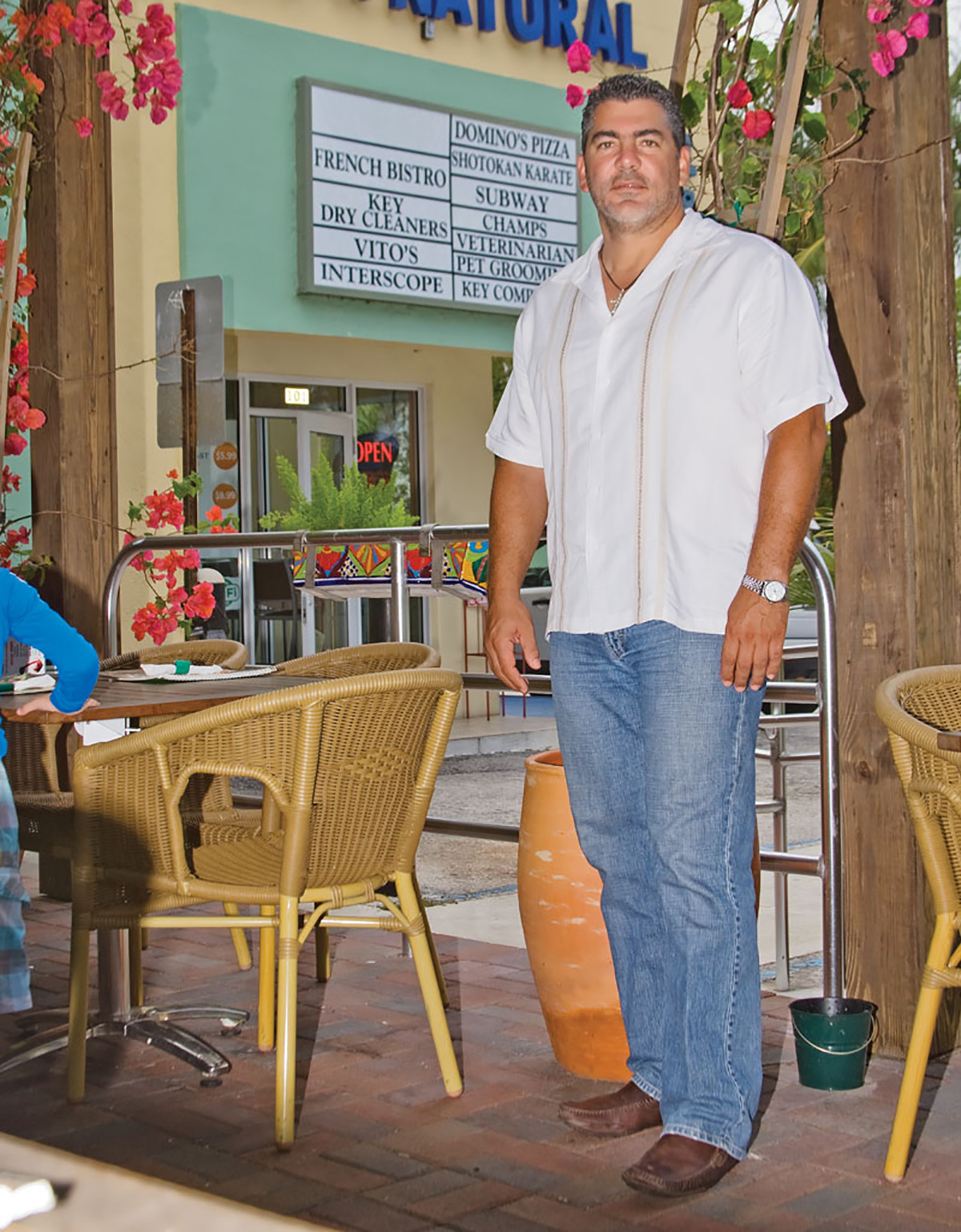 Healthy Habits
With the opening of 100% Natural, Jose Solis-Camara is combining fitness and flavor to please the palates of even the most health-conscious Key Biscayners – and they're in for a treat!
Text by Luisana Suegart
Photo by Antonio Eli
Jose Solis-Camara is redefining the "D" word… your diet! As co-owner of 100% Natural restaurants, he's bringing a distinctive concept to cuisine on the Key, proving that you don't have to sacrifice taste to stay in shape. "The idea behind 100% Natural is to offer a variety of foods that are well-balanced and nutritious, with some flavors dedicated to Mexico."
The meals on the menu are made with the right balance of carbs, fat and protein, and are free of additives and preservatives. The end result is a combination of fresh ingredients that yield a light, healthy and very satisfying Mexican meal that masters authentic flavors South of the Border.
"Countless studies show that nutrition is the key in preventing diseases. Once you start eating healthy, your body practically thanks you for it because it feels good," says Solis-Camara, who came up with the concept after working at a Mexican equivalent of Oscar Mayer, where he saw first-hand how processed foods are made. "People don't invest in their health, and in the end, they pay the price."
Offering fully health-conscious breads, smoothies, entrées and desserts, he assures it doesn't have to be the case! "Through my business I'm providing more than a service," he says. "I'm creating awareness on what it means to be healthy. Those who want to take care of themselves always come back."
To take your health to the next level, call 786.319.1839 or visit 100natural.com.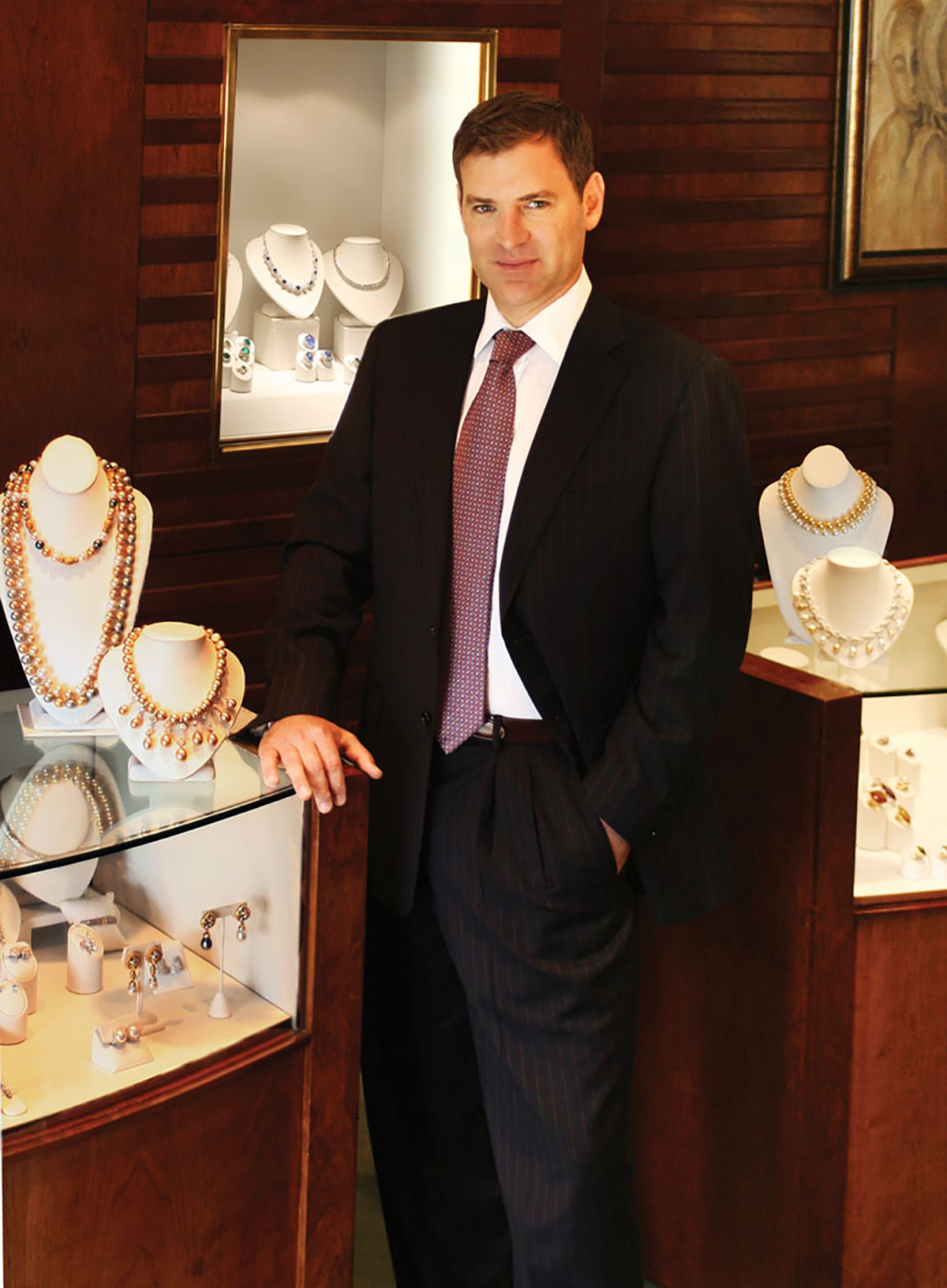 Brilliant Wonder
Erick Diamond of Tepedino Jewelers in Coral Gables has a mission to make you look your most sparkly no matter how bright the sun is in paradise. And he's doing it one karat at a time.
Text by Luisana Suegart
Photo by Roberto Montolla
Erick Diamond travels the world extensively, buying the finest treasures from countries such as India, Brazil and Tahiti for Tepedino Jewelers in Coral Gables. "We can find and make anything when it comes to fine jewelry," he says. "We manufacture a lot of unique pieces — from the simplest gems to 15kt. flawless diamonds that take about 10 months to find."
In 2005, Diamond partnered with Carlos Tepedino, a specialist in purchasing estate jewelry and precious stones, and today their joint venture is one of the most sought-after jewelry stores in the world. They offer custom pieces as well as brands including Van Cleef & Arpels, Cartier, Hermes and Tiffany & Co.
When he's not traveling in search of rare masterpieces, this Key Biscayne resident enjoys spending time with his wife Fernanda, 7-year-old daughter Alessandra and soft-coated wheaten terrier June. "Over the years, some clients have become close family friends and it's a pleasure to supply multiple generations from the first pair of baby earrings to their engagement rings."
Diamond's constant personal service to his clients and innovative jewelry offerings ensure that his brilliance will continue to shine. "Right now we are launching a new collection that we're very excited about," he says. "It targets an audience that previously didn't favor pearls, with beautiful and fresh designs for today's women."
To shine like never before, contact Erick Diamond at 305.443.7373 or Info@TepedinoJewels.com.
Miracle Worker
When Dr. Roger Khouri decided to take on the world's largest transplant in history with 20 other surgeons, he welcomed the opportunity with open arms.
Text by Jillian Lobato
Photo by Antonio Eli
Just coming off a 32-hour face and double arm transplant that received international praise and media attention, Key Biscayne resident Dr. Roger Khouri of the Miami Hand Center feels on top of the world. "The formidable transplant was a real treat because we didn't have to do much patchwork, and the donor provided us with perfectly matching, ready-made replacement parts," he says. "I look at the human body as a 3-D jigsaw puzzle where I can replace important missing pieces by fashioning a less-important one from somewhere else and transferring it to where it's needed the most."
Aside from performing life-altering surgeries and having his own skillful practice, Dr. Khouri loves spending time with his wife, Dr. Susana Leal-Khouri, and their five children in Key Biscayne. "My children have had a wonderful childhood in this community," he says. "This is truly a paradise island and we love the peaceful life of a small neighborhood where everybody knows almost everybody and a sense of unity reigns supreme."
Along with his wife, Dr. Khouri is in the final stages of completing a state-of-the-art medical building with an Ambulatory Surgery Center on Crandon Blvd., next to the Fire & Rescue Building. They look forward to making the Key a world-renowned center for reconstructive surgery. "To stitch a fellow human being's flesh in order to cure his ailment is undeniably the greatest privilege ever bestowed upon a man and I thank the Lord for this great gift every day."
To learn more about Dr. Khouri's practice, call 305.776.6991 or visit MiamiHandCenter.com.
Inspiring Artwork
Most parents would agree that childhood should be filled with color, creativity and joy. Diana De Los Rios has dedicated her entire career to doing just that with the murals she creates for little ones.
Text by Jillian Lobato
Photo by Jose Amigo
Diana De Los Rios is passionate about her artwork, concentrating on painting murals for children's rooms throughout Key Biscayne. Using acrylic paints and different textures, she's dedicated to bringing children's fantasies to life. "My passion is kids, and although I do paint other kinds of murals, I mostly dedicate my work to children's murals," she says. "Children always inspire me."
De Los Rios decided to pursue her love of art after moving from Peru to Miami six years ago. "I come from a family of artists and writers, which is probably how I inherited my passion for painting," she says. "I love making the dreams of parents come true for their children."
De Los Rios developed a following as the resident artist for Bellini Furniture. Since then, her designs have become increasingly popular among residents in Key Biscayne, and she's even painted rooms for celebrities on the island. "When Juanes purchased his first home, I painted his daughter's bedroom," she says. "Sometimes I never meet the child because they haven't been born yet," she says. "I love it when I hear back from the parents I developed a close relationship with and they ask me to come back and meet their child!"
Aside from her work, she loves to spend time with her family and enjoys traveling to dynamic cities from time to time. "My family is very important to me," she says. "I even designed the interior of my sister's business, Le Petite Youth Spa, which is a spa for children in Aventura."
To add a little color to your child's life, call 954.394.1734 or visit DianaDeLosRios.com.