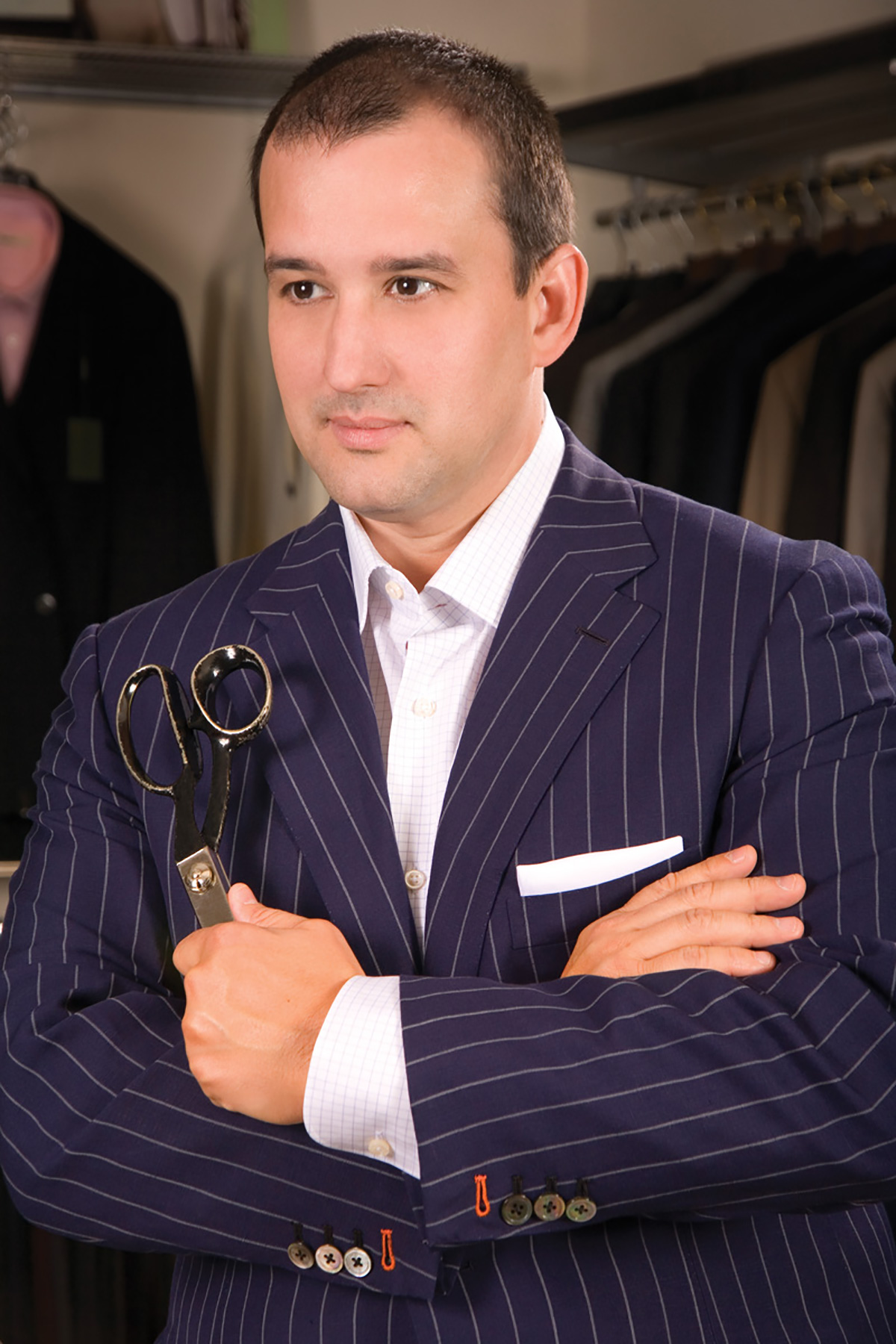 Get Dapper
It's rare to find a men's designer today who has that special touch that defined generations of yore, but Mani Sirvanti accomplishes this feat from head to toe.
Text by Kaya Baez
Photo by Kate Benson
Mani Sirvanti's clients make it a point to visit his showroom regularly so they can sit by the bar area and sip on an espresso, scotch or beer while they peruse his latest looks or create their own custom-made suits, jackets, pants and shirts. "We've created an environment that allows for conversations and friendships to blossom," says Sirvanti. "I have guys I've been taking care of since I was a teenager."
Sirvanti started working at an internationally renowned men's store when he was 16, eventually traveling to Italy with the owner to launch a new location, before opening his own store in 1992. "My eyes just couldn't believe the beauty and craftsmanship that these family-owned clothing manufacturers had," he says. "It's been almost three decades since I caught the fashion bug and I wouldn't have it any other way."
When dressing the men who arrive in his showroom, Sirvanti says there's a lot to consider when it comes to making each man look his best. "I take into account each man's outward personality and their profession to arrive at the perfect look for each," he says. "Their skin, eye color, hair and their build are also important factors."
What's more, Sirvanti says that when he helps his clients choose whatever look they're after — from casual wear to business wear and formal wear — he mixes classic looks with an unexpected twist. "I like to add something that causes a pleasant reaction at first glance," he says. "I get men coming back telling me how people approached them to compliment their look. Most can't believe how effortlessly it all comes together."
In short, he's a combination of old-world tailor with a modern stylist sensibility, without following any other designer's idea of what's hot now. If you want to test out the age-old adage that the clothes make the man, stop by Sirvanti's flagship store at 5744 Sunset Dr. in South Miami or call 305.665.7353 to set up an appointment.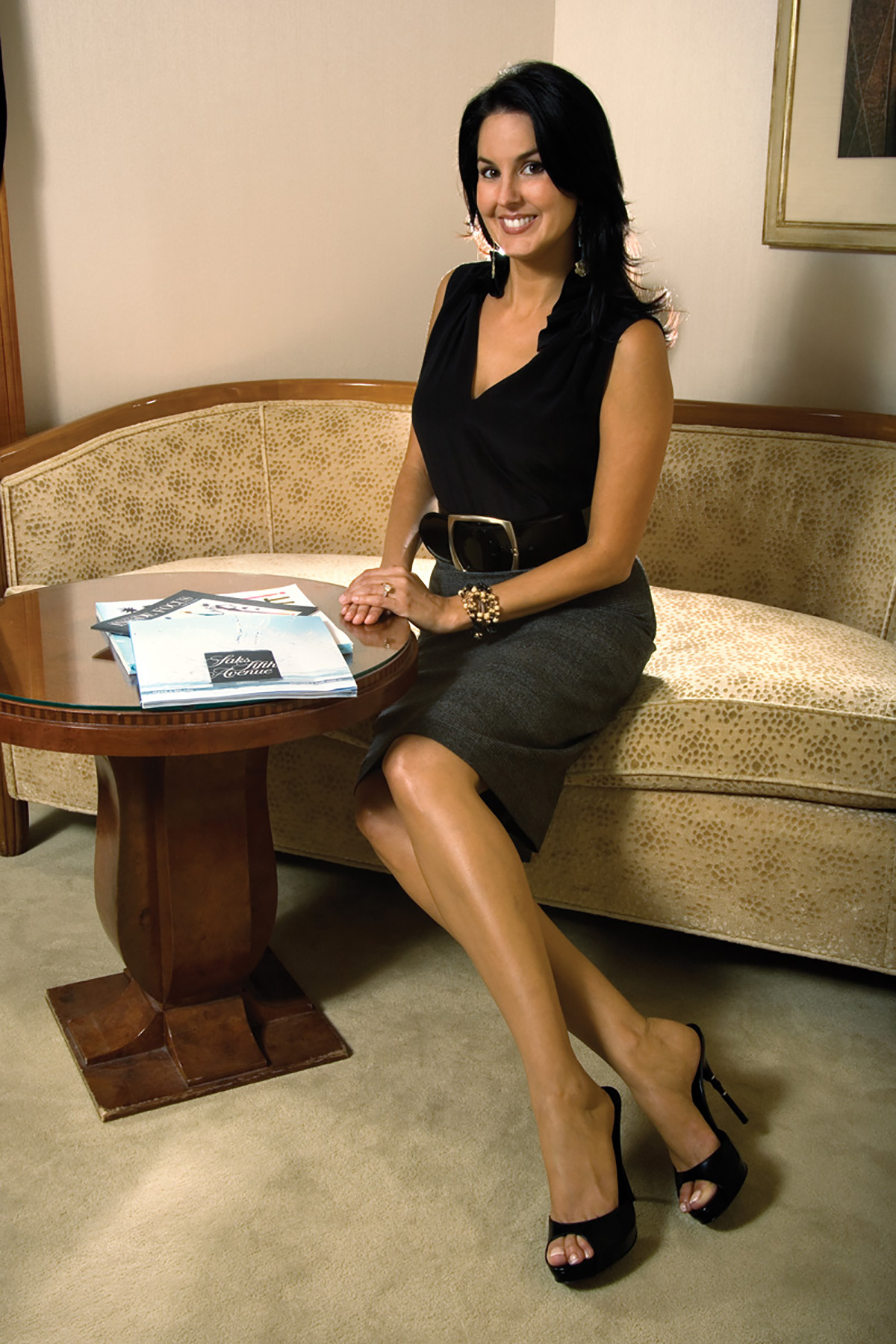 Fashion Passion
When it comes to all things stylish, Romina Nabhen is an expert with years of experience and her own fashionable TV segment under her belt.
Text by BLUE Arauz
Photo by Kate Benson
Romina Nabhen lives and breathes fashion. The former model has worked as the public relations director for Fendi Casa, in the events department for Conde Nast's Spanish publications and as an in-house stylist for a few of the publishing house's titles including Teen and Men's Fitness before taking on her latest roles as Director of Fashion, Public Relations & Events at Saks Fifth Avenue Dadeland and host of a weekly fashion segment called Style Flash on CBS4/My33 Tuesday mornings.
In Style Flash, Nabhen showcases must-have items available at Saks Fifth Avenue. Topics range from the hottest new styles, such as the pointed shoe bootie, to great gift ideas for various occasions. The show is televised live and streamed online to give anyone wanting to spruce up their wardrobe more convenient access to her suggestions.
Style secrets? She's got plenty. "Follow trends to a certain point but wear what looks good on your body type," she says. "It's always safe to stick with the classics and add your own personal edge."
So what's the one piece from Saks Fifth Avenue that she couldn't do without? "My beige Jimmy Choo bag," she says without hesitation. "It's soft and plush and accommodates all my junk."
When it comes to looking good, Nabhen admits that the women of Key Biscayne have a style all their own. "With their great sun-kissed bodies, the women on the island love designer fashion," she says.
Despite the glamour that's associated with her position, juggling fashion show productions, press inquiries, special events, styling and client relations isn't always easy. Despite her hectic schedule, she still finds time to volunteer for His House Children's Home, a non-profit organization dedicated to the restoration of joy in the lives of children and families.
But perhaps most impressive is that this style goddess' outlook is as classy as the threads she wears. "I encourage everyone to follow their dreams with a firm drive," she says. "Once you accomplish this, you'll persevere."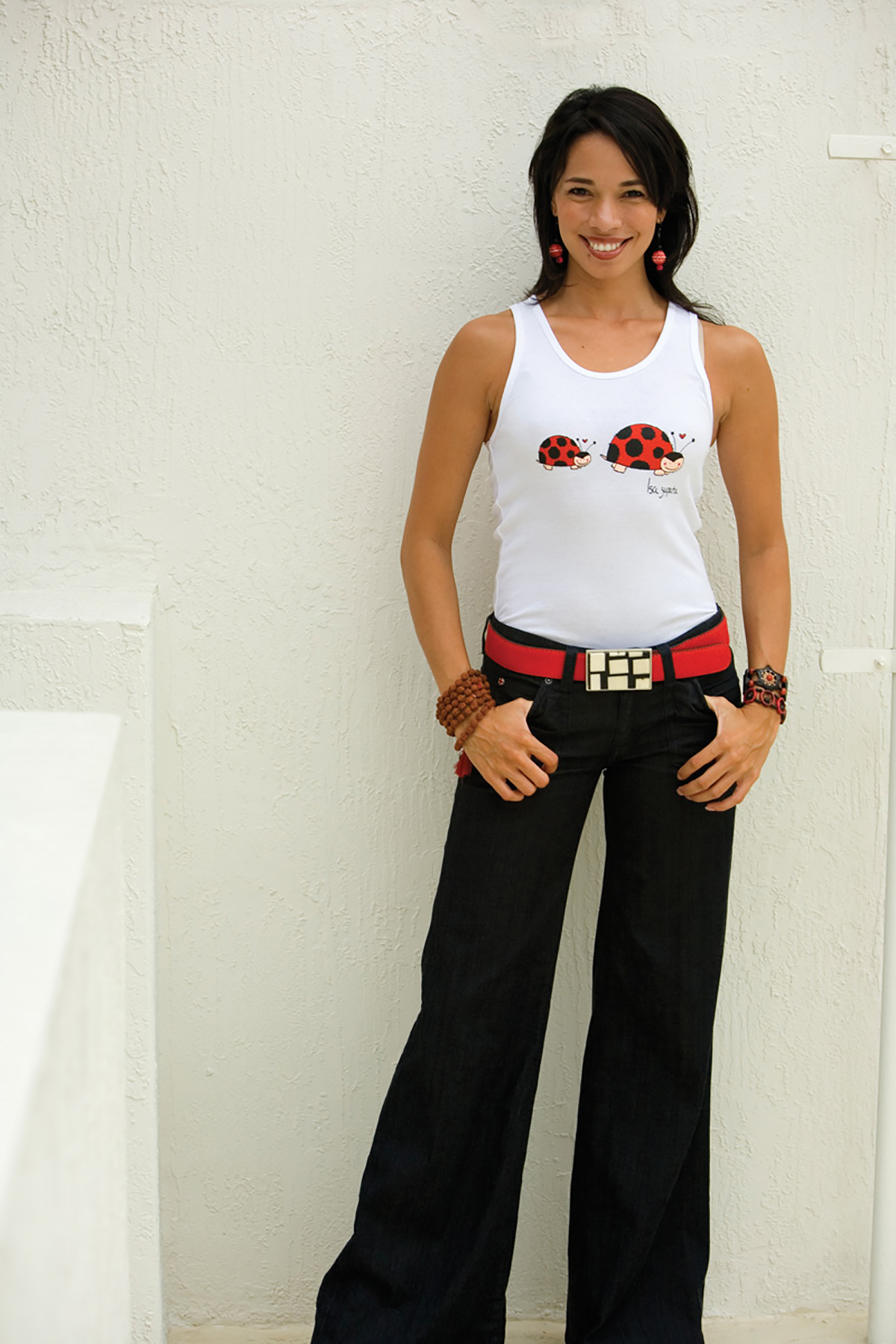 Art Sight
For Isa Zapata, creating meaningful works of art is just part of the journey — changing people's lives with her work makes her mission complete.
Text by BLUE Arauz
Photo by Kate Benson
From the age of four, Isa Zapata knew she was born to create. Today, through her whimsical children's room décor, paintings, murals and "Mommy, Daddy & Me" clothing line, she brings families together in ways no one else can. She even helps Mother Earth with an eco-friendly grocery bag line that puts the age-old question of "paper or plastic" to rest.
"All my work is unique and affordable," she says. "My goal is to use art as a tool to inspire and ignite creativity in the world, infusing altruism, harmony and peace in homes everywhere."
Of the more than half-dozen characters she's created over the years including Jean the Dinosaur (he's French), Edu the Giraffe (he's a chef) and Sonia the Butterfly (her wings change colors every full-moon), her favorite character is her first, Howard the Frog. The inspiration came to her when a toad begged "paint me, paint me!" as she strolled by a pond. She named him after her good friend, Howard. "He loves it and even asks for royalties," she quips.
But none of the aforementioned would be possible if she hadn't moved to the sunny paradise we call home. "I never really considered myself an artist until I got to Miami and my capacity to express things shifted and I began to paint like a child. Today, I'm proud to say I'm finally an artist!"
And as an artist, she has the power to change lives. One such instance occurred when she donated 22 paintings to a foundation that benefits children with terminal cancer. "One of my paintings depicted a man driving toward a big sun…when I presented it to one of the kids, the symbolism overwhelmed him. Since them, I've come to realize that whenever someone is able to see hope in a painting, it's a gift from heaven."
To get your very own slice of heaven and see how Zapata captures the essence of a child's imagination in her work, email Isa@IsaZapata.com or visit IsaZapata.com.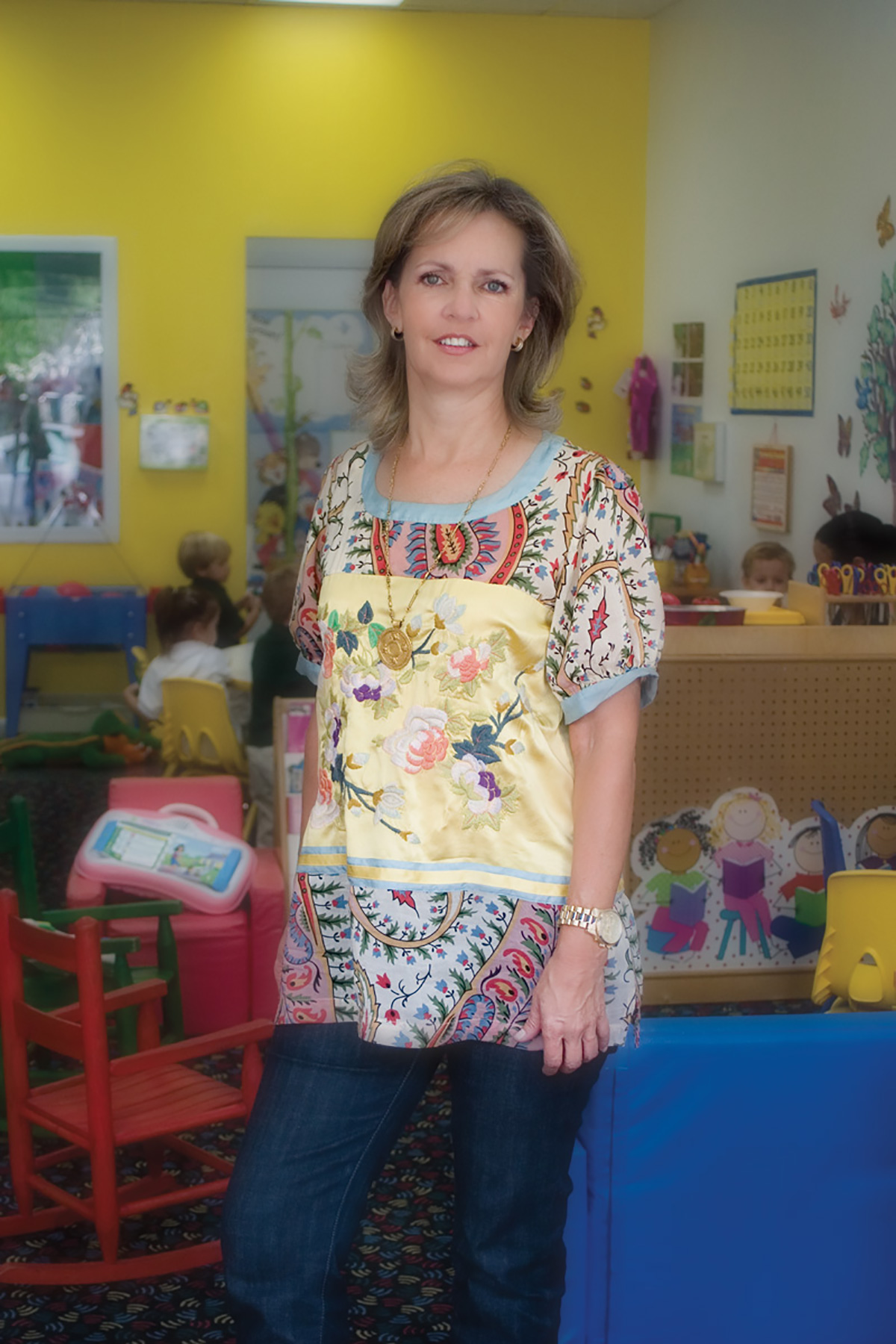 Champ Maker
If you want your kids to be at the top of their game, there's no one better than Helena Turbay to help guide them there.
Text by Yoshi Sanz
Photo by Antonio Eli
There's nothing more effective than truth in a name, and at CHAMPS, helmed by Director Helena Turbay, you can rest assured that your kids will become the "champions" they were born to be. "In a loving and nurturing environment which fosters high self-esteem and achievement, children get ready to be the top students of tomorrow at CHAMPS," says Turbay, who holds a B.A. in Speech Pathology & Audiology and a Masters Degree in Education, and has taught in Houston, New Orleans and Demoine.
From their location in Key Biscayne, the pre-school program is in place from 9:00 a.m. to 1:00 p.m.; the tutoring program begins at 2:30 p.m. The Brickell location runs from 8:30 a.m. to 3:30 p.m. and there is tutoring and after-school activities until 6:30 p.m. Tutoring at CHAMPS is given to children who are experiencing difficulties at school due to specific learning disabilities, attention deficit disorders, language difficulties, lack of organizational skills and poor motor skills. After assessing each child's needs, 45-minute sessions are held on a one-on-one basis with a certified professional who will take into account each student's needs and strengths in order to raise their performance and self-esteem for them to excel in the classroom. "Our teachers have been especially trained to provide a high-standard educational program using a wide variety of teaching strategies and materials I developed after more than 20 years of experience in the field," says Turbay.
Among the many activities which help prepare children to enter grade school and are at once interesting, educational and fun, every two weeks CHAMPS features a new Learning Unit. The first one of this school year will be "My School, My Friends." "Children will learn the names of their new friends, teachers, toys, routines and spaces," says Turbay. "Taking turns, using self-control and being good listeners are behaviors that we want them to learn from the very beginning of the school year and will reinforce constantly." New games and new songs will be part of every Learning Unit.
For more information or to enroll your kids, visit Champs-Edu.com.