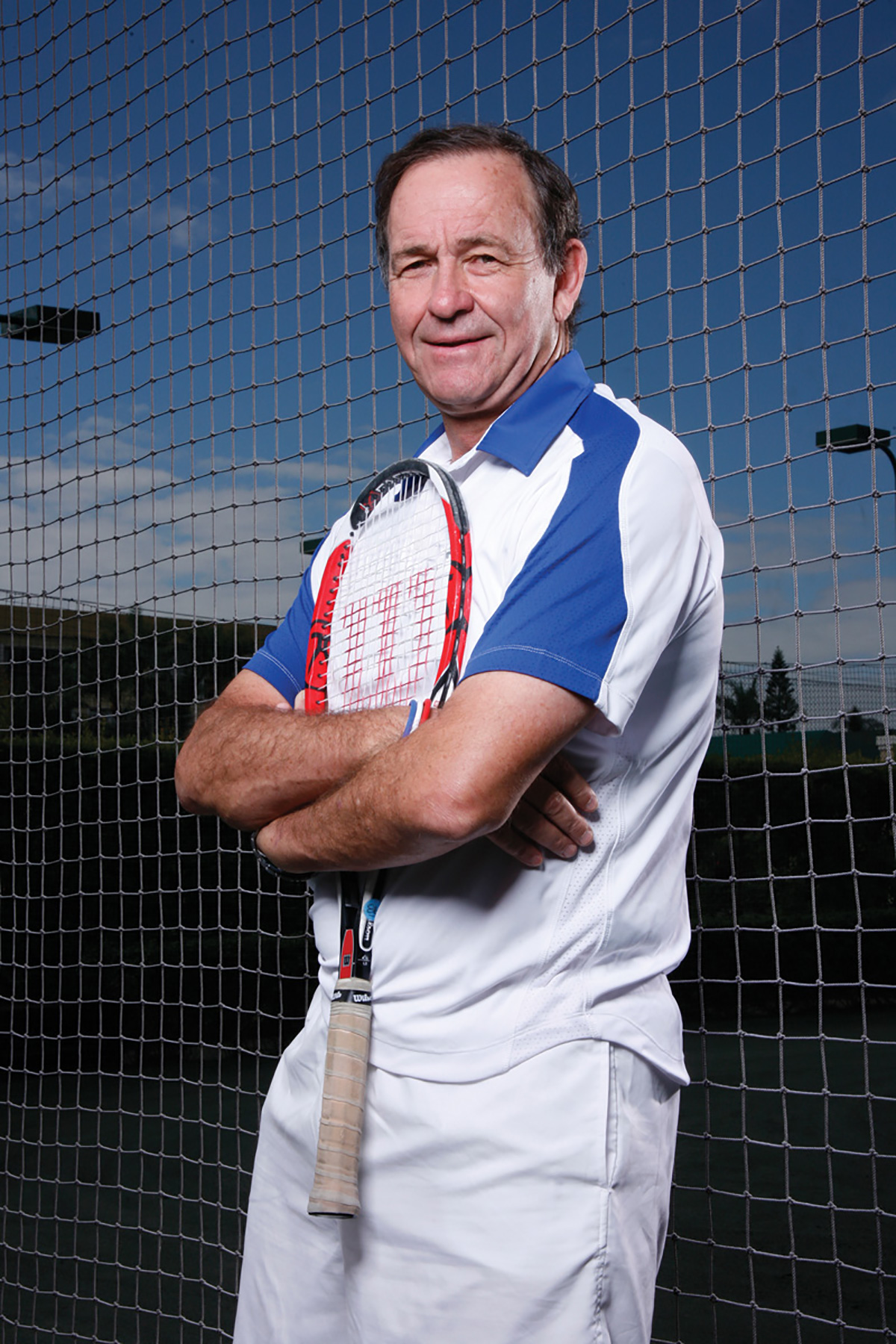 TENNIS SERVER
For Cliff Drysdale, tennis is about more than commentating for ESPN and reminiscing about his legendary career — it's about his love of the sport.
Text by Robert Edens
Photo by Kate Benson
Cliff Drysdale is the renaissance man of tennis. He is ranked in the Top 50 best players of all time with 33 singles titles and has been Mr. ESPN Tennis for the past three decades. Space at his tennis camps is highly coveted, as is playing on one of the many stadiums and tennis centers he designed, such as the one at the Ritz-Carlton Key Biscayne. Yet despite all of his worldwide accomplishments, coming back to Key Biscayne, in this case to announce the $7.54 million Sony Ericsson Open, is coming back home.
This year is set to be especially interesting with the Williams sisters, Henin and Clijsters back as well as Federer and Nadal ready for some action. "There are all these fabulous story lines to follow and I think it's going to be a very exciting tournament this year."
Besides his on-air fame, Drysdale is also recognized for his work with Cliff Drysdale Tennis, which allows him to stay in direct involvement with people who play and love tennis. "We have people in the Pro Shop to help the club members with equipment and stringing and we have six pros giving lessons," he says.
As for ESPN, Drysdale says it's been an unforgettable journey. "It has been a great relationship for me," he says. "They keep throwing me into this lion's den and I've survived all these years. I love the game and I love the people in it. Plus, I work with some really interesting and great people. I think the fact that I was in the middle of the sport and I understand the nuances and the mental anguish that these players go through on a daily basis is a big help."
And once again, during the Sony Ericsson Open this year, tennis fans will benefit as Drysdale shares his decades of knowledge and pure love of the sport right smack in the middle of paradise.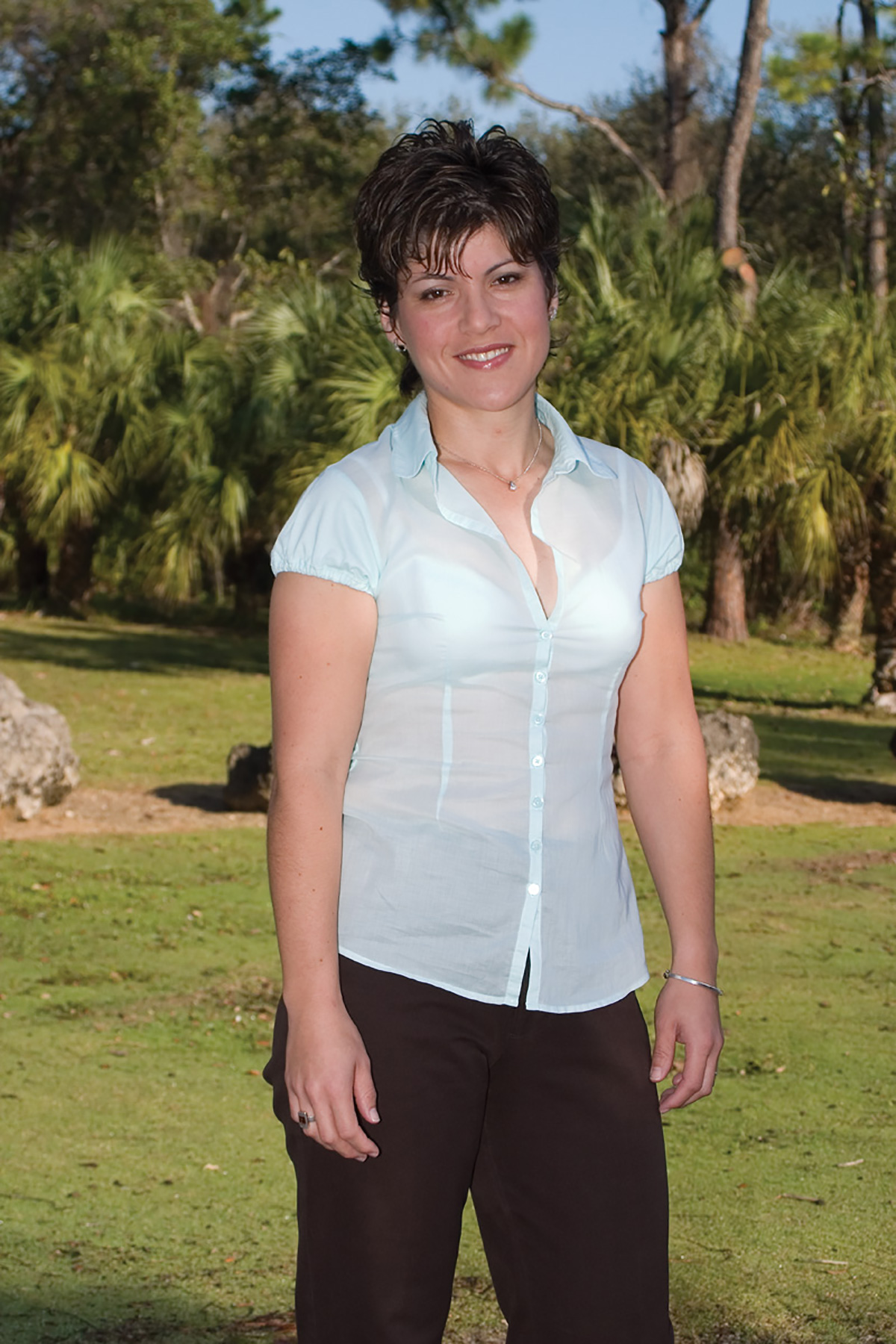 FITNESS GURU
If those extra pounds that have snuck up on you throughout the years have gotten the best of you, it might be time to give Cathy Toruño of Be Fit With Cathy a call.
Text by Ashley St. Pierre
Photo by Antonio Eli
On a scale of 1 to 10, fitness guru Cathy Toruño ranks her business at 11 — and with good reason. "I believe the reason I'm successful is in the way I show up. It's the real me," says Toruño, owner of Be Fit With Cathy, a life fitness personal training program she developed from Key Biscayne. "It's the way I see people, not what they look like but the possibility, the big diamond within them."
Knowing what it means to not be in shape, Toruño says she tells her clients that it's important to focus on the future and how to change it, versus dwelling on what the client did in the past. Toruño's program caters to a clientele of about 35, many of them Key Biscayne residents, she says. Helping her is a team of seven personal trainers. "All of my clients tend to be very long-term," she says. "I always create new possibilities for them and come up with new goals so they're challenged to do their best."
The business also carries a food component, where Toruño will cook the meals herself in a client's home. For other clients, she hires a food service that prepares the meals she has outlined and then delivers them. The rates for personal training sessions vary from $55-$70 per hour depending on the number of sessions purchased. The food component also varies, depending on what the client desires, allowing for flexible budgets, she says.
So has Toruño ever dealt with a client she couldn't handle? No way, she says. "When clients come to me, it's because they're ready to make a difference in their lives," she says. "Many of them are willing to do whatever it takes to reach their goals and with that type of commitment, the sky is the limit in terms of what they can accomplish."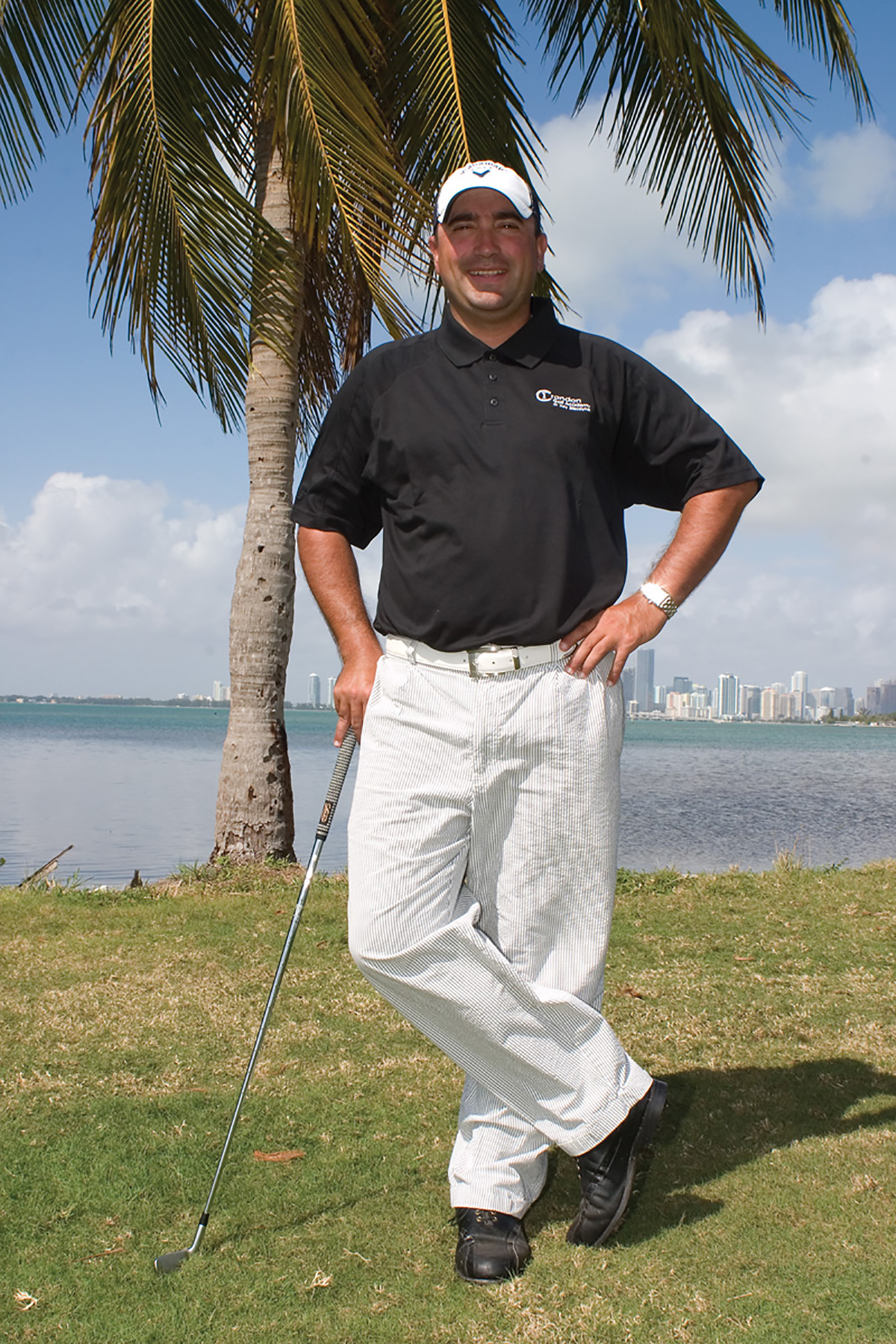 GOLF MAN
Once the putt fever strikes, it's hard to go back to life as usual, and for Alex Fernandez that fact couldn't be closer to the truth.
Text by Natalia Maldonado
Photo by Antonio Eli
When Alex Fernandez's next-door neighbor taught him to play golf at the age of eight, he had no idea that the experience would take him full circle — first to a full scholarship to Barry University, followed by three years of playing professionally around the world before finally returning to Key Biscayne, where the student became the instructor.
Fernandez first began coaching golf at Fisher Island while he was still in college majoring in criminology. He'd had plans to pursue a career with the FBI, but when he graduated, he realized he wanted to continue coaching golf. Two-and-a-half years later, after a resident on the island offered to sponsor him professionally, Fernandez was traveling the world, playing in the Tour de Las Americas, the New England Pro Tour and the Hooters Tour. In early 2006, he went on tour with LPGA Professional Cristie Kerr to serve as her golf caddie.
So what finally made him settle down in Key Biscayne? "I saw the opportunity to have my own golf instruction academy," he says, referring to Crandon Golf Academy, which he started in late 2006. In the short time since its opening, the academy has taught hundreds of students ranging from beginners to mini-tour pros that are now on tour. When he's not coaching on Key Biscayne, Fernandez is at St. Thomas University, where he's the head coach for the men's golf team.
Perhaps most rewarding of all is Fernandez's affiliations with schools like Carrollton and Ransom Everglades, which remind him of where it all began. "It's great to see kids revolve themselves around the sport because in the game of golf we have honesty and loyalty," he says. "It's a game that builds character and it's rewarding to me that I can pass that on."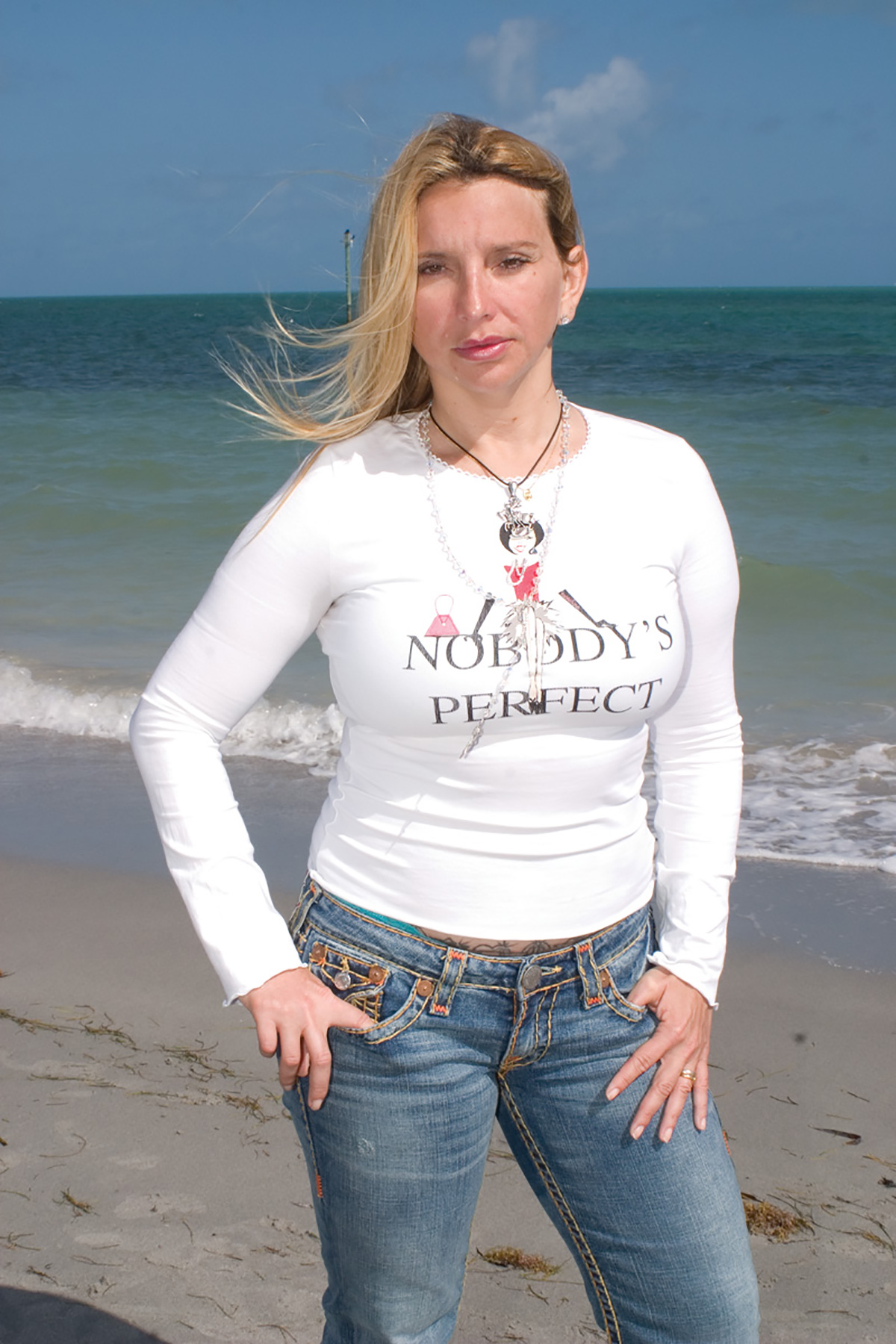 BOD MAKER
If it's a perfect body and total wellness you've been after, Kitty de Melo may be just the person you need to tip the scale in your favor.
Text by Yoshi Sanz
Photo by Antonio Eli
Perhaps no place on Earth is more recognized for the physiques of its residents than Brazil. For Brazilian Kitty de Melo, her connection to beautiful bodies has grown into a career that embraces fitness and health.
Graduating from the Cooper Institute in Dallas with a degree in personal training, de Melo relocated to Miami Beach to work as an instructor at the Eden Roc Spa before joining the Ocean Club in Key Biscayne. Since then, de Melo has become recognized for the unique techniques she uses including the ground-breaking Gyrotonic system which allows users to stretch and strengthen muscles while stimulating and strengthening connective tissues. "These exercises are synchronized with corresponding breathing patterns to enhance aerobic and cardiovascular stimulation and promote neuro-muscular rejuvenation," says de Melo.
Another highly effective technique de Melo recommends is Power-Plates. "This form of exercise is still relatively new but scientific research has shown potential for widespread therapeutic application and health benefits," she says. "The technology behind it was pioneered for the Soviet Aerospace Program in the '60s to help cosmonauts combat the weakening effects of living in zero gravity."
To begin transforming your body with Gyrotonics and Power-Plates, stop by for a consultation with de Melo at the Ekos Studio inside The Key Executive Building, 104 Crandon Blvd., Suite 423. Scheduled to launch this May, de Melo promises you'll be hooked from day one. "There's nothing like retreating to a peaceful place to experience the mind-body approach to movement, health and well-being in a purified place that will serve as a haven for creating the body of your dreams."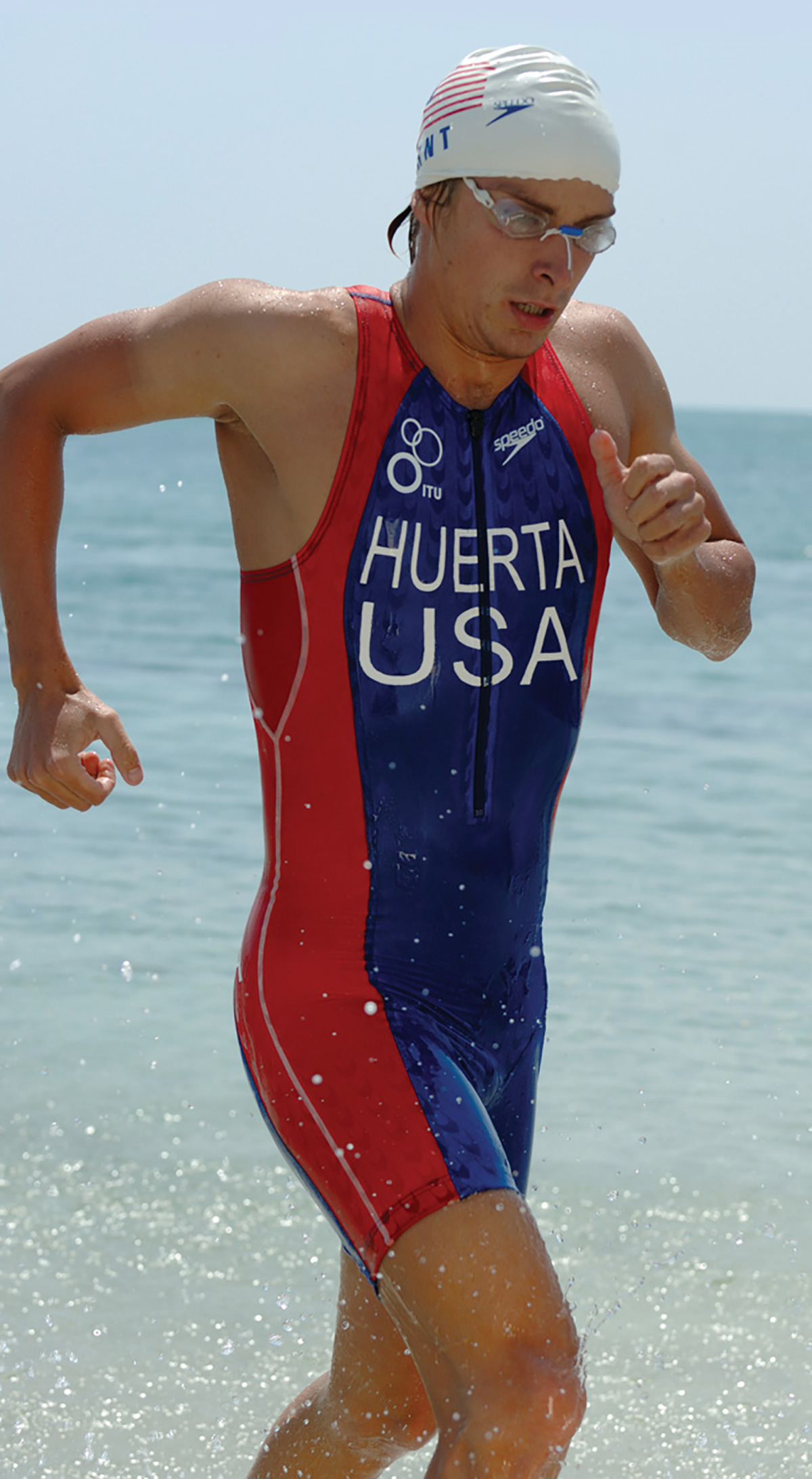 WATER CHAMP
Manny Huerta has a relationship with the ocean that dates back to his first month on Earth and continues on into his Olympic career.
Text by Kaya Baez
Photo by Jim Fairman
Manny Huerta's love affair with the ocean began before he was one month old back in Cuba. As his mother, Martha Ayala, attests, he would rather swim than cry as a baby. "I remember the first time I held him in the ocean he started flapping his arms and legs and smiling," she says. "I knew from then on he was destined to be connected with the water for the rest of his life."
And so it came that 15 years later Huerta entered the U.S. and started his journey toward Olympic gold, completing most of his training on Key Biscayne with an intense fervor for swimming, running and cycling that earned him the title of National Junior Champion in both the triathlon and duathlon sectors and helped him become the youngest-ever American to podium on a professional ITV race. But training on the Key has its drawbacks, admits Huerta. "I've been hit by drivers so many times while practicing in the wee hours that I've lost count," he says. "In retrospect, it was worth every bump and scratch. I can't imagine a more perfect setting for training for something that I've spent most of my adult life trying to achieve."
Now 25, Huerta has worked hard throughout the past few years to solidify a position in the 2008 Olympics in Beijing and work his way toward a podium finish. Practicing for most of the hours he's awake, Huerta barely has time to relax, except for the 12 hours of sleep his body requires every day. For the rare times he's able to enjoy life with his eyes opened, he says he likes to pull out a box of memorabilia he stores under his bed and reminisce. "I enjoy looking through old photos and remembering the good times I've had with my family, friends and fellow athletes," he says. "My favorite photographs are the ones that have the beaches of Key Biscayne in the background."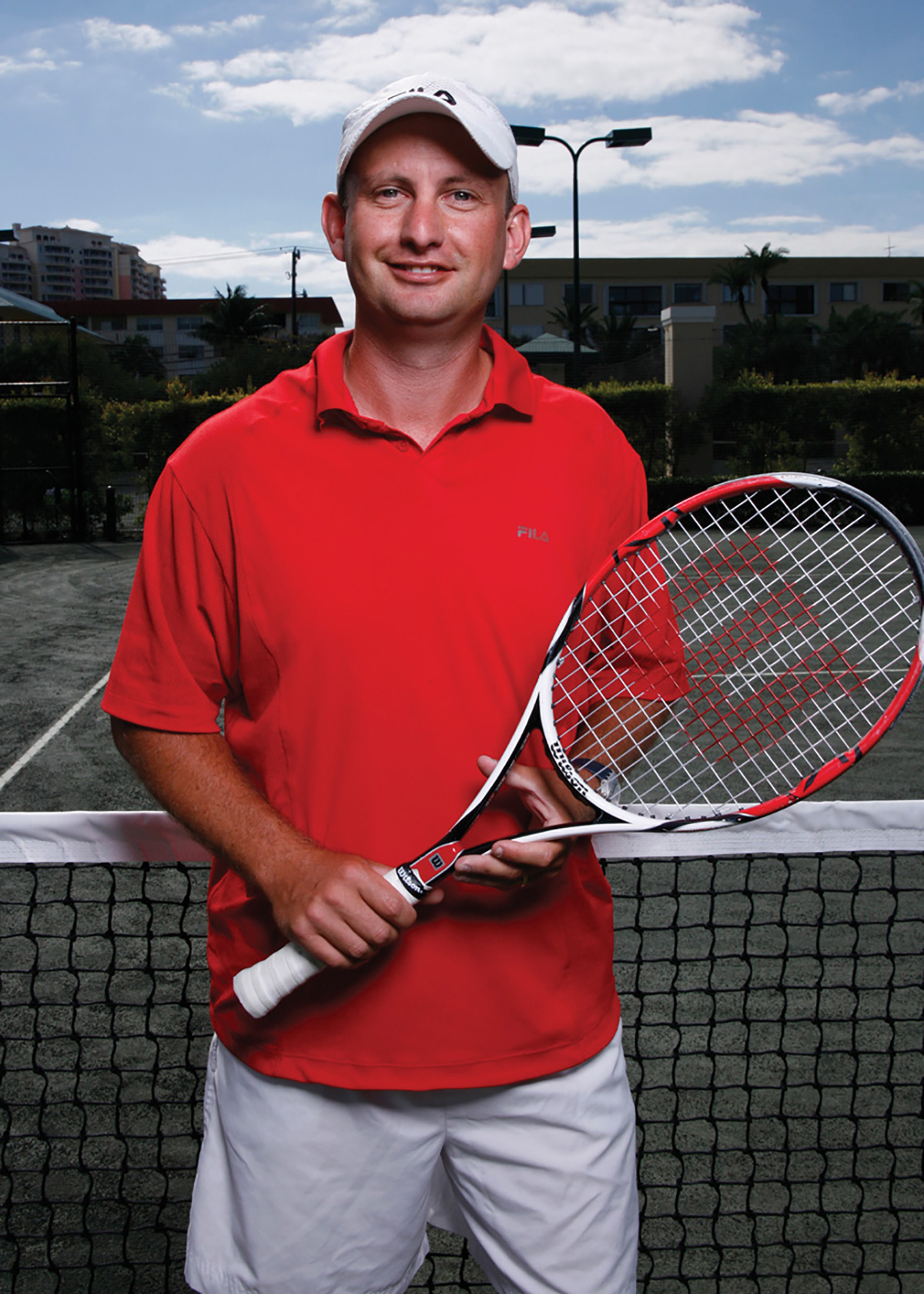 GOOD SPORT
Getting physical is just part of Mark Chellas' daily routine. The rest of his day is taken up enjoying time with his family on Key Biscayne.
Text by Sandy Lindsey
Photo by Kate Benson
Key Biscayne is home to many celebrated individuals living a marvelous lifestyle and Mark Chellas is no exception. Not only has he been the Director of Tennis at the Ritz-Carlton Key Biscayne Tennis Garden for the past five years, but in his own words, "I have the Sony Ericsson Open right in my backyard and it's a dream come true!"
A former Aussie touring pro, Chellas oversees a staff of up to 10 international tennis pros in the high season. "It gets even busier around the tournament. Everyone gets the tennis bug. They dust off their old rackets and want to brush up on the sport. We pride ourselves on our private lessons and weekly 90-minute clinics. My theory is you should feel, 'Wow! That was a workout and I learned something!'"
Though tennis fever sweeps the island with the arrival of the Sony Ericsson Open each year, keeping Chellas in his tennis shoes almost non-stop, he still makes time to attend some of the tournament matches. "I try to make every night session of the tournament," he says.
During quieter times, Chellas takes advantage of the outdoor focus found on Key Biscayne and its year-round good weather. "In addition to tennis, I enjoy other sport amenities the island offers," he says. "I love to golf, especially at the Crandon course."
Chellas also enjoys fishing. "I like fishing the flats around Key Biscayne. I've gone deep-sea fishing as well, and thoroughly enjoyed it, though I'm not fond of a strong chop. I also like to go for runs on the beach."
Overall, says Chellas, what he likes best about Key Biscayne is the quality of family life found on the island. "I've got a 10-month-old daughter, Madeleine, that I love to take to the beach," he says. "Who knows? Maybe one day she will play at the Sony Ericsson Open," he adds with a laugh. "Then again, she'll probably end up being a ballet dancer or something."