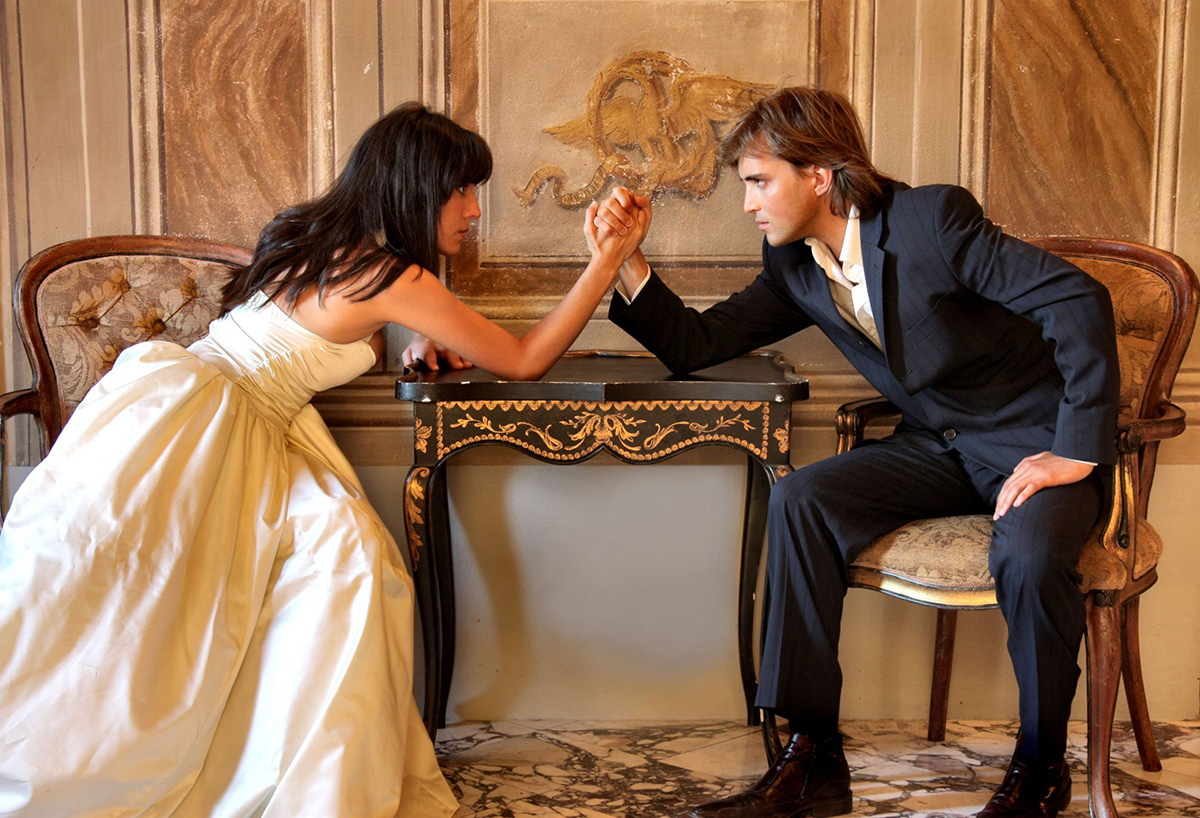 1. Kissing. Who doesn't enjoy a good smooch-session? Kissing can burn up to 68 calories an hour. If the lip-locking is intense and lively, and there's tons of touching involve, you can spike that number to 90 calories an hour.
2. Back Rub. If you've ever given your love a back rub you know it's a physically demanding task. That's because you're using all of your arm muscles to create pressure (and pleasure!) in all the right places. Give your sweetheart a 30-minute slow & sensual back rub to burn off around 40 calories.
3. Laughing. Everyone should fall in love with someone who makes them laugh, and if you do, there's a hidden bonus — you get to burn off fat while you have the time of your life! According to studies, laughing, giggling and chuckling can burn up to 1.3 calories a minute. Who needs a treadmill, anyway?
4. Slow Dancing. Who's up for a little dirty dancing? Well, the good news is there's no need to take off your clothes…unless you want to! A sweet living room 30-min dance session can burn up to 80 calories. Add a little kissing and touching to elevate that number to even more impressive fat-blasting levels.
5. I'm sorry! We've all been there, the dreaded fights. You scream, they run off. You chase them. Yup, you know the drill. But did you know you could burn up to 20 calories from chasing your loved one for 2 minutes after they storm off during an argument? And that's not even counting the make-up sex.
6. Undressing. Most couples don't pay too much attention to the act of undressing, but done right it can be used as calorie-burning foreplay. Don't just remove clothes, draw it out, teasing your partner and adding a couple of sensual moves to turn it into a great mini workout.
7. Sex. We all know making love is a great workout, after all we're exhausted when we're done. But did you know you could burn up to 75 calories in 15 minutes? The best way to maximize calorie-burning during love-making is to make sure you climax, because, well, isn't that the whole point?
8. Sunset Stroll. Nothing screams romance like a sunset stroll with your flame. A slow-paced walk will burn you at least 50 calories in 20 minutes. You can raise that number by adding speed, after all, we all know you're both desperate for some privacy!
9. Fruit-Picking. Couples love to go fruit-picking in local farms. It's romantic, it's enjoyable and it burns calories. What's not to love? Walk the fields at a farm, carry your plentiful basket, sneak in the occasional kiss and burn up to 100 calories for a half-hour of fun.
10. Sleeping. The best way to end your night is by sleeping next to the person you love. Luckily, sleeping also burns calories! Depending on your body weight, you can burn anywhere between 19 and 28 calories for 30 minutes of sleep. Oh, mid-day siesta, how we love thee!