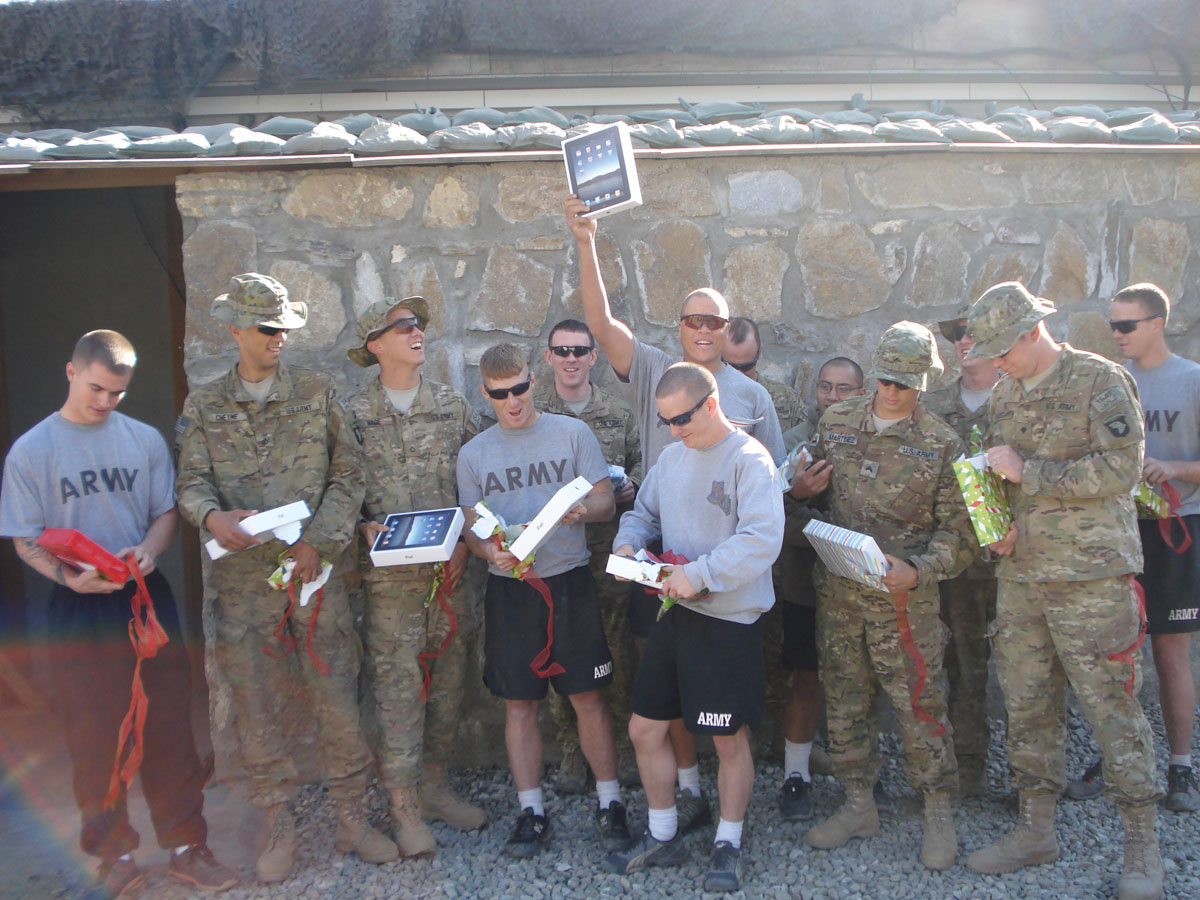 Winnie Pritchett isn't an ordinary mom. In fact, she's much more than a mom: To some, she is an inspiration. When her only son, Captain Wesley Pritchett, was deployed to Afghanistan in 2010 to fly Kiowa helicopters, Winnie was inspired to find a way to serve those who were serving our country. Her idea was to help them in a truly modern way — by getting them iPads.
The lightweight tablet computers can easily fit into soldier's backpacks even on the front lines, replacing laptop computers, books, games, cameras and a host of other gear. The tablets also make it a breeze for soldiers to keep in touch with loved ones back home. Thus, iPads for Soldiers collects donations to help purchase brand-new iPads for U.S. soldiers serving in Afghanistan. And so far, the young foundation has had stellar success, raising more than $200,000 and delivering more than 450 iPads to soldiers. And, assures Pritchett, this is only the beginning of a larger goal she and her team have planned.
Pritchett has also expanded her efforts to include soldiers who are right here in the U.S. — those who have been brought to stateside hospitals after being wounded. "When the soldiers are injured in the field, they are flown to Germany and then to a hospital stateside," she says. "They have no personal possessions with them." She says the soldiers only receive the rest of their belongings when their units are redeployed, which can take some time. This means that it can be tough for them to find a way to keep in touch with friends and family at home as well as their comrades still deployed in the field. For some, using a regular laptop or even a pen and paper can be difficult since many are double or triple amputees.
Her cause has definitely inspired a great wave of support. With the help of Amy Zambrano from Island Angels, around 15 local schools and businesses held a "Dress Down" day the week of Veterans' Day to raise funds for the charity to do a surprise holiday distribution of new iPads to soldiers both here in the U.S. and overseas. "I love the quote, 'Be the change you want to see in the world'," Pritchett says. "It's inspirational working with the soldiers, and with the generous people in our community."
To find out more about iPads For Soldiers or to learn how you can help, visit iPadsForSoldiers.com.