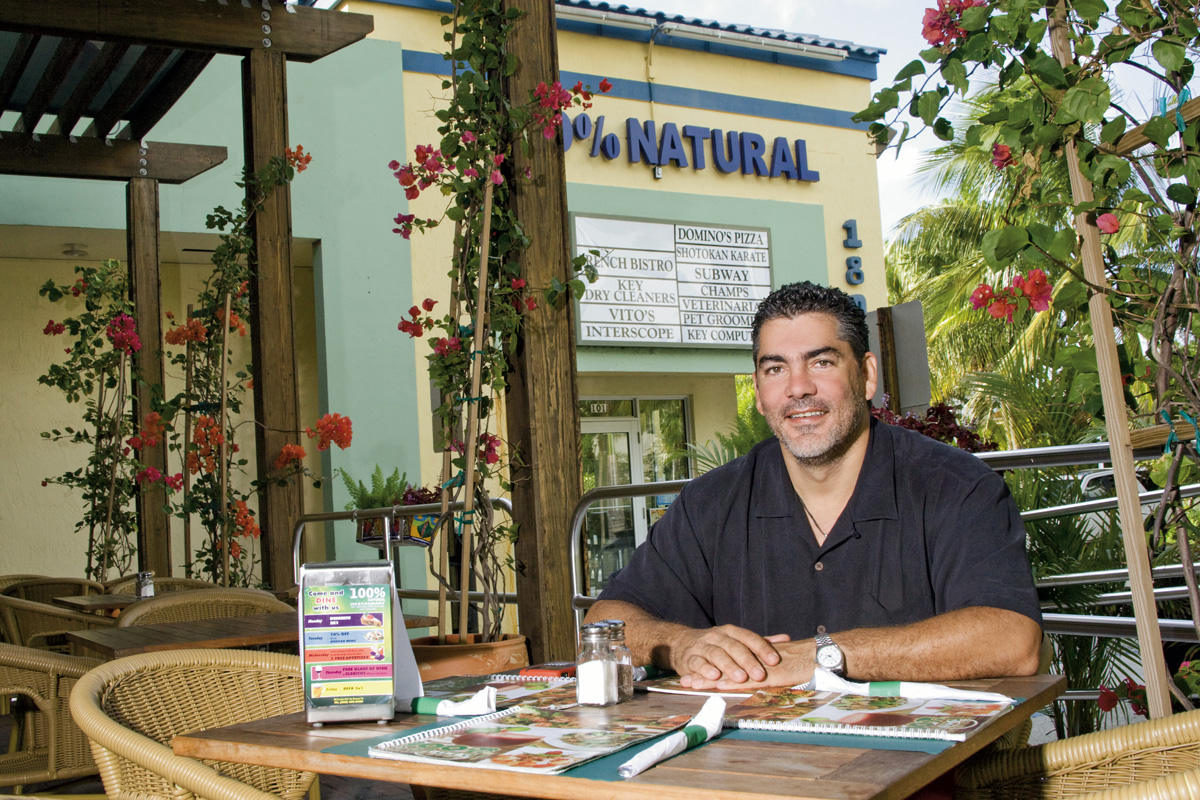 Health-conscious Key Biscayners are in for a treat — sweet, savory and 100% Natural. The as-titled restaurant at 180 Crandon Blvd. brings its healthy and very-taste savvy concepts to the Key from Mexico, where 45 restaurants have sprawled from the sunny beaches of Acapulco to the country's more conservative capital.
Co-owner Jose Solis-Camara and his partner Diego Aleman brought the chain to Florida to introduce the distinctive concept that was already wowing American tourists abroad. The cuisine steers clear of any additives, preservatives and processing, and instead combines the freshest of ingredients for a light, yet satisfying Mexican meal. "The idea behind 100% Natural is to offer a variety of foods that are well-balanced and nutritious, with some flavors dedicated to Mexico," says Solis-Camara, who is likely to make any nutritionist proud. When creating their dishes, the chefs at 100% Natural take into account the right balance of carbs, fats and proteins, and prepare them in ways that preserve the vitamins and minerals that fortify each ingredient.
Almost everything is handmade and homemade, starting with the breads, which are baked daily using a variety of whole grains and seeds for optimum health. And health is one thing that the mastermind behind this delightful establishment takes very seriously. "Countless studies show that nutrition is the key in preventing diseases. Once you start eating healthy, your body practically thanks you for it because it feels good," says Solis-Camara, who spent three years working at the Mexican equivalent of Oscar Mayer, an experience that left him horrified after seeing first-hand how certain food products are made. "People don't invest in their health, and in the end, they pay the price."
What Solis-Camara wants you to know is that health and taste can be interlaced, starting with their 60 varieties of juices made with freshly peeled exotic fruits and vegetables. A tangy treat is the Cancun, which combines perfectly ripe papaya, strawberry and banana for a drink that's naturally sweet. Want to refuel after a workout? Grab an Ana Guevara, an energy smoothie made with banana, strawberry, soybeans, oatmeal, cinnamon and honey.
But if a little more substance is what you crave, 100% Natural offers a full breakfast, lunch and dinner menu. An a.m. favorite is Venenosos, a hearty portion of organic eggs scrambled with turkey ham, cheese, spinach, onions, tomato and hot peppers, and served with a side of refried beans. Another popular dish is the Avena Susy, a serving of oatmeal garnished with pecans, sunflower seeds, amaranth, banana, apple raisins and a dash of cinnamon.
As soon as lunchtime rolls around, Solis-Camara highly recommends the Mexican-inspired dishes. After all, they are prepared by Mexican chefs who have mastered authentic South of the Border flavors. One such culinary master is Chef Lazaro Sarabia, who has been working with the company for 15 years. He recommends the Camarones Caribeños, which in itself is a feast for the eyes. Grilled fresh shrimp are served over brown and wild rice and sautéed with white wine, garlic, pineapple and veggies. The tasty creation is then served in a pineapple half.
Other palate-pleasers include their signature guacamole, made with the finest Hass avocadoes, and the Mexicana, a puree of beans topped with tortilla chips, sour cream and queso fresco. "We do our best to preserve the authenticity of each dish," says Solis-Camara. "The soup tastes like your grandmother made it."
The exceptionally extensive menu also offers a variety of salads and sandwiches that pay tribute to cultures all around the world. A perfect example is the Tai-Tai, a blend of lettuce, spinach and rice noodles that are tossed with a sweet-and-sour dressing and sprinkled with sesame seeds. It is then topped off with your choice of grilled oyster mushrooms, chicken, fish or tofu. Sammies more your thing? El Pescador, an open-faced sandwich made with three-seed whole-wheat bread, is topped with fresh-cooked tuna, lettuce, spinach, baby onion, lime and chipotle pepper cream sauce.
True to his roots, Solis-Camara puts in a very good word for the Quesabrosas, a special serving of three whole-wheat flour tortillas stuffed with Chihuahua cheese, fresh spinach, mushrooms and onion. And because all things are fine in moderation, he recommends their famous Tacos de Pollo, four crunchy chicken tacos topped with farmer's cheese and sour cream. "Some people shy away because they think healthy and delicious don't go together, but once they try the food, they always return for more," says Solis-Camara.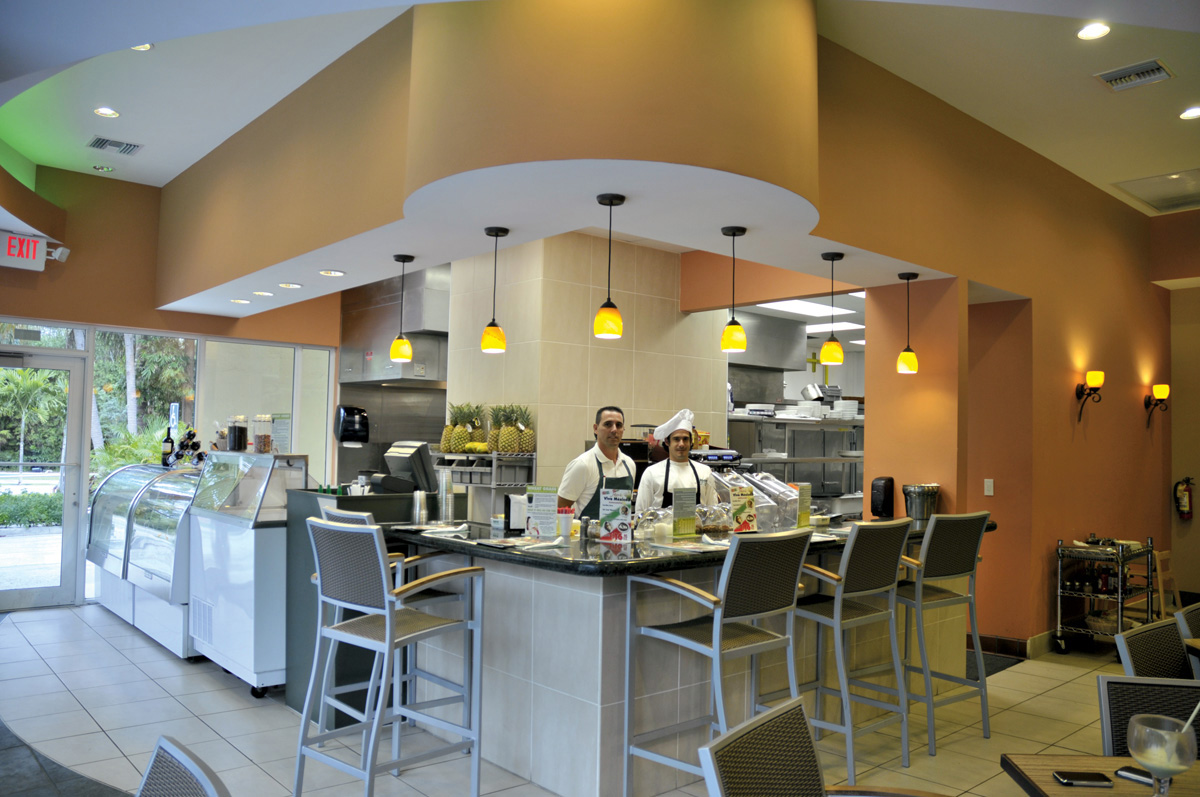 One of the restaurant's regulars is Mariano Pagano, a Key Biscayne resident who drops in for dinner at least twice a week. "I like the ambiance, the service, but most of all the food because it's good and good for you," he says in between bites of guacamole-topped chips.
And don't forget dessert, because at 100% Natural, not all sweets are created evil! The delicious Cream Cheese Pie with Corn is a traditional treat in Mexico and a house favorite at 100% Natural, along with the Pay 100%, a natural pie made with apples and cream cheese. The bakery also offers a variety of muffins and sweet rolls baked with whole-grain and whole-wheat flours for — you guess it — optimum health!
"Through my business I'm providing more than a service," concludes Solis-Camara. "I'm creating awareness on what it means to be healthy, and those who want to take care of themselves always come back."