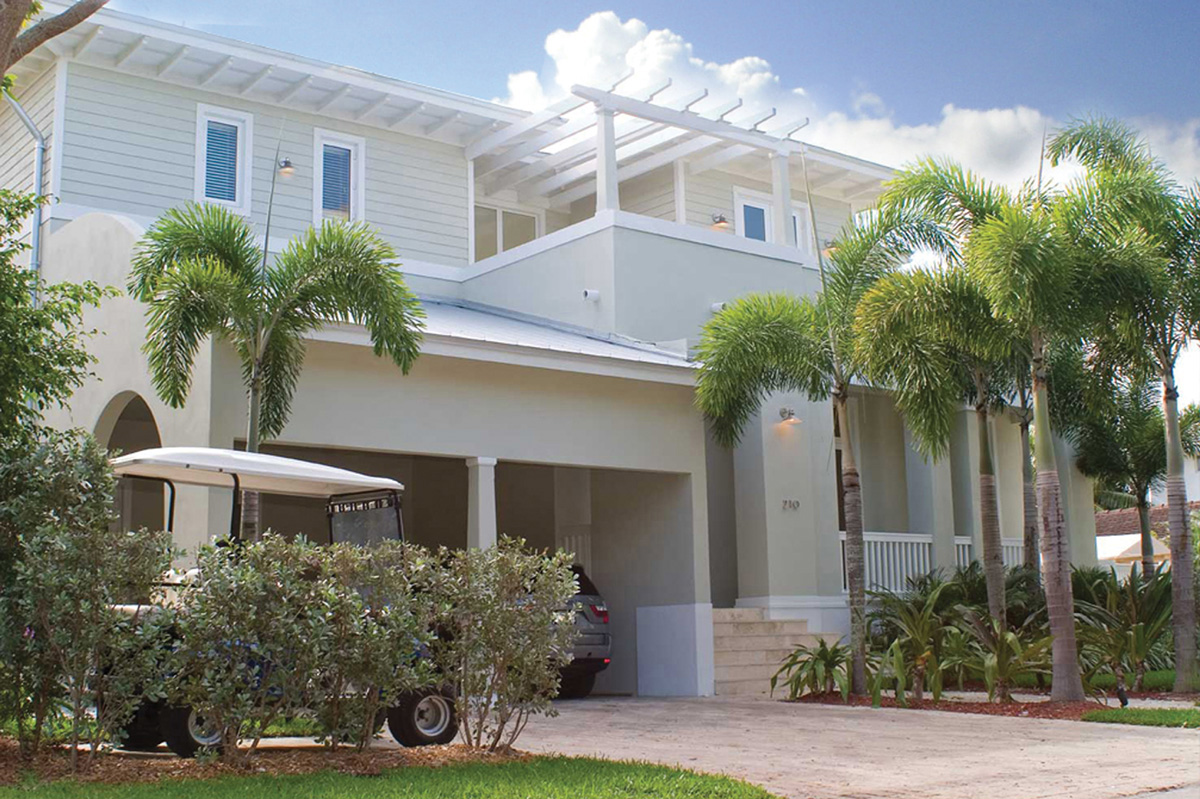 White light and a sense of sophisticated purity envelopes you the moment you step inside this modern Key Biscayne home that was inspired by the very island it was built upon. "The inspiration behind the entire look was the privileged location of Key Biscayne," says architect Pepe Oleas of South Bay Group, an architecture and design firm that has been developing on the island for more than a decade. "The island is blessed with favorable weather, colorful and abundant vegetation and the historical precedent of South Florida's unique architectural style."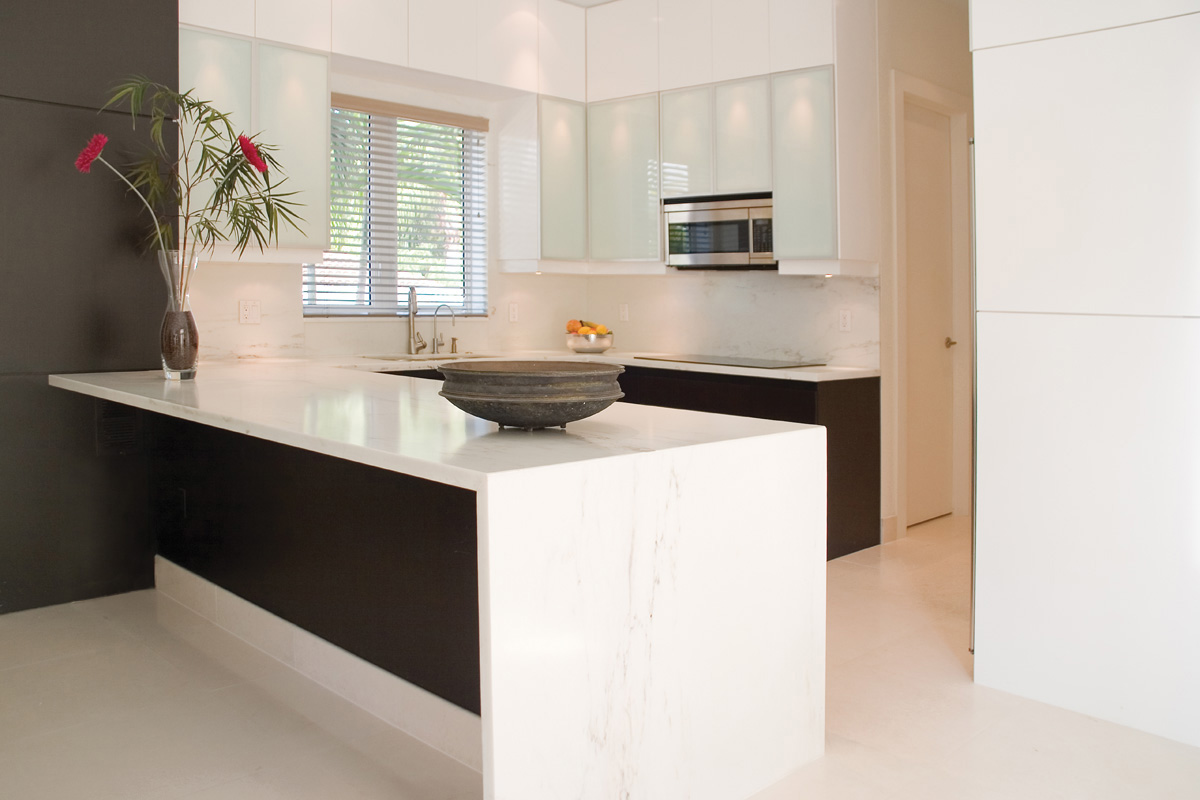 It was those one-of-a-kind qualities that the owner and architect focused on when brainstorming on the eventual look of this elegant abode. "The process of working with the owners was one of total cooperation — I can't say enough about the great suggestions the owner had," says Oleas. "The main aesthetic consideration was to develop vernacular Floridian architecture to an up-to-date condition without detracting from its essence."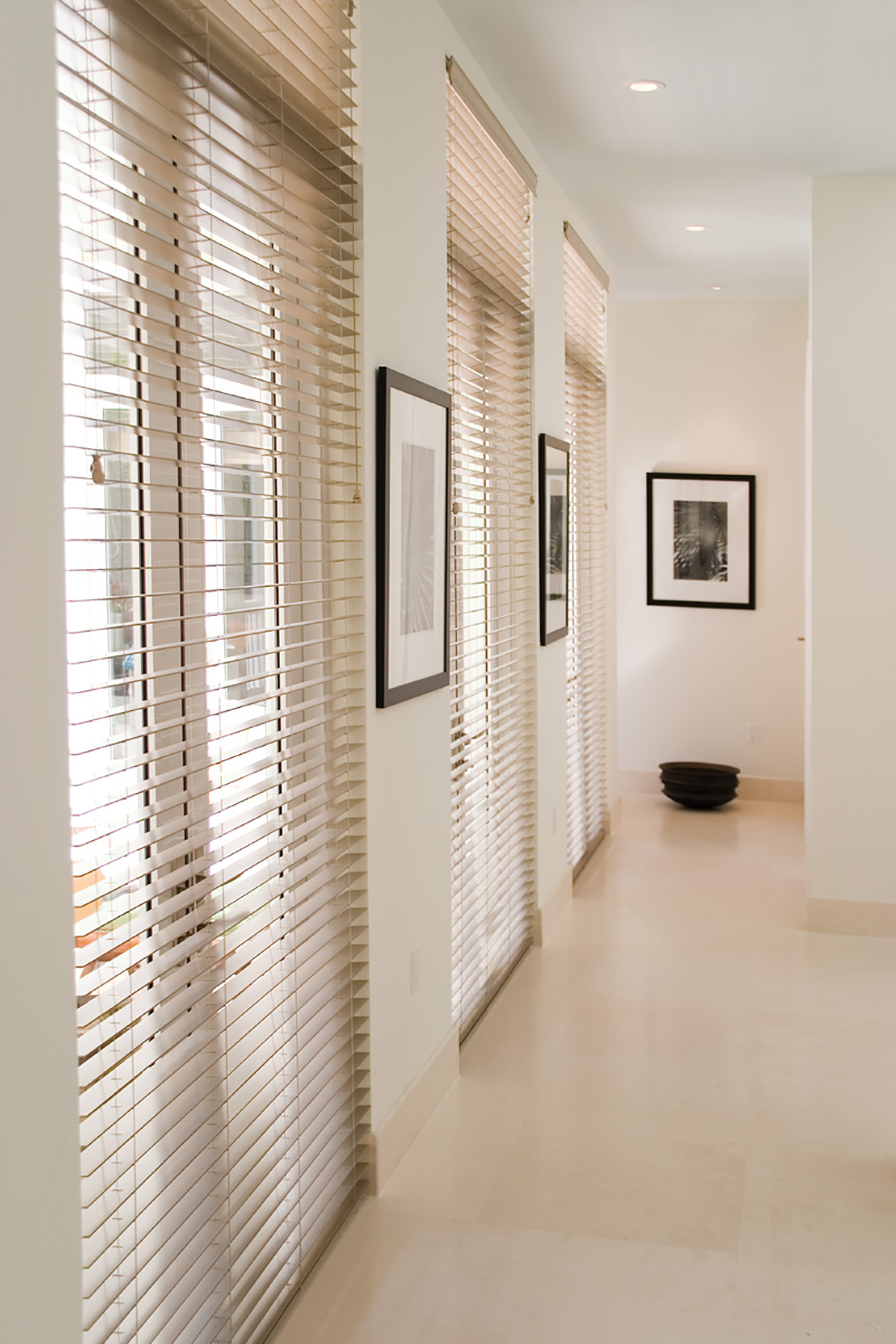 And one of the things this creative camaraderie brought about was the minimalist color scheme and excessive use of natural light found throughout the home. "In the exterior, white — or degrees of whiteness — helped us create the impression of a cool and calm dwelling in a hot, tropical environment," says Oleas. "Inside, detailing is very minimalist, concentrating instead on surface materials and quality of spaces. White walls were the perfect background for the owner's exquisite collection of artwork, which was amplified with generous overhangs, trellis elements and terraces that diffuses direct sunlight enough so the artwork is not damaged in the process of being highlighted."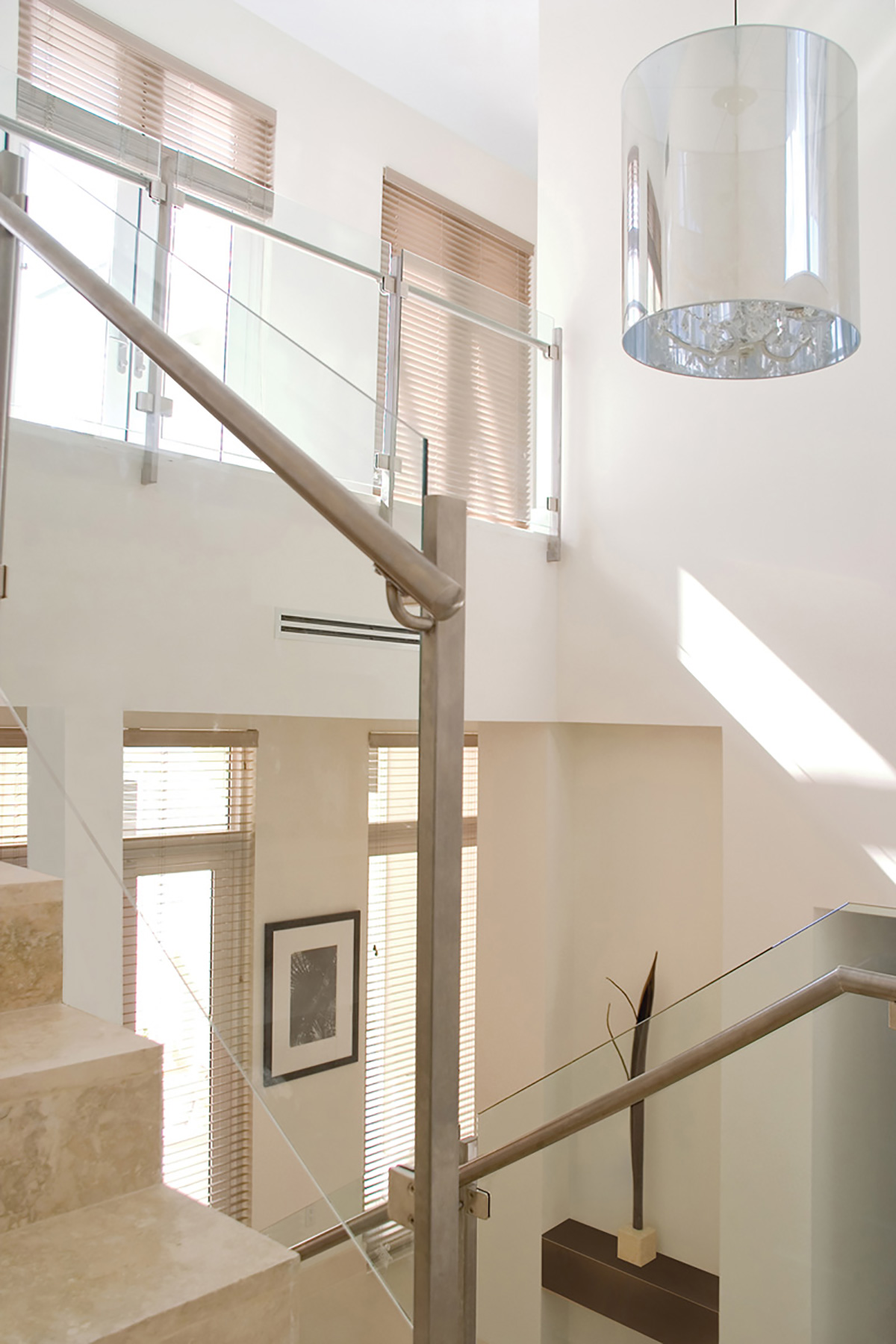 Throughout this 5,324-square-foot, six bedroom, five-and-a-half bath home, a sense of openness and airy sophistication is prevalent in every corner. Every décor detail, every architectural consideration and everything else inside and out were carefully selected to meld with one another to create the total ambiance of all the spaces within the house. On center stage is the owner's artwork, an impressive collection that adds just the right amount of color-splashes throughout while complementing the creativity and attention to detail within. Ample room for private time or for entertaining a large group of friends is available both inside and out.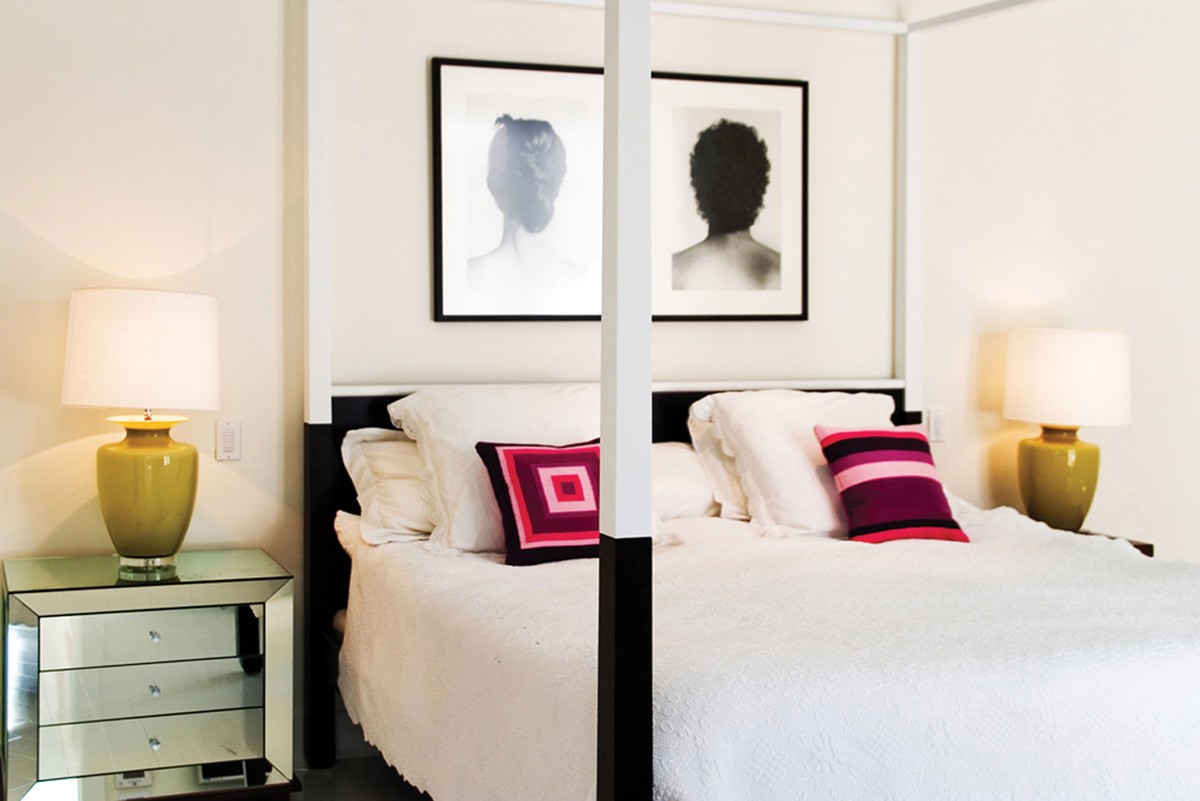 But not every aspect of the interior considerations was as simple to accomplish as the aforementioned. "I can pinpoint one particular architectural element that became a bit of a handful to deal with: the glass/stainless steel stair in the main vestibule," says Oleas. "Fortunately, we all believe the stress and headache this element brought with it paid off in the end. The main vestibule really embodies the essence of the house."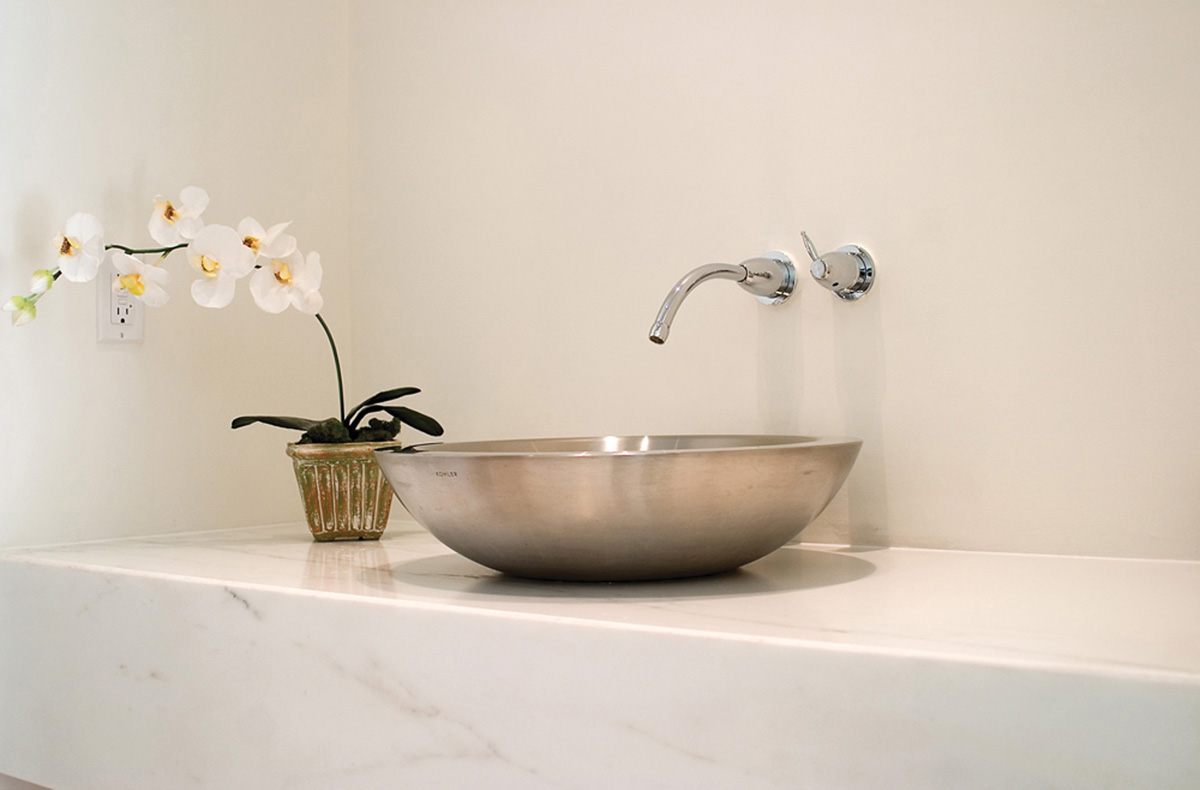 In the end, the team at South Bay Group says they are proud of their accomplishments with the property, as are the owners. "Our primary motivation is to uncover the fantasies of our clients, to visualize their innermost wishes and realize all of their aspirations," says Oleas. "After we've interpreted those dreams to perfection, our goal is to build a custom-designed home where they can all come true amid all the comfort, space, luxury and safety our clients have always yearned for." And with this home, it seems they accomplished that and much, much more.