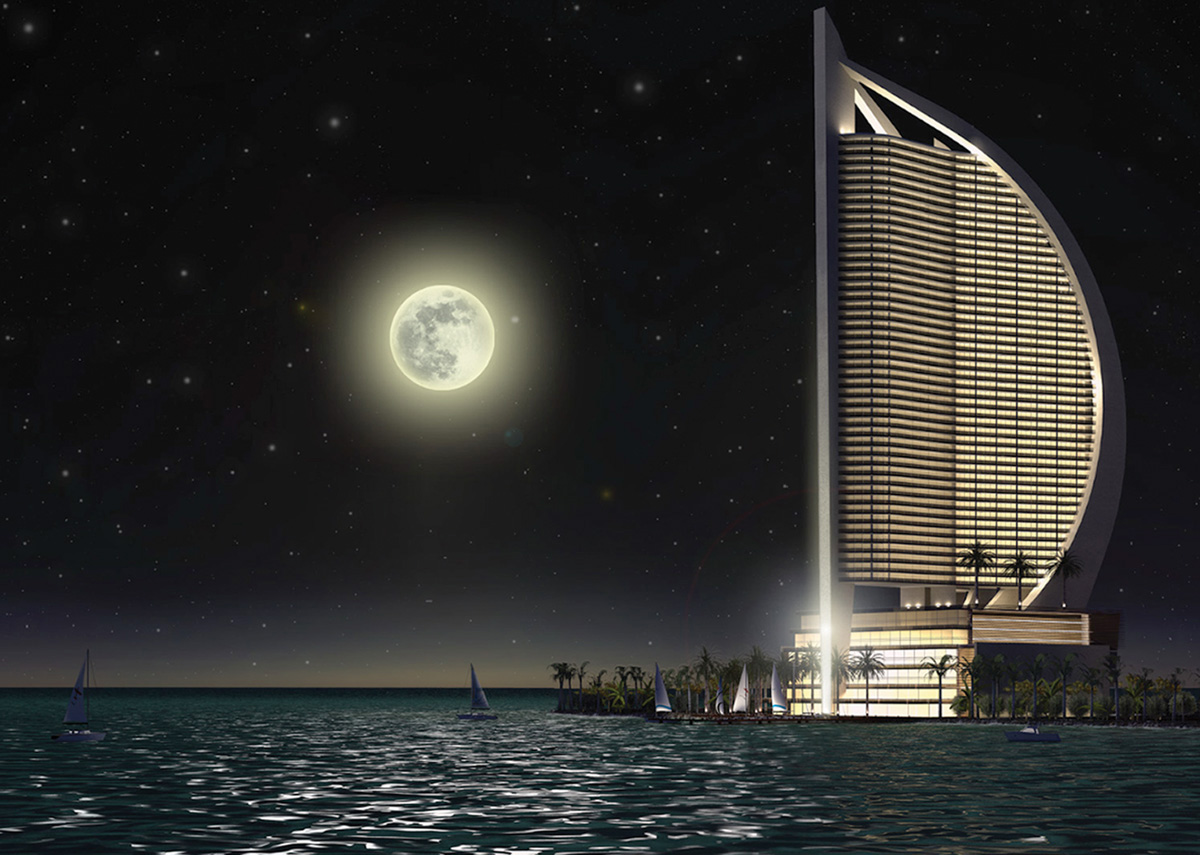 Trump Ocean Club Panama
You know an icon when you see it. And the Trump Ocean Club International Hotel and Tower in the heart of Panama City is no exception. The $400 million project is the largest real estate investment in Latin America with 2.8 million total square feet and 68 stories. For the first time in Panama, residents and visitors alike will benefit from a luxurious lifestyle that combines the elegance, comfort and indulgences found in the most exclusive six-star hotels. The Trump Ocean Club community is being created as a deliberate haven — a place one can settle into and never leave.
The master plan includes condominiums and condo-hotel units, a magnificent wellness spa, an oversized infinity pool and deck, yacht club and pier, a private beach club, gourmet restaurants, office lofts and upscale boutiques and shops.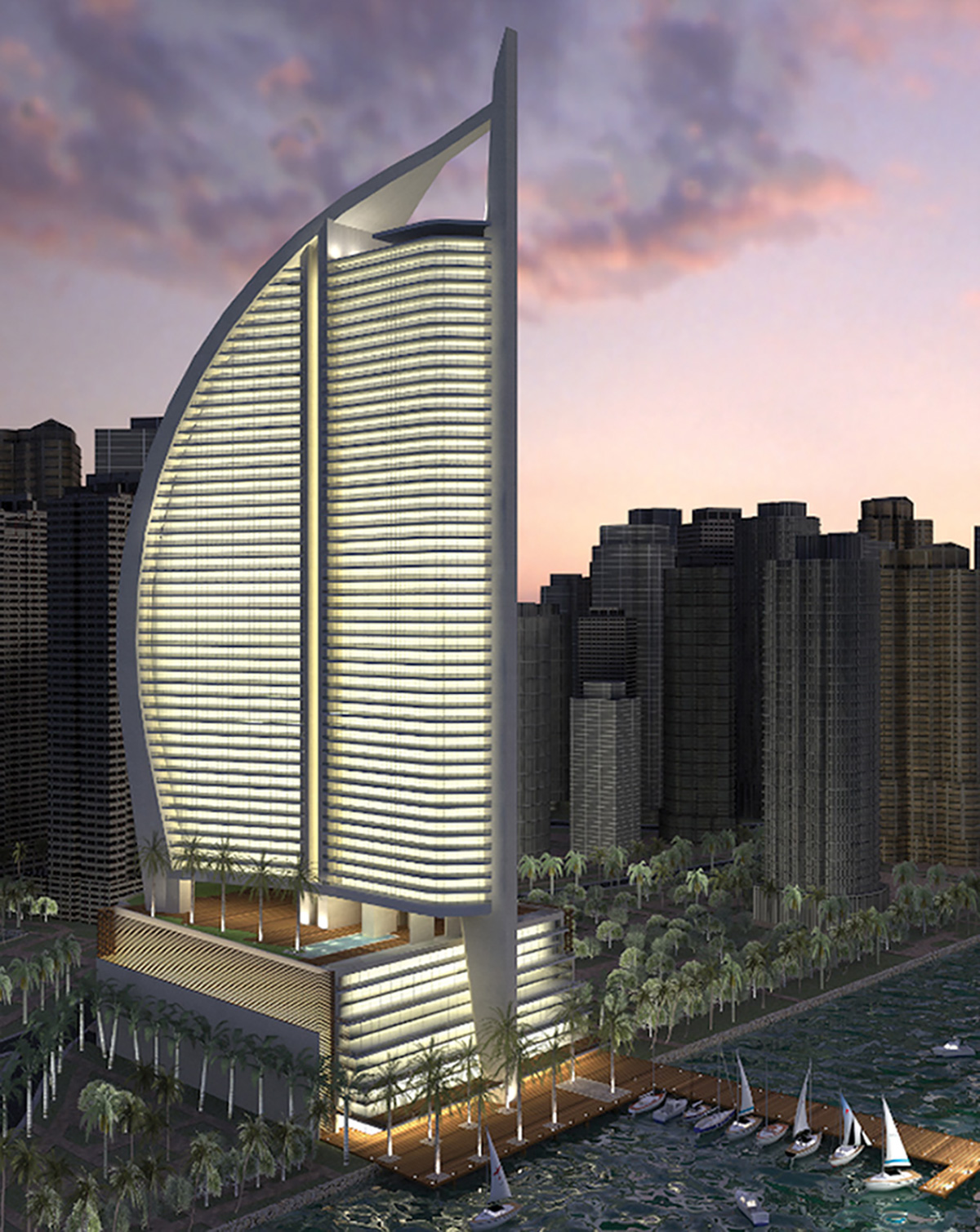 The hotel also provides the comfort and convenience of an on-site barber shop, beauty salon, drug store, flower shop, jewelry store, chauffeur and limo service and 24-hour medical services. Those who like to get away from home but refuse to slow down can also take pleasure in the electrifying on-site 45,000-square-foot Trump International Casino.
Completing the "package of perfection" offered at Trump Ocean Club, each and every residence has been carefully engineered to offer unobstructed views of the Pacific Ocean from private terraces. The one-, two- and three-bedroom units and penthouse suites are designed with premium European cabinetry and elegantly detailed designer fixtures, imported granite countertops, modern stainless steel appliances, imported marble flooring and contemporary frameless showers.
Trump discovered Panama during the Miss Universe Pageant. He was so affected by the beauty of the country, he remembered it years later when looking into new projects. "We expect Trump Ocean Club Panama to reach the success and renowned status of my other luxury projects," he says.
Topping the list of reasons to invest in Panama is the country's easy financing and use of the U.S. dollar, making it one of the top destinations to retire or invest. Additionally, the Panamanian government is completely behind the country's growth, as they are exonerating property taxes on residential investments, resulting in hundreds of thousands of dollars in savings to future property owners. Due to the excitement, beauty and tax benefits, Panama has recently been ranked the top place to retire by Modern Maturity magazine, a publication of the AARP.
The opportunity to live in a beautiful waterfront property in an exciting and growing city at a superior lifestyle, all at prices unseen anywhere else in the world has not gone unnoticed. Demand is high for the limited number of spaces available, which means if you're interested, you'd better schedule a tour. For more information, visit TrumpOceanClub.com.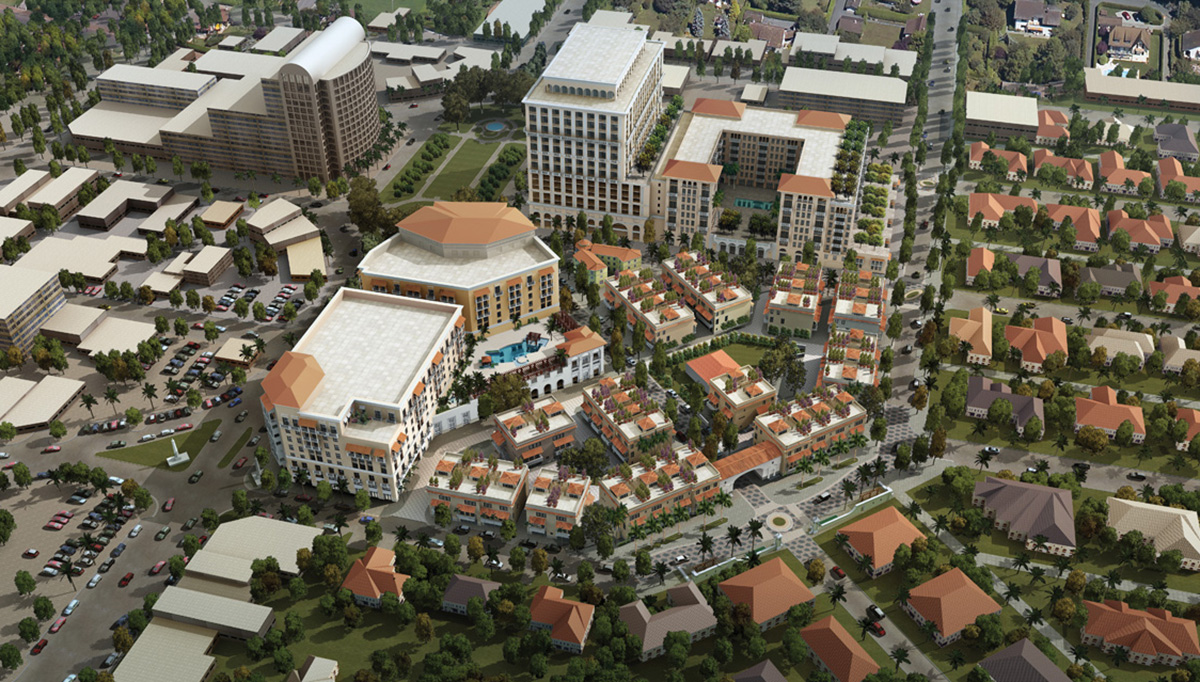 Old Spanish Village
In a city known for its history, another historic landmark is about to rise from the skillfully manicured envrons of Coral Gables. Its name is Old Spanish Village and it promises to live up to the hype that surrounds what will soon become the largest mixed-use development currently underway in the downtown Gables.
The recent sales launch for the project welcomed a who's who of government officials and local dignitaries who received a flamenco serenade as they were escorted through the new sales center in the historic Art and Architecture building constructed by Coral Gables founder George Merrick. "This is truly a milestone moment for us," says Ponce Circle Developers managing partner, Ralph Sanchez. "We have taken pride in developing this project and in fulfilling George Merrick's dream of building a Spanish-themed village in Coral Gables."
Old Spanish Village combines retail, office and residential space with the convenience and appeal of village living in downtown Coral Gables. The 7.2-acre project will include numerous enhancements to the area such as plazas, gateways, entrances and fountains and features a combination of luxury townhomes and condominiums embodied in a cluster of buildings including Ponce Place Townhomes, Ponce Circle Towers and Casa Palermo, ensuring an offering for any taste. For more information, visit OldSpanishVillage.com.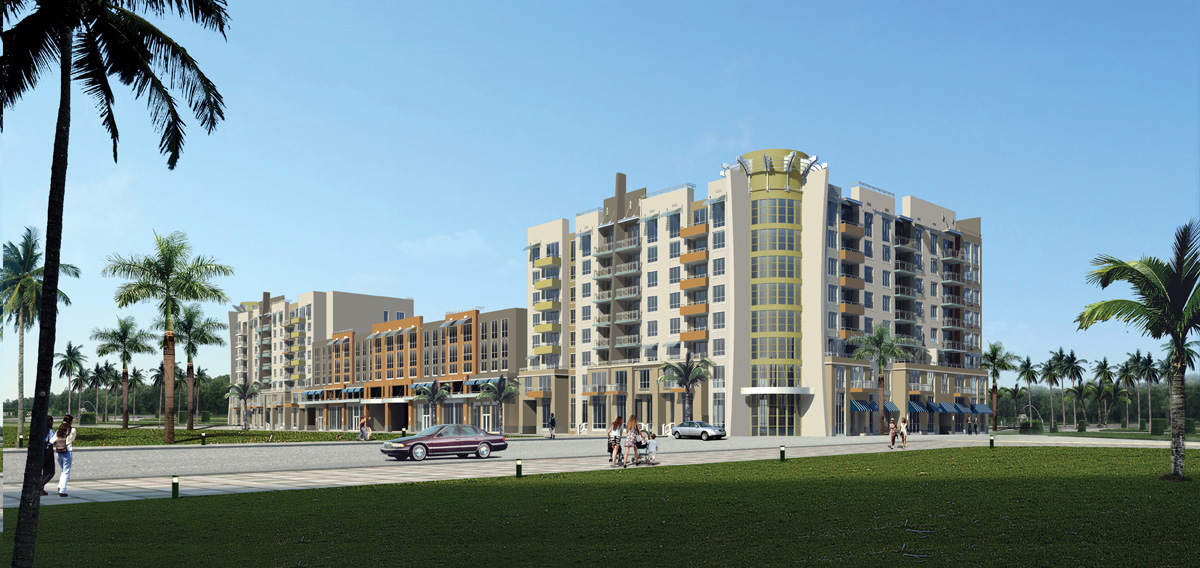 The Slade at Channelside
You know you're on to something grand when the mayor stops by for a visit. So when a launch breakfast for The Slade at Channelside in Tampa yielded Mayor Pam Iorio as a guest speaker, all eyes turned toward the sales force.
Cobalt Development Group, along with their JV partner, New Boston Fund, Inc., were honored Iorio showed up, as were the scores of potential buyers that attended. "We were very excited to have Mayor Iorio join us for the groundbreaking of The Slade," says Juan Porro, president of Cobalt Development Group. "It is a milestone that speaks for itself and communicates the realities of our project."
The Slade's location in Channelside features a trolley connecting it to the local culture which is close to Tampa's central business district and just 30 minutes from the beach and 45 minutes to Disney World.
Amenities and features include a completely state-of-the-art, 280-unit condominium development, eight stories with units ranging in size from 780 to 1,539 square feet with nine-foot ceilings, large walk-in closets, floor-to-ceiling sliding glass doors and world-class kitchens and bathrooms.
The property also features separate salt and fresh water pools, yoga rooms and steamrooms. For more information, visit TheSladeAtChannelside.com.

The Plaza Costa del Este
Homes Real Estate and Investment Services of Panama recently announced the latest venture in their rapidly expanding global portfolio: The Plaza Costa del Este in Panama. And with a new office in the heart of Miami's thriving downtown district on the corner of 18th NE Street and Biscayne Boulevard, investing in this in-demand real estate property is just a short drive away. The innovative and state-of-the-art office will allow South Florida and U.S. clients to explore real estate and residential opportunities on an international level. "We are extremely excited and proud to open the new office of Homes Real Estate & Investment Services that is going to serve as a main Homes office for all our existing sub-offices in the U.S.," says Alexandre Ventura, a partner with Homes Real Estate & Investment Services in Panama. "With this office launch we hope to provide our South Florida customers the ability to discuss and learn about the exciting projects that are happening in Panama on a one-to-one basis with our brokers."
Set on the waterfront overlooking the Pacific Ocean, The Plaza is located in Panama's hottest residential district. Just minutes from downtown Panama and the Tocumen International Airport, residents will enjoy the tranquility and luxury of ultimate living, with access to all of Panama City's finest amenities and the tropical beauty that abouds in this exotic Central American country. Featuring the clean, sleek lines of architect MusAsvat, The Plaza is a mixed-use project that integrates function with pleasure.
Developed by A2SN, the tower will combine luxury two-story lofts, condominium apartments as well as 150 five-star boutique hotel quarters for the high-end traveler. All residents and guests will have access to the complex's spa, Sky Beach and business center as well as an exclusive Beach Club on Contadora Island, the jewel of the Pearl Islands Archipelago. The Plaza's entertainment complex also includes a theater, on-site restaurant and swimming pool. Perhaps the biggest allure of the project is that it's become a celebrity magnet for some of the world's most talented stars.
Gilberto Santarosa, one of the first proud owners of a condominium at The Plaza and Grammy-winning Latin megastar, feels he made the right investment. "I'm extraordinarily proud to be part of this project," he says. "I'm proud to call it my home." According to those close to the project, Enrique Iglesias has already claimed the penthouse. Word is there are about half a dozen other stars currently touring the project with their entourage on toe, so if you want to get in before Hollywood's finest snatch up all the available offerings, contact Mario Sopena at PanamaInMiami@aol.com.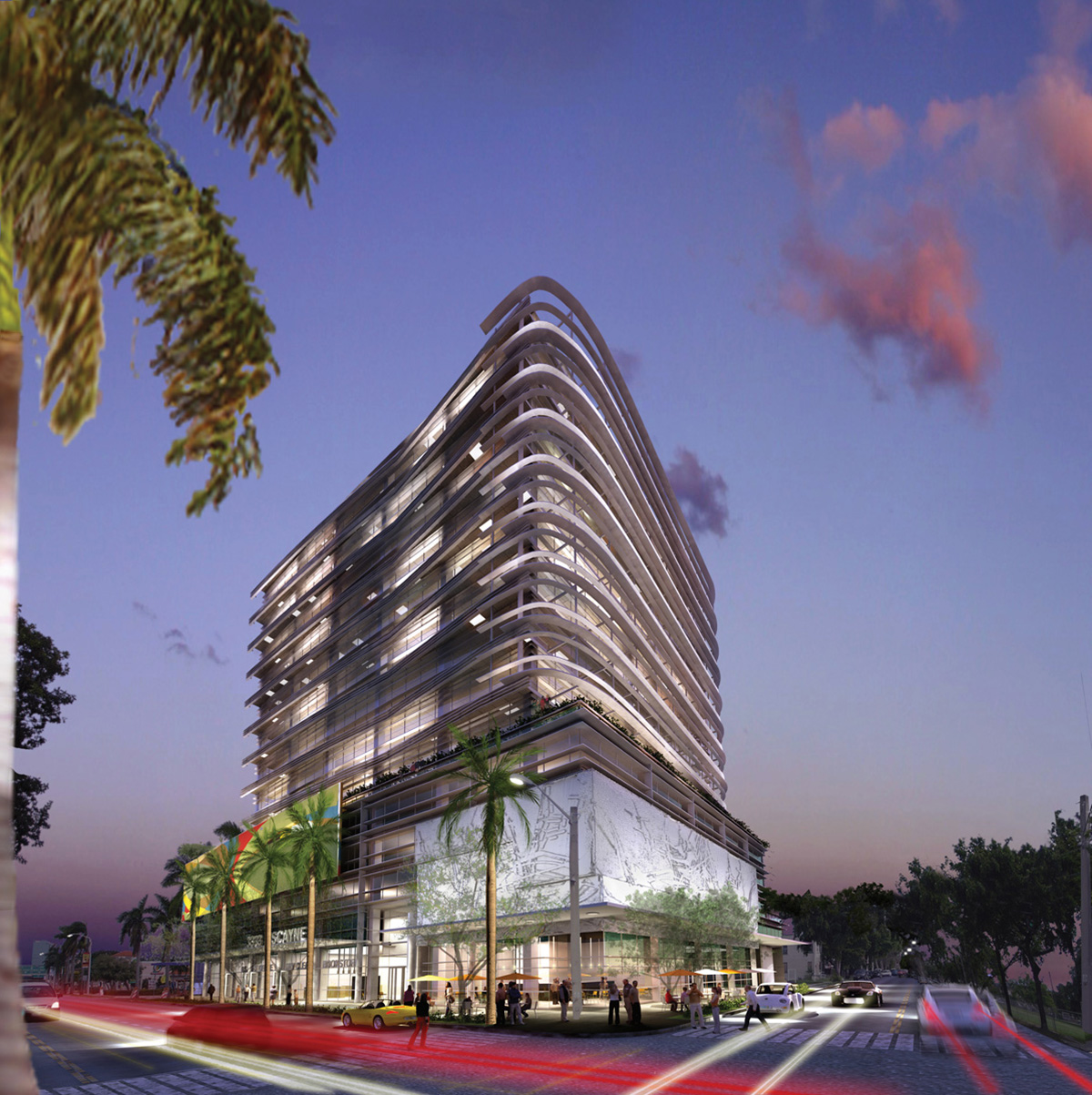 3333 Biscayne
Biscayne Boulevard is on the verge of a new facelift thanks to 3333 Biscayne, a 14-story commercial project that is set to be one of the most aesthetic additions to the Design District's skyline. And with 130,000 square feet of office space and 10,000 square feet of retail space, it's no small undertaking. Developed by Cardinal Development Corp., 3333 Biscayne is the only proposed Class A office space on Biscayne from the downtown Miami area to Aventura.
Located between NE 33rd and 34th streets on the east side of Biscayne Boulevard, 3333 is an attractive alternative to the crowded canyons of Brickell. Its opportune location is also just minutes from Miami's Central Business District, Miami Beach, the Port of Miami and Miami International Airport as well as the most complete amenity base in all downtown Miami with the new Carnival Center for the Performing Arts to the south and The Shops at Midtown Miami to the north.
From its inception, 3333 Biscayne's luxury office space has incorporated a balance of practicality, art and fantasy, resulting in colorful and invigorating spaces with utilitarian value. The design of 3333 creates a feeling of luxury and openness beginning in the lobby with its double-height ceilings, wall-to-wall impact-resistant glass and striking interiors that feature creative use of space and light in the public areas. "The genesis of 3333 was based on invigorating a forgotten quarter of the city and its purpose is to bring back the class and prestige of a 1940s Miami," says the building's architect, Pat Bosch of Perkins & Will.
In addition, 3333 Biscayne will boast city and Biscayne Bay views, suites ranging from 1,000 to 15,000 square feet, a garden terrace, spacious retail and dining promenade, integrated meeting spaces and valet service. Scheduled for completion in spring 2009, the development will serve as an urban catalyst for future commercial development in the area. For more information, visit 3333Biscayne.com.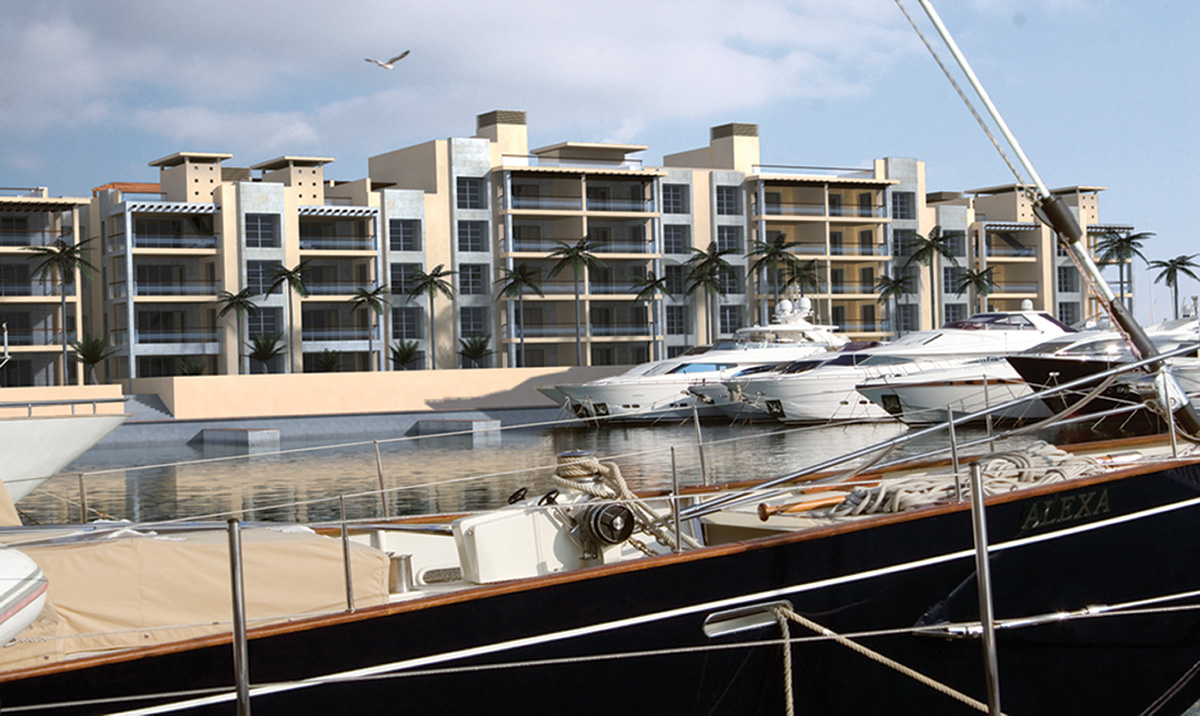 La Amada
Touted as "Heaven on Earth," La Amada off the waters of the Quintana Roo coast in Mexico comes pretty close to its name. Imagine more than two miles of white-sand beaches along crystal-blue water, a sea of colorful coral reefs and acres of wildlife sanctuaries. Surrounding this tranquil setting are luxurious residences, a mega-yacht marina and two Greg Norman-designed golf courses, only hours from your doorstep.
This is the backdrop for La Amada, a new 500-acre luxury development located in the master planned development of Mexico's famed beachside community, Playa Mujeres. Promising the finest in amenities, residences and guests of La Amada will enjoy the breathtaking setting while sailing, playing around at one of the world-class golf courses, or riding horseback along the beach. These and other activities complete the lifestyle only this part of the world can offer.
The development's one-, two- and three-bedroom residences, 100-room five-star boutique hotel and a luxury spa are sure to please. In addition, Grupo Excellence, the developers of the project, created a "marina village" with 150,000 feet of commercial space for restaurants, bars, cafes and shops, creating an ambiance akin to top European resorts such as Puerto Banus and St. Tropez.
Residents can even fly in and land on the property's private helicopter pad. To schedule a tour, go to LaAmada.com.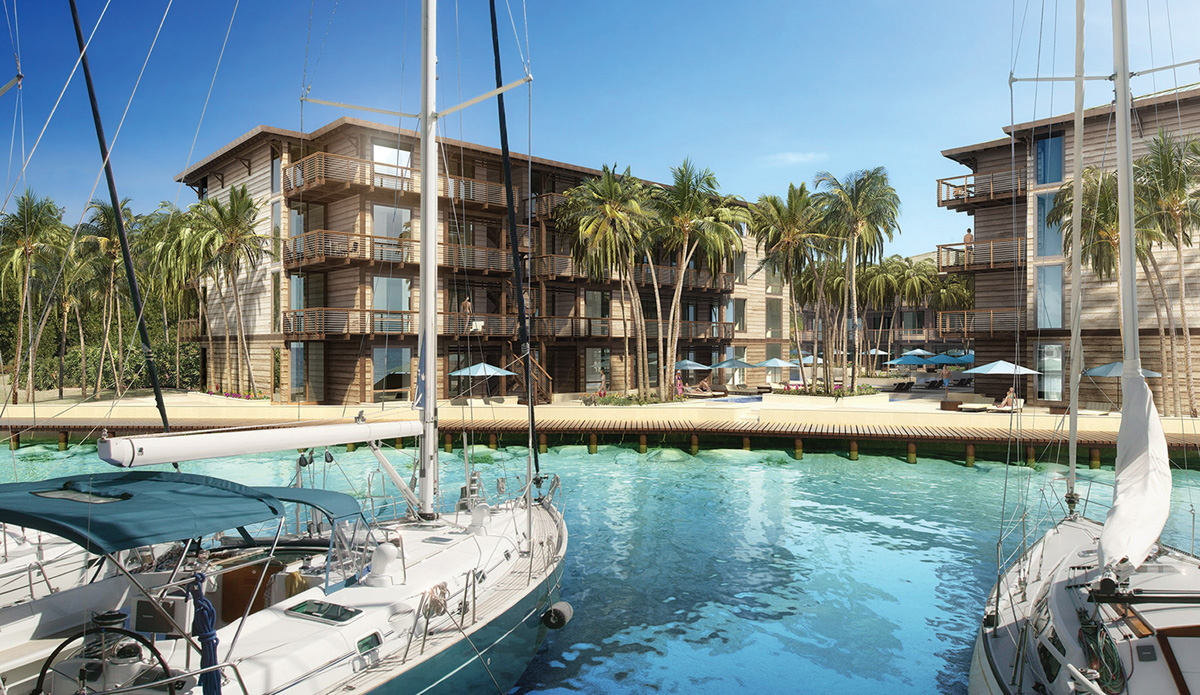 Palacio del Mar
Tucked away between unspoiled beachfront and flanked by the pristine rainforest in historic Bocas Del Toro, Palacio del Mar in Panama combines the ultimate in refined, sophisticated design with an abiding respect for both the natural and social environment of the surrounding area.
A Six Diamond Resort International production, Palacio del Mar celebrates the rich heritage of Bocas del Toro, a quaint, little-traveled secret located in western Panama, just 24 miles from Costa Rica. Adjacent to The Smithsonian Tropical Research Institute, the region boasts some of the world's most exotic aquatic and animal species, coral reefs, tropical forests and colorful vegetation, making it one of the most beautiful, yet untouched islands anywhere despite the fact that it was one of the spots that famed explorer Christopher Columbus first set foot upon.
Developers Frank and Kimberly DeLape have a profound respect for this environmental haven, and wish for "the development to be as invisible as possible." After falling in love with this magical place, its people and its one-of-a-kind natural surroundings, they are committed to creating a harmonious haven, a home away for home for the fortunate few, the discerning buyers who truly see beauty in the broadest sense of the word.
In Bocas Del Toro, Palacio Del Mar will be one of the initial projects for Six Diamond Resorts International, one of the most respected names in luxury. The condominiums, ranging from one to three bedrooms, will have dramatic views facing either romantic Almirante Bay or glorious, aquamarine Caribbean beaches.
The units will feature expansive layouts and state-of-the-art appliances as well as the best architectural and design considerations available. The Caribbean Beach Residences will showcase world-class wooden floors harvested from sustainable forests and large glass-paneled walls — perfect for viewing the breathtaking sunrises and sunsets found on this part of the planet. And that's just the beginning. For more information and to secure your spot, go to PalacioDelMarPanama.com.