Situated on one of the most recognized residential roads in Key Biscayne, the residence at 501 Harbor Drive is both stunning and enticing at very first glance. It's so impacting in fact, that the man selling it as part of his Dream Collection, James Salas of eRealty International, can't come up with enough words to describe this functional, aesthetic wonder. "The home's modern classic design with its array of picture windows and architectural lines adds a distinctive flair to the neighborhood," he says. "It's a landmark home with a subtle flair that adds a definite sense of elegance to every square inch."
Featuring 4,500 square feet of living space on a 5,600-square-foot lot, this castle by the sea offers 6 bedrooms, 6.5 baths, a rooftop terrace, marble and wood floors, home theatre, slate pool, two-car garage, impact picture windows and doors and even an elevator for $4.2 million. "This home has everything one could ever dream of," says Salas.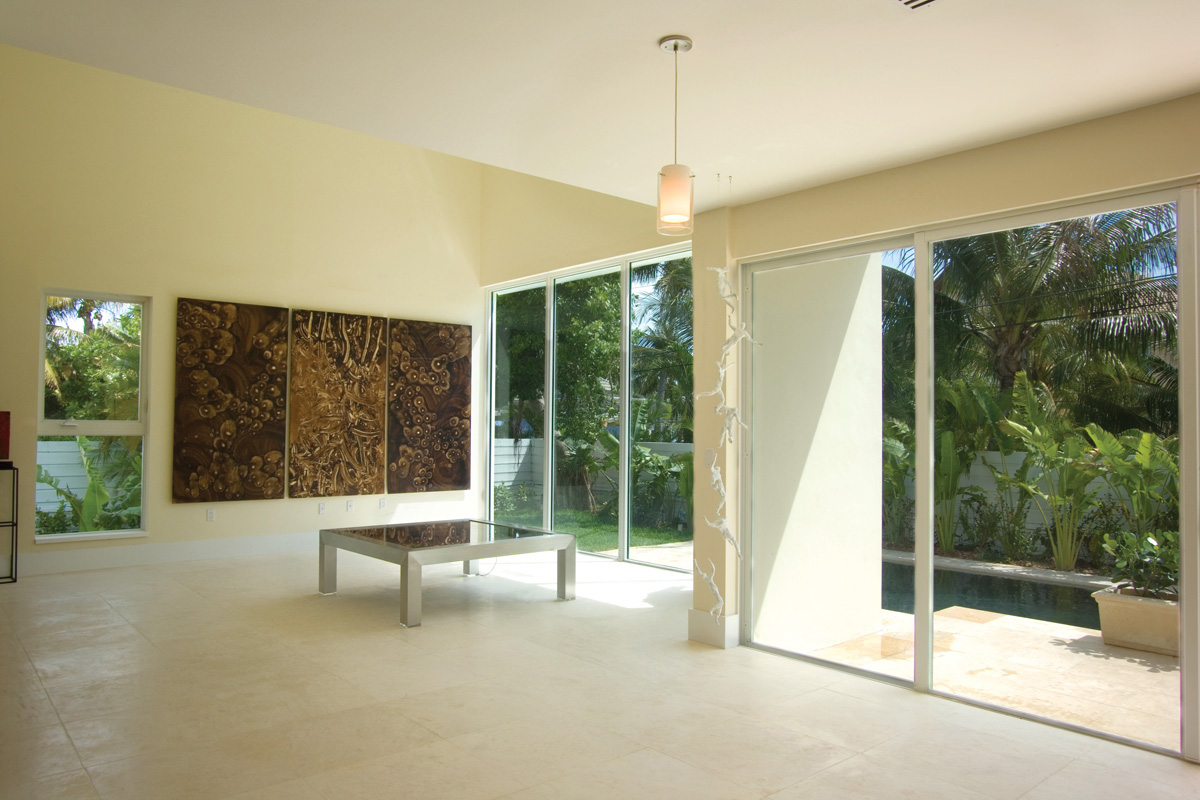 In terms of the home's architectural style, the architect, Juan Zubillaga of Zubillaga Design, says it's purely Modernist Cubist. "The house is designed from within," he says. "The shape developed based on the rooms and their flow inside. I would describe this house, and others I do, as 'machines for human habitation.' I always avoid 'cookie-cutter' decisions and try to build vertical to allow maximum green areas — I really dislike houses that cover the whole lot and have no gardens…to me those homes are simply apartments on the ground."
Zubillaga has found that in warm climates, Modernist approaches work best due to the sensation of coolness that's established with the right combination of architecture, design and colors. "Just by looking at this house, it feels cool," he says. "That may only be a perception, but perceptions are felt and are therefore real!"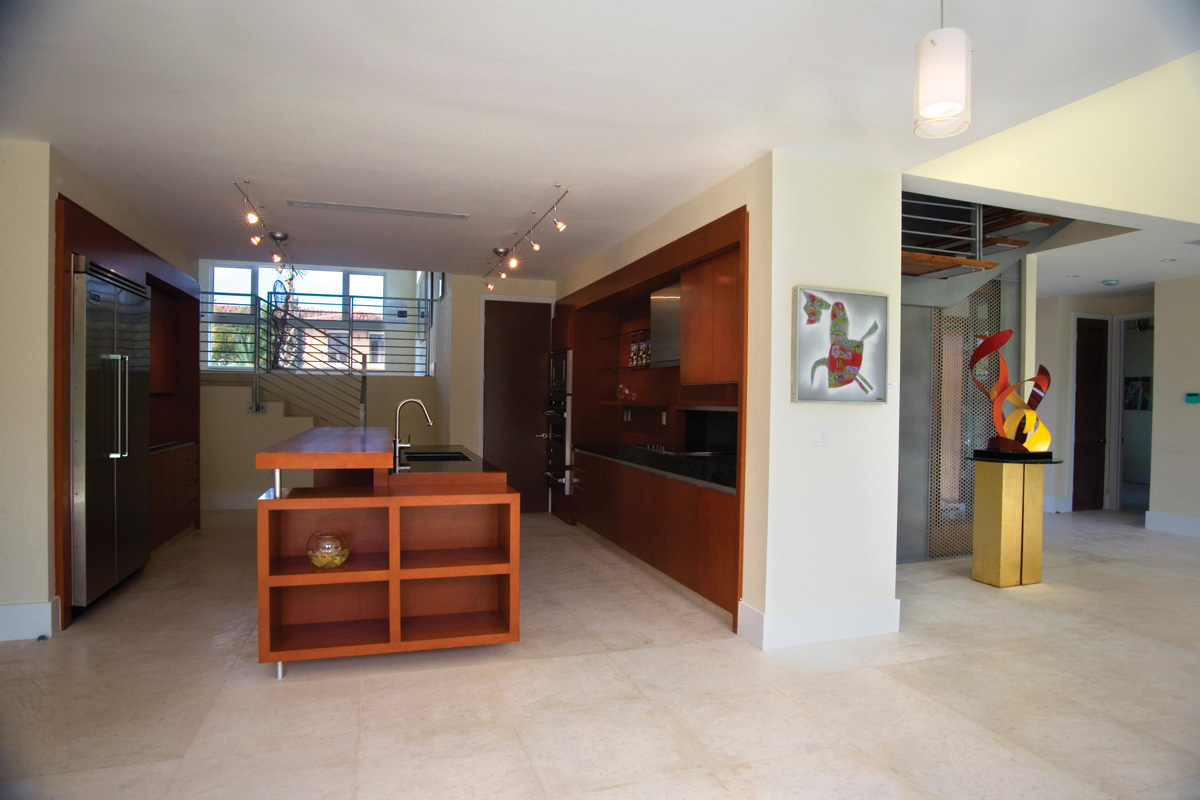 As with anything in life, first impressions are everlasting, and according to Salas, this home takes that statement to the next level. "When people first see this home their initial thought is: 'Wow, Minimalism in a house…it feels like I'm in a garden enclosed in glass,'" he says.
Perhaps the best part of this home is that it isn't just pretty to look at, it's also a great place to entertain. "This home is loaded with personality," says Salas. "We live in such a close community where everyone knows everyone and there's always a reason to host parties, events, barbecues and all sorts of gatherings with friends. This home is perfect for that." Already, even before being inhabited since its new construction, the home has been used to host a three-day art exhibit with the Key Biscayne Foundation, including an entire day dedicated to family and kids. "We've also had several wine and cheese parties," says Salas.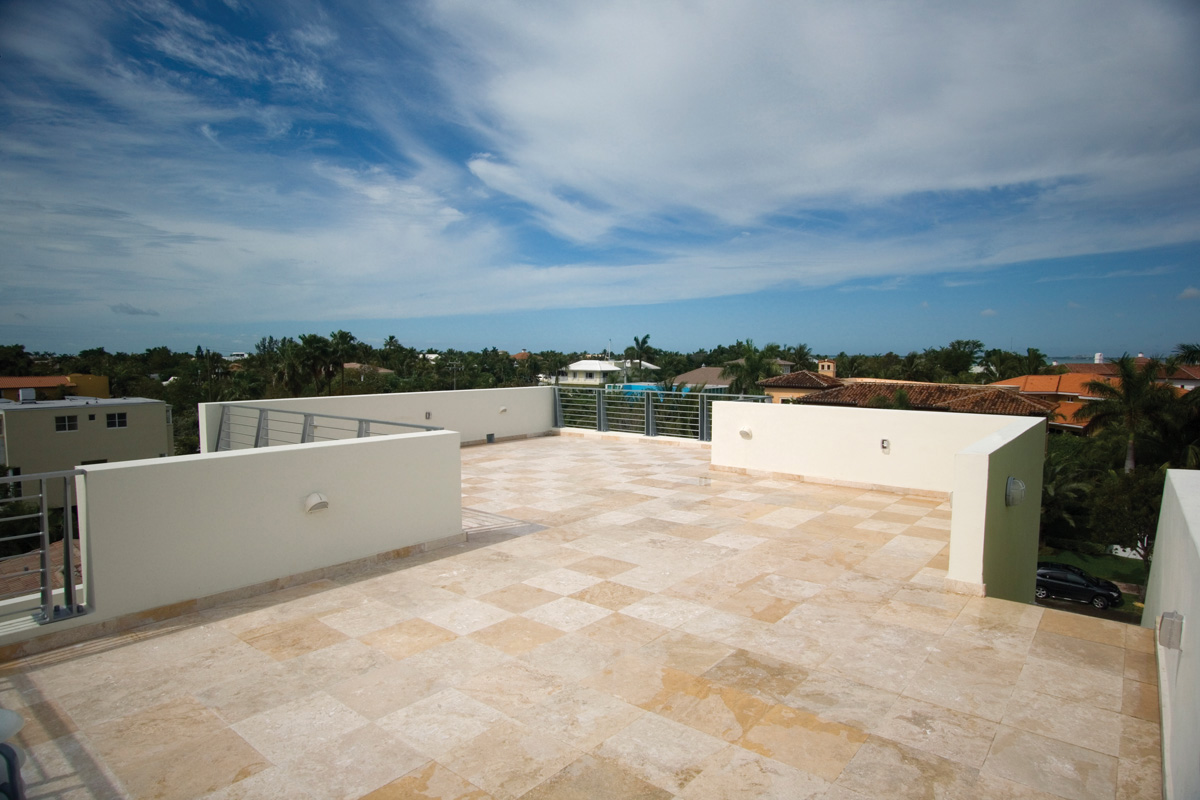 As such, the house is full of surprises inside that one may not notice just by looking at its exterior. "My favorite part of this home is the rooftop terrace," says Salas. "There's nothing like it on the Key. With unobstructed, 360-degree views, this elevated oasis serves as a private evening venue complete with cool breezes, soft music and a glass of your favorite champagne or tropical drink to sip amongst friends, family and great conversation."
So who qualifies as ideal inhabitants for this residence? "This home is for anyone who is very successful," says Salas. "Some of our recent sales have been second homes for recording artists, professional athletes, celebrities and entrepreneurs, but this home would also be ideal as a primary home for a family with small children."

Besides its unique look, you can't beat this home's location right in the heart of an island paradise. "Key Biscayne is perfect for the very active family looking for a safe, healthy lifestyle," says Salas. "The island has miles of sandy beaches, parks, marinas, cycling paths, walking trails, all sorts of water sports, boating and jogging as well as sightseeing, shopping and dining options. It's a vibrant, interactive community right off the mainland that offers the feeling of residing in a very special place where most only dream of living."
To get your own slice of paradise in the home of your dreams, contact James Salas at 305.300.6764 or visit KeyBiscayneHouses.com to schedule a tour of the 501 Harbor Drive property and others.