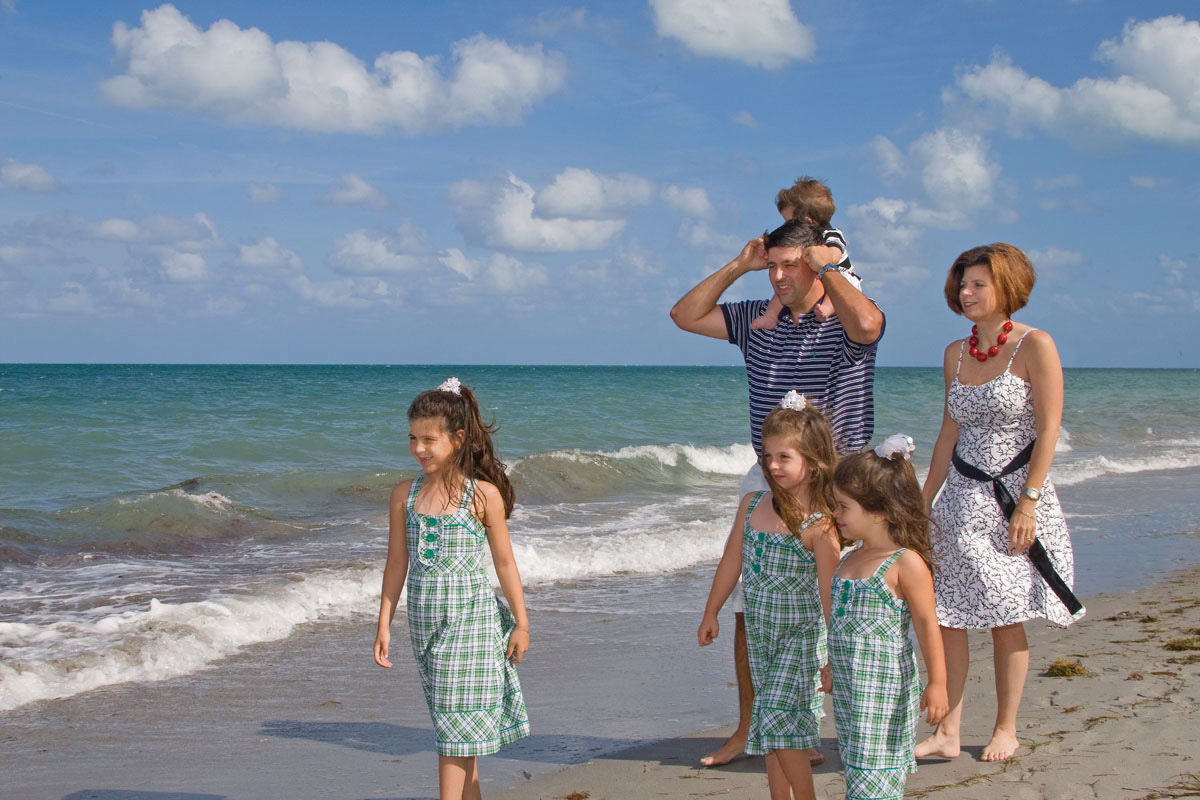 Four kids, two jobs, a dozen extracurricular activities, endless midnight shifts, homework, dinner, etcetera infinity…it's enough to make anybody's head spin, but the Peñas have managed to stay sane even though their lives may appear anything but. Today, Barbara and Tino are enjoying the lifestyle that comes with living at The Ocean Club, although a lot must be taken care of before they can enjoy the amenities they merit.
"While in college, I wanted to go into medicine, for the love of pediatrics…I just wanted to take care of sick kids," says Barbara, who graduated from Vassar College in New York and went on to attend medical school in Yale University, where she met Tino, a graduate of Stanford. "After medical school, we trained in Boston for residency and fellowship, and we moved back down to the Key in 2001 to be near both sets of parents."
Barbara currently works three shifts per week at Miami Children's Hospital, where she is also the Emergency Medicine Research Director, and Tino is an interventional radiologist at Baptist Cardiac & Vascular Institute.

But the term "shift" echoes beyond the hospital walls. While Tino's schedule is more conventional — he usually leaves home at 7 a.m. and is back by 8 p.m. — Barbara works nights and is usually back home at 2 a.m. or 7 a.m., depending on the shift. "The main challenge is trying to balance our schedules so one of us can be home to take care of the kids," she explains. "We don't have a nanny so it can definitely be tricky sometimes."
And that goes for all four of them! The three oldest: Isabella (8), Olivia (6), and Alessandra (4) — are all students at St. Christopher's Montessori, though it's their extracurricular activities that keep Barbara and Tino on the run. All three girls take gymnastics, Chinese lessons and play instruments — the piano, cello and violin — all the while involved with Key Biscayne's Broadway Musical Theatre Program. Oh, and there's also 10-month old Constantino to worry about!
You might want to grab a cup of coffee before reading up on a regular Tuesday at the Peña household. "I get the girls to school by 8:30 a.m. Alessandra finishes school at 11:30 a.m., so I pick her up and take her and the baby with me to the gym, where I workout for an hour," she only begins to explain. "I have lunch, and I'm back to school by 3 p.m. to pick up Isabella and Olivia. The girls have Chinese class at home, and then it's off to Broadway Dance for Olivia, followed by gymnastics for all of the girls at 6 p.m. Dinner is at 7:45 p.m., bath at 8:15 p.m. and off to bed by 9 p.m." And that's all after working a midnight shift. "If I have another shift, I'll take a one-hour nap at 10 p.m. and then I'm off to work!"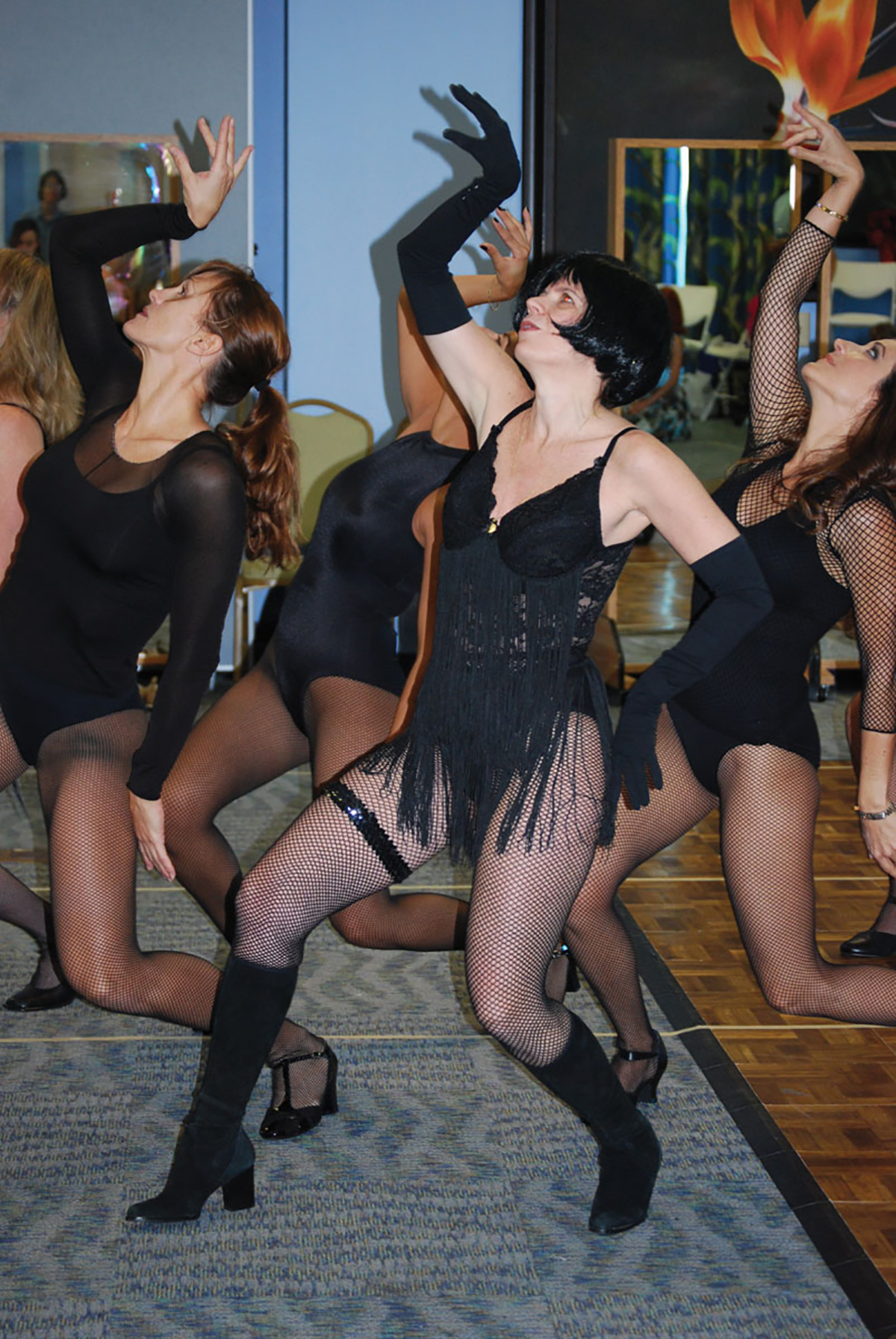 "Personally, I feel like I'm unique because I'm both a stay-at-home mom and I can also work full-time outside the home," she says. "I'm involved in the daily activities of my children, but can also give back to the community and the children of Miami by providing emergency services. It's a long day, but it can be done and I'm proof of that!"
Both she and Tino are as involved as they come, both having participating in the Broadway program, a hobby she took up recently and has no plans of giving up. "The program started with the kids learning dances and Broadway shows, and it grew into a bigger thing," she says. "This year, the mothers are doing Mamma Mia!" It's Barbara's third show with the group, and she's playing Tanya, one of the three lead women in the production. "I used to dance when I was growing up, and did minimal acting," she says. "Now I've gone full-force into it and it's fun in my spare time."
If you're wondering how she finds time to spare, just know that Tino doesn't fall far behind! "The last production was Beauty and the Beast, and Tino was The Beast," she laughs. "And before that I played Ursula in The Little Mermaid. I was pregnant, so they didn't have to put any stuffing on me."
When it comes to their baby boy, you can bet the apple doesn't fall far from this family tree, at least not when it comes to the only two males in the household. "Baby Constantino is already unique in his own way," she smiles. "He loves being surrounded by so many beautiful women and he's always laughing. We already have him hooked on the Dolphins and the Heat, just like his dad."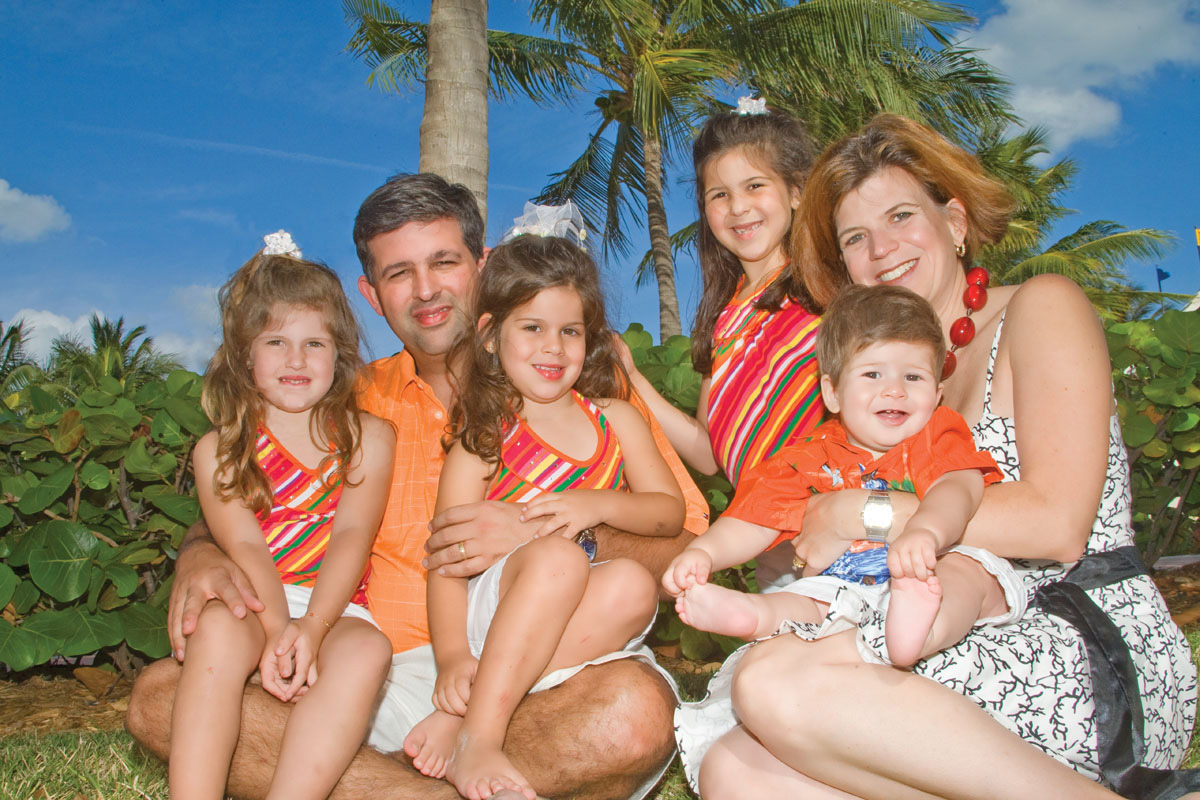 So how does this couple do it all? "We take it a day at a time, and we're very lucky to be surrounded by so much family," they say. "Thankfully, we have all four grandparents and Tino's sister, Jeannette, living on the Key, so when we're in a pinch, we have a lot of help! We feel truly blessed and lucky to have so much love and support surrounding us."
Speaking of surroundings, the Peñas do make time to soak up the Key Biscayne sun, spending Sundays by the pool with friends and family. "We love the community atmosphere of living on the island, where everyone helps one another and is there for each other."
Whether the time of day calls for a doctor or for mom and dad, it all makes for a rewarding day. "I'm blessed to watch my children grow up and I'm thrilled to be there for them every minute of it," says Barbara. "We're not perfect parents by any means, but we try our best."
And if you're still wondering how the Peñas do it, consider Barbara's mantra: "Every day is a gift from God," she says. "Enjoy every second of it!"