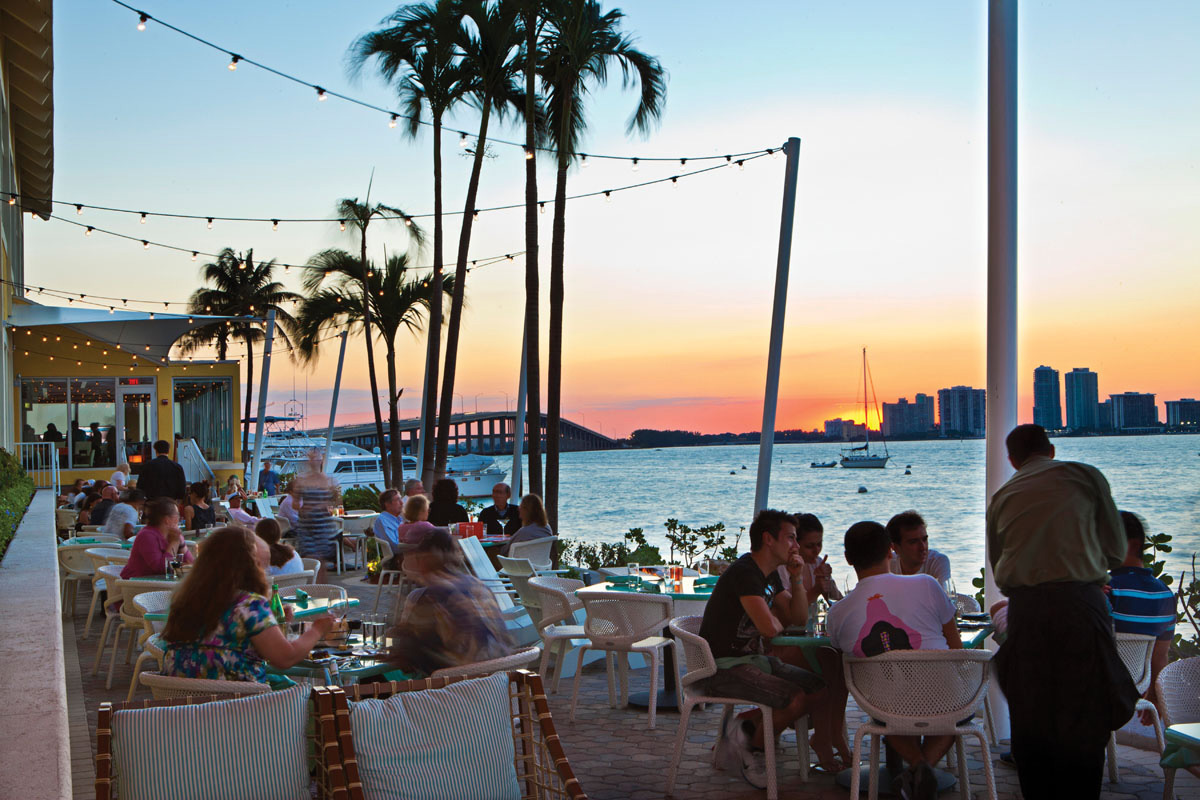 When I first arrived at The Rusty Pelican a few years ago, I felt like I was walking in to a Gilligan's Island-themed restaurant, complete with fishing nets, buoys, weathered nautical paintings and stuffed fish. There was always something comforting about that tacky restaurant where you could have a cocktail while enjoying some of the best views in the city. Although the food was never haute cuisine, it was good and simple. But something wasn't quite right.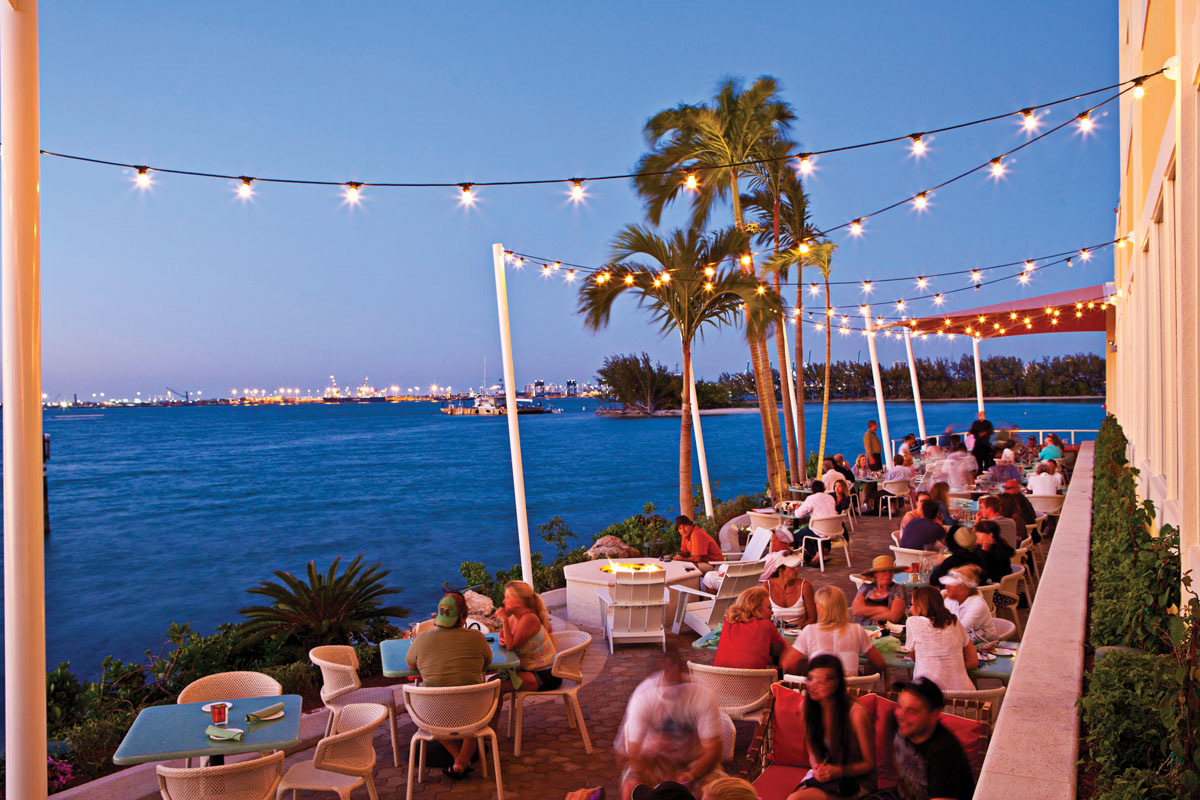 My last visit to The Rusty Pelican was a bit of a shock, a huge shock, in fact. I was no longer anywhere near the S.S. Minnow, but was instead in a place where Ginger (the movie star) might actually frequent on her own accord — and feel right at home. Gone are the tacky fish décor and bearded pirates. In "Eddy The Marlin's" place is now slick, steel details and sophisticated settings. But the charm has remained, and the view is still as spectacular.
The overhaul of this Key Biscayne favorite of 40 years comes with the owners, Specialty Restaurant Corporation, who run restaurants nationwide and who have owned The Rusty Pelican since opening it in 1972. This overhaul, which was to the tune of a whopping $9 million, was complete — from the menu, to the chef, to almost all of the staff, and, naturally, the restaurant itself.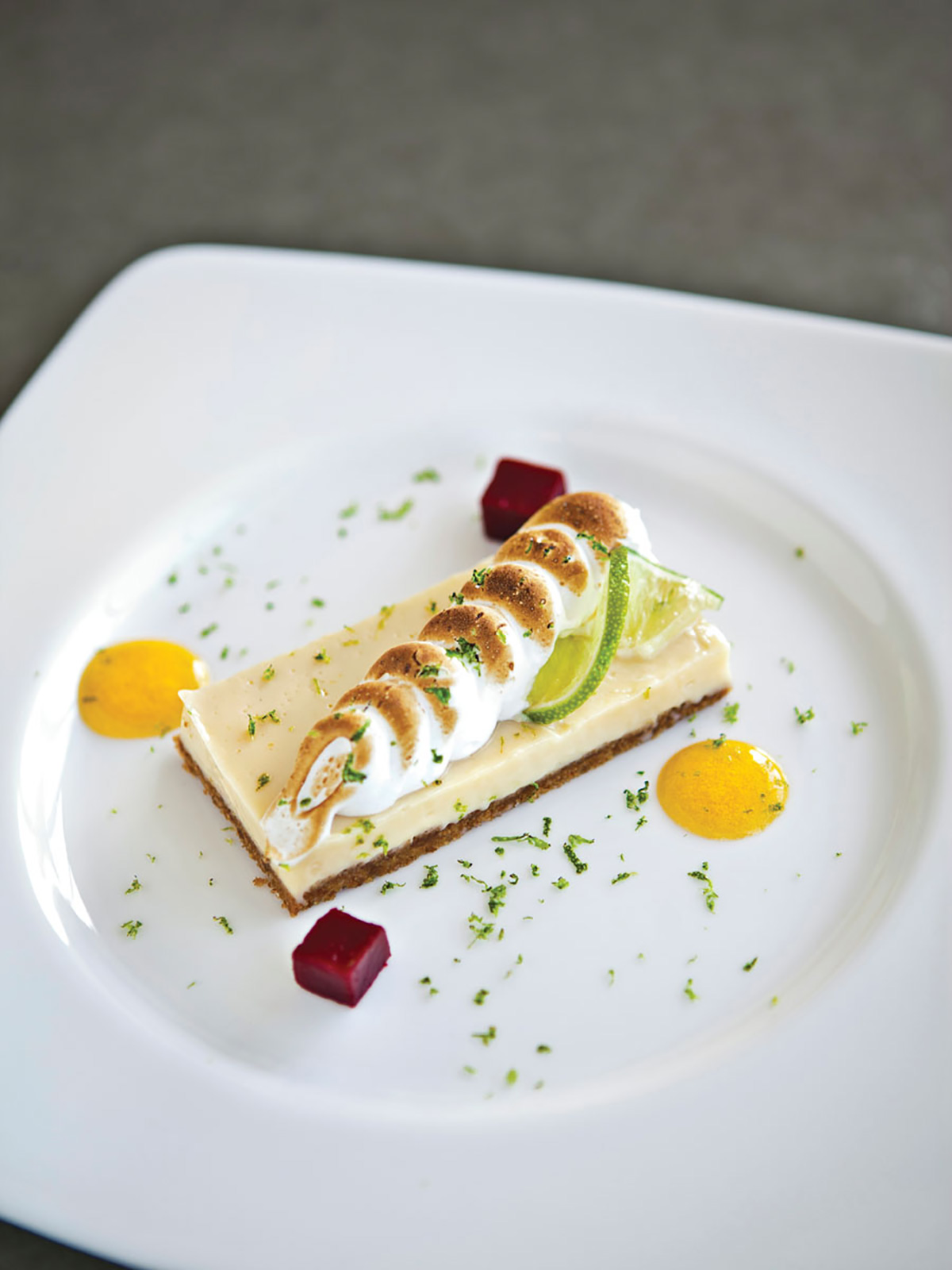 The inside of the restaurant has been redone with warm earth tones and soft lighting, making it at once chic and inviting, day and night. With seating for more than 200 in the main dining room, 100 in the lounge, and another 100 on the patio, there's a place for just about everyone. The main dining room features colorful molded glass chandeliers and new tables and place-settings. The center of the restaurant boasts a gorgeous glass and steel display wine cellar featuring a wide selection of over 1,500 carefully chosen vintages.
For before-dinner cocktails, the new lounge and bar have been beautiful updated and offer plenty of seating and a new drink list offering a vast selection of microbrews and signature cocktails. Diners are also able to enjoy the spacious and stunning outside patio, which offers seating around their inviting fire pit.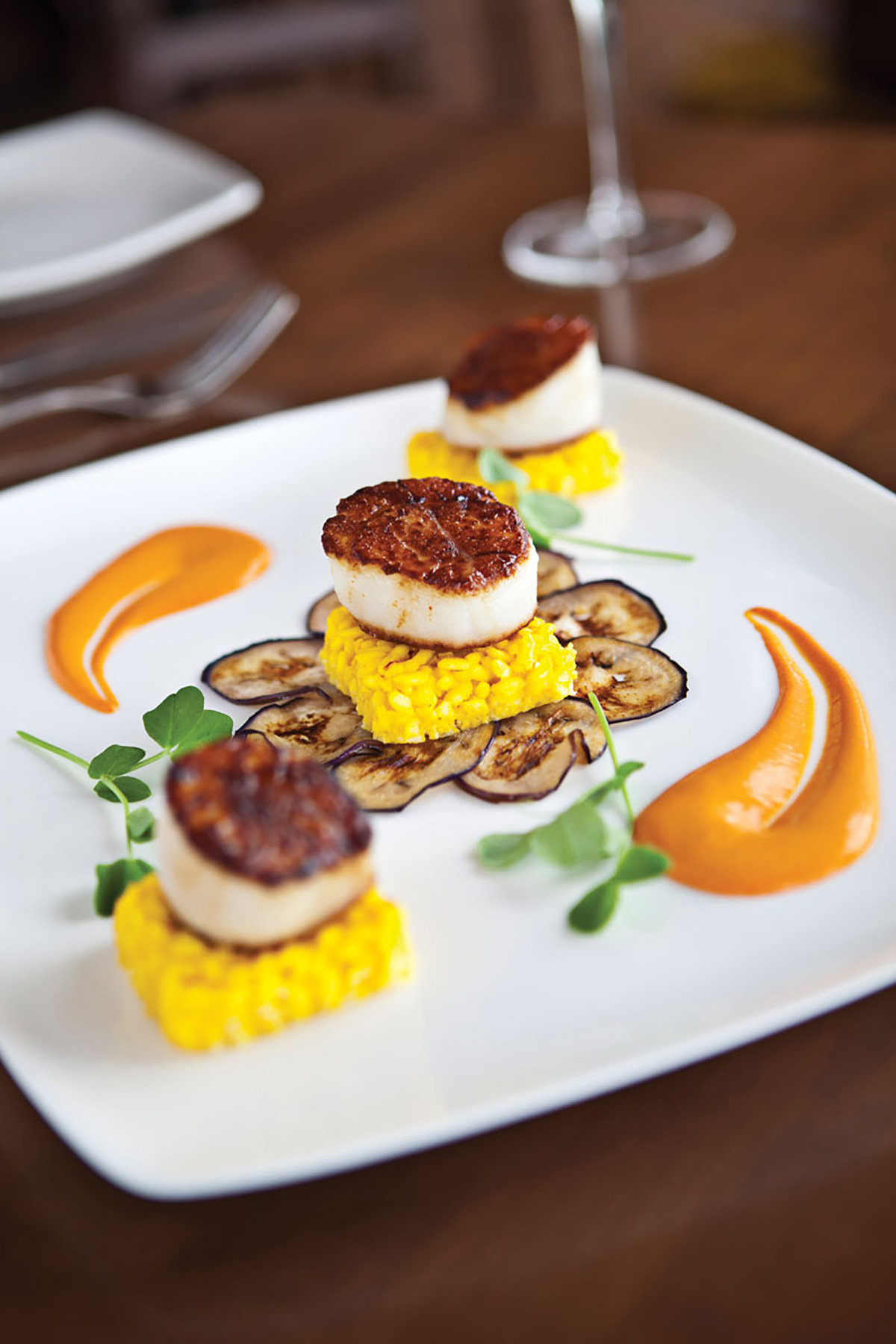 Helming the restaurant's new state-of-the-art kitchen is Executive Chef Michael Gilligan whose renowned worldly cuisine is a favorite of South Floridians. Gilligan, who is a native of England, received his training working at Michelin-starred establishments throughout Europe. Upon arriving in New York, he worked at a number of critically-acclaimed hotspots before heading down the coast to The Sunshine State to wow locals, visitors and celebrities alike at Rumi before becoming Director of Culinary Operations at the Conrad Miami. Prior to joining The Rusty Pelican team, Gilligan was Executive Chef of the trendy W South Beach.
Gilligan's menu is a blend of world cuisine, pulling inspiration from South America to Southeast Asia, while focusing on modern plates and locally sourced ingredients. "I'm thrilled to be a part of a restaurant with as much history in Miami as The Rusty Pelican," he says. "The Modern American menu mirrors the clean, modern look and vibe of the restaurant. The cuisine revolves around fresh, local ingredients and there are a lot of fun elements on the menu, like small plates that are great for sharing."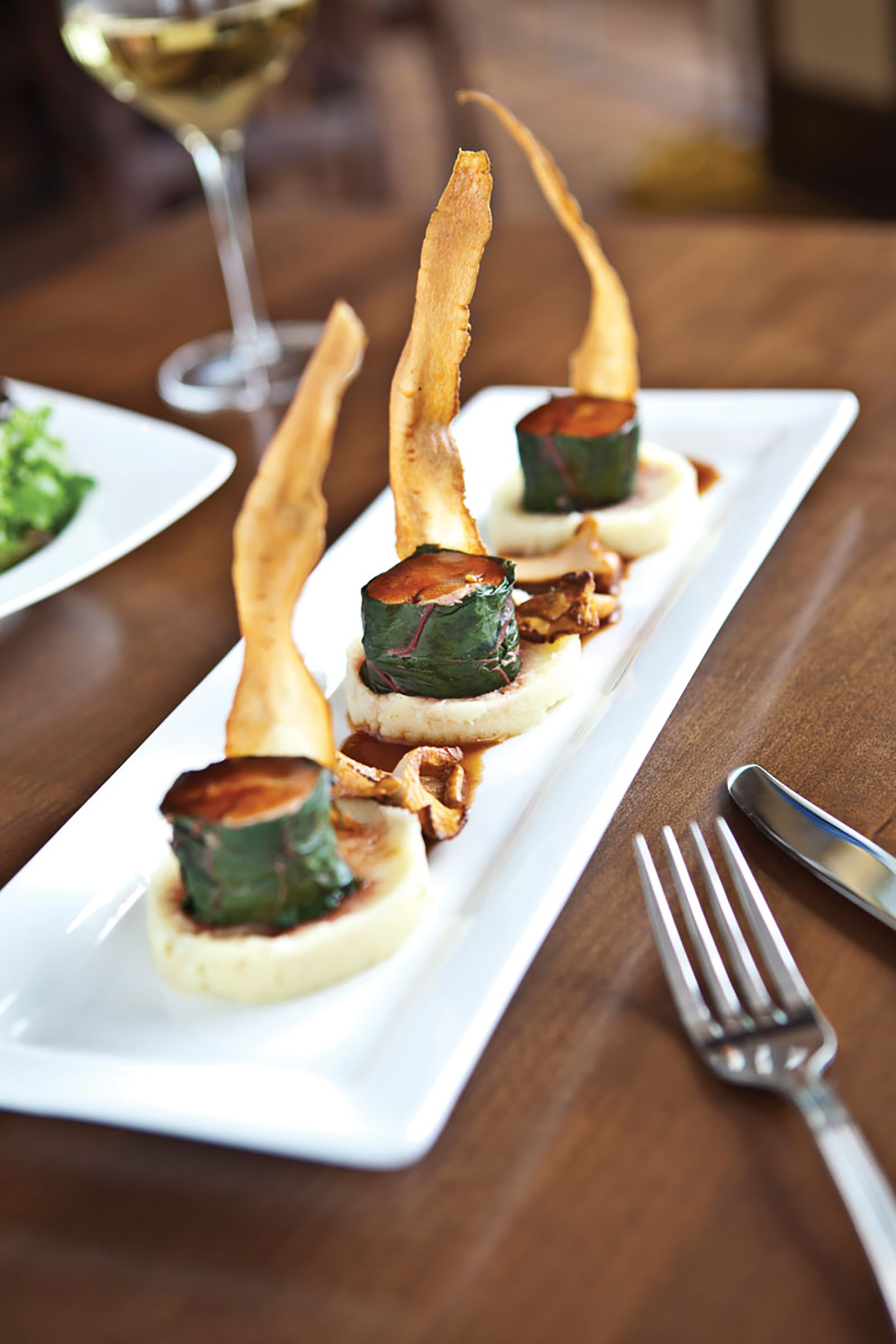 Some stand-out fare on the menu includes the Baked Crab Cake w/ Grilled Corn, Chives, Peppers & Chipotle Aioli; the Sea Scallop Tiradito w/ Asian Pear, Passion Fruit, Citrus & Scotch Bonnet Peppers; the Sea Bass Ceviche with Sweet Potatoes, Choclo, Lime, Aji Amarillo & Cilantro; and the Pork Belly Skewer w/ Caramelized Apples & Blood Orange Balsamic Reduction. Along with a full raw-bar and a selection of sushi, The Rusty Pelican offers entrees from both land and sea, including, Pan Seared Day Boat Sea Scallops w/ Saffron Risotto Cakes, Sweet Eggplant & Roasted Red Pepper Coulis, and Poached Long Island Duck Breast w/ Swiss Chard, Parsnips, Cracklin' & Chanterelles.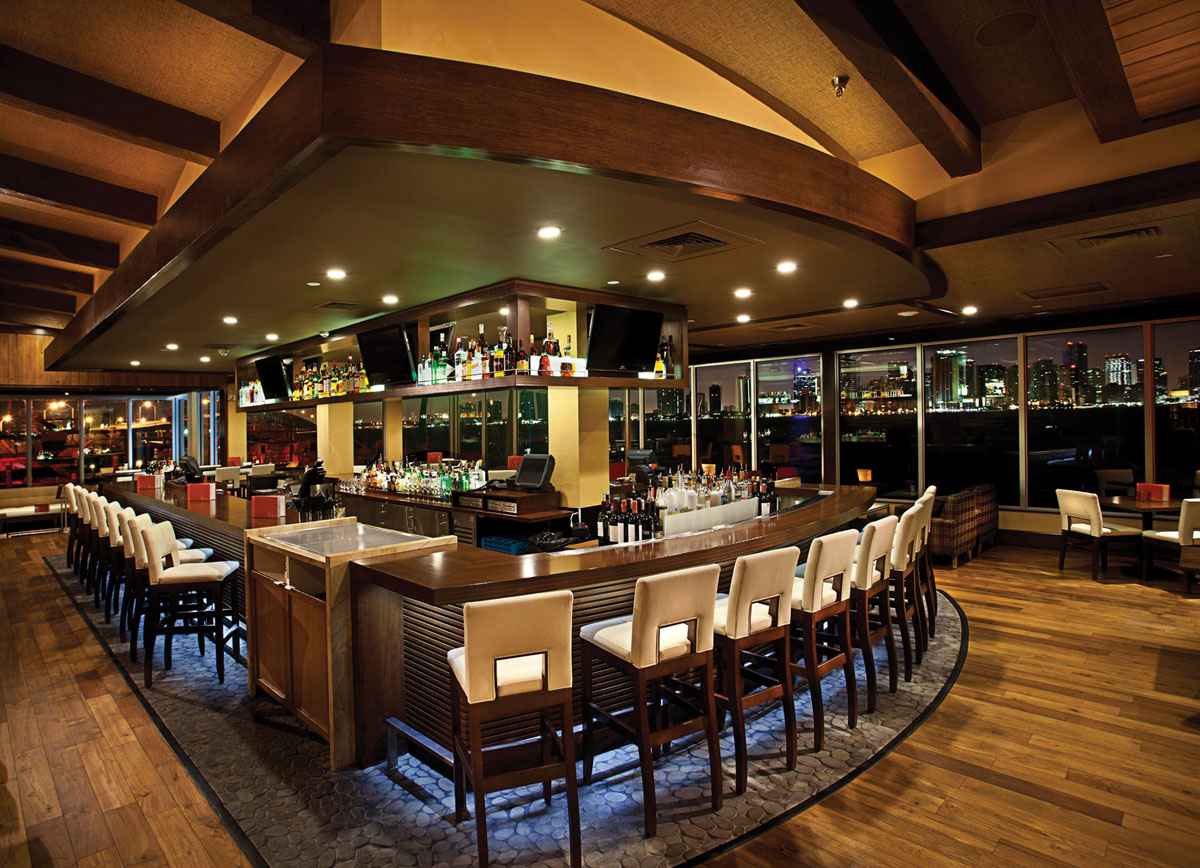 Along with dinner, drinks and great views, The Rusty Pelican also offers space for events for up to 500 guests. "Special events have always been an important part of The Rusty Pelican's success," says Director of Catering Aida Depena. "Events can be just as flexible as dining in the restaurant — from a casual laid-back cocktail party to a full-fledged seated formal wedding."
I can't help but think how different the experience of the crew and passengers of the ill-fated S.S. Minnow on Gilligan's Island would have been if the 3-hour tour that landed them on that dreadful deserted island had instead brought them to The Rusty Pelican. What a show that would have been!