Never underestimate the human desire to live within sight of limitless, sparkling bodies of water. Leave it to The Related Group to assemble a number of under-utilized parcels into a-10 acre site on Biscayne Bay and transform it into a paradise for tropical living. An idyllic master-planned community, Paraiso will feature 4 luxury condominium towers, each with their own complete array of amenities and share the master community Beach Club, restaurant, marina and park. The first towers, Paraiso Bay and One Paraiso are almost sold out. Paraiso Bayviews, the 3rd tower in the complex, launched sales recently and is currently accepting reservations.
The 43-story Paraiso Bayviews, designed by global designer Karim Rashid, will rise within the new amenity-rich community in Edgewater. One of the most prolific designers of his generation, Rashid believes that "design is about the betterment of our lives…poetically, aesthetically, experientially and emotionally." His real desire is "to see people live in the modus of our time, to participate in the contemporary world, and to release themselves from nostalgia, antiquated traditions, kitsch and the meaningless." He goes on to affirm that every business should be completely concerned with beauty. "It is, after all, a collective human need," he says.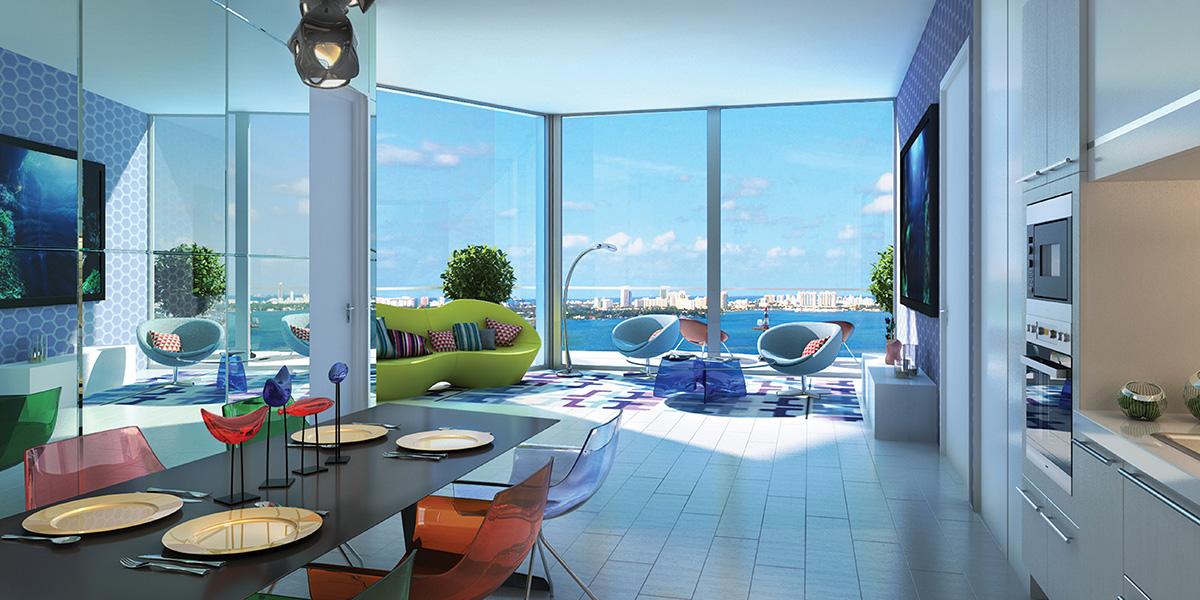 Through its Founder, Chairman & CEO Jorge Pérez, The Related Group has established a reputation for enhancing each of its real estate developments with art. It was only a matter of time before Rashid and Pérez joined forces to create vibrant, aesthetically-designed spaces for lavish living. Related's new amenity-rich enclave is located on the water's edge, just east of Biscayne Boulevard at NE 31st St. in Miami. Destined to re-energize the budding neighborhood of Miami Midtown and the Design District, the Paraiso master community is already a great success in town.
As such, reservations have been brisk at Paraiso Bayviews, and the developer expects to begin converting reservations to sales contracts very soon. Its prime location offers sweeping views across Biscayne Bay and the Miami Beach skyline. Prices range from the mid-$300s for a 1 bedroom residence to the high $700s for a 3-bedroom corner unit, making Paraiso Bayviews, the perfect place for anyone who craves water views complemented by plentiful amenities. Penthouses have not been released yet.

The affordability of Paraiso Bayviews' 1-, 2-, and 3-bedroom residences is only part of the limitless opportunities available to future residents. Regardless of which tower they choose, all residents of the enclave will enjoy full and complete use of the spectacular amenities the entire Paraiso community offers. Among the most sought-after is a top-notch beach club designed by Brazilian Architect & Interior Designer Debora Aguiar. The boutique club will offer residents an array of activities including jetskiing, paddle boarding and watercraft available for exploring the bay.
In addition, not the least of the waterfront club's attractions will be a destination-quality restaurant run by Celebrity Chef Michael Schwartz, winner of the James Beard Award for "Best Chef: South" in 2010. Pérez recently announced this exciting collaboration, and both agree that Schwartz's fresh yet sophisticated cuisine will add a new level of delight to the area. "Edgewater is one of Miami's hidden gems," says Schwartz, whose Genuine Hospitality Group operates successful restaurants in the Design District and Miami Beach. "Paraiso is bringing something unique to the mainland and deserves a waterfront restaurant to match — we're going to do something really special here."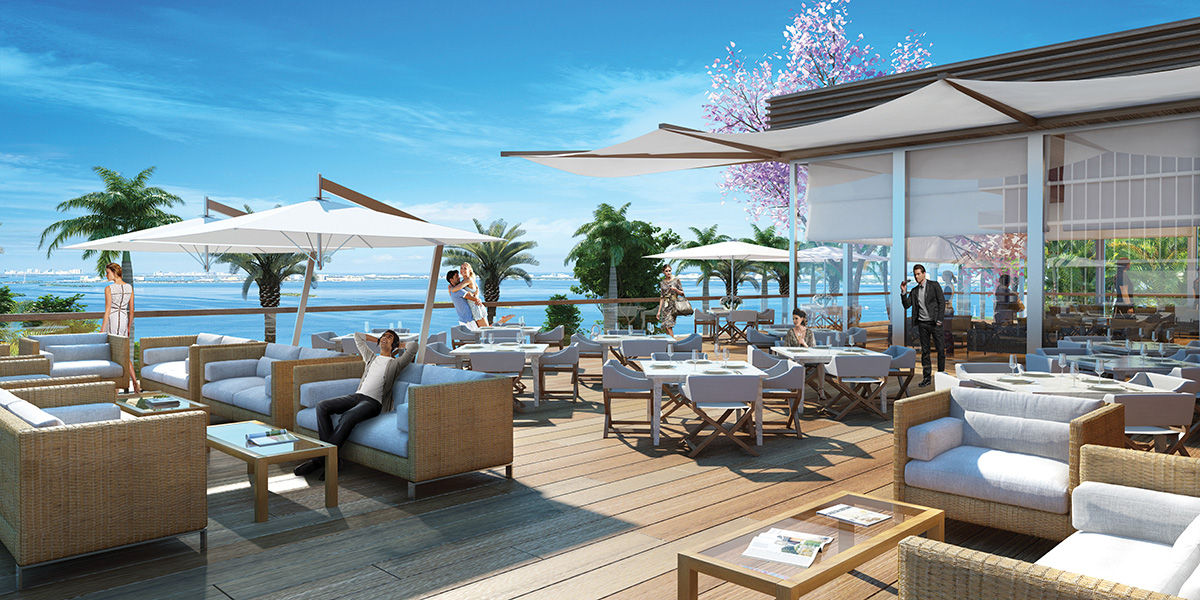 The property's accessible location, unparalleled amenities and visionary design have already attracted international celebrities, including acclaimed DJ & Music Producer David Guetta, Barcelona-born World No. 1 Tennis Champion Arantxa Sánchez Vicario, and NBA Champ Manu Ginóbili, Guard for the San Antonio Spurs.
Currently, very few properties on Miami's mainland can compete with the extensive offerings available within the Paraiso master community. In addition to its exclusive beach club, restaurant and marina, it features a host of other extras including tennis courts, port-cochére entrances, heated swimming pools, a roof-top pool, pool-side cabanas, an outdoor spa, a jogging circuit, watersports, a teen game room, a fitness center, a soothing spa, sauna and much more.
Carlos Rosso, who heads The Related Group's condominium division, has been working closely with the internationally-renowned team at Arquitectonica to construct Paraiso as an urban community that's focused on both luxury and lifestyle. An equally important goal is to involve local and international artists, both emerging and established, to enhance the broader neighborhood with an art-filled public park. A flourishing partnership with National YoungArts Foundation, whose Biscayne Blvd. headquarters is nearby, will add to the property vibrant works by a new generation of artists. "This collaboration keeps innovation at the forefront of our fresh and contemporary development," says Rosso. "Each member of the design team we've assembled understands that the sum of the individual elements will add up to a single, spectacular whole. Our plan is to transform this marvelous gem of a property into the epicenter of Edgewater, making it the place where everyone wants to be."
Miami's cosmopolitan vibe, increasingly expressed through contemporary art and design, is in full bloom here. Zurich-based Enea Studios is designing an inspired landscaping plan for the 10-acre complex, and internationally renowned designers are placing their distinctive stamps on the interiors and public areas of each building. The interiors of the Paraiso Bay tower are being crafted by London-based United Designers, led by Keith Hobbs, whose clients include George Clooney, Bruce Willis and U2. Carrying forward the community's design-driven master plan is ONE Paraiso, a 272-unit tower by Italian superstar Piero Lissoni, who is known for his work with many of the best Italian and international furniture manufacturers. Finally, international superstar Karim Rashid will use his trademark vibrant colors and bold shapes to further delight residents of Paraiso Bayviews. Other world-class designers who are joining the distinguished team will be announced soon.

"Paraiso is fast becoming one of Miami's most desirable addresses," concludes Rosso. "Set between the main causeways to Miami Beach, it's convenient to the Arsht Center, the hip galleries of Wynwood, Museum Park and American Airlines Arena. The ever-increasing array of shops and restaurants in Midtown and the Design District are close at hand, and the bay is at your feet. What could be better?"
Interested in Paraiso Bayviews? Sales are led by Related Realty in collaboration with Fortune Development Sales. The on-site Sales Gallery, located at 600 NE 31st St., is open daily. For more information, call 305.393.8060 or visit ParaisoBayviews.com.