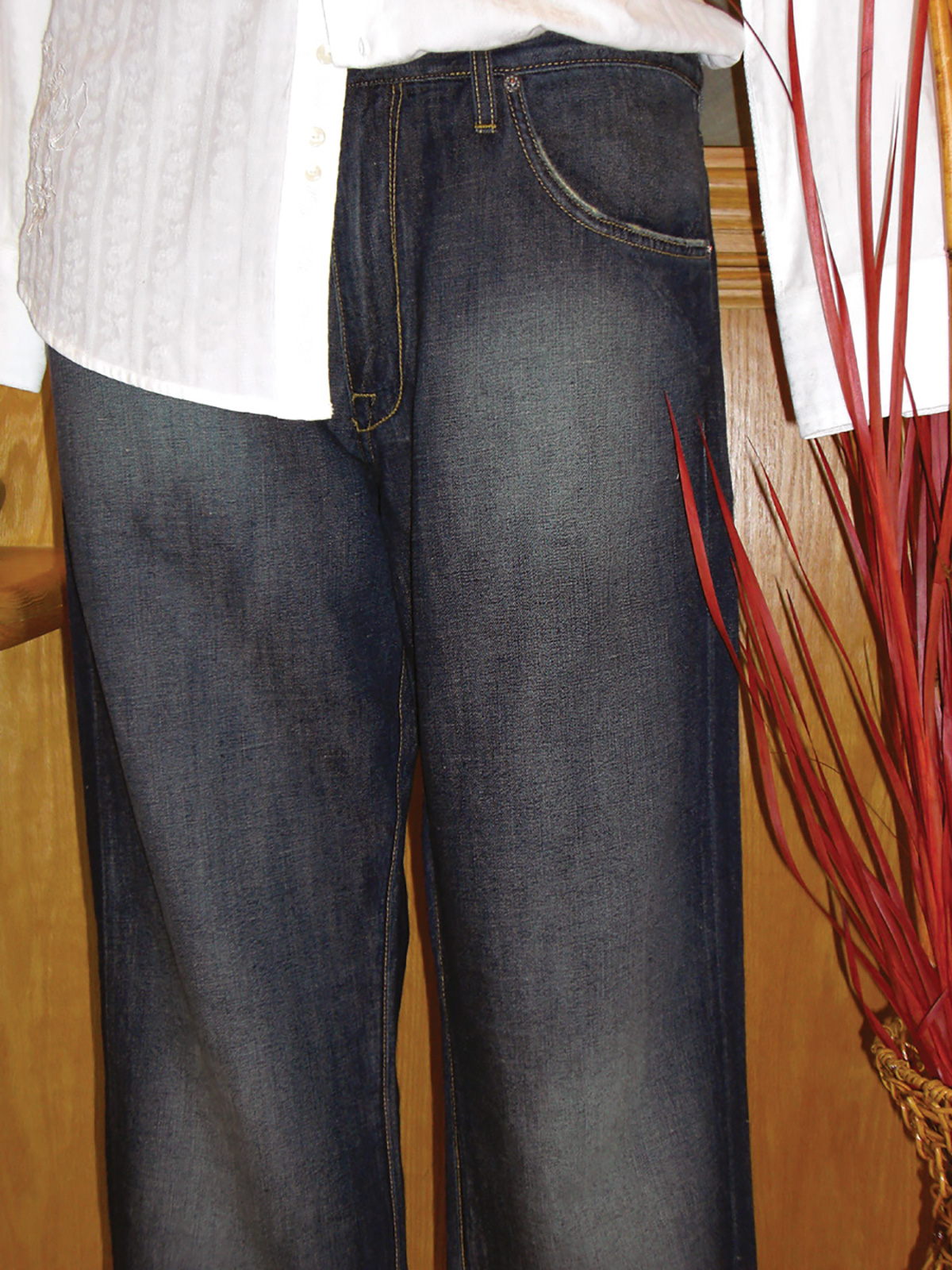 Blues Brother
Agave's Wind n' Sea jeans are hand-crafted in California with Japanese supima cotton, delivering the relaxed, comfortable feeling you expect from your jeans. Buy them for $235 at Lanes, 5700 Sunset Dr., South Miami; 305.667.3101.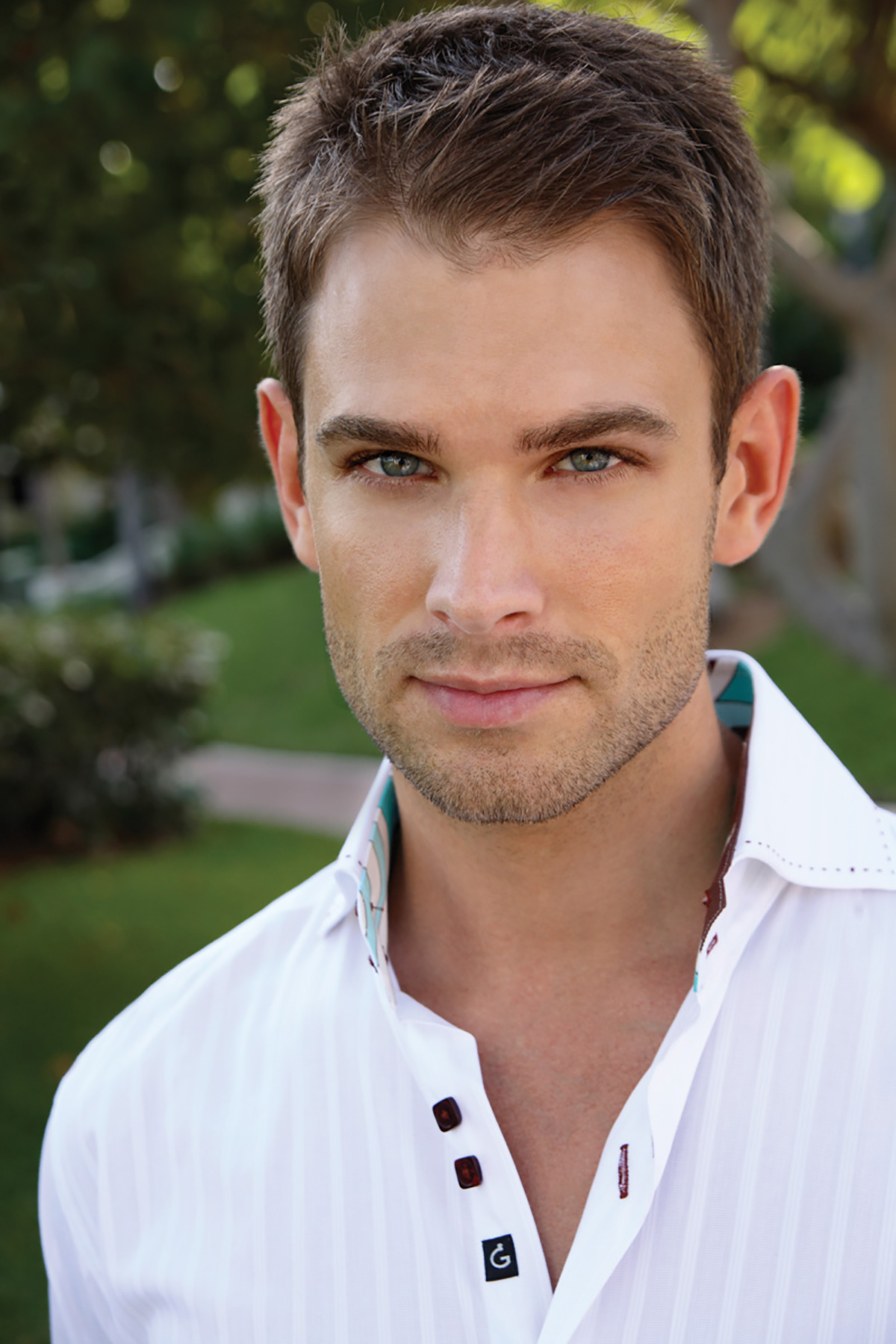 Debonair Details
Whether you prefer your collar flipped up or down, this shirt by Bogosse will make you stick out in any crowd — especially at close range. From dark-honey square buttons to intricate in-collar patterns, this is one piece of clothing worth trying on. Available for $225 exclusively at Primo Milano, 2344 Ponce De Leon Blvd., Coral Gables; 305.441.6500.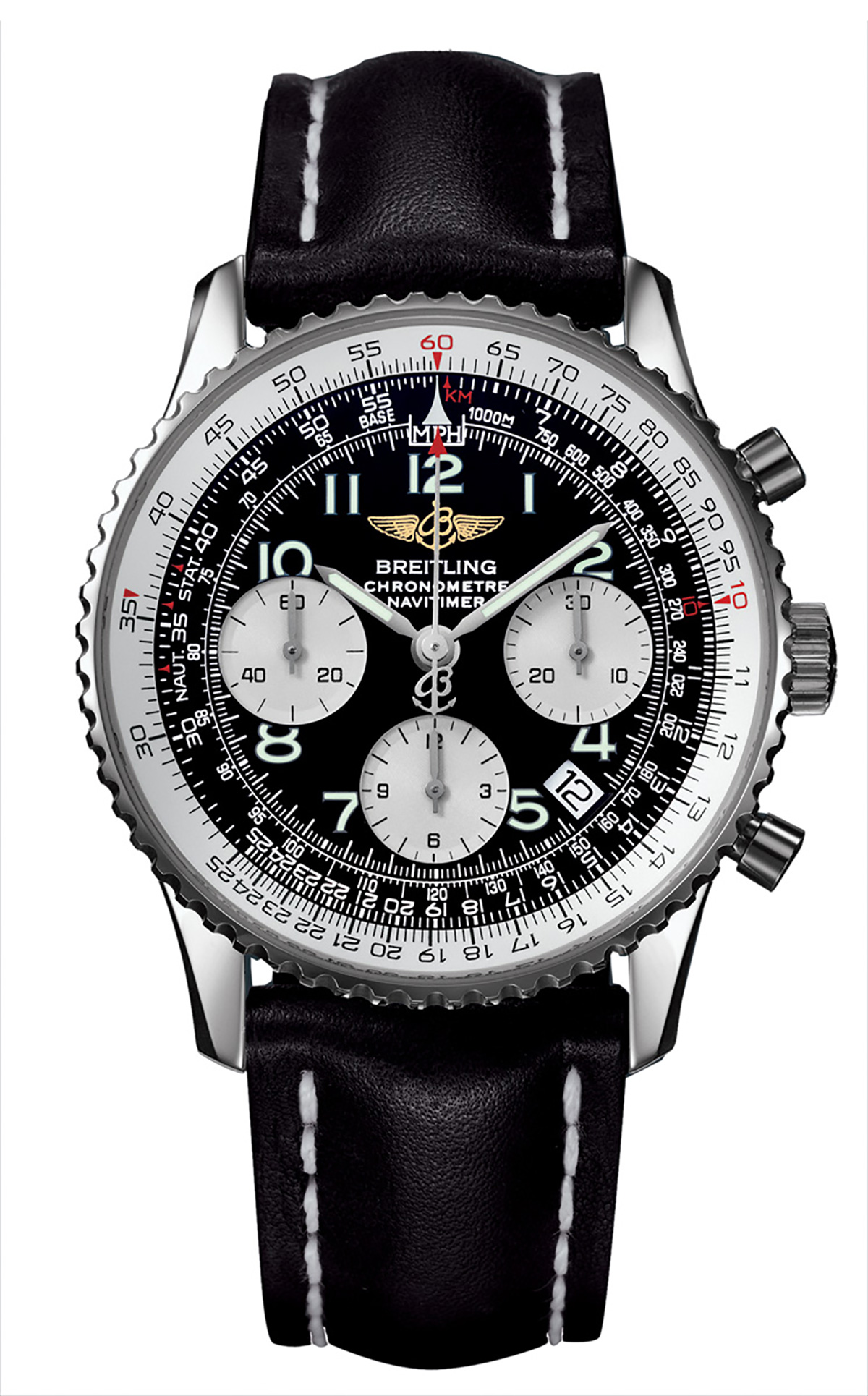 Time Will Tell
Time is on your side with this chronograph watch from Breitling's Navitimer collection. With a stainless-steel case, black leather strap and dial, this timepiece has more than just a good case of the smarts. Buy it for $5,185 at H&H Jewels, 3434 Main Highway, Coconut Grove; 305.442.9760; HHjewels.com.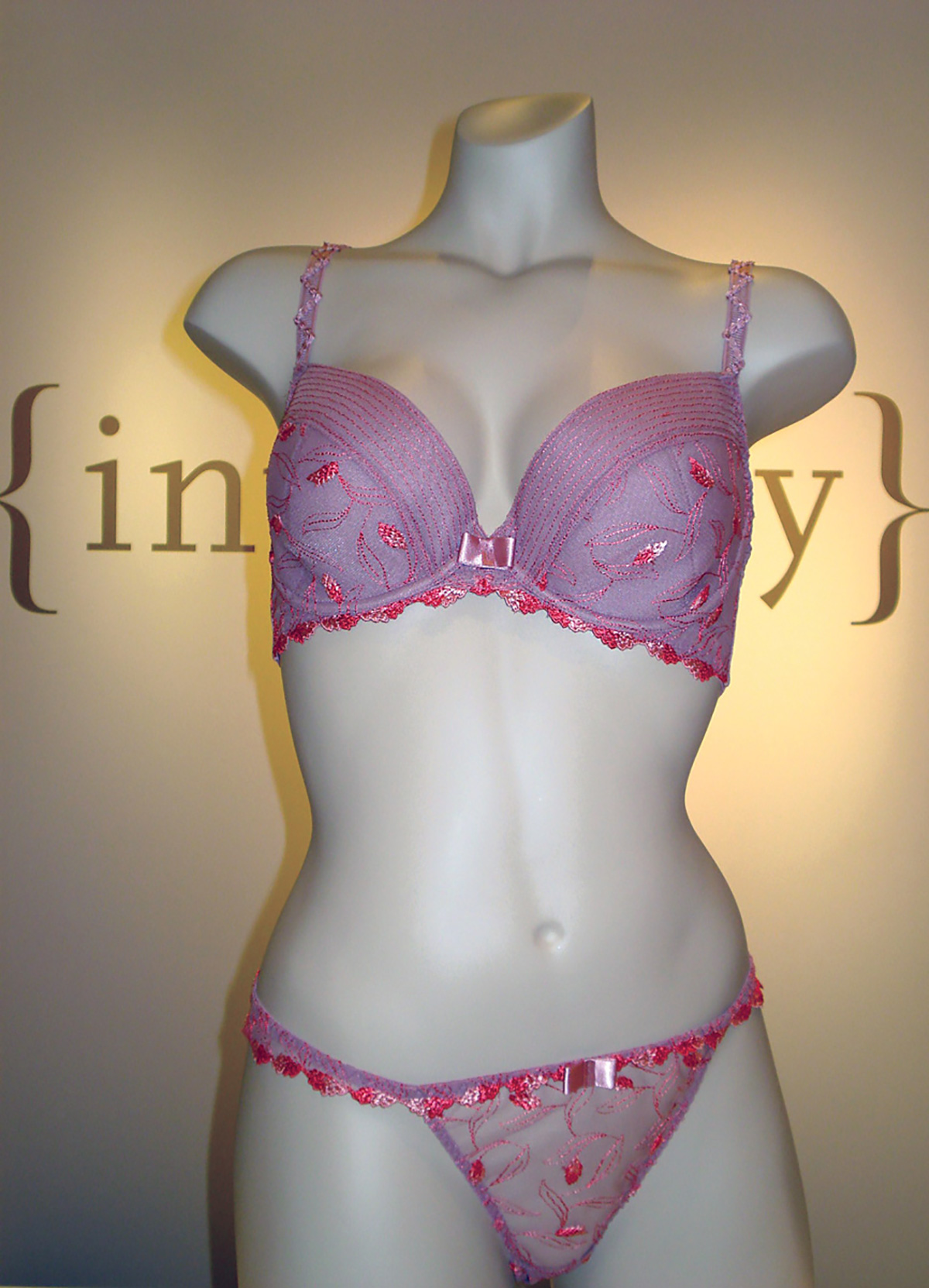 Pretty in Pink
The Barbara Bra & Panty Set is made in France with embroidered lace, and the plunge-style bra makes it perfect for use under V-neck and wrap shirts. A bra fitting is included when you buy the set for $148 at Intimacy, 19501 Biscayne Blvd., Aventura; 786.629.9229; MyIntimacy.com.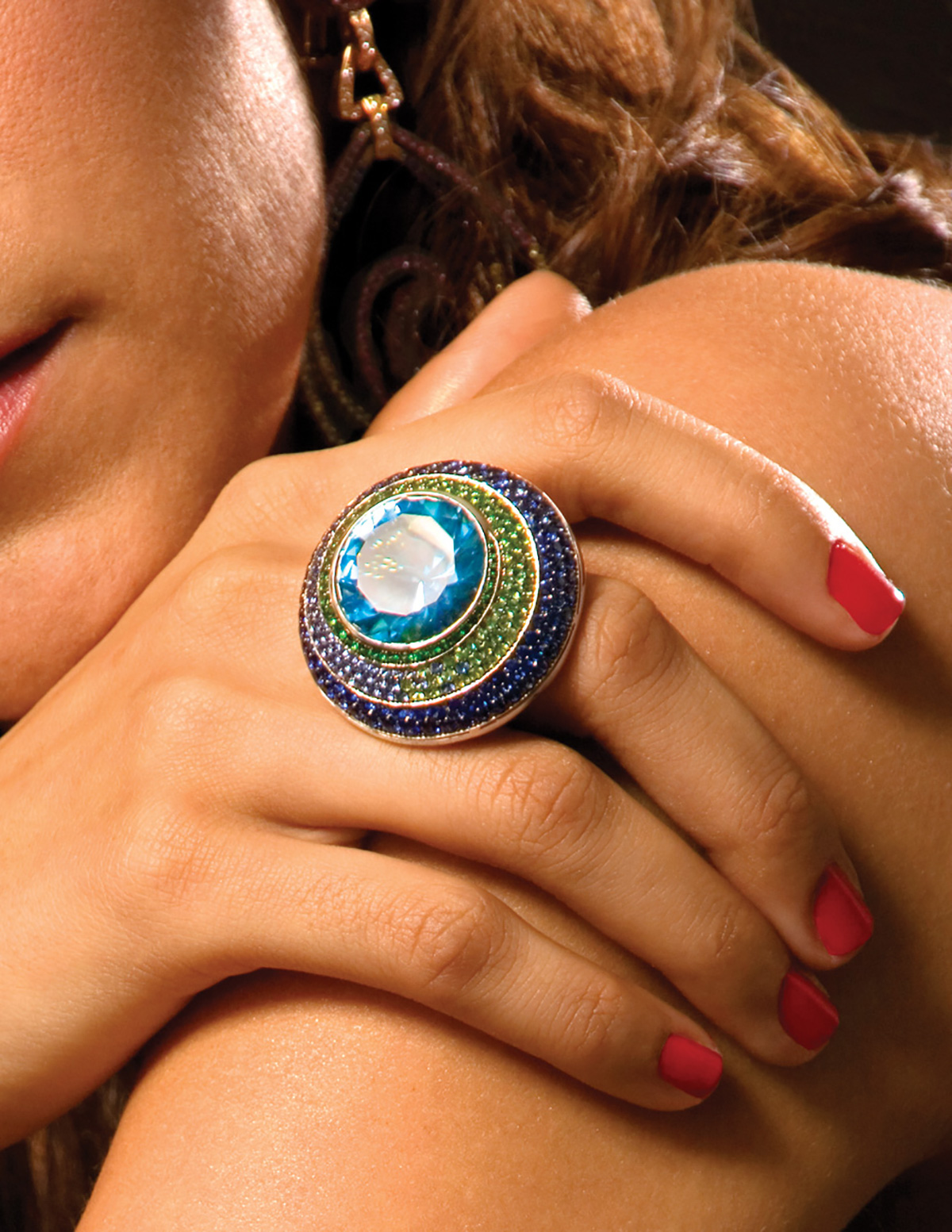 Ring Impact
Next time you want to point at somebody, make sure you do it with style. This 18 kt. white gold ring with sky-blue topaz tsavorite and blue sapphires by Coralie Designs will have everyone vying for your attention. Available for $10,400 at Duchamp Jewelers at One Lincoln Road, Ritz-Carlton, South Beach; 305.695.0877; DuchampJewelers.com.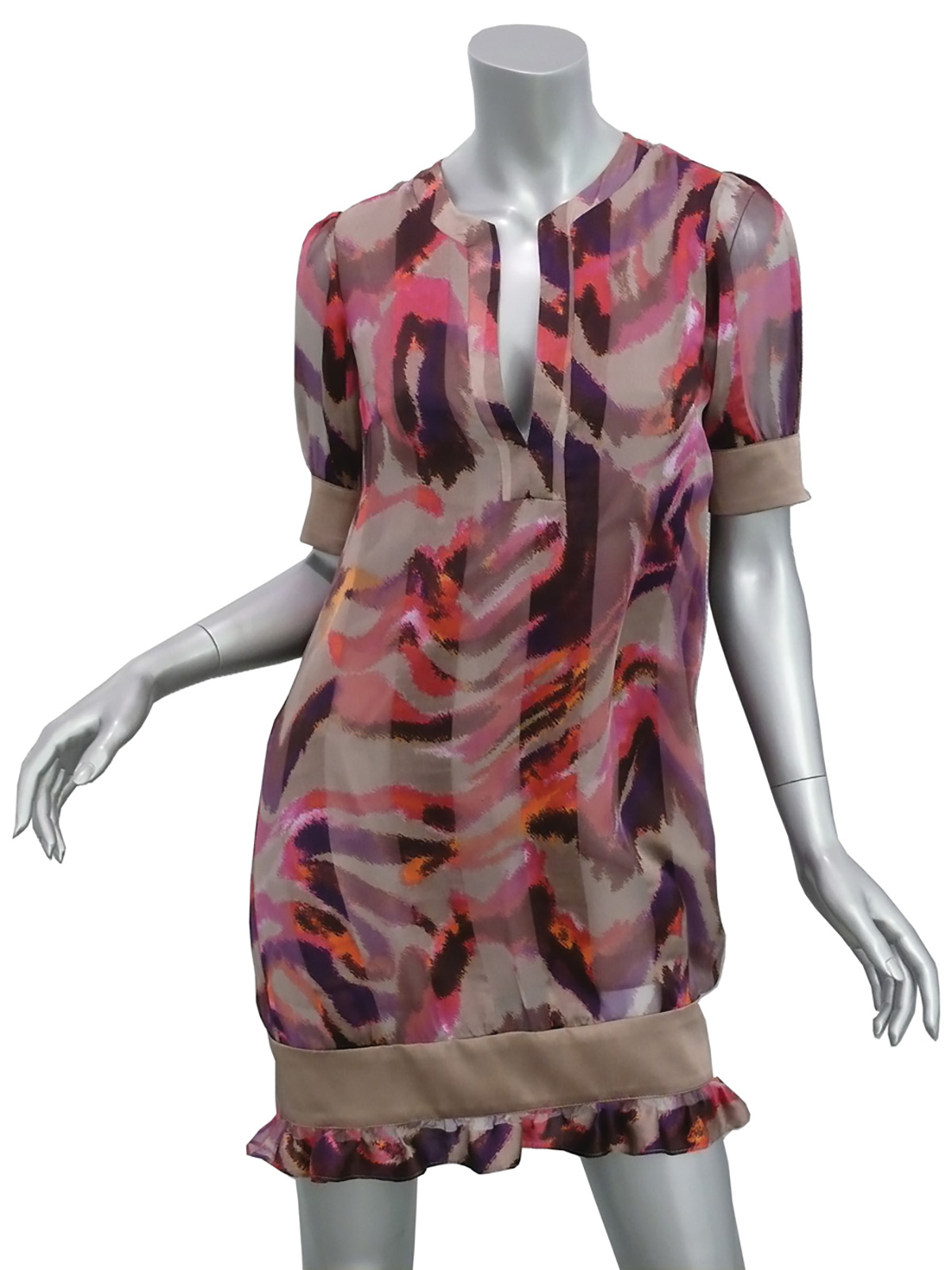 Silky Siren
This piece by Rory Beca is fun and feminine — but don't limit yourself! The Sorel Tunic is made of 100% silk and can be worn as a nocturnal mini dress, adding fresh and flirty to the VIP list. Buy it for $345 at Studio LX, 900 South Miami Ave., Brickell; 305.415.9600; GroupLX.com.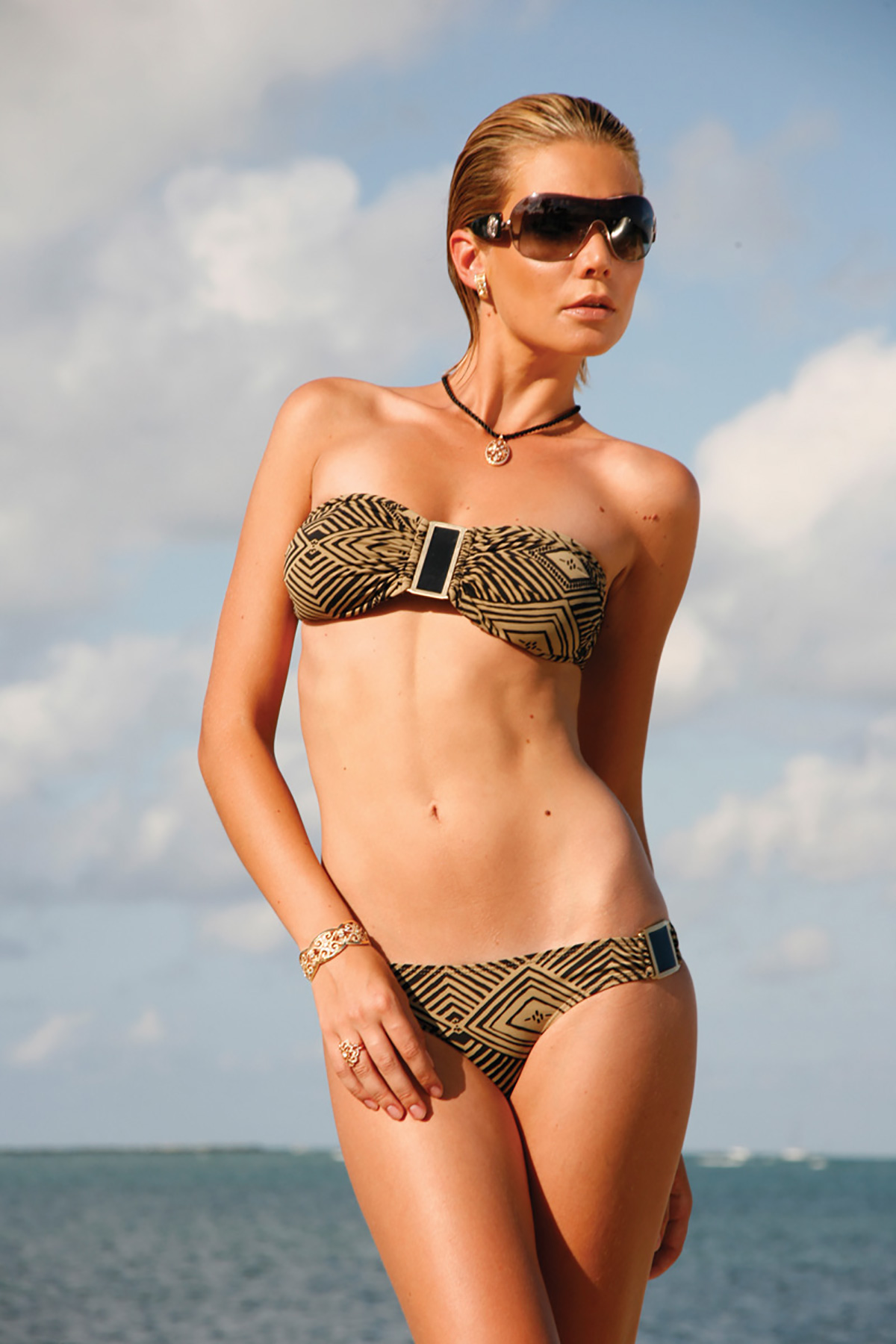 Beach Chic
No beach bums allowed! This jeweled printed bandeau swimsuit top and low-rise bottom from ANK by Mirla Sabino will make the sand your runway. This timeless, two-piece is pure sophistication on the surf. Buy it for $158 at Praia Beach Boutique, 5790 Sunset Drive, South Miami; 305.663.6110.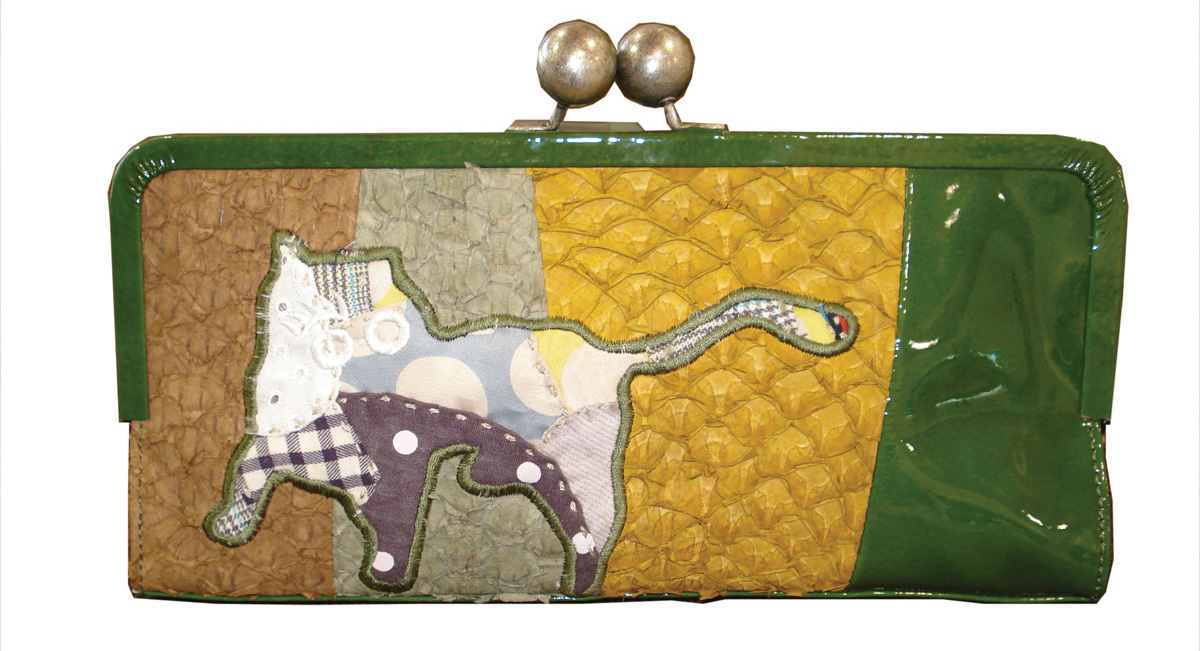 Earth & Water
The colorful cotton appliqué on fish skin and patent leather makes this tiger clutch bag by Stori a great accent to any outfit. The best part is that it's practical, too. Buy it for $421 at Oyuki, 7418 Biscayne Blvd., Miami; 305.403.1500; OyukiOnline.com.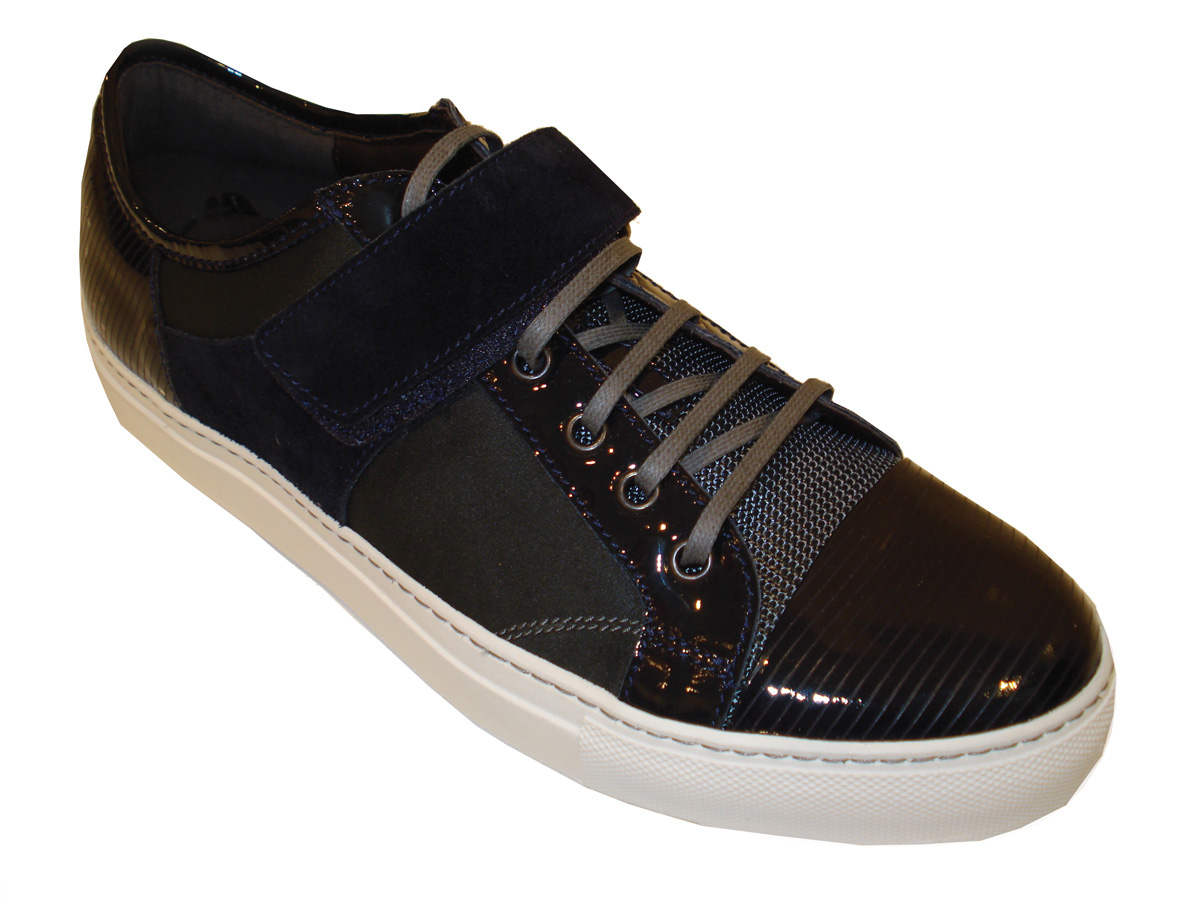 Casual Friday
As if you needed another reason to look forward to wearing your favorite jeans, these Lanvin navy blue and grey low trainers come with Velcro straps in satin, nylon and patent laser-cut calfskin. Buy them for $545 at Oxygene, 9700 Collins Ave., Bal Harbour; 305.864.0202.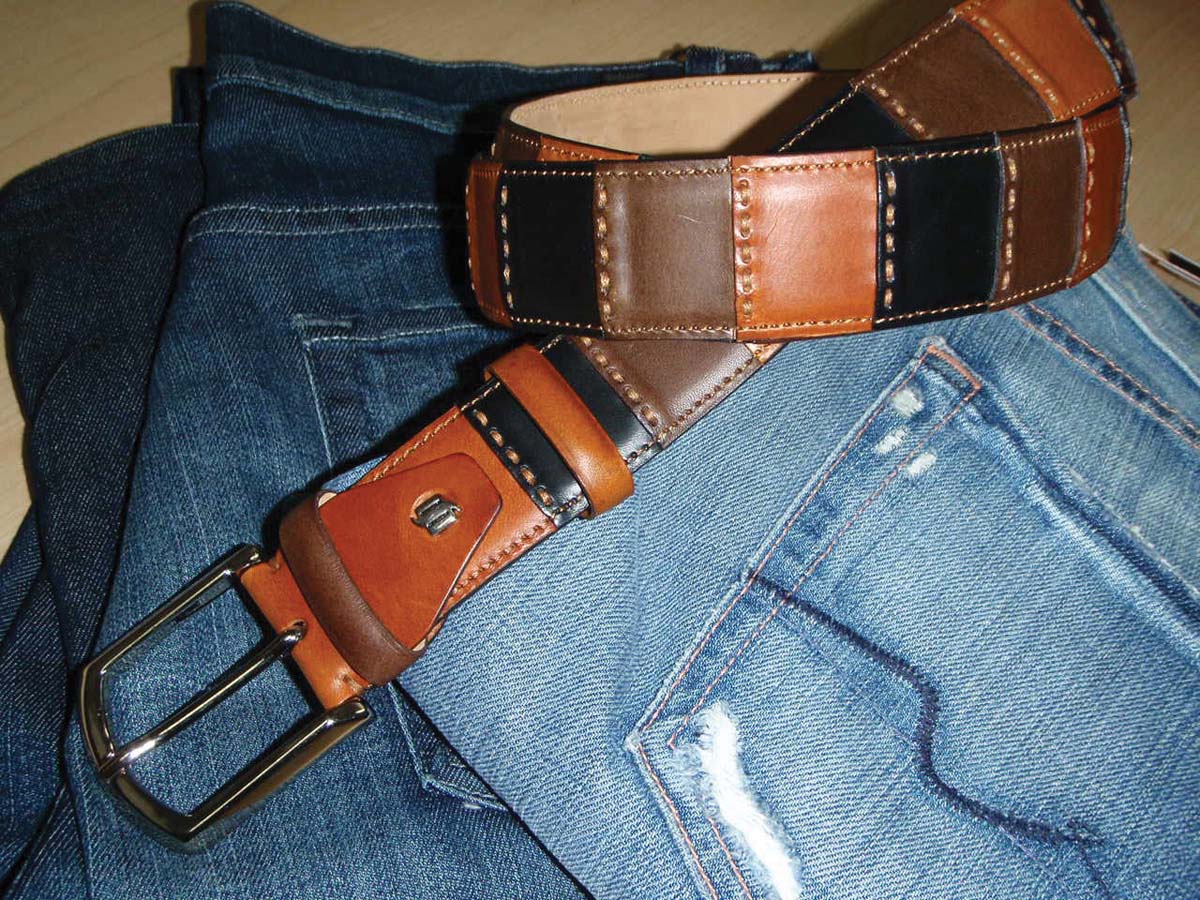 Waist Time
Matching your belt with your shoes is easier than ever with this Stefano Corsini belt, which is handmade in Italy. The multi-colored leather pattern is created with different tones and appropriate for almost any occasion and shoe-shade. Buy it for $200 at Artigiano, 4212 Laguna St., Coral Gables; 305.569.9970.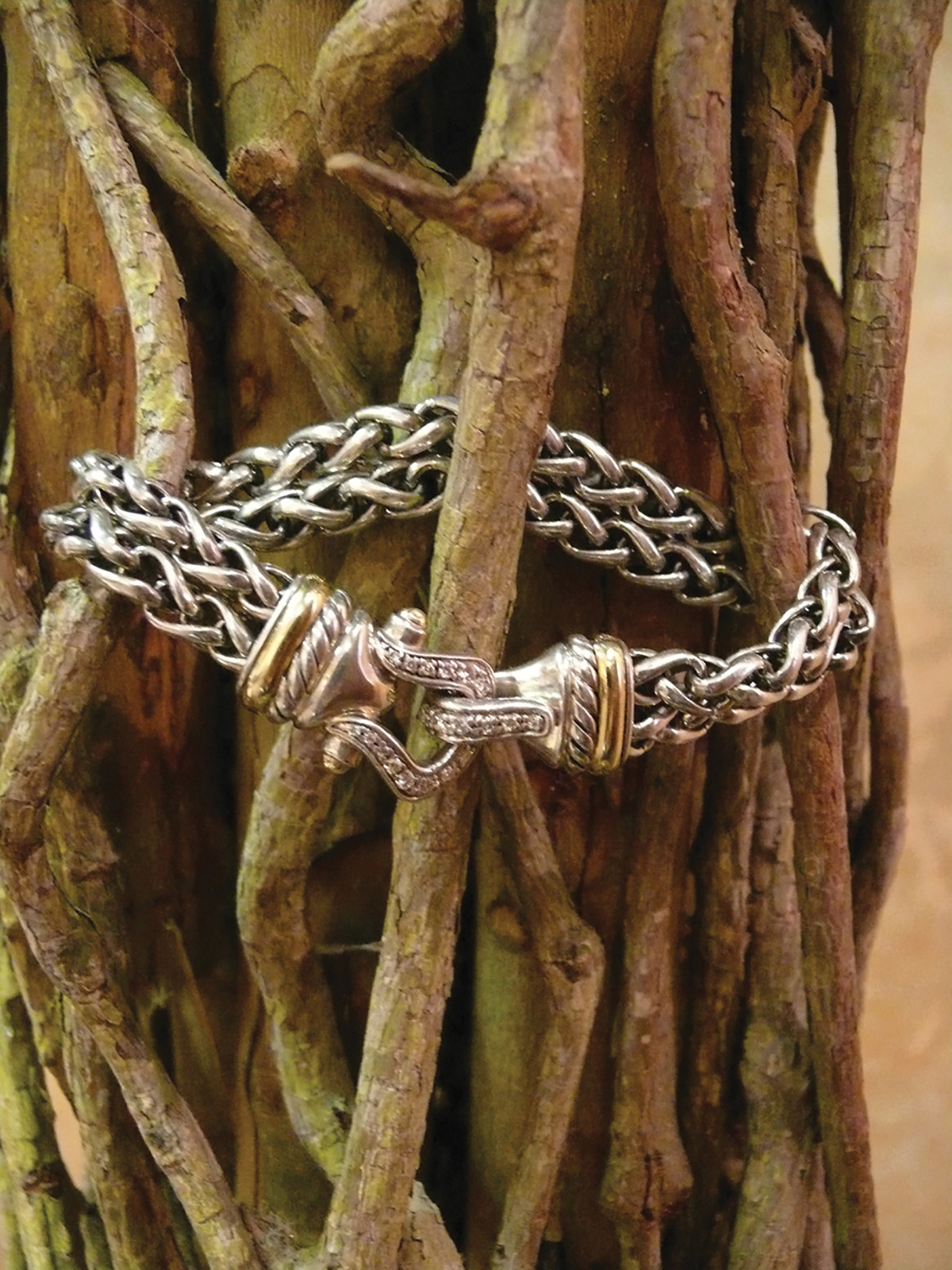 Wrist Royalty
It'll be hard to take your eyes off this stainless steel, double-chained David Yurman bracelet. The diamond-encrusted thoroughbred buckle detail and 18 kt. gold accents bring elegance to your most casual look. Buy it for $1,750 at Place Vendome Jewelry Design, 328 Crandon Blvd., Key Biscayne; 305.793.9211.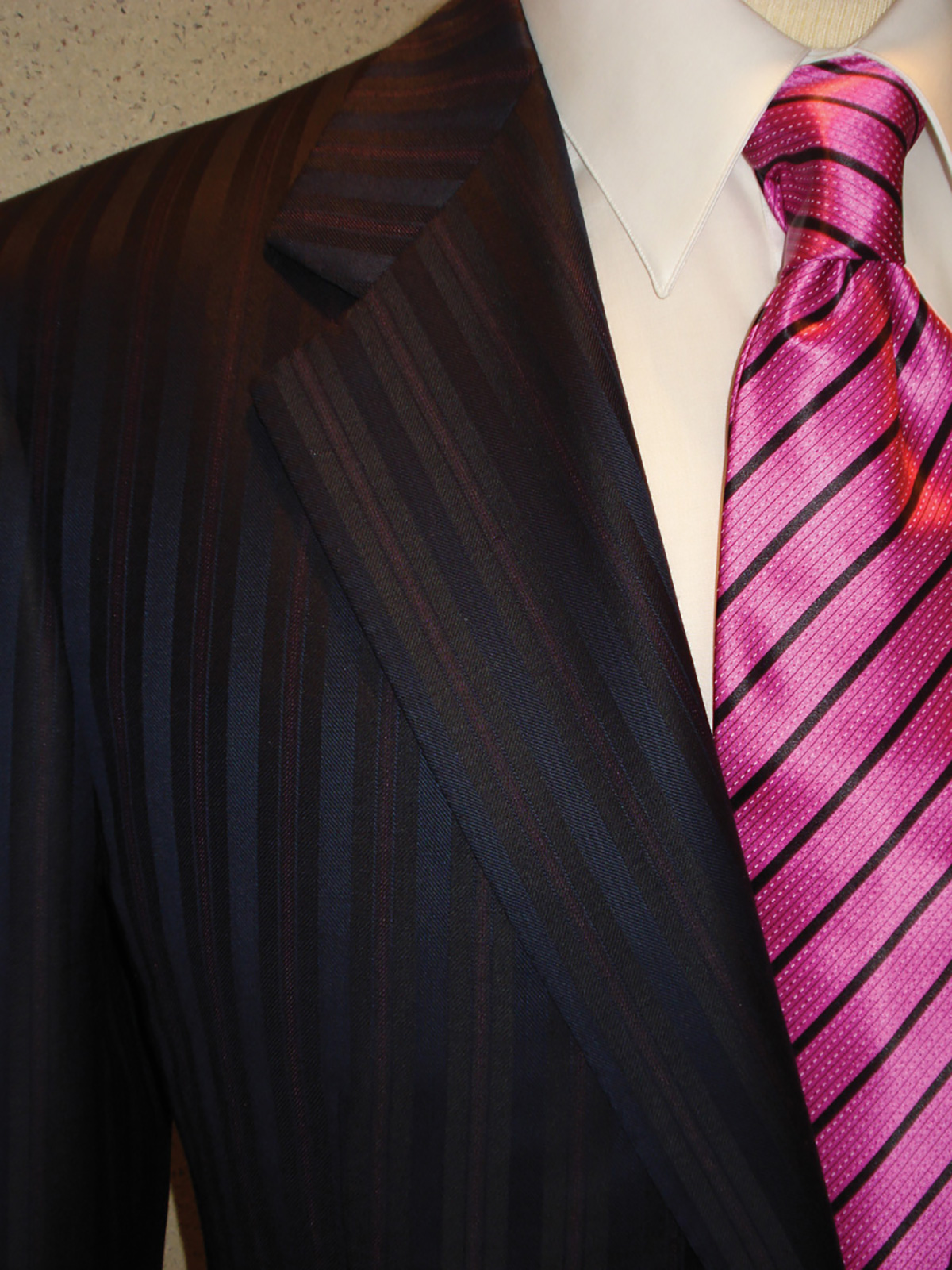 To the Nines
This Stefano Ricci suit is hand-tailored in Italy with Super 180's fabric. The dark-blue tone-on-tone and pink pinstripe details unite to create elegance at its finest. Buy it for $7,000 at Galtrucco, 9700 Collins Ave., Bal Harbour; 305.866.0477.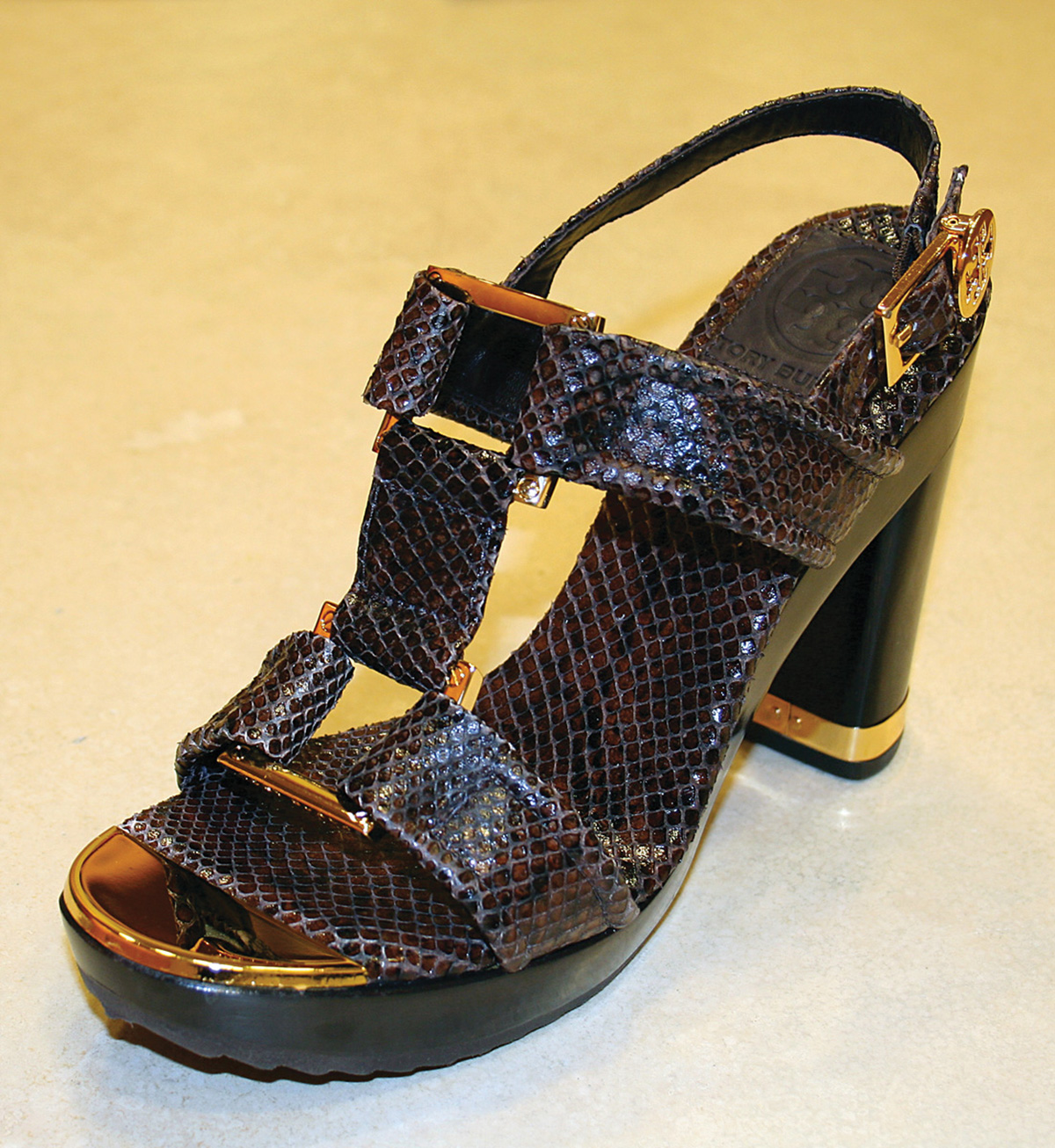 Snake in the Grass
The Karmen Sandal by Tory Burch will have you climbing high atop the fashion ladder. This fig-brown, snake-print sandal has gold hardware accents and is available for $395 at Joanna Paige, 900 South Miami Ave., Brickell; 305.379.9300; JoannaPaige.com.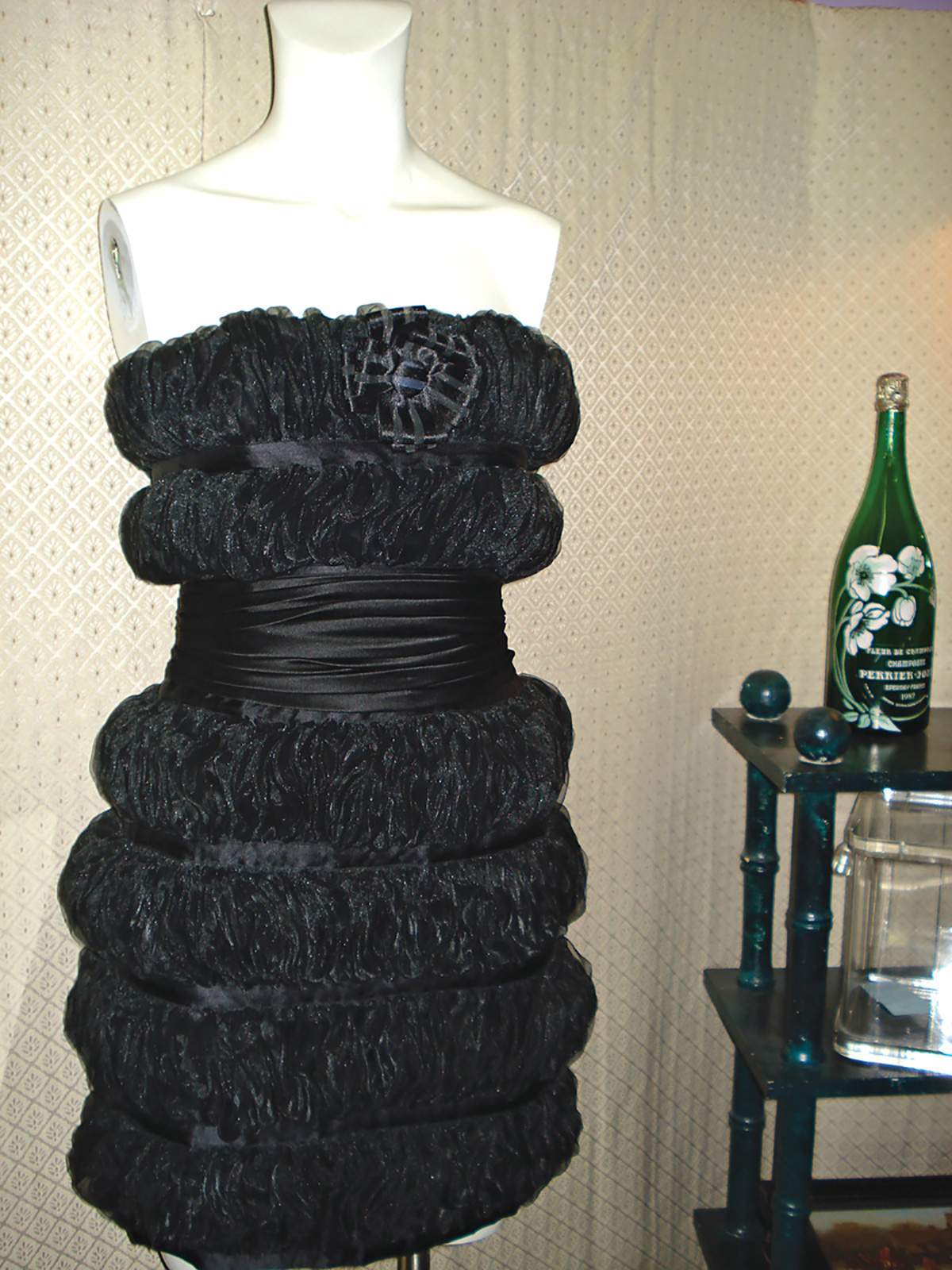 Second-Hand Me That!
The chiffon, satin-pleaded sash and ribbon rosette detail make this vintage strapless mini dress by designer Karl Lagerfeld unrivaled no matter who attends the soiree.
Buy it for $5,500 at C. Madeleine's, 13702 Biscayne Blvd., Aventura; 305.945.7770; CMadeleines.com.

Flatter Yourself
This Luxe Babydoll Dress by Joy Han hugs you in all the right places. The gold peacock broach and ruffle detail add character and a vintage feel to a dress that's already in vogue. Buy it for $216 at Miss C. Boutique, 3660 Coral Way, Coral Gables; 305.444.0868.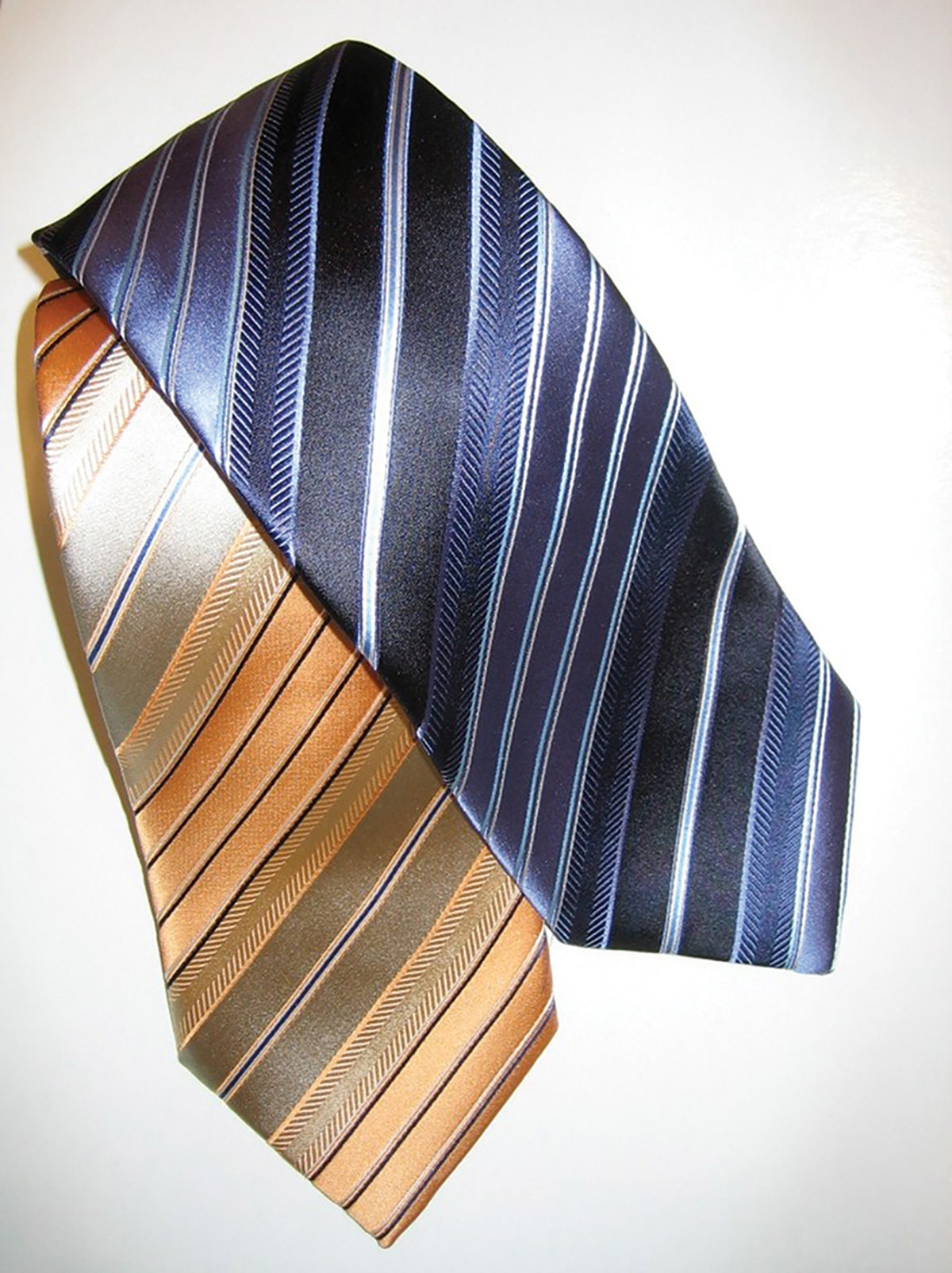 Neck Appeal
This tie from Ermenegildo Zegna is made in Italy with 100% silk and available in a variety of color combos. Who says a man can't pull off sleek and chic? Buy it for $160 at Burns Ltd., 624 Crandon Blvd., Key Biscayne; 305.361.2568.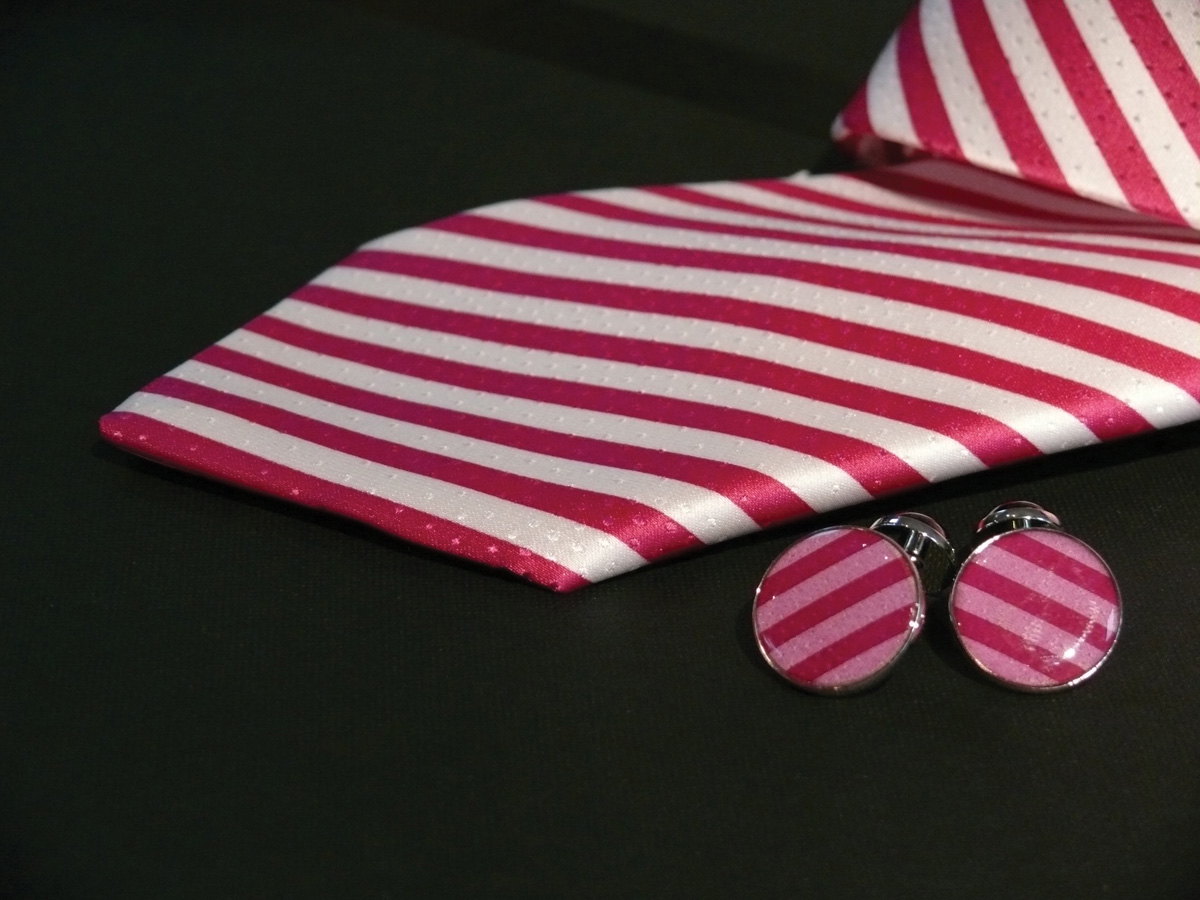 Colorful Cuffs
These cufflinks are custom-made by Bertini to match your tie and will bring together the sharp, sophisticated look you are going for. Order yours for $250 at Pepi Bertini, 315 Miracle Mile, Coral Gables; 305.443.7972; PepiBertini.com.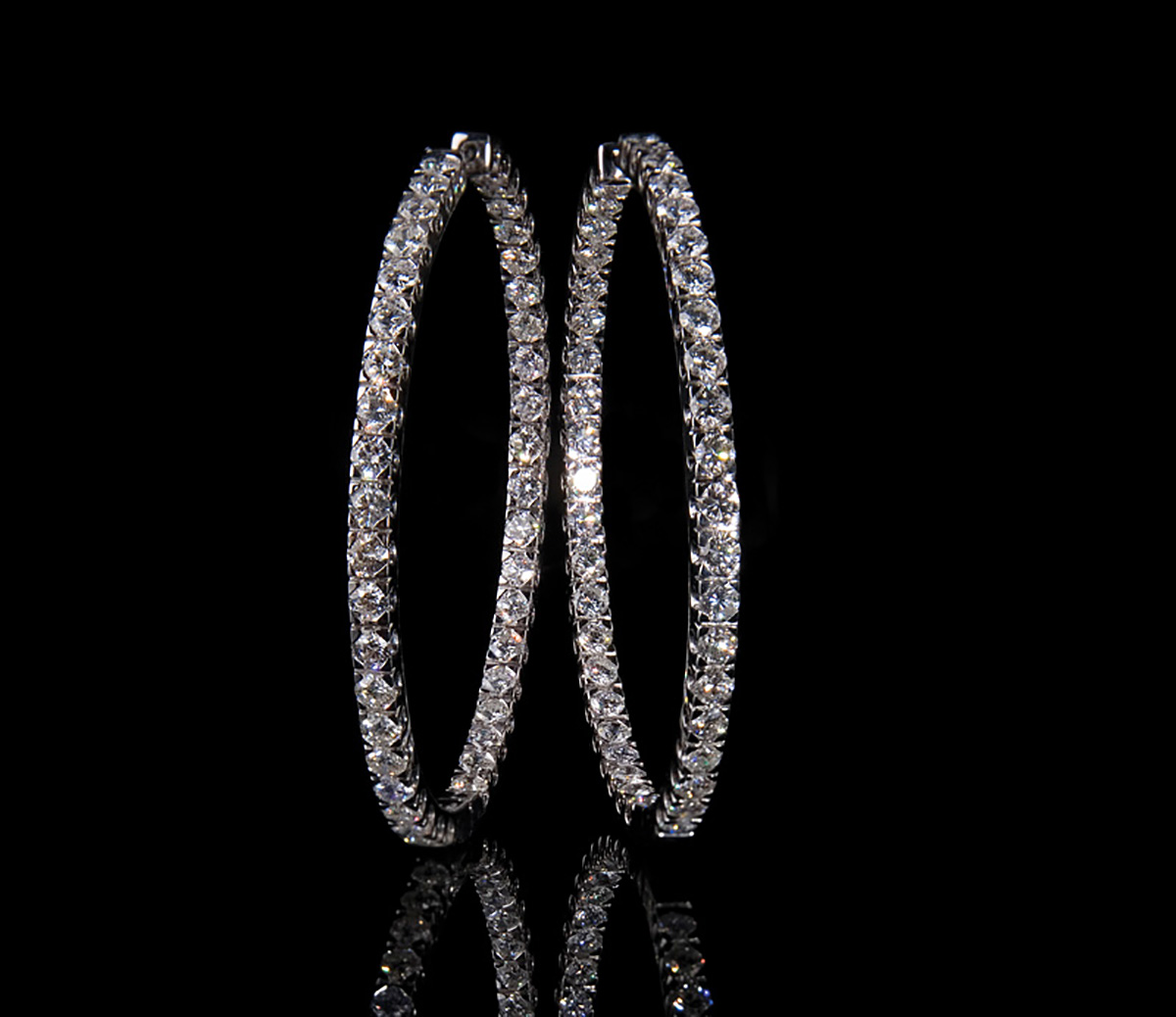 A Diamond Affair
Christina Termine will take your breath away with her extra-large diamond hoop earrings, made of 18-karat white gold and 12.75 carats of diamonds. Hoop styles are available from 1 kt. and up, starting at $1,200. Contact Christina Termine at Diamonds on the Key; 305.851.1460; DiamondsOnTheKey.com.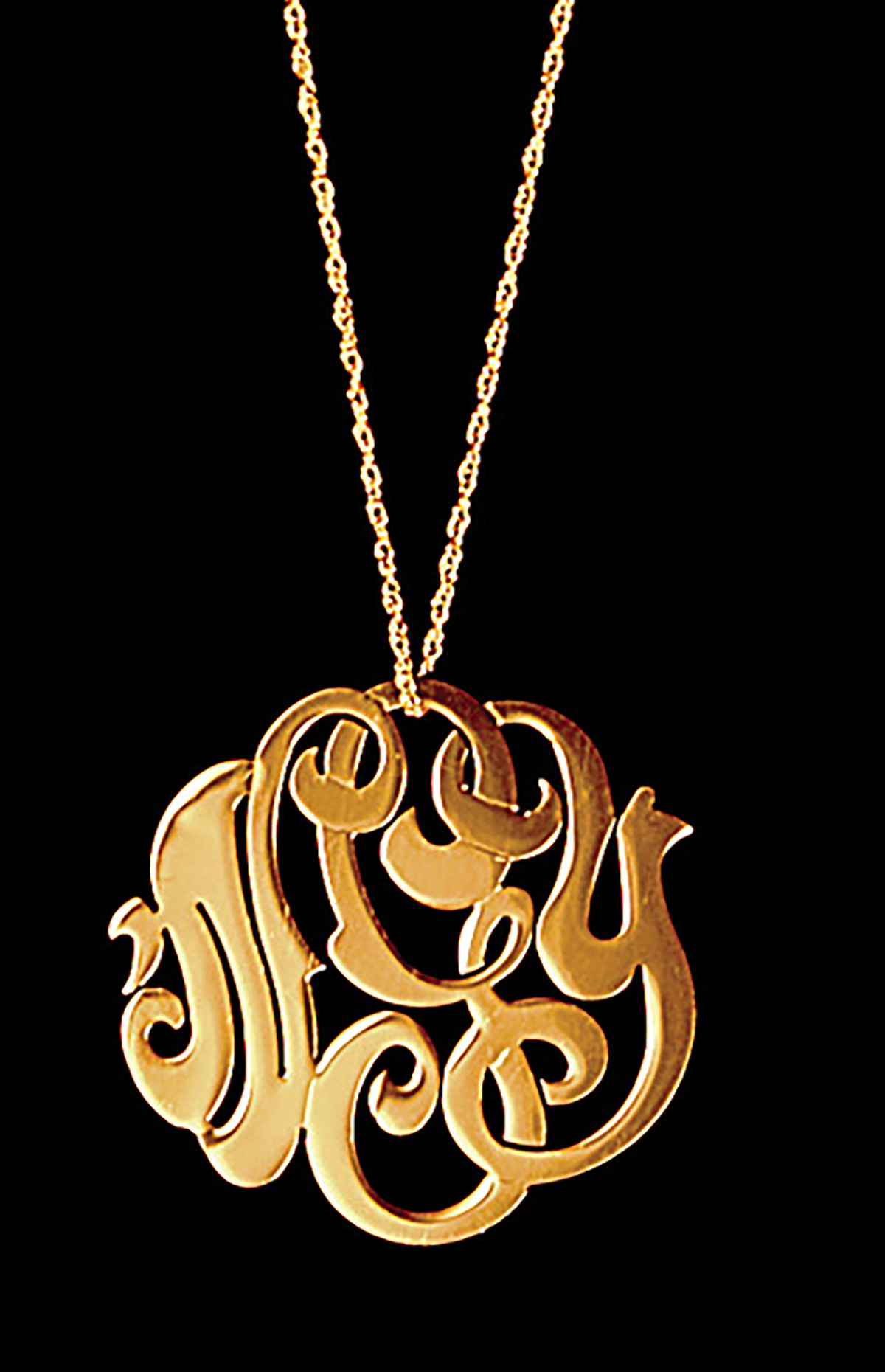 Golden Girl
Among the many celebrities that have been seen wearing this lace monogram pendant by Ginnette NY is Jessica Simpson — but you don't have to be blonde to pull it off. Diamonds are optional in this custom-made personalized piece, available in yellow, white, pink and black gold in a variety of sizes at Surmesur, 200 Crandon Blvd., Key Biscayne; 305.365.1255; Surmesur.com.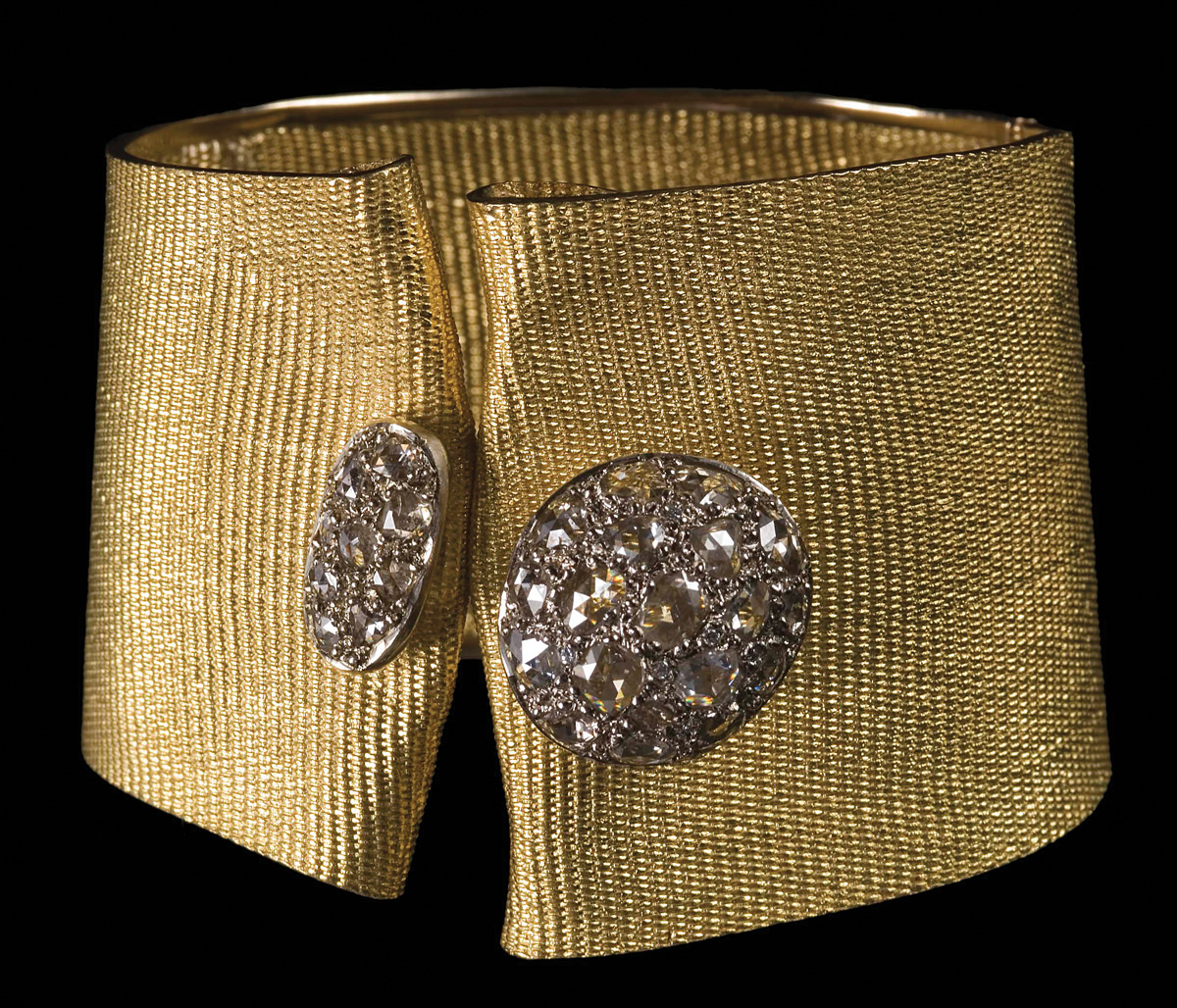 Greek Goddess
This "Disques" bracelet by Athens-based designer Lina Fanoukaris is handmade with 22 kt. yellow gold. The rose-cut diamonds set in 18 kt. white gold will make you the envy of Aphrodite. Buy it for $34,200 at Sabbia Jewelry, 455 Grand Bay Drive, Key Biscayne; 305.365.4570; Sabbia.com.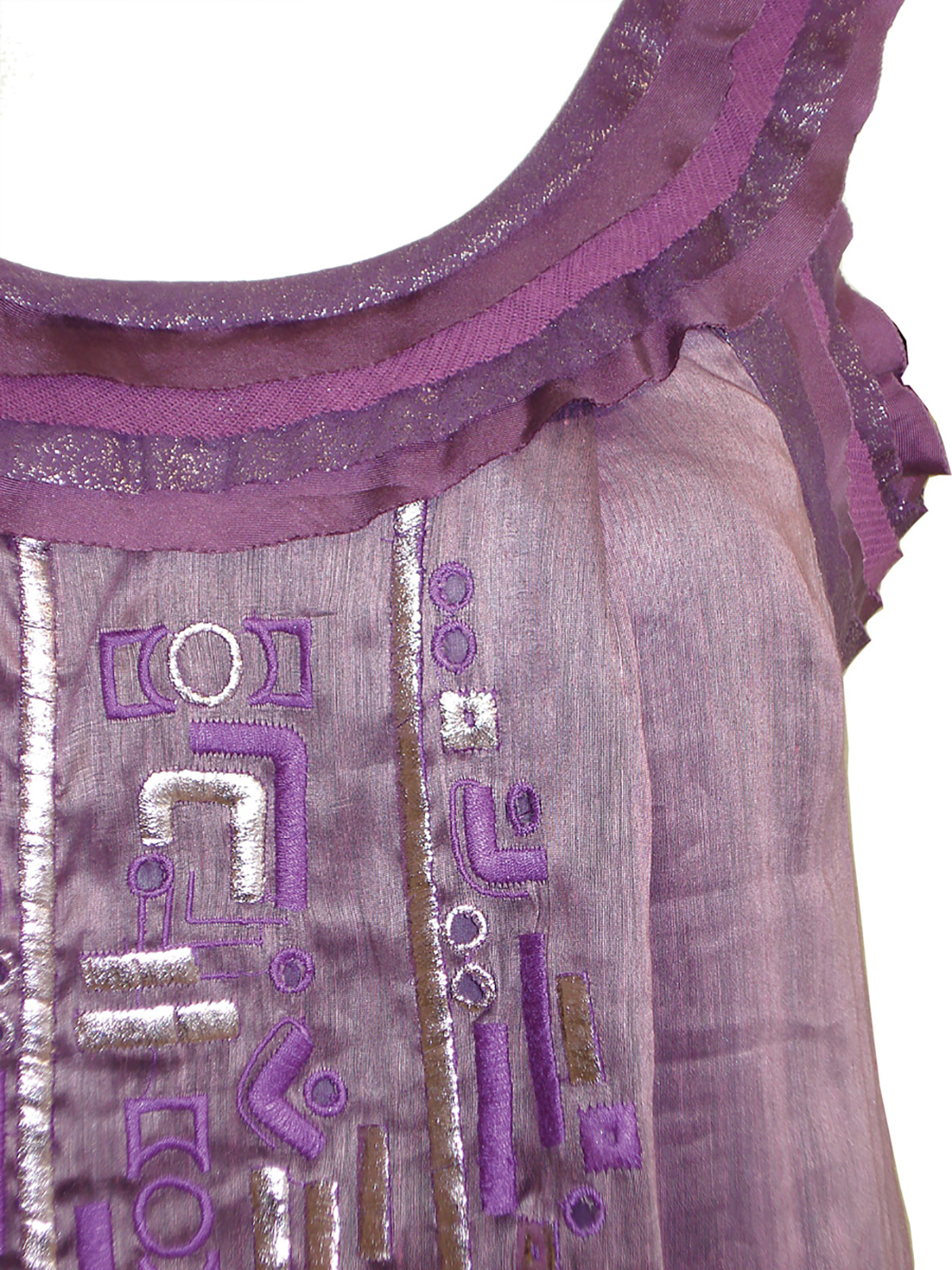 Pretty, Please?
This layered strap top from Jodi Arnold's Mint Collection is full of surprises, and who doesn't like that? Made with linen, silk and cotton, this pretty piece is artfully detailed with different shades of purple embroidery. Buy it for $352 at Rosza Boutique, 328 Crandon Blvd., Key Biscayne; 305.365.6596.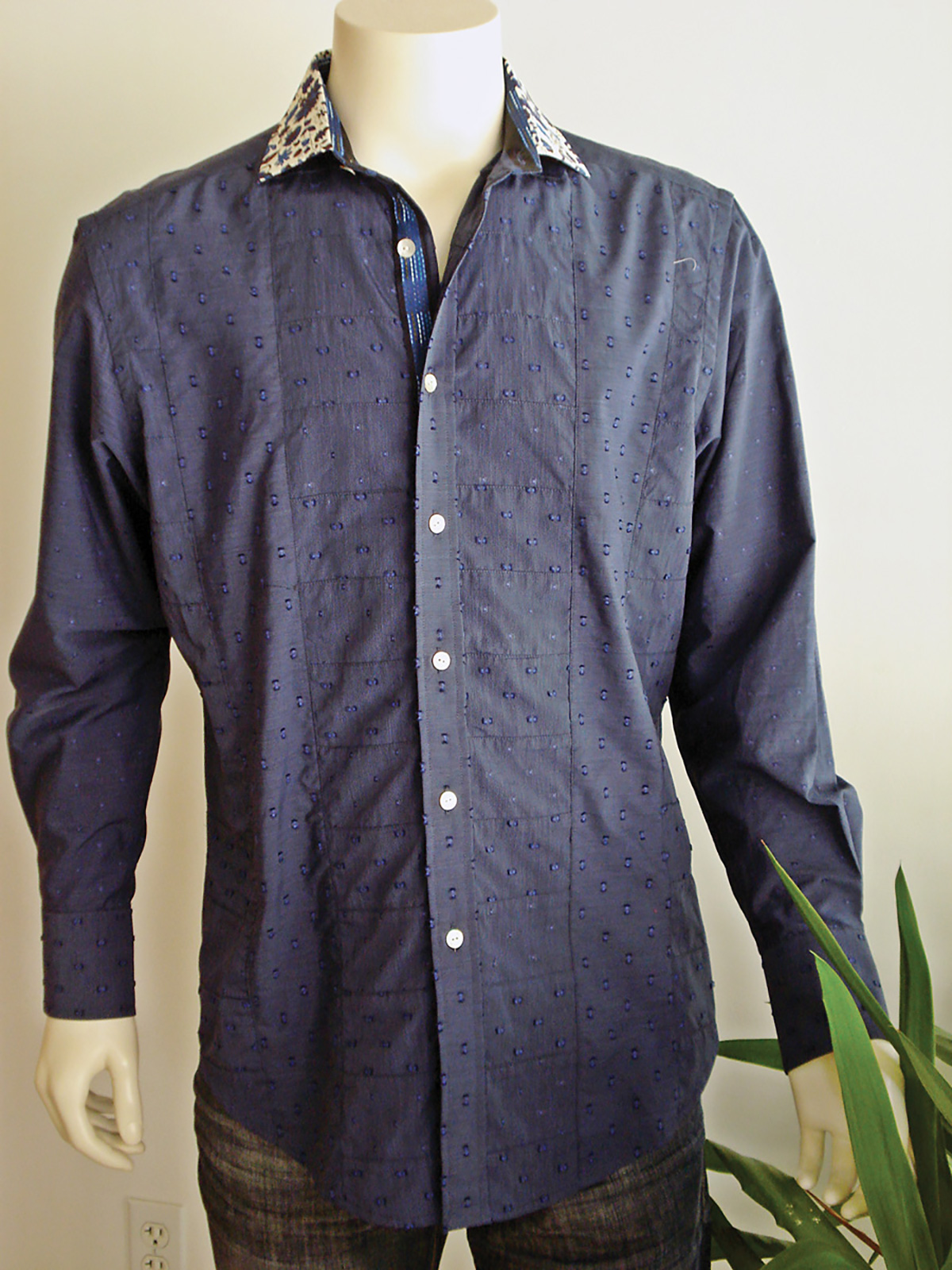 Azure Assured
Make a bold statement with Robert Graham's Finzy Contizi shirt. The floral printed neck collar and striped stitched-lining contrast daringly against a shade of navy blue that is anything but ordinary. Buy it for $254 at Green Grass House, 54 SW 10 St., Brickell; 305.373.7425; GreenGrassHouse.com.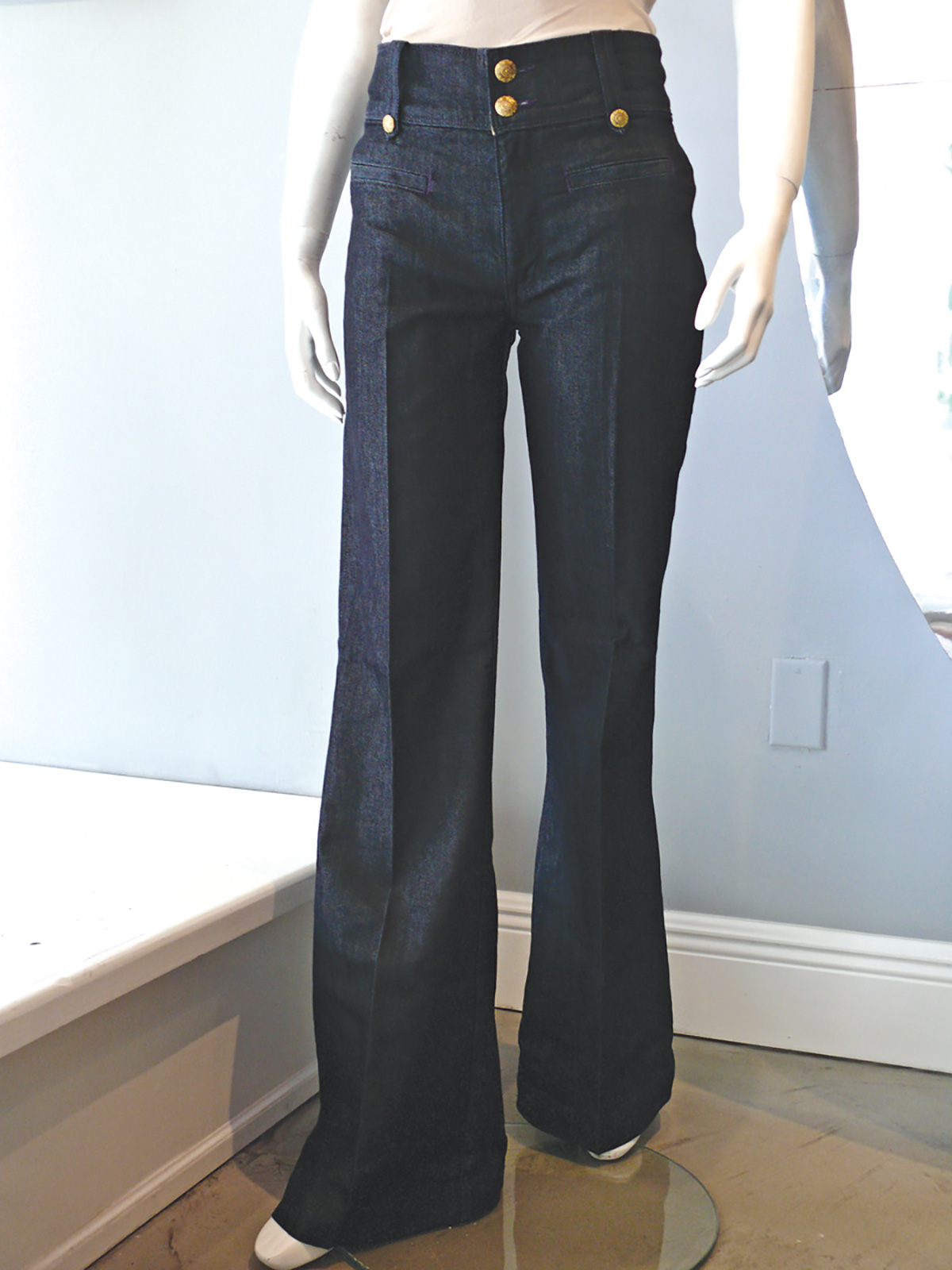 Jean Justice
These high-rise, wide-leg "Lanky" jeans from Rich & Skinny Jeans are ideal for a nighttime outing. Pair them with a tight-fitting, tucked-in shirt to accentuate the flattering wide waistband. Buy them for $253 at Hip.E Boutique, 359 Miracle Mile, Coral Gables; 305.445.3693, Hip-E-Boutique.com.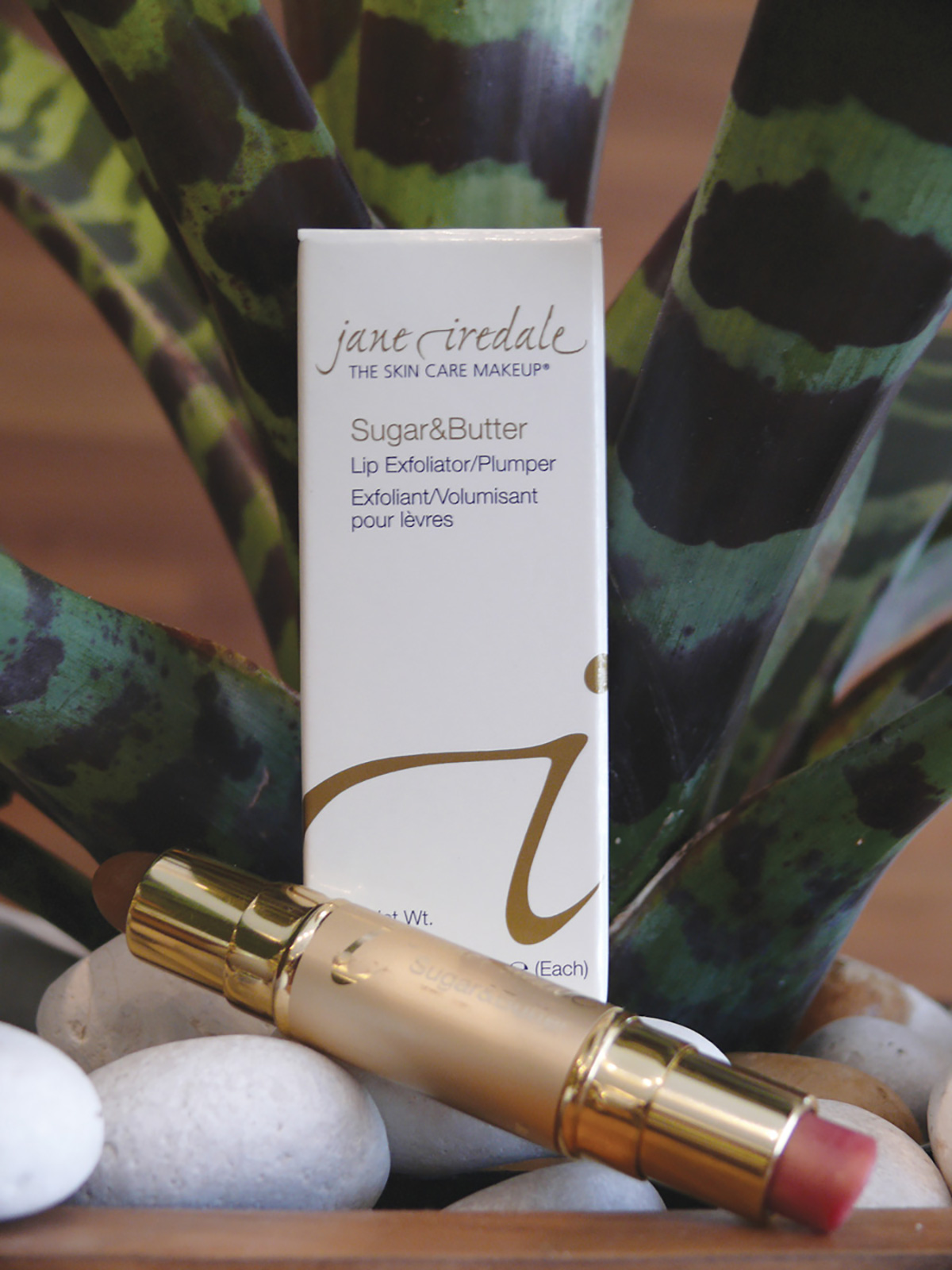 Lip Service
You will crave Jane Iredale's Sugar & Butter Lip Duo. The double-ended stick comes with a lip exfoliator you can lick off your lips and a tinted lip plumper that leaves your pucker smooth and sexy. Buy it for $24 at Uhma Spa & Shop, 726 6th St., Miami Beach; 305.695.0996; UhmaShop.com.
Glamour Theory
The asymmetrical Briani top from Theory is perfect
for an evening out. Cocktail party on the agenda? The 100% viscose top with silk lining is also available as a dress. Buy the top for $180 at Kristine Michael, 7271 Red Road, South Miami; 305.665.7717; KristineMichael.com.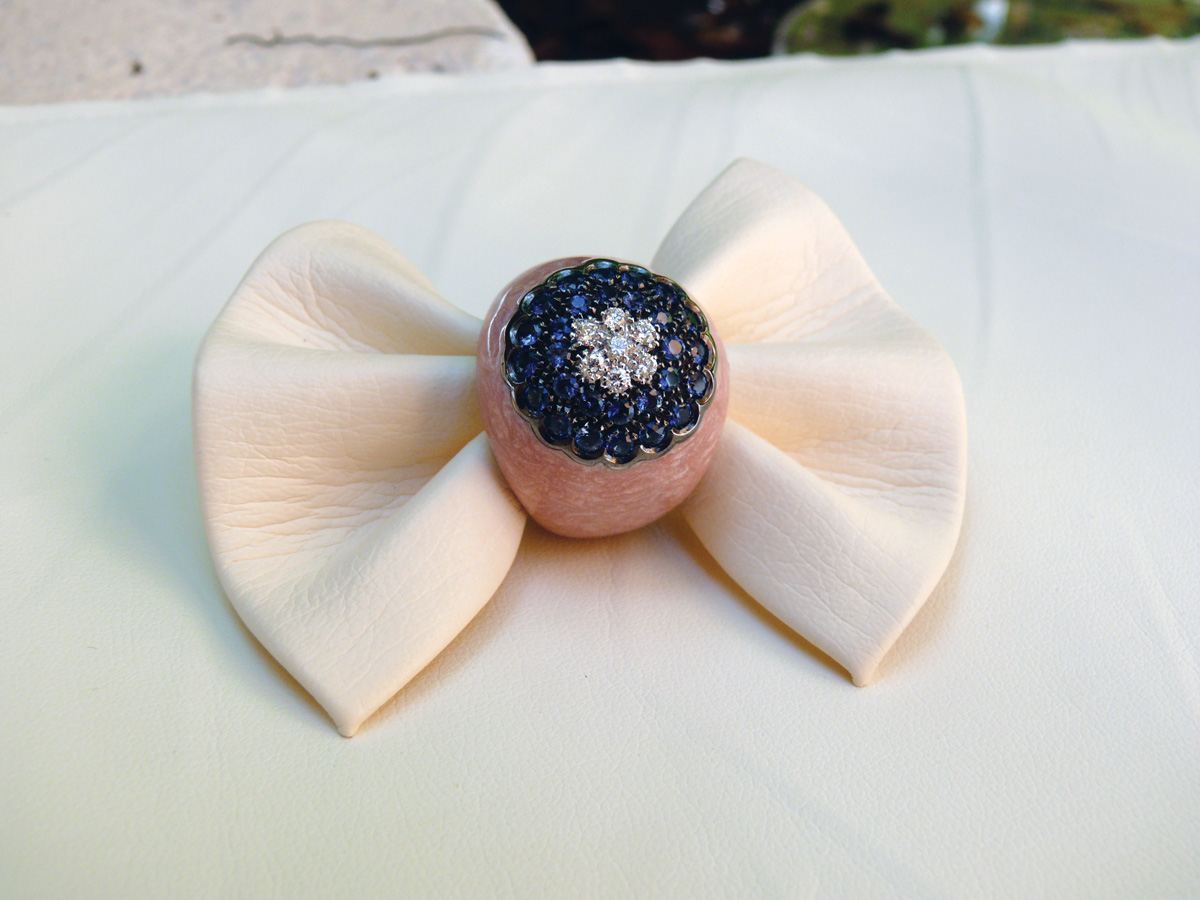 Lovestoned
Natural faceted blue sapphires and round brilliant-cut diamonds are the source of sparkle for this 18-kt. white gold ring. The pink, oven-baked enamel makes this precious piece an original addition to any ensemble. Buy it for $4,100 at Key Jewels, 200 Crandon Blvd., Key Biscayne; 305.365.1244; KeyJewels.com.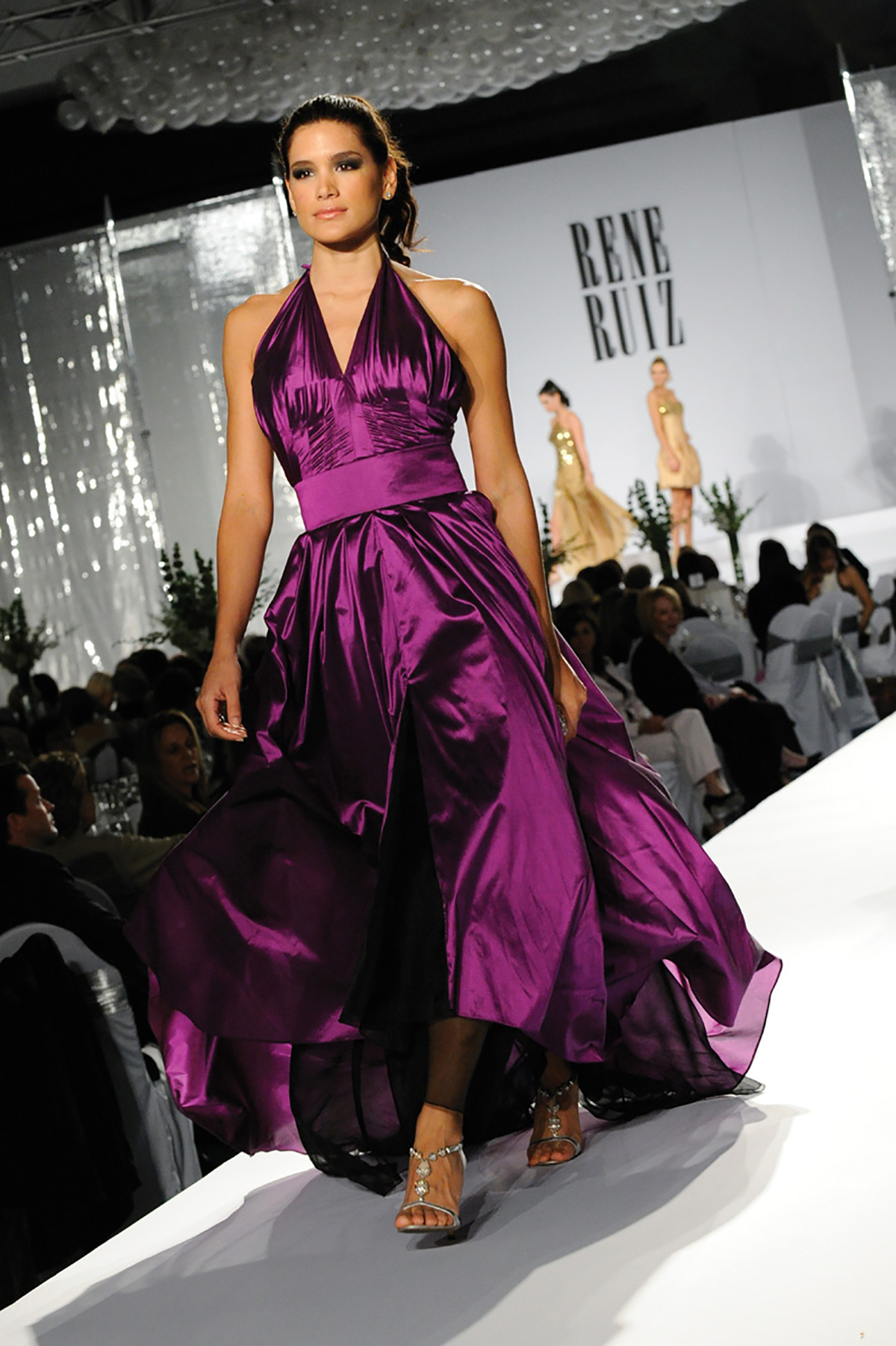 Queen of the Ball
Regardless of whether or not blue blood runs through your veins, you'll feel like royalty in this amethyst, silk halter gown by Rene Ruiz. Buy it for $5,500 at Rene Ruiz, 2700 Ponce de Leon Blvd., Coral Gables; 305.445.2352.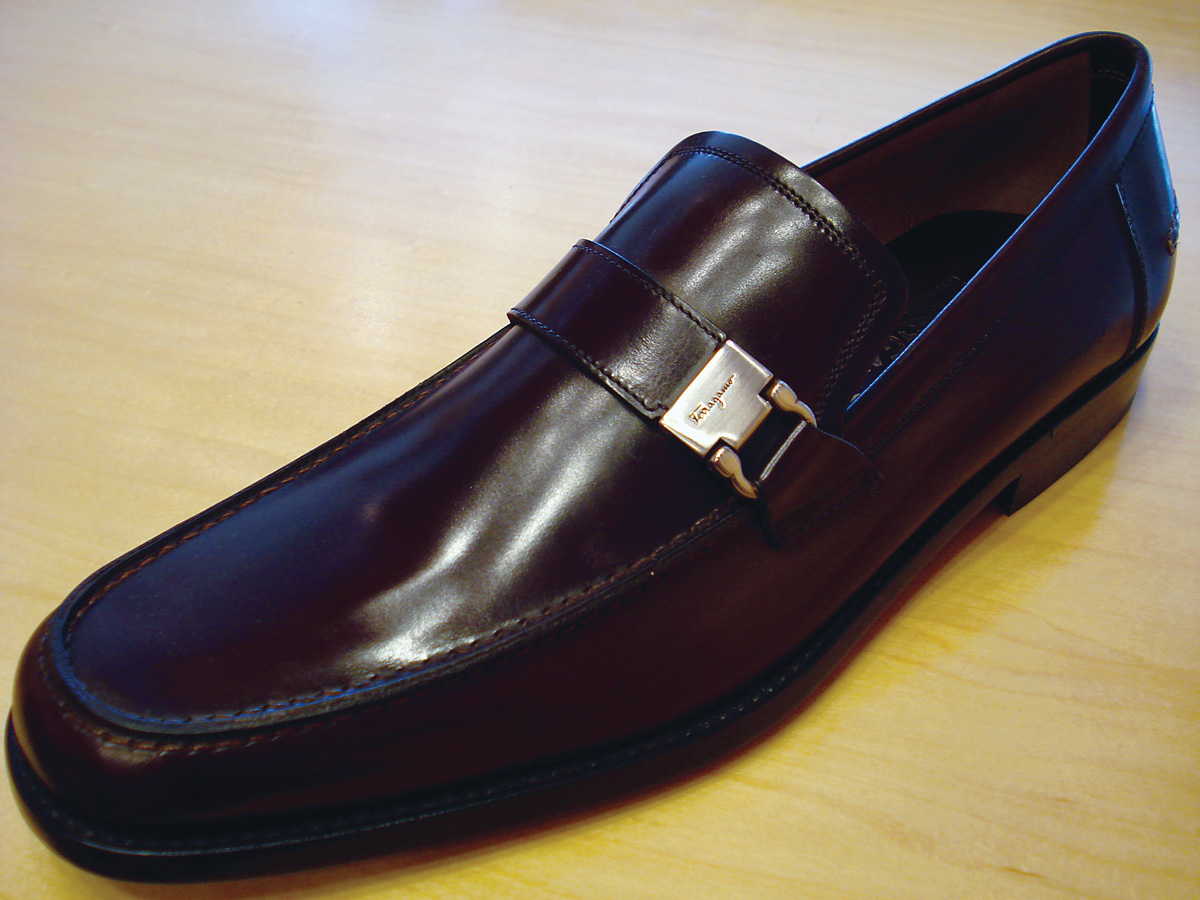 Steppin' Style
Slip on a pair of Salvatore Ferragamo's Pregiato Moccasins and tread forth in style like never before. Made in Italy, the tonal top-stitching and silver-tone hardware add style to this shoe — and to you. They are available in hickory, walnut and black for $520 at Cavanaugh's, 5828 Sunset Dr., South Miami; 305.665.6187; CavanaughShoes.com.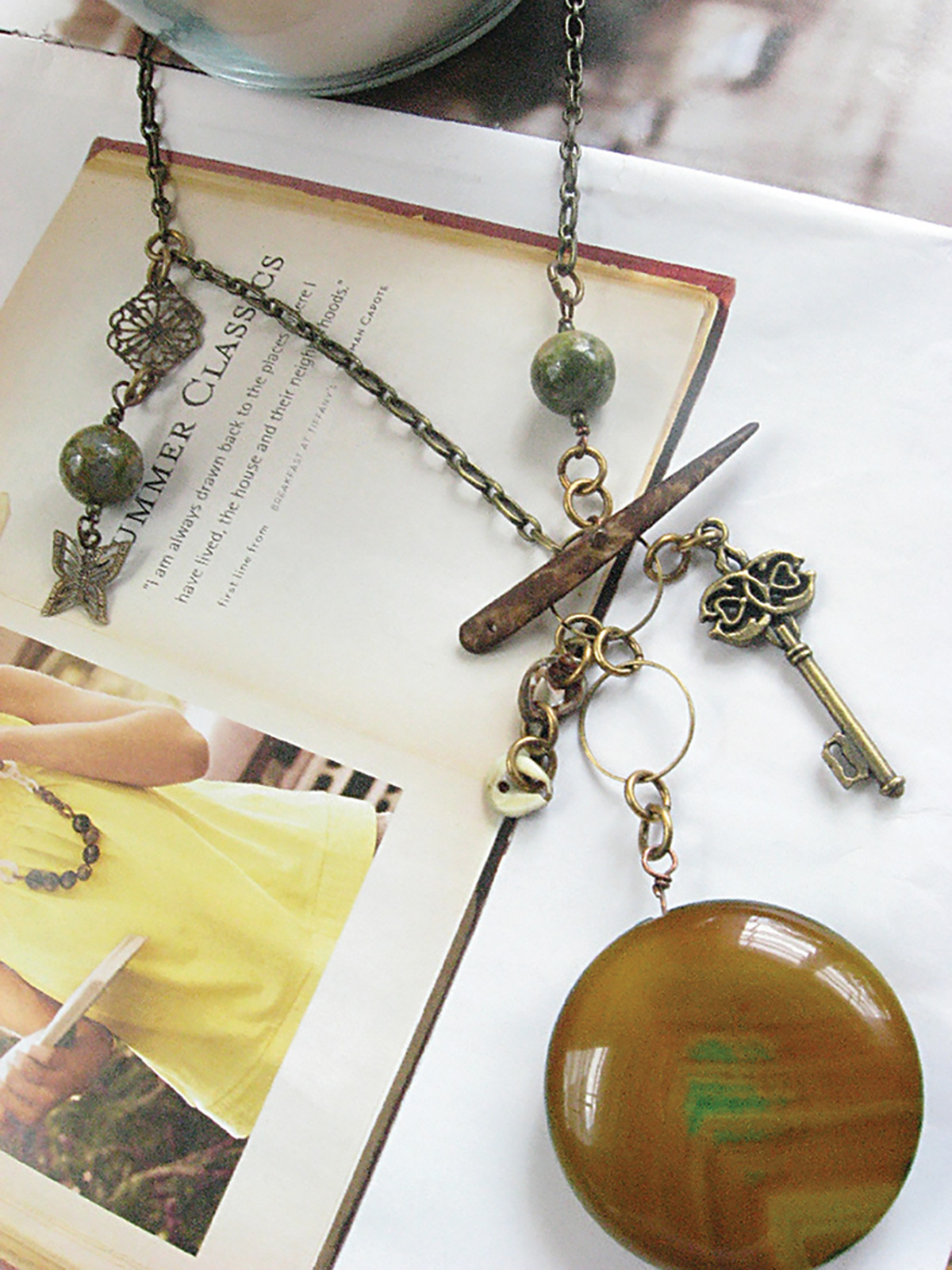 One Click Chic
The mixture of cowrie shells, a vintage brass key charm, colorful glass beads and a butterfly charm on this hand-made "Cha-Cha" necklace will catch the eye of everyone in the teen scene. Buy it for $38 at Miami-based online boutique AharrisDesigns.Etsy.com.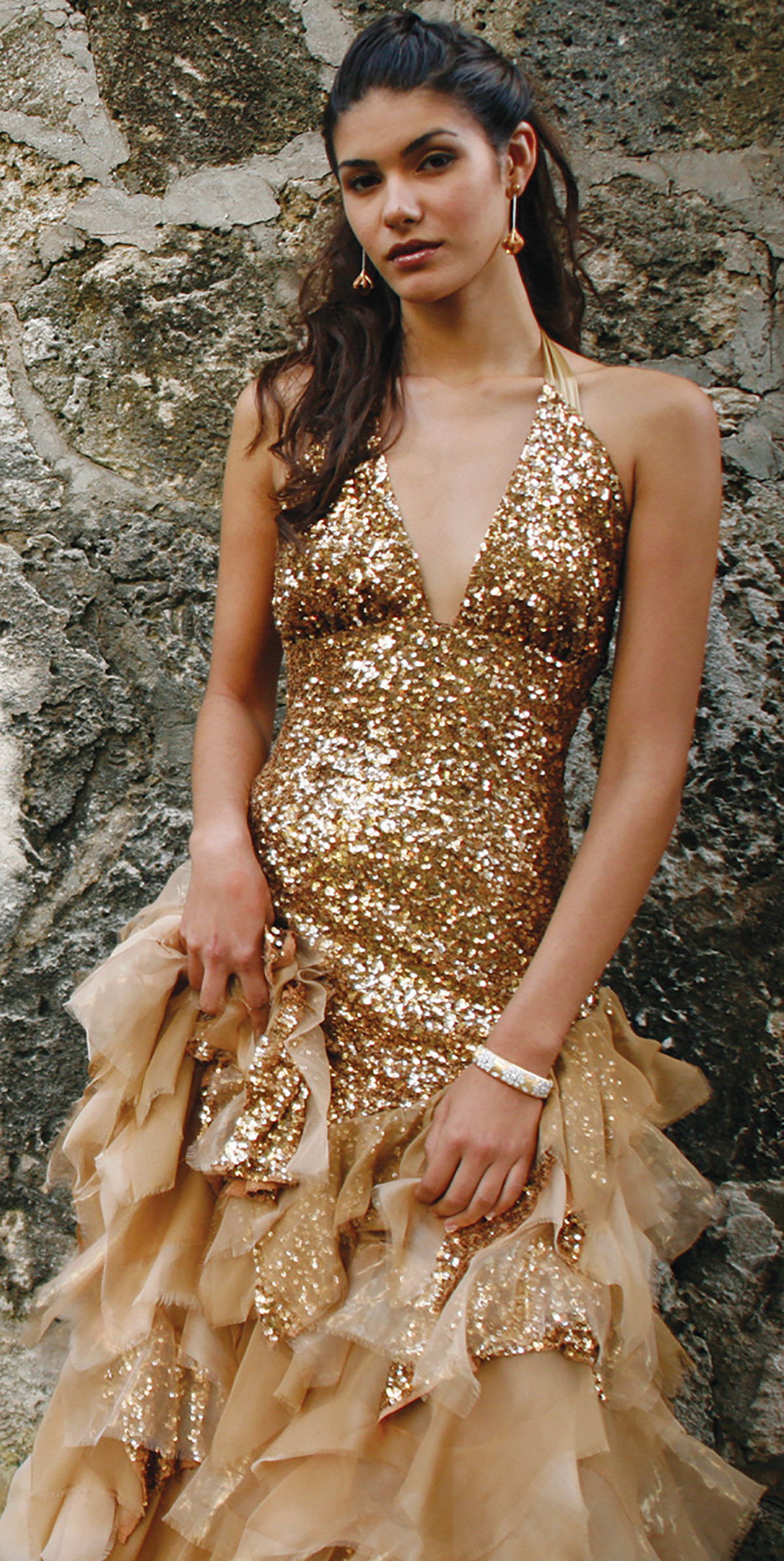 Fairytale Dress
The right flowing golden dress with just a hint of sparkle will make you look like you stepped off the pages of an enchanted epic and have all the right people searching for your matching glass slipper. This gown by Silvia Tcherassi is available for $3,500 at Village of Merrick Park, 350 San Lorenzo Ave., No. 2140, Coral Gables; 305.461.0009; SilviaTcherassi.com.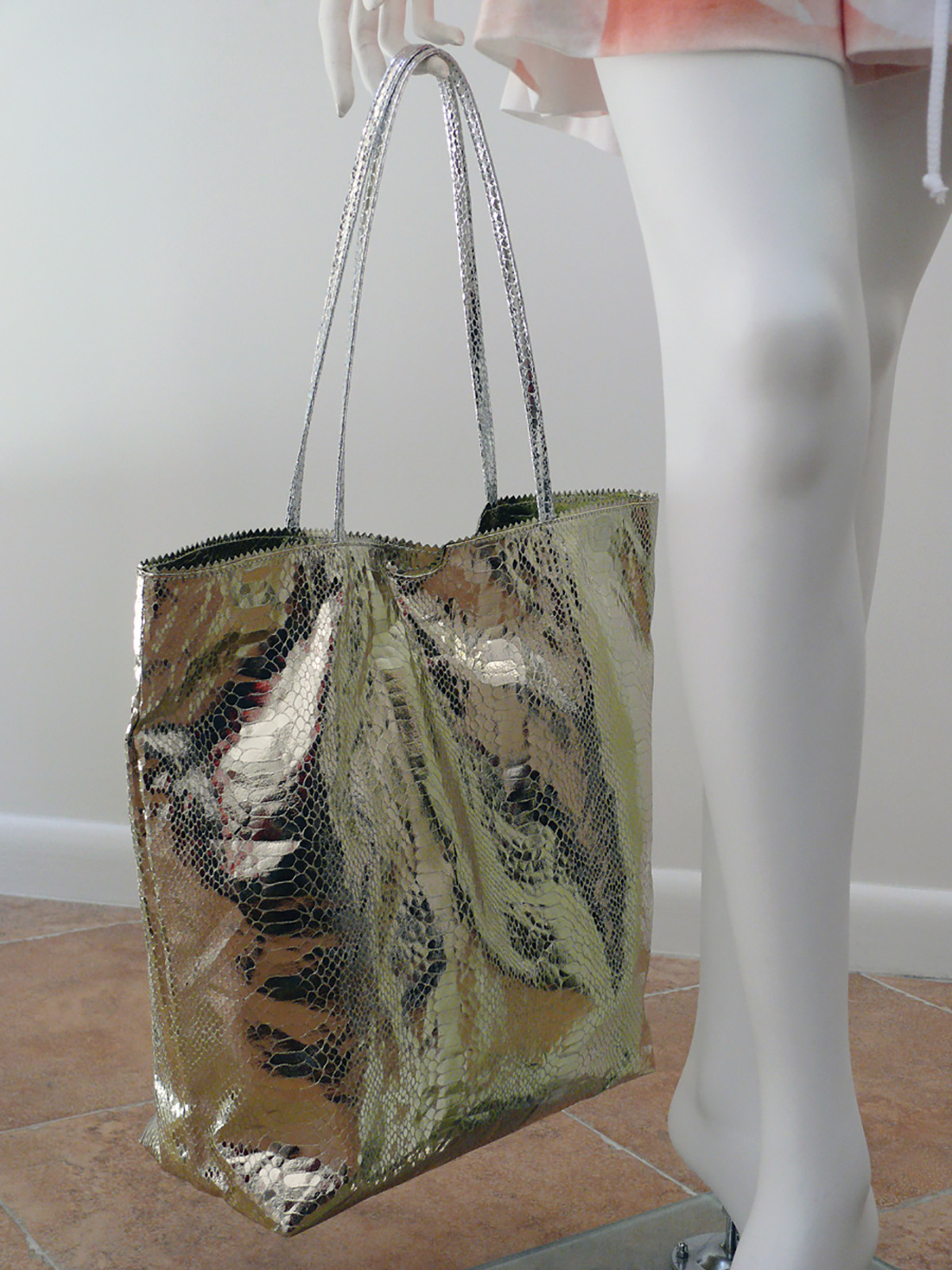 Gold Expectations
Carlos Falchi's Barbarella Tote with dual straps will be your favorite shopping companion. Made of sleek python-embossed microfiber, the bag is stylish, light and roomy enough to make Mary Poppins jealous. Buy it for $219 at Casting Boutique, 200 Crandon Blvd., Key Biscayne; 305.365.9797; CastingBoutique.com.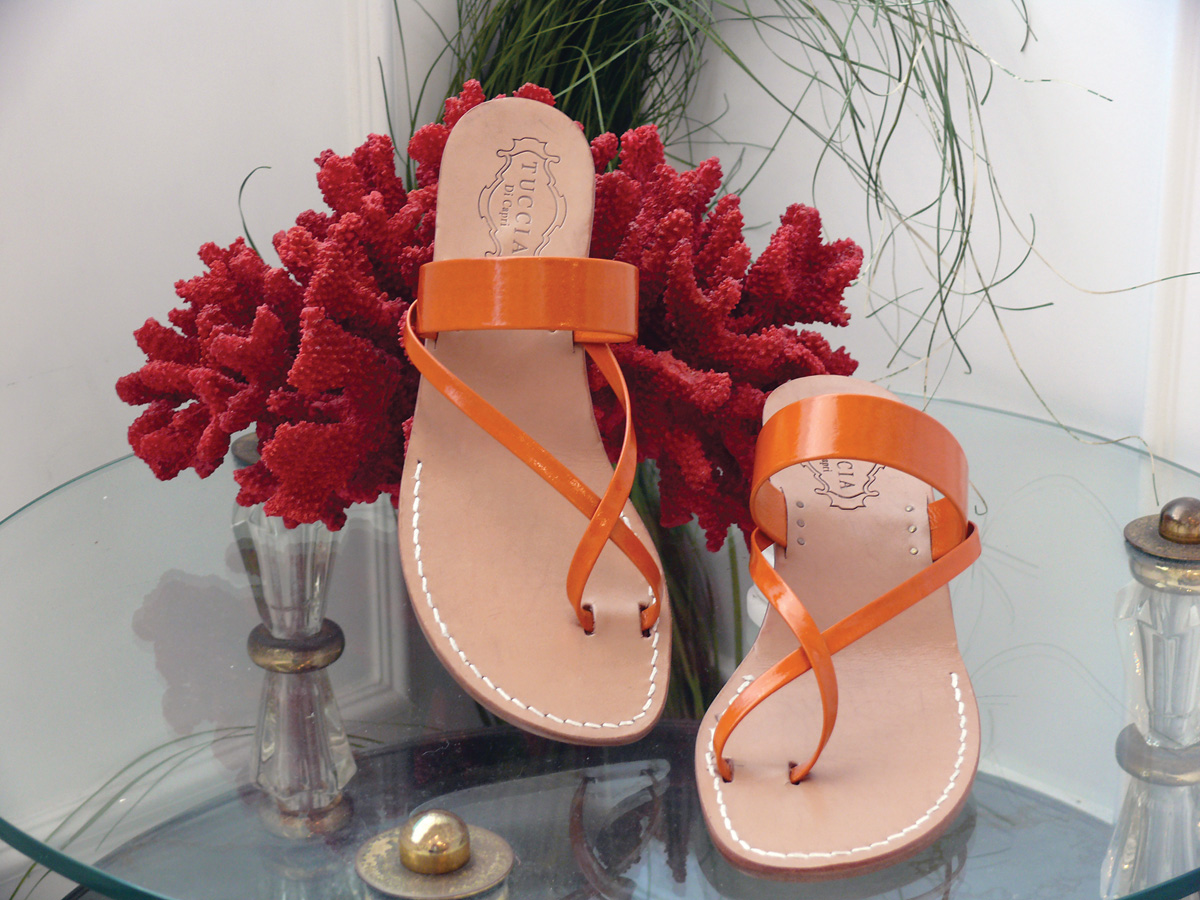 Strap Your Stride
Strappy sandals don't always have to hurt. "The Barbara" is custom-made to fit your foot with 100% Italian imported leather. They are available in a variety of colors, so you won't sacrifice style for comfort. Buy them for $170 at Tuccia Di Capri, 1630 Pennsylvania Ave., Miami Beach; 305.534.5865; TucciaDiCapri.com.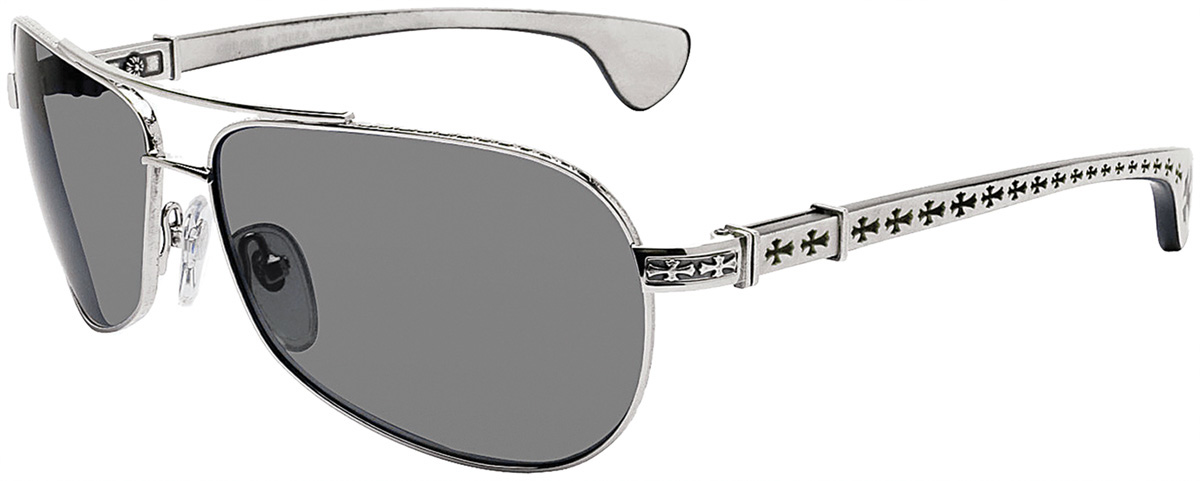 Sun-Crossed
These eclectic shades from Chrome Hearts add rock-star appeal to any look. "The Beast I" sunglasses are available for $1,695 in the Optical Shop of Aspen, 509 Lincoln Road, Miami Beach; 786.276.8003; OpticalShopOfAspen.com.