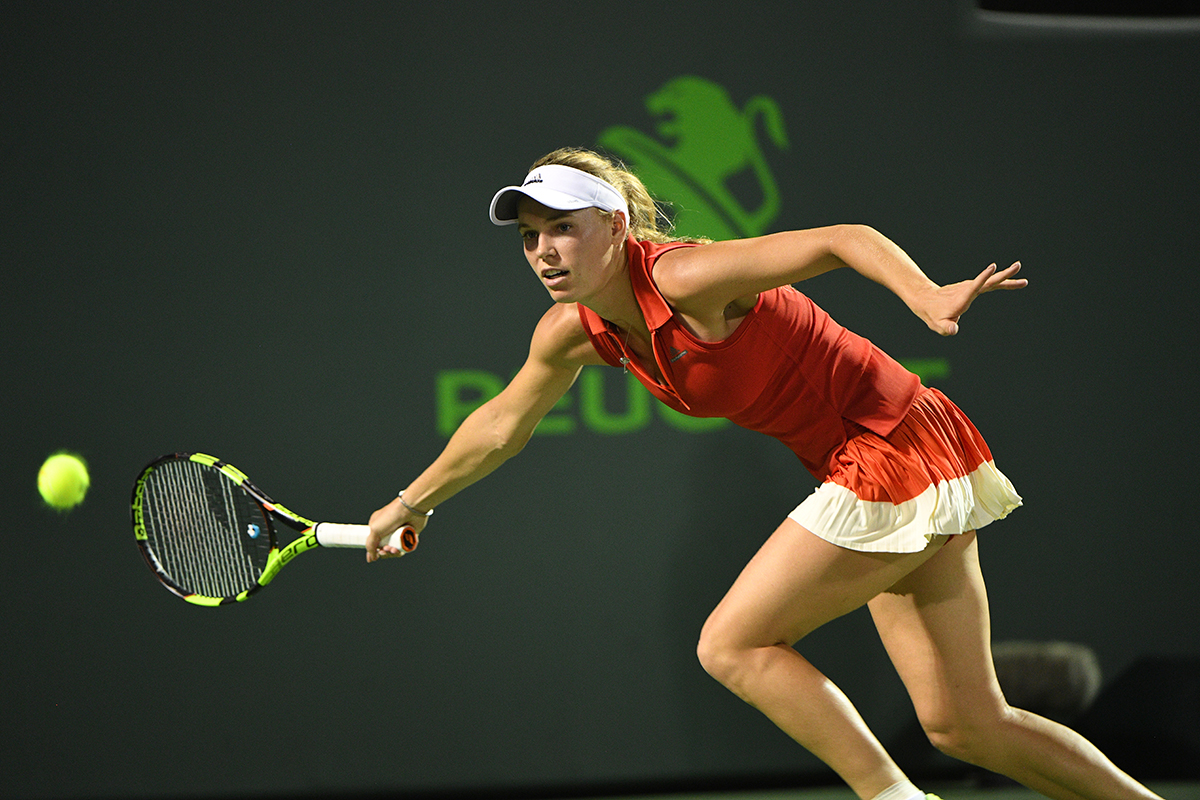 "I'm sorry I had to win today." For most of our "me-first" society, the thought of uttering a statement like that at an undeniably great moment of a hard-fought career would be, frankly, unconscionable. But it's precisely those words which separate a good athlete from a great one, someone who simply is the beneficiary of a great deal of talent to one truly in tune, mind, body and spirit, with competition in its purest form. Stated tearfully to top-seed and world No. 1 Simona Halep after a particularly pulse-pounding match that eventually led to securing her first Grand Slam, the words listed above not only cemented Caroline Wozniacki's status as one of the world's best tennis players, but an achievement even more coveted: a true sportsman, a person humble even in circumstances that would cause all but the most level-headed to act in an ungraceful manner.
Caroline Wozniacki switched up her game, utilizing a metaphorical two-handed backhand to turn a life beset by problems to an opportunity for further enrichment.
Today, what is so intriguing, so engaging about Wozniacki is not her steely resolve, her classical beauty, the grace of her game or the rigor of her training sessions. For Wozniacki, like all great personages regardless of vocation, what sets her apart is…well, all the things that don't! The practical jokes, the blunders while making victory speeches, the way she seems to, despite her gifted station, display fears and social anxiety that we, her adoring public, can intimately identify with. Awkward, heartfelt, silly and serious all in a split second, Wozniacki shows us that the super and the human can overlap freely.
Born July 11, 1990 in Odense, Denmark, to Polish immigrants and sports enthusiasts (her father, Piotr, was a professional soccer player; her mother, Anna, played on the Polish women's national volleyball team), Wozniacki's early life displayed much the same tender character attributes that make her so celebrated today. Envious of the achievements of her older brother, Patrik, and encouraged by loving and wholesome parents who were sure she would succeed, Wozniacki's youth was not that different from most of our own. When her brother played soccer, she wanted to play soccer, and when he picked up tennis, she did the same. That's when the tailing of her oldest sibling stopped. In a home full of athletes of various degrees of professionalism, she had found a game entirely hers.
A pro at the tender age of 14, the seeds of Wozniacki's approach to the game developed early under the watchful eye of her father, who has served as her coach since 2004. It was then that her signature move, a two-handed backhand seamlessly switching the game from defensive to offensive in a second, matured masterfully, and propelled her into Junior Tournament success and an eventual Women's Tennis Association Tournament debut at 15.
Even blessed as she is with talent and dedication, Wozniacki's career was no yellow-brick road. Supremely skilled opponents, an unfortunate array of injuries and sometimes good old-fashioned bad luck (2009 saw her exiting the Toray Pan Pacific Open due to a stomach illness), has given Wozniacki's 13-year professional career the same set of failings and foibles that make her so attractive as a person. Perhaps they have also instilled in her the humility so noticeable in her actions.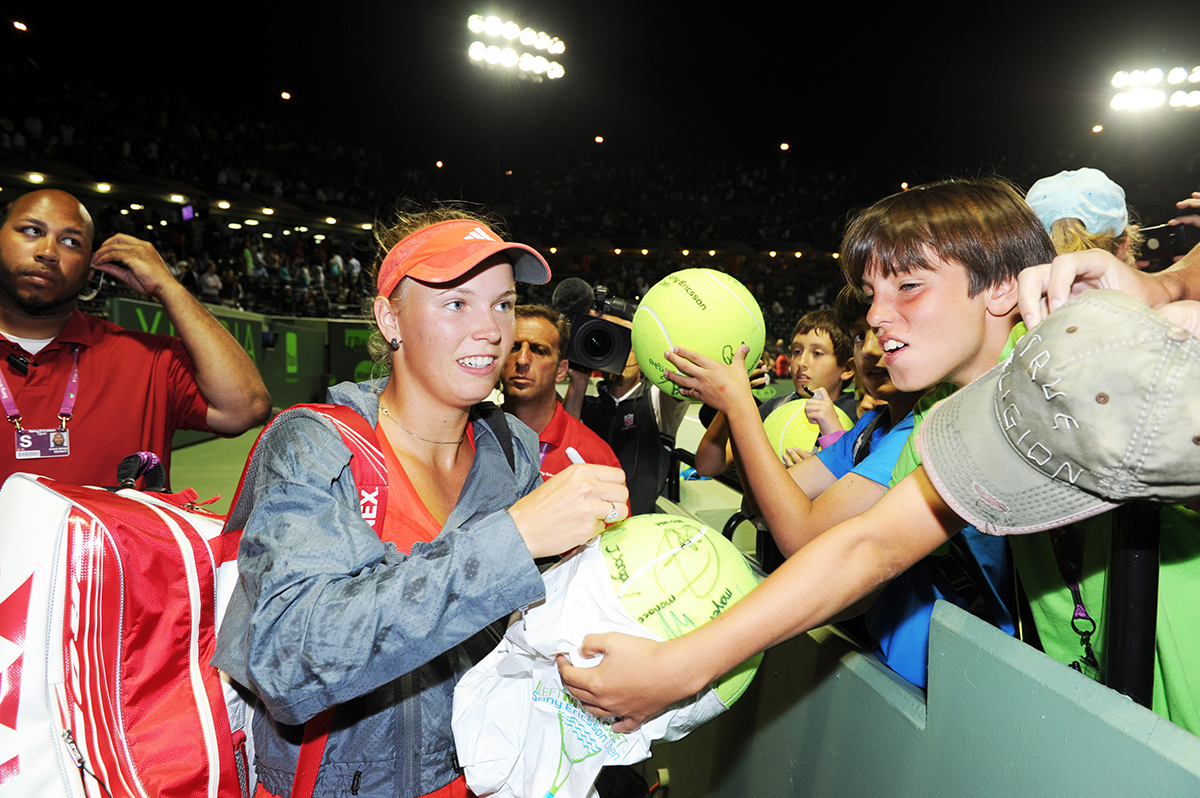 Finishing No. 1 in both 2010 and 2011, 2012 saw a number of notable challenges arrive for Wozniacki. Losing the first round of Wimbledon (her first opening round exit of a Grand Slam since she first entered the professional sphere), she was similarly knocked out of the first round of the U.S. Open, beaten in two sets by 96th-ranked Irina-Camelia Begu. This loss, calculated with other lackluster performances throughout the year, dropped Wozniacki out of the Top 10 for the first time in years.
Personally, as well, Wozniacki faced some pitfalls; dating and then subsequently engaged to Irish professional golfer Rory Mcllroy, May 2014 saw the couple's 5-month engagement broken, an event that no amount of money, skill or product endorsement could help soften the sting. A consummate contender ultimately cool under pressure, Wozniacki did precisely what she'd been doing all her life: She switched up her game, utilizing a metaphorical two-handed backhand to turn a life beset by problems to an opportunity for further enrichment. Endeavoring not only to improve her tennis game (she finished 2014 at No. 8, stopping her slump dead in its tracks), Wozniacki branched out even further, participating in and finishing the New York City Marathon in a respectable 3 hours 26 minutes and appearing in the 2015 Sports Illustrated Swimsuit Issue.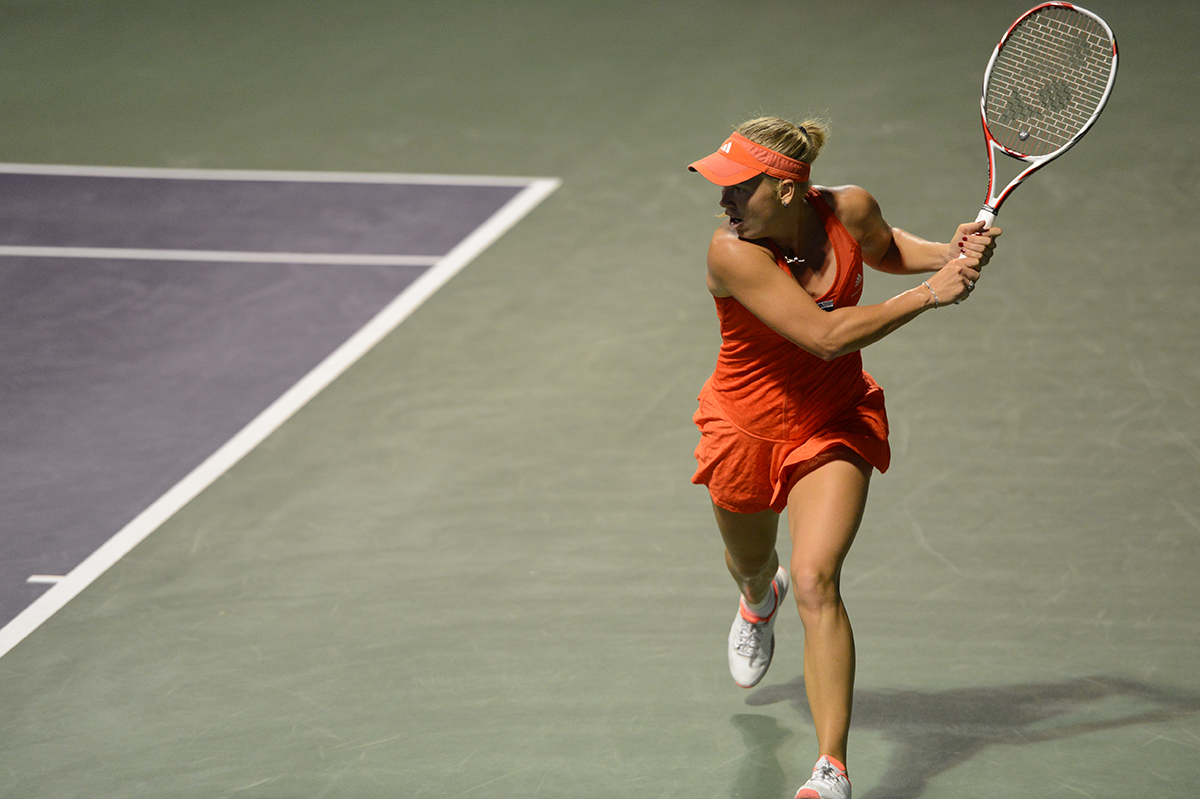 Finishing 2017 at her highest ranking since 2011, Wozniacki's 2018 is poised to be, at this early stage, a record-setting season. Already a Grand Slam winner (the ninth woman to win the title after being match point down), this year's Miami Open will showcase precisely what the rest of Wozniacki's year will look like.
Will it be another meteoric rise, the stellar ascension of her seemingly unstoppable talent, or a year of shaky starts and finishes? Will her current relationship with former NBA Champion David Lee be the love-locked success it's touted to be in clickbait articles, or will it end in another heartbreaking fashion?
Whatever the outcomes, good, bad, amazing or simply mediocre, Wozniacki has little to worry about. More than an athlete, a woman of staggering beauty, a fearless fighter, a heartbreak survivor or a social media maven, Wozniacki is something everyone in the world, regardless of vocation, aspires to be: undeniably, unapologetically, herself. A whole person, unafraid of the trials life may throw at her, and a champion at a greater game than that which takes place in select courts across the globe.