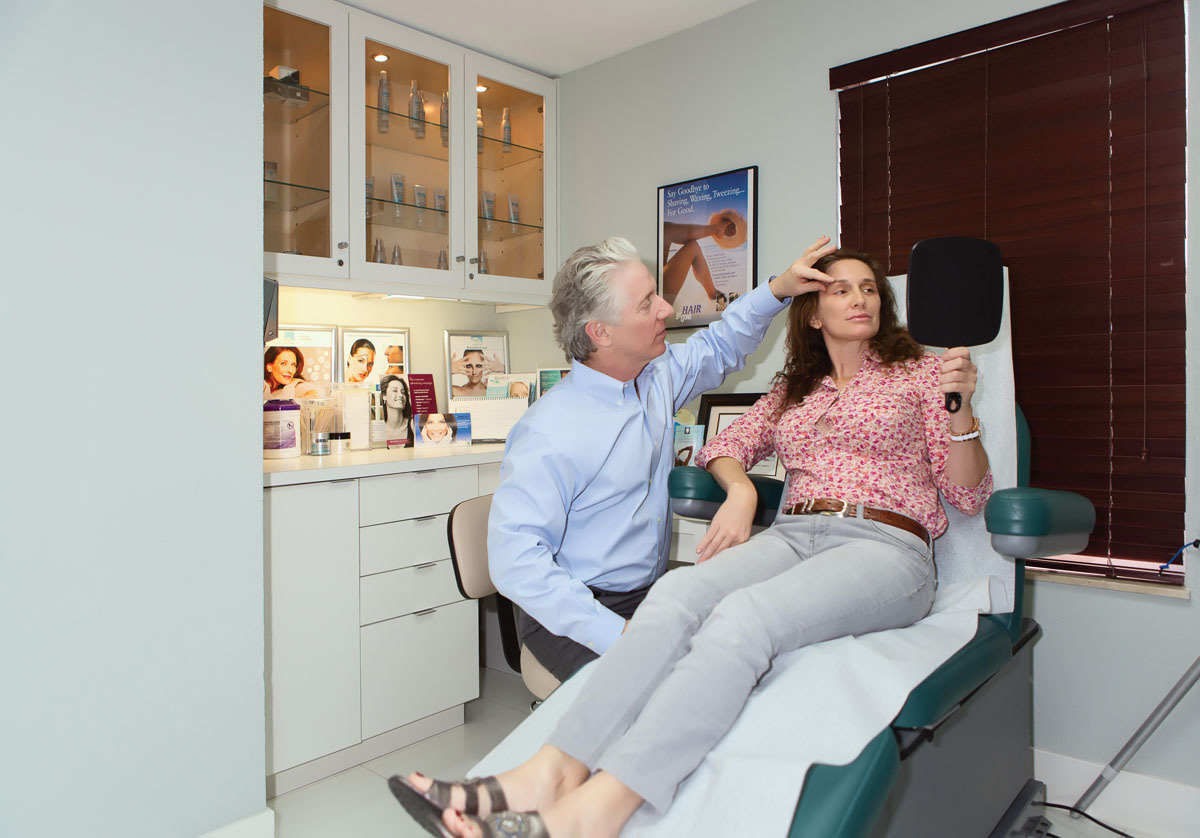 John J. Martin, Jr., M.D.
Dr. John J. Martin
2912 S. Douglas Rd.,
Coral Gables
305.444.5950
JohnMartinMD.com
Dr. Martin's surgical practice is renowned for its facial and ophthalmic plastics. He also does a lot of laser work and has 8 lasers for different types of rejuvenation.
Dr. John J. Martin, Jr., has heavy-duty credentials. He got his medical degree from Harvard Medical School and did his residency in ophthalmology at the Wills Eye Hospital in Philadelphia, followed by a fellowship in Ophthalmic Plastic & Reconstructive Surgery at Bascom Palmer in Miami. He's been in private practice for 20 years. "While doing my residency, I realized that I liked the plastic surgery field the best." Today, he focuses on eye, facial & neck rejuvenation, while rounding out his comprehensive list of services with laser and other non-surgical options for concerns such as vascular and pigment problems, hair removal and more, including fixing the bad work of others. "We've been seeing a lot of patients who have had illegal fillers put into their faces," he explains. "This creates large disfiguring nodules which we've been able to shrink down with a new ultrasound treatment. While it doesn't make things perfect, these patients are desperate in their search for something to help them out." He also looks to the future and spends time exploring some of the new less invasive techniques coming out for rejuvenation — but not all of them work! "I've been doing a lot of speaking internationally and plan to continue that," he says. So what's the most fulfilling part of his job? "I enjoy sharing in patients' excitement about a good result," he says."
DOCTOR'S ORDERS
One of the best ways to rejuvenate the face is with an intense pulsed light treatment. This technology helps even out skin tones by eliminating brown spots and small vessels on the face. There's no downtime and minimal discomfort. An even skin tone will make you look younger and healthier.
ASK THE DOCTOR
Q: I've noticed that I'm getting large "bags" in my lower eyelids, which makes me look tired. What are my options?
A:"Sometimes some filler can be placed below the fat pads to smooth out the appearance. A more permanent solution is a lower blepharoplasty with fat repositioning where no fat is excised since this can lead to hollowing of the lid. Instead, the fat is moved further down to create a smooth transition between the cheek and lid. Excess skin can be removed at the same time."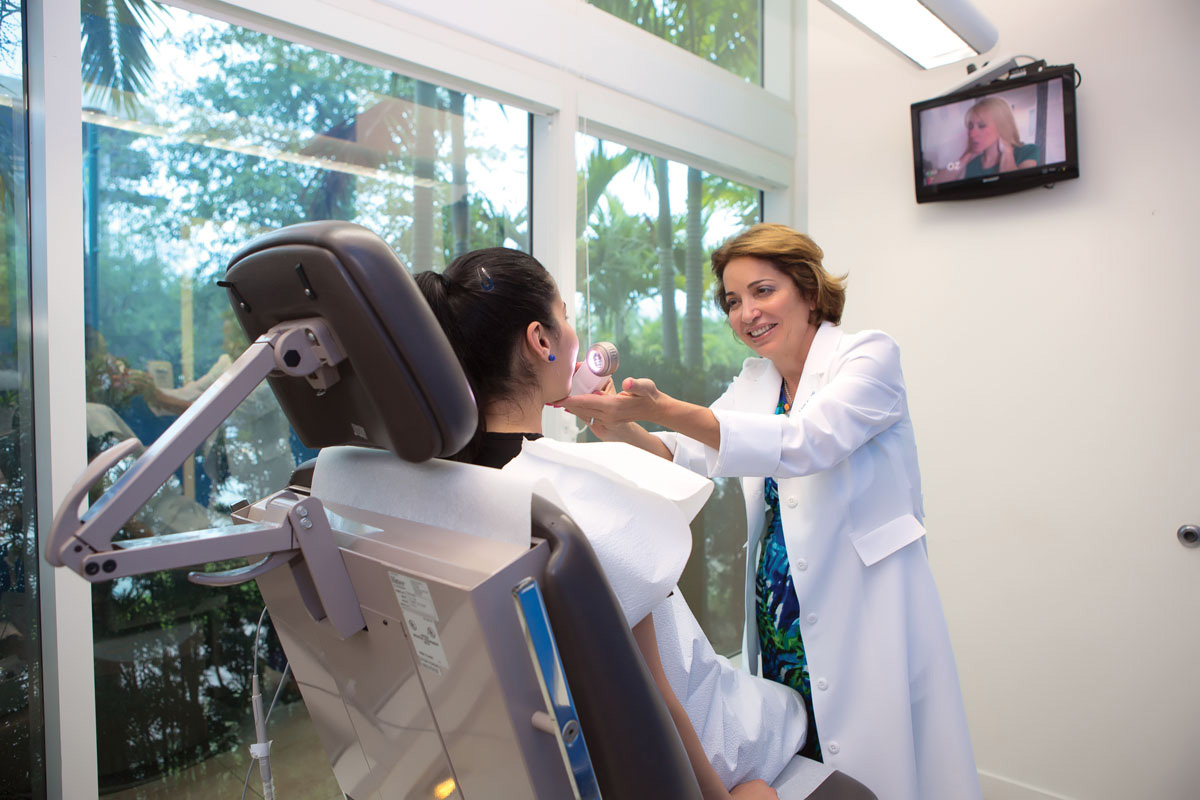 Dr. Susana Leal-Khouri
Miami Dermatology Center
580 Crandon Blvd., Ste. 101
305.361.8200
MiamiDermatologyCenter.com
With over 28 years in business as a Board-Certified Dermatologist, Dr. Susan Leal-Khouri and her experienced team are the go-to medical professionals for everything from cosmetic enhancements to skin cancer concerns.
Renowned Dermatologist, Dermatopathologist & Pathologist Dr. Susan Leal-Khouri divides her time between treating skin cancers and cosmetic procedures. "Anti Aging Cosmetic Dermatology is growing in popularity as it's a great alternative for attaining a youthful appearance without going through invasive surgery," she says. "Cosmetic Dermatology is safe, and the recovery time can be minutes as opposed to months of recovery." She offers a wide variety of services at 3 convenient locations: Key Biscayne, Miami and in Tavernier. Cosmetic procedures include Botox and Dysport Cosmetic for wrinkle reduction, Restlane or Perlane for skin filling, and Sculptra and Radiesse volume fillers, to name a few. The other side of her medical practice focuses on the serious topic of skin cancer. "Everyone, regardless of skin color, can potentially get skin cancer even though Caucasians are the primary victims," cautions Dr. Khouri. "Unfortunately, many patients and even some physicians are under the impression that non-Caucasian people are immune to this disease. That's one reason people of color are diagnosed with skin cancer at later stages. These delays mean that skin cancers are often advanced and potentially fatal, whereas most skin cancers are curable if caught and treated in a timely manner."
DOCTOR'S ORDERS
Made of a natural, sugar-based, water-absorbing gel (hyaluronic acid), found commonly in both plants, people & animals, Restylane is an effective anti-wrinkle treatment for frown lines, smile lines, crow's feet, wrinkles and lines on the cheeks, along the nose and around the mouth. It's also useful for more plump, full lips.
ASK THE DOCTOR
Q: I participate in a lot of extended outdoor activities. What are some guidelines I should follow in order to prevent getting skin cancer?
A:"Use a water-resistant broad-spectrum (UVA/UVB) sunscreen with an SPF of 30 or higher. Apply 1 oz. of sunscreen to your entire body 30 minutes before going outside. Reapply every 2 hours or right after swimming or excessive sweating. Examine your skin head-to-toe at least once a month and look out for anything that was not there before. See your dermatologist yearly for a professional skin exam."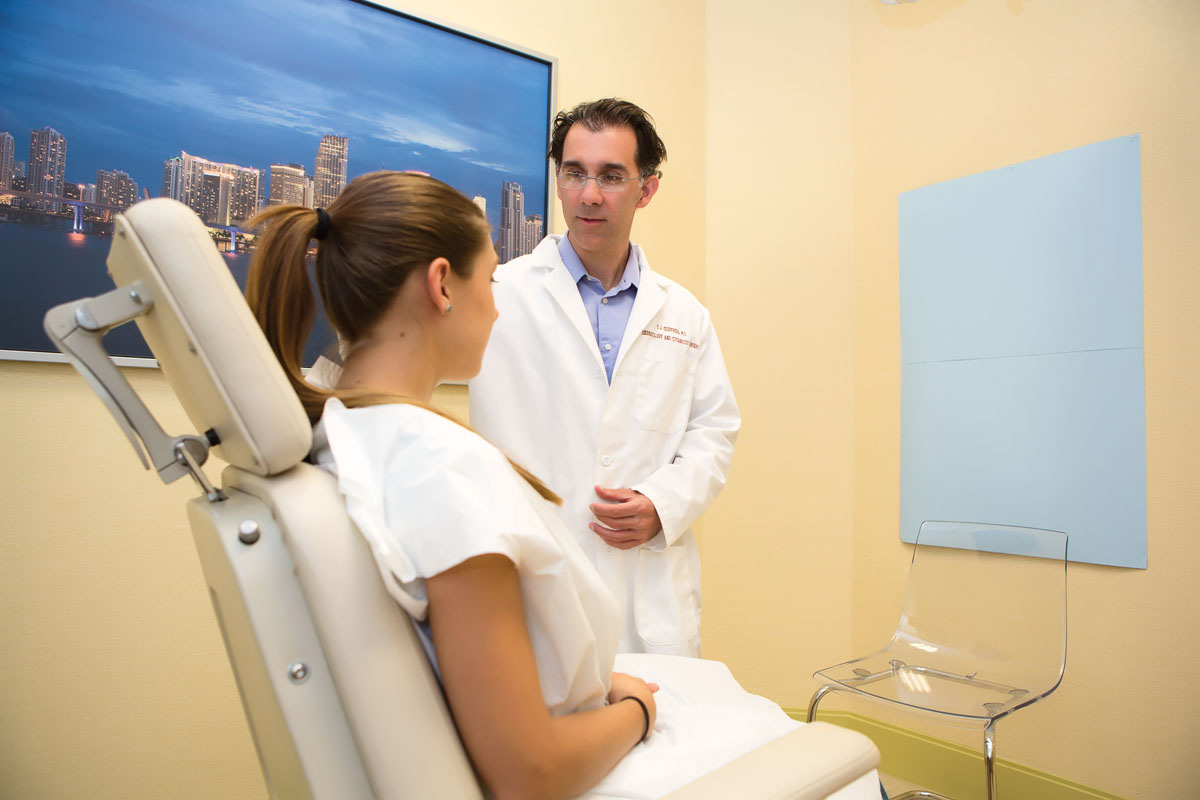 T.J. Giuffrida
Dermatology & Skin Care Center / Hair Transplant Center
Of Miami
3275 Ponce De Leon Blvd.
305.461.2000/305.461.9700
MiamiDermCenter.com
MiamiHairCenter.com
"My office is not a typical doctor's office. I see patients on time and spend a lot of time talking with them because I don't schedule a high number of patients."
Inspiration came to T.J. Giuffrida at a young age when a family member passed away from melanoma skin cancer. During his medical training, he learned that skin cancer is a very preventable and treatable condition. "I perform skin surgical procedures every day, including removing many different types of benign and malignant skin lesions," he says. He's one of the few fellowship-trained Mohs Surgeons in Miami. This procedure is a state-of-the-art skin cancer treatment in which the physician serves as surgeon, pathologist and reconstructive surgeon. He also does thousands of general skin exams yearly to check patients for skin cancer and precancerous lesions. His other interest is in hair loss, and he recently added hair transplantation surgery to his practice, after training with some of the most well-respected hair surgeons in the world. He's equally focused on providing truly personalized care. "I see many former patients of Dr. Bob Kemper, a Key Biscayne physician, who passed away from a brain tumor at a young age. They tell stories of how he treated them beyond what was expected," he says. "This is a constant reminder to me to continue to try to strive to provide excellent care and form meaningful relationships with everyone in my office. It's extremely satisfying when I'm able to tell a patient that I've cured them of their skin cancer."
DOCTOR'S ORDERS
"Hair transplantation surgery can be life-changing. It requires special surgical technical skills and artistic vision as I redistribute existing hair to balding areas so that you get a natural appearing result."
ASK THE DOCTOR
Q: Should I wear sunscreen every day? Even when it's cloudy out? And isn't most of my sun damage due to when I was a child?
A:"Use sunscreen daily. UV radiation can lead to skin cancer. Many visible signs of aging (wrinkles, brown spots) are also caused by the sun, called photoaging. Up to 40% of the sun's rays reach the earth on a cloudy day. Also, we get less than 25% of our total sun exposure by age 18. Adults are living longer, so use sunscreen at any age."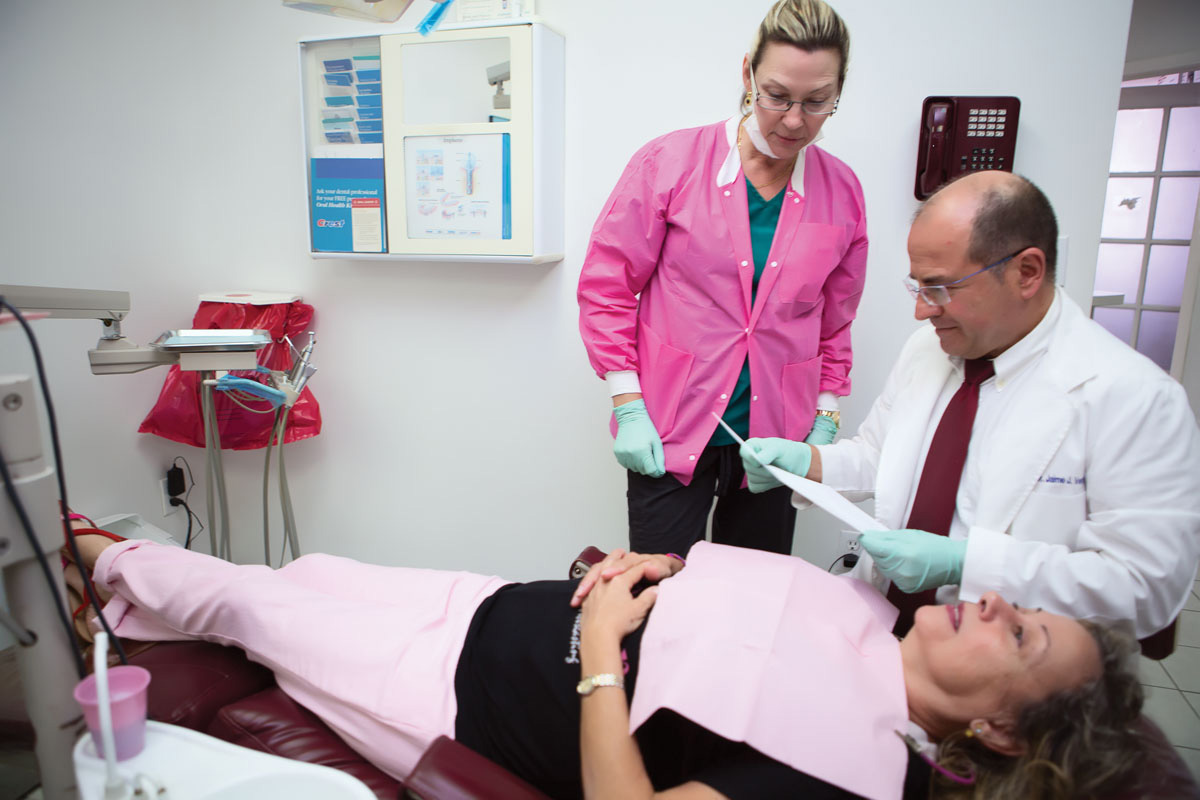 Dr. Jaime J. Vergara, DDS
Family Dentistry
328 Crandon Blvd., Ste, 220
305.360.8002
"I love my profession. Dentistry is the best and because I'm the 3rd generation of dentistry in my family, I have the privilege of helping a lot of patients."
As is the case with many top South Florida professionals, Dr. Jaime J. Vergara, DDS, PA, came from elsewhere to make Miami his home and bring us the benefits of his knowledge and skill. "I was born in Peru and I graduated at San Marcos University, which is considering one of the oldest universities in Latin American," he says. "I did my internship at the Air Force in General Dentistry and also completed a specialty on Root Canal in Peru." Afterward, he did conferences for about 4 years and learned from the best dentists in the world. He continued his studies at the University Of Florida and started working in Key Biscayne in 1992. Now with 27 years of experience as a dentist, his practice covers general and family dentistry, cleanings, teeth whitening, crowns and bridges as well as direct and indirect veneers, full-mouth rehabilitation and smile design. Dr. Vergara follows in a strong family tradition as a 3rd generation dentist. He's a man who truly enjoys what he does. "I look forward to continuing to grow as a human being, a father and also as a professional helping my community and family," he says.
DOCTOR'S ORDERS
Componeer Direct Chairside Veneers are polymerised, prefabricated nano-hybrid-composite enamel shells that are very thin and require only a minimal touch of the teeth. This new and easy-to-use system restores functionally and cosmetic good looks to your teeth for half the price of the indirect veneers.
ASK THE DOCTOR
Q: I've been wondering why do teeth yellow? And why do they become so very yellow?
A:"As I explain to my patients, we all lose tooth enamel every day. This is largely in part because the modern diet is too acidic and that's why I recommend to everyone that they need to rinse their mouth with water as soon as their finish drinking or eating."