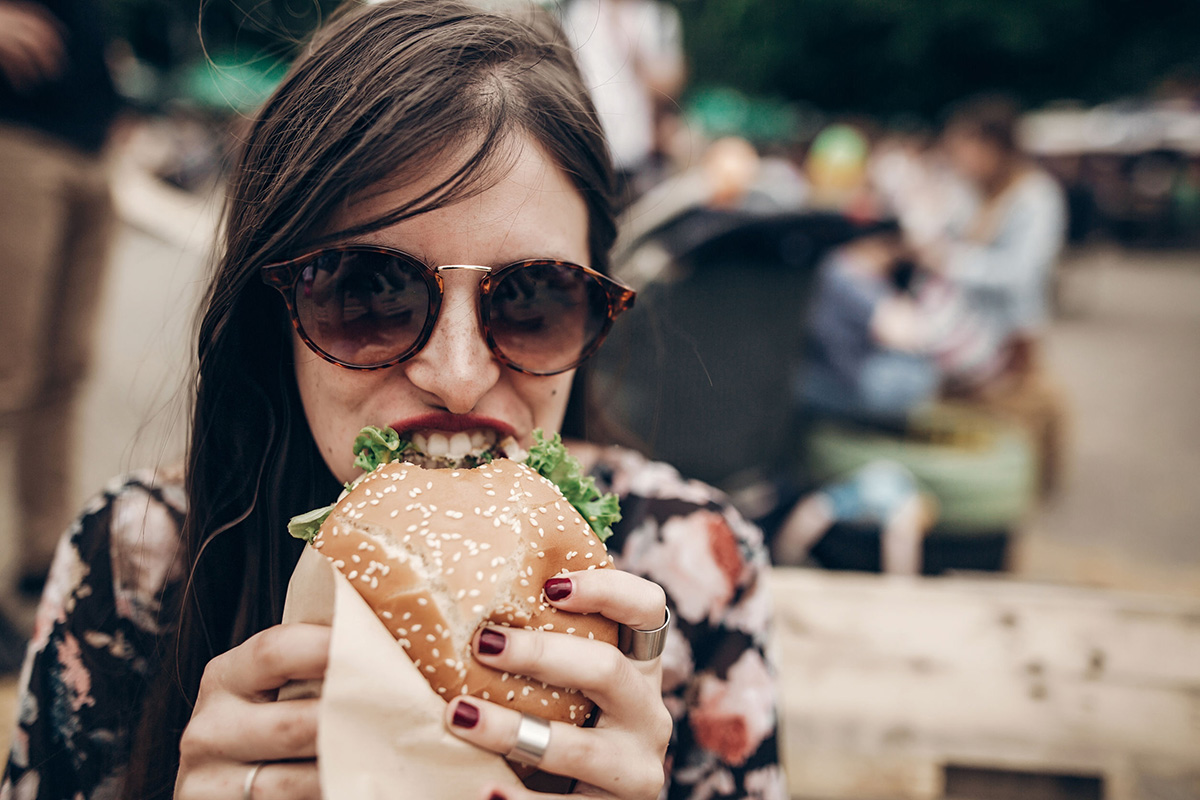 The McVegan Sandwich
To be expected in the ultra-progressive provinces of Finland and Sweden, McDonald's release of a completely compassionate approach to their top-selling standby, the cheeseburger, was happily welcomed. Encouraged and devoured by most of the normally difficult-to-please international vegan community, this amalgamation of a soy patty, tomato, lettuce, pickles, onion, ketchup, eggless veganaise and that celebrated sesame seed bun exceeded sales projections. Does this mean our own local iterations will be stocking plant-based bites in the future? Only time will tell. Cost: 49 SEK (Swedish Krona), or about $6.22.
Kuro Pearl Burger
An oddly macabre choice manufactured by Miami-Dade headquartered hamburger savants Burger King, the wildly social media-worthy Japanese edition of their classic burger features both bun and cheese dyed midnight black by bamboo charcoal and a black pepper-flavored patty. It's topped with a squid ink-infused garlic sauce. Originally released around Halloween, many reported it didn't taste any different from a standard whopper, but we think it may be hard to get over the visual effect — and the photo opps. Cost: 480 Yen, or about $4.49.
Tikka Masala Burrito
An extremely appetizing option many wish would be instituted on the North American continent, if you thought Taco Bell's menu consisted only of an endless array of meat, cheese, sour cream, veggies and tortillas in alternating combinations (with limited-edition Doritos hard shells making a cameo here and there), then clearly you haven't seen their offerings across the water. Packed full of grilled chicken, rice, onion, cilantro and an out-of-this-world tandoori mayo sauce like nothing you've ever tasted, who thought the folks at Taco Bell could cook up such a fusion of flavors? Cost: 129 Rupees, or about $2.02.
Hot Dog Bites Pizza
Perhaps the most American thing since full-automatic apple pies, one of the most memorable mash-ups of our nation's favorite fare didn't originate on our continent at all. A pepperoni pizza rung with hot dogs (and topped with a slathering of French's Mustard), Hot Dog Bites Pizza first premiered in Thailand, where it wowed the head honchos at this Italian international conglomerate so much they quickly spread the good news. Released later in Australian, and then across the border in Canada, the imminent arrival of this odd combo of comestibles caused quite a stir on social media sites. Cost: 14.81 Australian, or about $11.99.