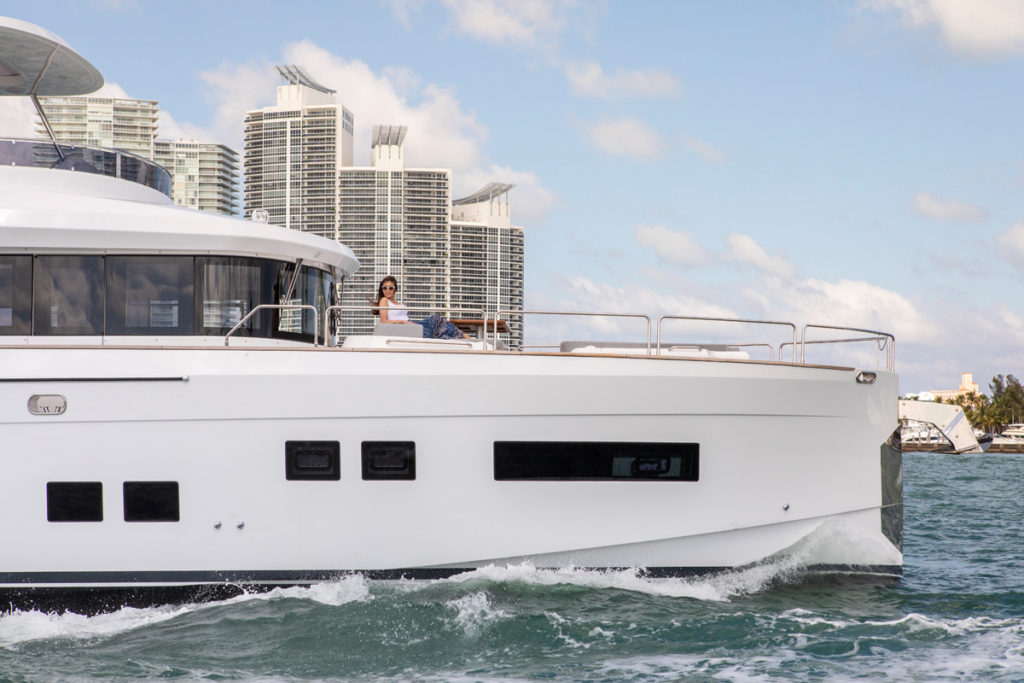 While spending time with loved ones has always been important, the world's recent experience with the pandemic has brought even more focus and priority to spending time together as a family unit. Yachts, and particularly yachts designed and built with family comfort in mind, such as the Sirena 64, fit perfectly with today's re-defined way of life. "The Sirena 64 has been designed by two of the best designers on the international scene: Frers Naval Architecture & Engineering for naval architecture, exterior design and engineering; and Tommaso Spadolini for interior layout and design," says Constantinos Constantinou, who is the head of Sirena in North America. 
The active and passive safety features, seakeeping characteristics, luxury and overall livability on board and multiple spaces where family members can gather, yet still be able to retreat for privacy, give it the ambience of a private island. There are three optional interior layouts of substantial volume for serious world cruising in great comfort, including large glass windows for unobstructed outdoor views and plenty of natural light. "Wide open views of the seascapes fill the generous living areas of the boat," he says. "Roomy, refreshing and luminous are the keywords for Sirena 64. The life inside the boat is integrated with the outside thanks to the panoramic sliding deckhouse windows in the aft entrance, galley, salon and helm area."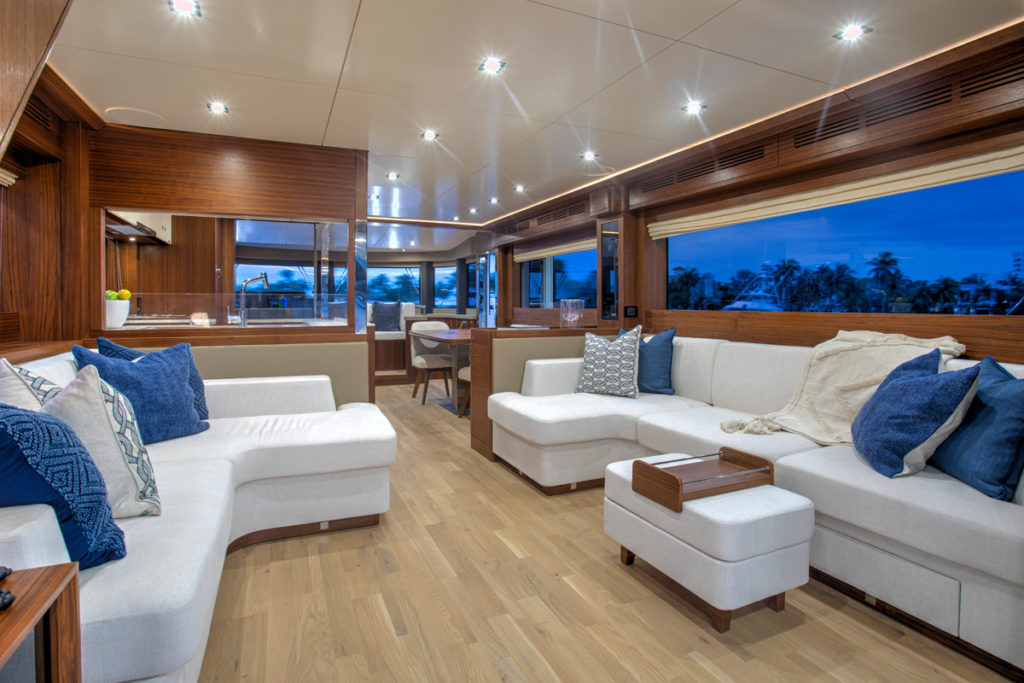 The spacious main deck is approximately 560 sq. ft., the most spacious cabins in the category, by far. The owner's quarters in particular, with approximately 258 sq. ft., is the largest suite on the market, both in terms of surface as well as volume. What's more, the owner's area features a full-beam master bathroom with separate washroom, toilet and shower areas. The high-quality materials are carefully selected with the owner's convenience and maximum comfort in mind and always at the forefront. The forward VIP cabin is optimally laid out, even featuring a vanity desk and a superbly appointed, spacious bathroom. The third cabin, designated for children or guests, doesn't fall short of expectations, either. The beds are wide and spacious, the headroom generous, and the bathroom appointed in the same high standard as the other cabins.
Up above, the 410 sq. ft. flybridge is the perfect spot to kick back and savor the sea view and fresh air. The openable hardtop lets owners and guests utilize the flybridge in any situation. The aft cockpit is clearly destined for social gatherings, relaxing moments, breakfast, lunch or dinner. The standard hydraulic platform allows easy access to the water, a true private beach. The unparalleled exteriors of the Sirena 64 are comparable to yachts in the 75 ft.-80 ft. size range.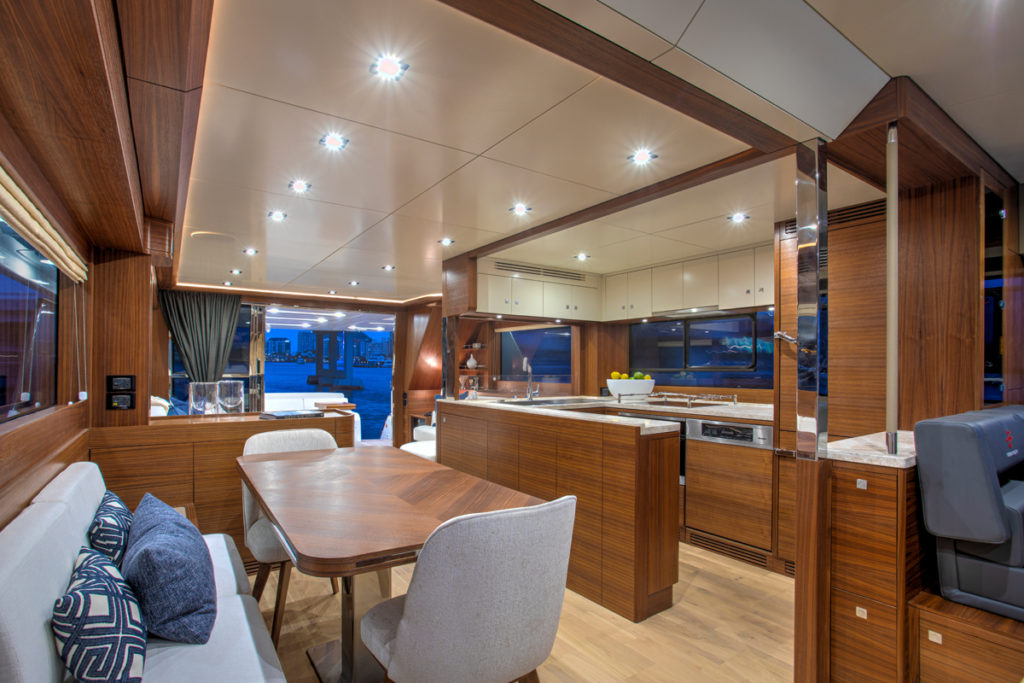 All this bounty is set atop a pleasant, seakindly low drag hull capable of planing at high speed or cruising in semi-displacement, low fuel consumption mode. Compared to other yachts of similar size, the Sirena 64 features greater fuel and water capacity. Powered by 2 x Volvo D13 900 hp, it delivers a maximum speed of 26 knots. There's a more powerful 1,000 h.p. engine option as well. Generally, compared to its main competitors, the semi-displacement hull of Sirena 64 is around 20% more efficient in fuel consumption at the most common cruising speed of 16 knots. At 10 knots of economy speed, the yacht operates consuming just 10 gal./hr., delivering a range of approximately 1,000 nautical miles.
"Three years ago, a gentleman interested in our yachts requested a sea trial on both the Sirena 58 and the Sirena 64. Impressed by both yachts, he decided to place a custom order for a Sirena 58 which offered he and his family unforgettable moments cruising the U.S. and the islands," shares Constantinou. "Having enjoyed his yacht for two years, this Sirena owner decided to step up to the 64. After he placed his custom order, he confided that the Sirena 64 had always been his dream yacht and was excited to have finally placed an order for a vessel built specifically to his and his wife's desires and wishes." This story is just one of many, as the builder has a loyal following and excellent word-of-mouth. "Owners are the source of most of our sales," he says. "They are the best ambassadors we could ever wish for."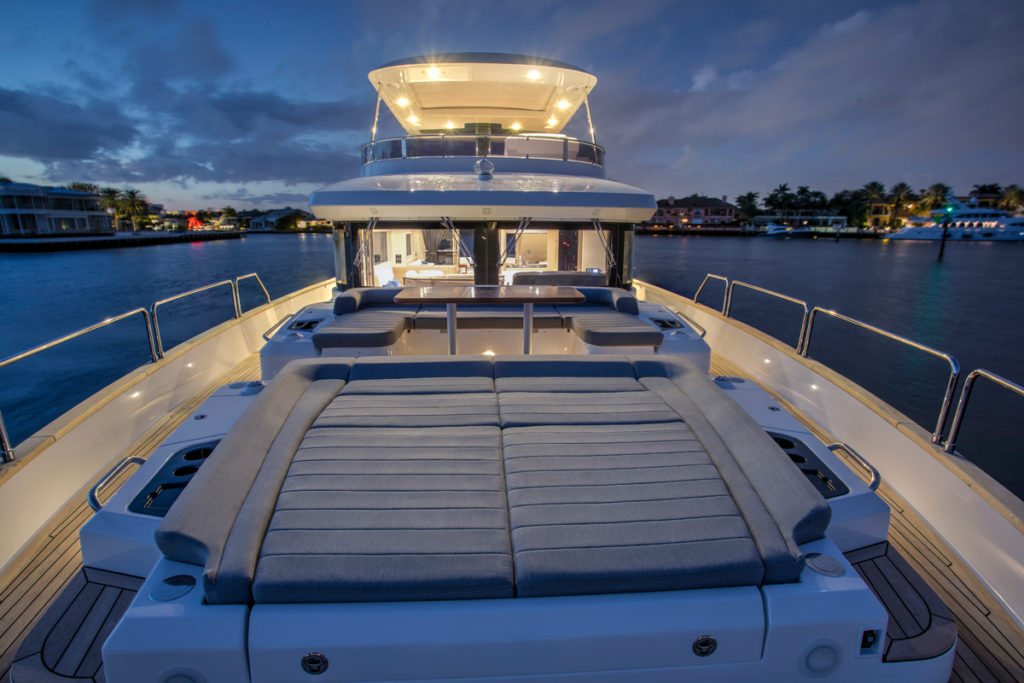 All Sirena Yachts are classified as Category A, the highest possible rating for recreational yachts. Hulls and decks are built using the vacuum infusion method, allowing Sirena Marine to combine today's top technology with established yacht craftsmanship principles. Tooling and processes are co-engineered with worldwide suppliers, where handcrafting experience and passion for yacht contruction guarantee meticulous execution and detailing. The innovative hull design of the Sirena 64 has also undergone rigorous testing at the renowned Wolfson Unit at the University of Southampton, including three rounds of tank testing. In addition, seakeeping tests were conducted on a self-propelled 1/3 scale model of the hull. The Sirena 64 is available with the choice of a joystick control or bow/stern thrusters, which make docking a breeze. Equipped with optional gyroscopic stabilisers, it offers the ultimate in smooth cruising, not to mention optimized comfort at anchor. It's the perfect yacht for explorative, family adventure. Sirena 64 designer German Frers agrees. "We have created an aesthetically attractive motor yacht that will appeal to a great number of mariners and their families," he says.
Sirena Yachts are built in two dedicated state-of-the-art production facilities: A 1,650,000-sq.-ft. facility in Bursa, Orhangazi; and a 24,000-sq.-ft. facility in Tuzla just outside Istanbul, where over 600 employees — including 80 engineers — work together in harmony to create world-class yachts that are built to each owner's individual needs, desires and preferences. "Make sure Sirena is on your Top 3 list of yachts to check out before making a purchase," concludes Constantinou. "And prepare to be impressed!"; SirenaYachts.com.