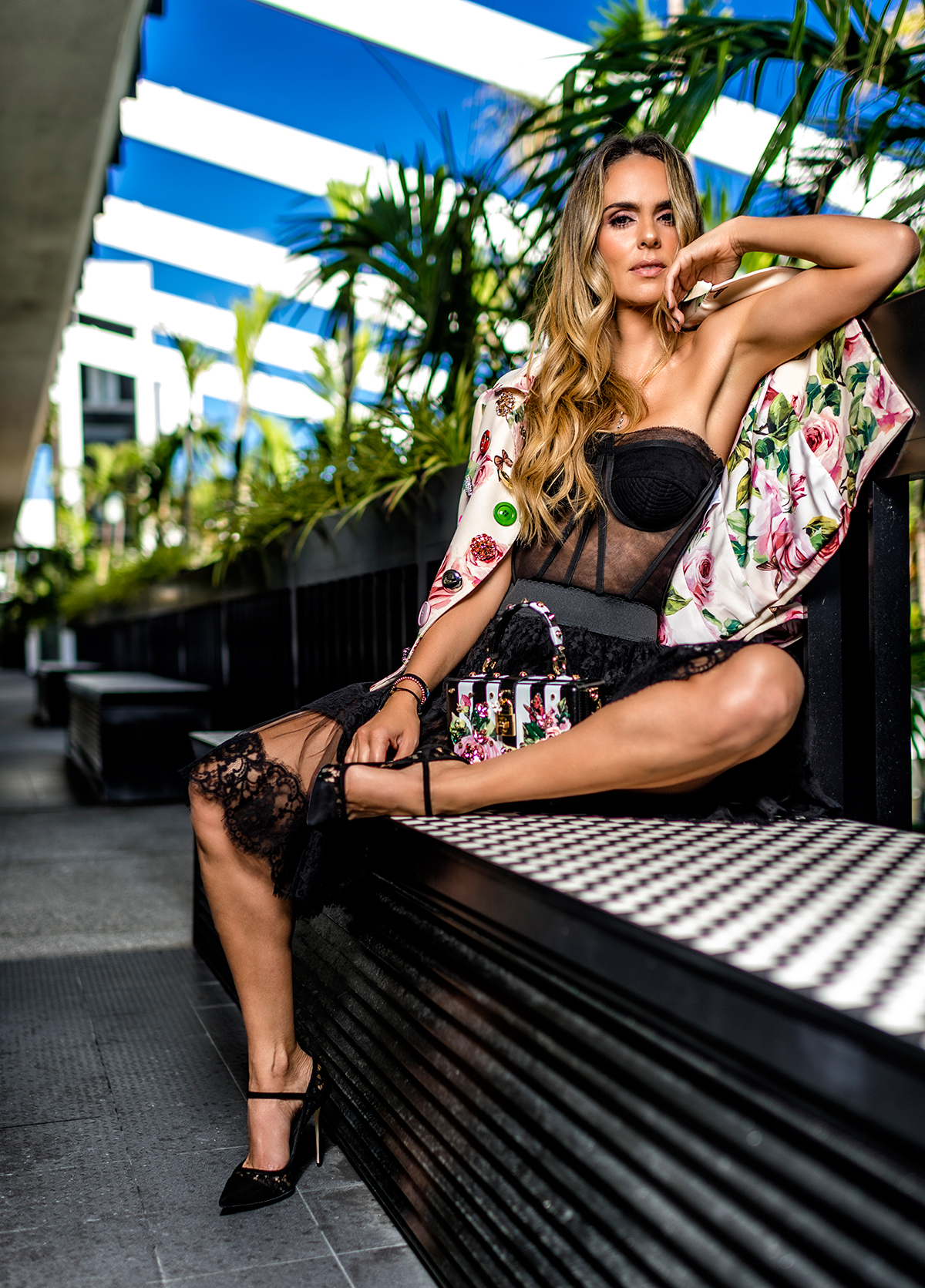 Karen MARTINEZ
As a Colombian Actress & Model and wife to Grammy-Winning Latin Artist Juanes, Karen Martinez is used to the limelight. But it's the keen sense of fashion she has developed over the years that really sets her apart. "When I lived in Colombia, I was very casual — I used mochilas — which I still use — but I was usually in jeans and sneakers, always very comfortable," she says, mentioning the various red carpet events she's attended have opened her eyes to fashion in new ways. "Today, with social media and globalization, we can take fashion inspirations from everywhere." As for her everyday look, she says she gravitates toward romantic silhouettes and goes glam from time to time, although she mostly prefers to stick to Bohemian looks. "Even though we live in a beach city, women still love to dress up, even if we're not in heels, we have a show-stopping look ready for any occasion! I think the most important fashion accessory you can possess is to stay true to yourself and to your lifestyle."
Entire look by Dolce & Gabbana @ Dolce & Gabbana Bal Harbour Shops.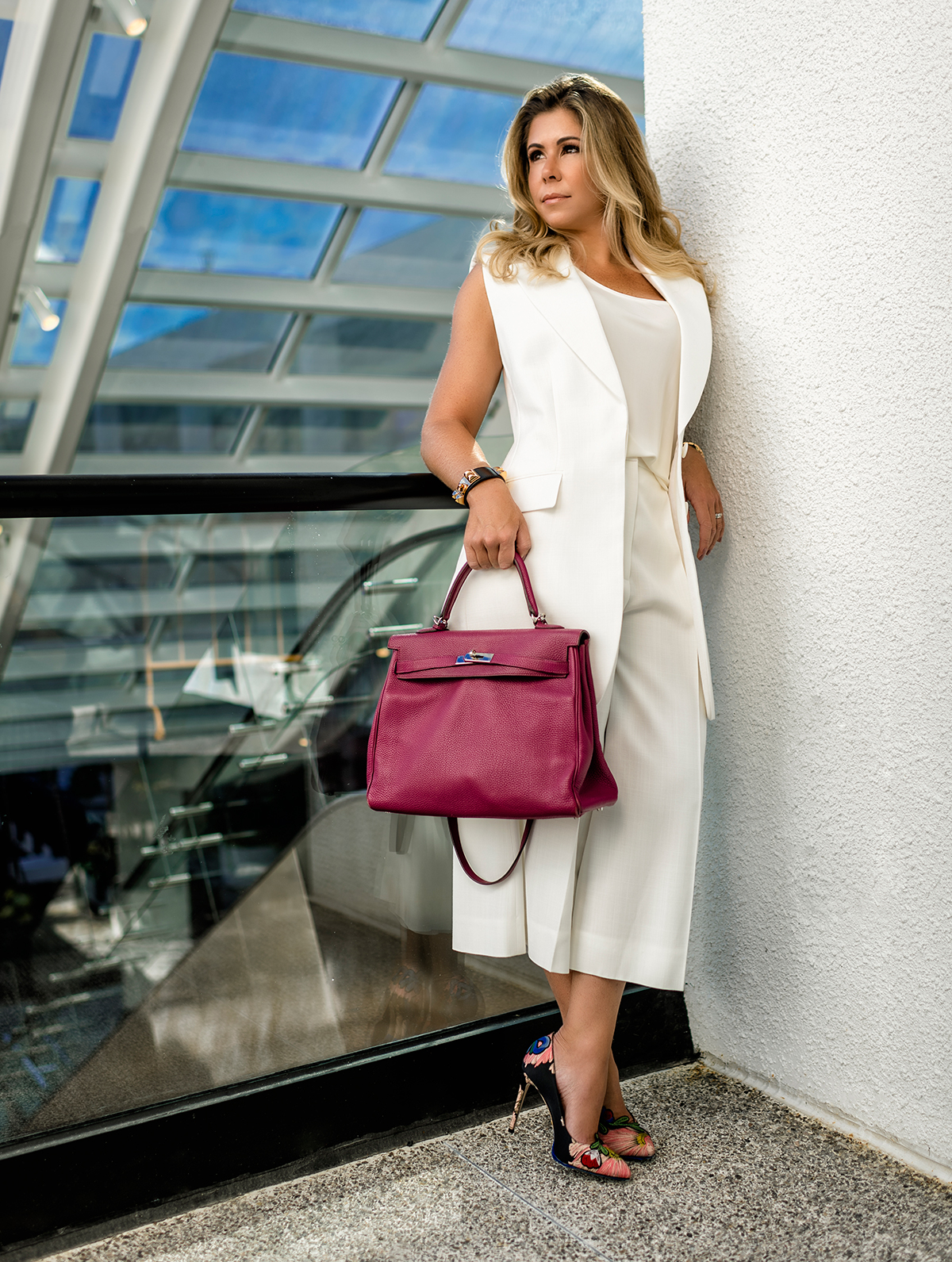 Luciana JUNQUEIRA
When Luciana Junqueira's grandmother gifted her a very special vintage Chanel handbag that she purchased in Paris, a passion for fashion was born. Today, as a busy mother, wife and entrepreneur, her style leans toward casual and functional with plenty of eye-catching shoes and handbags mixed in to add some oomph. But her lifelong love for style hasn't come without its hiccups. "My husband Bruno is a racecar driver and one of the first races of his that I attended, I didn't know that to get onto the track you have to be wearing closed-toe shoes," she says. "I had these new sandals that I couldn't wait to wear but they didn't let me in so I had to run to the closest store and purchase the first pair of appropriate shoes I found!" Today, her wardrobe is primarily influenced by her travels. "When I went to India, I was facinated with the way women explore colors and accessories," she says. "Recently, in Myanmar, I loved the way the women updated the traditional top and skirt with different makeup, accessories and hair styles as well as textures and fabrics."
White Linen Vest and Culottes by Stella McCartney. White Tank Top by Tom Ford. Multicolor Floral Stilettos by Gucci. All @ Neiman Marcus Bal Harbour Shops. Hermès Birkin Bag & Bracelet, Luciana's own.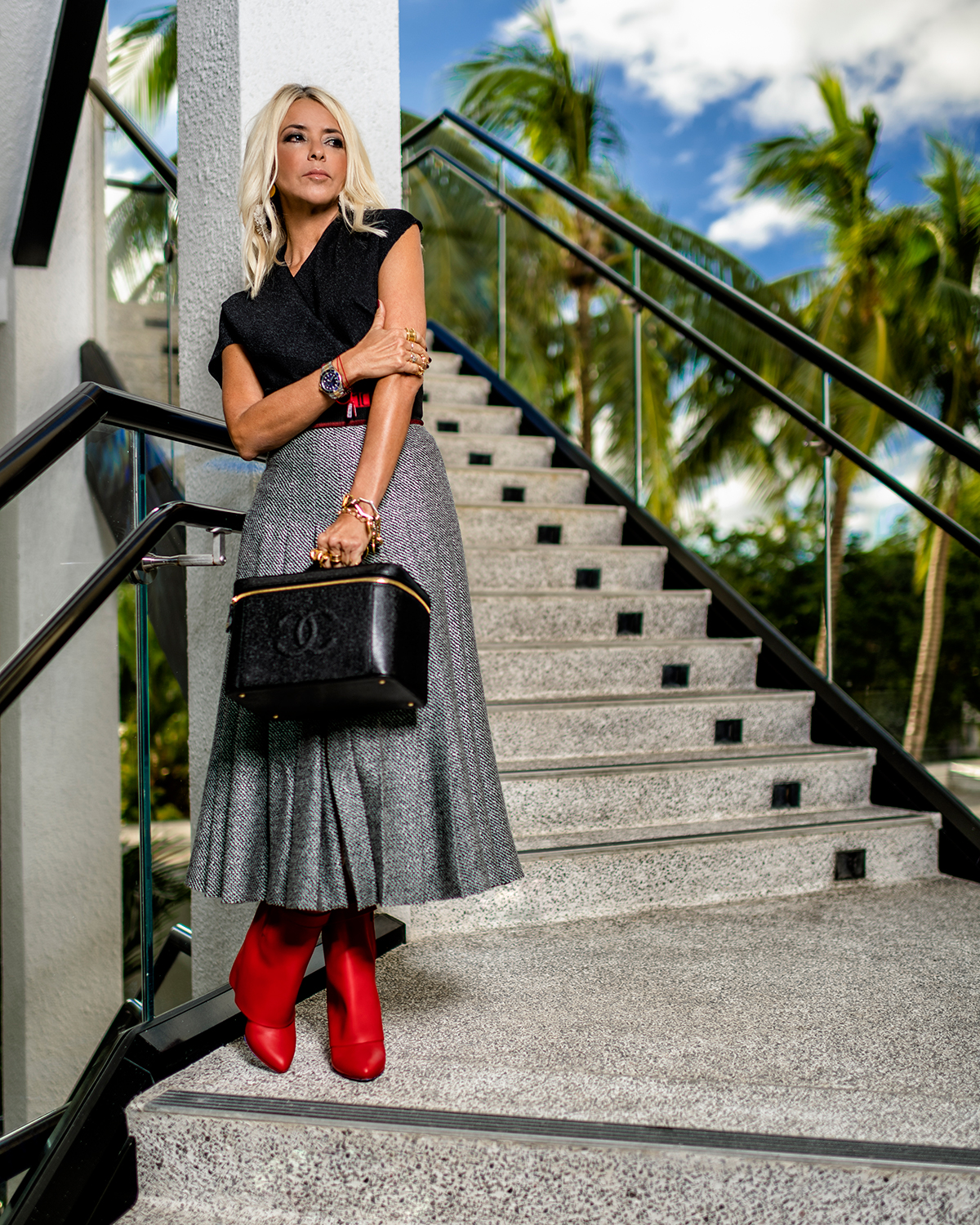 Irma MARTINEZ
From red carpets to runways, Irma Martinez began her fashion career more than 20 years ago when styling was not even recognized as a profession. Since then, she has built a distinguished portfolio of celebrity clients including Sofía Vergara, Ricky Martin, Enrique Iglesias, Shakira, Daisy Fuentes, Thalia, Pitbull, Carlos Vives, Gloria Estefan and Marc Anthony. She's also been part of several award-winning campaigns for major brands including "Got Milk?", Colgate, Toyota, ATT, Target, Proctor & Gamble, Head & Shoulders and Birks & Mayors as well as big-audience programs like the Latin Grammy Awards, Premios Lo Nuestro and La Banda. Today, she is one of the world's most recognized Fashion Stylists in the U.S. and Latin America as the Founder & Director of Trendy, Inc., Author of The Stylist's Handbook and Founder of Trendy Academy, an educational center in Miami where, using high-tech resources, emerging stylists learn essential elements to succeed in the field. "I always advise people to not focus on the brands or trends of the moment, to instead shift the attention to what makes you comfortable," she says. "Clothes and fads may change, but your style should remain an extension of your personality."
Asymmetric Navy Blue Top by Proenza Schouler. Knitted Wool Pleated Skirt by Fendi. Hot Red Boots by Givenchy. All @ Saks Fifth Avenue Bal Harbour Shops. Vintage Chanel Handbag, Irma's own.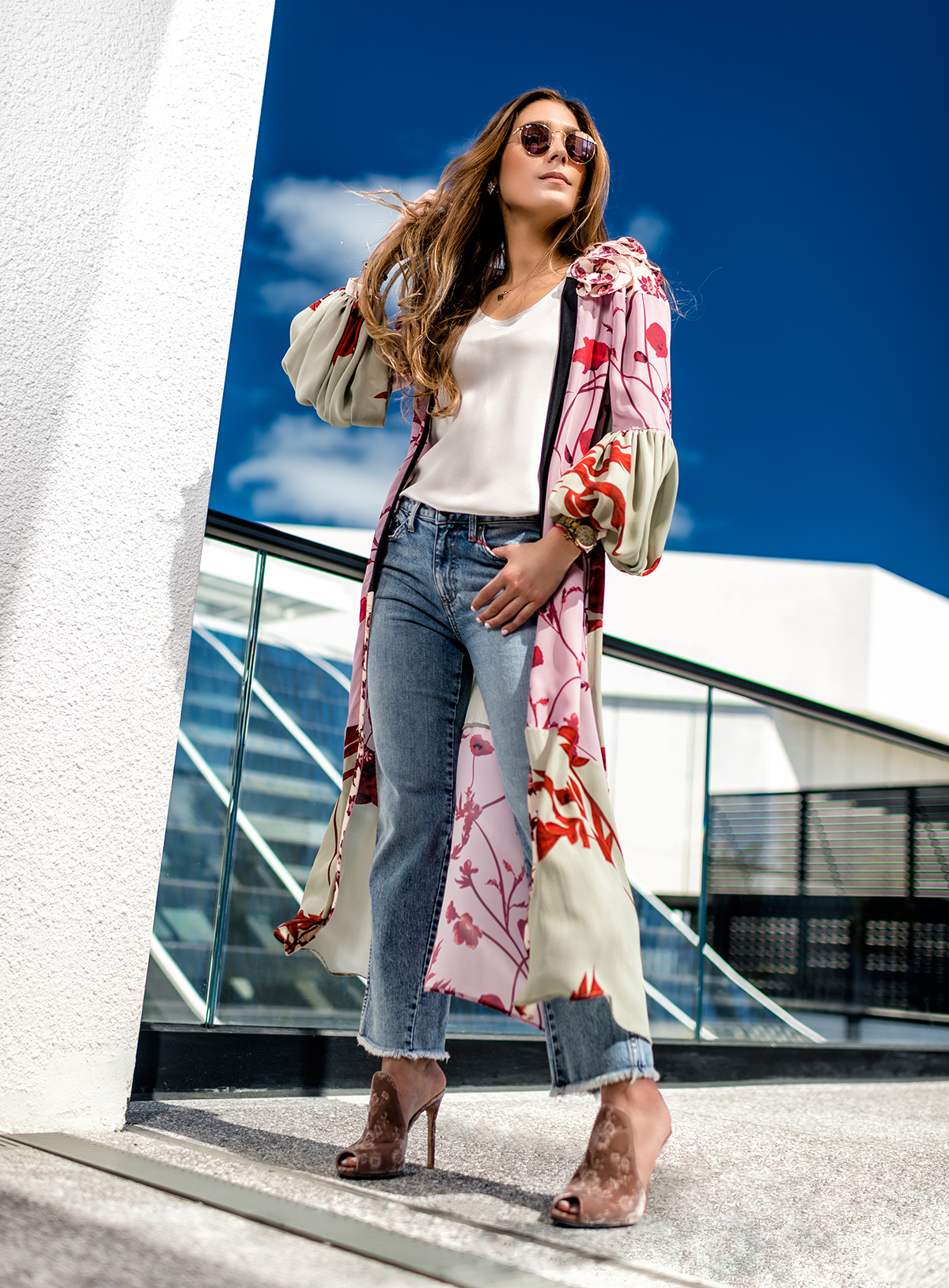 Nicolle BARRANTES
When she was a little girl, Nicolle Barrantes' mom dressed her in Ralph Lauren dresses with flats or loafers for play-dates, birthdays and just about any special occasion. "I would always complain to her because I wasn't dressed like the other kids, I thought that meant my outfits weren't cool," she says. "Looking back on it, I'm glad my mom taught me how to dress cute!" Since then, she has experienced her fair share of fashion faux pas (Skort with black tee and studded ballerina flats, anyone?) and style successes ("Wear what works for you!") throughout the years, but she attributes her fondest shopping memory to the time she bought her first Givenchy bag. "I bought it on my own after working hard and saving for a long time," she says. "It's my favorite bag, and the feeling of working hard to buy something you really want is priceless."
Silk Multicolor Cape by Johanna Ortiz. Short-Cut Blue Jeans by AO.LA. Beige Velvet Pumps by Gianvito Rossi. All @ Neiman Marcus Bal Harbour Shops. Sunglasses by Ray-Ban, Nicolle's own.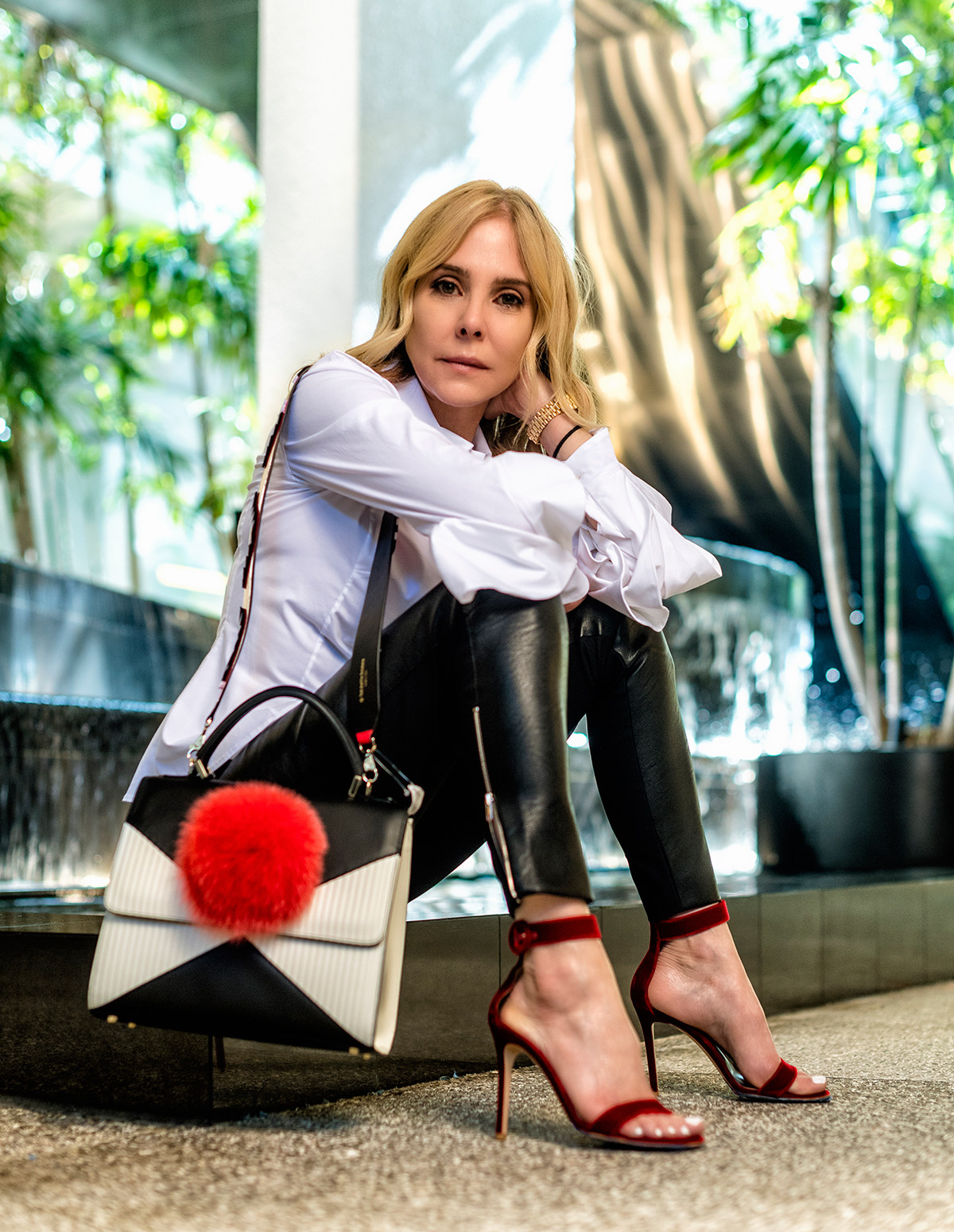 Ursula BARRANTES TARAFA
Even as a teenager, Urusula Barrantes Tarafa was already channeling the essence of fashion icons via her attire. "We were in Los Angeles with my family for Christmas one year when my aunt gave me a black dress with long sleeves," she says. "The moment I put it on, I evoked the mood of Coco Chanel in the late '70s!" A few years later, she was inspired by one of Demi Moore's iconic on-screen ensembles. "My sister and a friend went to see the new movie Indecent Proposal and I showed up wearing Demi Moore's black gown look I'd see in the movie trailer," she says. "When we arrived at the theatre, I immediately realized the rest of the audience was in shorts, jeans and t-shirts — I felt so out of place!" Despite that experience, she still believes every woman should have a black dress in her closet — and a black jacket in the car. " "I express myself through the way I dress," she says. "True fashion is really about how what you're wearing makes you feel!"
Black Leather Trousers by Stella McCartney. White Cotton Shirt with details on sleeve by Zac Posen. Red Velvet Sandals by Gianvito Rossi. Leather handbag by Les Petits Joueurs. All @ Neiman Marcus Bal Harbour Shops.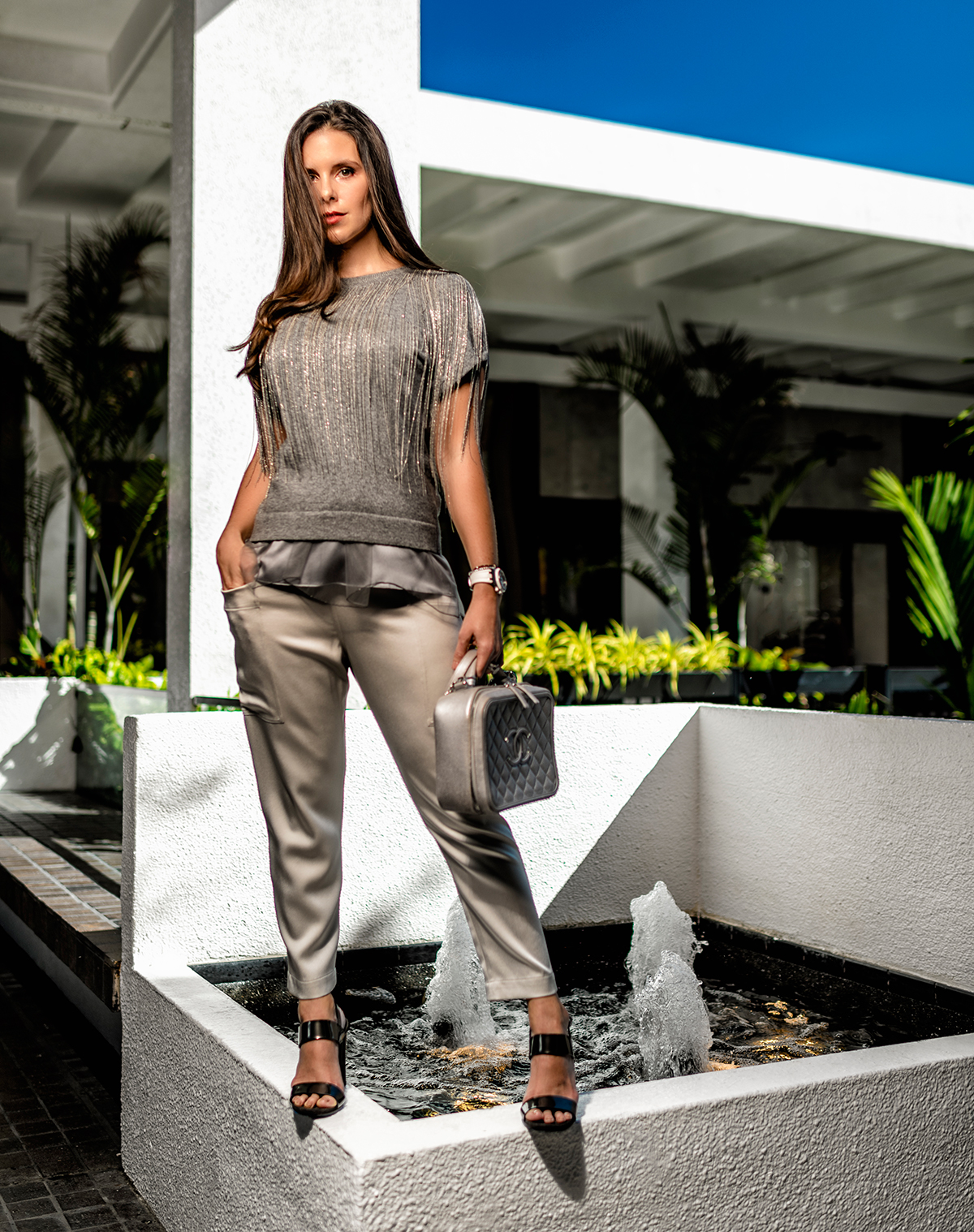 Lauren KANAAN
Growing up in the Midwest, Lauren Kanaan used to play in her grandmother's closet, finding fashion inspiration around every corner. "My grandma was always on the forefront of fashion trends throughout her life and she NEVER threw anything away," she says. "It was like having pieces at my fingertips from every decade since the 1950s in their original condition!" Later, in high school, Kanaan's own personal style began to develop. "My school didn't require uniforms, so every day was a new opportunity to star in my own private fashion show," she says. "I was never afraid to be bold with my clothing, hair and makeup so I was able to explore what my personal sense of style really meant!" After becoming engaged, Kanaan moved to Key Biscayne to set down roots and quickly learned that the island is a microcosm of global fashion trends. "As a melting pot of cultures, Key Biscayne is the perfect place to be proud of the fashion from where you're from and also to experiment with looks you see on others around you," she says. "On any given day, you can see examples of what's on trend in Latin America, Europe, America's heartland and all over the world!"
Entire look by Brunello Cucinelli @ Brunello Cucinelli Bal Harbour Shops. Silver Chanel Lunchbox, Lauren's own