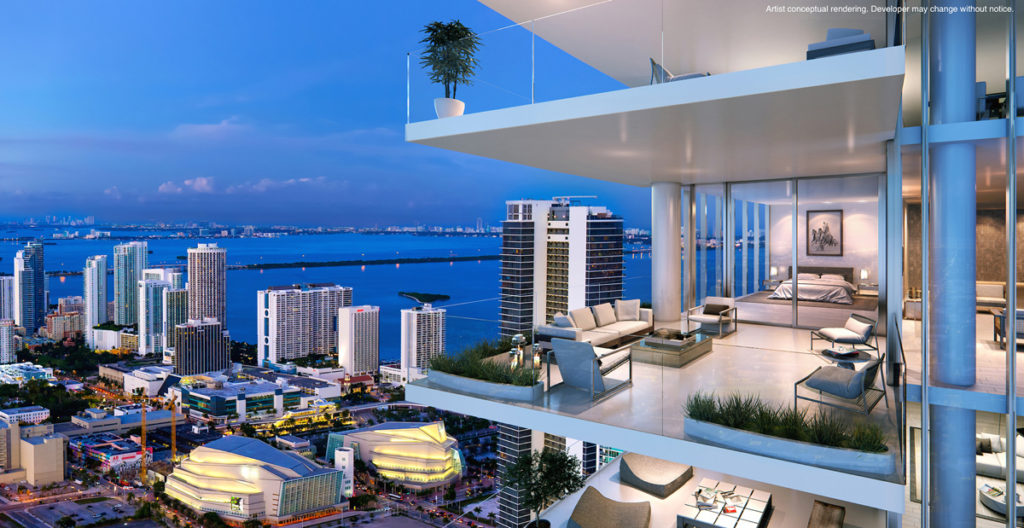 PARAMOUNT Miami Worldcenter will undeniably revolutionize the face of Miami, offering an unmatched destination to live, work and play in the heart of Miami's urban core. Nowhere in the world will residents have such a concentrated volume of amenities, public transportation options and landmark entertainment venues directly within a few blocks of their doorsteps. "An interesting anecdote about PARAMOUNT is that I did the first drawing of the building on a napkin," says Daniel Kodsi, CEO of PARAMOUNT Ventures. "I had an idea while out to dinner and started using what I could find and the rest is history."
That "napkin drawing" will ultimately become one of the most amenitized buildings in the world. Among its most compelling features is the first-of-its-kind Upper Deck, which will debut as the largest amenity deck in the U.S., spanning 90 feet above Downtown Miami. The sprawling area will be home to the tower's chic resort-style pool complete with floating pods and private bungalows, and a premier sports & entertainment complex featuring an extraordinary array of action-packed amenities that includes the country's first outdoor soccer fields to be featured in a high-rise residential development and two tennis courts. Also located throughout the building are multiple levels of amenities including a boxing studio, basketball half-court, Sky Observatory, Tai Chi deck, and "jam room," among others.
There are also plans to prepare for the future of urban aviation by making modifications to the rooftop design of the tower in order to accommodate a 5,000-sq.-ft. Skyport for vertical takeoff and landing (VTOL) aircraft, also known as passenger drones, or what some may call "flying cars." "The future of transportation is here within the next 10 to 15 years and urban aviation is closer to reality than you might expect," he says. "The flying vehicles will use airspace to alleviate transportation congestion and traffic on the ground for quicker daily commutes, and cleaner air around the world. These vehicles are more like a helicopter, but much quieter, run electronically and are environmentally friendly. While the industry still has many regulatory hurdles to clear, we are excited to be at the forefront of urban aviation with what can one day be the first residential Skyport in Miami. Imagine traveling from Miami to Palm Beach — a drive that takes the better part of two hours — in about 30 minutes. That stop-and-go traffic to the suburbs could become a burden of the past for our residents."
"This project will deliver new urbanism at its best, creating a sensational pedestrian-friendly community where people can truly live, work and play."
As America's population shifts, so do the way people live. Both millennials and baby boomers, who are now empty nesters, comprise the country's largest demographic groups. They have been migrating away from the suburbs to live in the city with walkability and public transportation. A high percentage of today's teens opt against obtaining a driver's license in exchange for other sources of transportation such as Uber and transit that keeps them connected. This hyper-connectivity will only increase the demand for downtown urban living such as is found, and done superlatively, at PARAMOUNT with its vibrant blend of retail, restaurants and nightlife planned for the 27-acre mixed-use Miami Worldcenter site that will be just an elevator ride away from unparalleled access to professional sporting events, concerts, ballets, museum tours and more — all within a short walkable radius. It is the pinnacle of what the modern luxury buyer is looking for.
Mr. Kodsi grew up in the real estate business, so it was a natural fit to become a developer. At the University of Miami, he majored in Real Estate Finance with a concentration in Urban Planning, where his true passion thrives. "My greatest accomplishment are my daughters, but from a business standpoint it's PARAMOUNT Miami Worldcenter," he says. "Shaping and changing the South Florida skyline and giving new dimension to different neighborhoods across the tri-county area has been my proudest professional achievement. From PARAMOUNT Bay in Miami's Edgewater to Esplanade Grande in West Palm Beach, and currently PARAMOUNT Fort Lauderdale Beach and PARAMOUNT Miami Worldcenter in Downtown Miami, we've successfully delivered impactful buildings that will continue to enhance and define South Florida's landscape. I may have come up with the initial vision for PARAMOUNT Miami Worldcenter, but it's the talented people I'm surrounded by who are able to take my vision and make it incredible. It's a team effort and collaboration where I always listen to everyone's input, so we come up with the best products that appeal to all."
The response has been phenomenal. Putting the "world" in Worldcenter with 57 nationalities represented among its buyer pool — PARAMOUNT is nearly 90% sold with more than $400 million in sales of their 500+ city- and bay-view residences. Tower residences range from 1,180 to 2,350 square feet. The superior series of 26 signature penthouses will consist of 18 large single-story residences and 8 two-story duplex residences. Featuring sweeping panoramic views and every imaginable luxury within, the penthouses will include private elevator access and larger entertainment spaces with state-of-the-art chef kitchens. Other superior elements include 10-foot ceilings in all living spaces, expansive outdoor living rooms, and designer European kitchens and bathrooms complete with rain showers and spa tubs. A true rarity, penthouse residents will enjoy expansive floorplans and oversized, outdoor living rooms, designed to feel like a true single family home in the sky with sweeping 180-degree views and all of the benefits of the building's urban location and unmatched amenity offerings.
Similarly, the two-story urban villas function as grand standalone residences with 3 bedrooms, a den, 4 bathrooms, a rooftop for entertaining as well as private sky pools. Boasting 2,576 square feet of interior space and 2,038 square feet of exterior, they are the most unique residences offered in the massive 27-acre Miami Worldcenter complex. It's no surprise the project is often compared to New York's Hudson Yards as one of the country's most visionary and largest mixed-use developments. Located steps from the spa on the pool level, the ever-chic villas will offer direct access to the parking garage for added convenience. It's the best of both worlds — a single-family home in the sky in an urban setting. "I firmly believe that Downtown Miami is the strongest condo market in the U.S.," he says. "The speculation days are in the past and sophisticated buyers understand that Miami real estate values will continue to increase and has provided great returns to patient buyers and investors with a long-term horizon."
PARAMOUNT proudly opened this fall with residents moving in now. PARAMOUNT Miami Worldcenter is located at 1010 NE 2nd Ave. in Downtown Miami; 855.853.3503; PARAMOUNTMiami.com.