Color Code
Authors Tatjana Reimann, Caro Mantke and Tim Schober turn food into color-coded inspiration for your plating pleasure in The Designer's Cookbook. Divided into 12 color-based chapters, the book is arranged into various 4-course meals that include starters, main courses, desserts and a trio of drinks. The recipes use only natural ingredients, no artificial colors and are as easy to prepare as they are enjoyed; $39.95; Amazon.com.
Science Bites
Led by an interdisciplinary team of scientists, development chefs and a full editorial team, Modernist Cuisine At Home opens up a whole new world of culinary possibilities and innovation for the curious home cook and gastronomic chemist. You'll learn everything from how to stock a modern kitchen to mastering modernist techniques and the science behind your favorite dishes. That makes this the perfect kitchen companion for learning the art and science of the trade; $140; ModernistCuisine.com.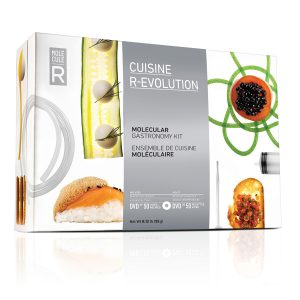 Molecular Morsels
Now you can play with your food and it eat too in your very own food laboratory thanks to Cuisine R-EVOLUTION + Cookbook. This molecular gastronomy kit includes everything you need to experiment at home with high-end techniques that have been mastered by a handful of leading chefs. Let your culinary creativity soar to new heights with unexpected twists in dishes like mouth-bursting mint caviar beads, chocolate spaghetti, lemon foam or tzatziki spheres; $75; Brookstone.com.
CULINARY ARTISTRY
A blend of colors, textures, flavors and pops of the unexpected are part of the algorithm used to ensure that each plated dish is visually enticing, artfully inviting and certainly flavorful. Ingredients are carefully curated while considering their seasonality and end result. Their journey begins with a spark of inspiration that's often translated into a sketch. The planning process is where the concepts are conceived before they are individually executed at expo. While plating may be approached with different styles, for me it's a moment of personal center. In that instant, the exterior world ceases to exist and I allow my senses to take over. I visually taste all of the ingredients and freely pair them amongst a complementary palette of flavors. Inspiration is drawn from past culinary experiences, foods that touch the soul and overall technical knowledge gained through years of culinary trials and tribulations. The guest experience is the absolute and plates are designed with their satisfaction in mind. These components are carefully created in the kitchen with the intention of evoking a sense of wonder while delivering perfectly plated, sensory-pleasing bites. It's no wonder that it's called culinary artistry.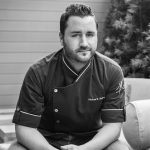 ABOUT THE AUTHOR
› A graduate of the French Culinary Institute in New York City, Chef Michael Shikany is nationally recognized for his culinary creativity and mastery of avant-garde modernist cuisine; Shikany.com.