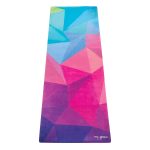 1. Geomat by Yoga Design Lab Cost: $58 Why we picked it: The ultimate accessory to ensure chakra alignment, this artful platform is for the aesthetic connoisseur tired of walking into their weekly stretch sesh to see the same old array of off-pink foam mats littering the floor. Slip-resistant with Yoga Design Lab's signature odor-fighting microfiber top, this mat will always be as fresh as your mindset when you walk into any variety of class. Where to get it: Green Monkey Yoga, 1800 Bay Rd., Miami Beach; 305.397.8566, GreenMonkey.com.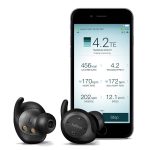 2. Elite Sport Bluetooth Headphones by Jabra Cost: $179 Why we picked it: Imagine crashing through the wall of a particularly arduous aerobic exercise, your carefully curated playlist peaking in perfect timing, when suddenly a stray wire snag sends all that exercise-fueled elation right down the drain. Devastatingly designed to prevent just those occurrences, the Jabra Elite Sport's superior no-slip fit and enhanced battery life means that you can always take a few minutes out for an invigorating exercise session with audio accompaniment. Where to get it: Available at most major electronic retail shops or online at Jabra.com.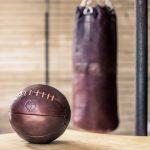 3. Heritage Medicine Ball by MVP Cost: Starts at $169 Why we picked it: A lovingly hand-stitched leather accessory modeled on the earliest version of this essential strength-enhancing, MVP's devotion to authentic hand-crafting and America-sourced products means you can feel confident in your purchase of this chic and trendy muscle toner. Like the look? Consider also purchasing their Heritage Leather Boxing Gloves or Golf Bag. Available in 8 or 12 lb. sizes. Where to get it: ModestVintagePlayer.com.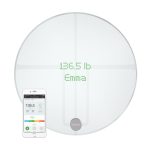 4. QardioBase 2 Smart Scale by Qardio Cost: Starts at $149 Why we picked it: More than any simple scale, this super-smart diagnostic tool can effortlessly help shape your target weight, muscle tone and BMI for years to come. With an award-winning design that should easily fit into the aesthetic of any modern home and an intuitive app interface that allows you to easily track your fitness stats, there's really no reason not to invest in this space-age super scale. Where to get it: Big box retailers.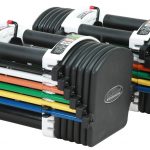 5. U90 Dumbbell Set by Powerblock Cost: $599 Why we picked it: With prices of real estate being what they are, any chance at saving space should be leapt upon. And when it comes in a contemporary and colorful shell like these U90 Dumbell sets, even better! The only dumbell set anyone should need, Powerblock's patented pin system means you can set whatever weight you need in a product that easily fits in the corner of your closet. Need more weight than the maximum 90? No problem, Powerblock sells comparably priced expansion packs primed to fit any level of gain. Where to get it: Gym Source, 8452 NW 6th Ct., Miami; 305.757.6242, GymSource.com.