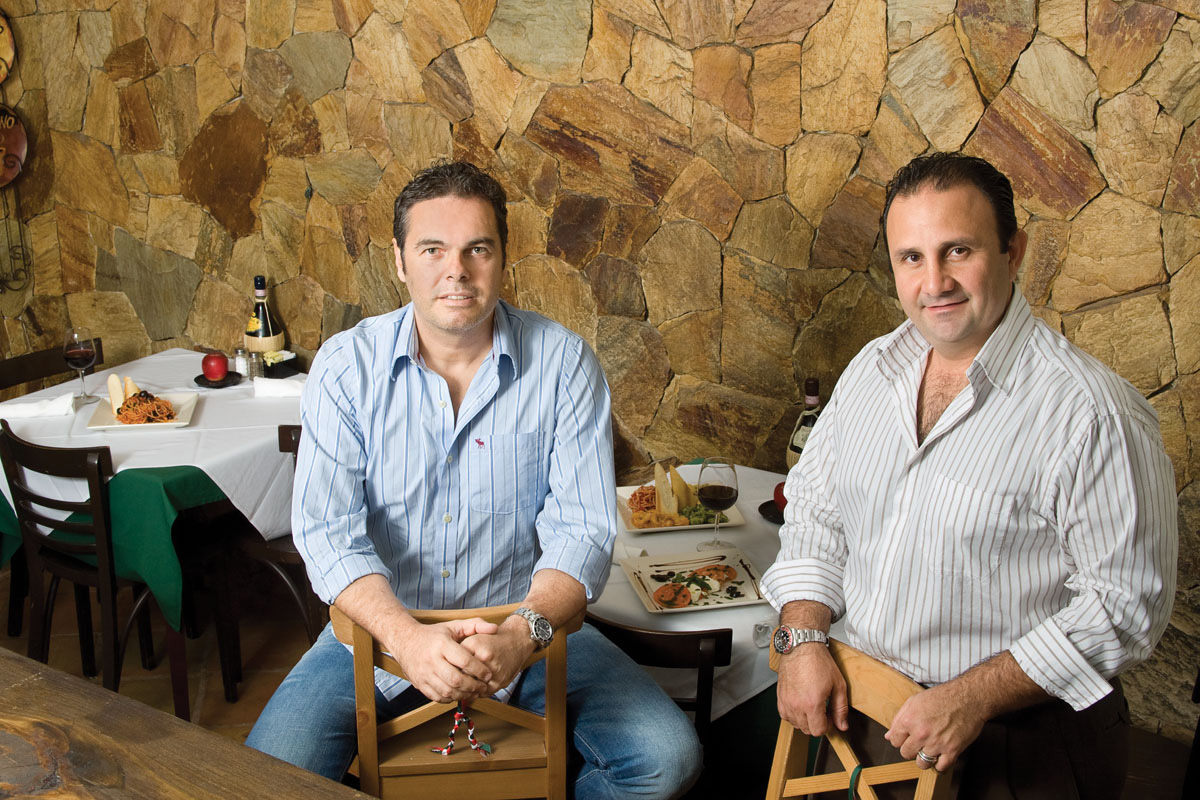 Whenever a new Italian restaurant launches, most experienced connoisseurs judge it by the 3 A's: Authenticity, Ambiance and Affordability. Under that criteria, Trattoria Romana gets an A+.
Taking over the same space occupied previously by the legendary New York Pizza in The Square Shopping Center at 260 Crandon Blvd., #E-35 owners Carlos Guerrero and Chef Sandro De La Fazia say they have one goal in mind: To satiate your need for the freshest, most satisfying Italian food possible while evoking nostalgic feelings of home. Not a difficult task considering that Chef Sandro spent most of his life in Italy, even earning his culinary degree in Rome.
After 27 years in the kitchen, it made sense when his old high school buddy, Guerrero, approached him with an opportunity to bring an authentic, affordable Italian restaurant to Key Biscayne. "The personalized and comfortable ambiance we offer combined with our fresh and made-to-order menu was the perfect complement to the captive, community-feel of the Key, which stirs in both of us memories of the small, tight-knit towns we grew up in," says Guerrero. "We wouldn't have launched this project anywhere else in the world!"
Upon arriving, one immediately notices that the walls are adorned by paintings of wine glasses and a collection of hand-painted wooden pizza spatulas, displaying the restaurant's name. The atmosphere is laid-back and welcoming. No stiff dress code applies here. "This is island living, so come as you please," says De La Fazia. "Shorts, tank tops, flip-flops, whatever keeps you cool in this warm weather."
The cozy dinning room fits five tables inside and another eight tables outside. All the tables are covered with white and green table cloths and are candlelit at night, setting a more serious tone to the otherwise easy-going establishment.
Naturally, pizzas and pastas are the bulk of the menu here. The Key Biscayne Pizza was inspired by the tastes of the locals and is topped with anchovies, black olives, sun-dried tomatoes, basil and mozzarella cheese. The other dozen or so pizza combinations include toppings of salami, mushrooms, ham, capers, cherry tomatoes and even guava, for a sweet kick. Among the most favored menu offerings is the Trastevere Pizza, named after the popular South American restaurant Chef Sandro helmed in Venezuela. They also have a vast variety of fresh salads, homemade pastas, paninis, appetizers and desserts. New on the menu are swordfish, tuna steak, tenderloin, New York strip, chicken marsala, a chef's pasta special and a kid's menu including personal pizzas, chicken tenders and grilled cheese sandwiches.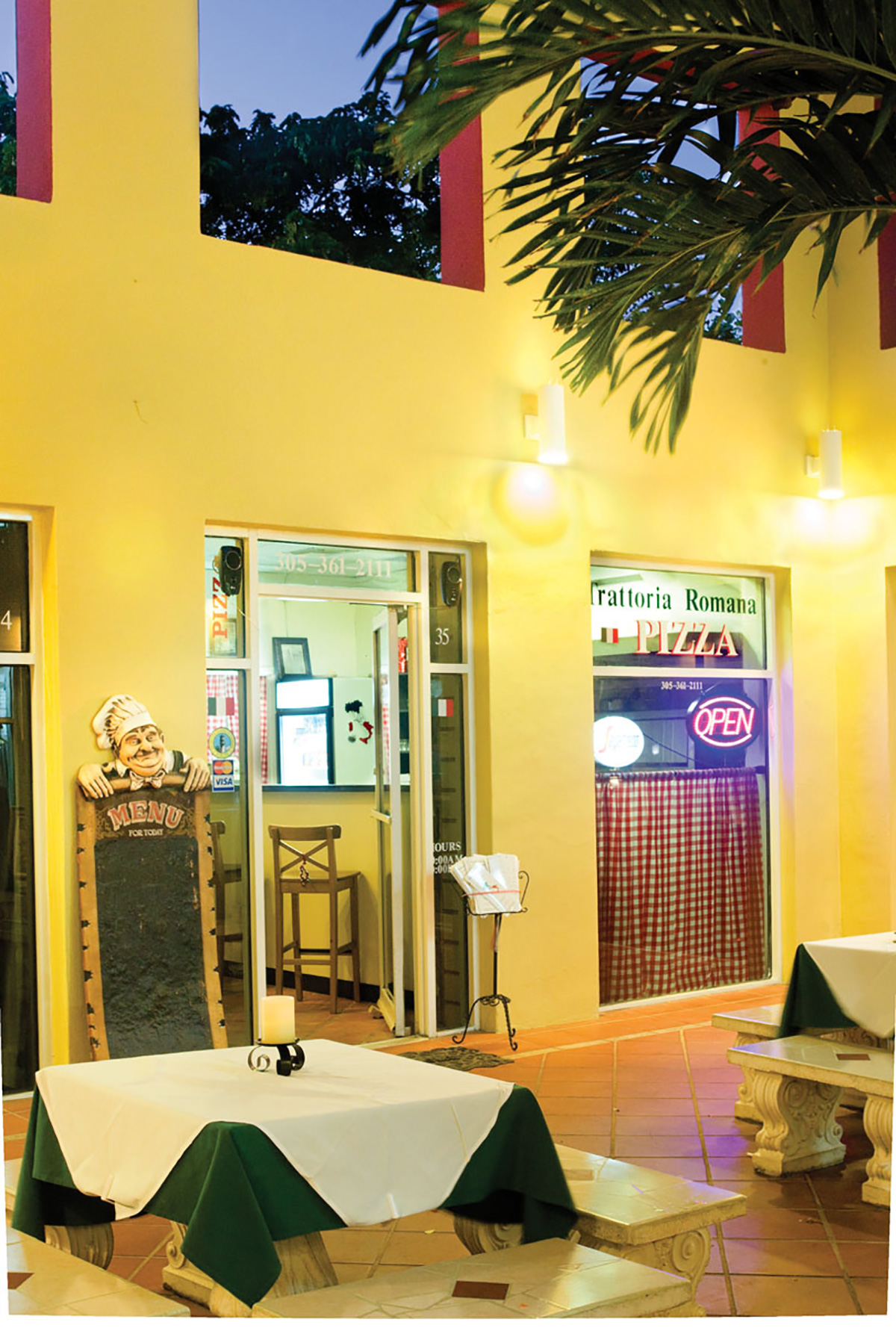 The homemade pasta dishes are getting rave reviews from locals and visitors alike. They are all made from scratch following unique family recipes that have been passed down from generation to generation. The most popular offering is a sampler of sorts, featuring four different pastas including ravioli pasticciati, spaghetti, fettucine and gnocchi al pesto. "We created this dish so new guests can taste all the flavors we offer," says De La Fazia. "Then when they come back they already have a favorite."
The owner's personal favorite is the ravioli pasticciati. The cheese-stuffed raviolis are covered in a hearty meat sauce and balanced out with light white sauces and freshly-grated parm. It is accompanied by traditional, fresh-baked Italian bread slices. Six savory sandwich options are also available including smoked salmon, grilled chicken, tuna and grilled smoked ham. If you're counting calories, eight different salads are on the menu, including Italian, Caesar, Greek, chef, tuna and chicken.
Sparkling water bottled in Italy, fountain sodas or Italian teas in peach and lemon flavors will help wash everything down. Or to kick it up a notch with domestic and imported beers and wines. Tiramisu is the favorite dessert to cap off your visit and a cappuccino completes any meal. "There's no way to describe with words how good the food is," De La Fazia says. "You have to come to taste the difference."