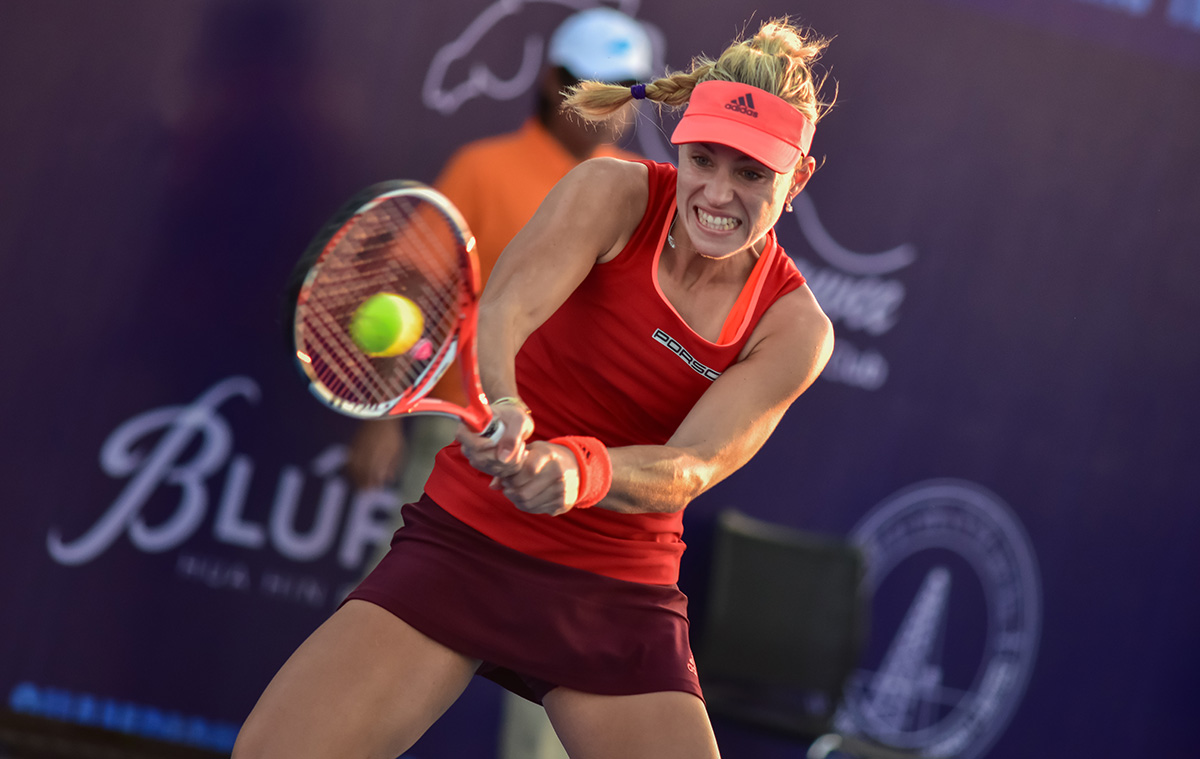 The funny thing with overnight successes; they rarely are. The world went nuts when Angelique Kerber "burst" on the scene to stun Serena Williams at the 2016 Australian Open, but as tennis fans know, Kerber isn't a teenage ingénue, she's a 28-year-old who has played professional tennis nearly half her life.
Despite 13 years on the WTA tour, the win Down Under was the German's first Grand Slam title. In fact, in her first 15 Grand Slam events, Kerber didn't even make it past the third round. The question for the now world #2 is how she can use the big win as a springboard to success at the Miami Open at Crandon Park, held Mar. 21-Apr. 3, and the rest of the majors after that. "The win at the Australian Open of course gave me a lot of self-confidence, and I have proved that I can win a big tournament," she says. "I will try to keep this good feeling over the whole season and play my best tennis."
Kerber is proof that slow and steady wins the race. The leftie started out playing tennis when she was just 3, and developed an aggressive counter-puncher game. The German atlete, who also holds Polish citizenship, grew up playing at Centrum Tenisowe Angie, the tennis center her grandfather built and named for her in his hometown. Kerber has lived in Puszczykowo, Poland, since 2007, but considers herself German and plays Federation Cup for Germany. From 2003 to 2011, she was like many players on the tour, grinding out a living, but still just a small fish in a very big pond. In 2011, she put an emphasis on her physical conditioning and that's when things first started to turn around. That year she made it to the semi-finals of the U.S. Open, losing to eventual champion Sam Stosur. "Prior to that experience, I think I wasn't fit enough to play my game, so I started to focus more on that," she says. "Of course, nutrition is very important, too, to get close to your maximum — I continue working on that."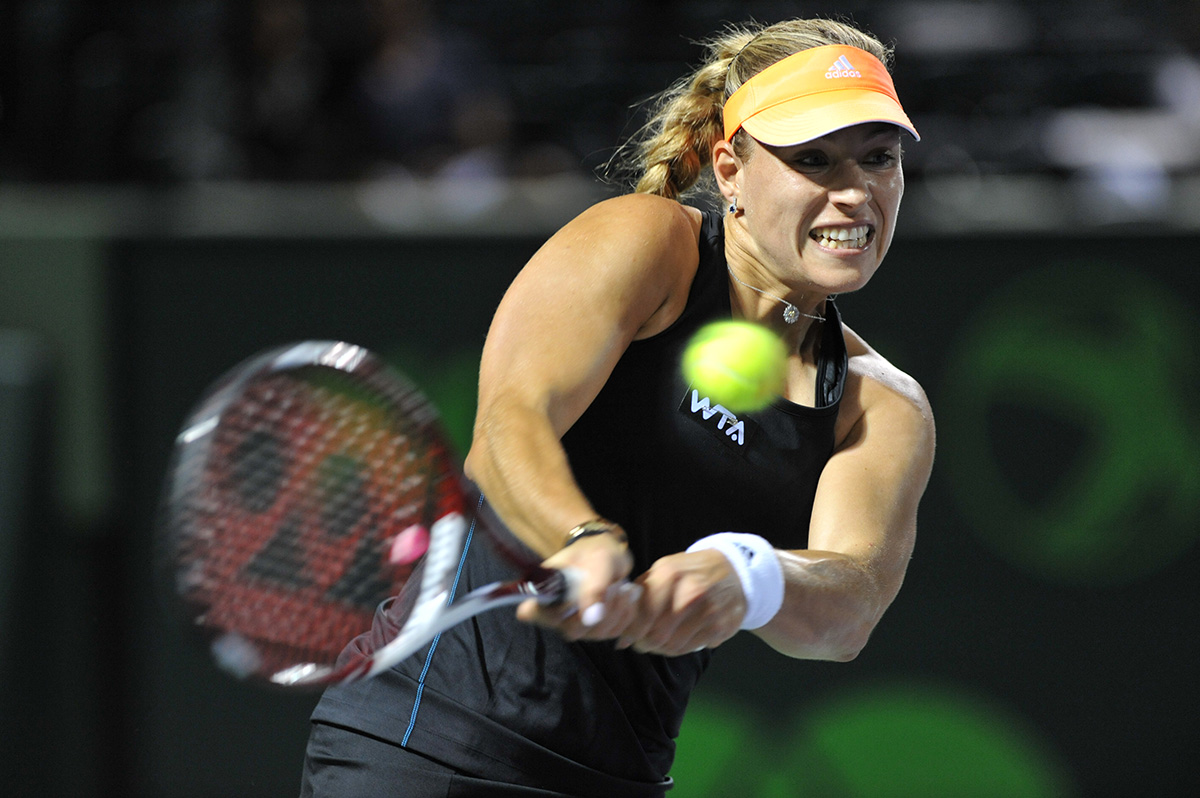 The following year Kerber secured her first WTA win at the Paris Indoor and has been ranked in the Top 10 since 2012. She won 11 singles titles, but struggled through many 3-set battles to do it. Something was still missing that would turn really good into really great. That something was confidence. "I don't really know why that was — but what I do know is that I've been a Top 10 player for 4 years in a row and I've won a couple of tournaments," she says. "I don't feel like I have to prove that I'm a top player anymore."
To help bolster her burgeoning confidence, Kerber turned to fellow countrywoman, Steffi Graf, during a training hosted by their equipment sponsor Adidas. For 3 days, Kerber had the opportunity to train in Las Vegas with the now 46-year-old tennis legend. During their time together, Graf advised Kerber to always believe in herself and her ability to win the big matches. That confidence was put to the test in the first round of the Australian when she was down match point against Misaki Doi, but despite pulling out the comeback win, it wasn't until the quarterfinals against Victoria Azarenka that it all came together. "I changed my mindset to go for the win rather than wait for someone to lose," she says. "It made all the difference."

Besides changing her mental approach, Kerber is also tweaking her game. "In the past, I played a lot of reactive defense tennis, because I think I use my feet quite well," she says. "I've started to play more aggressively now and stand closer to the line."
Coming into the Miami Open, the title is hers to win. Last year she lost in the third round in three sets to Svetlana Kuznetswa and the year before it was Williams who took her out. "Miami is a great tournament; I truly enjoy being here, but I haven't played my best in the last couple of years, so I will try to make it better this time," she says. "There will be a lot of great players, so I will need to play really well in every single round."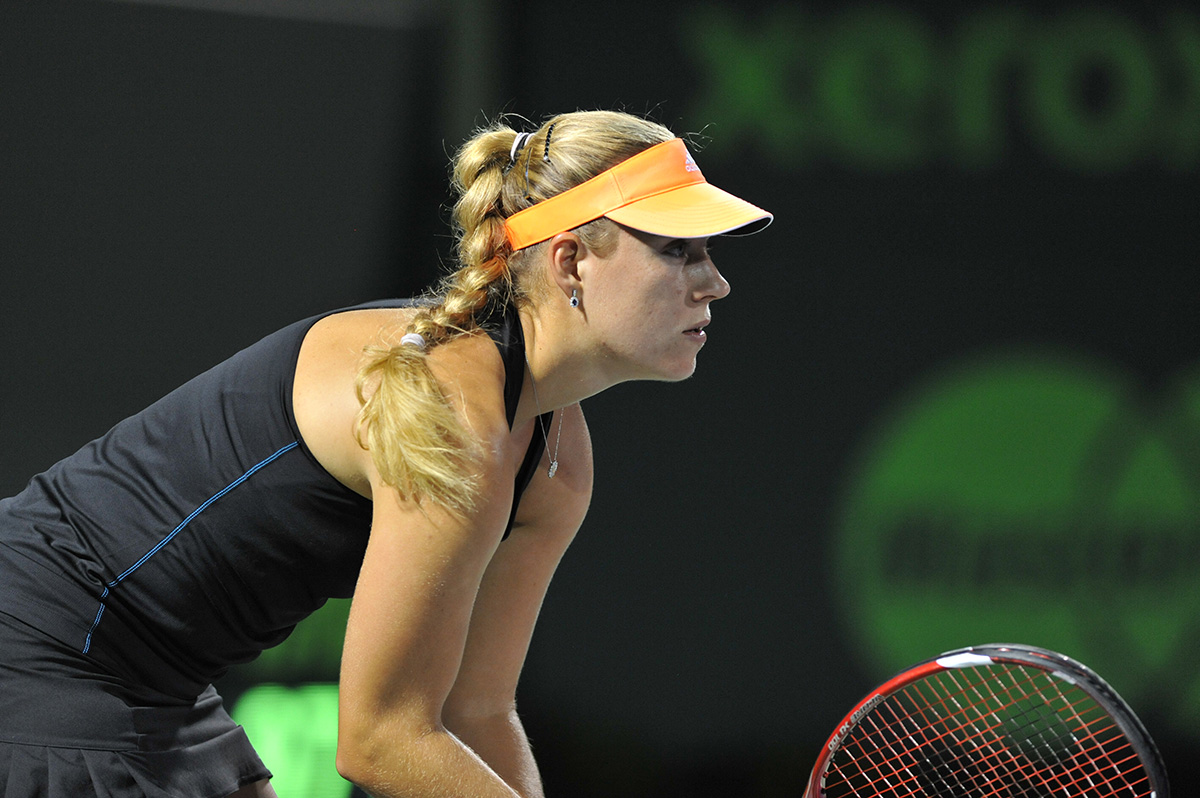 But the big question is if she does hoist the Butch Buchholz Championship Trophy, will she take a jump into Biscayne Bay a la her Yarra River swim after the Australian Open victory? "We will see," she laughs. Kerber's jump into the river showed a bit of her goofy off-court personality that belies her serious on-court demeanor. Her best friend on the road is the tour's de facto comedienne Andrea Petkovic. And for all you bachelors out there wondering about her romantic status, the 5'8" blonde beauty is single, despite the many rumors of an engagement and wedding to a mysterious boyfriend that surfaced after her Australian Open win.
While it's the thrill of competition that Kerber loves most about her sport, off-court she relishes at the chance to put that all aside. "I love doing things which deviate me from tennis like simply going somewhere nice, reading a book or meeting friends," she says.
While Miami certainly offers up plenty of relaxation and fun for Kerber off-court, you can bet that the newly minted #2 in the world would like to spend most of her time on the courts at Crandon Park and maybe, just maybe, a victory lap in the Bay when it's all done.