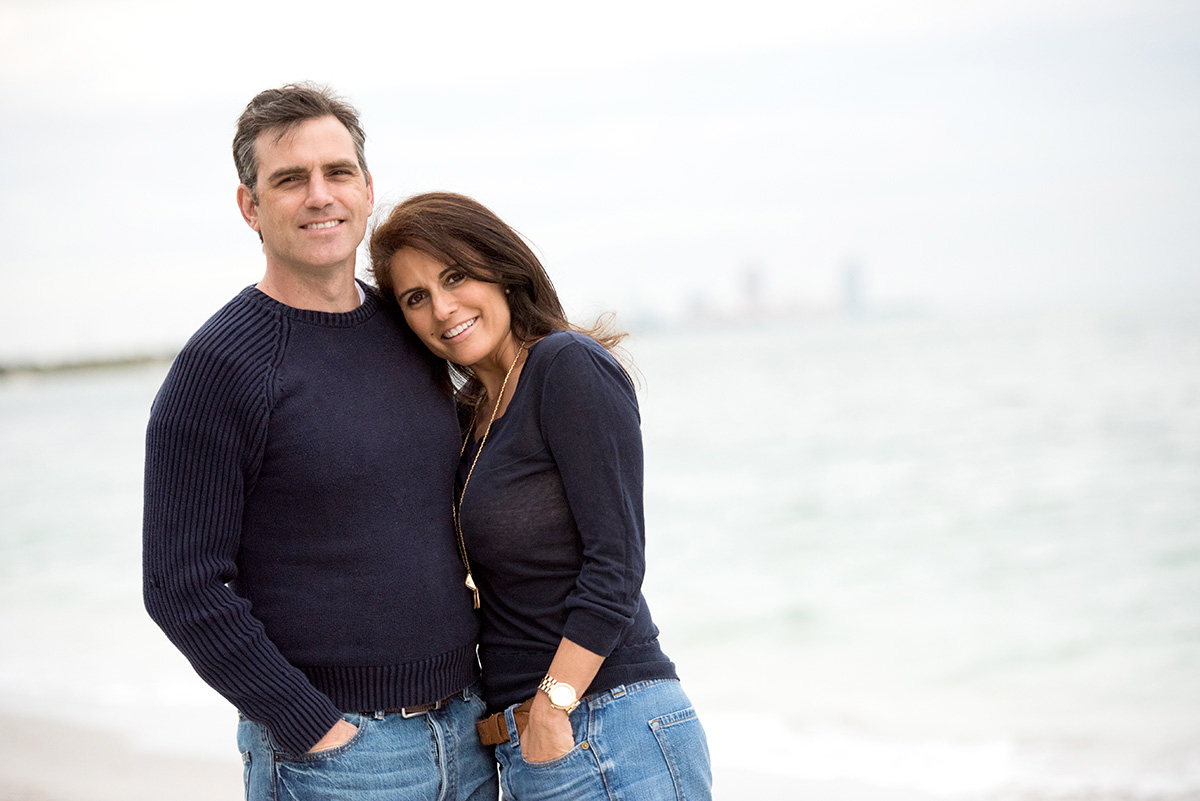 Violette De Ayala & Stephen Sproul
Violette De Ayala always says that if she were ever trapped on an island with anyone in the world, it would be with her husband, Stephen. "It's not only because I love him, but because he could build a complete city with a toothpick and some string," she says. And he's equally enamored by her skills. "She's incredibly talented and creative," he says. "Over Christmas, she reorganized the plants on our porch and turned it into a garden paradise…this is the kind of stuff she does with true mastery — it makes her a delight to be around." Rewind to 1992 when they started dating and you get a sense of the deep bond between this pair. "At the very onset of courtship, marriage was always part of the conversation," they say. "It was discussed often in a secure and comfortable manner like many would discuss grocery shopping. It was definitely young love and love at first sight." In 2013, after 20 years of marriage, the couple made the very difficult decision to hit the reset button on their marriage. They separated, divorced and eventually got back together last year. "A great benefit of being together since our early 20's is the reality that we grew up together," they say. "We've always maintained a deep friendship and strong level of respect for one another, even during the hard times." Today, they prioritize their time together and try to make every moment meaningful. "We've learned that love is constant, even through the tumultuous shifts in life," they say. "Love surpasses all."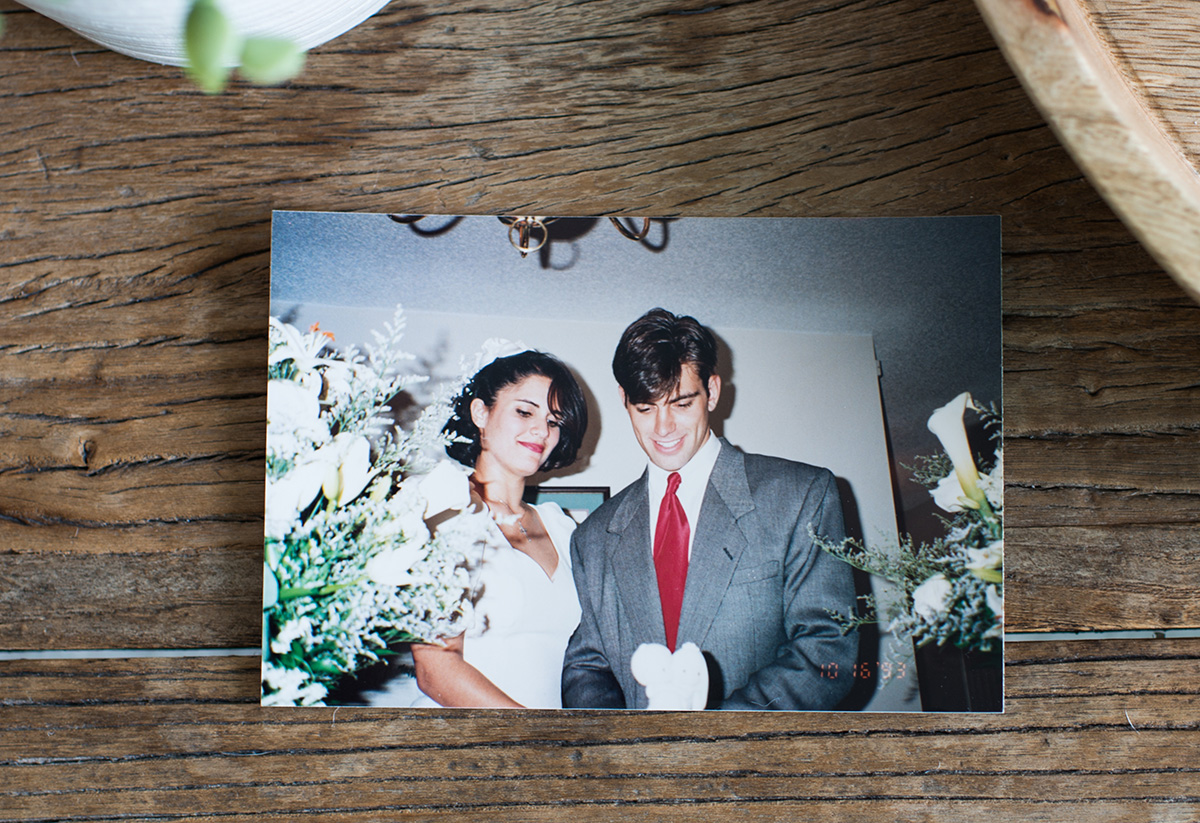 Did you know?
1. She's the Founder & CEO of Femfessionals; he's a consultant for Burger King. 2. Their son, Christoph, is about to graduate from Vanderbilt with a degree in Economics & World Politics; their daughter Bianca is an avid writer and artist who is a sophomore at Carrollton; and their youngest, Margaux, is a 4th grader at KBCS. 3. They both appeared on the cover of Key Biscayne Magazine for the inaugural "Most Beautiful People Issue" in 2008.
The Big Day: "Being so young and so broke when we got married, we had nearly 20 friends and family members at our wedding," they say. Violette rented her wedding dress and created a beautiful wedding for under $200. "It was an incredible day filled with emotion, love and lots of intimate memories."
Steven & Maritza Minor
When a cupid tried to set up a blind date between San Fran native Steven and Miamian Maritza Minor, neither of them was having it. "The same friend ended up tricking us into meeting at her place without telling us we would both be there," they laugh. "Almost instantly, we just knew we were meant to be together." And so, in 1980, after a few months of a coast-to-coast romance between them, they got engaged and Steven moved to Miami to be with his wife-to-be. Now, after 35 years together, they've created quite the scrapbook of memories, including an unforgettable honeymoon in Fiji. "Steven planned the most amazing trip for us — all before the comforts of fax, email and internet," says Maritza. "During our stay, we took an inter-island tour on a schooner with only 25 cabins, we snorkeled at a different island each day and dove in a huge fresh-water cave. The highlight of the trip was a day on the beach at the famous Blue Lagoon where the movie was filmed. Every night, the local islanders would row out to our mooring, bring us dinner and perform a dance." The best part of their relationship, they say is the natural flow between them. "We've never really had to 'work at it' like a lot of couples have to," they say. "We just naturally get along and enjoy each other's company." So what's their secret? "We're not joined at the hip," they say. "We give each other a lot of room for personal growth and expression — our love for one another is infinite!"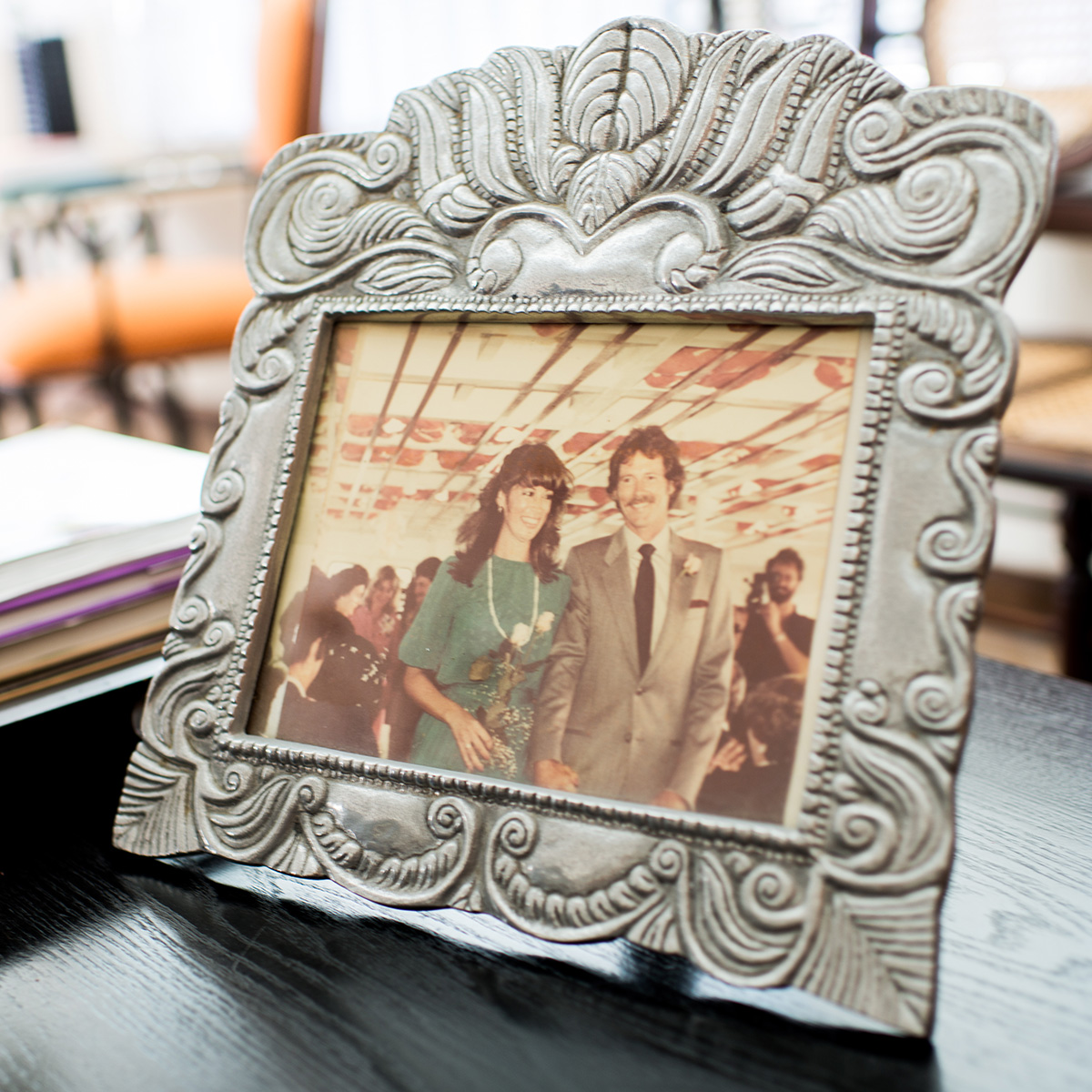 Did you know?
1. She's one of Key Biscayne's most beloved photographers; he's a real estate & business broker who has been teaching oriental exercise classes to senior citizens on the island for nearly 20 years. 2. Their son, Steven Anthony Minor, is the Director of Beverages at Mandarin Oriental. 3. Maritza's heritage hails from Panama, Nicaragua, Hawaii and China; Steven is from a California pioneer family.
The Big Day: "We got married on a triple deck boat called Show Queen that was docked at Sundays On The Bay," they say. "Most of our friends made it to the boat on time, but some didn't and watched us sail away." It was a full moon on May 16, 1981 and they cruised Key Biscayne. "We had the wedding ceremony on one deck, dinner on another and champagne and dancing on the third. It was a magical wedding!"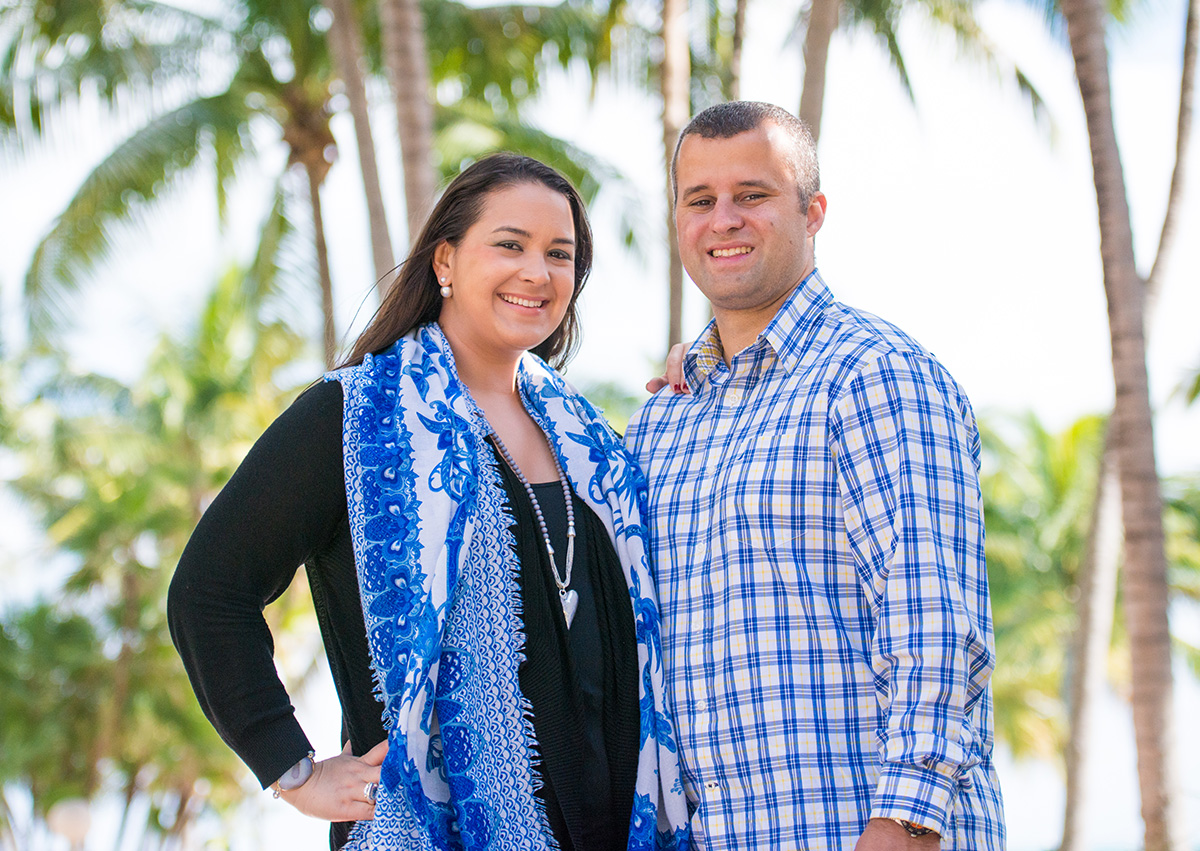 Aileen Garcia-Cuellar & Christopher Cuellar
An aspiring lawyer, fresh off a round of golf, walks into a bar and meets a church soloist who just broke up with her boyfriend. It might sound like the premise for a new romantic comedy, but for Aileen and Christopher Cuellar it was the beginning of a real-life love story. After that serendipitous meeting, they knew they had to see each other again. And they did so in a BIG way. "Our first date was at the World Cup Final when our favorite team, Spain, won the title in 2010," they say. "The rest, as they say, is history!" A few years later, Christopher planned a surprise engagement that left Aileen speechless — literally! He chartered a sailboat for a day and told Aileen it would be a group event to celebrate his law school graduation. However, shortly after arriving at the pier, the boat took off from the dock with no one else aboard. As the boat approached the Brickell skyline on a beautiful Miami afternoon, he got on one knee and said the magic words, "Will you marry me?" "Aileen almost fell off the boat and was speechless for a minute or two," he says. "After wiping away a few tears and regaining her composure, she loudly screamed Yes!!!" Today, they're living happily ever after. "We have sworn to make our relationship our top priority," they say. "Although modern-day life can be full of distractions and at times, overwhelming, we always prioritize our time together to ensure that we stay true to the sacred promise we made to each other — having a life partner to share our hopes, dreams and visions for the future has brought us incredible happiness!"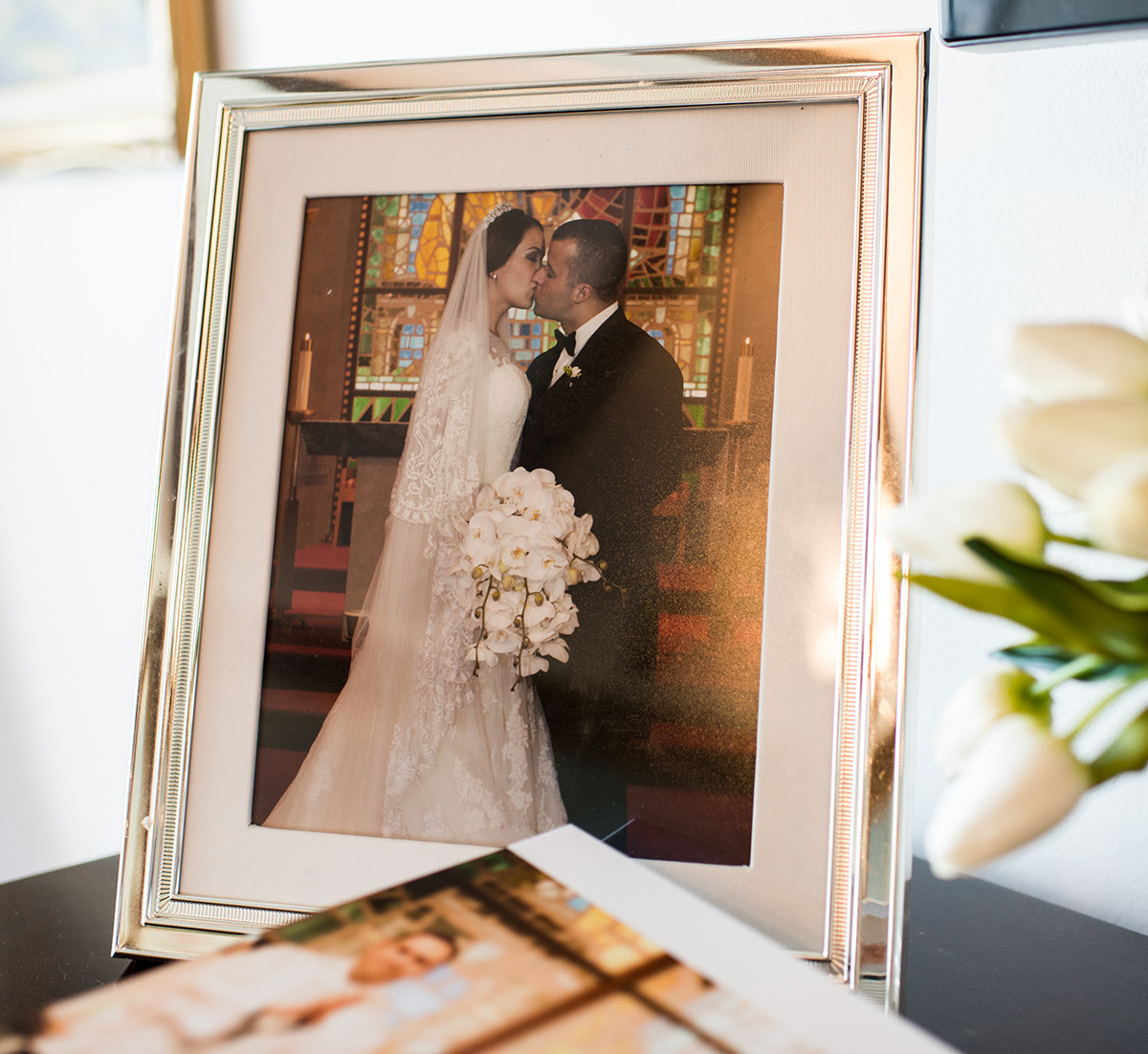 Did you know?
1. She's a Nurse Case Manager at Leon Medical Center Healthsprings Insurance and an active church soloist who sings every Sunday with her choir at St. Agnes Catholic Church; he's a Health Care Attorney & Risk Manager in Coral Gables. 2. Aileen has been a Key Rat since she was 8; Chris, who now happily calls Key Biscayne home, was born in New Orleans. 3. They are enthusiastically expecting their first child, and are looking forward to showering their new baby with love while continuing to call Key Biscayne home.
The Big Day: "Our wedding day was straight out of a fairytale novel," they say of their St. Agnes Church ceremony and Ritz-Carlton Key Biscayne reception on Mar. 15, 2014. Not only did Aileen have her family choir sing at the wedding, she was also able to sing a beautiful Spanish hymn herself. "The reception lasted until 3 a.m. with everyone in attendance dancing the night away — it was an evening filled with joy and love, and a night that will live on in our memories forever."