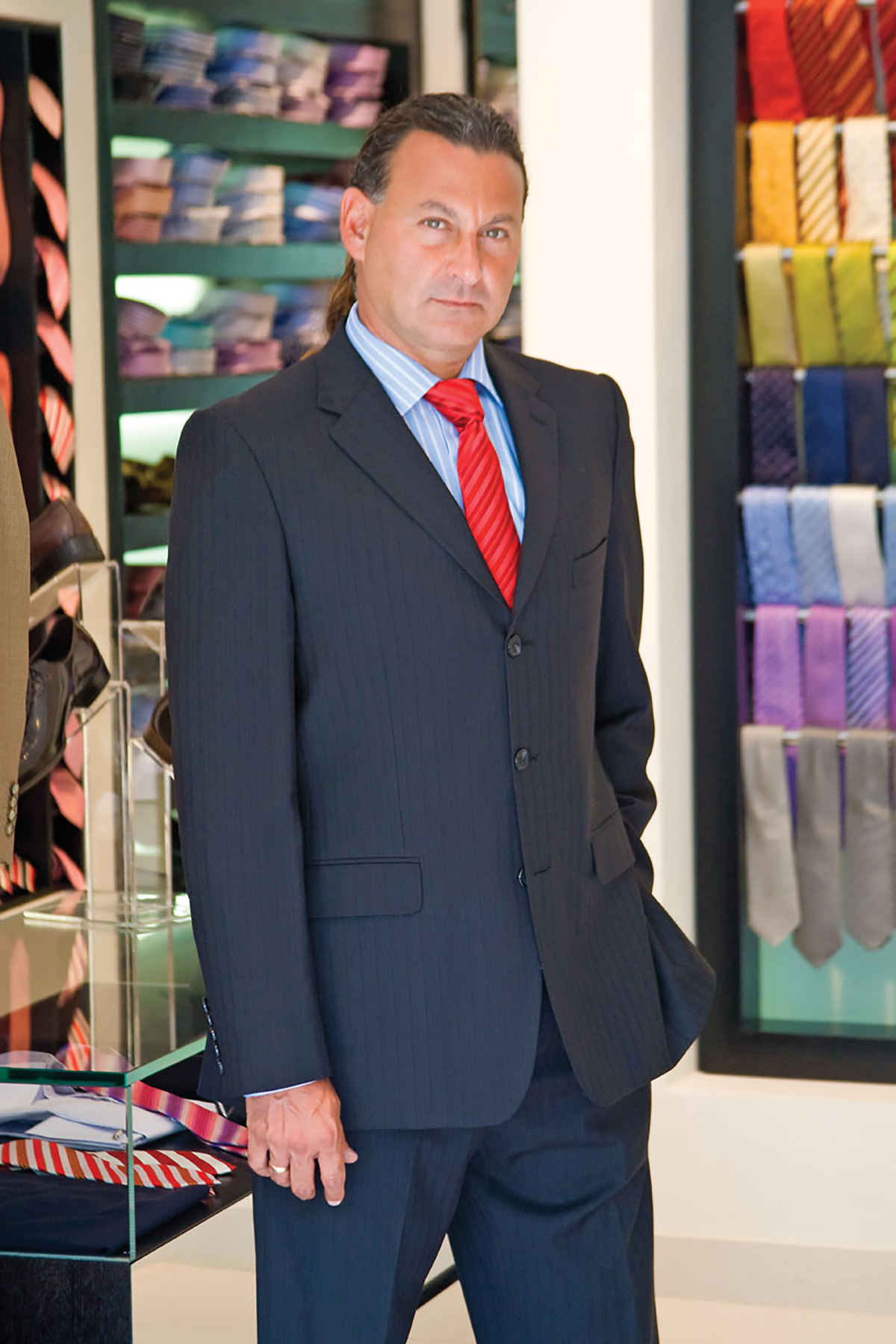 Style Savvy
"When the quality of my products is recognized, that's the best compensation for my efforts."
Samy Marouki's business is to sell style. He is the owner of Ventuno, a Brickell boutique based on 40 years of business. "Elegance has, is and will always be a necessity for professional businessmen," says Marouki, who grew up in Venezuela surrounded by textiles. "Since I was a child I've had an appreciation for clothes. My father owned a shirt manufacturing plant and I spent a lot of time there." Ventuno is the family-run business he's been involved with for 25 years. With a degree in business administration and management, Marouki brought the business into the U.S. just one year ago. "At one point we had 30 stores in Venezuela," he says. "It was remarkable to then arrive in a country where no one knew the brand and to quickly receive positive feedback on the quality of the products we offer."
Quick Facts
He's already the go-to guy for the best business wear. "One day a customer came into the store telling me he dreamt of a perfect shirt and was hoping I would actually have it in the store, or something close to it! We did!"
It's all about the tie. "A great tie is where a man can really stand out, especially if he has to wear elegant suits on a daily basis."
He feels great in Armani. "Armani's style is timeless. I have suits from 10 years ago that I can wear and feel current. I want my customers to be proud of the pieces they have in their closets."
Text by Luisana Suegart; Photo by Antonio Eli
Samy Marouki owns and operates Ventuno in Brickell; 1055 SE 1st Ave. For more information call 305.372.5017 or visit VentunoUSA.com.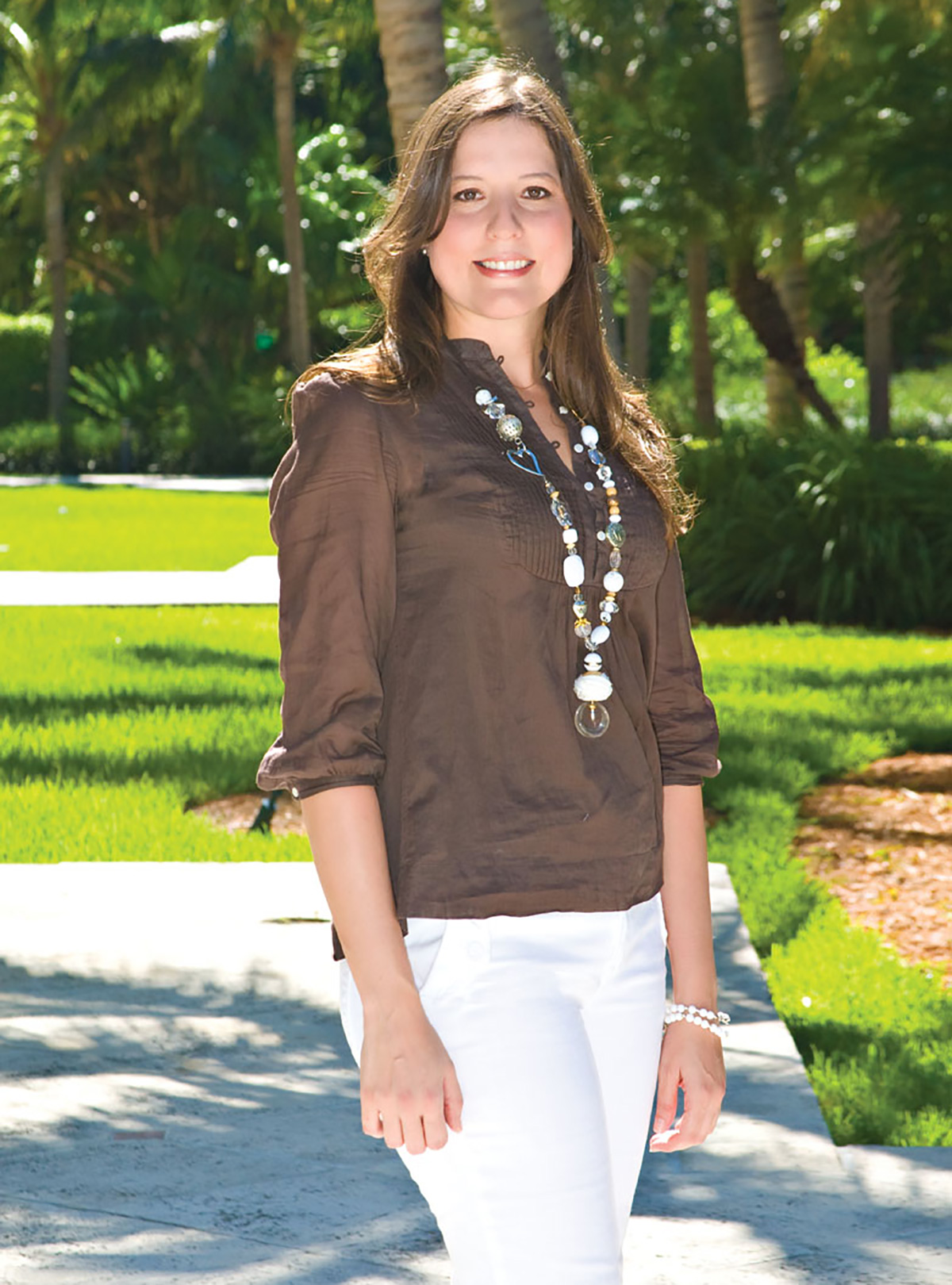 Devine Design
"When a design touches the heart, it will undoubtedly be worn and cherished for a long time."
As a successful realtor with Shelton & Stewart Realtors, LLC, Marirosa Betancourt loves her job. But before she dedicated her life to real estate, she accidentally came across a parallel avenue of professional fulfillment she didn't expect one day. "Several years ago, before I became a realtor, I stumbled upon a box full of beautiful amber, mother-of-pearl and elephant tusk pieces. It was leftover from a jewelry store that my parents owned more than 30 year ago," she explains. "Eventually, using these forgotten relics, my sister and I decided to mix the old with the new, and made ourselves fun, contemporary jewelry designs." Featuring the most elegant of the pieces found in their treasure, it wasn't long before friends and family wanted some of these stunning showstoppers for themselves. Today, Betancourt designs and makes jewelry for all the women and girls in her network of family and friends, and takes a lot of pride in the uniqueness of each piece. "I love mixing materials from different parts of the world — it makes for intriguing, exotic pieces that are not only fun to wear, but also great conversation starters!"
Quick Facts:
Business runs in the family. "My parents taught me to not cut corners and give value in return and you will always be successful."
She's a chef. "Not too long ago, I worked as a dessert chef at one of the finest restaurants in San Juan. Perhaps one day I'll open a restaurant, go into catering, or teach at a culinary school!"
She's also known as The Queen of Entertaining. "The best of times are spent with friends and family, and I love to invite them for a fun BBQ, a game night, or simply to relax by the pool."
Text by Luisana Suegart; Photo by Antonio Eli
Marirosa Betancourt can be reached by calling 787.607.4900 or by emailing her at her personal email address Marirosa.Betancourt@Gmail.com.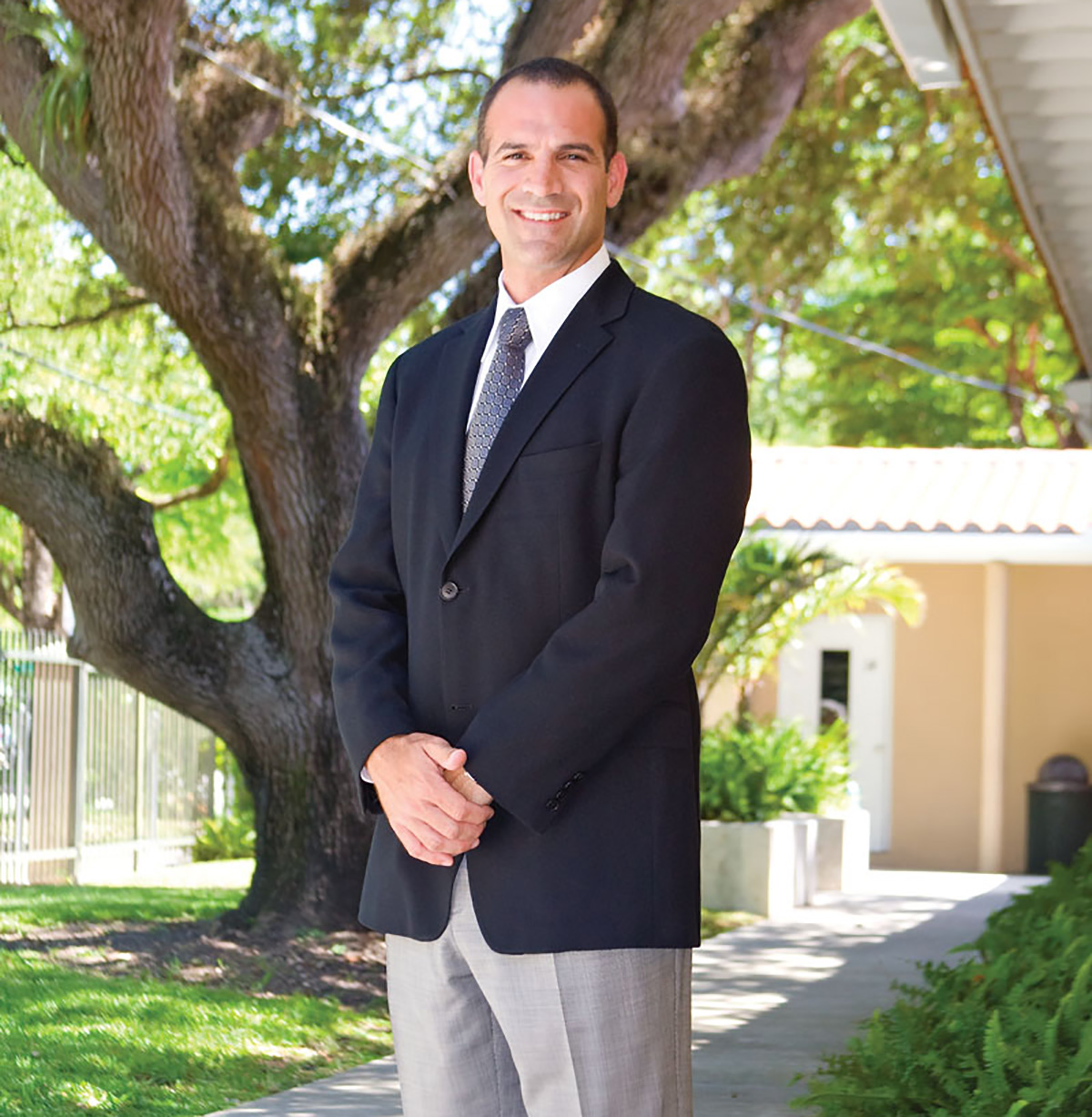 School's In!
"It's fulfilling to know that we are truly making a positive impact on our students through Riviera Schools."
As a commercial litigator, Peter Cohen quickly found out he didn't find the legal career particularly rewarding, realizing instead that it was the process of education he enjoyed the most. The fact that his family had been operating Riviera Schools since 1972 was no twist of fate, and he was fortunate to have the opportunity to shift careers and pursue his passion. As the Associate Director of Riviera Schools since 1996, it is Cohen's job to uphold the standards that have made Riviera so unique and successful for the last 60 years. "Seeing students smile as they walk through the hallways makes it all worthwhile," he says, relishing the newest developments. "We are extremely excited about the opening of our new Riviera Preparatory School campus for grades 6-12. Riviera was founded in 1950 for pre-school through middle school, and we are finally able to realize our vision of providing a high school that carries on with our mission."
Quick Facts
He's a man of habit. "My worst habit is that I work too much," he says. "My best habit is I work too much. I truly love my job."
He's living in the right place! "I love the ocean — diving, fishing and boating. I proposed to my wife 50 feet underwater while scuba diving. My first job was as a swimming instructor."
He loves a good laugh. "Suffice it to say that children are very unpredictable, and they will say the most amazing things. We often say we should write a book of all the funny things that the kids say — it would be a best-seller."
Text by Luisana Suegart; Photo by Antonio Eli
Peter Cohen is Associate Director of Riviera Schools; 6800 Nervia St. in Coral Gables; 305.666.1856; RivieraSchools.com.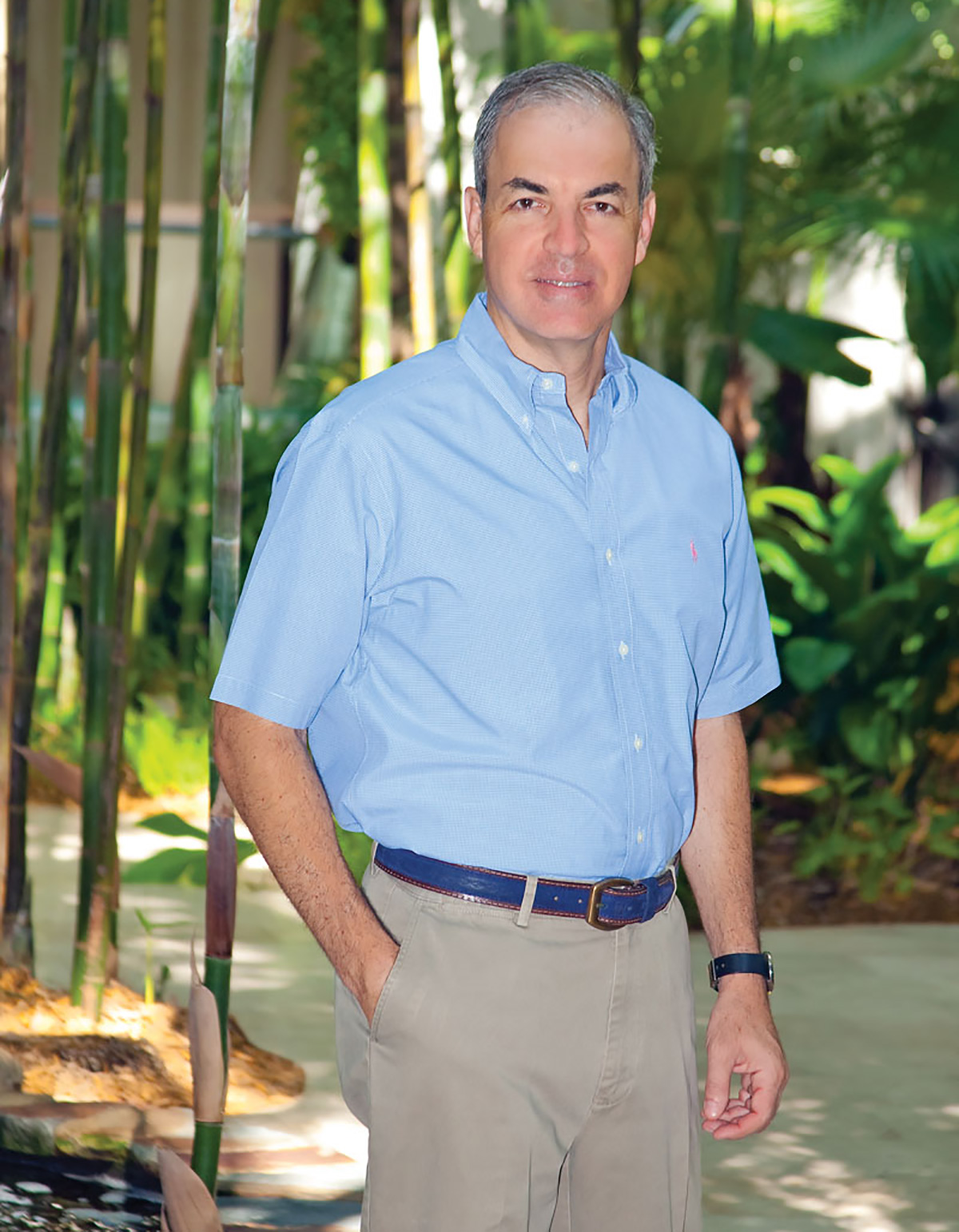 Hard Hats
"My 30 years of experience has been focused primarily on aspects of construction and development."
As the owner of Cobo Construction, Alex Cobo leads a full-service General Contractor, Developer & Project Management firm. His main focus? High-end residential and commercial remodeling, as well as new construction. Cobo, a Tulane University alum, boasts three degrees in Civil Engineering, Construction Management and an MBA. "I was always very curious growing up and intrigued by being able to build things," he says. With experience comes a knack for what the market wants, and Cobo's team focuses on bringing affordable housing back to Miami. "These very low-cost rental projects in the inner city are contrasts to the rest of our higher-end work," he says, going on to explain how his company is tenaciously diversifying their services to including green building. After all, it's this attention to detail that homeowners logically seek. "I enjoy developing and maintaining friendships with our clients and seeing them enjoy the end results of the projects we develop for them."
Quick Facts
At Cobo Construction, no two days are alike. "Once a condo owner accused us of letting her cat out. She went into mourning — we felt terrible! The next day the cat was found hidden inside a wall in the condo. She let us continue the project!"
He's a health nut. "My best habit is yoga and exercise. My fridge is stocked with fruit, vegetables, nuts, fish and chicken. Dark chocolate is my guilty pleasure!"
Business is a means to no end. "My words of wisdom are very, very simple: Give back more than you receive!"
Text by Luisana Suegart; Photo by Antonio Eli
Alex Cobo is the owner of Cobo Construction, 240 Crandon Blvd. Ste. 247 in Key Biscayne; 305.361.6783; CoboConstruction.com.