Dream Maker
For Alberto Uribe of Seahorse Construction, creating the perfect home is a dream come true — as is living and working on Key Biscayne.
Text by Luisana Suegart
Photo by Antonio Eli
Construction has always been a part of Alberto Uribe's life. "It's in my blood," says the Guayaquil, Ecuador, native who moved to the U.S. two years ago. "My dad was involved in the construction industry in Ecuador, and I engaged in the business from a very early age."
Attending architectural school while simultaneously handling his father's projects in his firm, Uribe began his career managing small non-residential projects in different parts of Ecuador. "From there, it was only a matter of time before I became involved in many different types of projects — from residential construction to port construction in different countries," he says.
Uribe's company, Seahorse Construction, was founded six years ago and has since grown to offer a variety of construction services ranging from landscape maintenance to luxury construction services. "We're oriented to paying attention to every last detail in our craftsmanship and to obtaining exquisite finishes," says Uribe. "Our houses are very close to perfection. We design and build the wood cabinetry, wood doors, landscape, pools, kitchens…basically we're in charge of the whole operation."
When he's not creating other people's dream homes, Uribe can be found living a fairytale of his own with his family. "Definitely my favorite thing to do in Key Biscayne is to walk the quiet streets and enjoy the diversity of construction mixed with the vegetation," he says. "That's a feeling that I can't really put into words."
To meet Alberto Uribe, call 305.365.0544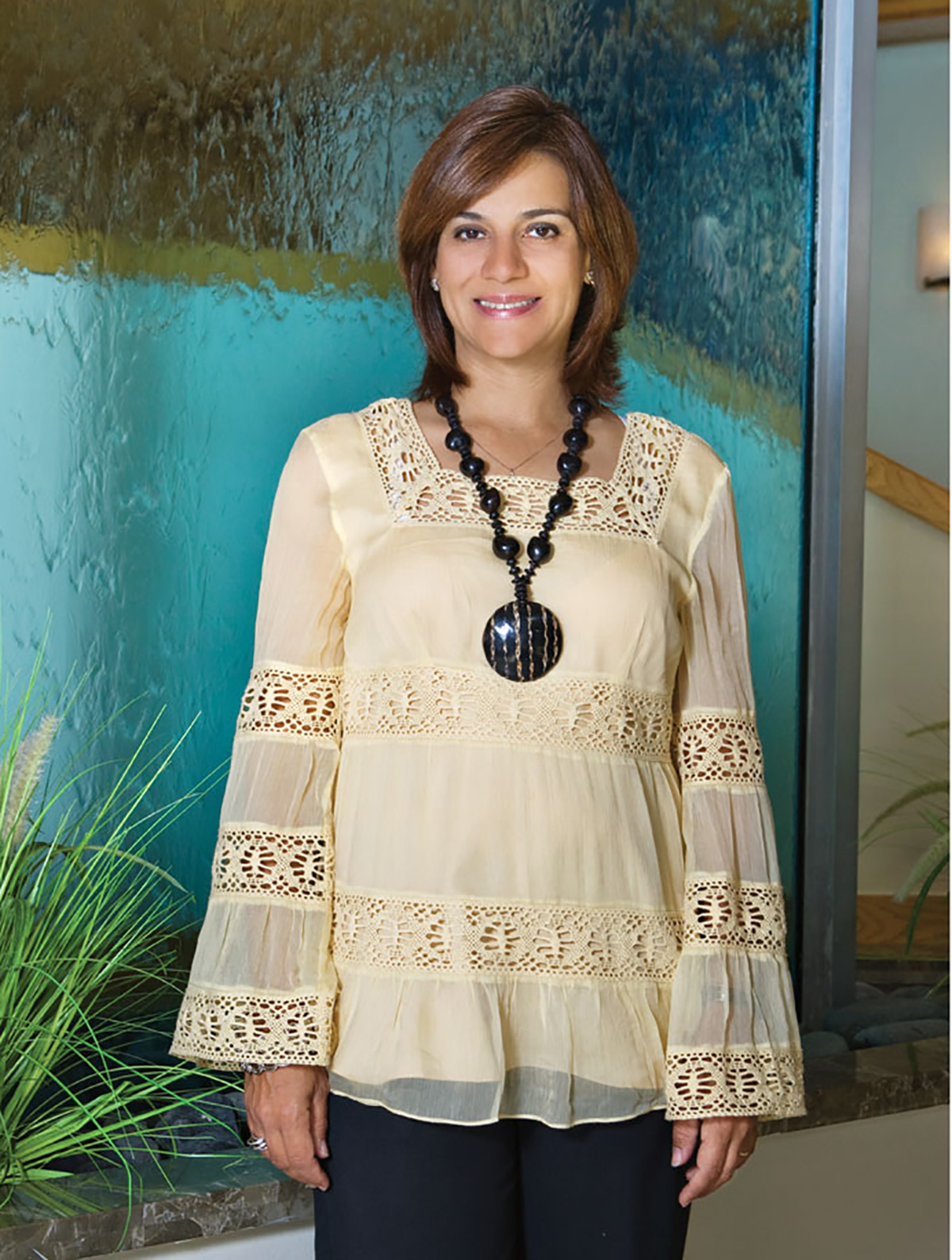 Design Influx
When Sol De Camps of Stone of the Caribbean gets inspired, you'd better bet that what she creates will take your house to the next level.
Text by Luisana Suegart
Photo by Antonio Eli
Sol De Camps is adding a little bit of sunshine to homes around South Florida through Stone of the Caribbean, the Coral Gables-based business she runs with husband, Mariano Grimaux, that provides, among other things, natural stone flooring, ballisters, fireplaces and fountains to discerning home owners in Key Biscayne and beyond. "Our company is based on quality, responsibility and good buys," she says. "In our field, some tend to be irresponsible, but we guarantee all projects for our clients."
De Camps and Grimaux combined their talents in 2002 to form the company that utilizes her business background with his gift for working with manmade and natural stone. De Camps, a Dominican Republic native, studied economics in her country before moving to the U.S. where she attended graduate school at UM, and later studied international commerce at M.I.T. "I'm still a student because you can never run out of things to learn," she says.
Camps lives in Key Biscayne with her husband and two children, Dali and Victoria. "My family is a blessing in every way," she says. "Each day, I'm inspired by the simple things in life — from my husband's kisses every morning, to my children's hugs. I think the biggest things in life surge from the smallest."
And she won't stop while she's ahead. "My goals mirror my life — every day there's something new to fight for in order to move forward," she affirms.
To meet Sol De Camps, call 305.406.3919
New Look
If a complete home makeover is in order, Alberto Linero will make sure he does everything in his power to make it happen.
Text by Luisana Suegart
Photo by Antonio Eli
Alberto Linero promises that remodeling your home doesn't have to be a nightmare — not as long as he's involved. As owner of Ligon Woodworks, Linero creates the perfect space for any taste. "I'm the brains behind a process that involves the complete transformation of an antique home or apartment," he says. "I'm what you would call a turnkey operation man…I resolve everything."
And everything means everything. Linero begins a project with the demolition before moving into construction, design, furnishings, sound and lights. "My work is not my job, it's my passion," he says proudly. "I like to think I have an artistic vein running through me that, combined with my studies and travels around the world, has formed within me the sensibility to create the total package."
Linero studied at the Naval Academy for Cadets in Colombia and later earned his degree in business administration. He then went on to rake up the experience behind the successful business he has run for more than 13 years. "After being involved in designing and manufacturing all kinds of products, even for Disney, I decided to open my own business."
As such, Ligon was born and Linero settled in Key Biscayne, where he lives in Key Colony with his wife Hortensia and daughter Jessica. "I love to swim, run on the beach, and play tennis and soccer," he says.
In the end, it's a passion for his work that keeps him generating new designs and aiming toward his objective. "I'm inspired by perfection," he says. "My primary goal is to create warm environments that simplify and beautify everyday life."
To meet Alberto Linero, call 786.286.7355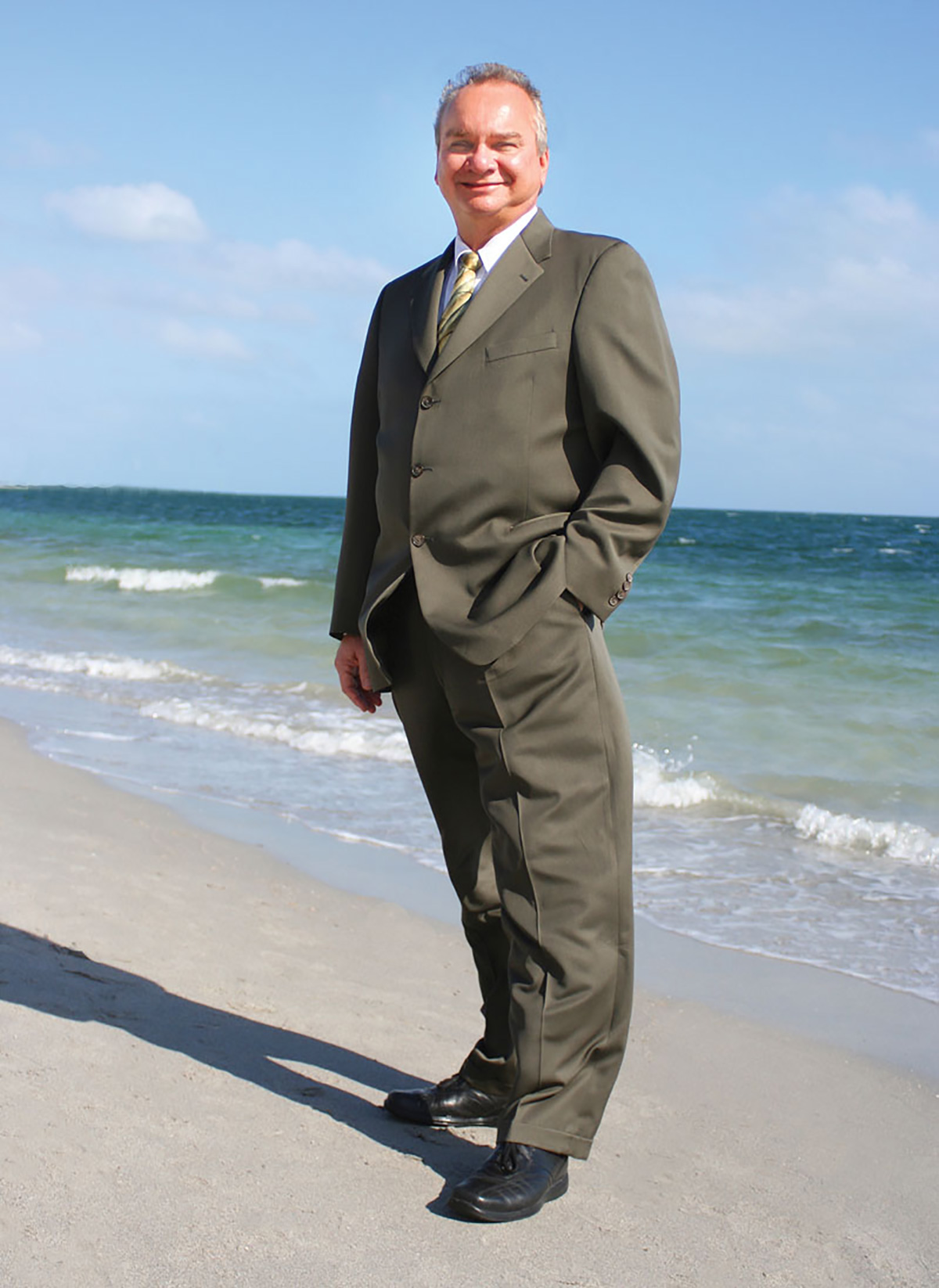 Warm Welcome
For Ocean Club's Jerry Valone, helping members and residents augment their experiences is just one of the perks of working in paradise.
Text by Luisana Suegart
Photos by Roberto Montoya
For no less than 24 hours a day, seven days a week, and 365 days of the year, Jerry Valone promises the finest service to all at Key Biscayne's Ocean Club. As the property's GM and COO, he's pleased to do whatever he can to ensure island living at its finest. "I love working with a team of dedicated people who want to provide the resident members with great service and value," he says. "I enjoy the ability to be creative in the many events we have for the members."
It was a sudden change of heart that inspired the Rochester, New York, native to pursue a career in hospitality/private club management. "I started out with a degree from the Culinary Institute of America in Hyde Park, New York," he says. "I majored in culinary arts and then moved into hospitality/private club management, attaining my Certified Club Manager designation."
Now nestled in the industry, Valone is focused on providing the highest quality lifestyle, member amenities and services to all who enjoy the Club's own form of island living. "It's rewarding to see ideas and concepts realized to improve operations in my industry," he says.
Driven by his love for his family, Valone has been married for 35 years and is a very proud father of two girls: Gianna, 20, and Gabriella, 18. "Watching my daughters grow into great young women inspires me," he gushes.
Currently, Valone is hard at work gathering the experience he'll need to someday own a thriving management business. For now, he's happy working amid Key Biscayne's beautiful views, unmatched weather and ever-thriving pulse.
To meet Jerry Valone, C.C.M, call 305.361.1101