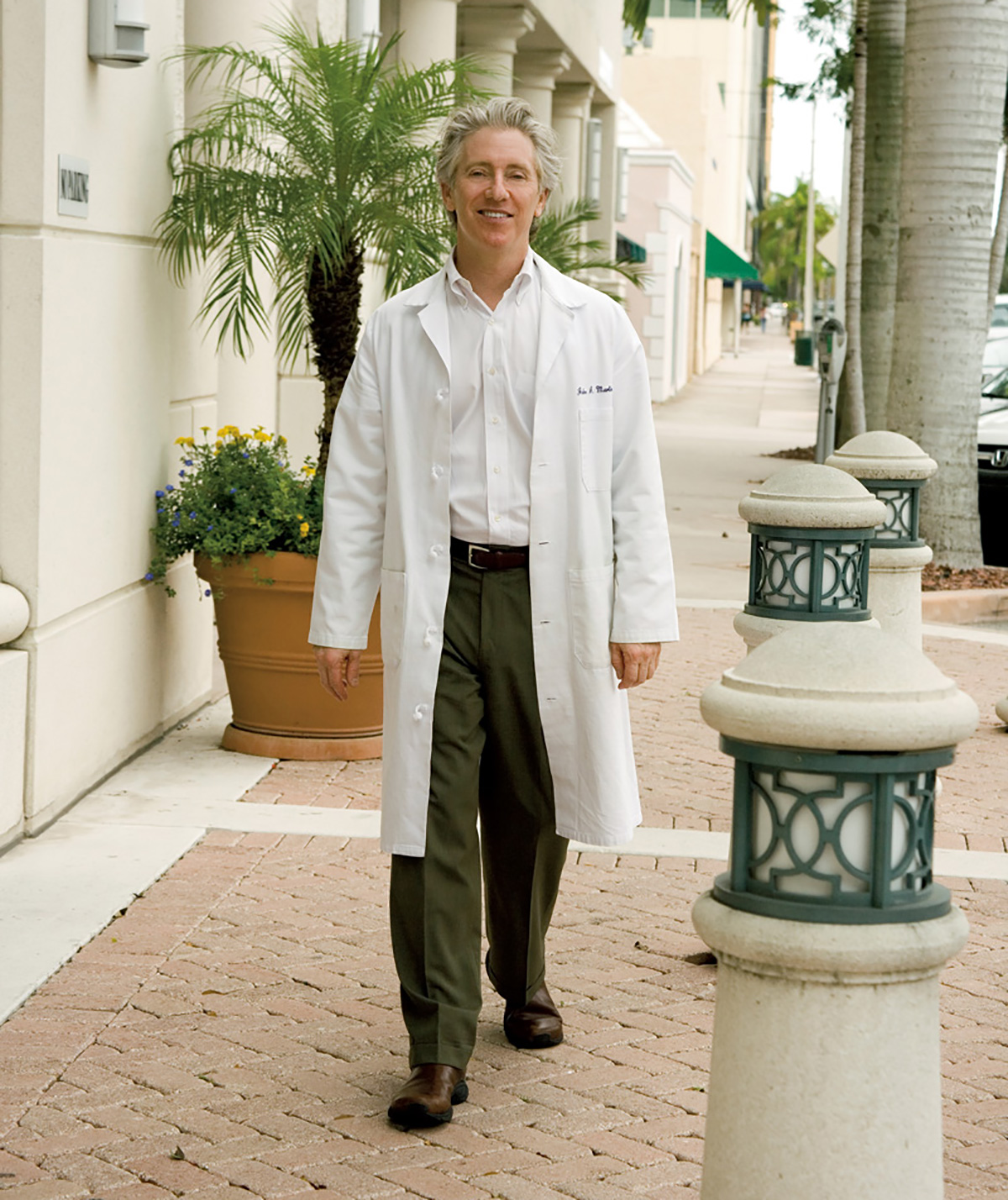 Doctor Aesthetic
Dr. John J. Martin, Jr., strives to make all his patients look their best all the while keeping himself up to the aesthetic and health standards he sets forth to all he consults.
Text by Luisana Suegart
Photo by Kate Benson
Dr. John J. Martin, Jr., doesn't only make you see better, he can make you look better, too. The ophthalmologist-turned-plastic surgeon veered off on a tangent a few years ago, giving his practice its very own facelift — pun intended. "Of all the specialties in ophthalmology, I liked plastic surgery the most, so I specialized in surgery around the eyes and did additional studies to do laser and facial work," he says.
Today, Dr. Martin works out of his Coral Gables practice where he performs most of his surgeries with a large selection of laser systems for facial rejuvenation. Among his routine procedures are facelifts, necklifts, browlifts, and, of course, eyelifts. "I try to give a very natural look to patients," he says. "I want to make them look younger and refreshed but not pulled and distorted." Amen to that!
Although Martin comes from a family of physicians — his father, older brother and sister are all M.D.s — he still marches to the beat of his own voice, and three others. For 10 years, he's been a member of The Decotones, a jazz vocal quartet that sings classic songs from the '20s, '30s and '40s.
Dr. Martin completed his fellowship in Bascom Palmer Eye Institute, during which he lived on Key Biscayne. After a two-year hiatus, he found himself back in Miami and back on the Key. "I have lived at the Ocean Club for 10 years and I've loved it there," he says. "I workout at the gym or swim daily, and I walk on the beach and bike around the island." All the while singing, we're sure.
To meet Dr. Martin, call 305.444.5950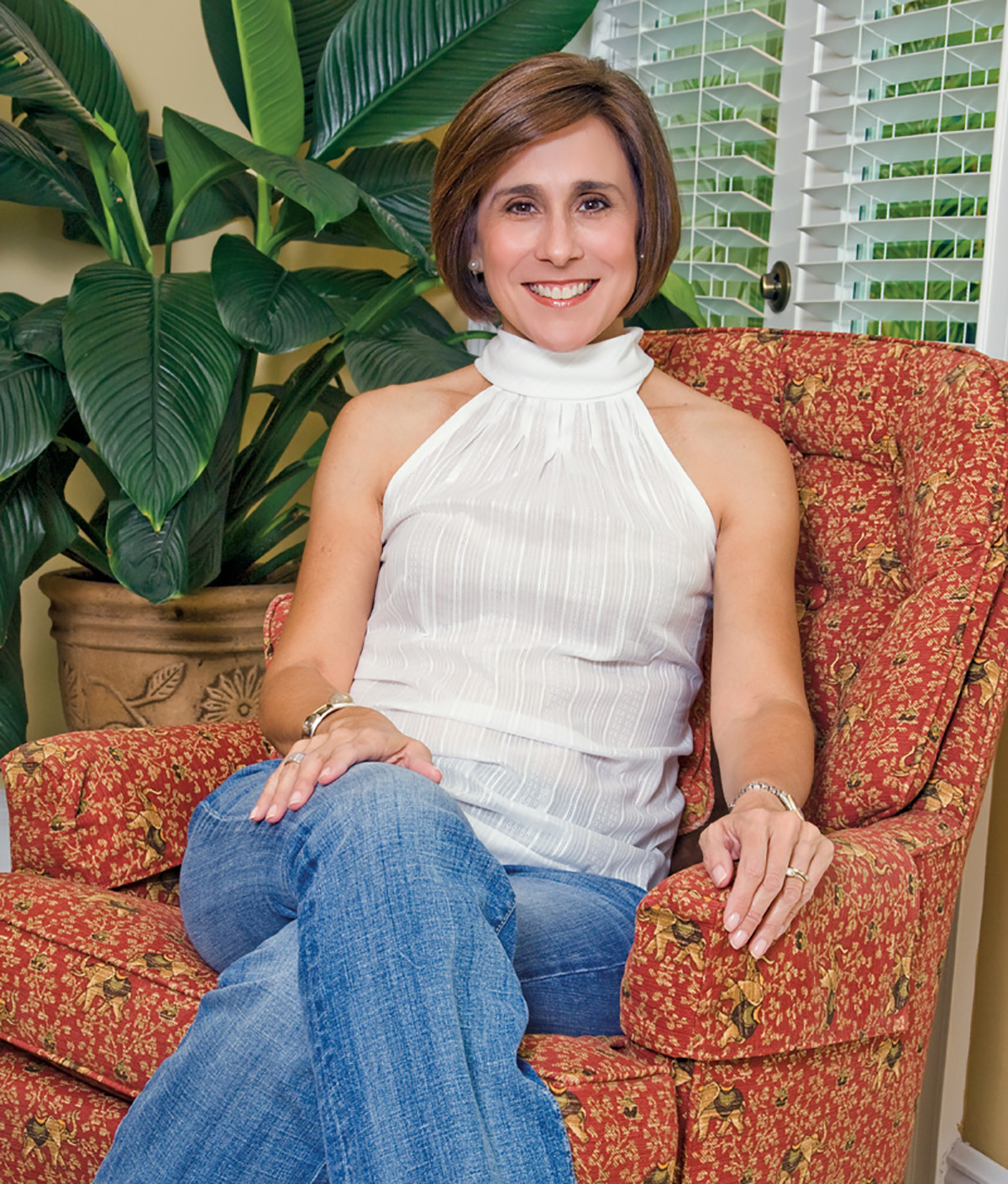 Bright Side
For Ana Nuñez of Northern Trust, the dragging economy isn't holding her or her clients down — and that's something you can put your money on.
Text by Luisana Suegart
Photo by Antonio Eli
At a time when the financial industry is collapsing, Ana Nuñez is keeping her head up and encouraging her clients to "hang in there." As Senior VP and Managing Director of Northern Trust, she is responsible for the bank's Key Biscayne branch, and what a load that must be in times like these!
Born to Cuban parents in South Carolina, Nuñez received a finance degree from Clemson University in Chicago. "The summer before my senior year I interned with Bankers Trust New York in their Miami Edge Act office," she says. "That's when I knew I wanted to pursue banking in Miami." To be a little more specific, she had her eye on Key Biscayne. "I have been living on the Key since 1985, and I love it, I don't want to move anywhere else."
When she's not cheering up her clients, Nuñez likes to "seize the day." On weekends, she and her husband are on the sidelines of a soccer field rooting for their three kids or bike-riding and hosting family barbeques.
When she does find the time to unwind, Nuñez plays the piano, cross-stitches and spends a little time in the kitchen. "I don't cook, but I enjoy baking desserts," she laughs. And when she can really get away, the family travels to Casa de Campo in the Dominican Republic.
"I have met many of my goals," she says. "But I still have goals of doing more charitable work other than the community service that relates to my job." Carpe Diem!
To meet Ana Nuñez, call 305.365.2000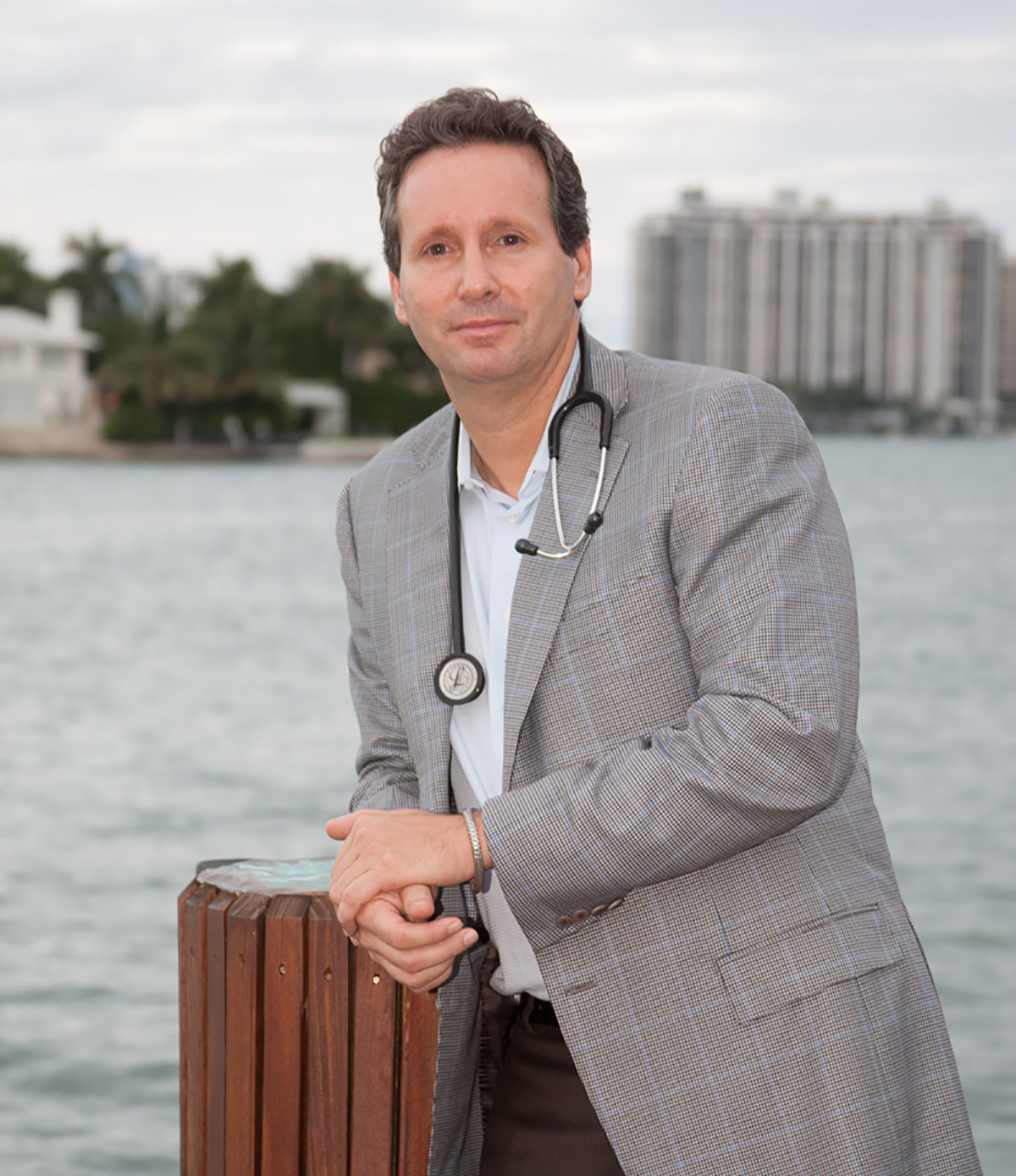 Wellness Maker
For Dr. Stephen A. Schnur, CEO of Elite Health, saving and improving lives is all in a day's work — and keeping that at the forefront of his consciousness keeps him ticking.
Text by Luisana Suegart
Photo by Antonio Eli
With his kind of schedule, it's almost hard to believe that Dr. Stephen A. Schnur has the time to save lives, although it's primarily what he does and loves as the founder and CEO of Elite Health, a cutting-edge healthcare facility that promises the warmth of a luxury spa.
A board-certified internist and cardiologist, Dr. Schnur has been practicing privately for 15 years. Elite Health combines the amenities of concierge medicine with a full complement of lab and diagnostics testing under the same serene roof. "Elite Health is completely different," says Dr. Schnur. "The most gratifying experience of my work is giving back life to a patient, his family and friends."
It's the reason he went into medicine and specialized in cardiology, he says, and his efforts to do so have come a long way. Dr. Schnur is the creator and author of The Reality Diet, "a simple, healthy and proven plan" to weight loss. In addition, he practices at Mount Sinai Medical Center in Key Biscayne, where he enjoys the restaurants, parks and, of course, the exercise facilities at his disposal.
"I'm very sports-oriented," he says, naming tennis, racquetball and basketball as his favorite pastimes. Each morning, Dr. Schnur hits the courts for an hour of cardio before setting off on his busy day, throughout which he stops at Macalusa, Segafredo or the Delano, all among his preferred hotspots. Once the work winds down, Schnur lives up his good health with his family, traveling to Europe, South America, and hotspot domestic destinations.
To meet Dr. Schnur, call 305.672.9989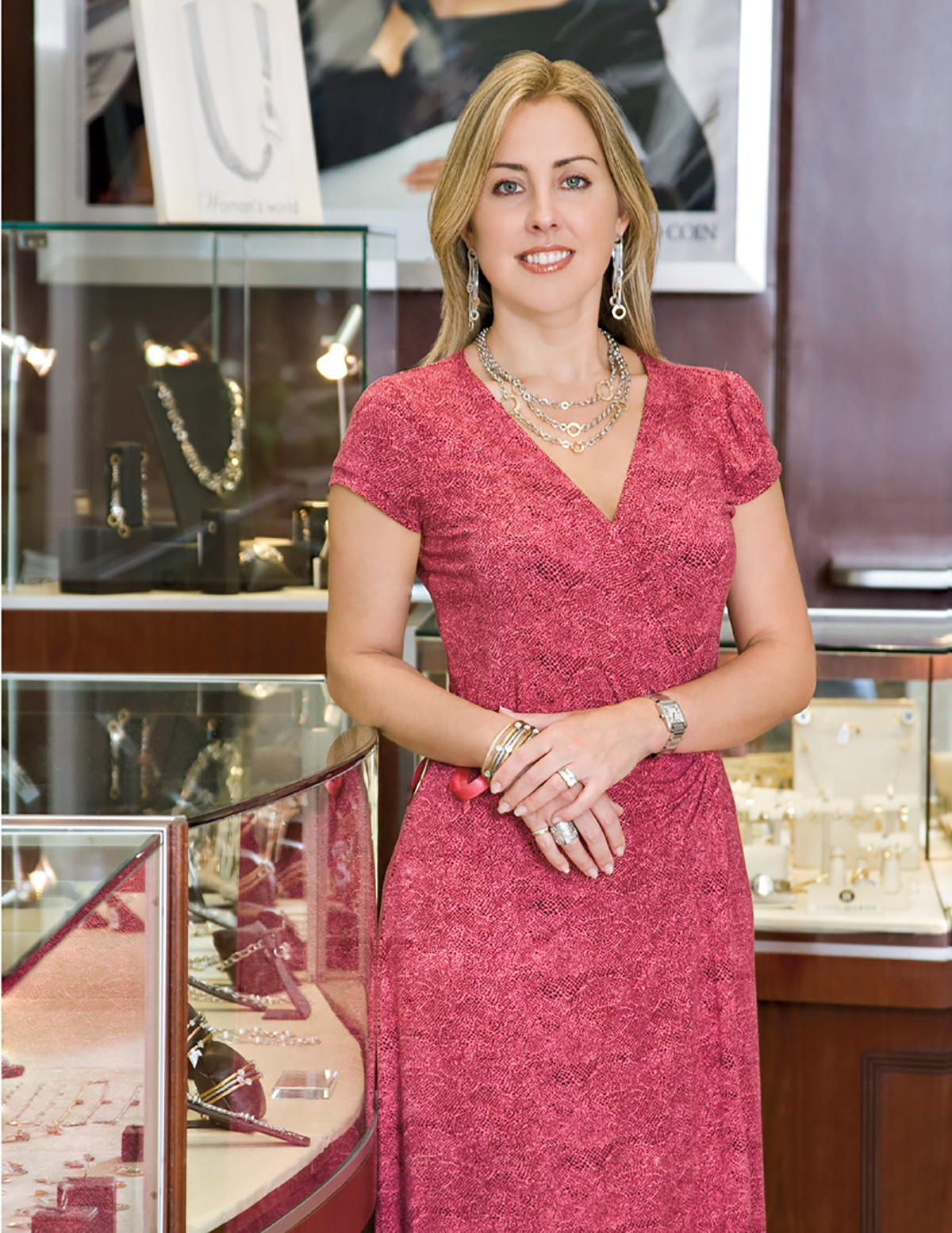 Eternal Jewels
Nathalie Sowinski knows how to find the perfect piece of jewelry for just about anybody — at any budget.
Text by Achilles Stone
Photo by Antonio Eli
Anybody who knows Nathalie Sowinski of Sowinski Jewelers in Mary Brickell Village automatically associates her with jewelry. "I've been in the jewelry business my whole life," says the Miami native who launched her glamorous brainchild last year. "I can't imagine doing anything else."
At Sowinski, one can expect a courteous, warm welcome and plenty of room to browse. "Our goal is to make our clients feel comfortable from the moment they walk in to the minute they leave, no matter how long it takes for them to find the perfect piece," says Sowinski.
Sowinski Jewelers is the only fine jeweler in the Brickell area and an authorized retailer of a variety of fine designer brands including Roberto Coin, John Hardy, Pianegonda and Edward Mirell, among others. In addition, they carry watches by Philip Stein, Breil & Toy Watch. "We're known for keeping up with current trends and offering exclusive fashion designs, diamond jewelry and the best selection of children's jewelry around — all at very competitive prices," says Sowinski. "We carefully select every piece in our showroom and always make sure each one of our clients is 100% satisfied."
The range of services offered includes custom jewelry design, jewelry and watch repairs. "Whatever our clients are looking for, we make sure they get it," says Sowinski, mentioning weddings, birthdays, religious ceremonies and corporate functions within the range of occasions they cater to. "Just bring in a picture and a budget and we'll work with you to get you anything from a simple ring to a very elaborate, high-carat masterpiece."
To meet Nathalie Sowinski, call 305.372.7844