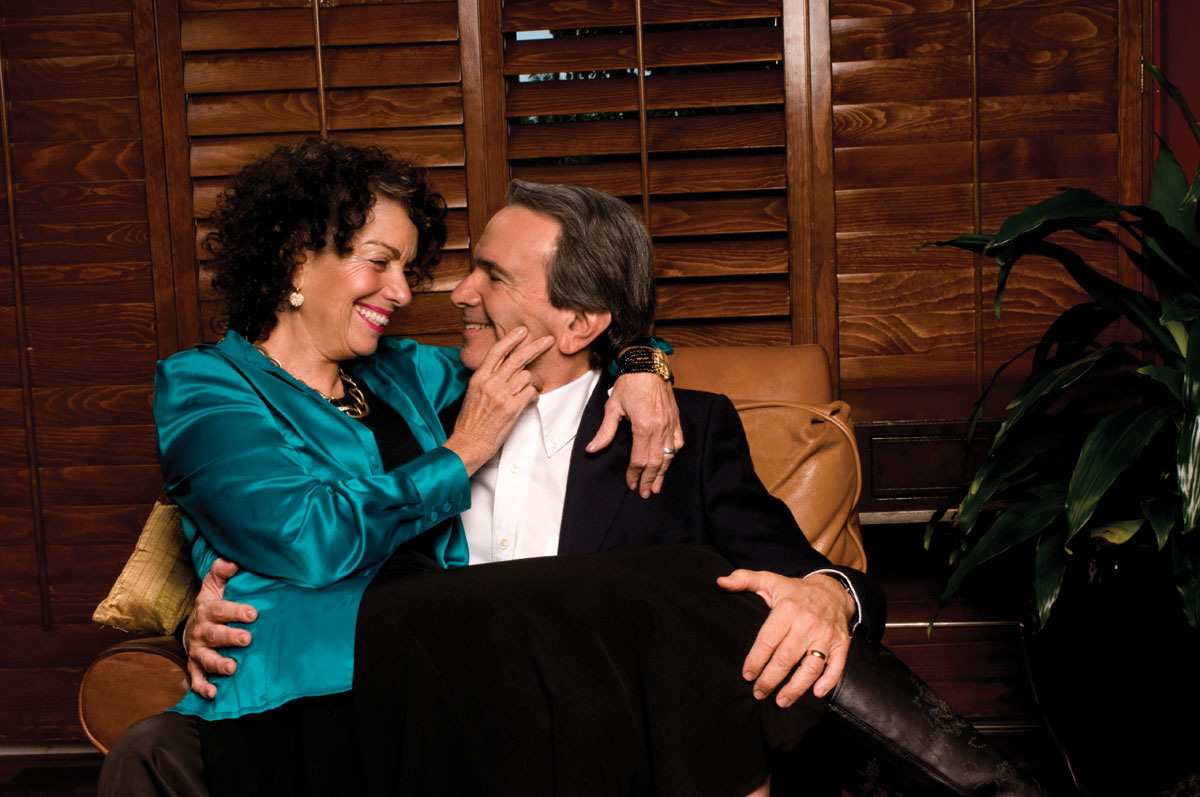 David Lee Ross & Abby Kolber Ross
Time together: 41 years
Home: Ocean Club
Children: Daughter lives in Miami, one son lives in D.C. and the other in Palo Alto, California.
Professions: He's been a trial lawyer since 1978 at Greenberg Traurig where he is a senior shareholder; She's retired from a few professions but is always open to new career opportunities.
Causes: Most recently, they have and will continue to support the recovery and rebuilding efforts in Haiti.
How did you meet? They met at a buffet dinner at the Hillel House in Northwestern University in Evanston, Illinois, where David had gone to check out the new freshman women. Abby was checking out the food. It was love at first sight.
What do you love about each other? "We love how we laugh together at the world and usually at each other. We also deeply respect each other even though half the time we might not know what the other one is talking about."
What can't you stand? David: "You think I'm answering that question?" Abby: "I can't stand that he doesn't like to be at the airport early."
Pet names? No comment.
Ideal "date night"? "Oh boy, we can't describe that!"
Best Valentine's Day surprise to date? Abby: "Ten years ago, I gave David a pair of running shoes for Valentine's Day and he surprised me by completing 1 marathon a month with me for a few years!"
How have you made each other better people? "We could fill the rest of the magazine with answers to this!"
Best word or phrase to describe your relationship? David: "Perfect." Abby: "I'm certainly not going to argue with that!"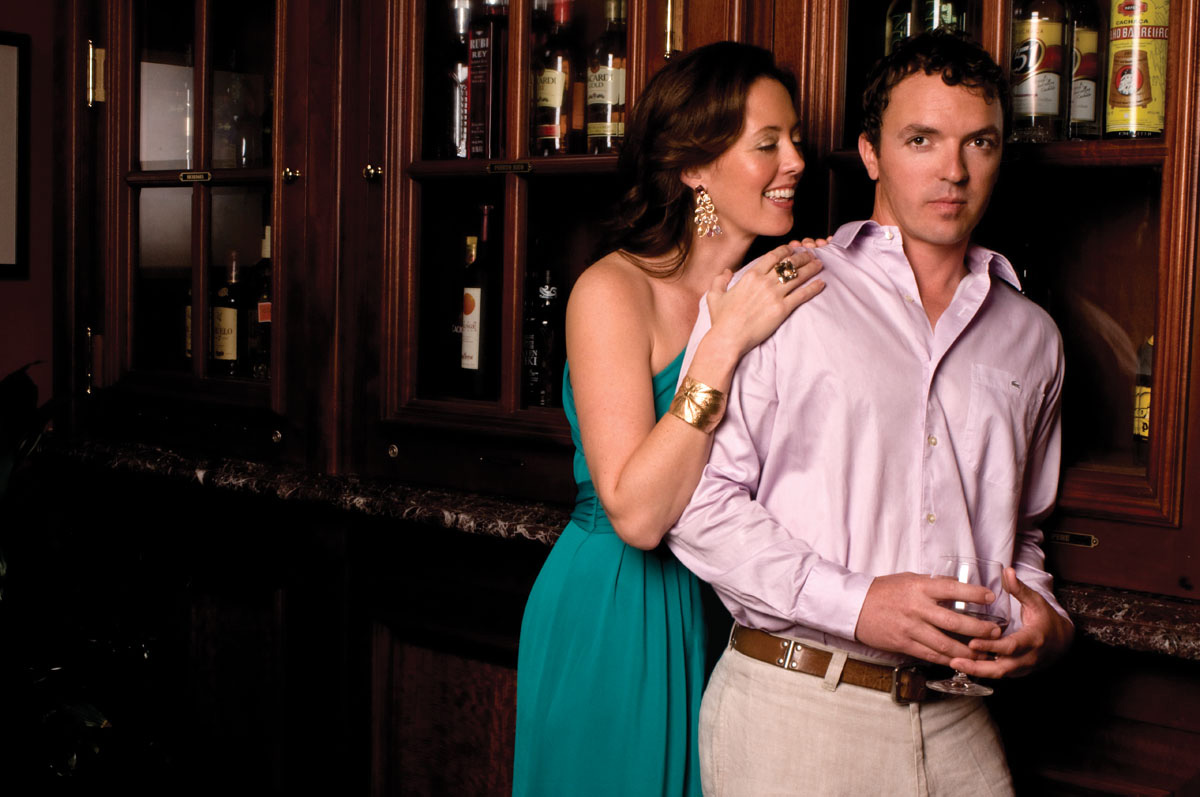 Will Tompkins & Jamie McCaughan Tompkins
Time together: 10 years (4 married)
Home: W. Enid Drive
Children: "Right now, just Tyson — a bully of a cat we inherited. Hoping to have some kids running around some day."
Professions: He works with Floridian Builders, and she's a realtor at Coldwell Banker.
Causes: Junior League of Miami and the Eileen McCaughan Memorial Scholarship. Additionally, they're looking forward to getting involved with the Guardian Ad Litem Program this year.
How did you meet? "We met on a beautiful golf course in the small upstate ski town of Windham, NY."
What do you love about each other? "We're best friends. There's a comfort and an honesty to our relationship."
What can't you stand? "Biking together. We're at different speeds!"
Pet names? "Where do we start?"
Ideal "date night"? "We love going out for oysters, followed by Will making dinner and a movie at home."
Best Valentine's Day surprise to date? "It's very difficult to surprise Jamie (she needs to know what's going on)."
How have you made each other better people? Jamie helps Will appreciate the little things. Will reminds Jamie to laugh.
Best word or phrase to describe your relationship? "Getting better everyday…"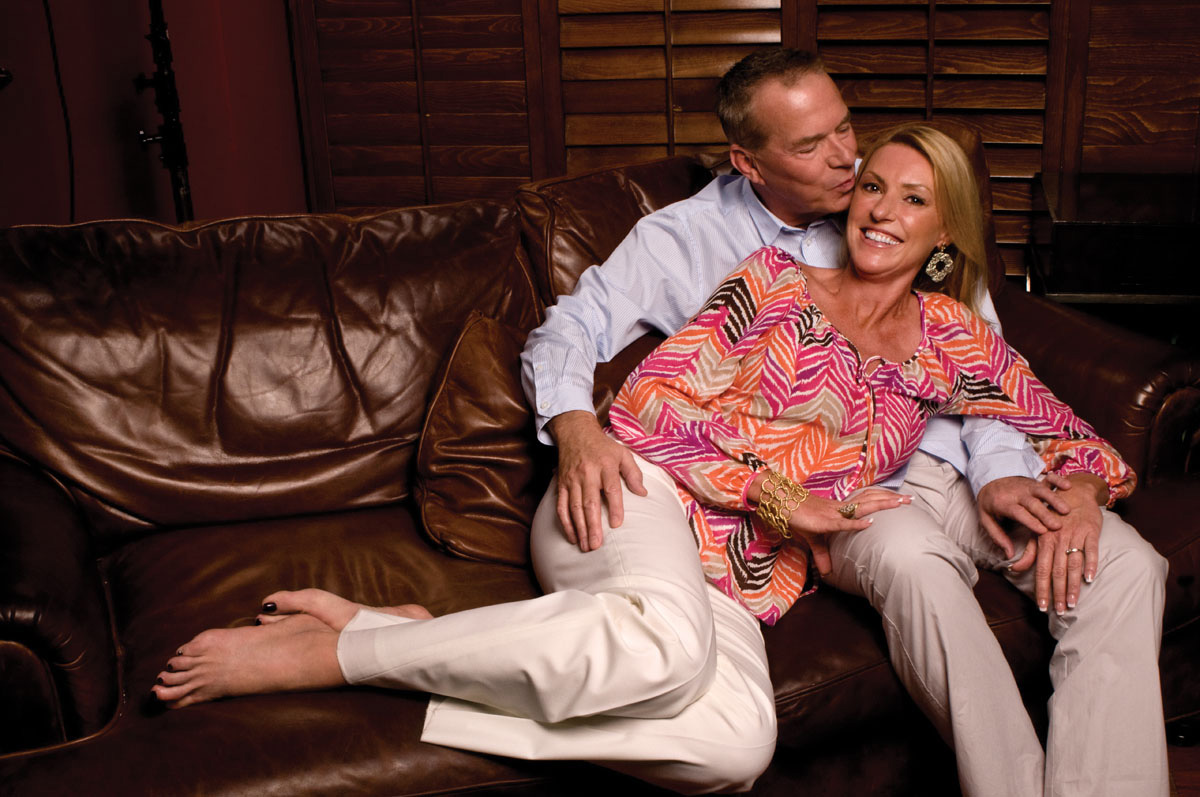 Dennis D. Shaw & Karen J. Holmquist
Time together: 4
Home: Key Colony
Children: Dennis: David, 27; Katherine, 24. Karen: Jimmy, 19; Andrew, 18; Robby, 14.
Professions: Dennis: Former journalist and sportscaster currently a technical instructor in the telecom industry. Karen: Realtor for 10+ years currently with Key Life Realty.
Causes: American Red Cross, Haiti, Multiple Sclerosis, New Hope Center in Dolton, Illinois.
How did you meet? Dennis: "We met in the parking lot of Blockbuster." Karen: "He wouldn't rent me a movie, so he took me to dinner instead."
What do you love about each other? Dennis: "Karen is the most amazing combination of compassion, energy, class and beauty I've ever known." Karen: "He manages to slow me from 150 m.p.h. to about 90!"
What can't you stand? Dennis: "Her iPhone is glued to her right ear! On Christmas Eve, I had to ask her to get off the phone so I could ask her to marry me." Karen: "His right hand is glued to the remote control!"
Pet names? Dennis: "Gorgeous or baby about covers it." Karen: "Handsome or babe. Boy, are we boring!"
Ideal "date night"? "We repeat our first date at Fleming's Steakhouse."
Best Valentine's Day surprise to date? Dennis: "What day is that again? Feb. 14? Sorry, baby. I'll make it up to you." Karen: A nice surprise is when he's actually home on Valentines Day!"
How have you made each other better people? Dennis: "Thank you for enhancing my quality of life, baby." Karen: "We agree on this one."
Best word or phrase to describe your relationship? "Harmonious."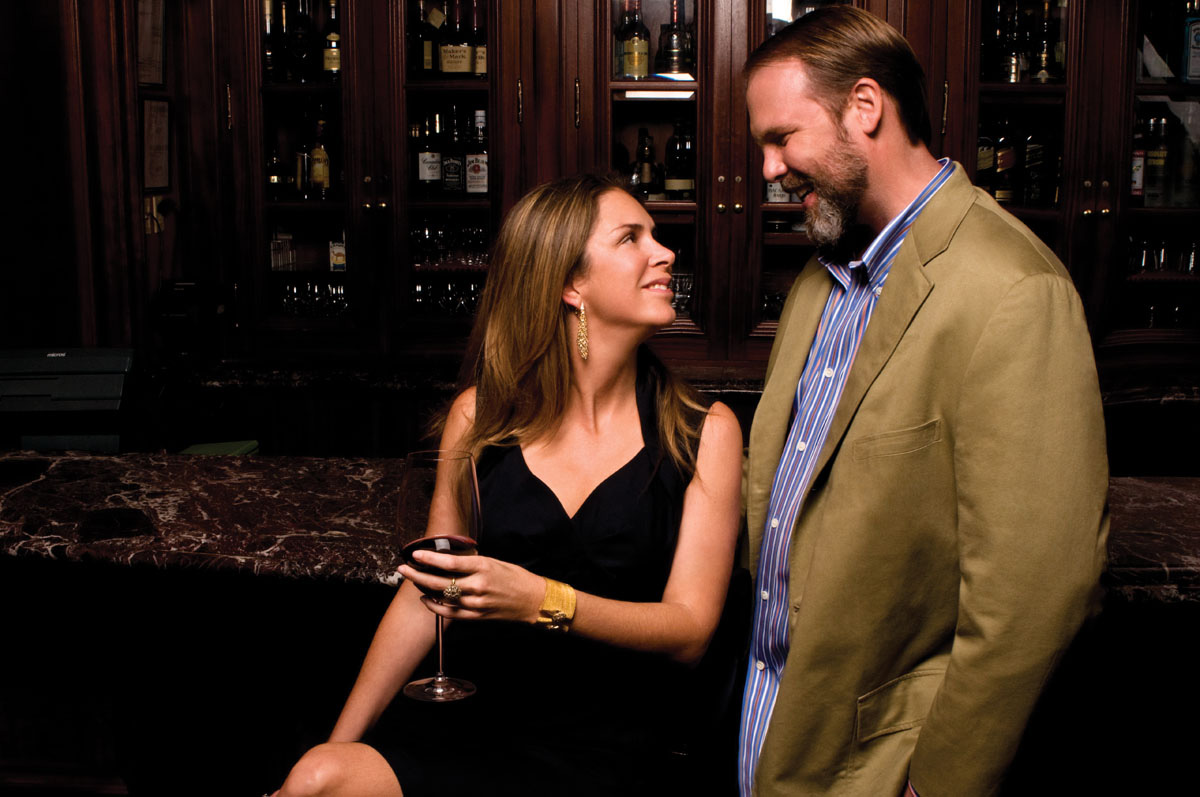 Thomas Weber & Leni Andrews Weber
Time together: "We've been happily married for 12 years, with another anniversary this Feb. 22!"
Home: Ocean Village Condominiums
Children? "We have one adorable daughter, Lauren Elizabeth."
Professions: He's a local architect who opened The Weber Studio on Key Biscayne six years ago, specializing in high-end residential projects; She owns M Low Designs, specializing in custom, hand-knotted rugs and linens.
Causes: They enjoy working with several originations such as the Sylvester Comprehensive Cancer Center, Touching Miami with Love, New Life Shelter and Island Angles."
How did you meet? They met at the University of Miami. Thomas: "She tried to set me up with her friend. It didn't work out." Leni: "He's got that right!"
What do you love about each other? Thomas: "She simply makes my life better." Leni: "I absolutely love his contagious laugh!"
What can't you stand? Thomas: "Leni wakes up too late." Leni: "Thomas wakes up too early."
Pet names? Thomas: "I call her Lani. An old boss of mine in Vermont could never remember her real name." Leni: "I call him Thom. It's a Latin thing."
Ideal "date night"? Sushi on the Key.
Best Valentine's Day surprise to date? "It's personal!"
How have you made each other better people? "We made each other parents."
Best word or phrase to describe your relationship? "Good times."