I was barely 10 years old when my mother first asked me to sit in front of a big stack of greeting cards at her medical office after school to write notes of well wishes. I would spend hours handwriting the messages, drawing pictures and licking envelopes. Each day, she would grab a handful of them and pass them out to patients and staff during her rounds at the hospital. Each time, she'd watch their eyes light up when they saw the sweet message I wrote in child-like scribbles along with stars, happy faces and my favorite underwater scene starring two little fish and their seashell buddies.
Back then, it seemed like such a simple gesture, but to the recipients, it meant so much more. Some of those patients didn't have visitors for days or had little to no family. My mother's simple act of kindness didn't cost a lot of money, and it wasn't a huge time commitment, but it made a lasting impact on us as the givers, and on the unexpecting recipient.
When I was old enough to volunteer at Mercy Hospital as a Candy Striper, I kept the well-wishes going by personally delivering cards to everyone from the nurses and doctors to the patients, the janitorial staff, the employees in the cafeteria, and anyone that I came across that looked like they needed more than just a friendly smile. The tradition has lived on well into my adulthood and to this very day, I stash blank cards in my purse and in my car, always ready to spread a little joy to an unsuspecting stranger.
Studies show that the act of giving creates a longer-lasting boost of happiness than receiving. And even when we want to treat ourselves to a little something nice to improve our mood, that jolt of joy tends to fizzle out faster than expected. So how can we maximize our investment in happiness? The answer has less to do with money and more to do with gratitude and a giving mindset.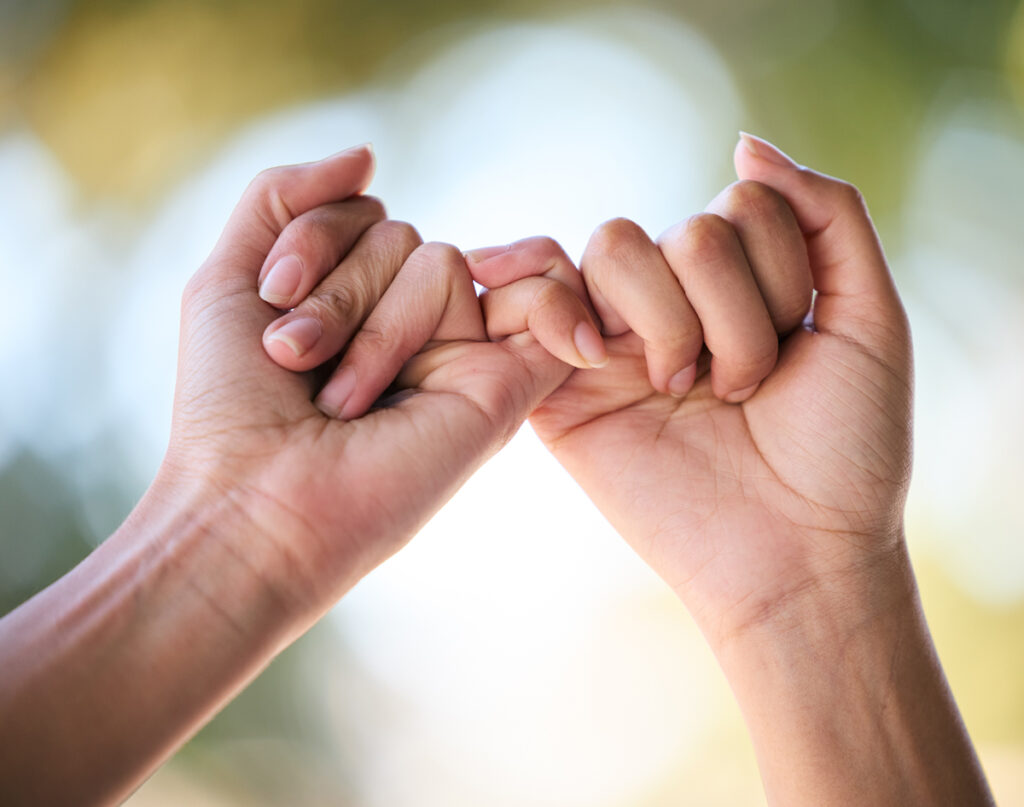 An easy way to start is with a small gesture. A smile as you pass someone on the street, helping someone complete a task or simply offering a listening ear or sincere compliment. Happiness also grows from having deep and meaningful community connection with people who align with your passions and values — be it friends, family, your place of worship, school, clubs or even your local pickleball or gym crew. Being a part of a community leads to greater overall health, mental wellness and even a longer life. Best of all, you can inspire others to do the same by making a commitment to give meaningfully within your powers throughout your lifetime.
Oftentimes, you'll find that your values will guide you toward a cause that is particularly meaningful to you. This is where your special skills and exceptional powers can be offered. This will look differently for each of us and will shift throughout the various stages of our lives. Perhaps you're a stylist who loves clothes and helping young ladies look their best. You can partner with a local non-profit and host a clothing drive and "how to style" event with pieces that are donated from fashionistas in the community. Or maybe you enjoy fishing and live for the bragging rights over who reeled in the best catch. In addition to the photo opp, have each angler chip in some cash to the pot to be donated to the winner's charity of choice.
Whether it's passing out 10 fell-good cards a month, serving on the board of a non-profit, using your passions and pastimes to raise money, or deepening your relationship with an existing cause you're already involved with by amplifying your gift of time, talent or treasure, you never know who you will inspire along the way and how far the power of giving will take you.