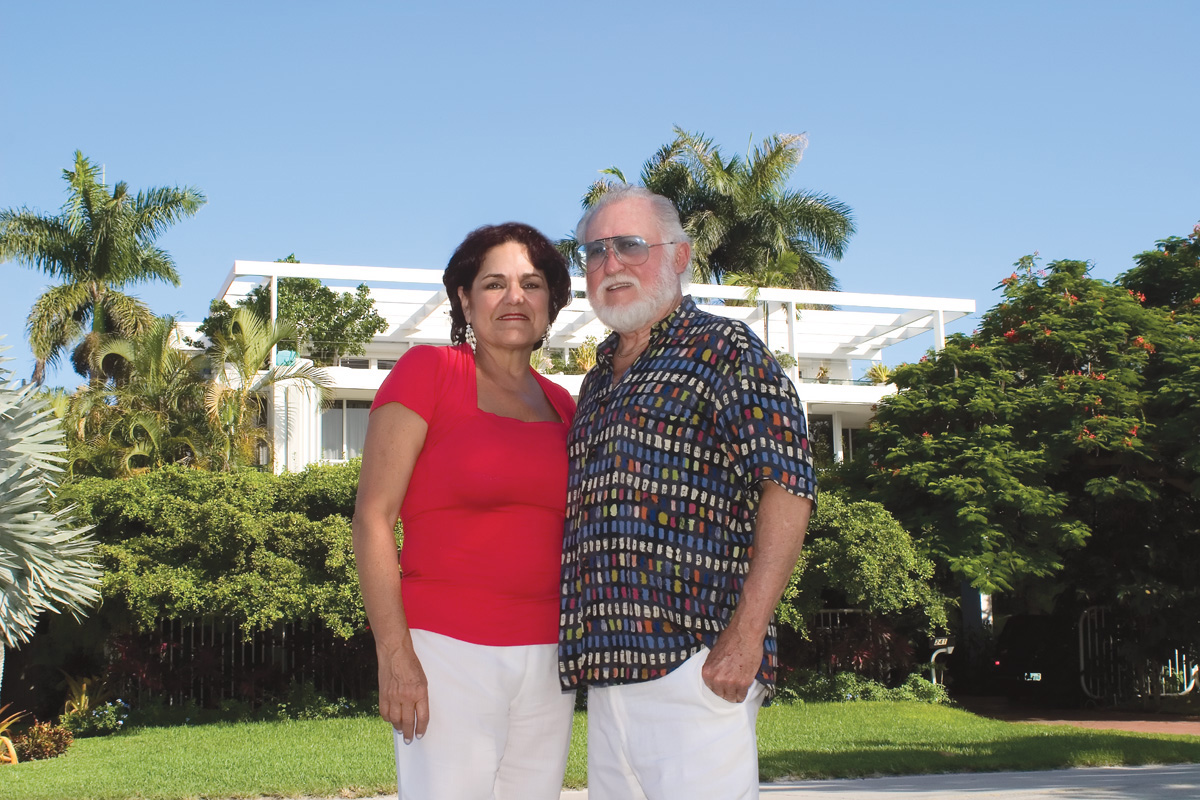 Never has the American Dream come more full circle than when it comes to Willy and Marilyn Borroto, who started building their real-life fairytale on the shores of Key Biscayne back in 1971. All those years ago, the newlyweds rented a one-bedroom apartment at The Lanai on Sunrise Drive, only to be evicted when Marilyn got pregnant with their first child. What happened nearly four decades later is nothing short of an inspiration. "Thirty-seven years after we were kicked out, we bought the entire building," laughs Marilyn.
Three years after leaving their first Key Biscayne enclave, the Borrotos designed and built their current home on Harbor Drive, a landmark of sorts that serves as the family's base. "Ours was the first elevated home built in Key Biscayne," says Marilyn. "Since then, our home has hosted births and birthdays of four generations as well as baby showers, weddings, civic and political rallies and, most importantly, weekly Sunday brunches for the whole family." After brunch, the whole gang heads to the Beach Club where they camp out for hours and have one of Barry's renowned pizza pies delivered to the shoreline for dinner, coming home once the moon starts shining. "I love Key Biscayne because it's a microcosm of the world," Marilyn says. "The island is full of special people with international savoir faire and leisurely elegance."

BUILDING DREAMS
But the Borrotos' success wasn't handed to them. The family has provided highly personalized architecture, construction and real estate services for more than 45 years. The portfolio of this comprehensive and highly qualified family-owned property development team includes single-family homes, residential developments, mixed-use and office buildings, shopping centers, public and urban renewal housing projects, educational and hospital complexes, hotels, yacht clubs, marinas and land planning. The BLB Group is committed to excellence in the real estate field. "As we recognize the permanence of our work, our goal is to leave a legacy in the history of our city through our buildings," says Willy.
The company is comprised of Borroto Architects, a team of architects under the direction of Willy and Otto Borroto. The father-and-son team has created an award-winning, internationally-acclaimed design firm as rich in accolades as the diversity of its designs. Willy's design work is included in the Latino/Hispanic Design Archives at the Cooper Hewitt National Design Museum of the Smithsonian Institute in New York since 1999.
Luzarraga Construction Company's principal and general contractor is son-in-law Jorge Luzarraga, who takes great pride in giving his utmost consideration to construction quality. Daughter Monica Borroto Luzarraga administers the company's office. Additionally, she's the licensed broker for BLB Realty providing professional advising through the buying and selling process. The marketing and public relations of the firm is performed in-house by Marilyn, whose public relations career developed naturally from her many years of travel through five continents and hosting some of South Florida's most talked-about social events. Drawing on her wide community and media friendships, she has developed a clear understanding of what moves the market.
And recently, yet another family member has joined this dynamic team. A seasoned marketing and public relations professional who has worked with the New York Philharmonic and Miami's New World Symphony, among other notable organizations, nephew Cesar Hernandez-Canton has come on board to manage publicity efforts for The Lanai on Key Biscayne as well as some of the group's upcoming projects in Latin America and the Caribbean.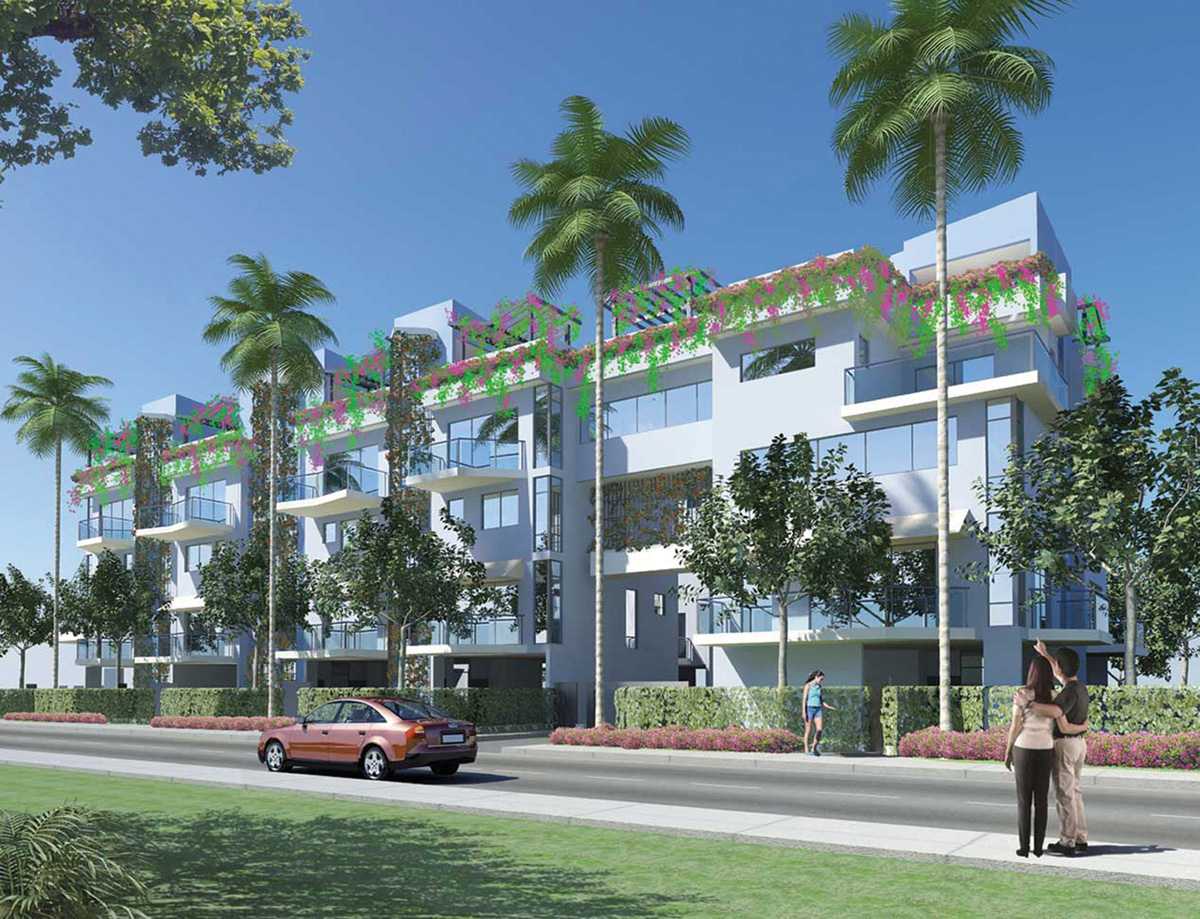 "Our businesses are totally independent from one another, yet interactive when it comes to development," says Willy. Together, the companies are widely represented in South Florida, with the architectural component quite active in other parts of the U.S. and internationally. Over the last two decades, Borroto Architects has designed a slew of new projects throughout South America, namely in Ecuador and Venezuela, where they have helped define the skyline of emerging urban cores in such cities as Guayaquil, Valencia and Barquisimeto.
BLB's latest project, The Lanai at Key Biscayne, is a tropical interpretation of the quintessential New York City townhome nestled amid a lush, sun-drenched landscape; a palette of colors, textures and fragrances graced by gentle ocean breezes. "It is truly a jewel within a jewel," says Marilyn.
Exquisitely designed to complement the natural beauty of the island, The Lanai at Key Biscayne features a one-of-a-kind collection of spacious five-story, decorator-ready townhomes with 4,400 to more than 6,000 square feet of gross living area, each with incomparable amenities. "Being strong advocates of maintaining a low impact on the island's population growth, at our own expense, The Lanai at Key Biscayne will consist of 10 multi-level residences as opposed to the 31 apartment units that previously occupied the site; a drastic density reduction of more than 65 percent," say the architects.
Striking a subtle balance between understated elegance and discreet casualness, the architectural design for this intimate island retreat was conceived with open floor plans and large, impact-resistant glazing throughout, opening to spacious balconies and terraces that essentially carry the outside in. A ground-level open space acting partially as a multi-vehicle carport and shaded lanai look upon a private garden, simultaneously initiating the ascent, by private glass elevator or stairs, through five levels of sophisticated living and leisure spaces.
Perhaps one of the most spectacular details of the project are the private roof gardens, a prominent detail in each of the 10 dwellings, flanked by landscaped planters, partially shaded by flowering vine-clad trellises with private Jacuzzi, wet bar and provisions for gas-powered cooking equipment. The roof garden maintains and magnifies the sense of relaxed elegance prevalent throughout these unique island residences. "The new project is a luxurious, intimate island retreat designed by long-time residents who clearly understand the Village's frame of mind."
GOLDEN HEARTS
As one would imagine, the Borrotos don't just pride themselves on helping others achieve their dreams through the spaces they create, they are also an integral part of the betterment of the community they have come to love. "Since the first day we moved to the island, we have always been extremely sensitive to the community's needs and have always set out to help in whatever way we could," says Marilyn.
Her involvement in Key Biscayne throughout the years has been impressive. As her children were growing up, she became the chairperson for the Key Biscayne School Advisory Committee, treasurer of the Key Biscayne Athletic Club and promoted and led the Girl Scouts of America on the island. She has been very active in the Village through the process of incorporation and beyond, also serving as vice president for the Key Biscayne Chamber of Commerce. In the social aspect, she is now the Seabelle Captain for the Key Biscayne Yacht Club, a repeat performance of her 1986 debut.
"Having left Cuba when I was very young, one of the 14,000 unaccompanied Pedro Pan children that fled the country in the early '60s, I've always been concerned about the people I left behind," says Marilyn. Thus explains her keen involvement in Cuban exiles' affairs through organizations such as Herencia Cultural Cubana and Friends of Teatro Avante, both dedicated to the preservation and enhancement of Cuban cultural heritage to avoid its deterioration for the benefit of present and future generations. In addition, she was one of the founding members of Conciencia Cubana, a Cuban women's civic organization dedicated to study, defend and divulge democratic principles for the future re-establishment of a free Cuba's civic and political transformation. As a founding member of Facts About Cuban Exiles, Marilyn fostered in the public at-large an accurate perception and understanding of Cuban exiles. She has also been active in Operation Pedro Pan, Inc., American Red Cross, United Way and the Inter-American Businessmen Association.
Like Marilyn, Willy Borroto is extremely active in the community. He's involved in the Village of Key Biscayne Vision 2020 Committee, ERA Committee, Crandon Zoning & Development Committee and the Zoning Ordinance Review Committee. He's also a founding member of the Rotary Club of Key Biscayne and was very involved in the Long-Range Planning Committee of the Key Biscayne Yacht Club. Additionally, he has served on the Board of Directors of many of the same Cuban organizations as his wife and is part of the City of Miami Urban Review Board, Downtown Blue Ribbon Citizens Transportation Committee, Metropolitan Dade County Zoning Appeals Board, Metro Dade County Affirmative Action Committee, the Latin Builders Association and several pro-bono efforts such as Elizabeth Verrick's Coconut Grove Cares.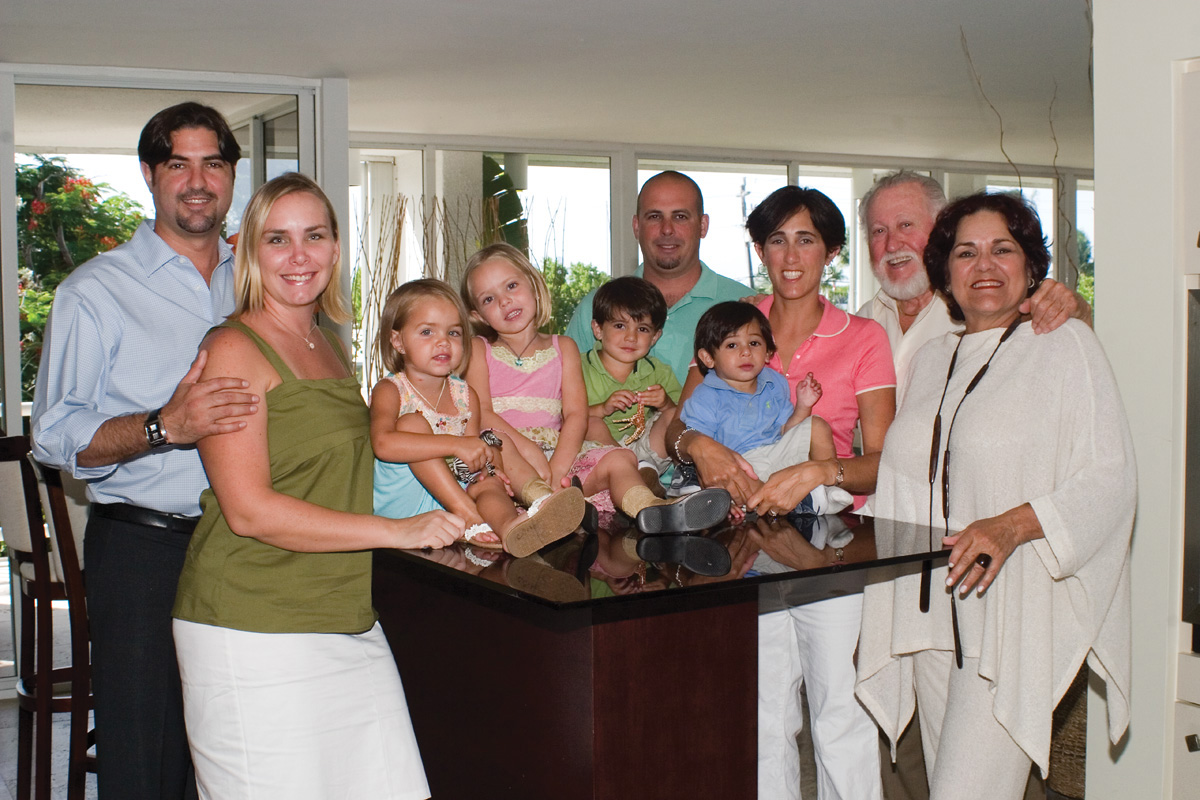 With all that passion for their community, it's no wonder there are four generations of Borrotos that have never left the island. The younger ones are dedicating their time to help the Village as well. Otto's latest pro-bono work is the creation of a master plan that will re-develop Calusa Park to provide additional "green space" for the Village by way of a quiet meadow. Monica is this year's Fleet Captain at the Key Biscayne Yacht Club.
"We were very involved in the incorporation of the Village of Key Biscayne and it makes us very proud to be instrumental in the continued growth of our community," says Marilyn. "Key Biscayne is truly an exclusive enclave, a unique laid-back jewel offering an incomparable quality of life, one that we will cherish forever."