John J. Martin, Jr., M.D.
John J. Martin, Jr., M.D., P.A.
2912 S. Douglas Rd.,
Coral Gables
305.444.5950
JohnMartinMD.com
"During my residency in ophthalmology, I particularly enjoyed the plastic surgery rotation. I liked being able to see the results of my work externally as opposed to just working inside of the eye."
If a man was ever born for his chosen profession, it is Dr. John J. Martin, Jr. He was the third of 8 children in a medical family. His father was an ophthalmologist, his 2 older siblings physicians, and his 3 sisters have recently returned to school for nursing degrees. After medical school, he did a residency in ophthalmology where he decided to pursue a career in oculo-facial plastics — plastic and reconstructive surgery of the eyelids and face — so he came to Miami for a fellowship at Bascom Palmer Eye Institute. Today, his practice focuses on cosmetic facial surgery such as eyelid surgery, brow, face and neck lifts. In addition, he does a lot of laser resurfacing for lines, wrinkles and skin tightening, and also to improve scarring. Dr. Martin truly enjoys his work, especially interacting with a wide range of people throughout the day, including those patients who are reluctant to tell their spouse that they want surgery. "We had one woman who came in for a facelift," he says. "When her husband came to pick her up, he was quite surprised to see her face bandaged as he had no idea she was coming in for surgery. He wondered why she had been at the office for so long, but was glad that everything had gone well." What's the best part of his job? "It's fun getting to know my patients in addition to helping with their rejuvenation goals."
DOCTOR'S ORDERS
"One of the most common areas that people are concerned about are the frown lines between the brows. These lines can make them appear angry and stressed. Injection of some neurotoxin such as Botox or Dysport is an easy way to smooth out the lines in this area and soften the appearance."
ASK THE DOCTOR
Q: It seems that my cheeks are disappearing as I age. The nasolabial folds are getting deeper, but my cheek is getting flat.
A: "This is a common aging change. One of the best options for restoring lost volume to the face is with a fat injection where the patient's own fat is harvested and injected into the face. Since it's your own fat, it usually will last several years. In addition to providing volume, the stem cells in the fat can help to improve the skin texture."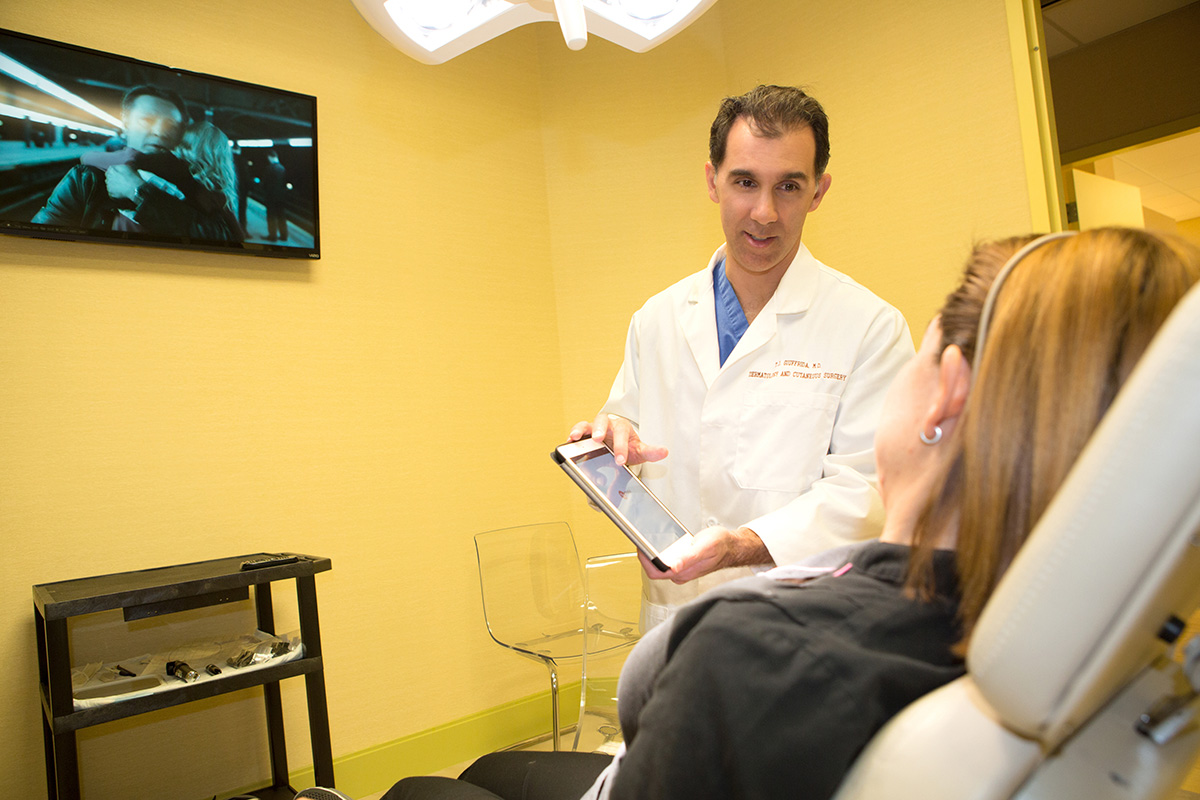 T.J. Giuffrida, M.D.
Dermatology &
Skin Cancer Center
3275 Ponce De Leon Blvd.,
Coral Gables
305.461.2000
MiamiDermCenter.com
MiamiHairCenter.com
"The manner is which I treat and form relationships with my patients is very important to me. My business is highly specialized in that I'm one of the few fellowship-trained Mohs Skin Cancer Surgeons in Miami."
"Growing up in Florida, it was evident that so many people damage their skin by getting too much sun, which can lead to skin cancer," says T.J. Giuffrida, M.D. "During my medical training, I realized that this is a very treatable and preventable problem and I thought I could make a real difference in helping many people's lives." His interest in medicine and exposure to the medical field began early in life because his father is a physician. "He was my role model and I saw how much he loved helping people and the enjoyment he got from his work," he says. "My office is not your typical doctor's office — I see patients on time for appointments and I spend a lot of time talking with them. My entire office exerts a lot of effort in trying to make sure each person has a good experience." His practice primarily specializes in diagnosing and treating skin cancer, with a large proportion of his work focusing on skin surgery. "I perform skin surgical procedures every day including removing many different types of benign and malignant skin lesions," he says. "I also perform thousands of general skin exams. Recently, I trained in hair transplantation and now offer this surgical procedure as well." Dr. Giuffrida graduated from the University of Florida and often wears scrubs with a Gator logo patch on the shirt. "I'm constantly getting into sports debates with Hurricane and Seminole fans, which drives my office staff crazy," he says.
DOCTOR'S ORDERS
"Hair transplantation surgery is now a state-of-the-art surgical treatment for hair loss in which I redistribute existing hair to balding areas so that you get a natural result. Well-done transplants are undetectable."
ASK THE DOCTOR
Q: What is the best and most effective treatment for skin cancer that occurs on the face?
A: "Mohs Micrographic Surgery is the most effective and advanced treatment for skin cancer today, with cure rates up to 99%. It relies on surgically removing the cancer in stages, one tissue layer at a time, and examining the tissue with a microscope to trace and ensure removal of the skin cancer. This reduces any chance of cancer regrowth and lessens the potential for scarring."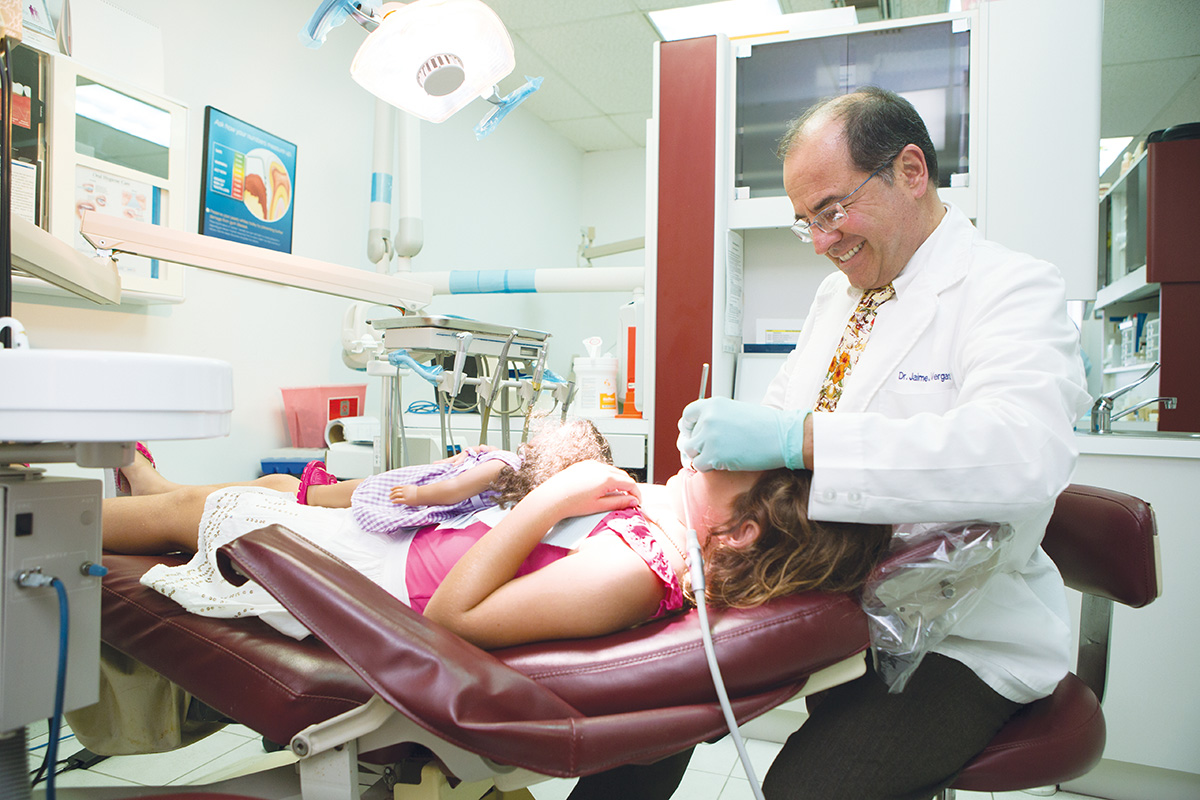 Dr. Jaime J. Vergara, D.S.S.
Family Dentistry
328 Crandon Blvd., Ste, 220,
Key Biscayne
305.360.8002
"I've learned from the best dentists in the world including Dr. Peter K. Tomas, Dr. Mc. Horris, Dr. Sigurd Ramfjord, Dr. Sumilla Hobo, Dr. Shillingburg, Dr. Peter Dowson, Dr. Peter Neft, Dr. Gerard Chiche & Dr. Frank Spear and others."
"Regardless of where you come from or what language you speak, your smile is an important form of communication because it instantly portrays your personality, self-image and how you feel about the people you're with," says Dr. Jaime Vergara, D.D.S. He has over 28 years experience in dentistry, and his passion for the profession only increases with each year he helps rejuvenate smiles and help his patients maintain good oral health. "Dentistry is the best career," he says. "I really love what I do. I'm the third generation in the field in my family and I consider myself privileged to help a lot of patients." He opened his practice on Key Biscayne in 1992 after an interesting career path filled with educational experiences. A Peru native, he graduated from the renowned San Marcos University, served in the Air Force as a general denist, took a specialty in root canal while still in Peru, and went on to attend the University of Florida. He then chose to do 4 years of conferences so he could learn from the best of the best. Today, his patients benefit from his enthusiasm for his job — whether they need general and family services, perio and regular cleanings or cosmetic work including direct and indirect veneers. He rounds out his full-service practice with tooth whitening, crowns, bridges and smile design, up to and including full-mouth rehabilitation. He plans to continue to grow as a professional, a father and a human being, while serving as an asset to his community.
DOCTOR'S ORDERS
"A healthy, attractive smile is an important facet of life. It impacts your health, self-esteem and relationships, both personal and professional. My goal as a cosmetic dentist is to help patients get the smile they always wanted via the latest procedures available such as Composite Direct Chairside Veneers."
ASK THE DOCTOR
Q: What can be done if I have stained or discolored teeth? What about if I have missing teeth?
A: "If you have stained or discolored teeth but otherwise like your smile, all you may need are whitening procedures to give you the smile you've always wanted. Missing teeth can be replaced with predictable results using fixed bridges or dental implants."
Jeffrey J. Gibson, M.D.
Jeffrey J. Gibson, M.D.
Plastic & Reconstructive Surgery
3661 S. Miami Ave., Ste. 403
305.858.1986
JJGibsonMD.com
"I pride myself on having impeccable attention to detail, extensive training and continued diligence to follow the newest developments and technology in my field while establishing a close relationship with all my patients and their families."
It's amazing to me how every person has a part of their body or face they're not happy with," says Jeffrey J. Gibson, M.D. "When people find out I'm a plastic surgeon at a cocktail party, the questions always start to fly about wanting a nip or tuck somewhere. Once I explain how safe and easy fixing your unwanted little areas has become, I always end up handing out my business cards." While he focuses on cosmetic and reconstructive surgery, he also does hand surgery, runs a day spa and has his own skincare line using the newest stem cell technology. Born in Indiana, he worked summers in Orlando as a lifeguard and got a scholarship for Swimming & Water Polo to Virginia Commonwealth University where he did his first research. Today, Dr. Gibson pushes advancements in skincare which may prevent the need for anti-aging surgery including his RxGenesys skincare line which is having a nationwide impact. "The most fulfilling part of my job is helping people," he says. "I enjoy using what I've learned to help folks overcome lifetime issues or deformities. I travel with my wife and team to do charity surgical missions in countries of less economic status to perform major life-changing surgeries. Patients sometimes travel many days to be able to receive our care…and the feeling of satisfaction helping such people is unrivaled."
DOCTOR'S ORDERS
You workout but can't get rid of that extra waistline and tummy fat? Take action with the quick, effective, time-proven methods of liposuction and/or abdominal plasty. A tummy tuck can now be done safely as an outpatient procedure costing around $7,000, while just abdominal liposuction will run about $3,500.
ASK THE DOCTOR
Q:What are the options for nonsurgical procedures to keep the face looking as young as possible to stay competitive at work and/or in the dating market?
A: "The new and emerging market I'm deeply involved in is based on the latest stem cell technologies for skincare. RxGenesys Skin Care Line is proven to reduce the appearance of wrinkles and fine lines by 56% in just 8 weeks, according to a clinical study by Princeton Consumer Research."