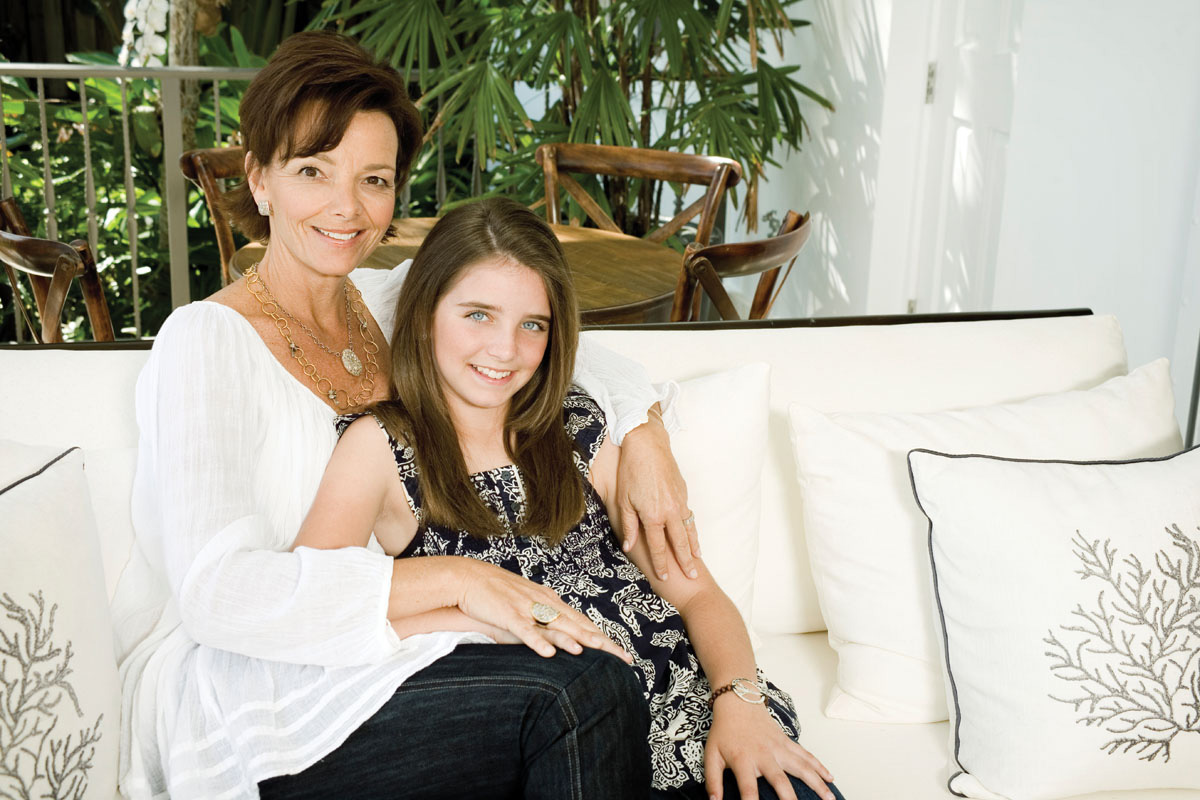 PRIME Parenting
It's not every day that one gets the opportunity to entertain the President of the United States at their home — but Amy Elizabeth Kelly-Easton and her husband Edward have…twice! "The preparation and execution of hosting presidential events at our home was fascinating and educational for our entire family," she says. "We have enjoyed it tremendously."
A bigger feat, however, has been raising her daughter, a little "gift" she named Olivia Grace, 11. "Coming up with her name was very simple…I wrote down a few girls' names that sounding interesting and my husband said 'yes' or 'no'," she says. "We never really planned on having a boy."
The grandmother of 11 grandchildren through four adult step-children, this Harbor Point mom has some of the keenest maternal instincts around. "My daughter is bright, kind and has the most beautiful set of big, blue eyes you'll ever come across," she says. "I told her she won't ever be able to 'sneak around' because even if no one knows her name, she'll still get recognized because of her eyes!"
At 11, Olivia is mature beyond her years, participating regularly in charitable work for others, excelling in sports and equestrian shows throughout the country and exuding a quite compassion that is uniquely hers — all accomplishments that have been inspired and molded by her well-grounded and generous parents.
Among the most treasured family traditions mom and daughter share, bedtime is definitely at the top of the list. "Laying down together before she goes to sleep gives us a chance to talk about the day, say our prayers and cuddle," she says. "I also enjoy the warm, sleepy hugs I get in the morning!"
With all the obstacles facing the cyberspace-age parents of "Generation TEXT," combined with the increasing role of pop culture and the mass media on young attitudes and perspectives, this mom knows her job is one of the most difficult on the planet. "Motherhood is the most under-rated profession I know!," she laughs.
On Mom: Rose-cut diamond "Chinese hat" ring; $17,850. Rose-cut diamond "Pebble" pendant on 22K and 18K gold chain; $27,050. Gold chain necklace with diamond knots; $19,690. Rose-cut diamond "Squares" earrings; $9,200. All by Lina Fanourakis. All available at Sabbi.com. The Ritz-Carlton, Key Biscayne.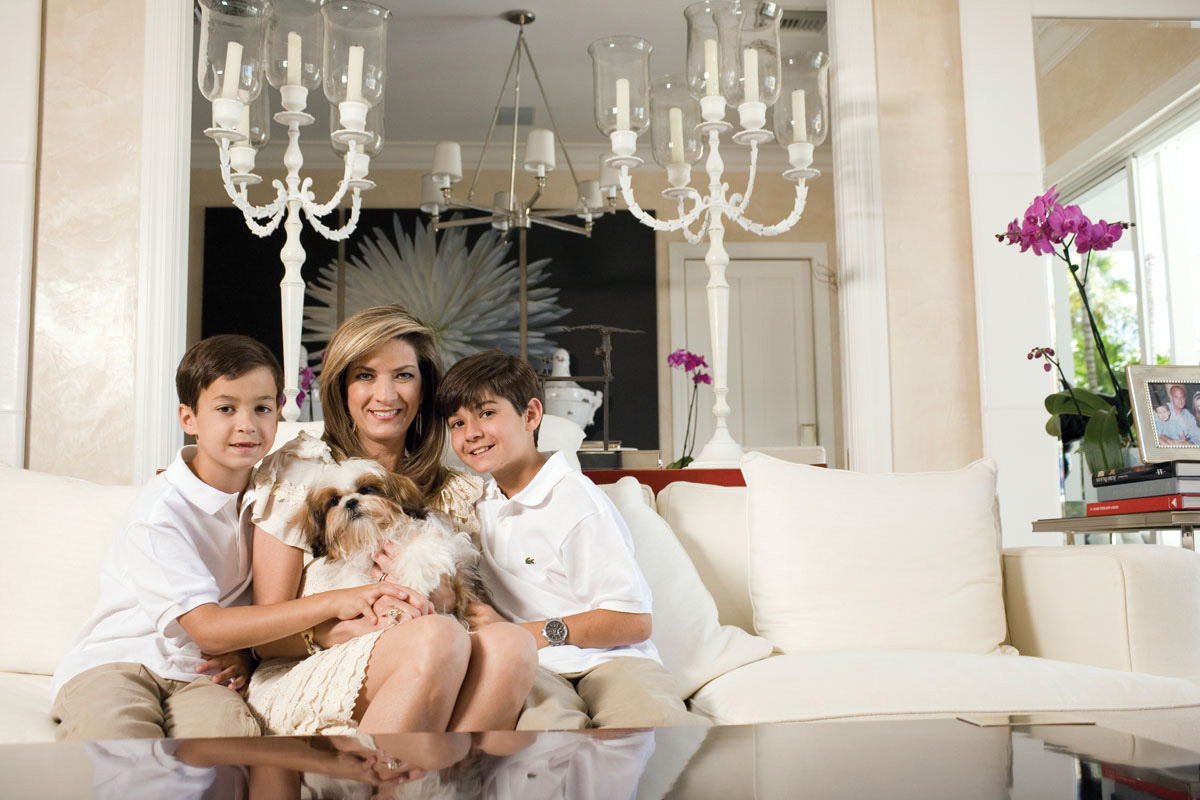 Unconditional Love
Not every kid gets to get picked up at after school in a golf cart, but Brigitte Nachtigall made sure her sons Alexander, 10, and Nikolas, 7, arrived home to their Harbor Drive estate in style every day after the final bell rang when they were little. "They just love being outside and feeling like they're on vacation all the time," she says.
Although they get picked up in the family car nowadays, the brothers still like to feel the sun on their faces as often as possible. Responsible and cautious Alexander loves equestrian sports while the more daring, free-spirited Nikolas prefers adrenaline-pumping drenched pastimes like wakeboarding and sportfishing. "They both also play the piano and recently started learning Mandarin," she says. "I also try to teach my children that giving makes them much happier than receiving."
And she does this by setting an example through her charitable endeavors locally and abroad with organizations such as St. Jude Children's Hospital, Christian Children's Fund, Kristi House and the Hopes & Dreams Foundation. "I hope my work inspires them both to put the needs of others above their own."
Additionally, being a busy working mom has helped her develop a keen sixth sense that always allows her to have an intimate knowledge of what makes her kids tick. "When you have children, you understand what true love really means," she says. "I love to watch their faces when they're telling me a story."
When it comes to family, she has her hands full. Her husband, Mike Aixala, has two children from his first marriage, Mick, 19, and Max, 15. "Being a step-mom has also been a huge part of learning about motherhood," she says. "I have a great relationship with all my kids and I try to be a mother, mentor and friend to all of them…including to Cody, our new puppy!"
On Mom: Alex Sepkus gold and diamond ring with white sapphire; $14,800; Nicolis Cola brushed gold and diamond link bracelet; $19,500. Faraone Mennella gold and diamond hoop earrings; $5,900. All available at Sabbi.com. The Ritz-Carlton, Key Biscayne.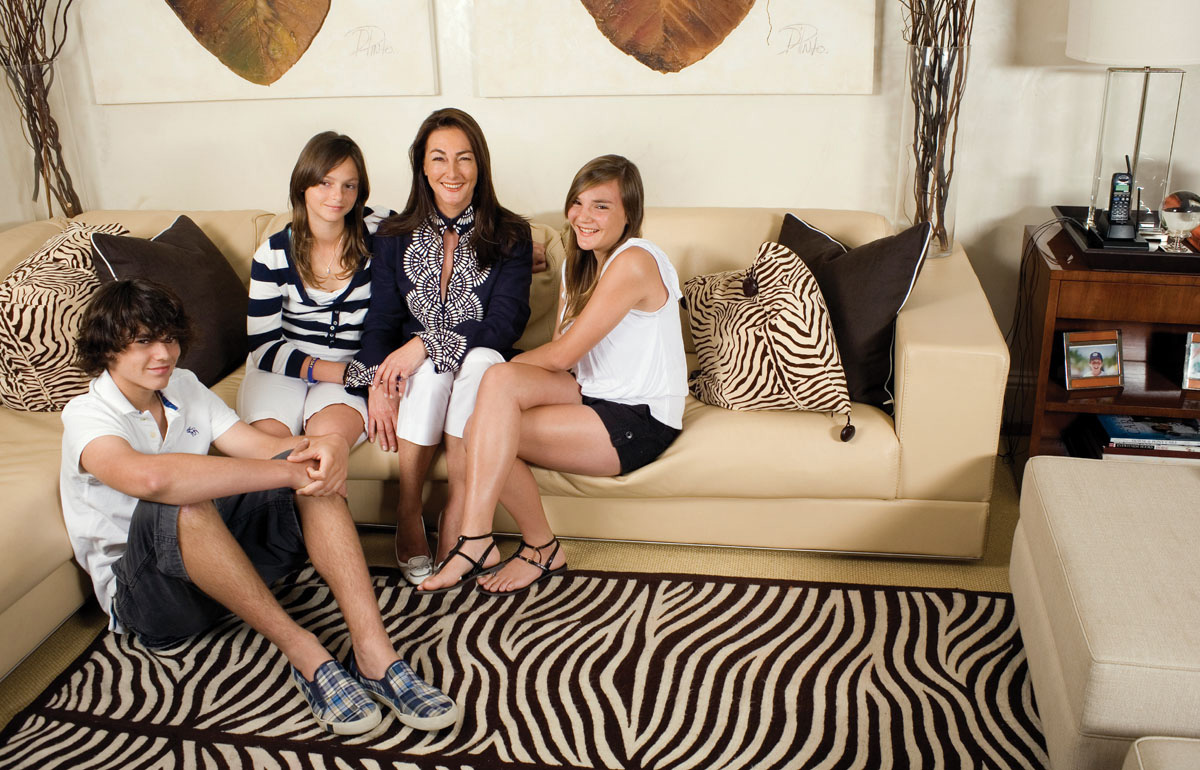 Power Mom
When Francoise Dreuil-Wynne hears the words "maternal instinct," she immediately pictures a mother lion protecting her young — unstoppable without any limits whatsoever. And that's exactly how this French mother raises her children: Anthony, 15; Milana, 13; and Adriana, 11. "The meaning of being a mother encompasses a recipe of total commitment and unconditional love," she says.
In the Dreuil-Wynne home at The Ocean Club, there's never a dull moment, and never a boring photo on display. "One portrait I particularly like was taken spontaneously on a lazy weekend at home," she says. "We started playing with my long hair, and the kids took turns using it to create bangs, ponytails and makeshift hairdos on themselves. We eventually grabbed the camera and froze the moment!"
When she's not adding memories to the frames and photo albums that grace her house, this active matriarch is actively involved in cancer research organizations whenever her duties as full-time mom allow. "I like long walks along the beach. yoga, reading and traveling," she says. "When it comes to those special days when I need to get away from it all, I meditate."
Her children, too, look forward to activities that help them relax when they're not at school or studying. Shy comedian Anthony reads and draws; patient and caring Milana enjoys boating and socializing; and determined, unpredictable Adriana paints. All three children also spend lots of time hanging out with their dad, Philip, an Italian aficionado with an affinity for cigars and fine wines who owns Casa Felipe at the edge of Little Havana. "My favorite part of being a mother is watching them grow with sparkles in their eyes and full of happiness," she says. "I'm glad they have two parents who love them dearly and can help mold them into productive citizens with big hearts and lots of love."
So what stage of life is she looking forward to experiencing the most when it comes to her children? College? Marriage? Baby Carriage? Not yet. "To me a 'stage' is an ongoing evolution through experience, a dynamic process that never really ends," she says. "I'm looking forward to the present, to the moment."
On Mom: Oscar Heyman blue sapphire (5.11ct) and diamond (1.27ct) ring $172,000. All available at Sabbi.com. The Ritz-Carlton, Key Biscayne.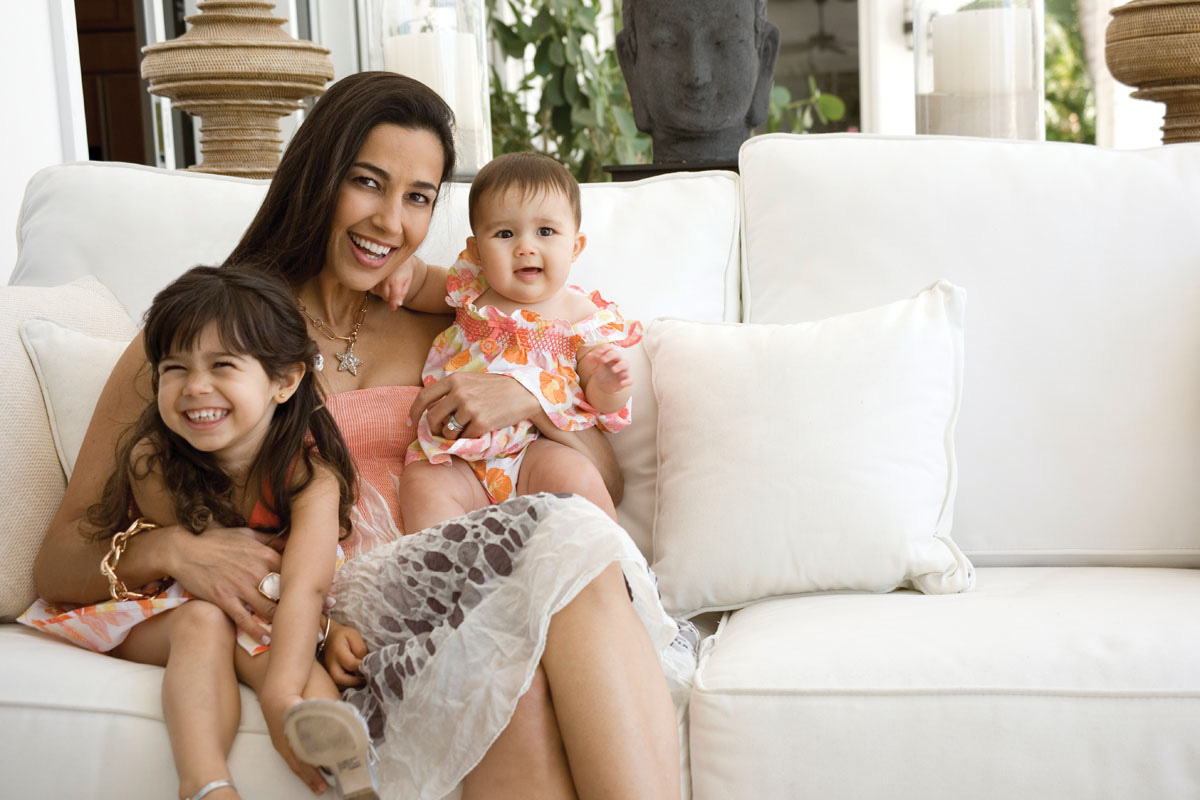 Total Devotion
When Silvana Cristina Giuffrida was bringing her eldest daughter back from the hospital to their home in Key Biscayne right after she was born, the first-time mom could barely hold back her excitement, not only because she had a new baby in her hands, but because of where that baby was about to arrive.
"As we crossed the bridge into the island on our way home, all I kept thinking about was how lucky my new baby was to be able to grow up in the suburban paradise that surrounded us," she says. "A few years later I went through the same emotions and thoughts when I brought my second daughter home. I feel so blessed that I've been able to experience that magical moment twice in one lifetime."
Today, Mikella Lauren, 3, and Sofia Christina, 9 months, are happy to be living on Mashta Island, where their mother says there's always something going on. "We love to party, party, party!," she says. "My husband, TJ, is always saying that we attend way too many social gatherings in the neighborhood, but that's not all that takes up our time — we also use MeetUp.com, a great virtual resource for organizing playgroups, parties and get-togethers with other families on the Key."
Despite her constant maternal obligations, this former Junior League of Miami member is still very active in helping bring attention to causes that positively impact families. "On the Key, I always like to help with fundraisers that benefit schools and health research-related initiatives," she says. "People on the island are very generous."
So how has motherhood treated this young mom thus far? "Being a mom is the same as going to high school, college and the university all at the same time…while doing continuing education all the way through," she jokes. "First you get pregnant. Then you try to learn as much as possible about the changes in your own body. Then after birth you want to learn all about the best ways to raise your children. It is one of those rare situations where you have no choice but to start from scratch!"
On Mom: Pomellato rose gold chain necklace with moonstone star pendant; $14,100. Nicolis Cola rose gold link bracelet; $11,600. Evanueva rose gold ring with rock crystal and
Mother of Pearl; $1,950. All available at Sabbi.com. The Ritz-Carlton, Key Biscayne.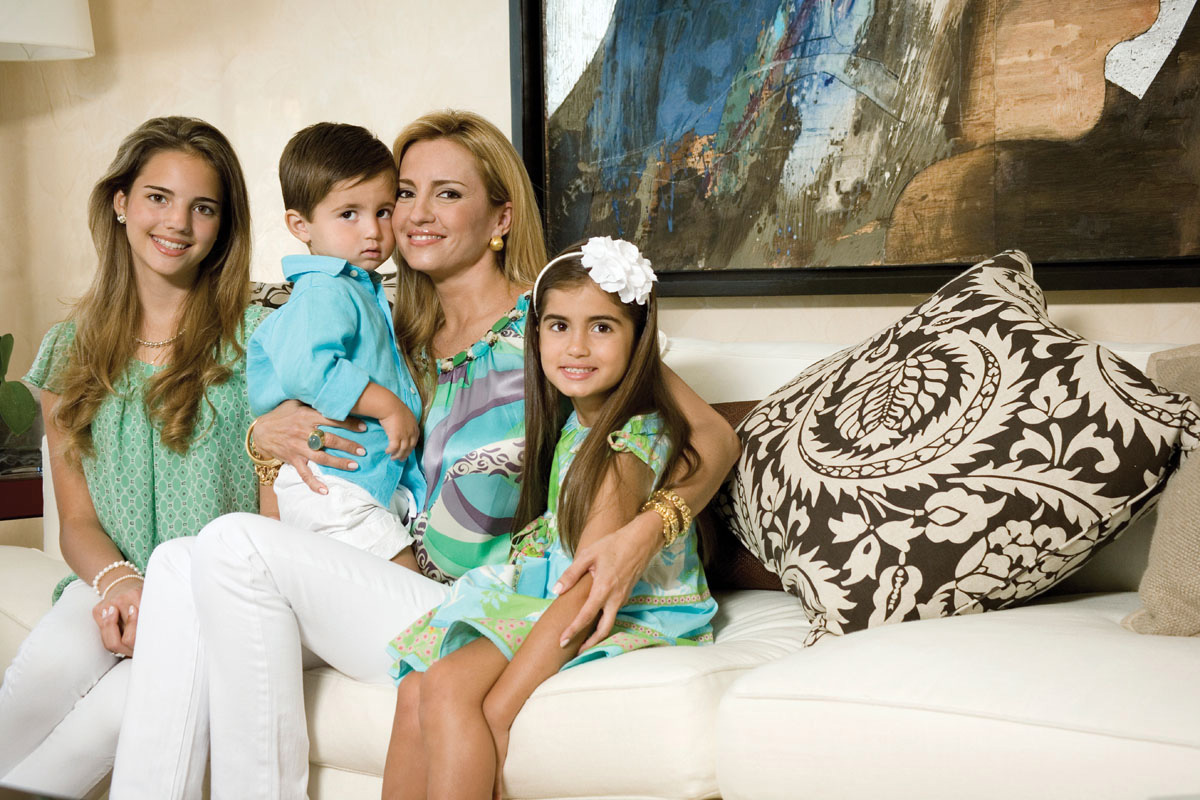 Maternal Instincts
Ever since Sonia Castellano was a little girl, she always dreamed of being a mother. "I think I was born with a natural maternal instict," she says. "I always loved children — even when I was one!" Today, her dreams have come true…thrice! She lives with her husband Jose and their three children: Marta, 13; Katia, 6; and Hector, 2 at Grand Bay in Key Biscayne. "I'm having so much fun with them right now that I don't want them to ever grow up," she says. "I absolutely cherish everything about motherhood!"
And it seems there's plenty to love. She adores Marta's brilliant smile, Katia's expressive eyes and Hector's tenderness. "I can't belive such tiny human beings can exude so much love," she says.
Among the primary traditions of this family is regular face-time with the kids in order to stay connected to their day-to-day aspirations, goals and achievements. "Dinnertime is sacred," she says. "Every night is magical and it's astonishing how much you can learn from your children just by opening the lines of communication with a delicious home-cooked meal in front of them!"
And rest assured, Castellano and her husband leave plenty of room for their kids to explore their own likes and dislikes. "My eldest daughter plays the piano while the other prefers the violin…they both enjoy golf and horseback riding," she says. "My littlest one is only 2, but he has blossomed into quite the artist!"
It seems creativity is in the genes. Castellano's family owns and operates a fashion firm called Mazoni in their native Spain, a stylish empire that she is very much involved in. "I collaborate directly with the designers to establish the perfect looks," she says. "We're looking to open a boutique in South Florida very soon."
Looking toward the future, she's excited about all the adventures she and her family will undoubtedly experience on the island they call home. "I wouldn't dream of raising my children anywhere else," she says. "Our community is so close-knit and so diverse that it not only exposes our children to different cultures, it also opens their minds to the infinite possibilities the world has to offer."
On Mom: Faraone Mennella gold and aquamarine ring; $6,400. Faraone Mennella gold cuff bracelet; $6,200. Nicolis Cola gold chain bracelet; $10,875. Yossi Harari 24K gold earrings; $4,750. All available at Sabbi.com. The Ritz-Carlton, Key Biscayne.