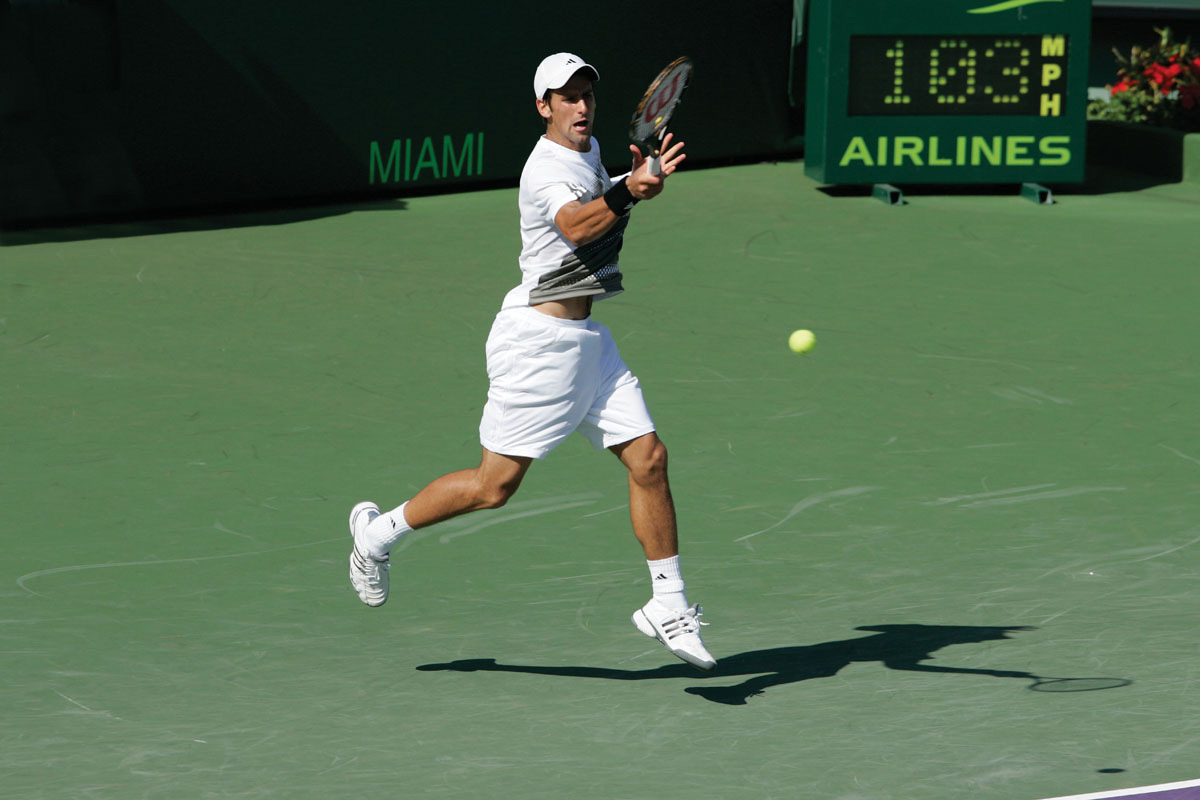 He's known as tennis' jokester. The young Serbian sensation with a sense of humor that will have you shouting LOL even before his first serve goes over the net. The prankster in question is Novak Djokovic, and he says he plans on taking out the renowned champs he's competing with at the 2009 Sony Ericsson Open one by one…while impersonating each of them along the way, of course, a habit that annoys his competitors and charms his fans.
At 21, Djokovic has already made his mark on the professional courts, having faced and defeated tennis stars Roger Federer, Rafael Nadal and Andy Roddick. With a career record that boasts 11 titles and 6 finals, Djokovic took home the 2008 Australian Open, a victory that was followed by three huge Masters Cup wins in Indian Wells, Rome and Shanghai. "I have some great, unforgettable matches but probably the most memorable was the final of the Australian Open since it was my first Grand Slam win," he says.
And while he's relishing in the memory, he's facing nowhere but forward. "The Sony Ericsson Open is one of the biggest tournaments in the world and I love playing on Key Biscayne. I won it in 2006 and I have great memories from the great matches I've played there," Djokovic says, explaining his plans to exceed last year's performance, which he says fell short. "My goal for 2009 is to get to the top of my game again. If I manage to do that I will try to set goals of specific tournaments and wins…we will see. Miami will be key for that."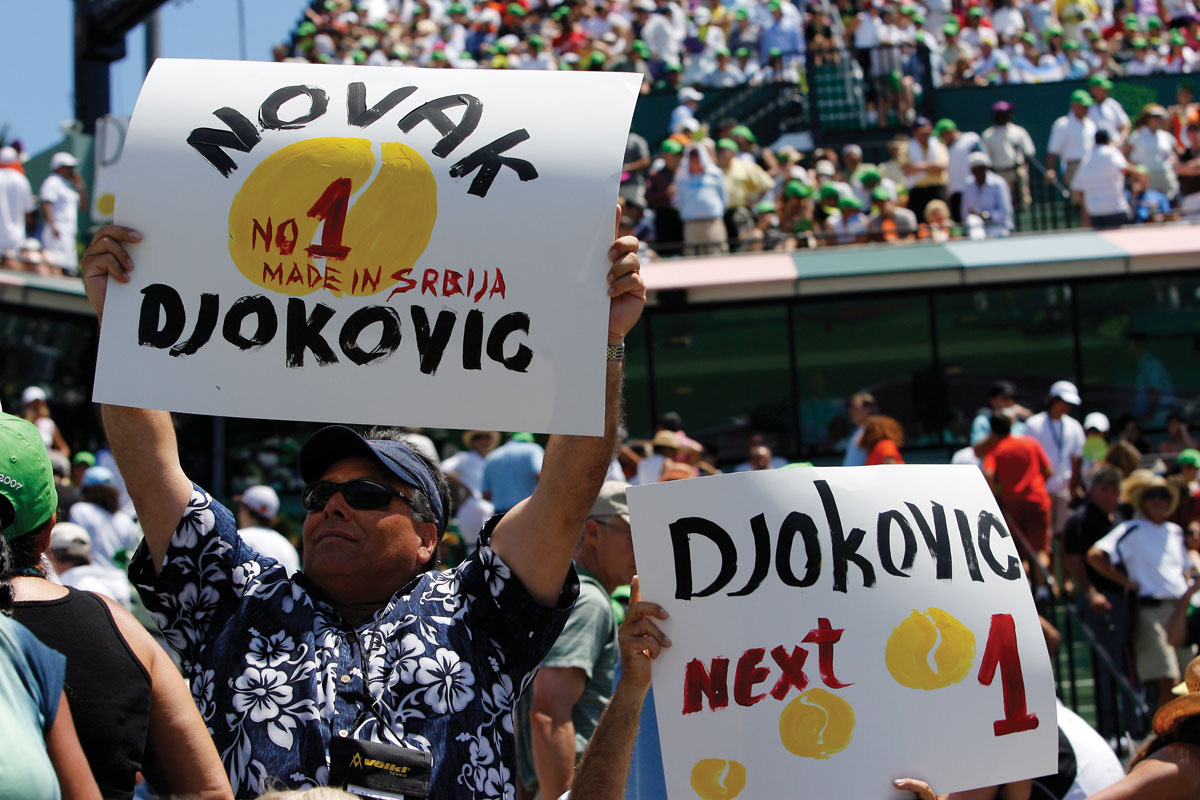 The Sony Ericsson is a major tournament for Djokovic, who is driven by his self-imposed challenge to be a better player and ultimately the best in the world. Already ranked number three, we'd say it could happen for someone who first clenched his fist around a racket at the age of 4. "Tennis was very important for me during my childhood," he says. "I always loved it."
Born in Belgrade, Serbia, to professional skiers Srdjan and Dijana, Djokovic's athleticism seemingly debuted at his conception, making for a career that took form with a world's worth of dedication and a little bit of destiny. "There was a tennis court near my parents' restaurant that I was always playing at," says Djokovic, who was only 8 when leading women's player Jelena Gencic detected his athletic genius, calling him the greatest talent since Monica Seles.
To pursue his passion, Djokovic left home at 12 for Munich, spending four years at Niki Pilic's Tennis Academy. He went on to become the best under-16 player of the European continent, having won La Boule and La Poet tournaments in France and the ITF tournament in Pancevo.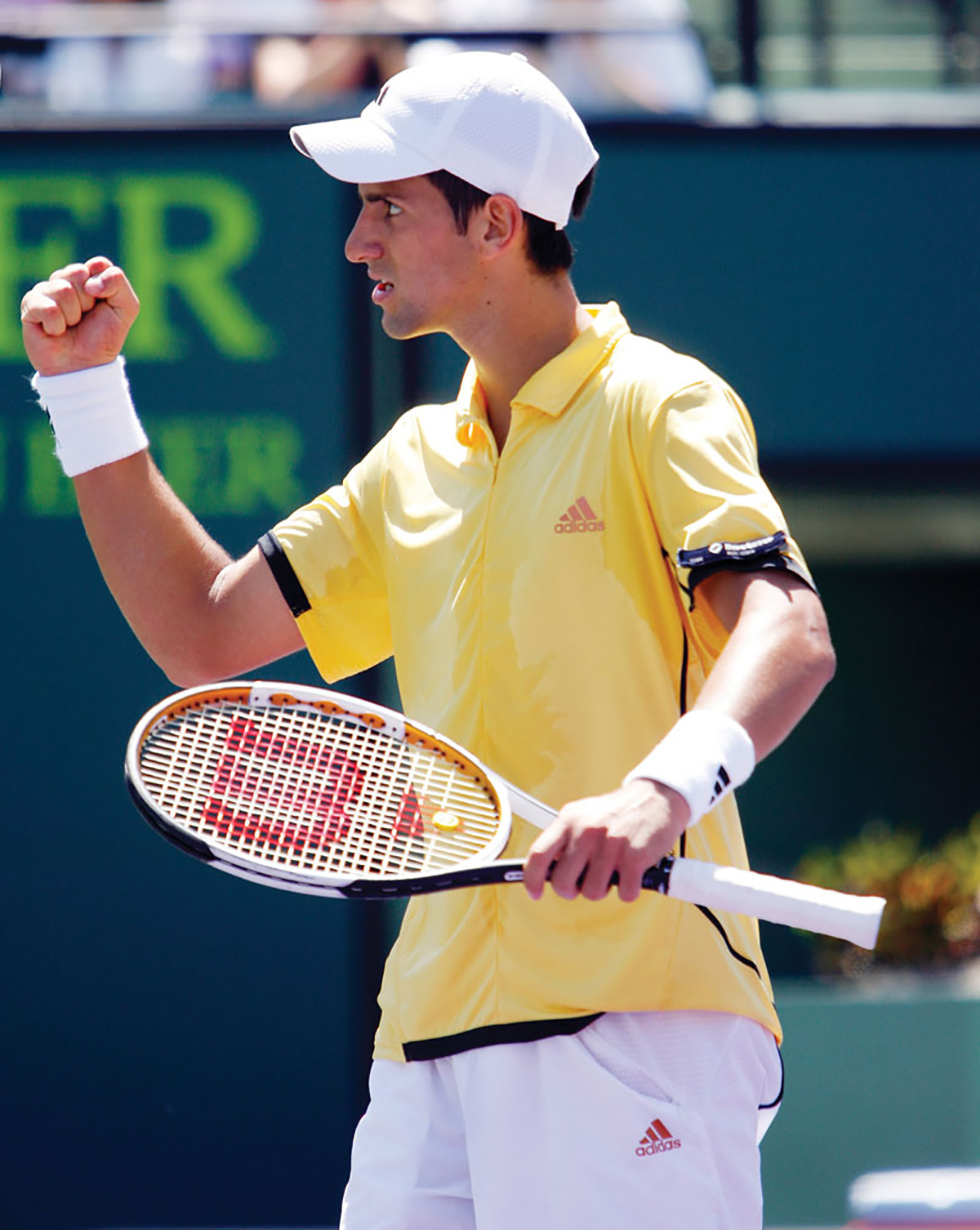 It was in the summer of 2003 that Djokovic played his first professional tennis match at the Futures Tournament, where he beat the fourth seed in the first round and earned his first ATP point. But it was in mid-August that he won the Montreal Tournament, making a name for himself against top players. "I like to play the big matches…no matter who my rival is," he says. "I like the tension of the big points!"
While many dub him a natural, there is a method to accompany the passion. "I live a healthy life and try to always eat right and do the right things. On that I can say I'm very precise," says Djokovic, who spends up to eight hours per day training, a commitment that yields the utmost concentration on the court. "I try to stay focused on what I have to do at any given point," he says. "I try not to think too much about other things, although sometimes it can be very difficult."
Though it may come as a surprise, Djokovic is motivated even by the matches that don't earn him a win. "Sometimes when you lose a match or when things are not going well it's easy to get discouraged," he says. "But those are the moments I learn from and the ones that make me work even harder."
Of course, it's worth noting the solid team of supporters that have helped shape Djokovic into the sports icon he is today: Coach Marian Vajda, physiotherapist Milan Amamovic, physical trainer Rnan Bega, PR manager Benito Perez-Barbadillo, and managers Allon Khakshouri and Amit Naor. "I have to say they're a good team that teaches me how to handle my business, as do my parents," he says.
And with every success, comes sacrifice. "My parents faced a big challenge when they sent me to Germany so that I could escape the war and dedicate my time professionally to tennis," he says. "Being away from home is tough, very tough. For the moment I enjoy it, but I know it'll get more difficult with time."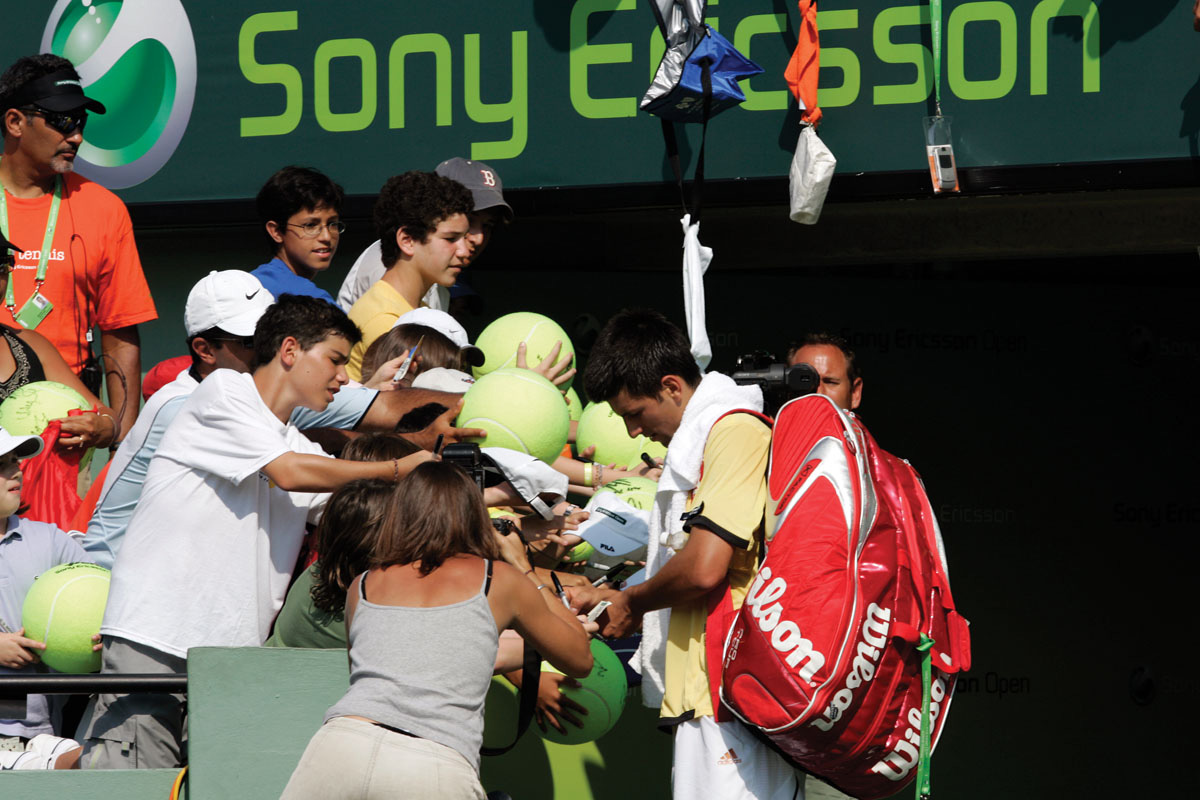 But that's not to say Djokovic isn't looking forward to his time on the Key. "I love the people and the atmosphere. It's a very nice part of the U.S. with plenty of Latin flavor," he says. "I really appreciate the support of the fans. I feel the warmth."
And if you manage to somehow miss him on the court this year, check out his funny impersonations of fellow tennis stars like Maria Sharapova, Roddick and Federer as well as his best parodies — and his rendition of "I Will Survive" — on YouTube for a series of clips that have earned major popularity among Djokovic fans all around the world. And with that said, it's the fusion of skills, desire and perseverance — and a serious sense of humor — that make for a magnetic force that is slowly but surely gravitating toward #1.