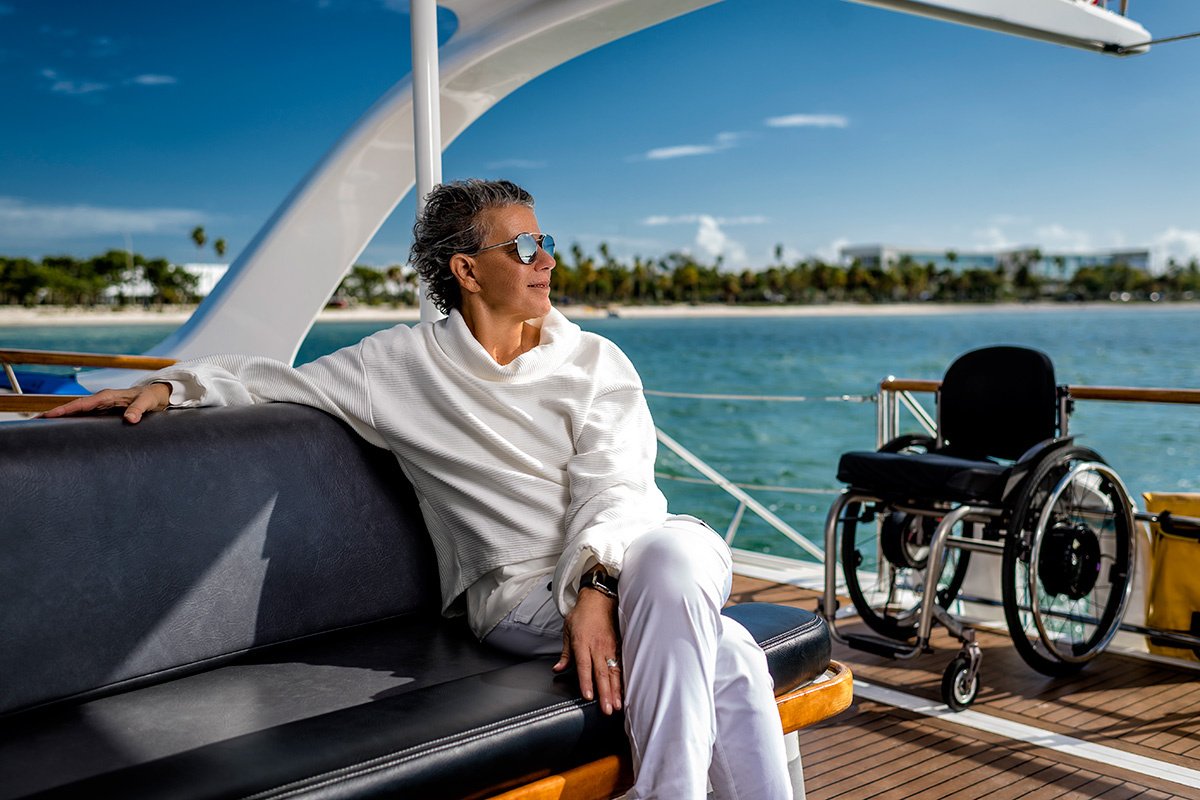 Striding the prow of a sun-soaked catamaran cutting smoothly across our bay, sails fluttering forcefully in the wind, I'm beset by a problem too rare in our modern workaday world; the scent of saltwater in my nostrils, sun warming my skin, beautiful vistas available at every angle, it's frankly too difficult for me to step outside of the moment, to take the time to seperate myself from my paradisiacal surroundings and recall whom is actually responsible for the unencumbered joy I feel at the moment. I'm aboard the aptly named Impossible Dream, waiting as muralist Magda Love's affectionately art-enhanced sails are about to be set to wind for the first time, and the truth is, I'm just a passenger. A spectator along for the ride. The person actually responsible, not only for my own yawning sense of freedom onboard this estimable craft, but for the enlivening of so many before me, the person who has, through ceaseless sacrifices and a firm, unyielding belief that anything is possible to those with a will, she's casually sitting beside me, pointing out the minute features of the watercraft with an expert's eye.
Ask me a few months ago to describe what I thought an accomplished sailor looked like, and one of two images would flash into my head: Either the wool-coated and barnacle-encrusted visage of a character straight out of Melville; or the tanned and clean-cut countenance of a gentleman athlete of the modern mode. Ask me today to describe an accomplished sailor, and the picture is a bit more paradoxical. Baseball cap to cover pragmatically shorn hair. The tanned skin of a longtime resident of Key Biscayne and other areas similarly meteorologically blessed. A keen eye and even tongue bespoking decades of pragmatism and common sense. A woman of dignity and grace, though devoid of foppish eccentricity, that can only accompany someone who's steered successfully into the business world. The seasoned sea salt I'm speaking of, the one who captains of even decades of experience should take the time to listen to is none other than Deborah Mellen, disability advocate, successful businesswoman and the dreamer behind the Impossible Dream ship.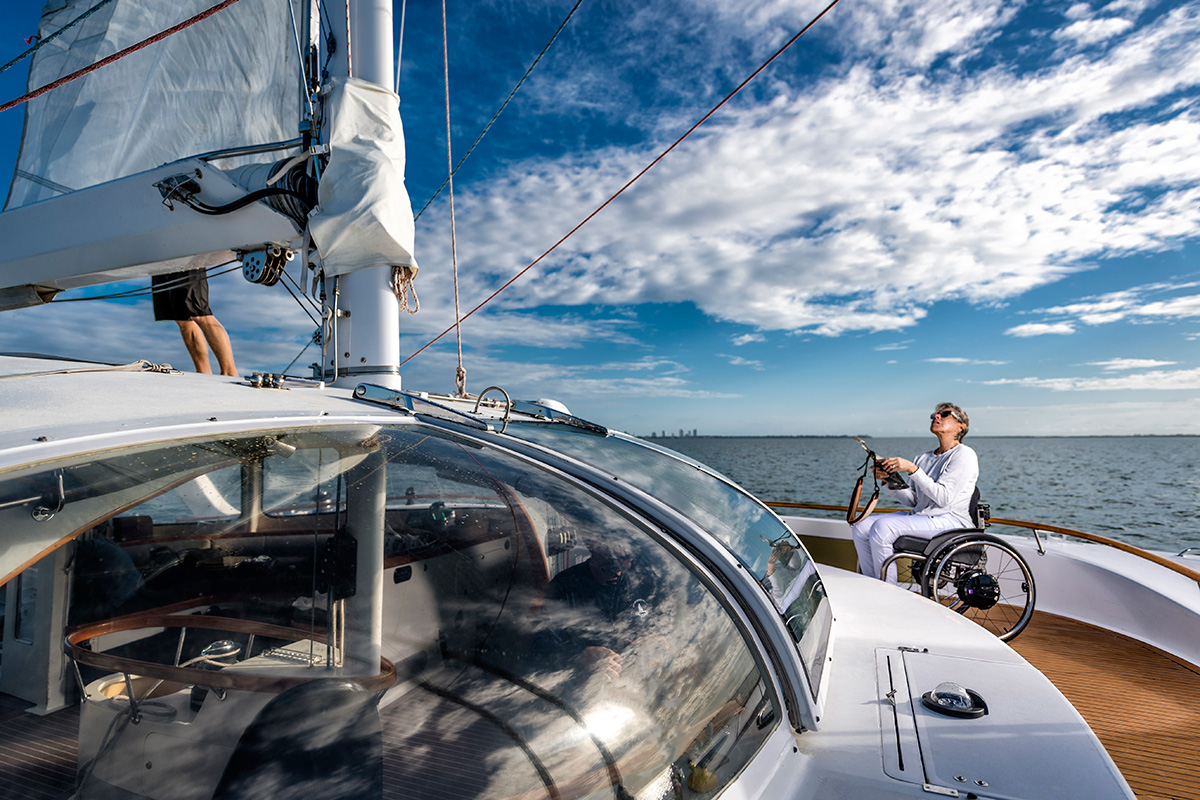 The daughter of Holocaust survivors, Mellen was paralyzed in a tragic car accident overseas in 1989. Just two years later, her husband passed away. It would be easy for anyone not bearing Mellen's uncharacteristic constitution to assume that life, on the whole, was inaccessible. And indeed, when she arrived on our shores in 1991, broken in every possible sense of the word, it seemed only too possible that the rest of her life would be a footnote, a tender tale muttered over family dinners, the recipient of sad side-eyes as she tried her best to navigate life. But, bolstered by the example of her parents, similarly seemingly robbed of joy in their youth, Mellen refused to give in.
As with so many things in life, it was a chance encounter that would propel her down a path that none, including herself, could have predicted. "I was first introduced to Shake-A-Leg by my surgeon and good friend, Dr. Barth Green," she says. "He was on the Board and I was having a tough time acclimating to the city. He thought it would be something I would enjoy, and he was right. He took me there, and slowly I started going there by myself and learning how to sail. Before long, I was volunteering!"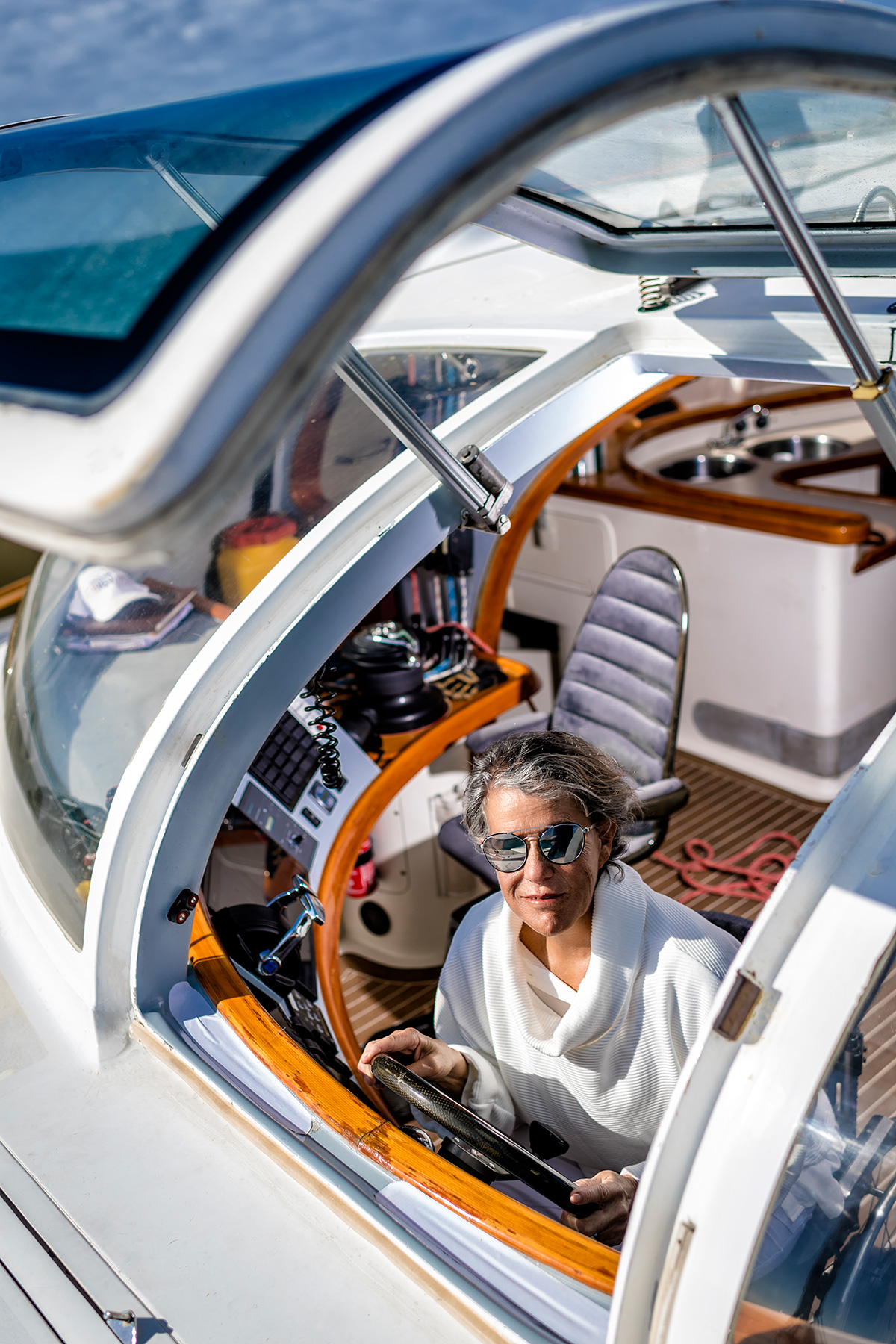 Immediately feeling at home on the high seas, it wasn't terribly long after those first forays into the open ocean that Mellen knew she wanted to find a way to help further. Hearing through the grapevine of a universally designed catamaran commissioned and custom-built for Mike Browne, a paraplegic who wanted a boat fully accessible, in all ways, to a person with disabilities, Mellen initially filed the information as interesting, but ultimately unobtainable. Too perfect for her purposes, what were the chances that such a craft would be available? When she later received the news that, in fact, the craft was potentially for sale, she immediately set to action, flying to the UK with Shake-A-Leg Founder Harry Horgan to inspect the vessel. What she saw there, more than an excellently constructed craft, more than ease of access for herself and a small group of companions, was a symbol, a mobile, seaspanning medium by which community building and hope could be launched all across the world.
Built painstakingly with universal access allowed, there's no one unable to safely navigate the craft's deck, bridge, bathrooms and sleeping compartments, a fact which such historical personages as Special Olympics athletes and even former President George H. W. Bush have taken advantage of. "I adore everything about her, but I especially love her design," says Mellen, with all the unabashed love that motherhood can muster. "I think she's gorgeous, and I think she's a testament to the fact that design can include everybody and be beautiful at the same time. I especially love that I can access the bow. When you're in a wheelchair, you're so marginalized, and the Impossible Dream allows me to literally steer the ship. She is liberation for us."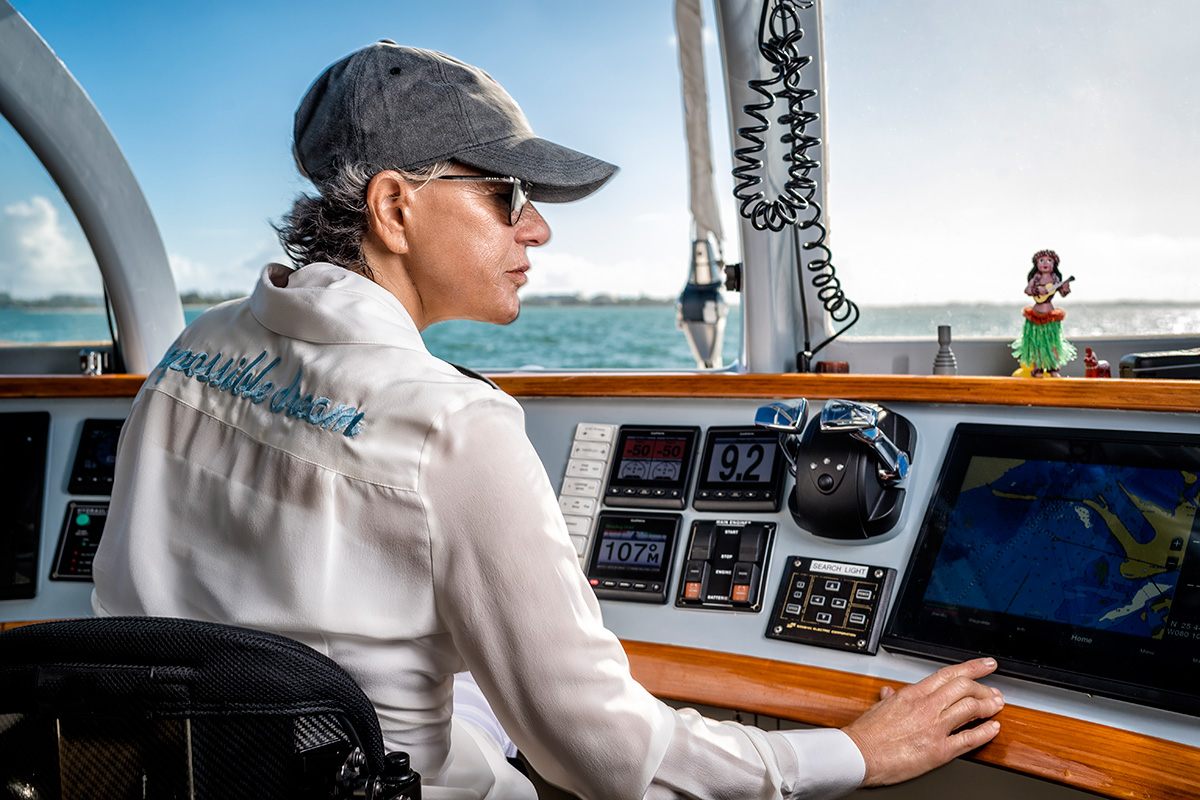 In fact, after Mellen purchased the boat, there was only one disadvantage to the craft: the name. "When we had her shipped out to the boatyard and we were putting her back together, I was sitting there with a friend staring at the name and all of a sudden it occurred to me that we should strike out the 'IM' so it reads Possible Dream," she recalls. "So I saw some red duct tape and marked it right out. I didn't want to change the name, this is a ship with a reputation, but at the same time, I wanted to make her ours."
Now equipped with the craft of her dreams, there was one lingering question: What to do with it? Aware of the lengths she could achieve with this formidable craft, Mellen knew she would have to draw on a wider pool of resources to maximize her vision. "I just wanted to share it, really," she says. "That's how it started. I wanted to share it. I wanted to get as many people as I could on board and I wanted to share it with them, with their families, with everyone. I realized I wasn't going to be able to do that all myself, and decided to form a nonprofit to do that. And from there, all our summer trips travelling the East Coast and inviting disabled people on board came about."
Enjoying a stunning series of successes since its inception, the Impossible Dream has allowed an untold number of disabled persons aboard to realize that everything Mellen has and more is just as obtainable to themselves, a lesson celebrated and codified in ways increasingly more adventurous. "Our race to Cuba was definitely a highlight," says Mellen. "We sailed around Cuba for a week and it was absolutely incredible. I'll never forget sailing with the tall ships, sailing as far as Quebec. It was inspiring, and we were proud to be included."
Looking toward the future, there is another big goal on Mellen's mind. "We absolutely must build another boat," she says. "When we first started going up the East Coast, people were fearful in the beginning. It was hard to get them to come sailing with us. They hadn't heard of us, and maybe they didn't trust themselves. Now, everyone wants to come aboard!"; ImpossibleDream.us.