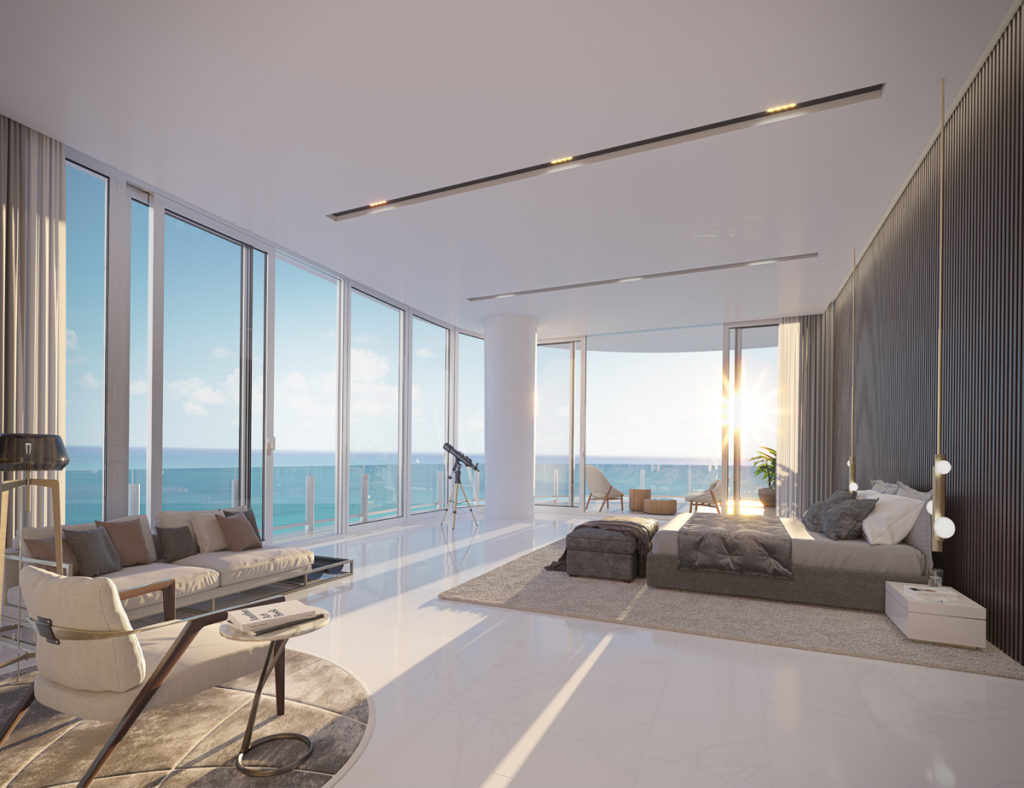 Aston Martin Residences on the Miami waterfront, introduces its Signature Collection of 7 penthouses and Line 01 ocean facing residences. Signature Collection is a personal invitation to the ultimate members-only community with unparalleled access and exclusivity at its core. Contemporary architecture blends with art, and art blends seamlessly with design throughout the magnificent sail-shaped luxury development. The elegant homes are harmonious inside, while floor-to-ceiling windows afford uninterrupted views of the ocean and Biscayne Bay.
All 7 one-level Penthouses in the Signature Collection, starting on the 56th Floor, are a minimum of 8,800 sq. ft.  Prices range from $16.7 million to $25 million. The 38 Line 01 Signature Residences, starting on the 15th Floor, offer a minimum of 3,600 sq. ft. of interior space and start at $5,525,000.

Signature Collection owners will enjoy an array of privileges, including a dedicated butler service and priority access to the Aston Martin Residences private superyacht marina; while the Art Gallery located on the 52nd Floor will create a secluded space for residents to appreciate an ever-changing canvas of contemporary art. "I'm obsessed with design, and I'm resolute that every decision we make, and every material we select, will complement our pure and elegant design aesthetic," says G&G Business Developments CEO German Coto. "As soon as Aston Martin was on board, a company ready to work hand-in-hand with our architects and designers to achieve a luxury style and authentic design experience, it set the tone for the entire project. At G&G, our ethos is 'Love for beauty and passion for excellence' — it's a way of life that guides every decision we make on the projects we undertake."
Aston Martin's design team, led by EVP & Chief Creative Officer, Marek Reichman, will design the interior and amenity spaces throughout the property to reflect Aston Martin's timeless beauty. Residents will be able to relax and unwind within 42,275 sq. ft. of outstanding Sky Amenities spanning four levels, connected by a monumental glass staircase between the building's 52nd and 55th Floors. World-class amenities will include a two-level fitness center overlooking Biscayne Bay, a spinning studio, boxing gym, virtual golf room, art gallery, chef's kitchen, private dining room, catering kitchen, business centre, kids' room, two cinemas, as well as a full-service spa, beauty salon and barber station. These exquisite spaces will be encased in a bold symphony of curvilinear glass and steel, as part of a nautical-themed building that reflects the marina setting while offering superb views of the city and the ocean. Shared areas will include a beautiful Infinity pool, Sky Bar & Lounge, pool deck and cabanas on the 55th Floor.
With an architectural design that pays homage to the instantly identifiable sleek lines of its motorcars, Aston Martin envisioned a structure that perfectly captures the spirit of excitement and graceful beauty for which it is world-famous. "The Signature Collection is the next level of luxury; the best of elegant living," says Reichman. "When we designed the interior, we focused on the beauty of perfect proportions, affording the same attention to detail that goes into every Aston Martin. Fine craftsmanship, with an emphasis on comfort for the living spaces and bold, pioneering design for the amenity areas.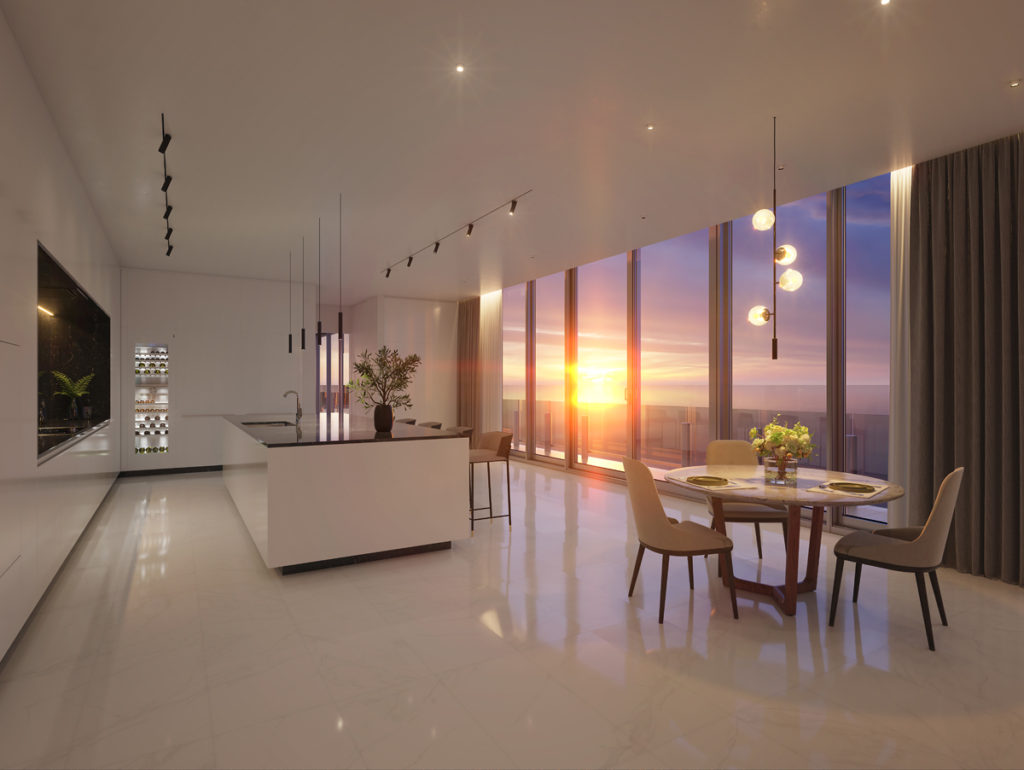 Aston Martin Residences Miami is a luxury residential tower by global property developer G&G Business Developments. Located at 300 Biscayne Boulevard Way on the Downtown Miami waterfront where the Miami River meets Biscayne Bay, the project marks Aston Martin's first real estate venture and the iconic brand's expansion into luxury residential design. Designed by Revuelta Architecture and Bodas Miani Anger, the striking 66-story sail-shaped tower features 391 luxuriously expansive residences and penthouses.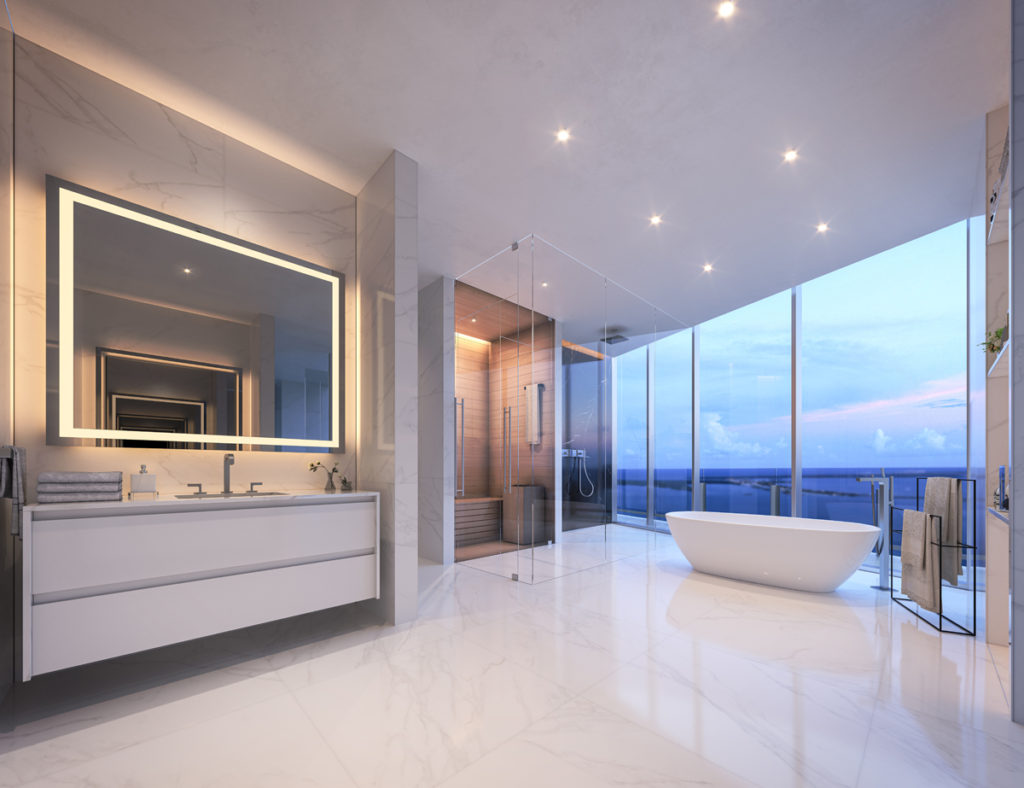 Headquartered in Miami and founded by CEO German Coto, G&G Business Developments is managed by key members of the Coto family. The company has quickly established success in global real estate as a developer, owner and investor, bringing its visionary business strategy to this competitive market. "Known for financial strength and stability, G&G is committed to developing innovative, luxury projects that mix the latest technology with uncompromising design, delivering exceptional results by creating unique residential and business properties with long-term value," says Coto.
Already standing at 80% sold, Aston Martin Residences Miami is well on its way to completion at the end of next year; AstonMartinResidences.com.