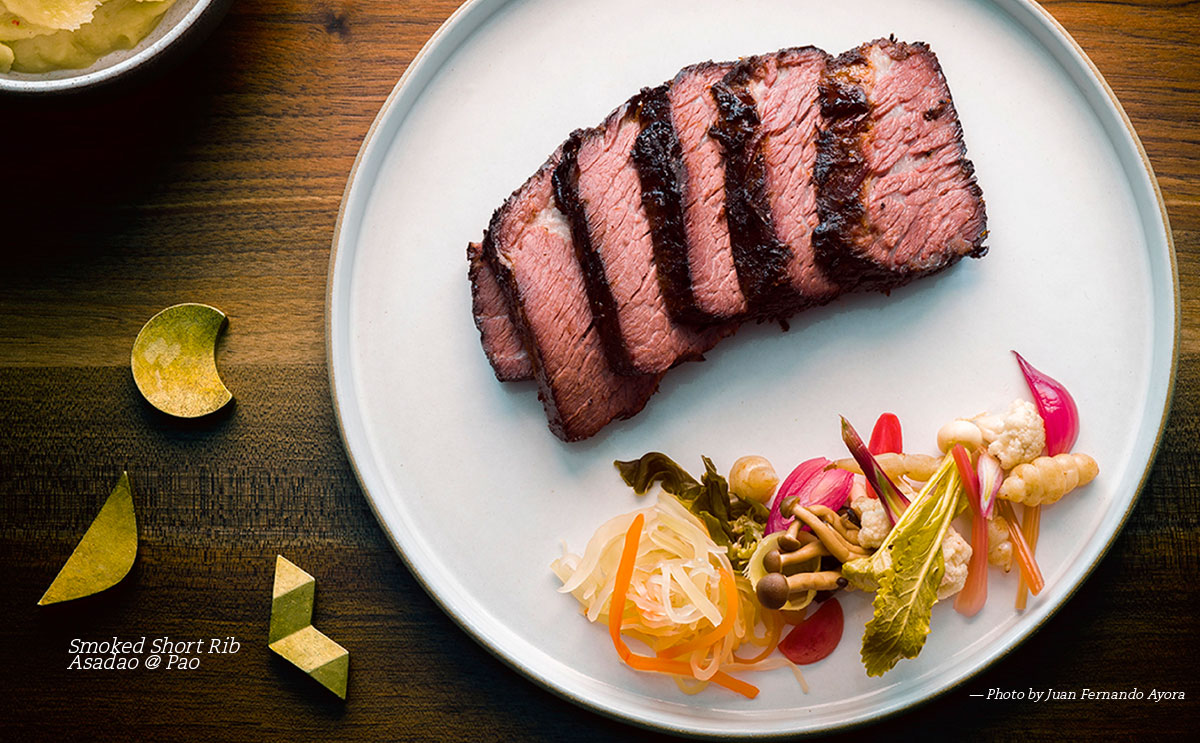 1. Smoked Short Rib Asado @ Pao
3201 Collins Ave., Miami Beach
786.655.5630
Faena.com
Why we picked it: Paul Qui brings his culinary magic to Faena with Pao. One of the star dishes on the menu is the fall-off-the-bone 8oz Smoked Short Rib Asado; a 72-hour Wagyu beef, accompanied with seasonal pickles and Japanese sweet potato purée.
2. Canita @ Ball & Chain
1513 SW 8th St., Little Havana
305.643.7820
BallAndChainMiami.com
Why we picked it: A playful creation from one of the most established taverns in the Calle Ocho area, this candied concoction features Bacardi rum, fresh lime juice, house-made honey syrup, guarapo and a sugarcane stick.
3. Pork Belly Bun @ Doa
2000 Collins Ave., Miami Beach
305.587.2000
DoaCantina.com
Why we picked it: Doa means "door" in Japanese, and we can think of no better entryway into the fantastical menu at an Asian-Latin eatery than this tender, homemade steamed bun well complemented by sliced pork belly, rocoto hoisin and pickled carrot.
4. Poulet Epice @ Brasserie Azur
3252 NE 1st Ave., Miami
786.800.9993
BrasserieAzur.com
Why we picked it: A half or whole chicken is slow-roasted in this casual chic eatery's famed rotisserie and slathered in a balanced yet refreshingly piquant hot sauce. Served with tender, toothsome fingerling potatoes.
5. Spaghetti Pomodoro @ Macchialina
820 Alton Rd., Miami Beach
305.534.2124
Macchialina.com
Why we picked it: It's a rustic, artisanal blend of house-made pasta, tomato and basil. As in so many expertly made dishes, the simplicity of the ingredients belies the complexity of taste in this delicious dollop of the Italian countryside.
6. Crispy Tandoori Squid @ Sugar
788 Brickell Plaza, Brickell
786.805.4655
East-Miami.com
Why we picked it: Simple, rich, elegant, decadent…frankly, we picked it because we're running out of adjectives for this singularly striking dish! A peerlessly prepared appetizer with a matchless mouthfeel.
7. Pork Belly Popsicles @ Big Easy Wine Bar & Grill
701 S. Miami Ave., Ste. 339-A
786.814.5955
BigEasy.Miami
Why we picked it: While a far cry from your favorite childhood sweet-on-a-stick, these mouthwatering slabs of everyone's favorite pig part are an artful amalgamation of savory, spicy and sweet tones.
8. The Bowie @ Blackbird Ordinary
729 SW 1st Ave., Brickell
305.671.3307
BlackbirdOrdinary.com
Why we picked it: Appropriately named for one of 2016's greatest fashion casualties, this singular beverage perfectly parades the line between mixological masterpiece and simple, satisfying cocktail. Made with Kappa Pisco, raspberries, lemongrass syrup and egg white.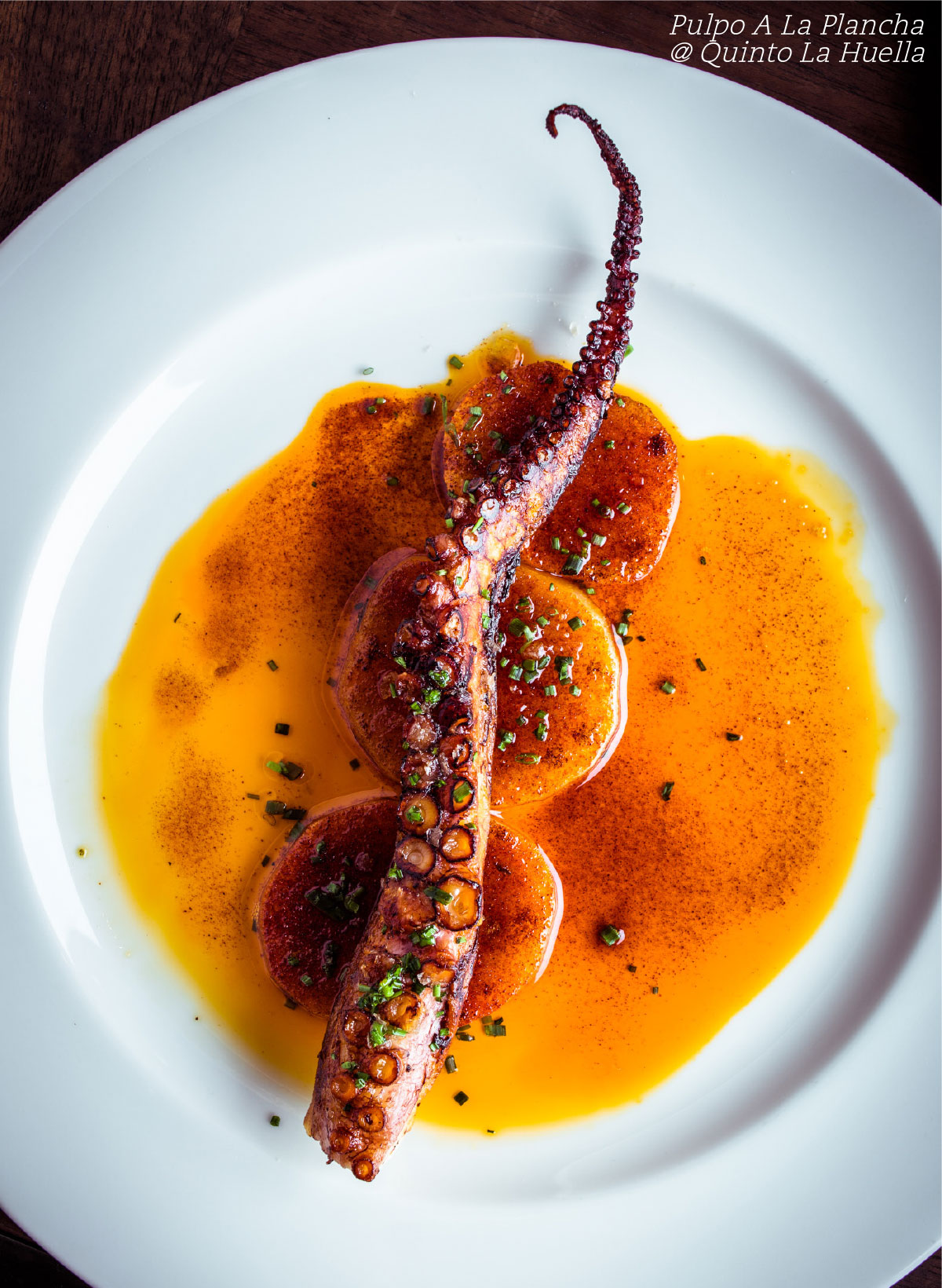 9. Pulpo A La Plancha
@ Quinto La Huella
788 Brickell Plaza, Brickell
786.805.4646
QuintoLaHuella.com
Why we picked it: For lovers of a traditional pulpo a la plancha done right with a modern twist, this decadent octopus entree is perfectly cooked and accompanied by potatoes confit and seasoned with just the right amount of paprika.
10. Cafe Con Leche & Tostada
@ La Palma
6091 SW 8th St., West Miami FL
305.261.1113
Why we picked it: While their churros may have put West Miami on the culinary map, folks keep coming back for the basics at this classic café. Coffee, steamed milk, Cuban bread and butter; some people call it a cardiac precursor; we just call it heaven!
11. Tuna Chicharon @ Sushi Garage
1784 West Ave., Miami Beach
305.763.8355
SushiGarage.com
Why we picked it: An excelsior offering from the auto-themed sushi bar, the delicate taste of this out-of-this-world roll has to be devoured to be believed. It's truly American sushi at its finest.
12. Americano Pizza @ Zai
1040 S. Miami Ave., Brickell
786.703.7812
Why we picked it: A wood-fired panoply of tomato, mozzarella and ricotta cheeses expertly combined with generous portions of well-spiced salami, nothing else satisfies like a Zai Pie at 2 a.m. on a Friday night.
13. The Halliwell @ Beaker & Gray
2637 N. Miami Ave., Wynwood
305.699.2637
BeakerAndGray.com
Why we picked it: An herbaceous and fruity medley of Stoli, Cocchi Americano Rosa, ginger, strawberry and mint, there are few more flavorsome ways to blow off steam than a few dedicated sips of this delightful cocktail.
14. Happy Hour @ Atton Brickell Miami
1500 SW 1st. Ave., Brickell
786.600.2600
AttonBrickellMiami.com
From 5 p.m.-8 p.m. daily, Atton Brickell Miami's Uva and Vista Bar offer 50% off all drinks and reduced prices on small plates. Arrive to socialize and delight and leave ready to do it all again the next day. Want to stay a little longer? Check out their Best Rate Guarantee to check-in with ease.
15. Baked Brie @ Perricone's
15 SE 10th St., Brickell
305.374.9449
Perricones.com
Why we picked it: A whole baked brie wrapped in delicate, flaky puff pastry and liberally drizzled with an apricot glaze, this app is best enjoyed in the restaurant's artfully arboreal atrium while marveling at just how magical our city truly is.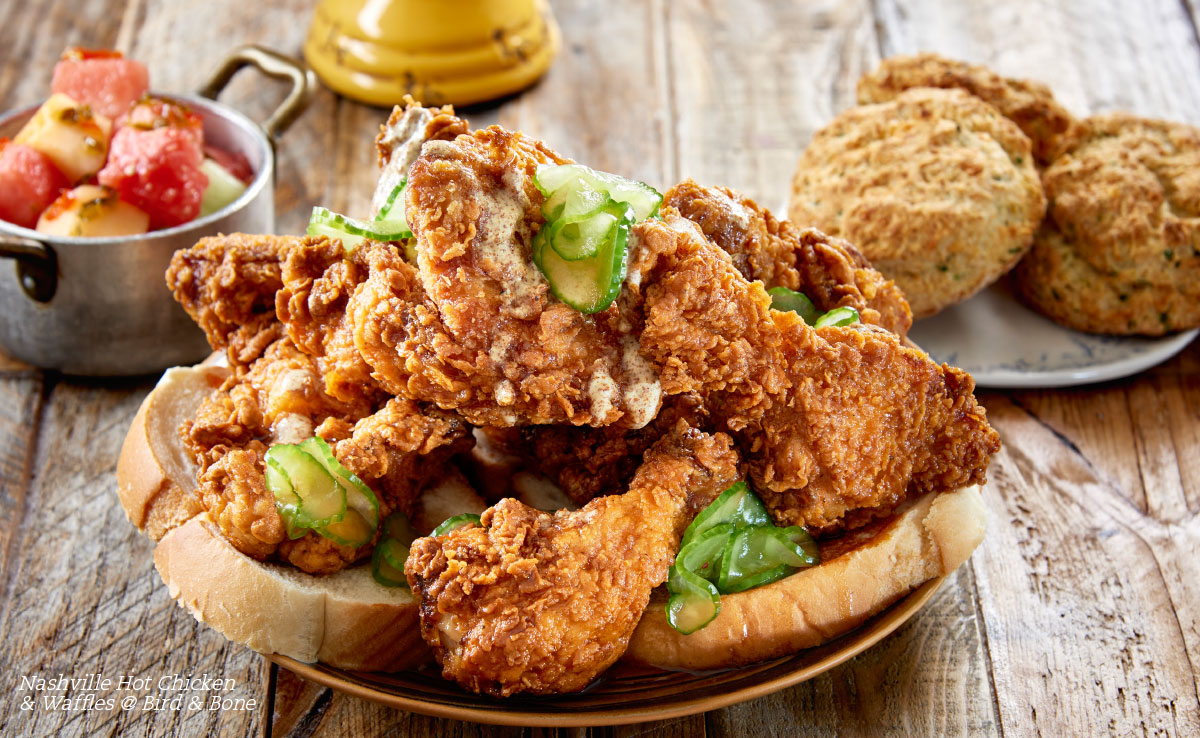 16. Nashville Hot Chicken & Waffles @ Bird & Bone
4041 Collins Ave., Miami Beach
305.424.1234
TheConfidanteMiamiBeach.Hyatt.com
Why we picked it: It's the only place in Miami that serves up real Nashville hot chicken & waffles — the kind that would put a smile on Johnny Cash's face. Chef Richard Hales has brought the best Southern fried chicken this city could possibly sink its teeth into.
17. Coconut Cake @ KYU
251 NW 25th St., Miami
786.577.0150
KYUMiami.com
Why we picked it: Initially the coconut cake might appear to be understated, even simple perhaps. That is…until you take that first bite, and then you're down for the count. It's so moist and decadent, you might order a few more to take home.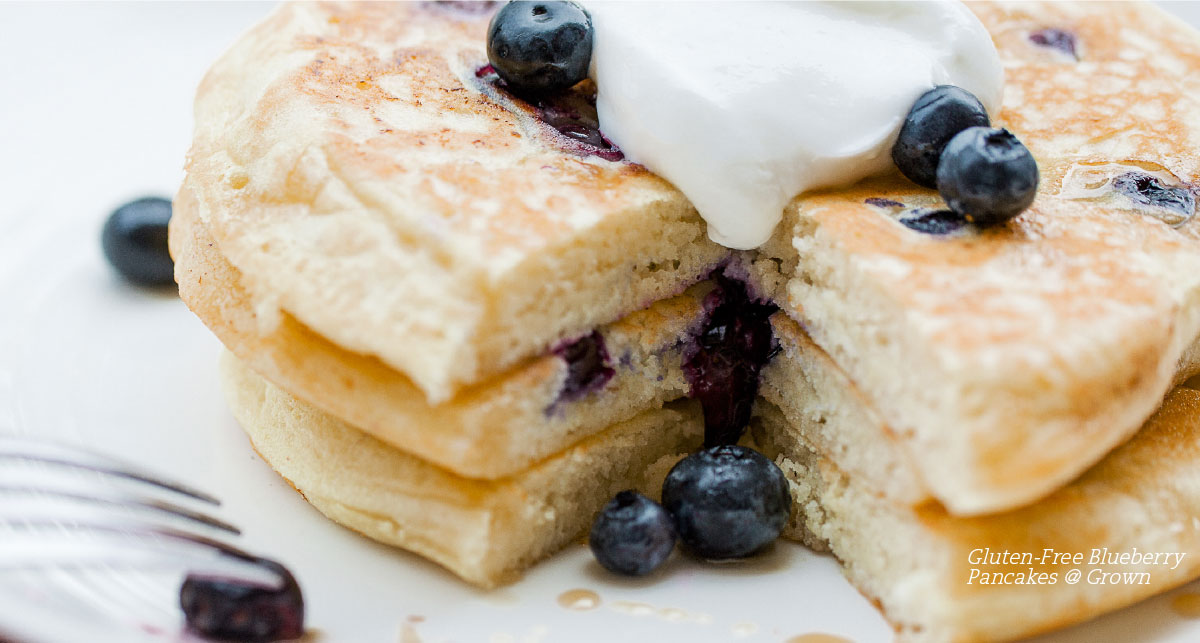 18. Gluten-Free Blueberry Pancakes @ Grown
8211 S. Dixie Hwy., South Miami
305.663.4769
Grown.org
Why we picked it: If you're really trying to get your morning off to a good start, pop over to this healthful hotspot sure to cure you of the Mondays, Tuesdays and everything in between. No mere fad food, these pancakes will make you wonder why you ever gave gluten a chance in the first place.
19. Arepa Platano Y Queso @ Doggi's Arepa Bar
1246 SW 22nd St., Miami
305.999.7498
EatDoggis.com
Why we picked it: A hip variant on the classical Venezuelan dish, this bold blend of fried plantains and gooey organic white cheese helped put this bohemian hangout on the map. It's well-worth the subsequent elliptical workout needed to burn off this tasty treat.
20. Pan Con Minuta @ La Camaronera
1952 W. Flagler St., Little Havana
305.642.3322
LaCamaronera.com
Why we picked it: While it pains none more than us to say it, the truth is, Guy Fieri was right. Fresh, tail-on snapper, bountifully battered and placed in a Cuban bun, slathered in a succulent secret sauce is where it's at.
21. Burrata Tower @ Costa Med
260 Crandon Blvd., Ste. 46, Key Biscayne
305.361.7575
CostaMedRestaurant.com
Why we picked it: A commanding complement to any meal, this veritable mound of creamy burrata is served over tomato and topped with prosciutto, a balsamic reduction, basil and extra virgin olive oil.
22. Filet Mignon De Boeuf @ Bagatelle
220 21st St., Miami Beach
305.704.3900
BagatelleMiami.com
Why we picked it: An authentic French restaurant in Miami Beach that delivers the refinement of French gastronomy, the finger-licking good 8 oz. beef tenderloin on the menu comes served with trumpet royal mushrooms, ventreche potato terrine and black truffle butter. Oui, Magnifique!
23. Queu Boeuf (Oxtail) @ Chef Creole
200 NW 54th St., Little Haiti
305.754.2223
ChefCreole.com
Why we picked it: Been meaning to venture into Caribbean cuisine? What better place to start than with Haiti's most iconic dish from Miami's most iconic Haitian eatery?! A side of rice and beans completes this already substantial taste of island life.
24. Nutella Donut @ The Salty Donut
50 NW 23rd St., Wynwood
305.925.8126
SaltyDonut.com
Why we picked it: It's a 24-hour raised brioche donut with Nutella filling, cocoa glaze and chopped hazelnuts. What exactly is there to explain? Accompanied by this hotspot's signature coffee, this is a carb-load you won't regret.
25. Carnitas De Pato Taco @ Coyo Taco
1111 SW 1st Ave., Brickell
786.773.3337
Coyo-Taco.com
Why we picked it: An ingenious medley of michoacan style duck confit, serrano salsa, red onion and cotija cheese, there's no texture or flavor left untouched in this polished pair of tacos. It's even better the second time around!
26. Tandoori Chicken @ Bombay Darbar
2901 Florida Ave., Coconut Grove
305.444.7272
BombayDarbar.com
Why we picked it: A whole chicken marinated in a heady array of herbs and cooked in that iconic clay oven, one taste of this dish and you'll know why Bombay Darbar is the only Indian restaurant Miami really needs.
27. American Harvest Burger
@ American Harvest
701 S. Miami Ave., Brickell, Ste. 339-B
786.814.6968; AmericanHarvestCo.com
Why we picked it: There's a lot to be said about a restaurant's signature dish, and even more to be said if that dish is made of free-range, all-natural grass fed short rib and brisket with Fontana cheese, house mayo and caramelized shallots served on a savory potato bun.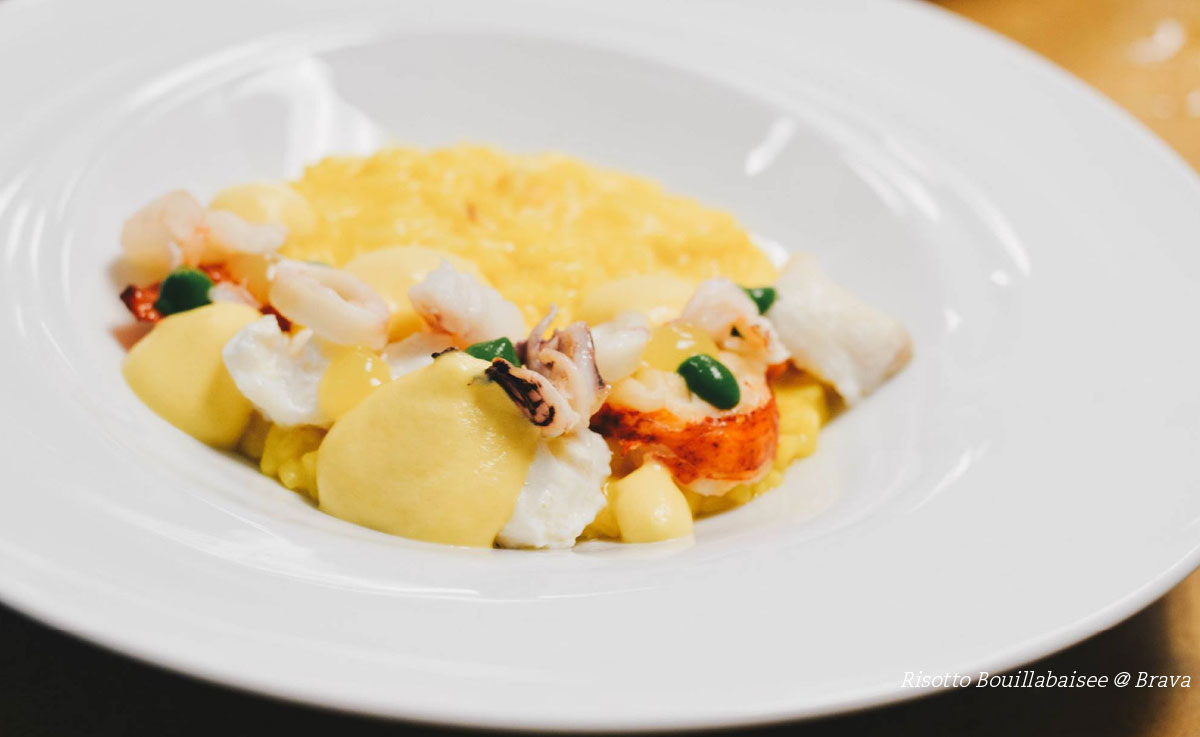 28. Risotto Bouillabaisse @ Brava
1300 Biscayne Blvd., Miami
305.949.6722
BravaByBradKilgore.com
Why we picked it: Cooked in Iranian saffron butter that gives the dish a creamy yellow hue, it comes accompanied by fruits de mer, tomato oil and orange. The aroma is as rich and savory as each spoonful of large pieces of shrimp and lobster.
29. Larb Muang @ Lung Yai Thai Tapas
1731 SW 8th St., Little Havana
786.334.6262
LungYaiTapas.com
Why we picked it: An effortless and exotic medley of ground pork, thai spices and green onion, one bite of this Northern Thai specialty and you'll see why everyone's raving about this neighborhood spot oozing with tradition.
30. Banh Mi @ Sakaya Kitchen
3401 N Miami Ave., Midtown
305.576.8096
SakayaKitchen.com
Why we picked it: A glowing testament to the power of properly prepared fusion, Chef Richard Hales' interpretation of this classical Vietnamese dish is a mouthwatering meld of pork belly, pate de tete and housemade mayo.
31. Lamburger @ Green Street
3468 Main Hwy., Coconut Grove
305.444.0244
GreenStreetCafe.net
Why we picked it: While everything on this hip eatery's brunch menu is worth careful consideration, you'll be particularly taken by this tasty and well-textured burger blend topped with a dollop of goat cheese.
32. Cochinillo Hash @ Bulla Gastrobar
2500 Ponce De Leon Blvd., Coral Gables
305.441.0107
BullaGastrobar.com
Why we picked it: Suckling pig, poached egg, breakfast potatoes and a garlic confit…why sing this dish's praises when a list of its ingredients does the job? The open kitchen makes watching it get prepared almost as much fun as eating it.
33. Aji Chimichurri Steak @ Lima
1500 SW 1st Ave., Brickell
786.600.2600
AttonBrickellMiami.com
Why we picked it: A savory sliver of Peruvian foodways, this classically prepared skirt steak is satisfying in its simplicity. Served with Yukon mashed potatoes, grilled asparagus and a delightful chimichurri.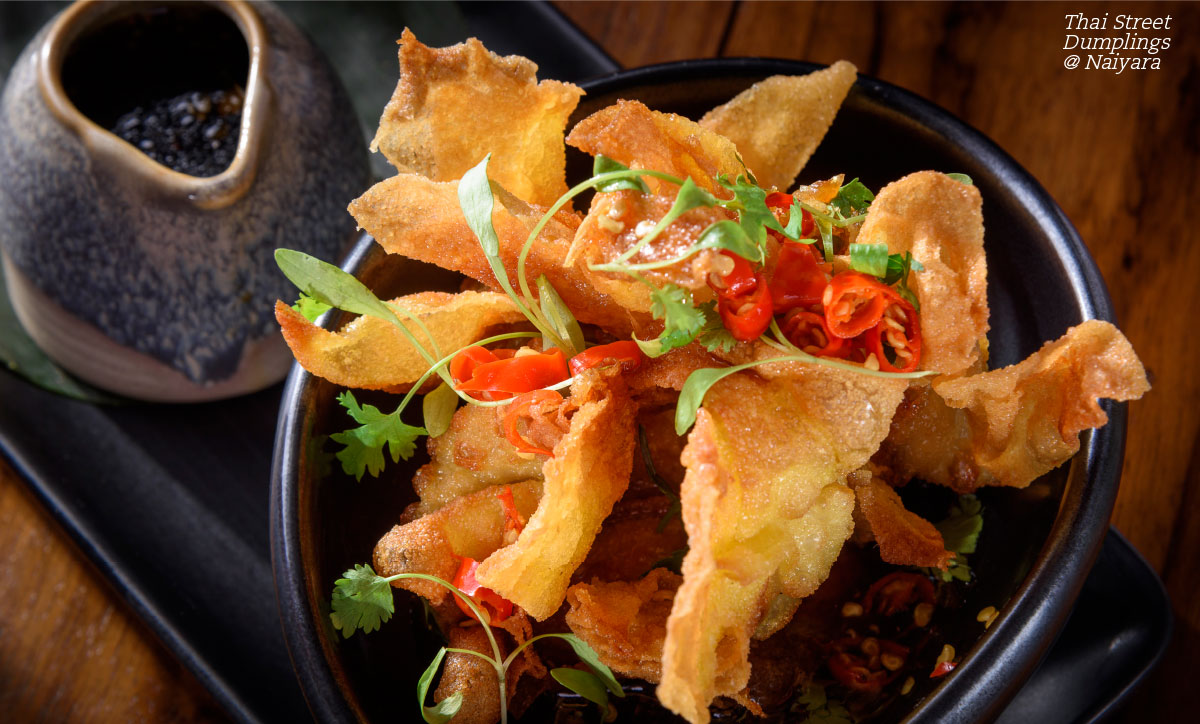 34. Thai Street Dumplings @ Naiyara
1854 Bay Rd., Miami Beach
786.275.6005
Naiyara.com
Why we picked it: A dish lovingly impacted with the tastes of Chef Bee's Southeast Asia childhood, these chili-capped fried chicken dumplings may be appetizers, but frankly, we consider them an entrée in their own right.
35. Cowboy Steak @ El Churrasco
801 Brickell Bay Dr., Brickell
786.558.5511
ElChurrascoMiami.com
Why we picked it: Giddy up! For a crisp Ulysses S. Grant bill (plus tip, of course), you can feast on 20 mouth-watering ounces of juicy bone-in steak with a marbeling so perfect it will create a rodeo of deliciousness in your mouth.
36. Brunch Menu @ Baire's Grill
1010 S. Miami Ave., Brickell
786.580.4923
BairesGrill.com
Why we picked it: When a place defines brunch as "The socially acceptable excuse to drink before noon" you know you're in for a treat. Offering everything from skirt steak entrées to wraps, salads and pasta dishes to go along with your Mimosa, Bloody Mary, Rosé or Moët Split.
37. Linguine w/ Clam Sauce
@ Jack's Home Cooking
2426 NE 2nd Ave., Wynwood
305.640.5507
JacksMiami.com
Why we picked it: Famous for providing the intimacy and integrity of a family dinner within a restaurant setting, this famous linguine dish never disappoints. Excellent with either the tomato or garlic sauces offered.
38. Short Rib Empanadas @ The Rusty Pelican
3201 Rickenbacker Cswy., Key Biscayne
305.361.3818
TheRustyPelican.com
Why we picked it: Savory, spicy and sweet all packed into one piquant pastry, this slow-roasted short rib is artfully dressed with a roasted jalapeño and sweet corn emulsion with tomato-vanilla jam.
39. Mixed Grill @ Meat Market
915 Lincoln Rd., Miami Beach
305.532.0088
MeatMarketMiamiPR.com
Why we picked it: An ever-changing trio of premium meats hand-selected by Executive Chef Sean Brasel and his elite team, the only throughline for this transforming (and transformative) menu item is its exquisite taste.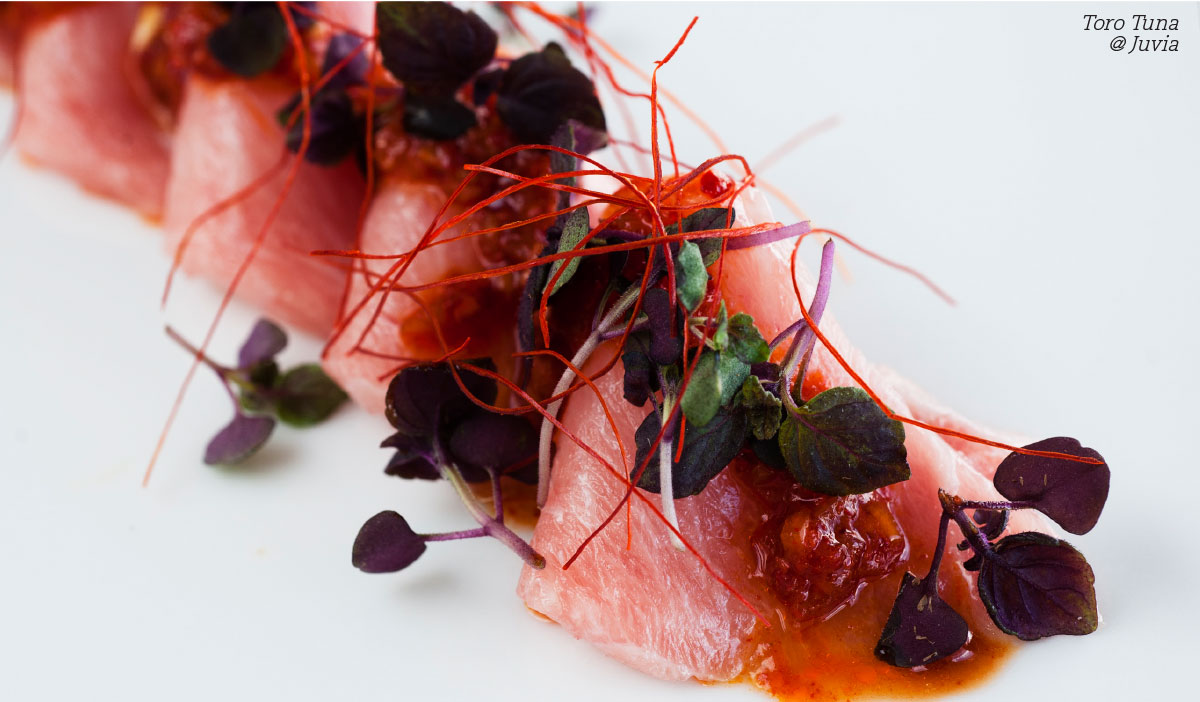 40. Toro Tuna @ Juvia
1111 Lincoln Rd., Miami Beach
305.763.8272
JuviaMiami.com
Why we picked it: With Kombu-infused soy, pickled red onions and Osetra Cavier, the Toro Tuna at Juvia is something every foodie should try once. It's so fresh and delicate, it's as if it was caught on sight and brought to your table. Juvia also has outdoor seating with some of the best views of Lincoln Road and South Beach.
41. Hibiscus 29 Drink @ Copper 29
206 Miracle Mile, Coral Gables
786.580.4689
Copper29Bar.com
Why we picked it: With a light citrus aroma from the fresh bergamot, it's a smooth drink made with Facundo Neo Silver Rum, St. Germain Elderflower Liqueur, hibiscus shrub and bergamot acid foam. The presentation is as enchanting as the taste.
42. Homemade Nutella Mousse @ Villa Azur
309 23rd St., Miami Beach
305.763.8688
VillaAzurMiami.com
Why we picked it: Presented in a chilled glass with fresh berries on top, this mousse is of a perfectly rich consistency that dissolves the second it hits your palate. The restaurant's Mediterranean ambiance adds to the experience of such a delicious French confection.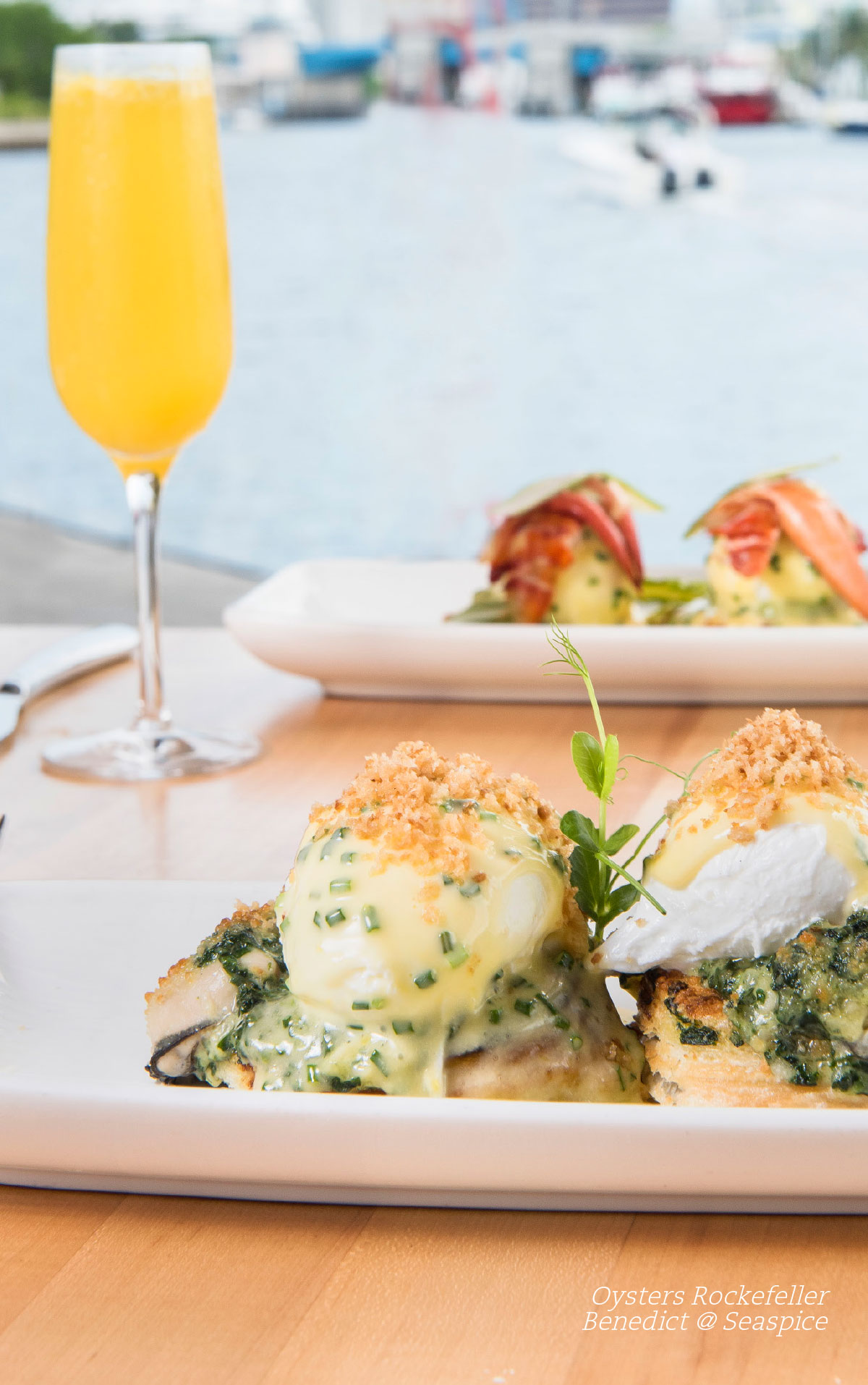 43. Oysters Rockefeller Benedict
@ Seaspice
422 NW N. River Dr., Miami
305.440.4200
SeaspiceMiami.com
Why we picked it: Nothing says brunch like a decadent Benedict dish, and nothing says decadent like this masterful melding of Oysters Rockefeller, puffed pastry and cream spinach. Best enjoyed with a few close friends and more than a few mimosas.
44. Soft Egg @ Alter
223 NW 23rd St., Wynwood
305.573.5996
AlterMiami.com
Why we picked it: Chef Bradley Kilgore & Antoine Lecas have really created an alternate culinary reality with Alter. The soft egg dish looks like a work of art when it arrives at your table. The recipe also includes sea scallop espuma, chive, truffle pearls and gruyere — caressing every tastebud lovingly.
45. Carbonara Di Mare
@ Toscana Divino
900 S. Miami Ave., Brickell
305.930.6873
ToscanaDivino.com
Why we picked it: Spaghetti chitarra accompanied by sea urchin and caviar. Chef Andrea Marchesin takes you on a culinary journey of Tuscany with his curated dishes that will have you shouting: Bravo!
46. Organic Detox No. 1 @ Dr. Smood
701 S. Miami Ave., Ste. 345, Brickell
786.334.4420
DrSmood.com
Why we picked it: Need a little detox after indulging? A visit to Brickell City Centre's Dr. Smood will set you straight. The organic café offers fresh juices that nourish and cleanse the body. Their Organic Detox No.1 hydrates while boosting liver and kidney functions.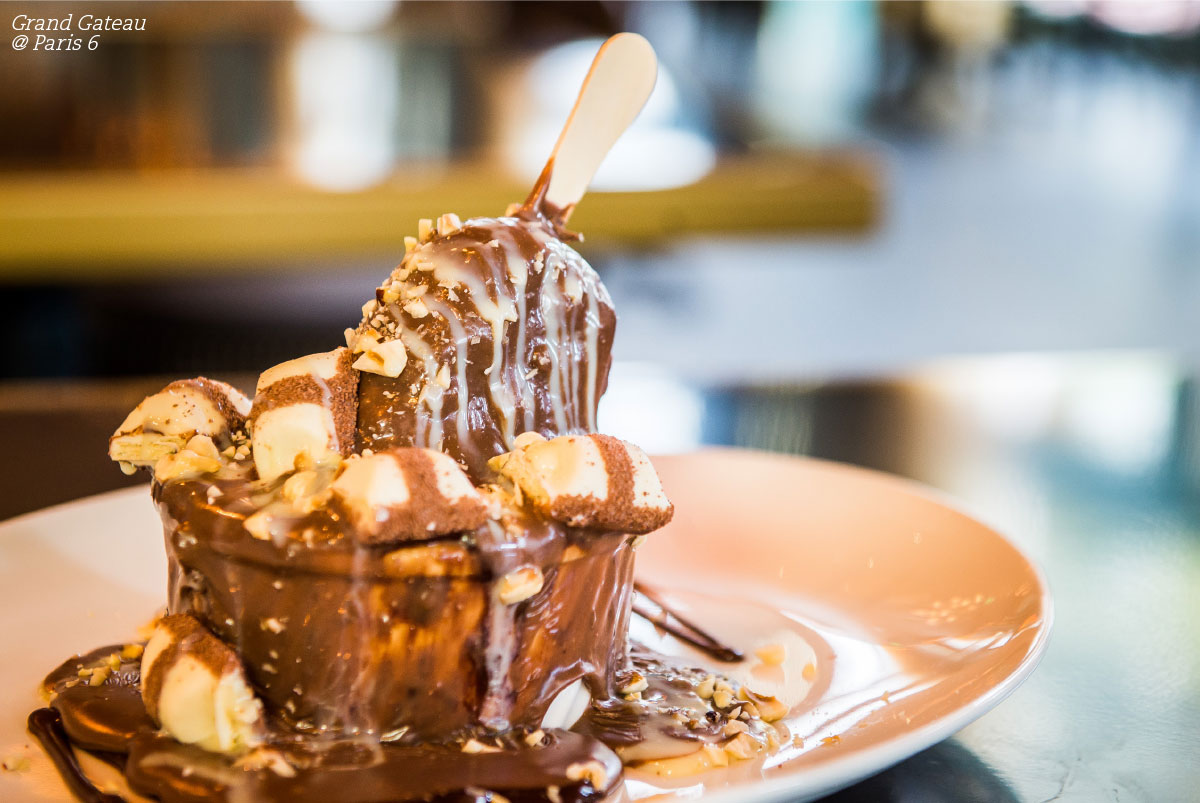 47. Grand Gateau @ Paris 6
2200 Collins Ave., Miami Beach
305.363.6806
Paris6Bistro.com
Why we picked it: This dessert is an attaque cardiaque of deliciousness. It's basically a warm chocolate Sunday with a chocolate ice cream bar smack in the center that bubbles over with even more chocolate. Toppings vary, but the happiness it provides is consistent.
48. Oshogatsu Cocktail @ Tanuki
1080 Alton Rd., Miami Beach
305.615.1055
TanukiMiami.com
Why we picked it: Aside from the great Pan-Asian fare they offer in the heart of South Beach, they also have the Oshogatsu cocktail. Made of Espolon Tequila Blanco, mango, Cuca Fresca Cachaça, green tea, poopy seeds and a spiced rim with paprika, salt, sugar and chili — it's the perfect complement to their dim sum.
49. La Sandia Cocktail @ American Social
690 SW 1st Ct., Brickell
305.223.7004
AmericanSocialBar.com
Why we picked it: When Mixologist Andrea Lanza dreamed up her now famous La Sandia drink, few could have imagined how popular it would become. Made with fresh watermelon, jalapeño-infused liquor and fresh cucumber —you get 3 distinct waves of flavor with every sip: sweetness, heat and cooling.
50. Cinnamon Rolls @ Knaus Berry Farms
15980 SW 248th St., Homestead
305.247.0668
KnausBerryFarm.com
Why we picked it: When's the last time you had to plug anything above 200th Street into your GPS? Trust us, after one (or a dozen) of these artisanally crafted cinnamon rolls, distance becomes no impediment, especially when scenic routes along the way abound.