1. Fois Gras & Ember-Roasted
Plantains @ Ariete
3540 Main Hwy., Coconut Grove
305.640.5862
ArieteMiami.com
Why we picked it: This other-worldly appetizer arrives to your table smothered in sour orange vinegar, caramel, ember-roasted plantains and cocoa nibs, ready, willing and able to have you devour it to your belly's delight.
2. El Tucán Cocktail @ El Tucán
1111 S.W. 1st Ave., Brickell
305.535.0065
ElTucanMiami.com
Why we picked it: Sip their namesake Absolute Elyx Vodka, watermelon juice, lychee and St. Germain liqueur cocktail as you step back in time and enjoy a fine dinner and a show reminiscent of Havana's heyday.
3. Zang Zing Tuna @ The Gang Miami
3500 N. Miami Ave., Miami
305.570.9430
TheGangMiami.com
Why we picked it: The name will make you smile, and the taste of their wild-caught tuna specialty with spinach sautee and honey ginger sauce will make your tongue wag.
4. Daily Greenhouse Special @ Swine
2415 Ponce De Leon Blvd., Coral Gables
786.360.6433
RunPigRun.com
Why we picked it: Go vegetarian and gluten-free when you request the GF/V version of this chef-inspired dish prepared using fresh, seasonal vegetables and grains.
5. Brunch @ Tamarina
600 Brickell Ave., Brickell
305.770.6223
TamarinaRestaurants.com
Why we picked it: This buffet has it all, with an Italian twist. Choose from the Italian station, raw bar, pasta corner, chef's weekly hot entrée or simple breakfast classics. One look at the "Dessert Heaven" area and you'll, well, be in heaven.
6. Veal Marsala @ Forks Restaurant
180 Crandon Blvd., Ste. 109, Key Biscayne
786.542.5444
ForksOfKeyBiscayne.com
Why we picked it: This new kid on the block has mastered this decadent dish featuring the finest and freshest ingredients and herbs cooked to perfection and served in a delightfully cozy, casual setting. Just sit back, relax and get ready to fill your belly with meaty goodness.
7. Two For Tuesdays @ Perricone's
15 SE 10th St., Brickell
305.374.9449
Perricones.com
Why we picked it: Two sandwiches and two drinks for $11.95? Yup. That's right. Grab a friend and head over to the best BOGO deal in town. But make sure to have your picnic basket and blanket ready: This deal's only good for take-out and delivery orders.
8. Wood-Fired Lamb @ Bellmont
399 Miracle Mile, Coral Gables
786.502.4684
BellmontRestaurant.com
Why we picked it: Lamb is delicious just about any way it's cooked, but never more so than when it is straight out of a wood fired oven. This is so good that a minimum 2-hour reservation is required to get it just right.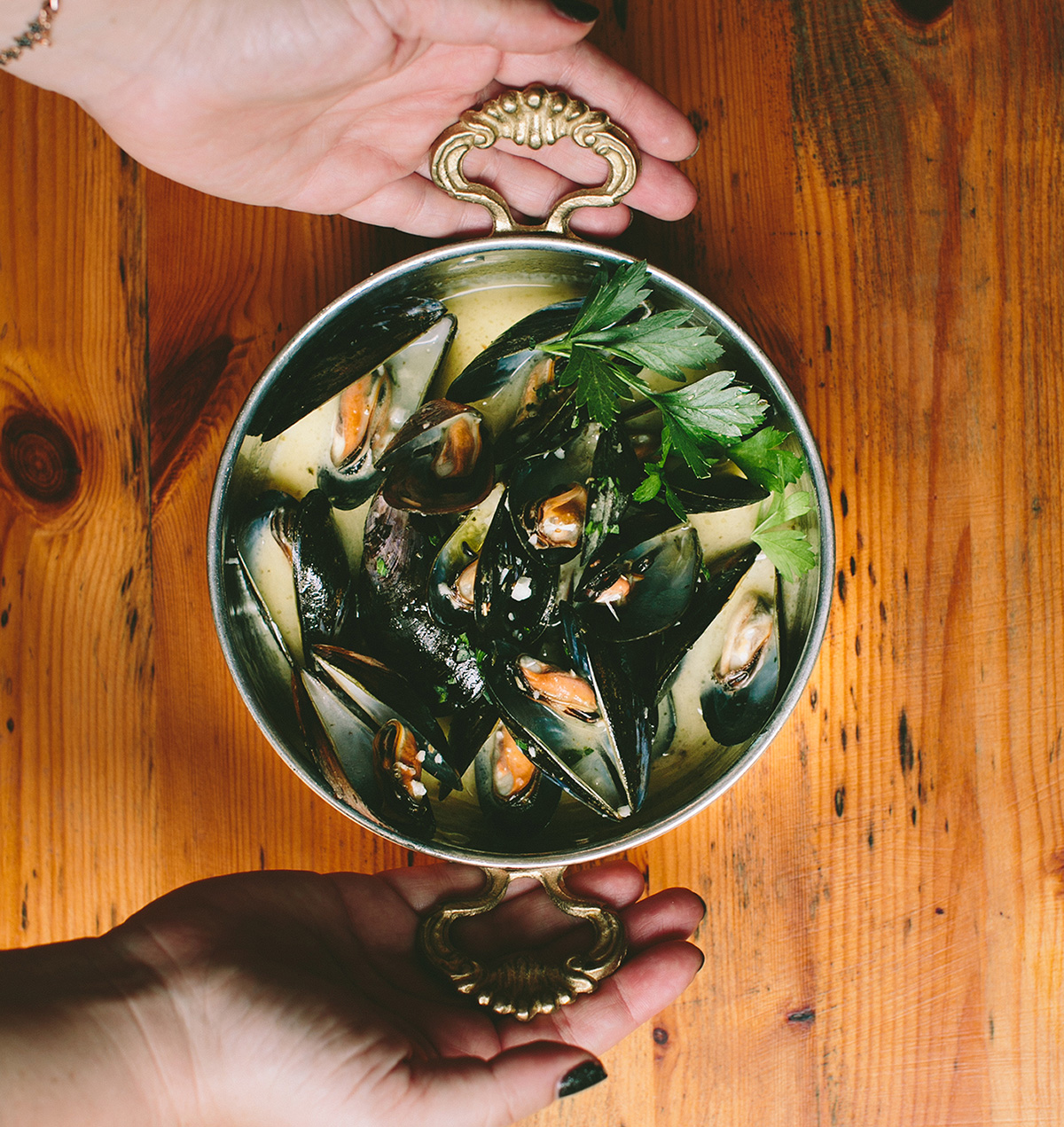 9. Fresh Mussels @ Mandolin Aegean Bistro
4312 NE 2nd Ave., Design District
305.576.6066
MandolinMiami.com
Why we picked it: Perhaps it's the 1930s vibe at this converted home turned eatery that makes you want to order something simple. The fresh mussel app is perfectly drenched with just the right amount of white wine, garlic, lemon and oregano.
10. Group Menu @ Old Lisbon
1698 SW 22nd St., Coral Way
786.350.6360
OldLisbon.com
Why we picked it: As you look forward to the perfect date night for the weekend, grab a group of pals during the week and head over to Old Lisbon to choose from their 3 different Group Menu options ranging from $35-$55 per guest, available Mon.-Thurs. And, yes, in case you were wondering, the wine's extra.
11. Tomahawk Ribeye @ Toro Toro
InterContinental Miami
100 Chopin Plaza, Downtown Miami
305.372.4710
ToroToroMiami.com
Why we picked it: Listen, everything on the menu here is good…but the Tamahawk Ribeye…it's just "oh, wow!". It's delivered and cut tableside from an impressive arm-length bone that looks like something out of The Flintstones.
12. The Usual @ Costa Med
260 Crandon Blvd., Ste. 46, Key Biscayne
305.361.7575
CostaMedRestaurant.com
Why we picked it: The award-winning menu here keeps locals coming back again and again. This is one place where saying "I'll have the usual" will get you exactly what you want. But first you'll have to become a regular. If it's your first time, order whatever catches your fancy and you'll be hooked.
13. A Handshake @ Morton's Coral Gables
2333 Ponce De Leon Blvd., Coral Gables
305.442.1662
Mortons.com/CoralGables
Why we picked it: Regardless of what you decide to order at this always abuzz Miracle Mile hangout, you're bound to run into someone you know or meet and mingle with new friends, so make sure you keep your hands clean in between bites.
14. Pizza @ Verde
1103 Biscayne Blvd., Downtown Miami
305.375.8282; PAMM.org/Dining
Why we picked it: There's nothing like a pizza with pizzazz after a day of exhibit-hopping at PAMM. From Margherita and Carbonara to Squash Blossoms, there's something for every taste of their crispy flatbread.
15. Bananita Daiquiri @ Ball & Chain
1513 SW 8th St., Little Havana
305.643.7820
BallAndChainMiami.com
Why we picked it: White rum, creme de banana, fresh lime juice, simple syrup, coffee beans and bananita fuse for a drink you'll never forget as the venue's cultural vibe takes hold.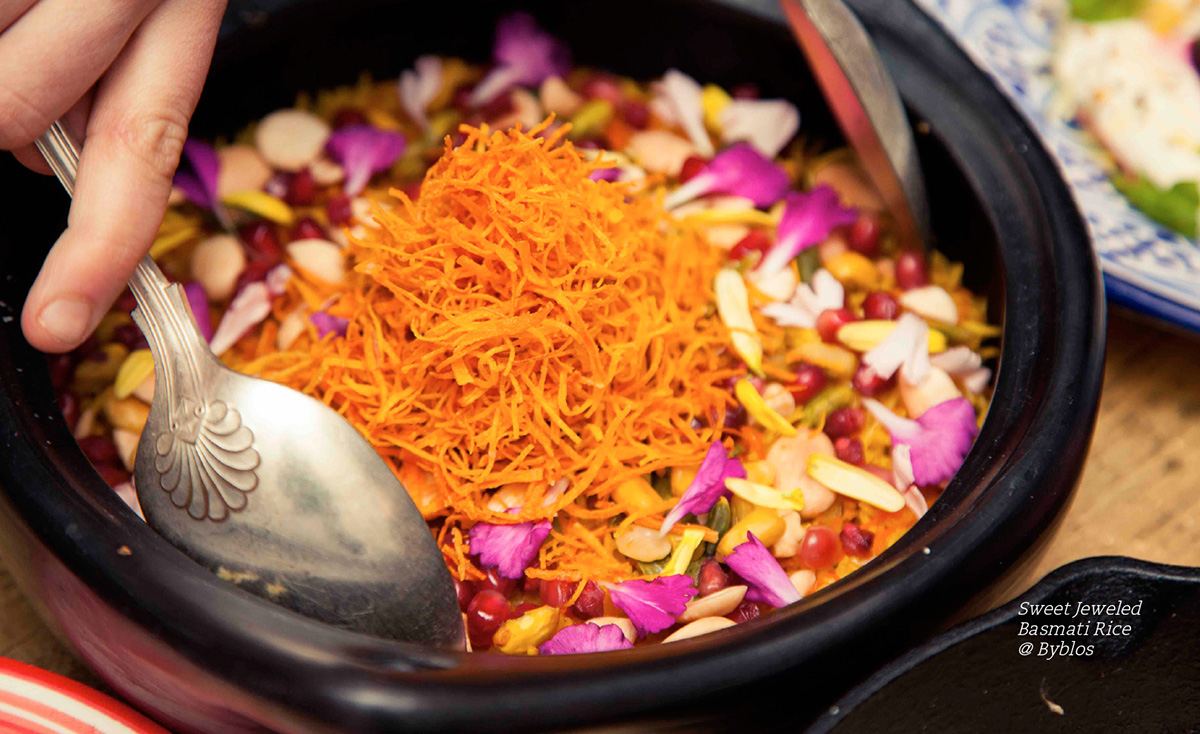 16. Sweet Jeweled Basmati Rice @ Byblos
1545 Collins Ave., Miami Beach
305.508.5041
ByblosMiami.com
Why we picked it: Color abounds at this Eastern Mediterranean dining treasure in the heart of the Shorecrest Building, and this exotic rice dish is no exception. Combining carrots with saffron, barberries and almonds, this vibrant concoction will surely distract you from the $23 pricetag.
17. Chicken Curry Salad @ The Golden Hog
91 Harbor Dr., Key Biscayne
305.361.1300
TheGoldenHogMarket.com
Why we picked it: This intriguing combination of chicken, green apples and raisins drizzled with special coconut milk and curry dressing is representative of the freshly prepared menu offerings for lunch and dinner.
18. Deconstructed Eggs Benedict Casserole
@ Nikki Beach
1 Ocean Dr., Miami Beach
305.538.1111; NikkiBeach.com
Why we picked it: Shake your hips to world beats at Nikki Beach's weekly Sunday Brunch. Explore the gourmet Bloody Mary Bar and indulge on the Deconstructed Eggs Benedict Casserole; the perfect recipe for a boozy brunch to remember.
19. Trio Ceviche @ Casablanca
Seafood Bar & Grill
404 N. River Dr., Miami
305.371.4107
CasablancaSeafood.com
Why we picked it: You haven't truly had ceviche until you've tried the heavenly trio of seafood, tuna nikkei and octopus in rocoto cream. The Casablanca Signature Stuffed Lobster is another gourmand delight.
20. Clams & Mussels @ Beaker & Gray
2637 N. Miami Ave., Miami
305.699.2637
BeakerAndGray.com
Why we picked it: This is not your typical shellfish. Cooked with coconut, chorizo and one of the world's most popular spices, saffron, the meal is elevated to haute, yet approachable, cuisine by its sublime balance of tastes.
21. Cuatro Leches @ Los Ranchos Steakhouse
401 Biscayne Blvd., N-200, Bayside
305.375.8188
BestSteakMiami.com
Why we picked it: Their signature dessert features a delicious caramel dulce de leche topping that'll make you want to skip the rest of the meal and go straight to it. But don't. Everything else on the menu is yummy, too.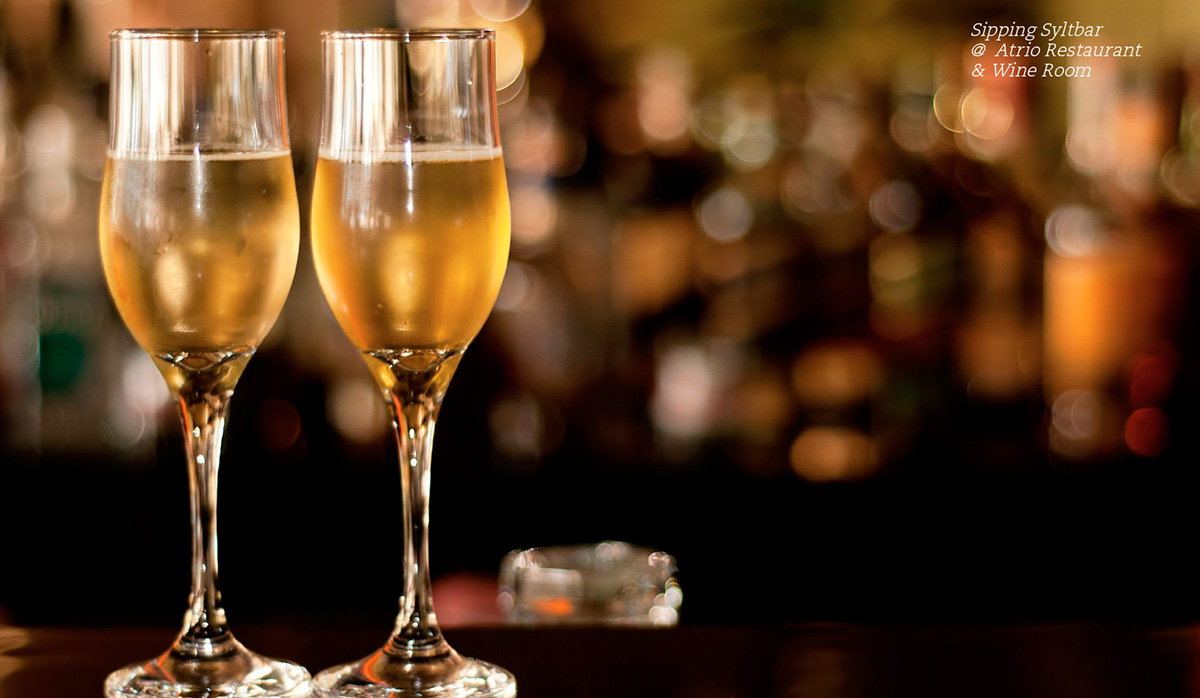 22. Sipping Syltbar @ Atrio Restaurant
& Wine Room
1395 Brickell Ave., Brickell
305.503.6500
ConradHotels3.Hilton.com
Why we picked it: Nothing screams high life louder than sipping bubbly with your squad while watching the waters of Biscayne Bay. Sip guilt-free with Syltbar Premium Prosecco — 49 calories, 0 carbs, 0 fat and 100% awesome.
23. Tenderloin @ Dolores/Lolita
1000 S Miami Ave., Brickell
305.403.3103
DoloresLolita.com
Why we picked it: Housed in the original City Of Miami Firehouse, this eatery offers airy, rooftop dinners that will make any belly burst with delight. Try the saucy baby back ribs served with shoestring fries and a pair of gloves.
24. Salpicao @ Steak Brasil
190 SE 1st Ave., Downtown Miami
305.415.2006
SteakBrasil.com
Why we picked it: Who can say no to all-you-can-eat meat, especially the mouthwatering picanha, a top sirloin cut covered by a layer of fat that caramelizes and melts into the meat as it cooks over an open flame.
25. Paelha De Mariscos @ Lisboa Grill
328 Crandon Blvd., Ste. 112, Key Biscayne
305.967.8826
LisboaGrillRestaurant.com
Why we picked it: Feast on Maine lobster, clams, shrimp, mussels and squid over seafood rice with a Portuguese flair. Lisboa Grill is renowned for its superb seafood as well as their intriguing vegetarian dishes.
26. Sweet Pea Tortellini @ Dolce Italian
1690 Collins Ave., Miami Beach
786.975.2550
DolceItalianRestaurant.com
Why we picked it: Craving a menu full of pleasant surprises? Executive Chef Paolo brings his ambitious and creative cooking style to dishes like the Sweet Pea Tortellini, made with Dorigato Gulf Shrimp, cherry tomatoes and lemon.
27. Any Sushi Roll Named
After Someone @ Hannya
1063 Brickell Plaza, Brickell
305.808.5833; HannyaRestaurants.com
Why we picked it: Nobody's really sure who Ana, Jennifer, Alex, Mariano, Rob or the other Alex are, but one thing everyone can agree on is that all the rolls inspired by them taste great at this sister restaurant of famed Akashi.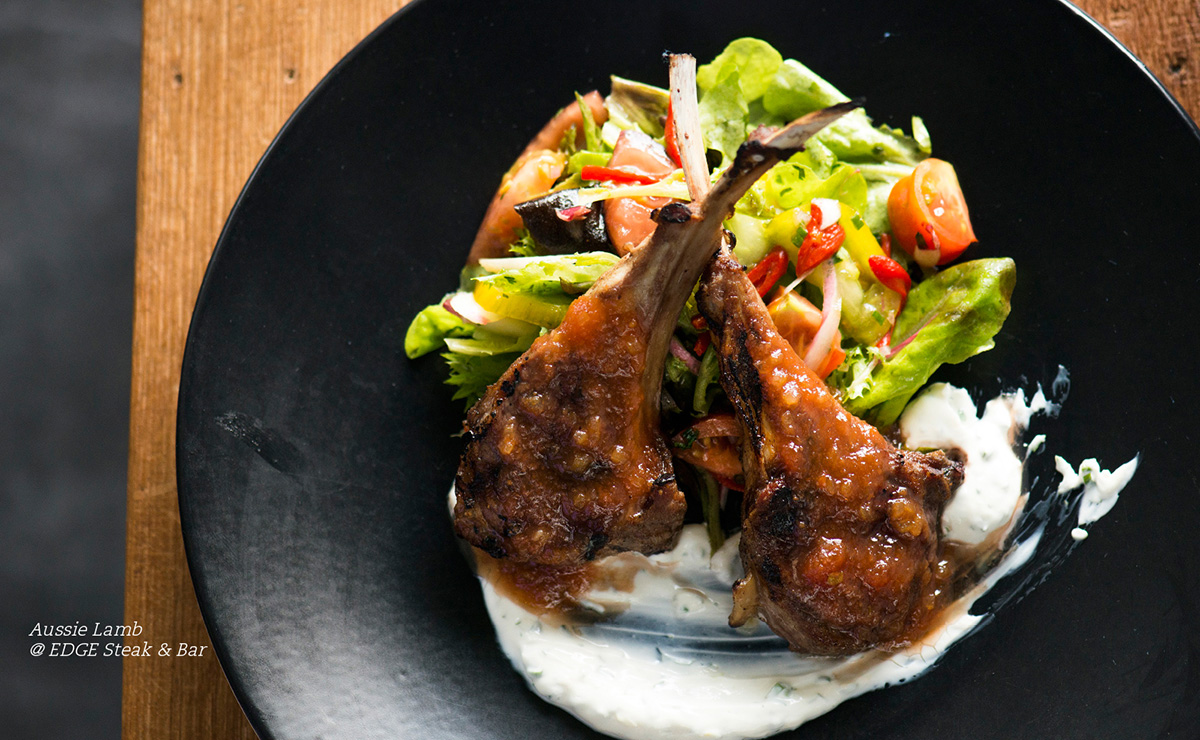 28. Aussie Lamb @ Edge Steak & Bar
1435 Brickell Ave., Brickell
305.358.3535; EdgeRestaurantMiami.com
Why we picked it: The fire-roasted lamb chops feature a succulent shank slow-cooked with apricots, honey and saffron with an accompanying kale, mint and freekah salad topped with sesame yogurt.
29. FroCo @ Repour Bar
1650 James Ave., Miami Beach
305.913.1000
RepourBar.com
Why we picked it: Bartenders peddle funky flavors and quirky cocktails shaken up with tea, herbs, spiked jam and even candied bacon garnish. Stay hydrated with a FroCo made with Afrohead banana and toffee-based rum, lemon juice and coconut water.
30. Sake It To Me @ Batch Gastropub
30 SW 12 St., Brickell
305.808.5555
BatchMiami.com
Why we picked it: This watering hole is a favorite among Brickellites looking for a great pour and creative cocktail concoctions like the Sake It To Me, a refreshing combination of Beefeater Gin and homemade coconut lemongrass sake.
31. Nourish Bowl @ Dirt Eat Clean
232 5th St., Miami Beach
305.239.3000
DirtEatClean.com
Why we picked it: Fuel your day with a Nourish Bowl full of sprouted chickpeas, lentils, roasted curried cauliflower, golden raisins, shaved carrot and cucumber mint yogurt. Chef Nicole Votano delivers plenty of satisfaction without worrying about breaking your diet.
32. Chicken Korma @ Bombay Darbar
2901 Florida Ave., Coconut Grove
305.444.7272
BombayDarbarRestaurant.com
Why we picked it: Miami's best place for Indian got better with its expanded location at The Mayfair. Loyal patrons repeat visits for dishes like the Chicken Korma. It's smothered in a decadent sauce made of mixed nuts and raisins.
33. Dulce De Leche Chip @ Bertoni Gelato
260 Crandon Blvd., Key Biscayne
786.717.6817
BertoniGelato.com
Why we picked it: Summing up this sweet treat in one word is easy: Indulgence. The sugary, rich and tangy blend features generous amount of golden caramel and melt-in-your-mouth chunky chocolate chips.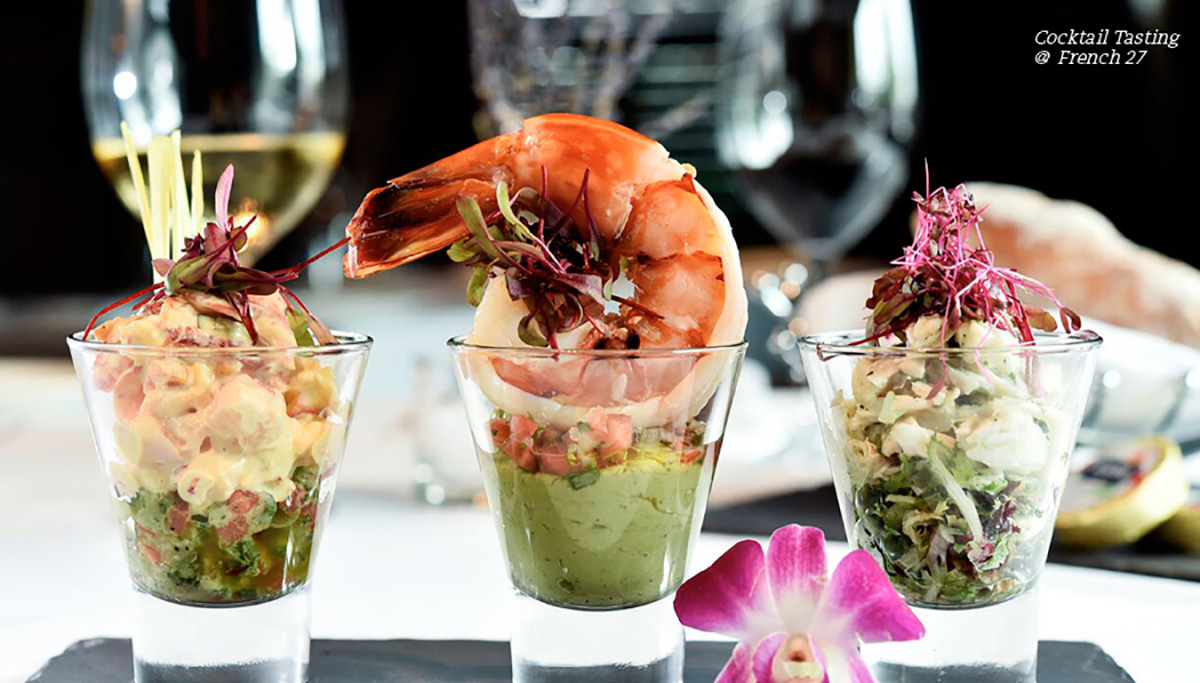 34. Cocktail Tasting @ French 27
850 Commerce St., Miami Beach
305.764.3948
French27.com
Why we picked it: Named after the 27 regions of France, all of which are present throughout the ingredients in their menu, if you can't make up your mind, order the Cocktail Tasting for a yummy trio of shrimp, crab and Maine Lobster.
35. Crispy Pig's Head @ Vagabond
7301 Biscayne Blvd., MiMo
786.409.5635
VagabondRestaurant.com
Why we picked it: The menu here offers unique renditions of traditional dishes from around the world. Sink your teeth into the Crispy Pig's Head served with tomatillo salsa, avocado leaf hummus and cilantro. Don't worry, none of the 3 Little Pigs were hurt in the making of this dish.
36. Guava & Cheese Croissant
@ La Boulangerie
1242 Coral Way, Miami
305.858.1080
LaBoulangerieUSA.com
Why we picked it: You can rarely find a guava & cheese croissant past 10:30 a.m. but it's worth an early visit to get your hands on one of these perfectly puffy, buttery and flakey croissants oozing with ooey-gooey guava and cream cheese.
37. Spicy Fish Tagine @ Cleo South Beach
1776 Collins Ave., Miami Beach
305.534.2536; SBE.com
Why we picked it: Chef Danny Elmaleh masters contemporary Middle Eastern cuisine at Cleo with a spiced-up menu that includes tasty delights like the Spicy Moroccan Fish Tagine with saffron, clams, tomato and chickpeas.
38. Salmon Papillotte @ Pléthore & Balthazar
101 Ocean Dr., Miami Beach
305.672.6624; PAndBMiami.com
Why we picked it: Fresh and French is what you get at the chic P&B brasserie. Stop in for the Salmon Papillote with mussels, sundried tomato, kalamata olives, red onion and sauvignon blanc…and stay for the bourbon crème brulée.
39. Côte De Boeuf For Two @ Driftwood Room
1825 Collins Ave., Miami Beach
305.503.5700
SixtyHotels.com
Why we picked it: Southern French cuisine is updated here to appease the Miami palate and keep you saying "oooh la la." Share a bottle of wine and the Côte De Boeuf and you'll feel like you're in Nice in no time.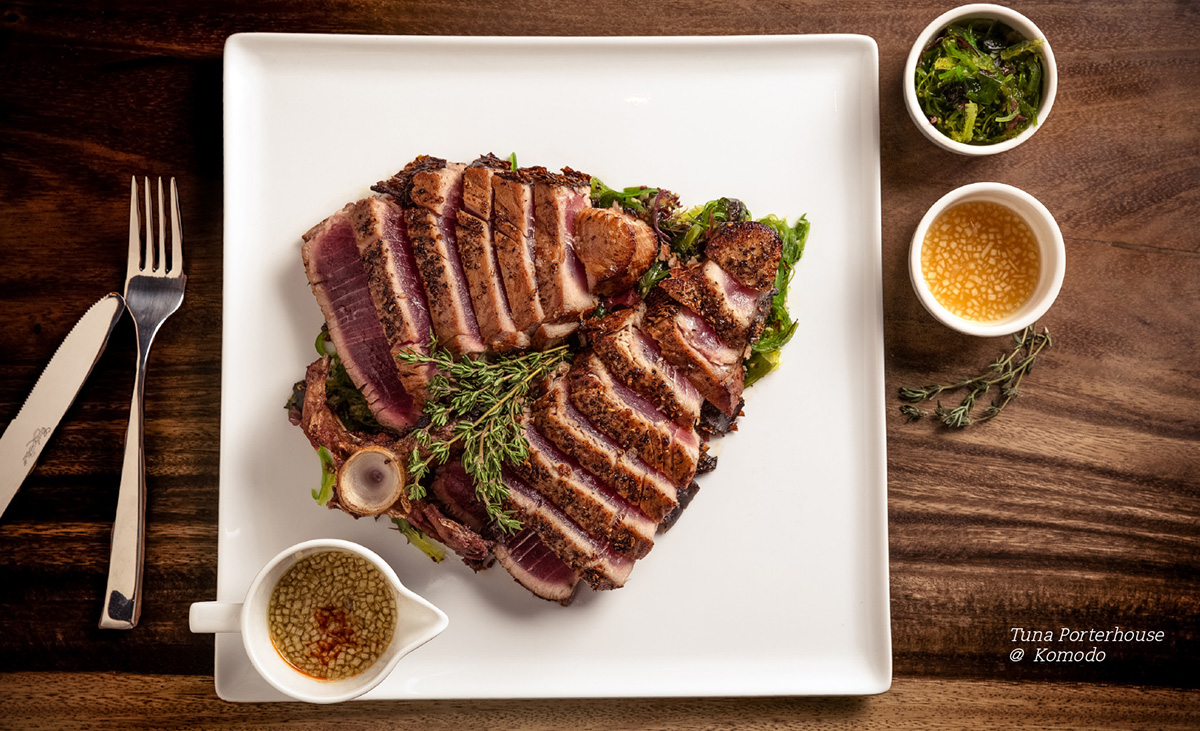 40. Tuna Porterhouse @ Komodo
801 Brickell Ave., Brickell
305.534.2211; KomodoMiami.com
Why we picked it: This 3-story indoor/outdoor restaurant & lounge combines Southeast Asian cuisine with a South Florida twist. The Tuna Porterhouse with szechuan peppercorn, chili ponzu and seaweed salad might turn you from a meat-eater to a bonafide pescatarian before your last bite's done.
41. Neau Dade Deaw @ NaiYaRa
1854 Bay Rd., Miami Beach
786.275.6005; NaiYaRa.com
Why we picked it: Chef Bee brings authentic tantalizing Thai cuisine from Chiang Mai right to your table. Surprise your senses with the Neau Dade Deaw, a homemade beef jerky created with a combination of coriander, nahm jim jao sauce and Burmese sticky rice.
42. Persian Lamb Shank @ Fooq's
1035 N. Miami Ave., Downtown Miami
786.536.2749
FooqsMiami.com
Why we picked it: The world-travel inspired cuisine here masterfully weaves Middle Eastern flavors in dishes like the Persian Lamb Shank, a 15 oz. bone-in shank for two served with harrisa hummus, herb yogurt, zataar naan bread, preserved lemon and natural jus.
43. Big Mack Fancy Roll @ Little Lotus
245 E. Flagler St., Ste. B, Downtown Miami
305.533.2700
LittleLotusSushi.com
Why we picked it: Consistent, healthy Asian fusion offerings have earned Little Lotus a much-deserved avid following among sushi lovers. The Big Mack perfectly layers spicy tuna, crunchy avocado, soy paper, crab salad, red tobiko, Japanese seasoning and sweet eel sauce.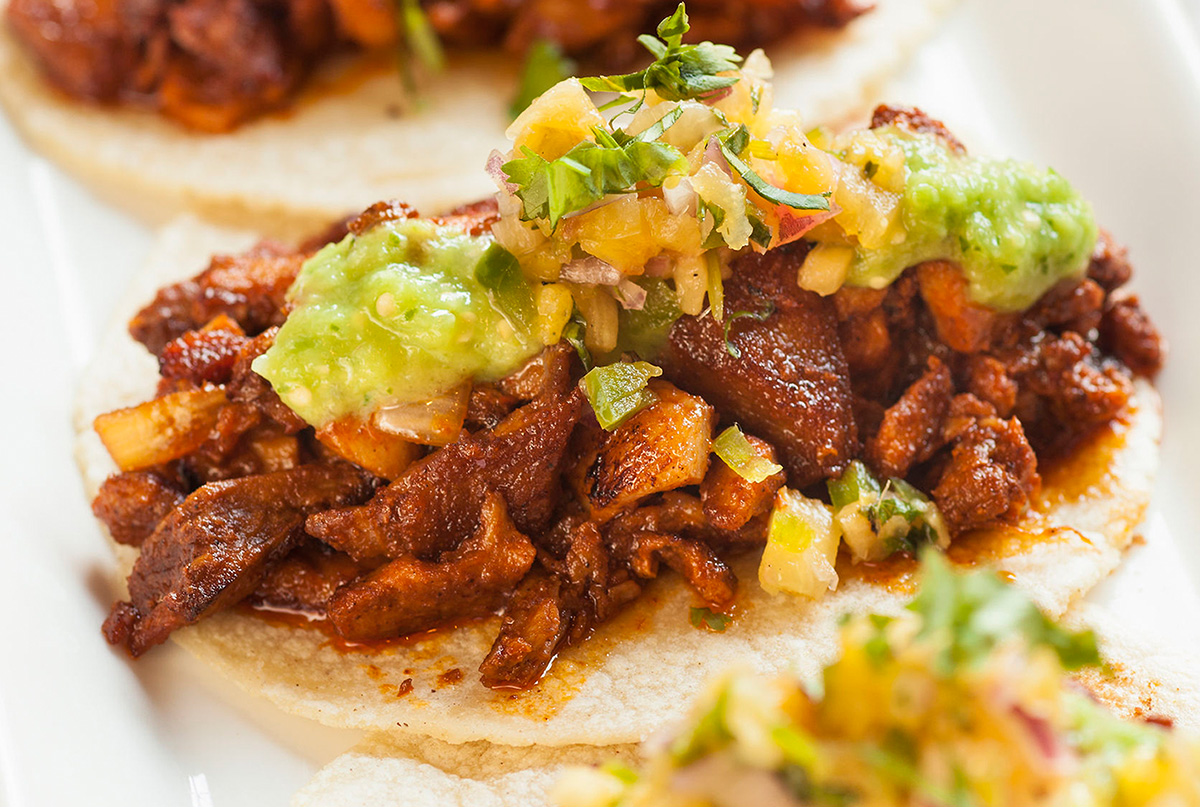 44. Any Taco @ Wapo Taco
2526 Ponce De Leon Blvd., Coral Gables
786.452.9634
ElWapoTaco.com
Why we picked it: More than half a century ago, these folks invented the famous "tacos al carbón" at their first taqueria in Mexico City. Today, their Coral Gables location is serving up an equally iconic menu where you can literally order anything and leave satisfied — and ready to come back for more.
45. De La Pampa Burger @ Al Carbon
2280 Coral Way, Miami
305.856.3366
AlCarbonBurgerAndBeer.com
Why we picked it: Pan American burgers are the specialty at this laid-back, artwork-laden craft beer & burger joint. Their De La Pampa offering from Argentina completments the juiciest burger you've ever had with chimichurri sauce and butterfly chorizo.
46. Italian Meatballs @ Segafredo Brickell
1421 S. Miami Ave., Brickell
305.577.9809
SZE-Brickell.com
Why we picked it: Skip the bar nuts and reach for a plateful of the you-can-never-eat-just-one Italian Meatballs at Segafredo Brickell, featuring spicy San Marzano braised meatballs with garlic-grilled crostinos and pecorino.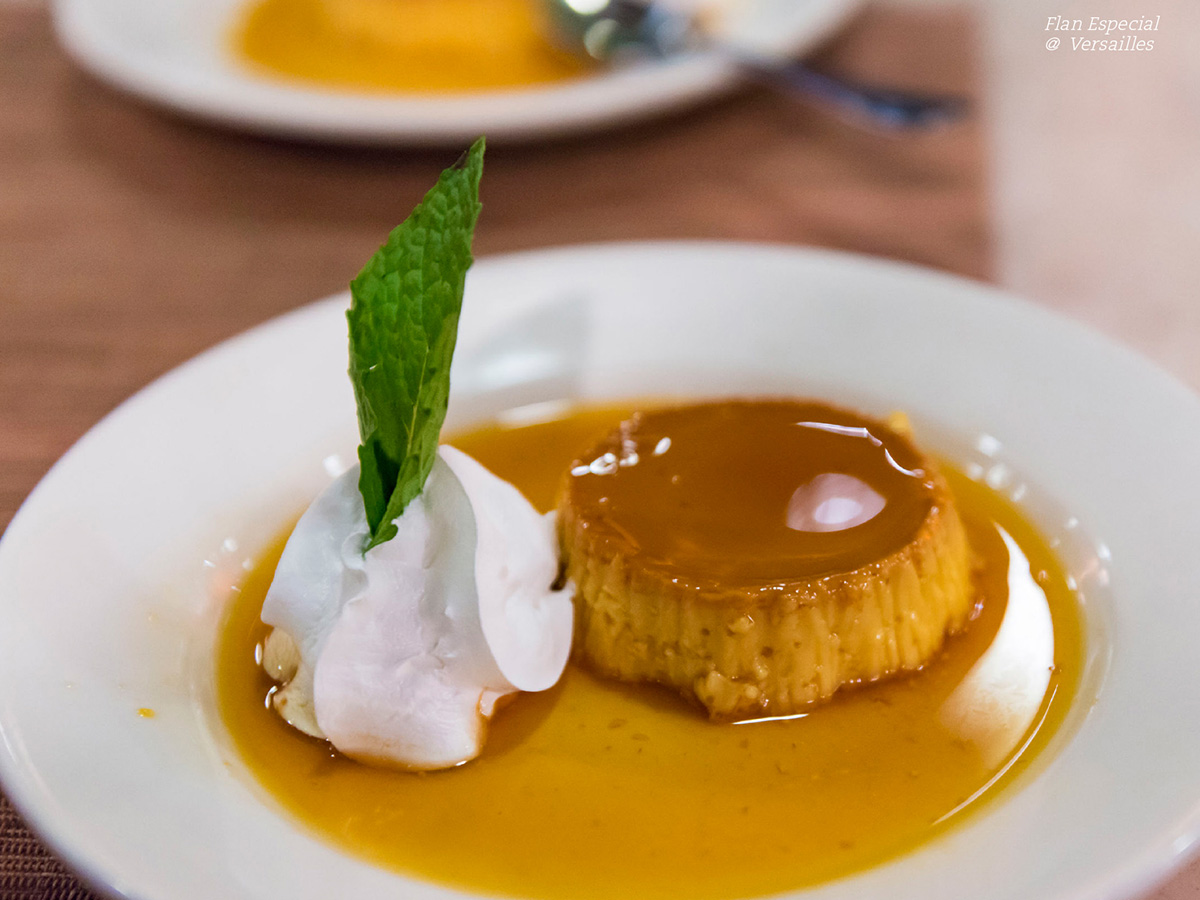 47. Flan Especial @ Versailles
3555 SW 8th St., Miami
305.444.0240; VersaillesRestaurant.com
Why we picked it: There's nothing like finishing an authentic Cuban meal with a lip-smacking, drool-worthy syrupy slab of flan. Make sure to ask for a dollop of whipped cream on the side and a mint leaf on top.
48. Thali Platter @ Jaya
2001 Collins Ave., Miami Beach
855.923.7899
TheSetaiHotel.com
Why we picked it: Take a culinary tour of Southeast & Northern Asia's cuisine with Executive Chef Mathias Gervais as your guide. Get a taste of India with the Thali Platter, a traditional Indian dish filled with small pots of chicken, fish and okra. It arrives to your table ready to share — or keep all to yourself.
49. 3 Course Prix Fixe Lunch @ Red Ginger
736 1st St., Miami Beach
305.433.6876; RedGingerSouthBeach.com
Why we picked it: For just $21 per person, you get a Southeast Asia-influenced power lunch including an appetizer, main course and dessert in the heart of SoFi. You might like it so much, you'll ask your 5 o'clock to join you for happy hour.
50. Buns Of Liberty Burger @
Sweet Liberty Drinks & Supply Co.
237 20th St., Miami Beach
305.763.8217;
MySweetLiberty.com
Why we picked it: The Buns Of Liberty Burger is like nothing you've ever tasted. It combines crunchy onions, lettuce, tomato, American cheese, house-made pickles and a banging secret sauce on a brioche roll. Wash it down with a few glasses of Rosé on tap. Perfection!