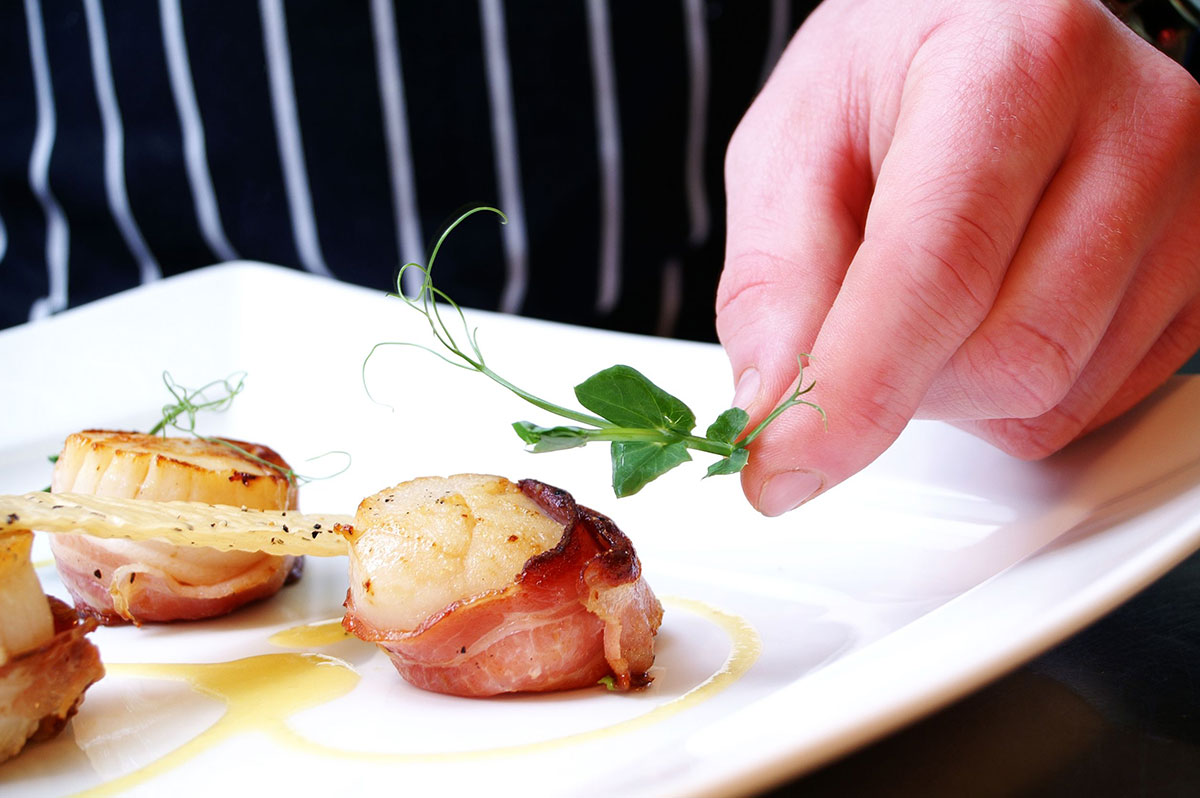 It never ceases to astound me when my foodie family — always careful to prize the freshest and most socially just of ingredients, cautiously and contemplatively inflecting our traditional Appalachian fare with contemporary tools and techniques — dumps an arduously decanted dinner on my dish like a day-old dog treat with no thought given to presentation. A plop on my plate and it's good to go. Perhaps it's our modest rustic roots, but I sincerely believe any injunction to "eat first with your eyes" would be met by frequent temperature-taking and pointed queries regarding anatomical optometry. Swiftly followed, of course, by a comment about my weight. Because, you know, it's family. In an effort to combat my kin's anti-aesthetical affliction, I've endeavored to tutor myself in the basics of classical plating. As in any art, one must always begin by amassing the proper tools. Overly-large, bone-white plates are a must to make your prandials pop. A simple white dish guarantees no culinary color clashes and adds a clean look to your sensational supper. Printed china is perfectly acceptable for noshes and dessert, but when it comes to your entreé, white is always right. Elegant plating is, unfortunate for all of us who tended to follow the "Dazed & Confused" approach to high school math class, all about geometry. Lines, triangles and well-centered circles will gain you the admiring glances of even your most dubious of dinner guests. Moreover, it's surprisingly simple to deconstruct a dish. By spreading individual elements of your meal around the plate, you encourage a higher level of interaction, as well as making it slightly simpler to prepare — and more fun to eat.
EXPERT OPINIONS
When it comes to proper plating, don't take my word for it. We quizzed some of the city's most up-and-coming local chefs on their thoughts and opinions on fine plating.
Oh Yea! Chef Cesar Zapata of Little River's Phuc Yea Vietnamese restaurant says: "Herbs and flowers are a big part of my cuisine; they lend flavor, depth, freshness and dimension to food. Just place your main ingredients in the center of your plate and top with herbs and flowers for an organic feel."; PhucYea.com.

Feel It World-famous Chef Henry Hane of Bachour Bakery & Bistro in Brickell says: "I truly believe that we do eat through our eyes and that a beautiful plate shows respect for the ingredients. Personally, I'm a huge fan of negative space on a plate complemented with a wide variety of colors."; BachourBB.com.

Edible Art Small-plate savant Chef Jose Mendin of Pubbelly says: "The presentation of a dish is an art form in itself. This aesthetic is enhanced by having to replicate the presentation over and over consistently. The aim should always be to make dishes that are stunning to the eye and as flavorful as possible."; PubbellyBoys.com.