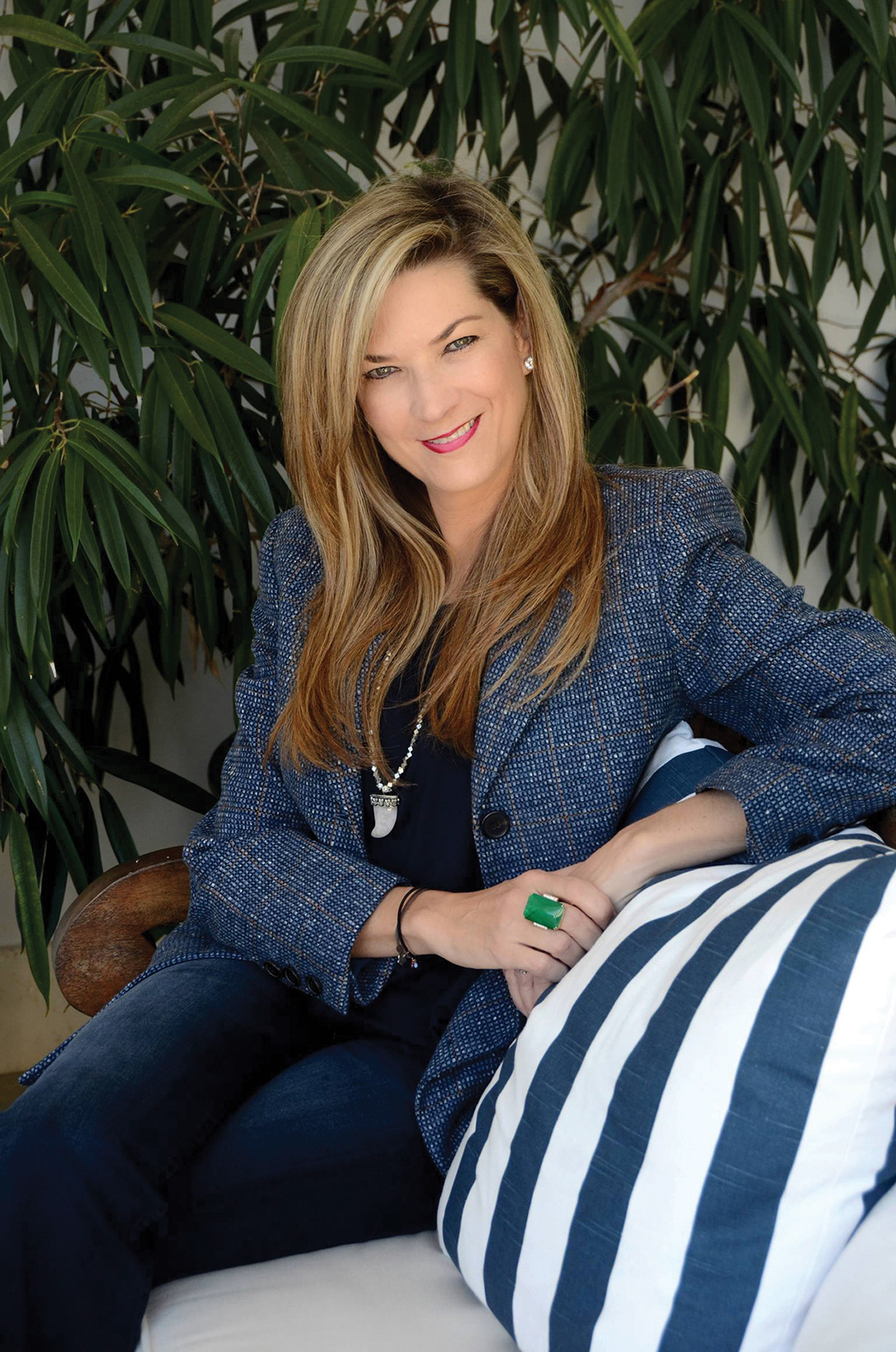 Brigitte Nachtigall
Great Properties Int'l Realty
305.710.9664
[email protected]
BNachtigallProperties.com
Brigitte Nachtigall has always been a very social person. While she was in Colombia as a young girl, she used to volunteer on a TV show interviewing other children to see what they wanted to be when they grew up. "I think working on TV and in front of the cameras made me very secure and it's definitely helped me in my career," she says. "It's easy for me to explain and convey the messages to my clients about the properties I'm showing them." She delights in the many aspects of real estate. "The part I enjoy the most is the amazing people that I meet in this profession," she says. "I meet all types of folks from so many different countries and cultures. I absolutely adore meeting new people. It's very exciting." She also loves how every day is so different. "I'm always learning something new," she says.
Advice For Buyers: "Find the area that best fits your needs, especially if you have children and schools are important. It's essential to fall in love with your purchase. Remember, you can always change the inside, but you can't change the outside."
Advice For Sellers: "Price your property based on what has sold and closed, not on what's for sale. Be familiar with your competition. Give your realtor access to the property so that it can be shown at any time."
Predictions For 2015: "Miami is growing and evolving very rapidly, becoming more cosmopolitan and international each day. With all the foreign investors and amount of new construction, we should have another amazing year as long as prices stay realistic."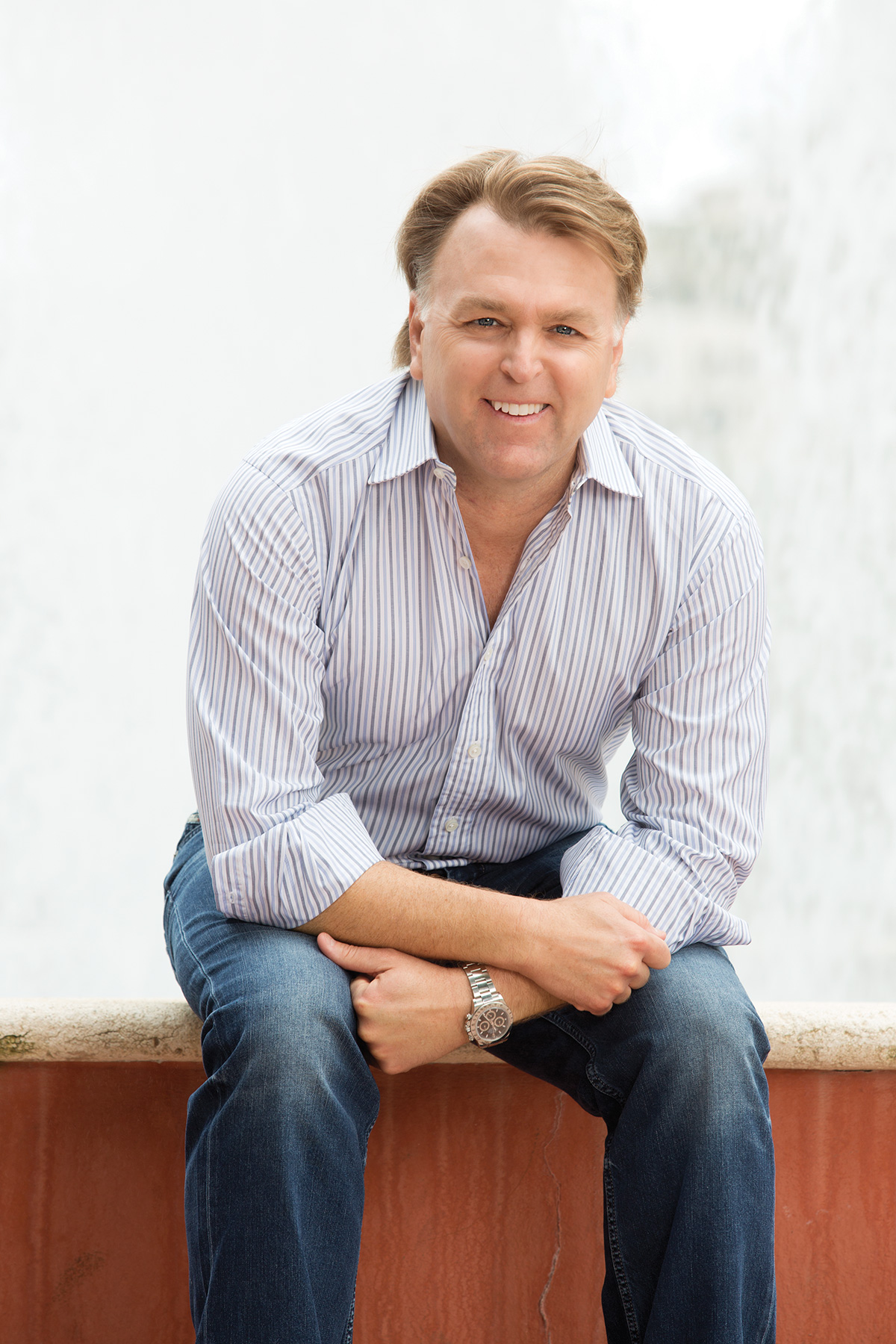 Doug Kinsley
Fortune International Realty
305.215.5900
[email protected]
DougAndAl.com
With over 30 years in the business, Doug Kinsley has more than his share of interesting tales. "Years ago, I had an evening showing with another agent," he reminisces. "The client looked familiar, but I couldn't place him. After the showing, the gentleman drove off in a Rolls-Royce convertible. I asked the agent who the man was, and she replied…Julio Iglesias!" Kinsley believes every day is new and it never turns out the way it's expected. "I love the spontaneity of real estate," he says. Though he has always been competitive and loves playing Monopoly and Risk, he believes that service is one of the few things that sets people apart from one another. He and his team strive to provide customers not only with the services to purchase and sell their properties, but to maintain them over the years by developing long-term relationships. They are almost like family," he says.
Advice For Buyers: "Make fair offers. Don't try to lowball and antagonize a seller."
Advice For Sellers: "Price the properties fairly. Look at recent sales, and ask for slightly more to allow a little room for negotiation."
Predictions For 2015: "We're going to have a lot of new inventory delivered to the market this year, and there are many new projects on the drawing board. With so much new construction, it's going to be an interesting period with quite a bit of competition for the existing buildings."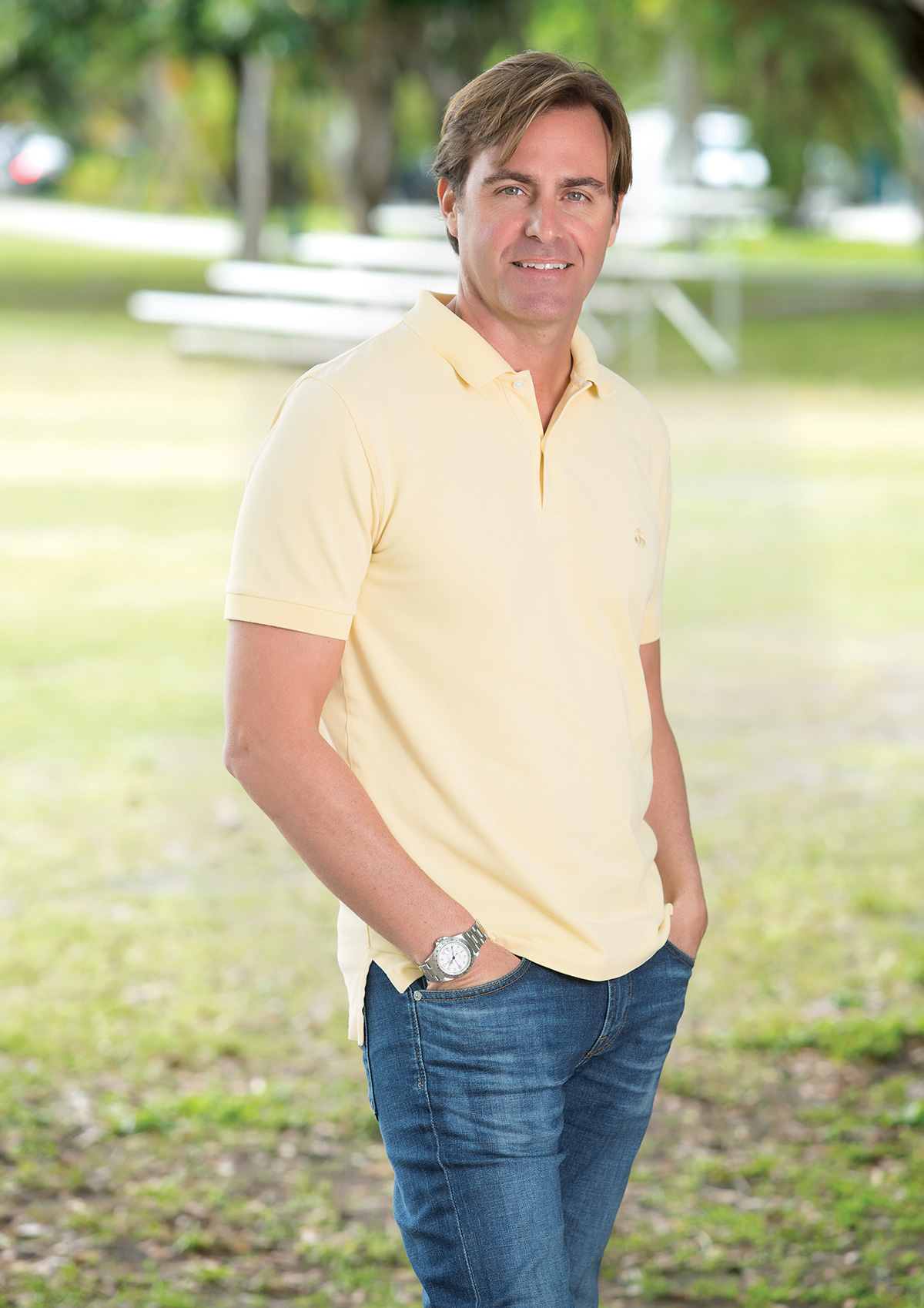 Cristian Gonzalez Black
Fortune International Realty
305.775.3426
[email protected]
DougAndAl.com
Christian Gonzalez Black really enjoys what he does. "All the people I get to meet and all the properties I get to see, it's incredible," he says. "I like picturing myself in all the great properties I get to sell." Since he was young, Gonzalez Black has prided himself on honesty and a dedication to do the best at whatever task he takes on. The high level of service provided by he and his real estate team is focused on turning the potentially stresssful home-buying and selling process into a happy, stress-free experience. What's more, he's always learning, adapting to the changes in the market by keeping informed about the marketplace, looking at trends and taking full advantage of new technological tools available. Ultimately, however, his business is about people and every realtor's concern is walking in on a seller when they're not expected. In his case, he says with a laugh: "Yes, the seller was dressed!"
Advice For Buyers: "Move when you really like something. Don't think of what you lost. Go for what you want because it might be gone soon."
Advice For Sellers: "Educate yourself on the market and look at closed sales. Don't be greedy. Your first offer might be your best."
Predictions For 2015: "Miami is an exciting place with lots of changes happening all over. Last year was awesome, but I predict this year will be even better."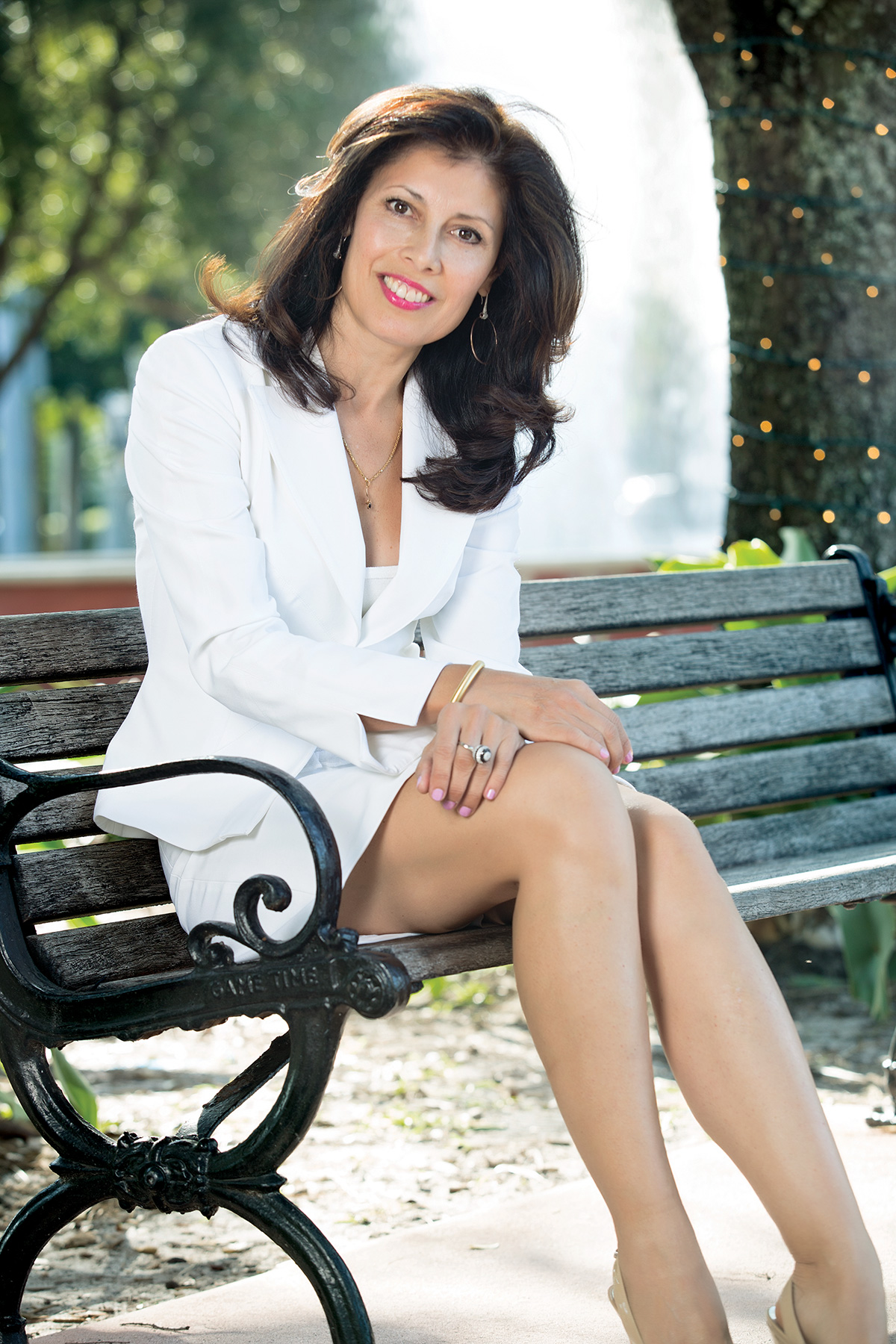 Angela Macchi
Fortune International Realty
305.987.8220
[email protected]
FIR.com
A good real estate agent doesn't just sell properties, they sell themselves. This is a philosophy Angela Macchi lives by. "It's important to have an engaging personality," she says. "People will react to you if you are personable and honest, have confidence in your abilities and get a sense of fulfillment by serving others, negotiating effectively and, at a client's instruction, aggressively, to achieve the best possible price and terms." But her efforts don't finish with a deal. "I help clients in matters of installation in the new home, remodeling, moving, decorating, property management, landscaping, personal assistance and any other advice that they need," she says. Future plans include expanding her business into other countries, particularly Europe and South America, she's already bringing potential international clients to Miami, especially now that the city is blooming with a huge number of new developments — all without forgetting local clients.
Advice For Buyers: "Take a look around the property during the day and at night. Think as an investor."
Advice For Sellers: "Sell fast, price it right from the start, make sure your property looks neat and updated inside and out, and make it easy to show."
Predictions For 2015: "Prices will continue to increase as the city welcomes a growing population, local and international investors and big inventory and pre-constructions. This will make us one of the most desirable destinations in which to live."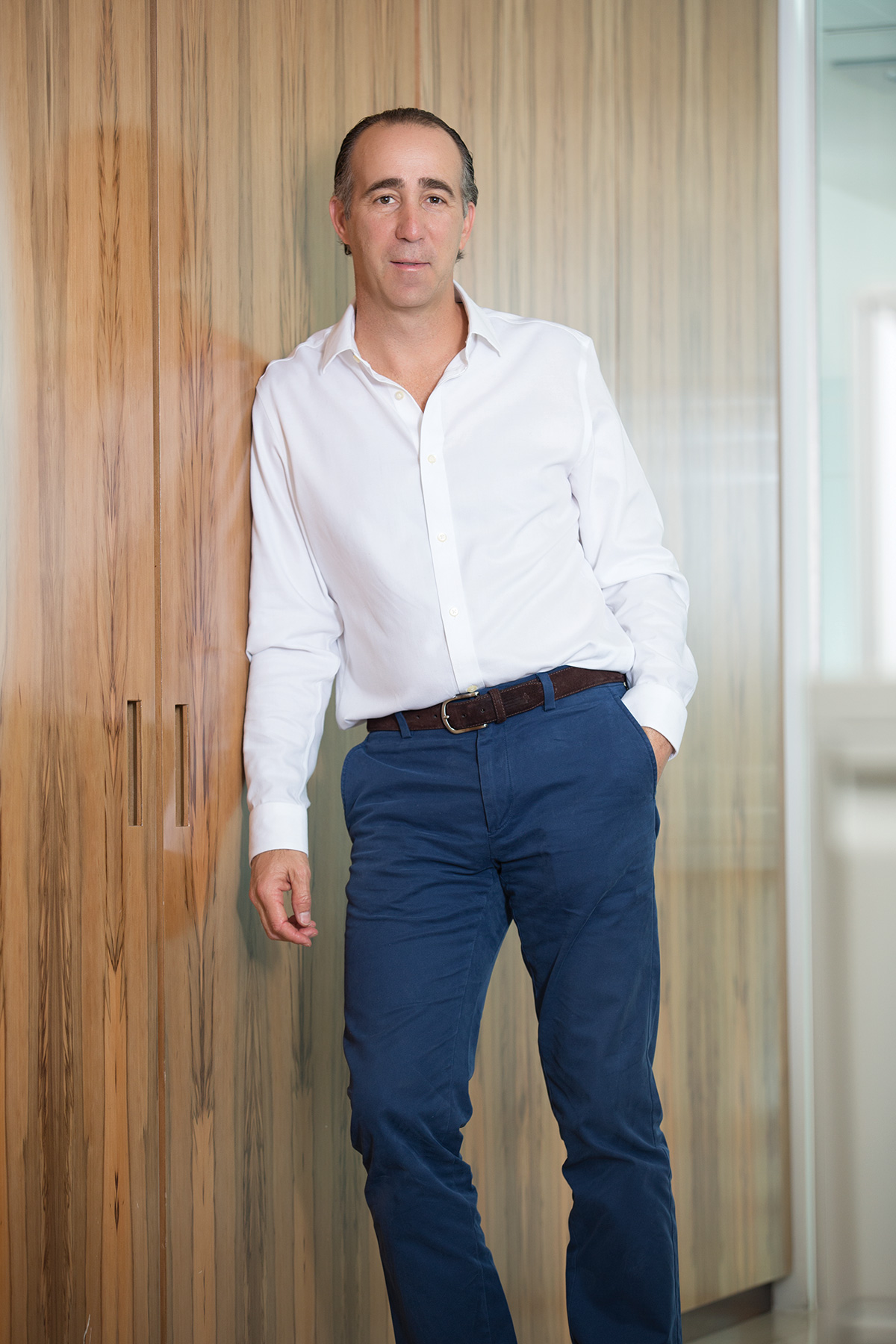 Daniel Gaviria
Great Properties Int'l Realty
305.582.4800
[email protected]
DanielGaviriaRealEstate.com
Daniel Gaviria has been a broker for over 25 years and has owned his own firm for over 11 of those years. "Several years ago, I went back to school and got an MBA in Finance because I thought it would be an asset for me and my clients to further my education in that field," he says. "I would prefer to advise someone who trusts me not to go ahead with a deal if I thought it was not to their benefit. The commission will eventually come if people trust you for a future transaction or if they refer a friend." One of his wildest experiences was selling a property for a couple who were in the process of a divorce and refused to communicate with each other. "It was stressful, but in the end the house was sold and they both walked away happily," he says.
Advice For Buyers: "Look for new properties coming on the market, and have your financials ready so that you can make a solid offer immediately."
Advice For Sellers: "List the property at the right price with an agent who has the maximum experience and resources to market the property to the broadest number of potential buyers."
Predictions For 2015: "Prices in some areas will continue to rise but not as steeply as last year. Other areas will slow down a bit because of over-supply. European, Brazilian and Venezuelan buyers will continue to be a strong force in the market."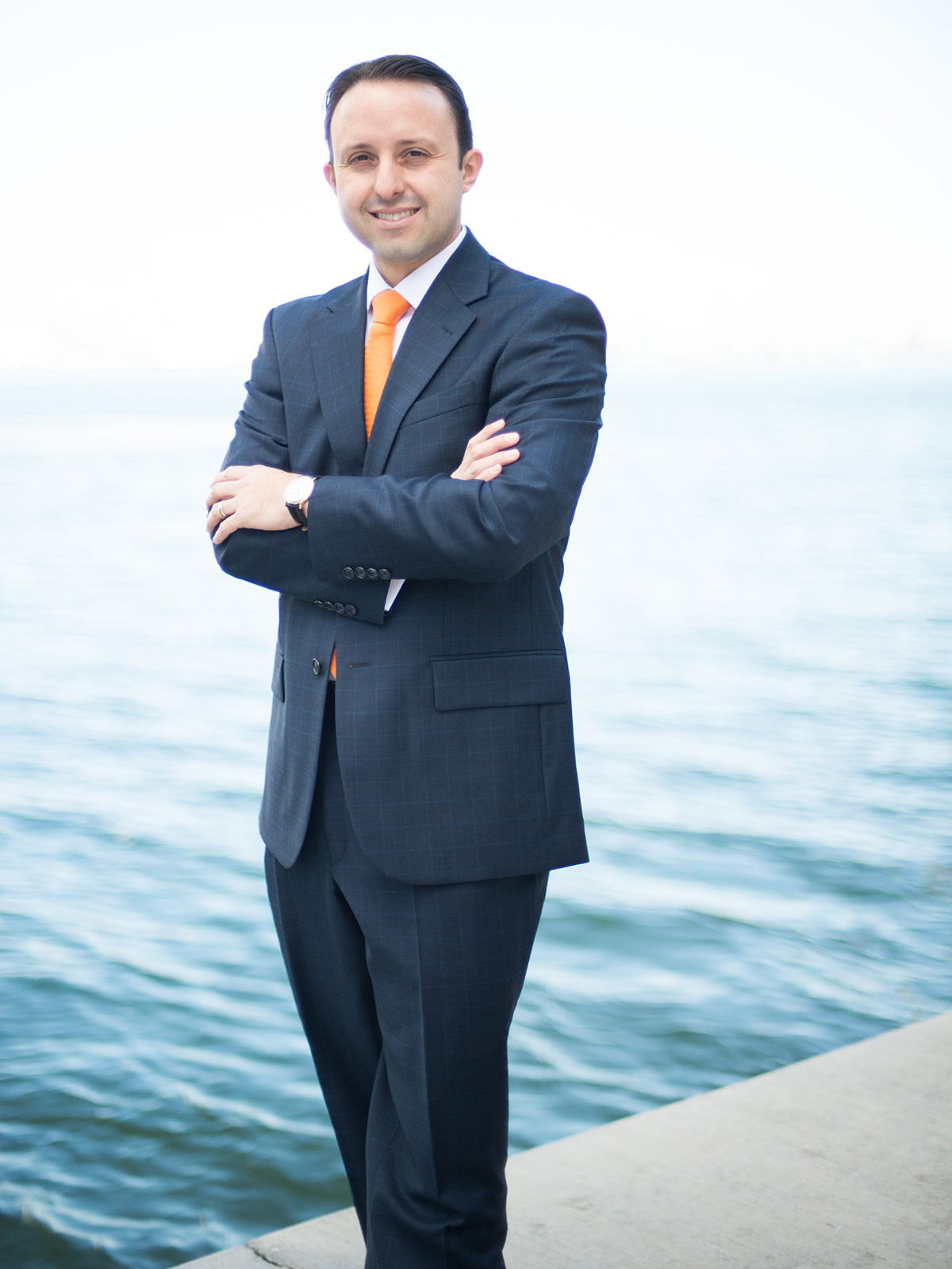 Christian Tupper
The Related Group
786.351.3342
[email protected]
ChrisTupper.com
"Ionce had a gentleman walk into the office, a little smelly, and I truly assumed he was an indigent," says Christian Tupper. "I offered him a drink and he started asking about the property I was selling. Turns out he bought two units, all cash. His yacht had broken down and that was the reason he was looking that way. I learned you can't judge a book by its cover." Throughout his career, Tupper has always been very competitive and feels it has definitely transferred into his real estate career. "Working for Related has definitely nourished that trait," he says. "They are extremely hard-working professionals and I work hard to stay on top." As such, he savors the opportunity to meet people from all over the world and share everything that makes living in Miami so great. "Making the connection between property and lifestyle is definitely fascinating," he says. "The biggest compliment is having someone thank-you for finding the right property for them."
Advice For Buyers: "Understand the importance of the location and the standard of the subject property. This will help you identify the best deals."
Advice For Sellers: "Bring up the key characteristics that made you buy it in the first place and make sure those are highlighted at the time of marketing."
Predictions For 2015: "Today's prices will be gone soon and will continue to soar along with an increasing luxury market."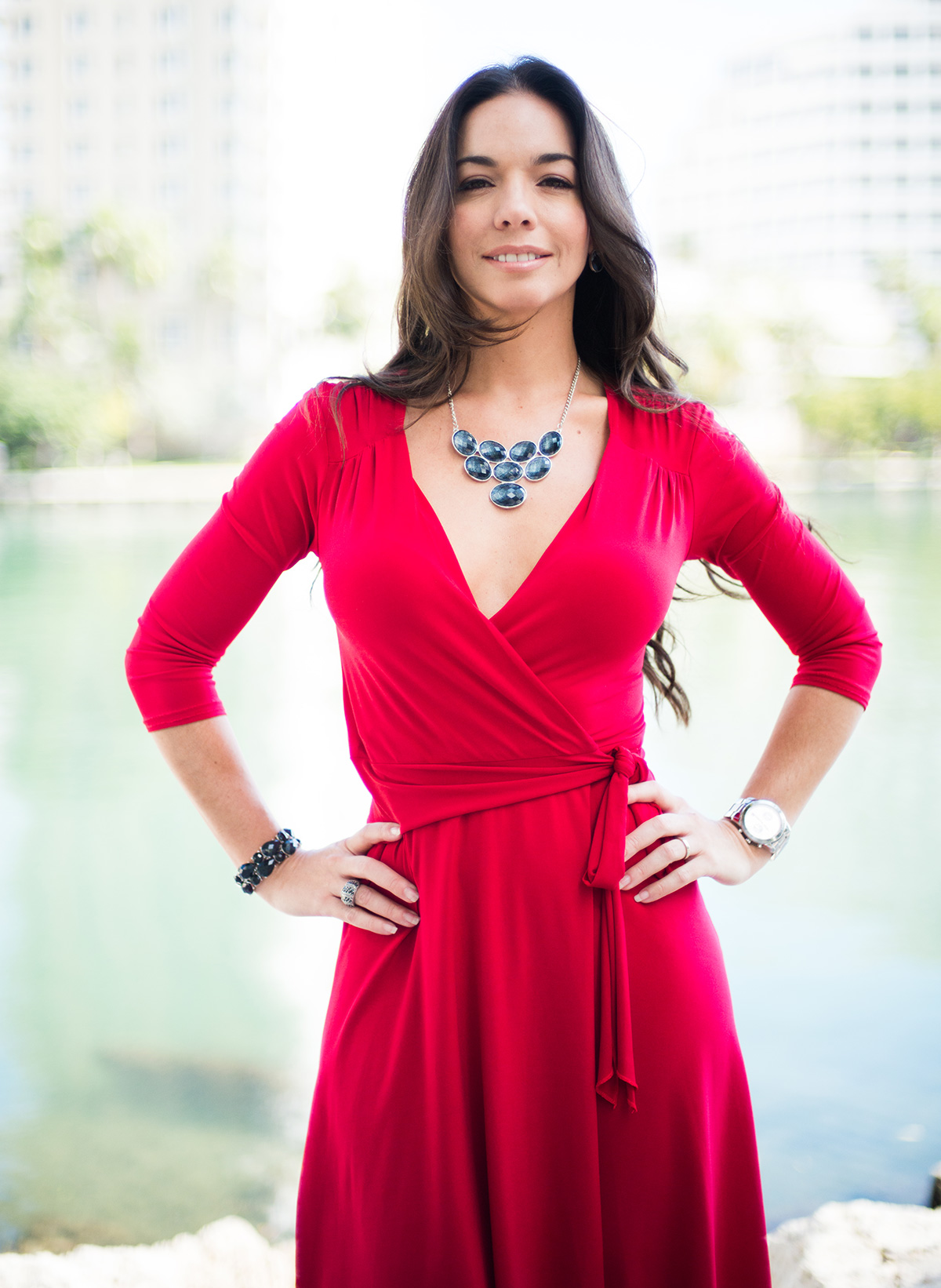 Arlyz Morales
Fortune International Group
305.323.5321
[email protected]
DPropertyShop.com
Arlyz Morales believes strongly in Michelle Moore's wise words: "Not following up with your prospects is the same as filling up your bathtub without first putting the stopper in the drain." Since she was young, Morales has been responsible, independent, creative and very friendly. "People do business with people they like," she says. She also puts a significant amount of effort into email marketing and social media, and stays up-to-date on all the new developments. Moreover, she's had her share of wild moments including once showing a unit on the 39th Floor of a Downtown high-rise and finding a trapeze hanging from the balcony. "I couldn't explain to the buyers what the exact use of that trapeze might have been," she says with a chuckle. As In-house Sales Executive at Hyde Midtown Suites & Residences, she enjoys being part of the development of the future of Downtown Miami. "I plan to continue focusing on customer satisfaction, which turns into referrals," she says.
Advice For Buyers: "If you're going to hold a property long-term, it's far better to buy a wonderful house at a fair price than 'junk' at a bargain."
Advice For Sellers: "Regardless of how well you renovate and stage your home, it's still important to price it appropriately. Try to put yourself in the buyer's shoes, then determine what a fair price might be."
Predictions For 2015: "Both rentals and sales prices will keep increasing. Secure a property now. Great things are coming in the near future to Miami. Buy now and hold."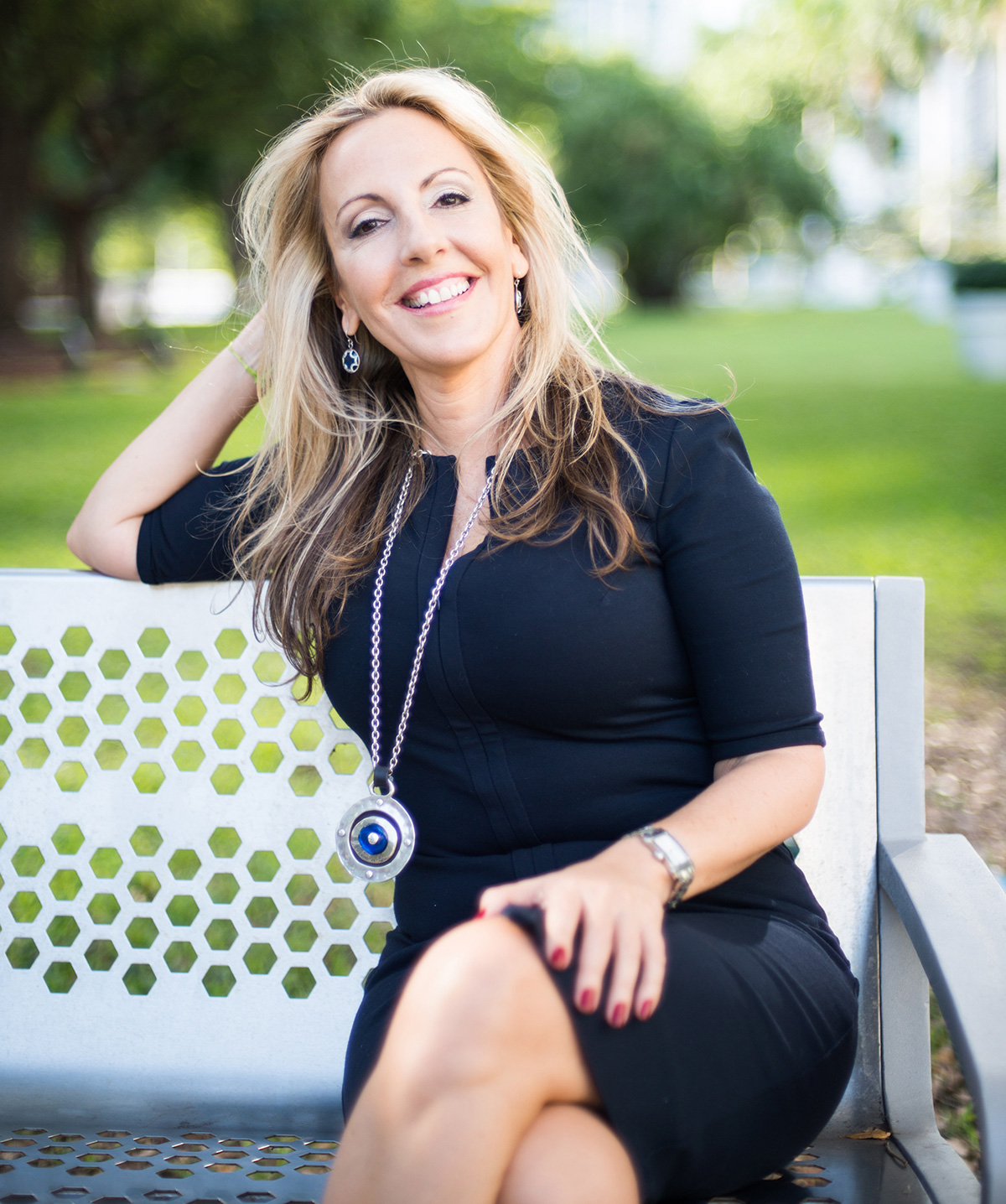 Kari Fernandez
The Related Group
786.286.2259
[email protected]
BrickellHeights.com
Growing up, Kari Fernandez was always comfortable making friends. "This skill has given me an advantage when it comes to making and maintaining relationships with brokers and buyers," says the Sales Director of Brickell Heights. She especially likes interacting with clients from different cultures and backgrounds. "Connecting with them on a personal level where I get an inside perspective on their stories is always interesting and fun," she says. Fernandez prides herself on her always-positive attitude and readiness to answer demands and cater to client needs. "Being a part of such a reputable company like Related Group, a leader in the real estate industry, I'm constantly evolving," she says. "I keep on top of what's going on in the real estate market and the economic factors that might influence it. I continuously develop sales platforms that will benefit the projects and sales teams that I direct to effectively achieve our goals."
Advice For Buyers: "When buying pre-construction, knowing the developer's history is crucial in this market."
Advice For Sellers: "When selling a property, stage it well — the first impression is a determining factor. Also, price it competitively if you want to sell fast."
Predictions For 2015: "Real estate keeps growing strong as Miami is becoming a cultural hub and the focus of various markets while the city continues to evolve as a sophisticated urban oasis."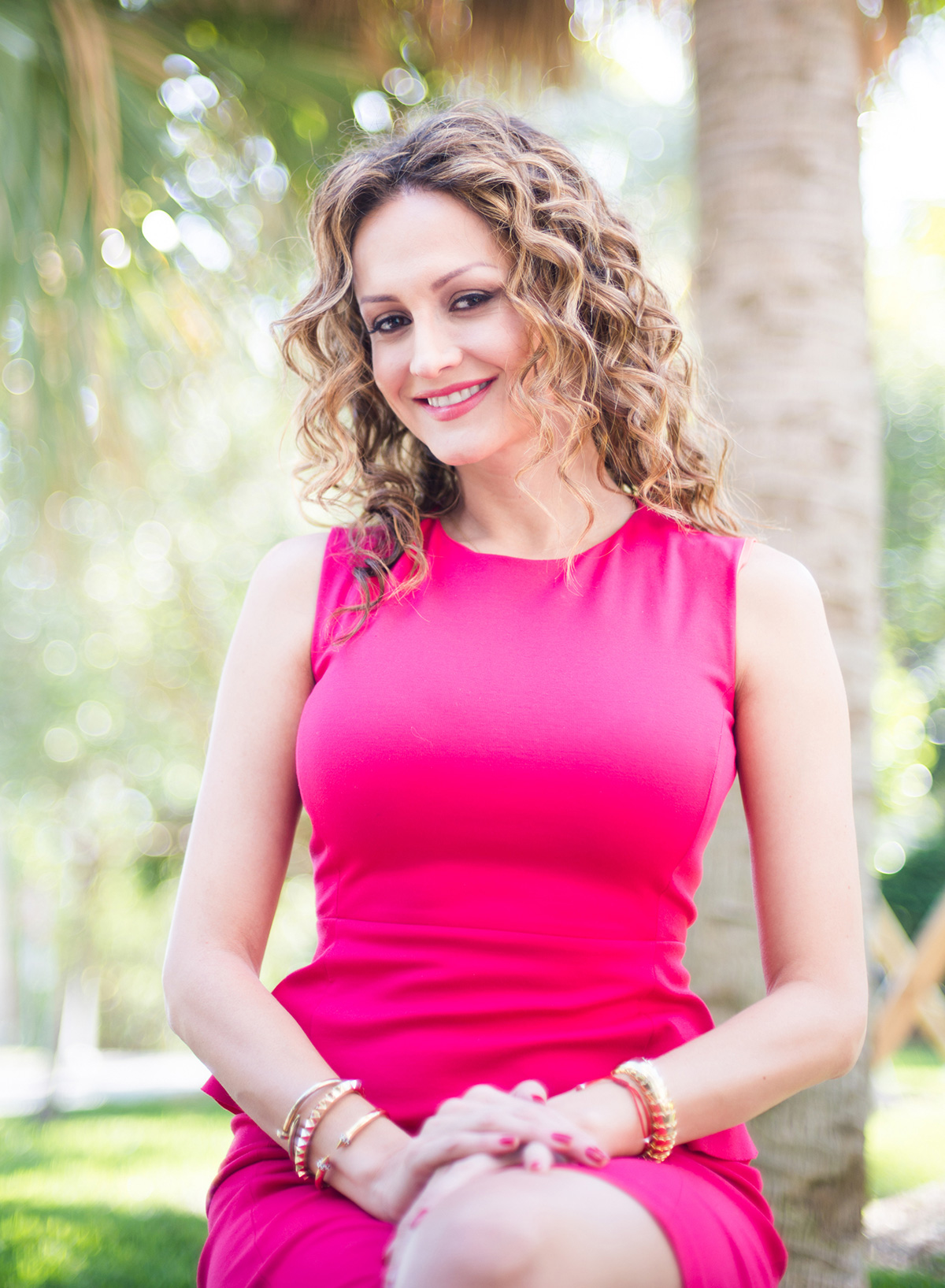 Catalina Martinez
SLS LUX by The Related Group
305.206.9080
[email protected]
SLSLux.com
"Being a realtor is a lifestyle more than a job," says Catalina Martinez. "I work nights, weekends, and even while I'm on a rare vacation." She takes pleasure in collaborating with clients on what's going to work best for them in the long-run; and equally enjoys representing spectacular condominium buildings created by some of the world's greatest artistic talents. In short, her days are never dull. "At the beginning of the market recovery in 2009, a potential client came to the sales center at Icon Brickell in a t-shirt, flip-flops and spoke with a heavy accent," she says. "We discussed options, he signed a $1.5 million contract, and proceeded to tell me that his first 20% deposit would be paid in cash. He then showed me a leather duffle bag full of money. It took me a minute to compose myself before I smiled, showed him the nearest bank and told him to come back with a cashier's check."
Advice For Buyers: "Don't buy anything you don't love, even if it's an investment. You have to love what you're buying."
Advice For Sellers: "When you decide to let it go, let it go. Don't insist that buyers maintain the property the same way you do."
Predictions For 2015: "According to recent studies, the average price per square foot for condos for Miami-Dade County went up 28% from the year before. This year will be another amazing year for the real estate market."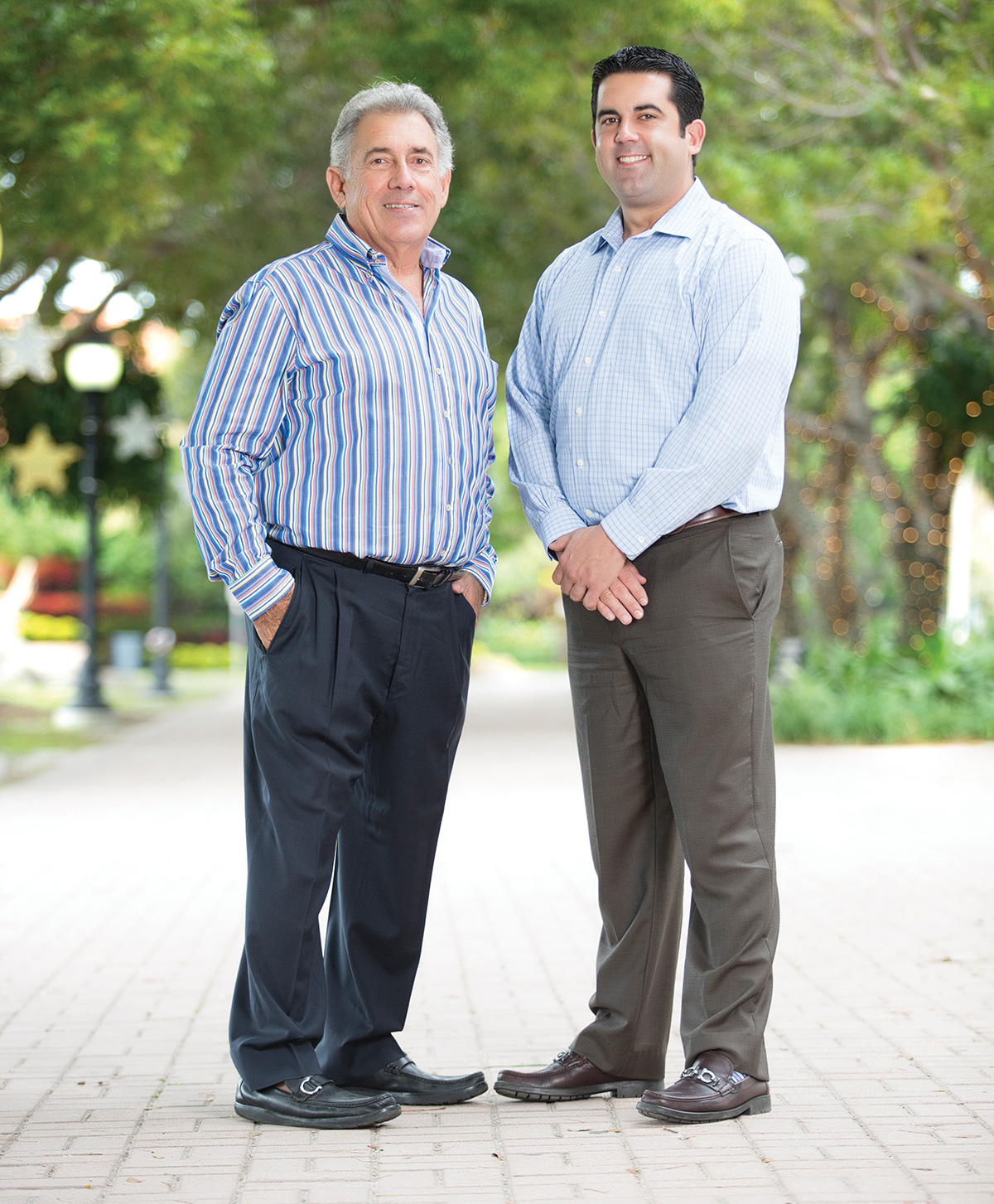 Carlos & Victor Coto
The Coto Group
305.803.3059
[email protected]
KeyBiscayneToday.com
"Kids usually grow up thinking that they will be policemen, firemen, pilots, doctors, nurses, etc.," says Carlos Coto. "No kids I know of grew up thinking they will be realtors." In fact, he was a school Biology & Chemistry teacher for many years and believes his scientific and analytical background has influenced his success, helping him zero-in on properties that he could later recommend to clients. Through real estate he's met people with homes around the globe and been hosted by clients/friends in Athens, Florence, Rome, Megeve, Mexico, Guatemala, Santiago De Chile, as well as many U.S. cities. His greatest joy today is working with his adult children including Victor Coto. "They teach me the ropes of technology while they absorb my experiences," he says. "We often have lunch together and talk shop at the same time that we plan family trips…and we cover for each other whenever one of us is busy with other clients."
Advice For Buyers: "Don't fall in love with concrete. Carefully analyze the location of the property, the size of the lot, etc., before you make your decision. A good realtor should be able to guide you."
Advice For Sellers: "Don't sell unless you really have to. I personally regret having sold almost every property I've sold."
Predictions For 2015: "Property values will remain strong."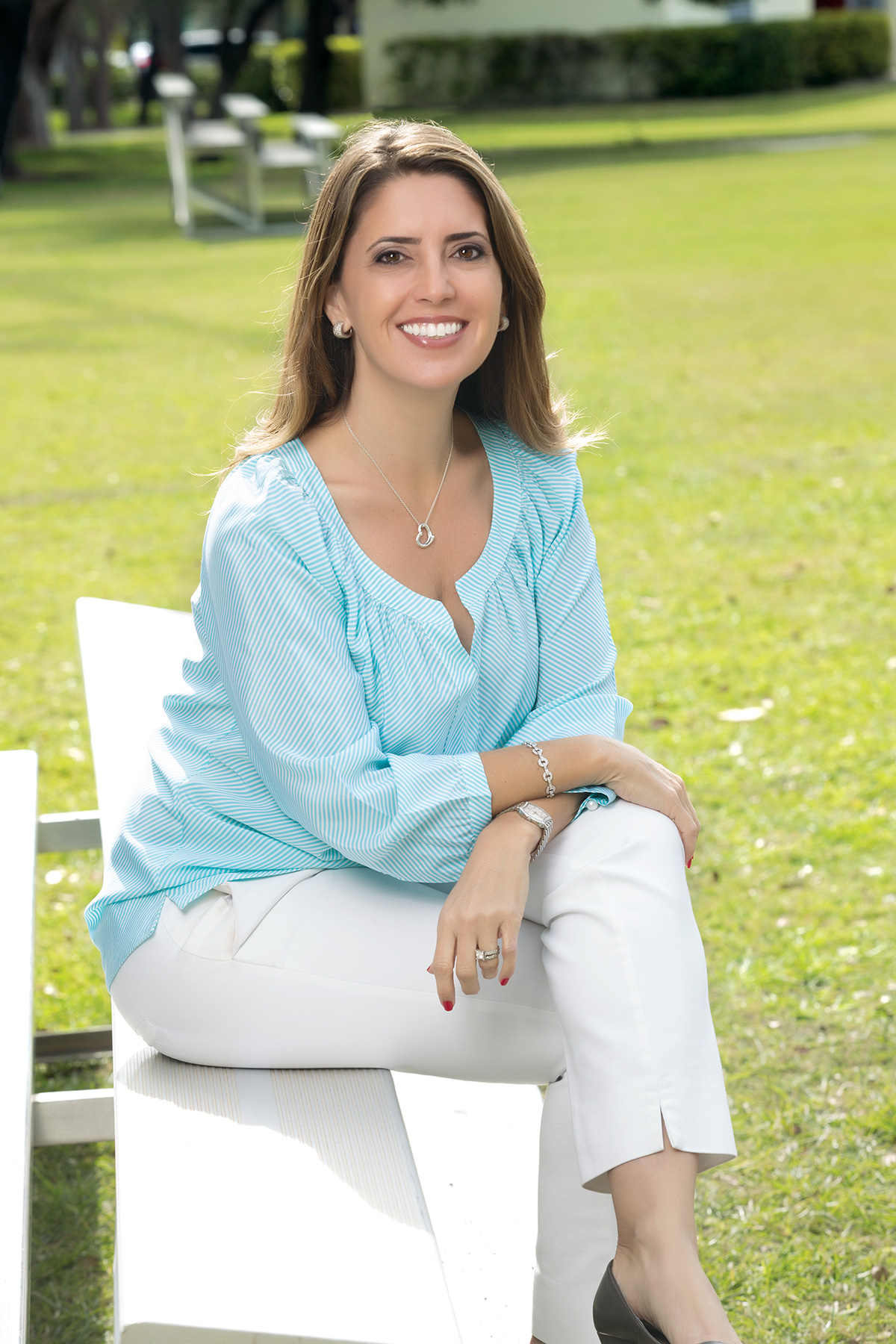 Claudine Coto Knautz
ONE Sotheby's Int'l Realty
305.389.6229
[email protected]
KeyBiscayneToday.com
"It's an exciting time to be selling Miami; it's a city on the rise," says Claudine Coto Knautz about loving her job. "As a truly international destination with sophisticated architecture, world-class entertainment, fine dining and incredible value, Miami has become a city to watch among investors around the world. I love connecting with this international clientele." Coto Knautz is also excited to be partnering with her brother, Victor Coto. "He brings invaluable online sales experience and always makes us laugh with witty comments," she says. When asked what quality she transferred from childhood to real estate, she's doesn't hesitate. "My parents worked very hard," she says. "As a middle child, I also needed to work hard to differentiate myself and shine." The same work ethic that enabled her to attend top schools, she now utilizes to get ahead in real estate. "I'm prepared, am always on top of the market and go the extra mile for my clients."
Advice For Buyers: "Across some market segments, we're experiencing an inventory buildup. This is an opportunity to be aggressive when negotiating offers."
Advice For Sellers: "The best opportunities sell quickly. Some sellers have gotten over-eager in today's market, pricing a property too high and leading to stale inventory."
Predictions For 2015: "Overall, pricing will continue to be strong across Miami while the pace of activity may slow down a bit. The market is stabilizing, and this is a very good thing."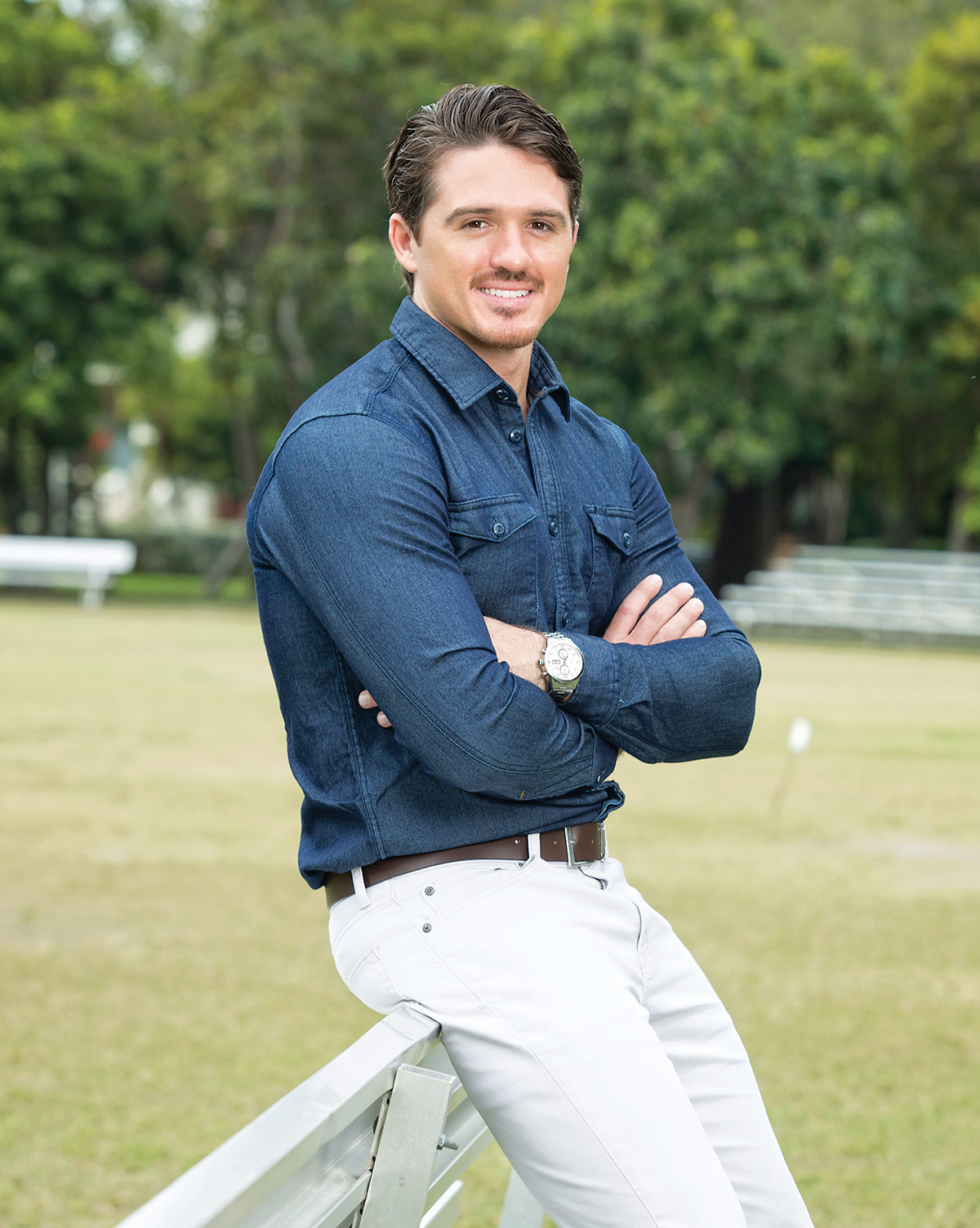 Philippe H. Neumann
The Neumann Group
& Ocean Club Realty
305.905.2326
[email protected]
OceanClubRealtySales.com
Philippe H. Neumann grew up on Key Biscayne enjoying the island's unique style of living and watching it grow into a thriving and privileged community. "I try to convey this feeling to all my clients," he says "It allows them to appreciate what Key Biscayne living is, and hopefully they can enjoy what I have: A safe environment to raise a family with friendly neighbors, beautiful homes and condominiums, and excellent investment opportunities." He credits his mother's lifetime of experience as a top producer in Key Biscayne as the reason for his high standards and honesty. "My family's long-time involvement in this market provides the safety net that our clients seek, which sets us apart from other realtors and keeps our client base expanding and thriving," he says. "Opening windows of opportunities for my clients is the greatest thrill of all."
Advice For Buyers: "Clearly set your goals, needs and limitations. Always trust your instincts and in the present conditions, act fast without hesitation."
Advice For Sellers: "Be realistic, let your realtor provide well-balanced, comparable reports and make timely decisions to avoid missing good opportunities."
Predictions For 2015: "Key Biscayne has a great advantage with its limited amount of land, so prices for vintage homes will continue to rise to make room for newer, larger homes."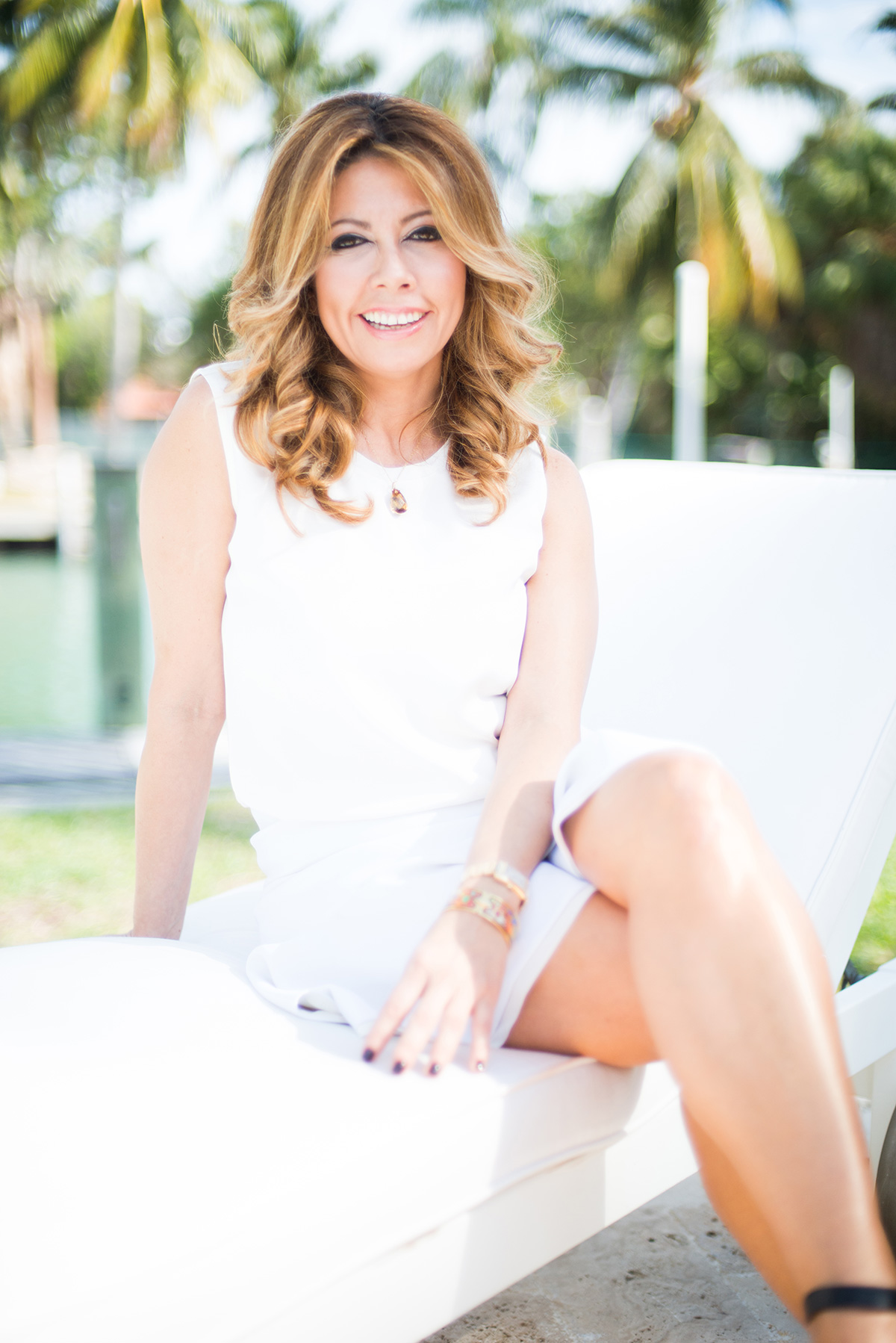 Monica Venegas
Venegas International Group
786.567.4122
[email protected]
VenegasInternationalGroup.com
The developers and projects that laser-focused Monica Venegas has worked with are a Who's Who of South Florida luxury development, including The Related Group, Terra Group, Millennium Partners and Château Group. She has spearheaded the pre-construction sales of such outstanding developments as the Yacht Club at Portofino, Murano Portofino, Murano Grande, Icon South Beach, One Miami, Four Season Residences and several projects throughout the Brickell corridor, to name just a few. She is presently working on her third project with the distinguished Château Group, Fendi Château Residences. "I certainly look forward to introducing this legendary collaboration and foresee a complete sell-out within a short period of time," she says. Venegas prides herself on offering superior investment counsel backed by disciplined research, measurable returns and expert risk assessment. With over $2 billion in sales at Venegas International Group, developers and international investors consistently come to her for advice on the South Florida market.
Advice For Buyers: "Today, we have the advantage of having many options to choose from in South Florida. It's always important to do an intensive market analysis before purchasing. Making a comparison between properties that you're interested in is vital in obtaining the best price and product value."
Advice For Sellers: "It's important to evaluate what's happening at the moment of the sale, so that you can set a realistic price for your property — this is the most important step to selling in a short amount of time. Pricing your home too high will discourage potential buyers."
Predictions For 2015: "Everyone is referring to Miami as the 'Wall Street Of The South' with more than 200 hedge funds and over 60 international banks opening branches throughout the city. This is drawing the attention from investors and buyers from around the world. The demand of buyers is leaning toward low-density boutique developments that offer luxury services and amenities."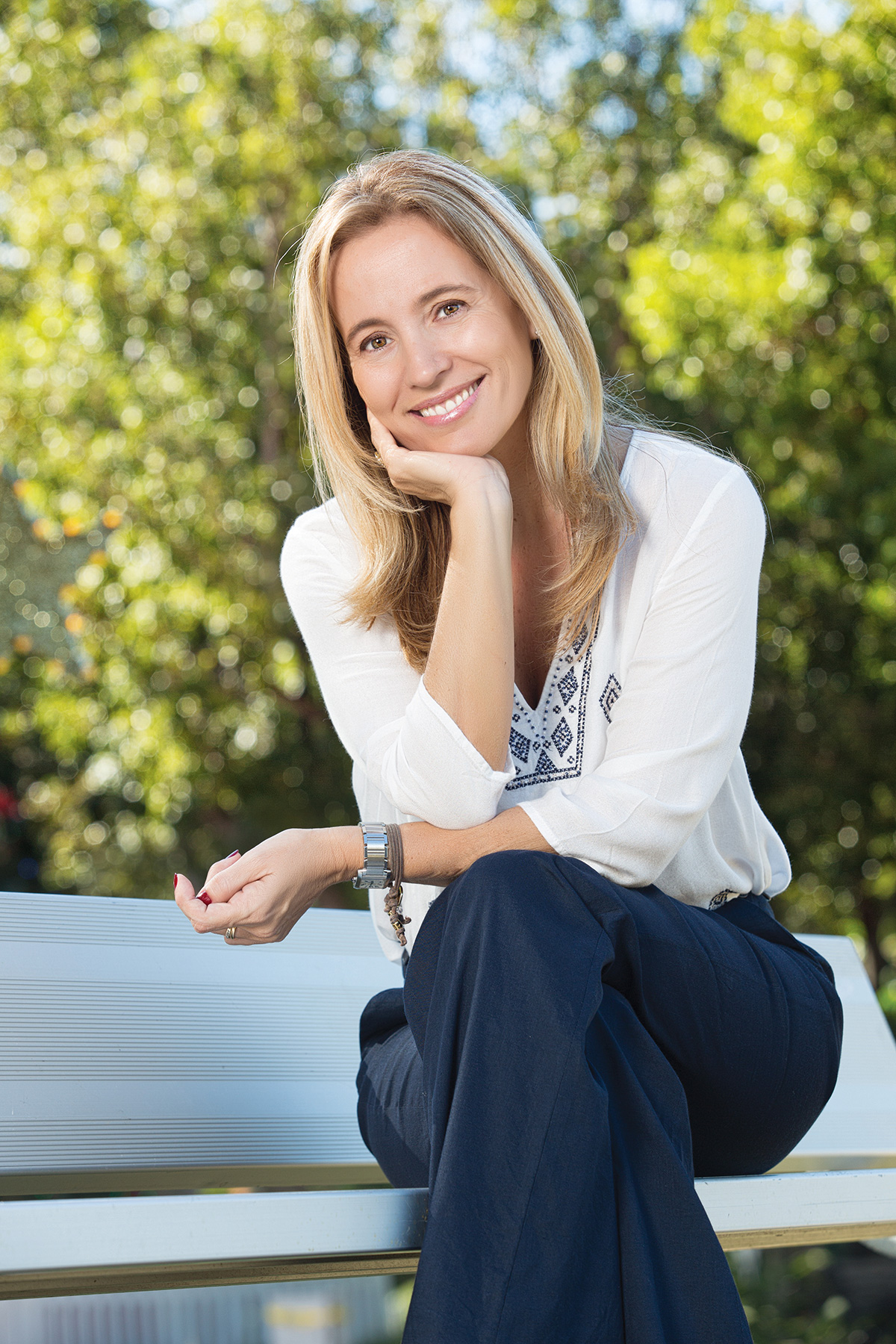 Florencia Moni
EWM Realtors
786.200.4867
[email protected]
EWM.com
"I was once showing a house in Coconut Grove, where the mangroves were extremely thick," shares Florencia Moni of her always-interesting career. "My client and I were walking to the edge of the shore and suddenly an iguana the size of an alligator jumped into the water, leaving a huge splash that sounded like a person and we almost fell in with it. We were laughing hysterically a few minutes later, but it was very scary in the moment!" She takes great pleasure in finding opportunities and sharing them with her clients, whom she considers dear friends. "I believe that every relationship I have with my clients is one of true empathy, where I really chase what they need, understanding their sentiments and perceptions," she says. "This way, I can achieve what they're really looking for with greater perfection." Her advice for business and life? "Always be yourself and lean on people who look out for you, not for themselves."
Advice For Buyers: "Since the inventories are growing, look for something safe and well-located. Location is fundamental."
Advice For Sellers: "Show your properties every time it's necessary — you never know when an offer may be put on the table."
Predictions For 2015: "I trust in the slow but sure growth of the U.S. economy, and I know this year will bring plenty of opportunities."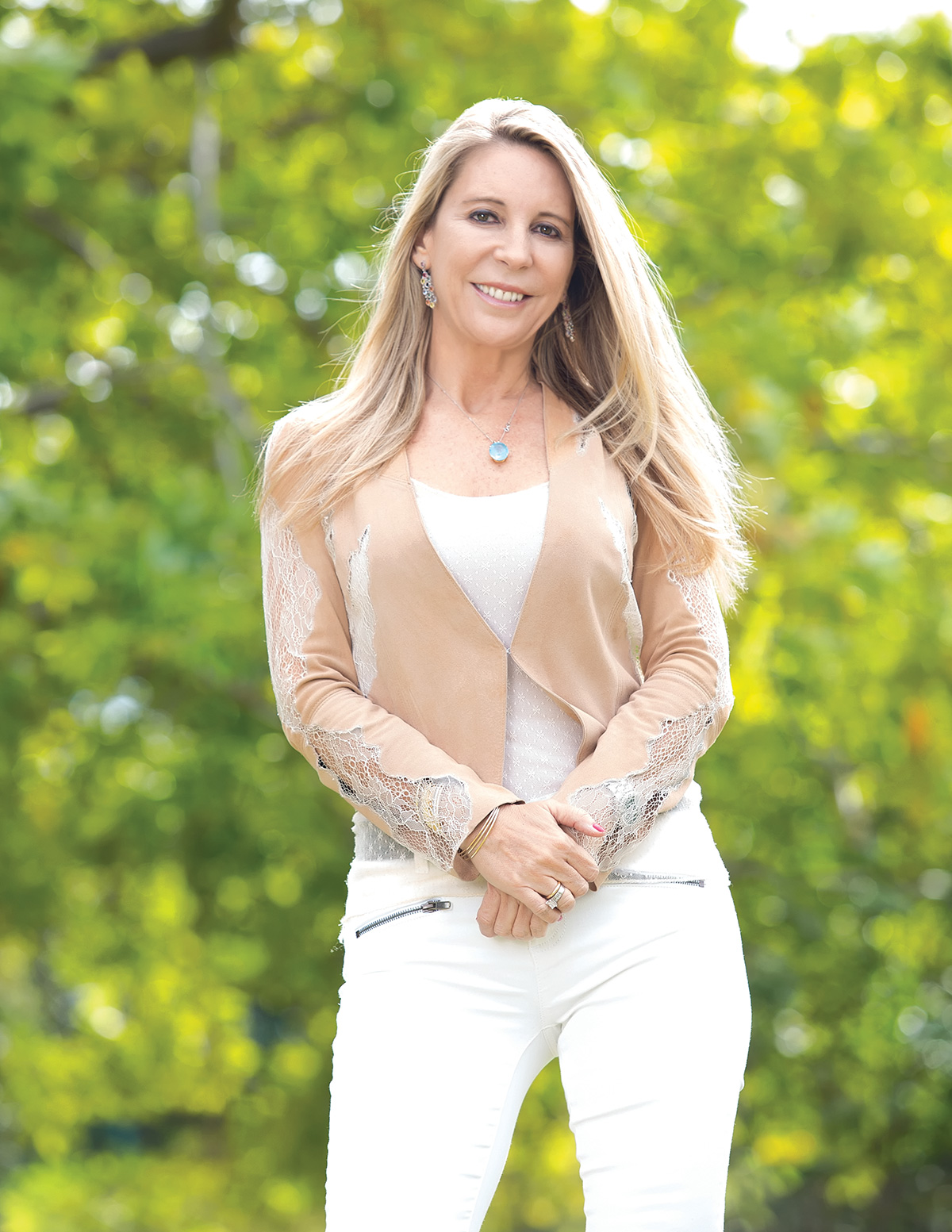 Giulietta Ulloa
EWM Christie's Real Estate
305.710.6620
[email protected]
GiuliettaSellsMiami.com
"My best showing ever was a pink house," says Giulietta Ulloa. "It had a pink carpet, a pink refrigerator, pink bathrooms, even a pink sink." When she entered the home with her client, they both screamed, but for different reasons. "I thought it was horrible, but my client said it was exactly what she was looking for," she laughs. "She ended up buying the house and living happily ever after." So what did Ulloa learn from that experience? "Don't ever give your personal opinion to a client if they don't ask for it," she says. When she was a kid, Ulloa says she was a bookworm; today, she takes her childhood hobby and reads and analyzes the real estate market in the same "wonky" way. Each day she meets different people from different countries and learns about a wide variety of cultures. "I always try to understand other people's points of view — it helps me to be more open, sensitive and understanding," she says. "I don't only sell real estate because living in Miami is like living in paradise. What I sell is a dream."
"Real estate is a jungle, so look for a good advisor. Buying a house right now may be the best opportunity of your lifetime."
Advice For Sellers: "It's a seller's market. Search for the best professional, with knowledge of the market and who really cares. Good marketing is key."
Predictions For 2015: "Miami is one of the most attractive markets in the world. Even though prices are still lower than other big cities such as New York, São Paulo, Madrid and London, I predict we still have a higher cap."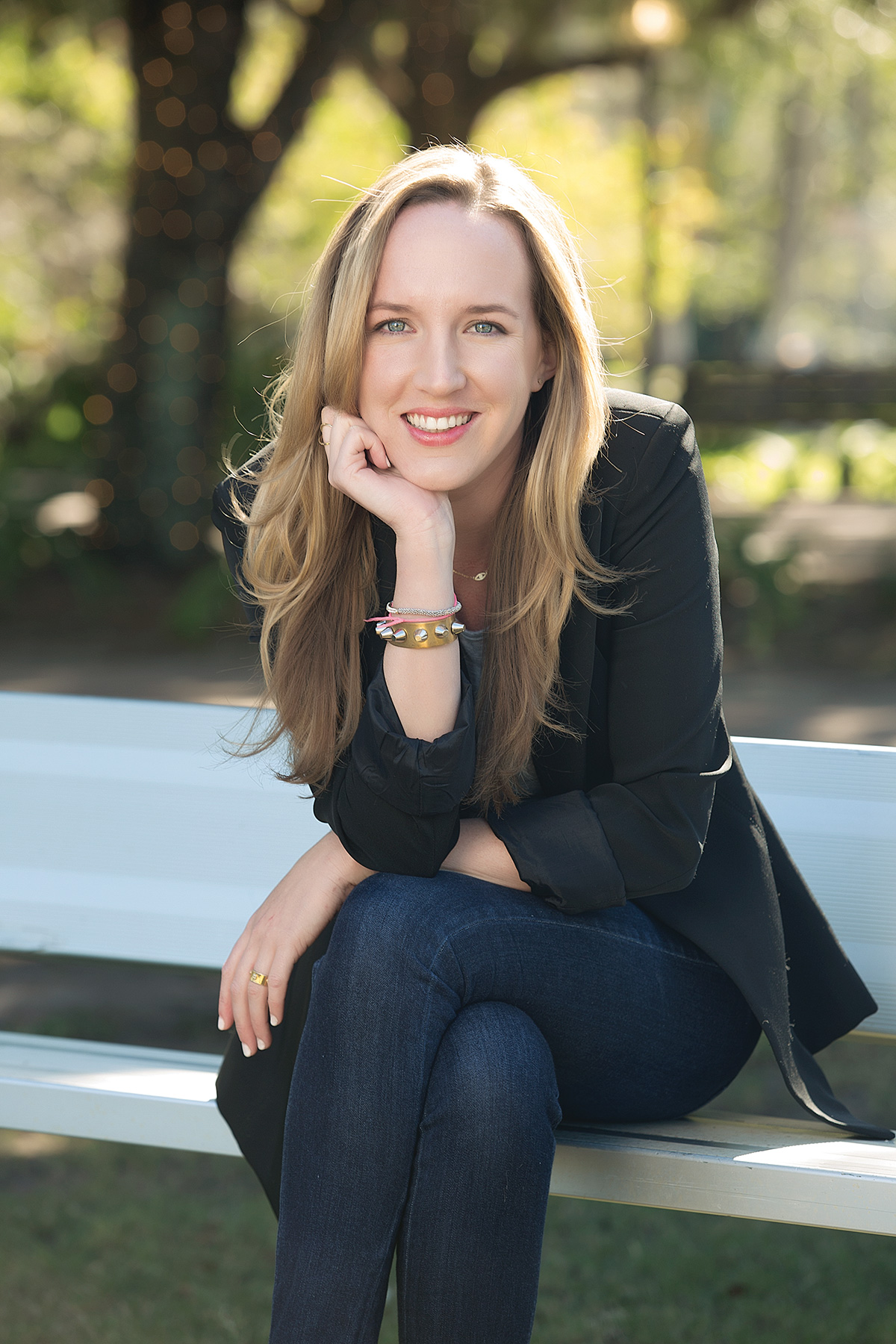 Emma Jauregui
Fortune International Realty
786.201.1707
[email protected]
LifeOnKeyBiscayne.com
Emma Jauregui has 2 generations of full-time real estate professionals and Key Biscayne residents behind her. "My mother and her mother are extremely generous in supporting my efforts with the wisdom and cool confidence gained from their years in the business," she says. Jauregui applies both her creative and technical talents to the team's marketing, where she lays out advertisements, chooses photos and color schemes, and keeps the trio on top of the latest advances in technology. "We have more tools at our disposal than ever before," she says. "We extensively use virtual tours, all major forms of social media, and 3rd-party websites such as Zillow, Trulia, Realtor.com, etc. Thanks to drones, there are almost no limits to the images we can use to showcase a property." Still, the single most fun part of her job is connecting buyers and sellers and making deals happen. "The negotiation process is thrilling, sometimes exhausting…but once completed, it brings me more pleasure than anything else I do," she says.
Advice For Buyers: "It's totally normal to try to avoid a rash decision, but buyers often miss out on great opportunities because they feel the need to keep looking."
Advice For Sellers: "Always use a local and full-time realtor. Frequently, I receive last-minute showing requests that I'm always happy to accommodate. This can make the difference between a successful sale and a listing that languishes on the market."
Predictions For 2015: "Key Biscayne is a seller's market and will likely continue to be. The rental market, however, should be approaching its peak."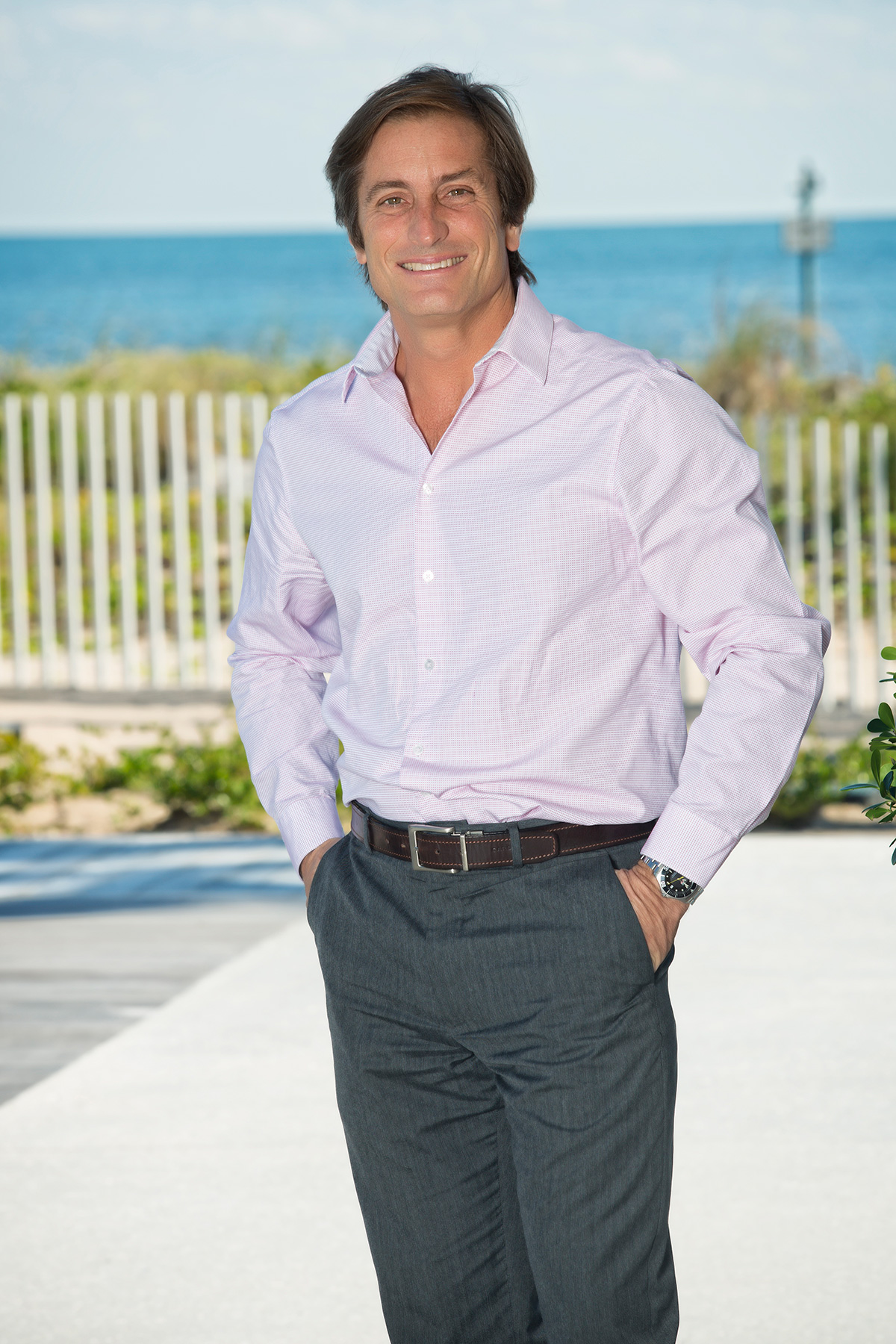 Gustavo Gambino
Gimeza Real Estate Corp.
Miami Condo Services LLC
786.281.5050
[email protected]
GustavoGambino.com
Like many top realtors, Gustavo Gambino came to real estate after a successful career in a completely different industry. "I worked 20+ years in big corporations as an Industrial Engineer, so my analytical skills have served me well, especially with more complex, commercial properties and investments," says the man who describes himself as persistent and people-oriented. Both qualities came into play when a top-ranked tennis player came for a showing at Oceana Key Biscayne during construction. "He didn't want to be recognized, so instead of taking the construction lift we had to climb all the way up the stairs to the penthouse level," he recalls. So what's the most fun part of his job? "I love building long-term relationships with clients, a few of which have resulted in great friendships," he says. "I also like celebrating every successful closing with my clients." Future plans include evolving the business by enhancing the property management component and providing EB-5/Green Card consulting to offer a full-service alternative to clients.
Advice For Buyers: "Welcome to Key Biscayne — you'll never regret your decision!"
Advice For Sellers: "Key Biscayne property will continue to appreciate. I encourage owners to rent their house or condo for a couple of years and then sell it at a higher price."
Predictions For 2015: "It's going to be hot and shiny in Key Biscayne!"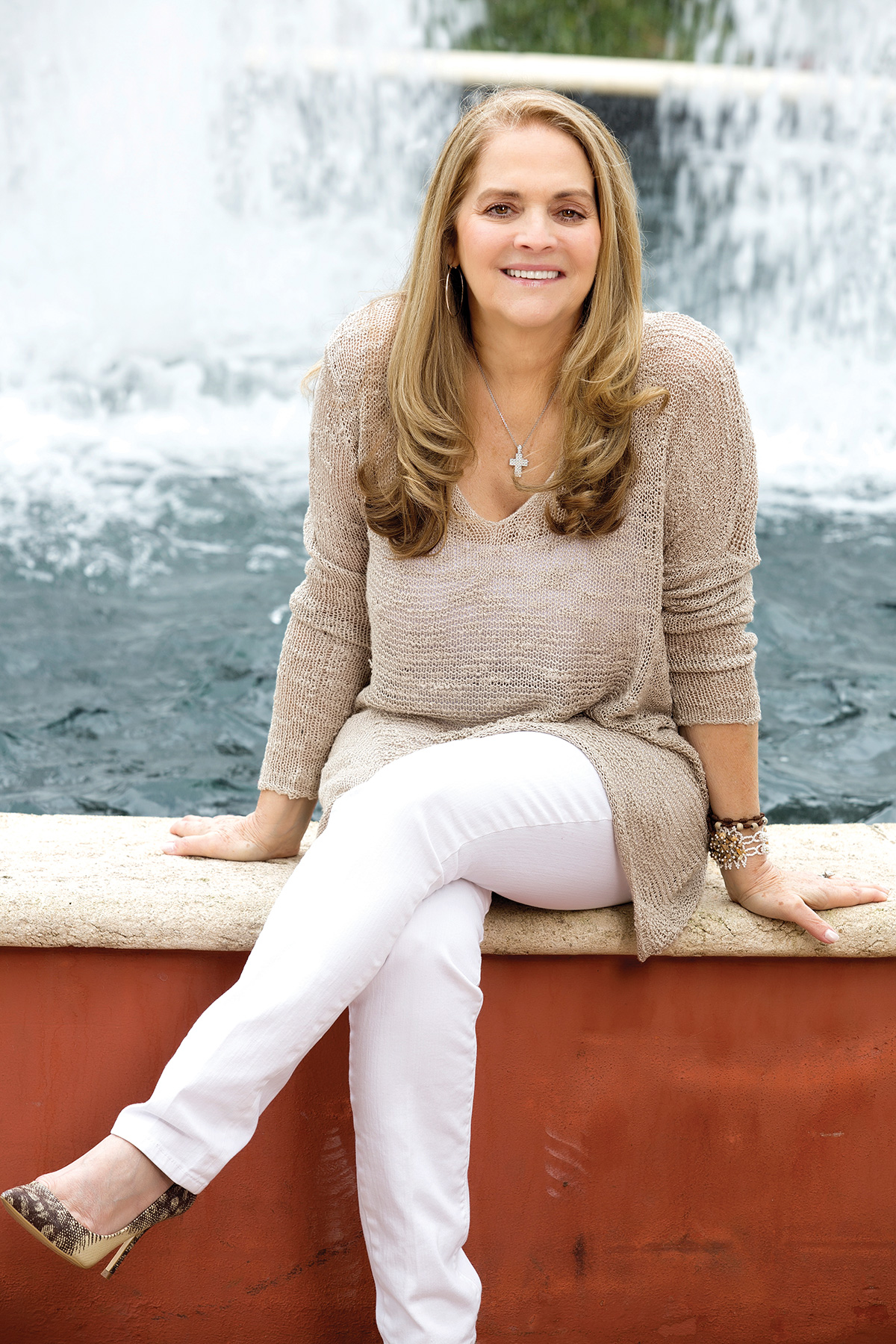 Esther Prat
Douglas Elliman Real Estate
305.965.0150
[email protected]
"My true qualifications come from being a Miami resident since I was 7," says Esther Prat. "I've seen the incredible transformation the city has gone through and understand all the complexities and opportunities that have come with this growth. Coupled with this is the fact that my passion for helping others is the key motivator for everything I do." This in-depth knowledge of the real estate market was put to good use when a couple flew in from South America for the day…and after a few hours of touring Miami, they decided to stay in a hotel. Prat subsequently sold them the home of their dreams. "I enjoy the ability to be able to meet interesting people from near and far, getting to know them and understanding their needs so a great match can be made," she says. In addition to her real estate skills, she's also a space planner and interior designer.
Advice For Buyers: "If you see something you like, even on your first house-hunting trip, make an offer. Inventory is decreasing rapidly and desirable properties tend to move quickly."
Advice For Sellers: "Never disregard a first offer, even if it seems low. At least counter the offer to bring the buyer closer to your desired price."
Predictions For 2015: "Prices will continue to increase, and as new inventory hits the market, relationships will be increasingly important as buyers look for experts with a deep understanding of the marketplace and the opportunities that exist. There will always be a few great neighborhoods that remain undervalued."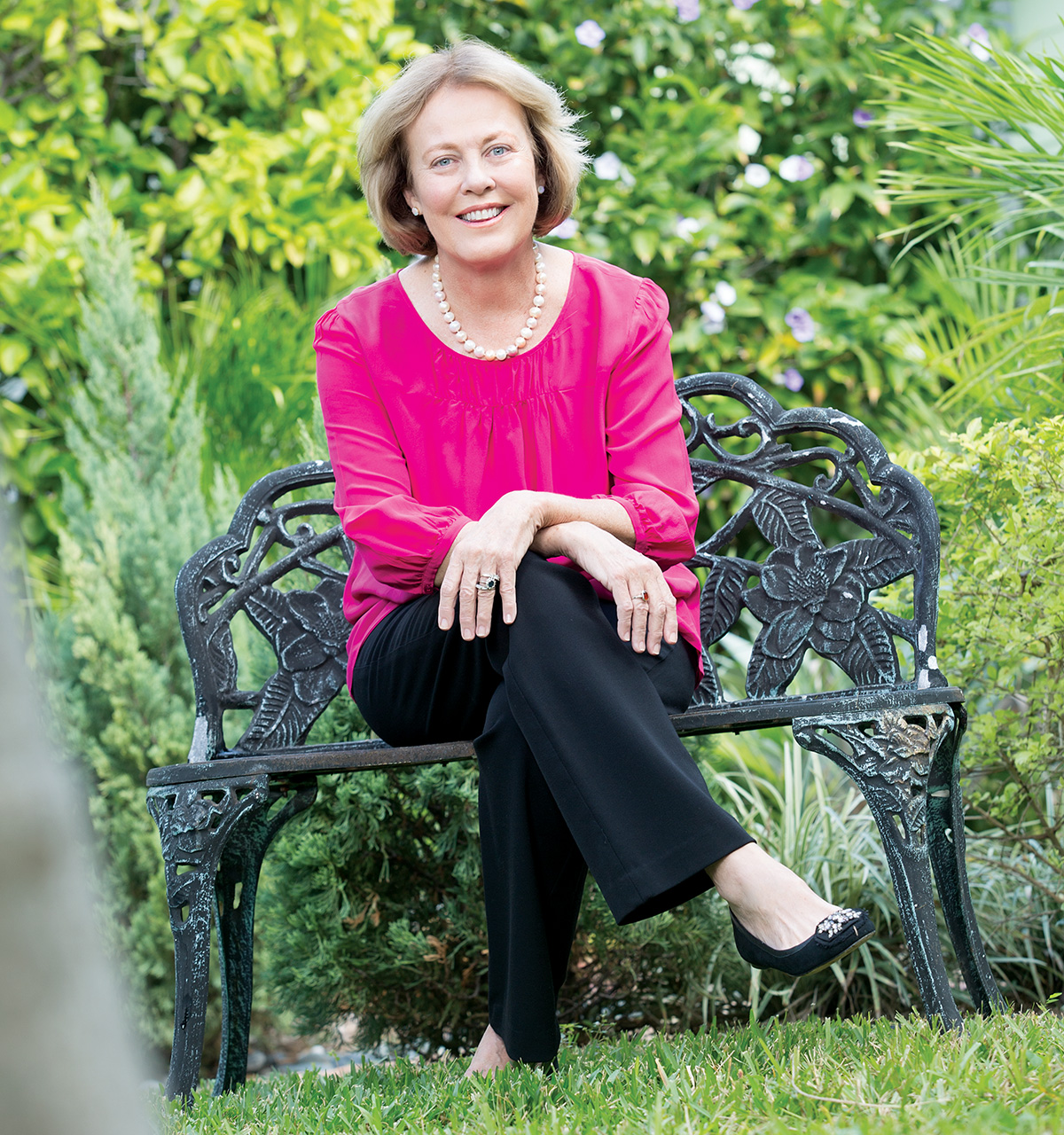 Joan McCaughan
Coldwell Banker
305.775.8230
[email protected]
JM10.com
When Joan McCaughan says that she has a successful track record, it's a serious understatement. The numbers tell the full story. With over 25 years full-time in the field, McCaughan, who was born and raised in Miami, boasts an impressive career sales volume of over $450 million. She has been a top-producing Chairman's Club Member since 1995 and is an International President's Premier Member. So what's the secret to her success? "I'm a hard worker with ethics," she says, referring to her reputation for integrity and honesty in South Florida. "I pride myself on my dedication and candor." As a result, she and her full-service team focus on creating a pleasant buyer/seller experience for their local and global clientele, and she has strong ties to the community and is a Board Member of the Chamber Of Commerce. "I enjoy meeting new people and seeing long-time friends and clients," she says.
Advice For Buyers: "Complete your due diligence in a timely manner."
Advice For Sellers: "List with a full-time, experienced agent. There's no substitute for the level of knowledge and service that comes from working with a seasoned, full-time professional."
Predictions For 2015: "Inventory is increasing. Make sure you stay aware of the ever-changing market. With the weather and the growing economy, real estate in our area should continue to be healthy for years to come."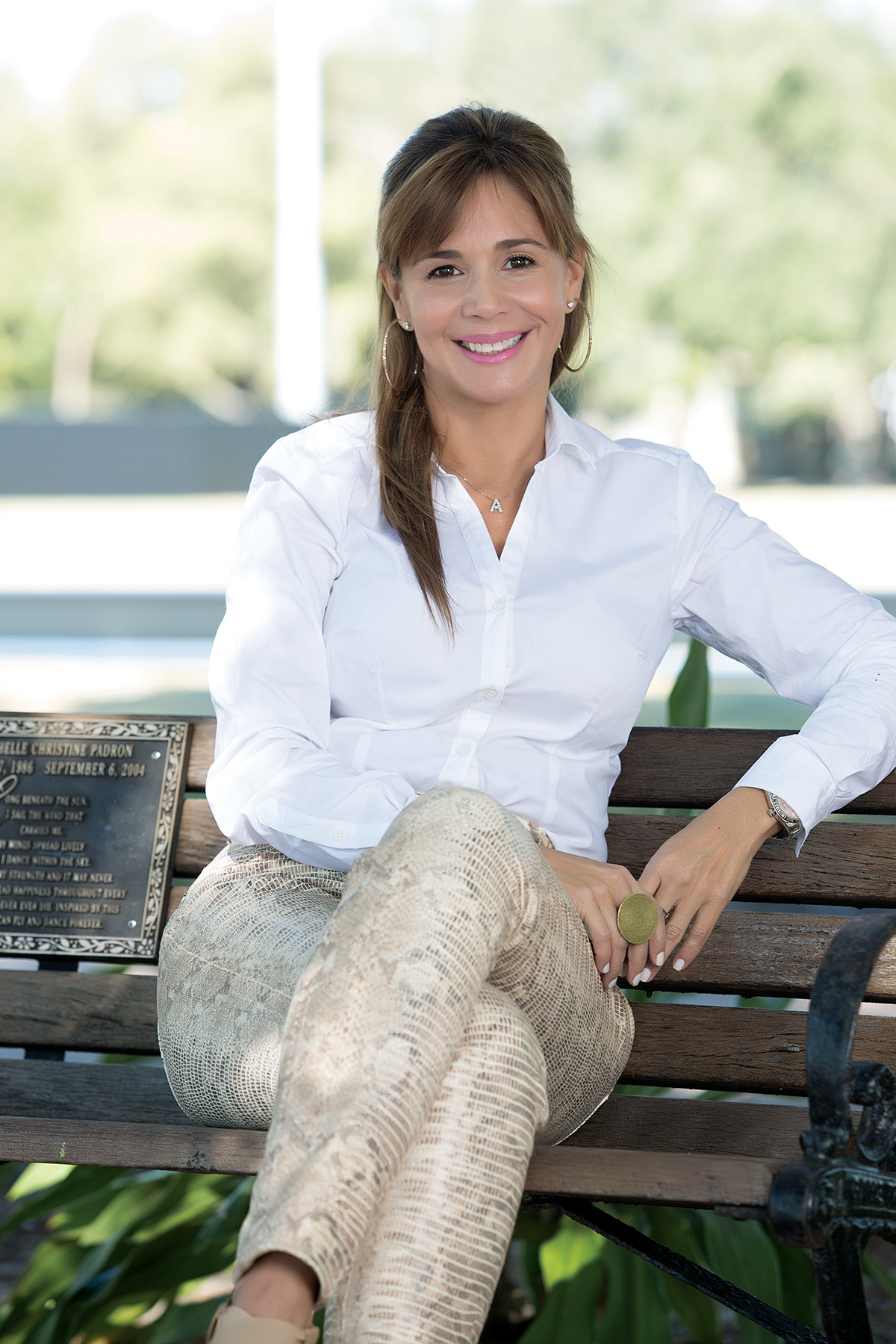 Adriana Montbrun
Fortune International Realty
786.277.3480
[email protected]
AdrianaMontbrun.com
Adriana Montbrun's idea of fun is to say to new customers: "Come along and enjoy the ride, I'll do the job to sell or buy your property." She savors the opportunity to negotiate a good deal and facilitate the sales process. Clients, in turn, say she is very resourceful when finding alternatives to make things happen for them. Her job is never boring, such as the time she had a showing for people from out of town of a waterfront house with its own private beach. "The clients showed up early, just as I was arriving," she says. "They went to see the beach, the pool and they found a family with dogs who came aboard their boat to spend the afternoon." Her good attitude toward change and her ability to manage it are qualities she's had since childhood, and they definitely come in handy.
Advice For Buyers: "Surf the web, pick your area, interview realtors and hire the one who will negotiate and manage the sale to save you time and money."
Advice For Sellers: "It's a seller's market…your house will sell. Focus on what's important to you and leave the timing, planning and selling of your home at the price you want to a qualified realtor."
Predictions For 2015: "The current high-demand for Key Biscayne homes and condos sets the stage for another great year. Prices may stabilize as new construction brings a new face to the island."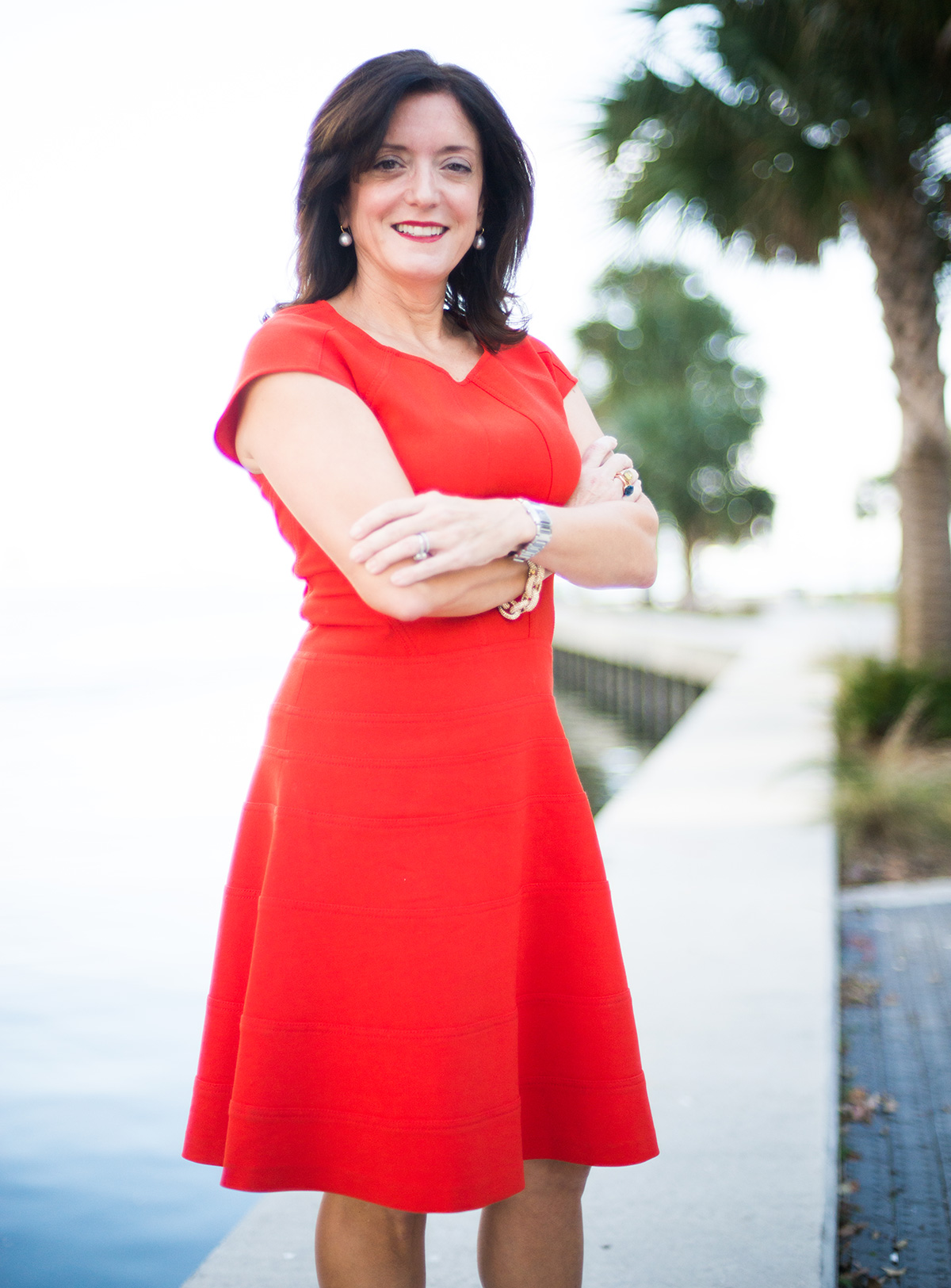 Cathy Strafaci
Douglas Elliman
305.951.6824
[email protected]
Park-Grove.com
"Real Estate for even the most affluent individual is full of emotion…and deals today are more complex than ever before," says Cathy Strafaci. "I find that my ability to work through the most difficult issues and find creative solutions has been invaluable in closing transactions and finding my buyers their dream homes." Most of her career has involved pre-construction, and she considers herself very lucky to be Sales Director of Park Grove, a transformational project in her beloved Coconut Grove. When asked to share one of her memorable experiences in the biz, she brings up the time she worked with a famous future Hall Of Fame NBA player who was in town to play the Heat. "We negotiated the deal and discussed his $150,000+ deposit," she says. "He casually kicked the backpack that he had thrown on the floor and told me 'I have the $150,000 in cash, but I need it for tonight's poker game, can I just wire the money?'"
Advice For Buyers: "It's a sellers market. Inventory in high-demand neighborhoods is very low. Work with someone who understands the difference between what you want and what you need and who is creative and responsive enough to get you both."
Advice For Sellers: "Hire a professional with an impeccable reputation in your market. When negotiating a deal, realtors like working with other realtors they can trust."
Predictions For 2015: "It's going to be better than ever!"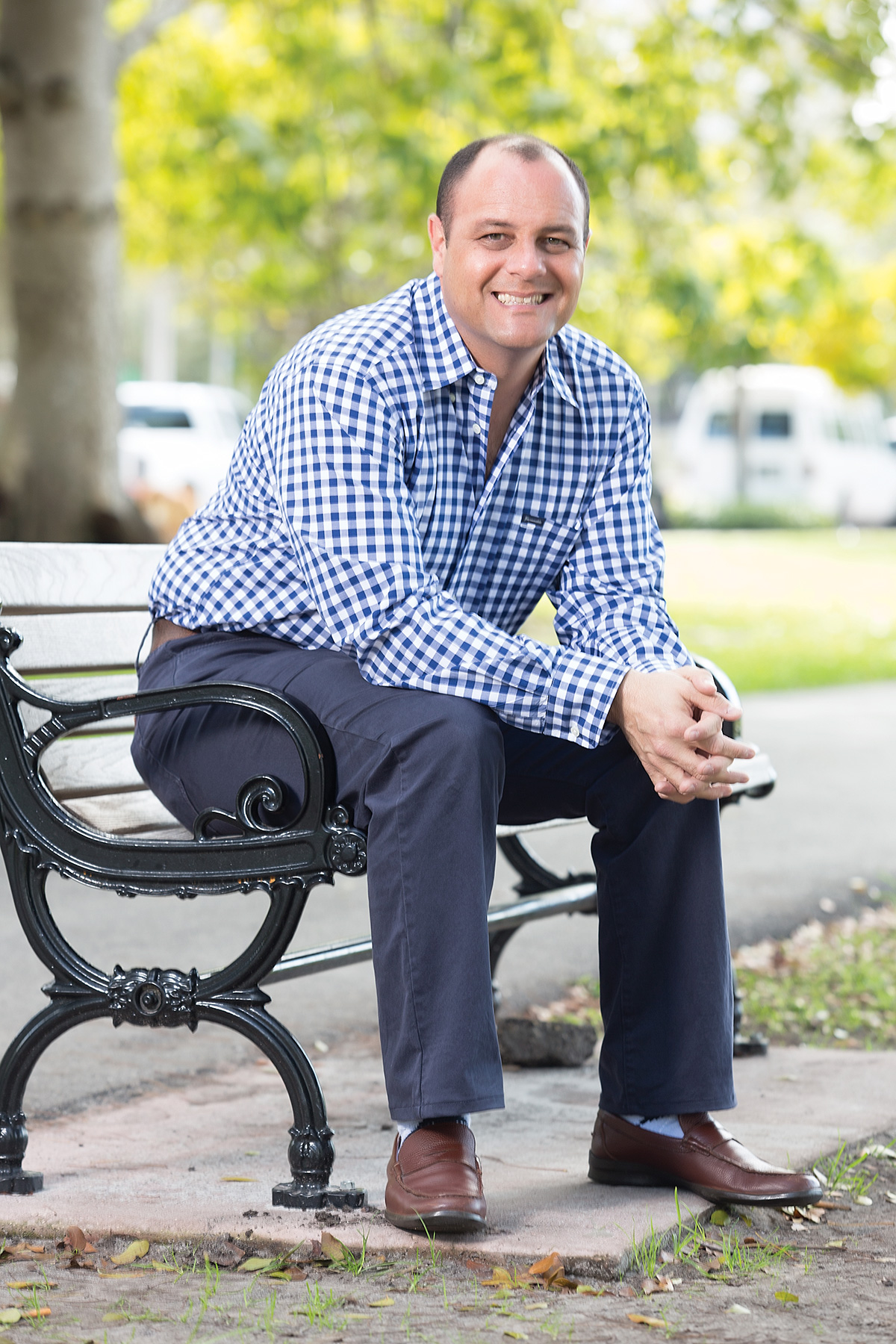 Jorge Boj
Great Properties International
305.803.6956
[email protected]
BNachtigallProperties.com
Jorge Boj has met what can be considered the most accommodating tenants ever. "I arrived at an apartment that was currently leased for an early morning showing, and the tenants totally forgot that we were coming, and they were still in bed," he says. "Instead of asking us to come back later, they told us to count to 10 while they ran back to their bed and hid themselves under the sheets." It turned out Boj was able to show the entire unit, including the master bedroom with the tenants still inside. Since early childhood, Boj has always considered himself to be a very responsible person. "Maybe I wasn't the smartest person in school, but thanks to this quality, I always earned excellent grades and came ahead of other people," he says. Today, he extends his responsible nature to his clients. "I'll never push an owner to sell or make someone purchase a property unless I feel comfortable with the property and price. I'd rather protect my clients than make a commission."
Advice For Buyers: "Key Biscayne has a limited amount of homes and apartments, so it's very difficult to find the perfect home. Make a list of your top priorities and try to obtain most of them."
Advise For Sellers: "Don't overprice your property. A house or an apartment should sell within 3 months of being listed (in a normal market) if it's listed at a reasonable price."
Predictions For 2015: "If interest rates start to increase, it's going to be interested to see the repercussions on the local market."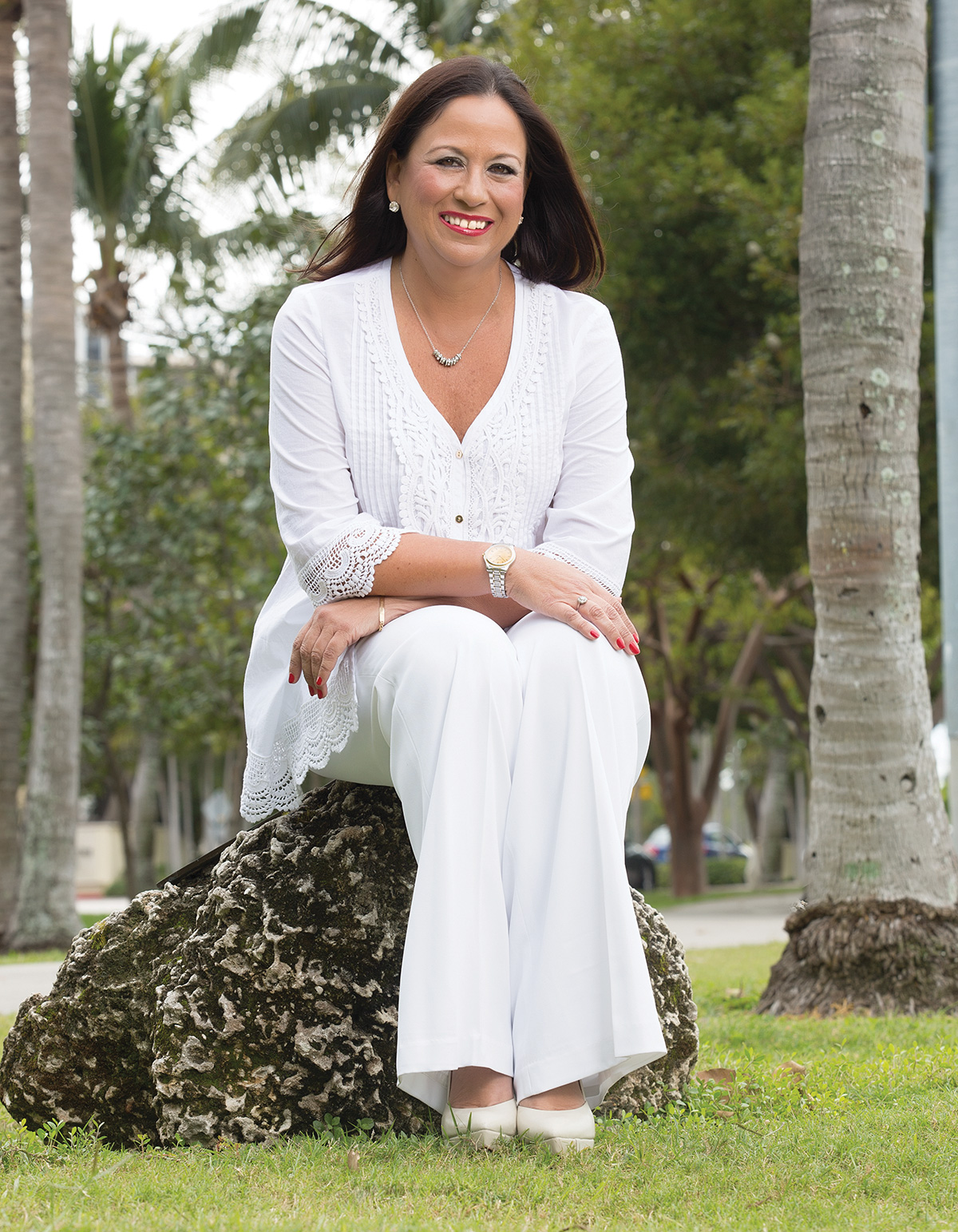 Vivianna Franchy
eRealty International
305.798.6010
[email protected]
KeyBiscayneOceanfront.com
"Real estate is about combing through a million factors while focusing on the most important one for buyers and sellers: Value," says Vivianna Franchy. "It's all about the ability not to overlook small details and deliver. I'm there every step of the way to make sure that we arrive at that moment and achieve success as a team." She was raised in an environment of respect, commitment to hard work, and was taught how to do things in a responsible way. "My mother and father set a great example," she says. She founded Vivianna Deluxe LLC in 2011 to help international homeowners who acquire a property as a second home or a vacation home and manage their properties while adding her local touch. "I plan to continue to grow this side of my business as it becomes more and more relevant to my clients," she says.
Advice For Buyers: "Project yourself into the future and be clear about what you expect of the property you want to acquire."
Advice For Sellers: "Be realistic and consult a real estate professional who will keep you well-informed about your options and has strong negotiating skills and closing abilities."
Predictions For 2015: "It's going to be a wonderful year to consolidate your plans to acquire or to sell property."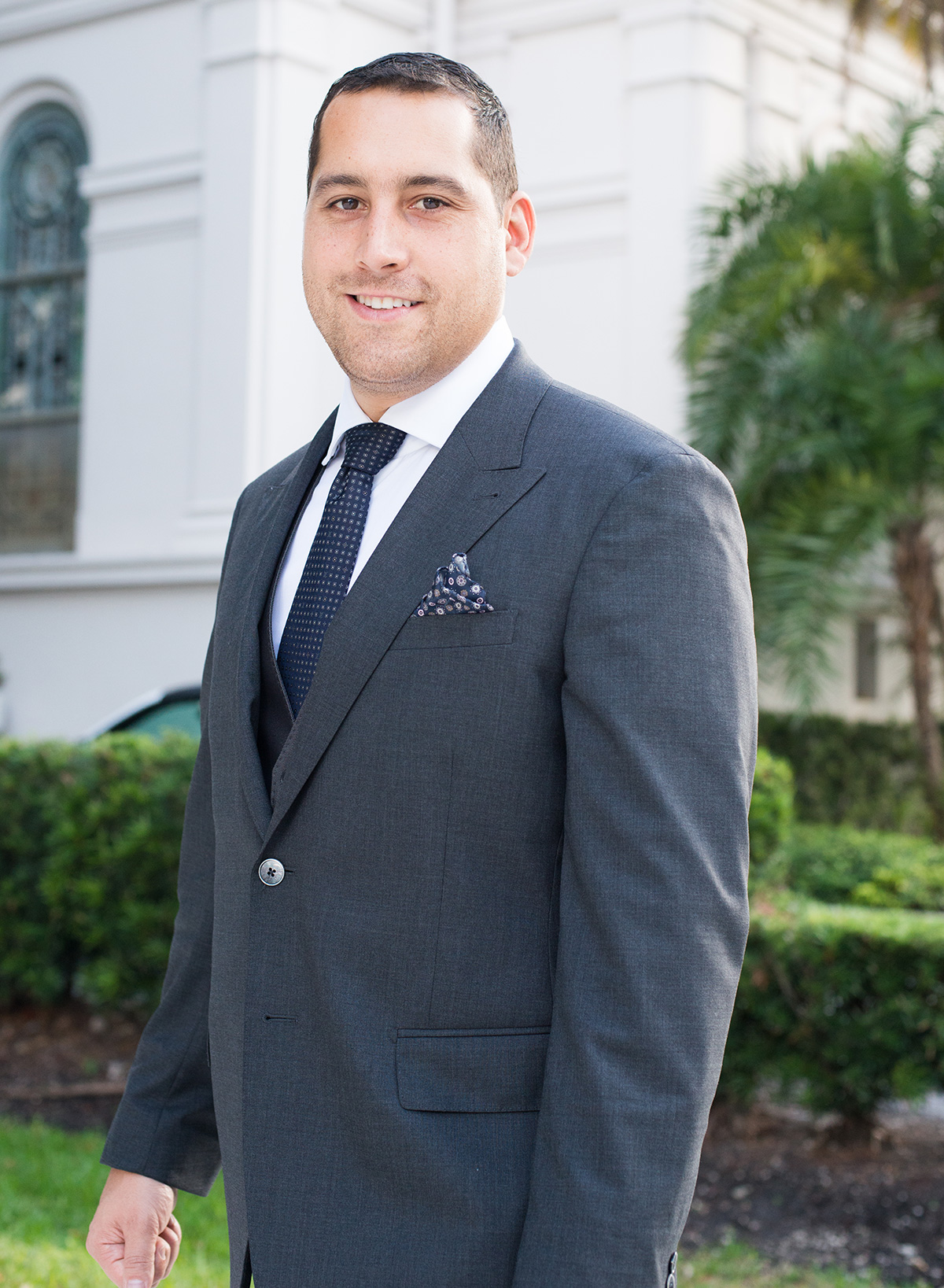 Rudy Sieber
Sieber International
305.305.4854
[email protected]
SieberInternational.com
Ruedi Sieber has the right career at the right time. "It's fun watching Miami grow into what will soon be one of the most important cities in the world, and it's exciting to be a part of the transformation," he says. Recently, he opened the doors to Sieber International Realty, which will focus on local clientele. "Our goal is to provide a one-stop solution to every aspect of real estate transactions," he says. "We offer first-class service with everything included. Our business model not only helps the client every step of the way during the real estate sales process, but we also provide them with services beyond the transaction." Ever since he was a child, a strong sense of determination has set him apart. "When I start a task, I won't rest until it's finished with excellence," he says.
Advice For Buyers: "The most important aspect is location, followed by the product and then, of course, price. Don't try to spot the next trend. Buy within in a secure area; up-and-coming is not always the best bet."
Advice For Sellers: "Don't over-price the listing, because you'll scare away your initial prospects who have traditionally been proven to be the real buyers of the property."
Predictions For 2015: "The market will remain very strong. There's beautiful new inventory coming up. I believe Miami will become the gateway to the U.S."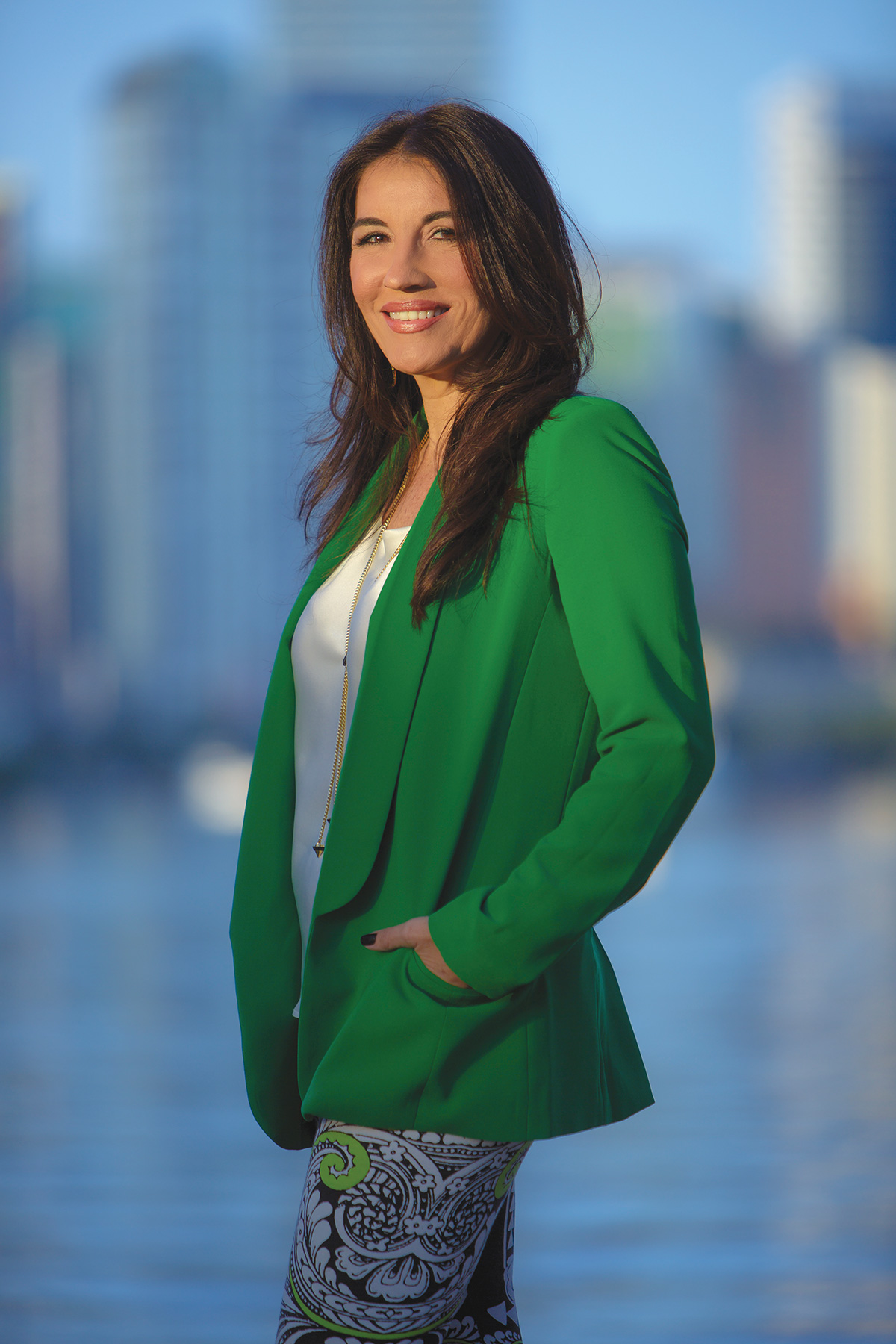 Michelle Shurtleff
Michelle Shurtleff
Keller Williams Coral Gables
305.299.2062
[email protected]
TheMiamiRealEstateTeam.com
Michelle Shurtleff's time in real estate is as much a journey and an evolution as it is a career. "I've been mentored and taught by many generous and kind co-workers and bosses over the past 15 years," she says. "Every part of who I am today is a collection of each grain of salt that they have so graciously taken the time to provide for my personal improvement." It all started at Coldwell Banker before she moved on to work with the team at Great Properties Int'l Realty. "As life is about continuing to grow and learn, when the opportunity arose from a very talented, humble, generous broker at Keller Williams, I took it," she says. "He's helping me design the most aggressive marketing campaign that allows me to enhance the overall exposure of my customers." Shurtleff considers herself blessed to have been brought up by remarkable parents. "They taught me the importance of caring for others and to be honest no matter the outcome," she says. "They also taught me that trust is earned, never given, and most importantly, that daily acts of kindness and generosity can transform people's lives.
Advice For Buyers: Work with an agent who is up to date with facts of the current market and has immediate access to inventory."
Advice For Sellers: "Expect to negotiate. Cash is king in our market and 80% of our transactions last year were all cash."
Predictions For 2015: "I think it will be a very strong year because there's still a big international demand. Commercial will also play an important role for many reasons in the months to come."