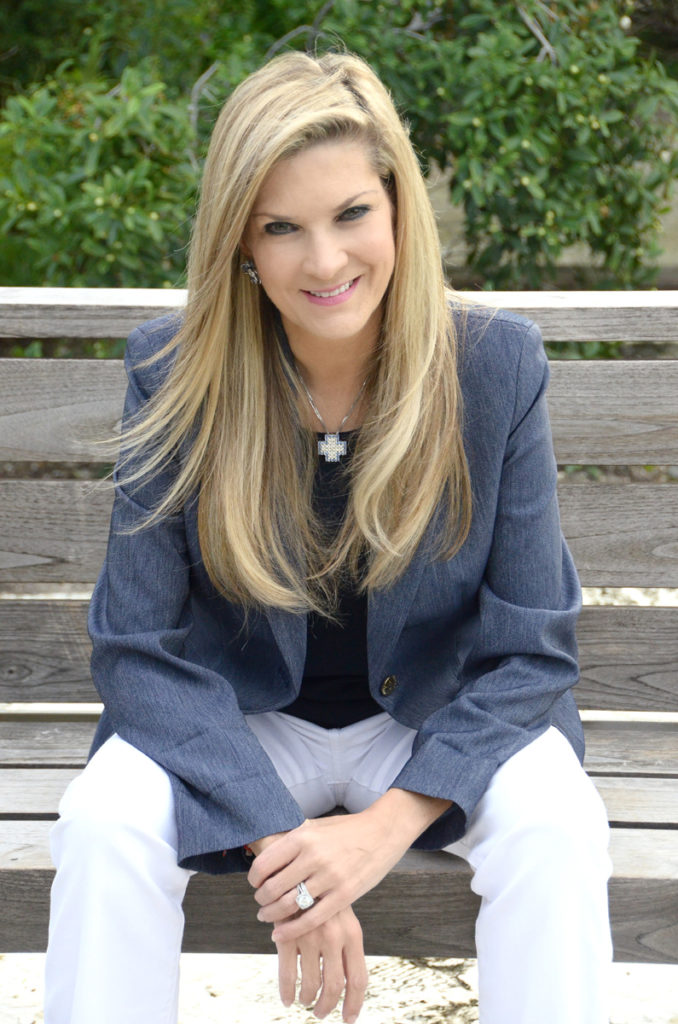 Brigitte Nachtigall
Great Properties Int'l Realty
305.710.9664
BNachtigallProperties.com
"I always make sure to create wonderful relationships with my clients and other realtors — that makes a huge difference in this business!"
Brigitte Nachtigall has long known that real estate was her destiny. She's communicative, thorough, detail-oriented and alongside her clients every step of the way. "Life is full of challenges and we must find the best way to deal with them," she says. "When you are creative, think outside the box and enjoy what you do, the challenges won't be as difficult." She was born in Bogota, Colombia, and her parents always had a summer home on Key Biscayne. When she was 14, they decided to move to Miami permanently. "Key Biscayne has always been home for me and I feel extremely blessed to be able to live and work in our island paradise," she says. She's also a true believer that "what comes around, goes around." "I try to help organizations that benefit children," she says "I have 3 kids with Christian Children's Fund that I sponsor and give to many different charities." Over the years, she has accumulated many stories and always jokes about writing a book, tentatively titled: Real Estate & All Its Adventures. "Recently, I had to do a showing in an empty house and there was an iguana inside," she says. "It was not easy getting it out before the client showed up and the owners and I are still wondering how that iguana got in the house."
Ace In The Hole: "One of my biggest assets in real estate is my husband. He is a General Contractor/Builder and he has been such a huge part of my success. When clients want to change something, make an addition, build a house or familiarize themselves with the code, my husband is always there to help."
Exclusive Service: "I love the small boutique setting we have at Great Properties. I like to keep my sales very private."
Real Superpower: "I'm very detailed-oriented — an important quality for any job. I also think that I make friends very easily and people trust me — I would say that is my superpower!"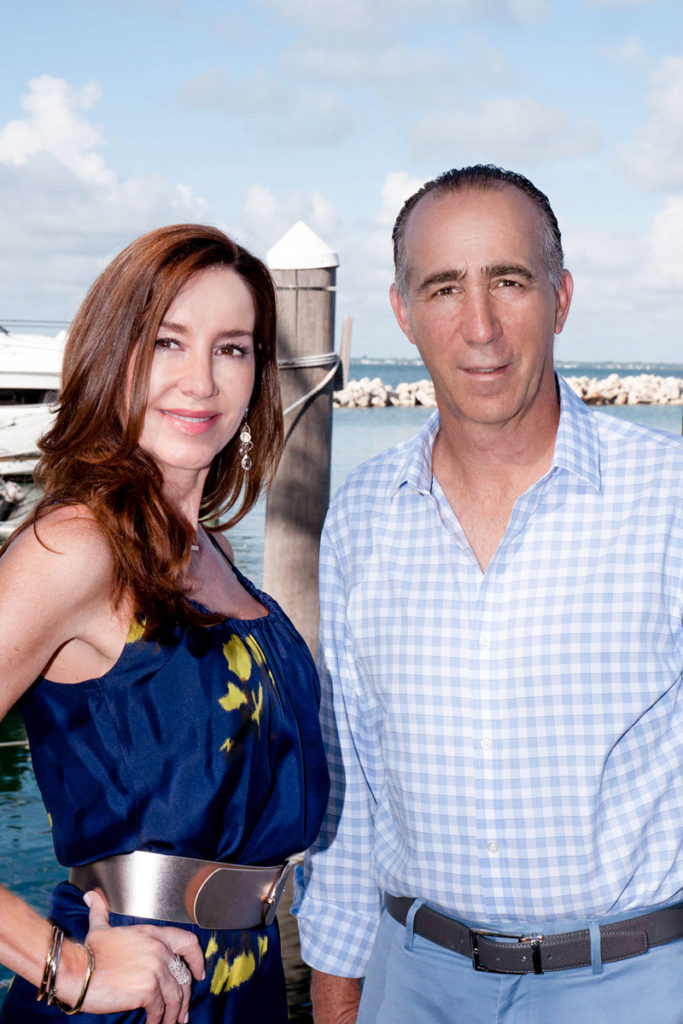 Ana Somarriba & Daniel Gaviria
Ana Somarriba
Great Properties Int'l Realty
305.215.1686
SomarribaAna@Hotmail.com 
GreatPropertiesIntl.com
Daniel Gaviria
Great Properties Int'l Realty 
305.582.4800 
DanielGGaviria@Hotmail.com 
DanielGaviriaRealEstate.com
"We have succeeded because of our perseverance and dedication to this field. Many current agents are part-timers. We are full-timers with years of knowledge and experience behind us."
Honesty and integrity, along with determination and dedication, have placed Ana Somarriba & Daniel Gaviria among the top producers in the area. "We attribute our success to the fact that we treat our friends and clients with fairness and transparency," says Daniel. "We will always give them advice based on fact, not opinions or speculation. Most of our new clients are referrals from past transactions." Daniel & Ana have both been living in Miami and Key Biscayne since the early '80's and have always loved the area. Key Biscayne in particular was a great place to grow up and later raise children. "We know our local market," says Ana. "We understand the challenges unique to this area's real estate market, including foreign buyers dependent on things outside of the U.S. economy, including political instability, currency fluctuations, even expectations about immigration status. We meet the challenge by being aware of current events, particularly in Central and South America." In addition to being an excellent realtor, Daniel is an avid golfer and always up for a round with friends or clients. Ana's hobbies include biking, bootcamp, yoga and book clubs. The pair believe strongly in giving back and are big supporters of Escuela Pan y Amor , a school for impoverished children in Managua.
His Special Power: "Daniel is excellent at looking at numbers and the black & white of a transaction."
Her Special Power: "Ana is an exceptional multi-tasker — from doing the marketing for the company, to showing and taking care of clients' needs , she is often doing it all at once."
What's "Great": "We are very proud of the fact that Great Properties Int'l is Key Biscayne's biggest independent real estate firm. We also have an office in Doral that has an excellent reputation in the area."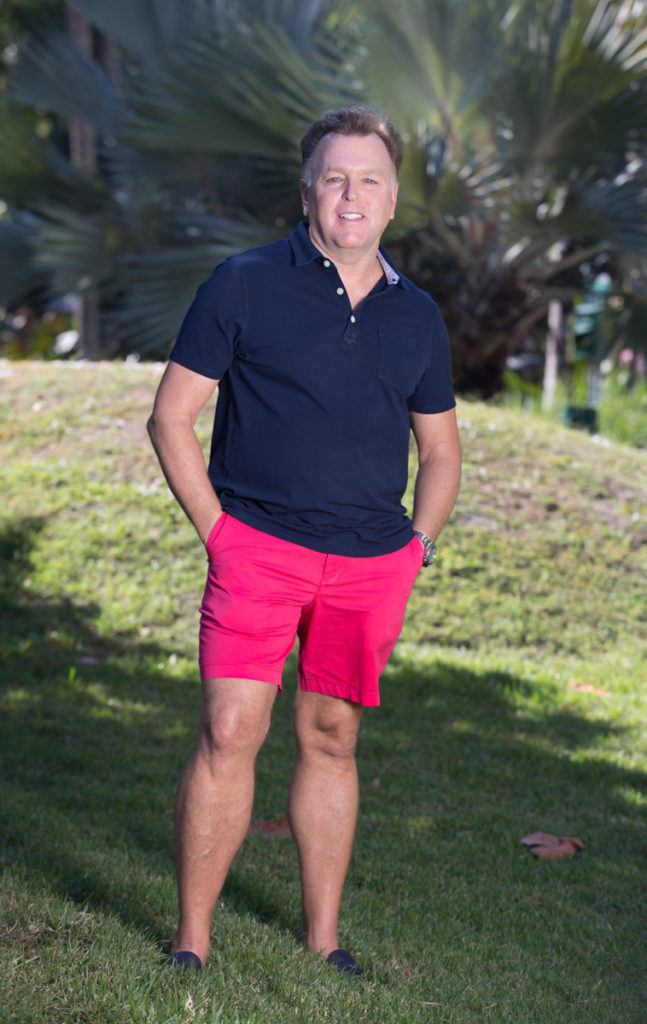 Doug Kinsley
Fortune Int'l Realty
305.215.5900
Doug@FIR.com
DougKinsley.com
"For most of my life, I've had people I respect in real estate — it is thanks to their encouragement that I have been able to pursue my dreams."
Doug Kinsley exudes credibility, commitment and dedication. Originally from Ohio, he spent summers and school vacations on Key Biscayne. "I loved the climate, landscape and diverse population," he says. When he graduated from college with an accounting degree, he worked a day and a half for one of the Big 8 accounting firms. "I immediately knew it was a mistake," he says. "I quit the second day and followed my passion for real estate." Today, his financial background assists him in analyzing each property as both a possible home and an investment — yet another reason that web engines such as Zillow and Trulia can't replace a professional. "It's the personal contact and relationships — the familiar face that makes all the difference," he says. "I know the island like the back of my hand. I'm familiar with the views, floorplans, amenities and history of most of the buildings. As a buyer is describing their needs, I'm visualizing what property could be perfect for them." Decades ago, he had an evening showing when a tanned gentleman showed up with his agent in a Rolls-Royce. "He looked familiar, but I couldn't quite place him," he says. "As he was driving away, the front desk told me it was Julio Iglesias!"
New & Exciting: "From my balcony, I use to be able to enjoy the changing colors and snowflakes on the former CenTrust building. Now, it's hidden behind the new skyscrapers!"
Professional Pride: "Every day, I have the opportunity to meet new people. Each person has their own story, and a reason for buying or selling. It gives me pleasure helping people move on to another chapter of their life."
Fun Fact: "As a kid, I loved playing Monopoly and Risk  — it was my first experience buying, selling, leasing and managing properties!"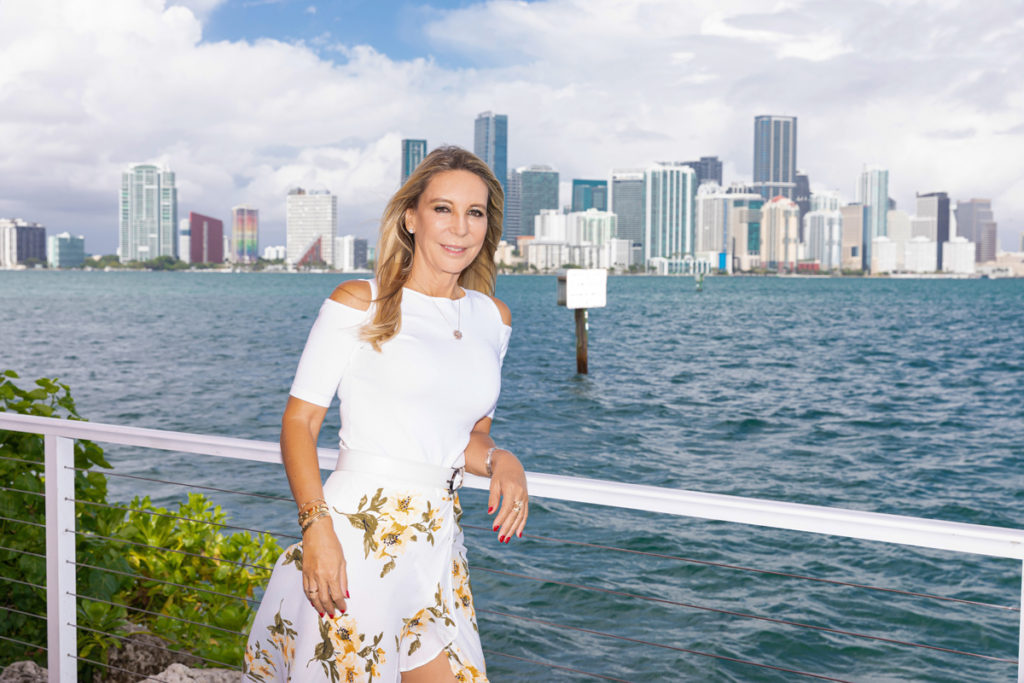 Giulietta Ulloa
Berkshire Hathaway HomeServices EWM Realty
305.710.6620; Giulietta@Ulloa.com
"I love living in Key Biscayne because it allows me to maintain active through sports, dancing, swimming and helping guide others to this fabulous lifestyle."
Giulietta Ulloa's passion for real estate is apparent through her excellent communication skills and warm, friendly manner. She loves to educate clients on the ins-and-outs of every neighborhood, the health of the housing market and inventory, and make the home-buying experience and selling process as stress-free and enjoyable as possible. "It's more than just closing a deal and walking away," she says. "I try to build a strong long-lasting personal and professional relationship with everyone. When working with new clients, I truly enjoy showing them the quality of life that Miami offers." When she moved to the city, she chose Key Biscayne because of the lifestyle she envisioned. After 23 years of living, working and raising her children on the island, she still believes it's one of the best places to call home. In addition to her impressive market knowledge, she has a great network of excellent lawyers, accountants, insurance companies, inspection specialists, designers and contractors that clients can choose from. "I have become an expert in my area and I pride myself in knowing everything that's going on," she says. "My driving force is loving the gratifying effect that I get when one of our clients finds their dream home. In addition, I strive to achieve the best price for our sellers in any given market."
Previous Career: "For a while in my 20's, I used to be an International Flight Attendant because I wanted to travel to exotic places and learn about people and their cultures!"
Good Life: "I truly live in the most magnificent city to work in and the most incredible company to work alongside. I constantly challenge myself to innovate my business through technology and up-to-date information on the latest market trends."
Opportunity Knocks: "I can't stress how important it is to always take every call that comes in and respond to every email in a timely manner. I'm a firm believer that time is of the essence in this business."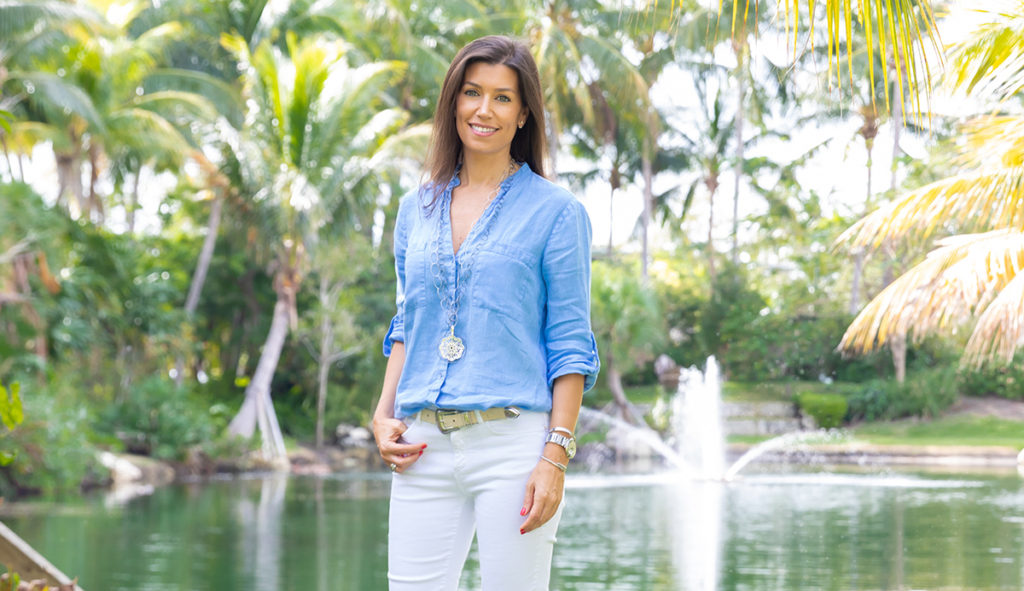 Elena Chacon
Berkshire Hathaway HomeServices EWM Realty
305.606.5700 
Chacon.E@EWM.com 
ElenaChacon.EWM.com
"Helping people find their dream home or their perfect vacation home is an absolute pleasure — being part of that process is a gift that keeps on giving and makes me very happy."
Known for her unmatched devotion to each transaction, Elena Chacon has earned the respect of her clients and peers by working tirelessly on their behalf and always offering candid advice. "In this industry, you have to love what you do and have a love for service," she says. "On the technical side, I study the market constantly in order to advise clients in numbers and facts so that both sellers and buyers can make informed decisions in terms of price. I'm also on top of every detail of a transaction, including attorneys, banks, appraisers and CPAs, etc., to make sure we get a successful closing. But what matters most, I believe, is listening and understanding." She's equally passionate about her family. "With 4 kids, I try to devote most of my free time to them and their activities," she says.
Prior Life: "I've always been passionate about real estate because my first career was architecture. After my freshman year in university, I felt I wasn't creative enough, so I changed my major to economics and finance."
True Calling: "It all started when clients from my former job once asked me to help them with their real estate investments. I got my license and sold $7 million in my first year. Right after that, I focused on what I love the most: second homes and residential properties."
Key Kudos: "While I was finishing my Masters in Law & Taxation, Key Biscayne friends gave me the best recommendation ever — to come and live on the island. Without a doubt, it's the absolute best place to raise a family."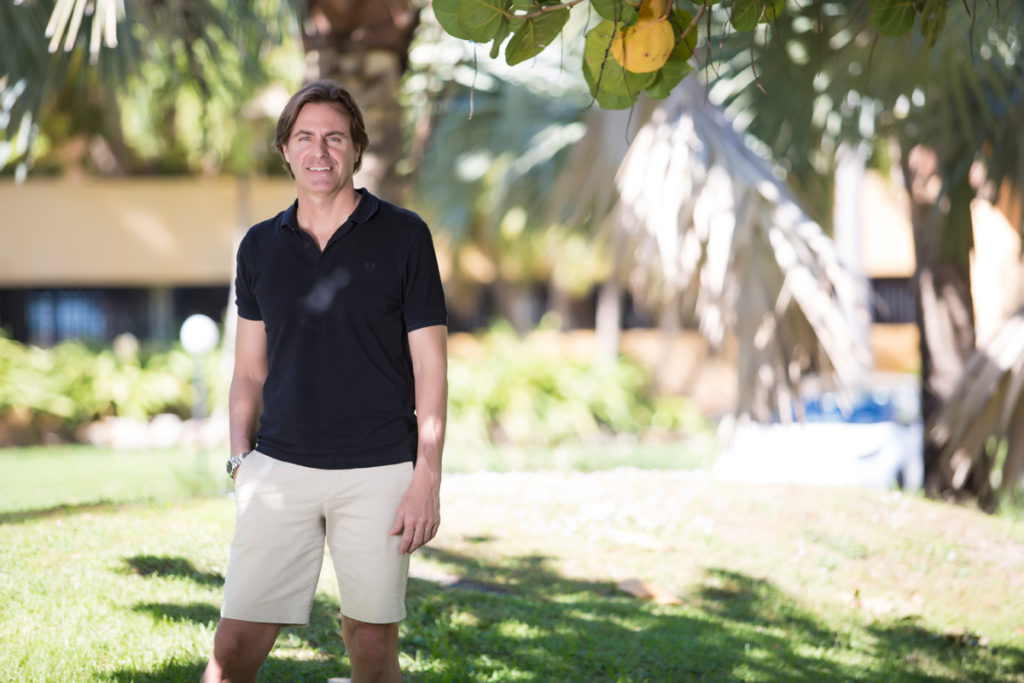 Cristian Gonzalez Black
Fortune Int'l Realty
305.775.3426 
CBlack@FIR.com
"I provide real, in-the-moment information. Day in and day out, I stay connected to our local market and involved in the community."
The first time he drove through Key Biscayne, Cristian Gonzalez Black's jaw dropped from the beauty of the magnificent views and comforting feeling of the unique island. He's always thought it's the coolest thing to live near a metropolitan growing city while maintaining a quality of life that offers outdoor activities, beaches and safety. "I love what I do," he says. "It's fun to constantly adapt to new markets trends. I maintain a constant presence and communication with clients, other agents and fellow residents. It helps keep a sense of what is happening and what may show up on the horizon." With so many new developments all over Miami and developers spending large amounts of money promoting their projects and neighborhoods, he has seen Key Biscayne fall a bit under the radar. "I'm networking with other Top Producers in Miami, even New York and California, to remind them about the benefits of Key Biscayne," he says. When not working, he enjoys boating, playing tennis and running. He's also contributing to Change.org, empowering people to start a petition that boldly calls for social change. "It's so important to be grateful for our wonderful island community and together continue to improve our quality of life!"
Serious Issues: "Residents and council members are getting more involved in the sea level rising issues, the health of our ocean and beaches, traffic issues, enhancing the image of the Key and promoting our island lifestyle."
Wise Words: "I have learned to accept the things I cannot change, have the courage to change the things I can, and the wisdom to know the difference."
Interesting Tidbit: "My wife is also a Top Producer in Miami Beach…I guess you could say we eat, live and breathe real estate!"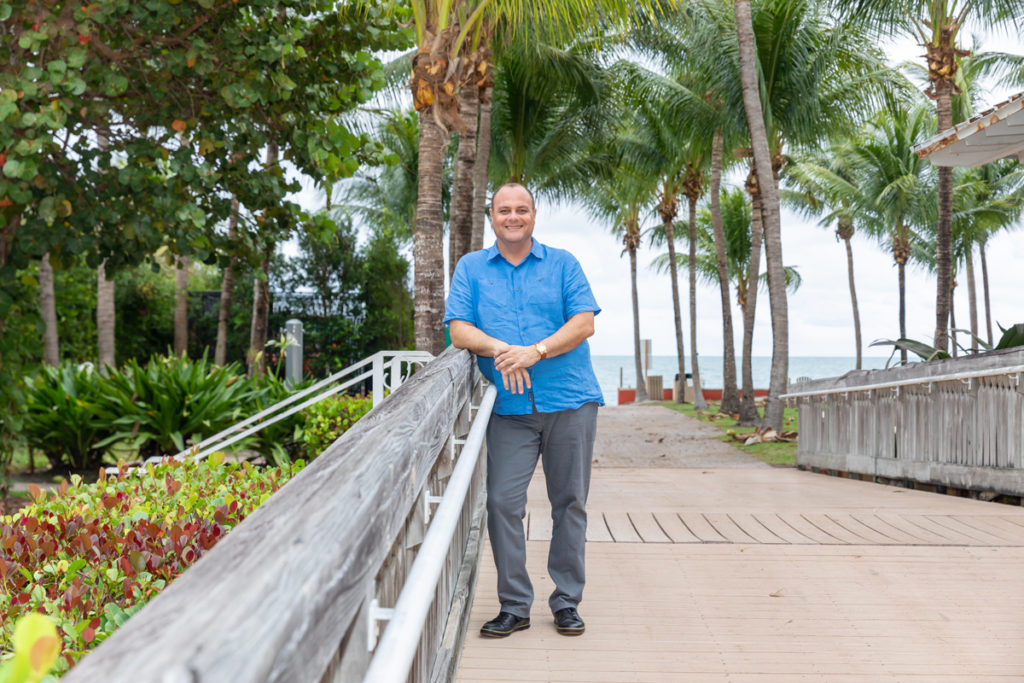 Jorge Boj
Great Properties Int'l Realty
305.803.6956; Jorge@JorgeBojPA.com 
BNachtigallProperties.com
"I believe we provide our clients with superb professional services. We go far beyond the standard tasks and duties of our profession." 
While Jorge Boj was still in graduate school, he found a job at the management company of an industrial development company. "We managed, negotiated and prepared leases for 1,500 industrial buildings," he says. "It was a dream job for me at the start of my real estate career." This month marks his 18th year as a licensed realtor and there have been a few memorable moments. "One time, while in my car with buyers from out of town showing them homes in Coral Gables, I was mentioning to them that The City Beautiful was a very safe neighborhood…and then we start hearing police sirens. Next thing you know, we are caught in the middle of a car chase and a suspect was apprehended just in front of us. Talk about perfect timing and a very awkward moment." His other love is airplanes. "I would have been a pilot in another life," he says. "I collect airline memorabilia, especially from airlines that I used to travel on when I was a kid. Thanks to eBay, I have a good collection of items such as cups, matches, cards, dishes, silverware and model planes. I would love to have a real meal cart trolley but my wife would kill me." He also believes strongly in giving back. "I support the Wounded Warrior Project," he says. "I'm very grateful for all the sacrifices veterans and their families have made for our country."
Proud Partnership: "One of the things I'm most proud of about our firm is without a doubt, Brigitte Nachtigall. From her, I've learned so much: work ethic, attention to detail, marketing skills and the experience and knowledge on the art of closing a deal."
Heavyweight Credentials: "We always have the latest information on current market conditions. Although bumps and obstacles can arise in any transaction, we possess the expertise and experience to solve any issues that come up and get our clients to their closing dates on time."
Fun Fact: "Music helps me deal with everyday stress.  I sing along in the car, in the shower — everywhere!"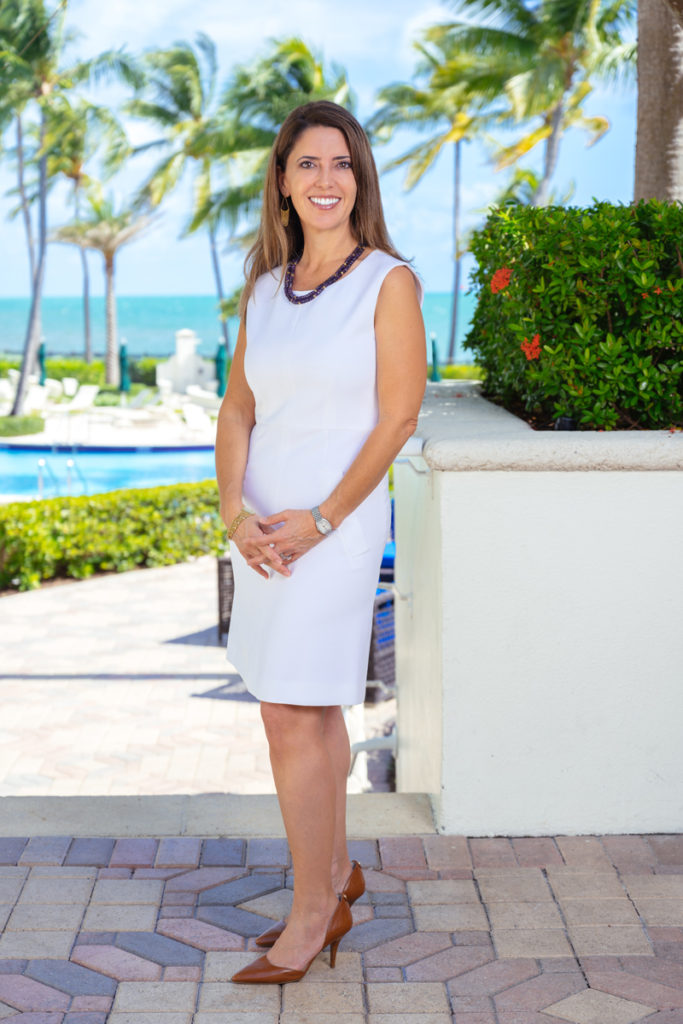 Claudine Coto Knautz
ONE Sotheby's Int'l Realty
305.389.6229
Claudine@TheCotoGroup.com
TheCotoGroup.com
"My client is sophisticated and expects exceptional service. For me, this means I must be well prepared with the latest and most relevant information and fully engaged so I may simplify their world."
Real estate has always been part of Claudine Coto Knautz's life. "Since childhood, I watched my father, Carlos Coto, work passionately to make deals happen for his clients," she says. "We are a real estate family and we love Key Biscayne. I'm proud to have him as a partner and to have followed in his footsteps." She is very much on top of the local market but just as committed to global reach and has established a unique group of Sotheby's partners in other top destinations such as New York, Boston, Aspen and Paris. "All are top producers with access to a similar clientele of highly qualified buyers," she says. "I market our properties with them on an ongoing basis, ensuring that our listings get maximum exposure worldwide." She is also a devoted mom. "I'm constantly trying to keep up with my two little ones, Natalie (3) and Henry (2)," she says. "When I'm not busy working, I spend as much time as possible with them. Key Biscayne offers endless options for kids." As if all that wasn't enough, she is on the Board of the Key Biscayne Community Foundation, serves on the Village's Parks & Open Spaces Committee and reports on Key Biscayne real estate trends for Key News, the island's digital news source.
Good Company: "ONE Sotheby's International Realty is #1 in market share for residences over $1 Million in Miami-Dade and Broward Counties. The average sale price of a ONE Sotheby's Agent is $1.4 Million, 37% higher than our next competitor. We are the true voice of luxury."
Her Superpower: "I'm a bit of a real estate data nerd. At any given time, you can ask me stats on the market, a specific condo, or single family home and I will be able to tell you the latest; what has sold and what's the best opportunity available."
Positive Attitude: "Many agents will tell you that the real estate market is slow. Not for The Coto Group. We have been hard at work selling and leasing."
Carlos & Victor Coto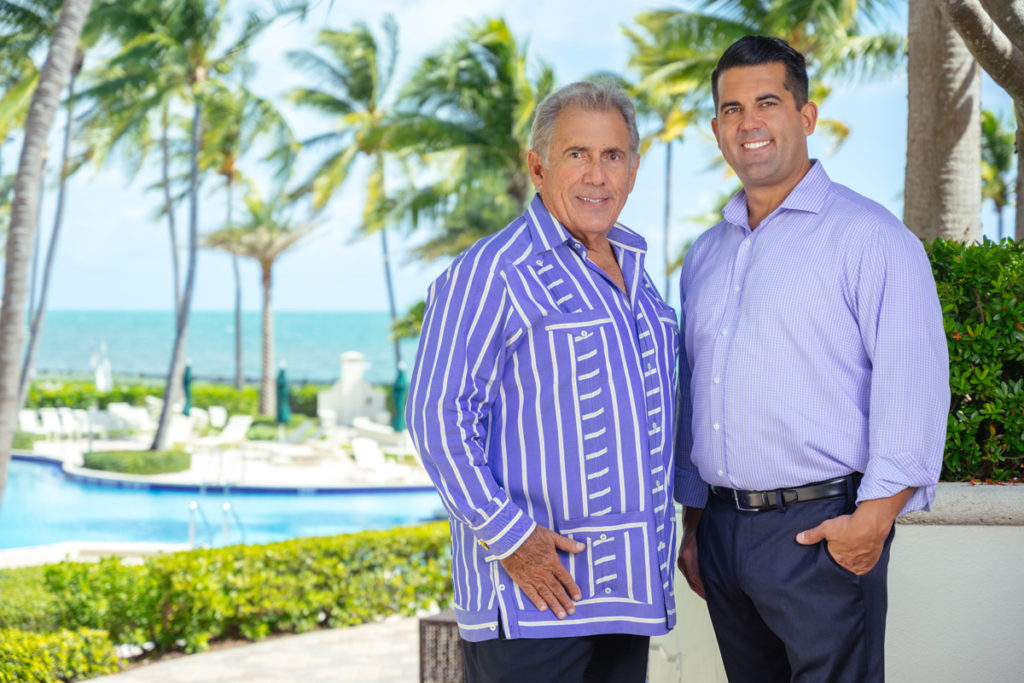 The Coto Group
ONE Sotheby's Int'l Realty   
305.803.3059; Carlos@TheCotoGroup.com   
TheCotoGroup.com; KeyBicayneToday.com
"I sell a product that I truly believe in —  it isn't difficult sell Key Biscayne!"
Back in the '70's, when Carlos Coto purchased his first home, he realized the realtor he was with was a very pushy man with not much information to share and not much depth of knowledge. "Yet the man collected his commission," he says. "I thought that in spite of having a science background instead of business, I could do much better." He has now been a broker for over 40 years and lived through 6 different cycles. "The challenges are the same," he says. "There will always be people who need to buy and people who need to sell. One must connect with those buyers and sellers on a personal level." It's also important to remain cool under pressure. "One story that will remain with me forever is when I got stuck in an elevator with an elderly client," he says. "This happened before the age of cellular phones, so you can imagine…the elevator would not stop at any one floor, it just kept going up and down. The lady riding with me became very agitated and I didn't know what to do, other than keep my finger pressing on the red emergency button. This went on for probably 10 minutes, which seemed like an eternity. Needless to say, the woman didn't buy in that building." Coto is proud to have never sold anything that he would not buy himself or recommend to one of his relatives to buy.
Love Started It All: "My wife-to-be lived on The Key with her parents. We met in 1966, and married four years later at St. Agnes right after graduating from UM."
Fabulous Firm: "Sotheby's is a very well-established brand that has earned worldwide recognition in the luxury market. I'm proud to lead The Coto Group that continues to be in the Top Producer Circle of the company."
Leisure Time: "My wife and I enjoy traveling and getting to know other cultures. We have been fortunate to travel to all the continents. We also enjoy collecting Contemporary & Latin American Art."
Kari Madera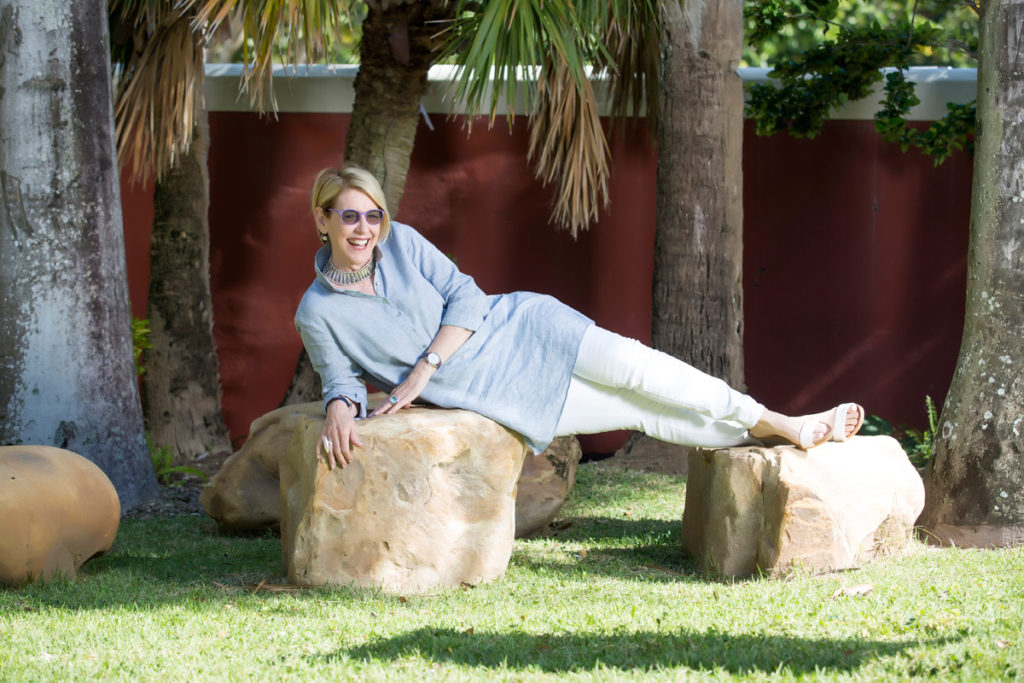 Fortune Int'l Realty
305.439.3998 
Kari@FIR.com 
KariMadera.com
"Having good business sense, strong negotiation skills and empathy are the keys to being a great realtor."
As a Key Biscayne resident and seasoned real estate professional, Kari Madera recognizes and values the trust her clients place in her and strives every day to exceed expectations. She believes that to succeed in real estate, in fact in any business, it's essential to know your areas, your products and your clients thoroughly. Her work ethic is regularly rewarded. "One of my most interesting showings was to a young couple who ended up purchasing three condos that very same day," she says. Madera was working as a hotel manager in Waikiki, Hawaii, when she moved to Key Biscayne with her three children for a job opportunity. "Soon afterward, the President of the Chamber of Commerce approached me and suggested I become a realtor," she says. Today, she's been in real estate for more than half her life. When not working, she loves to travel. "Besides being fun, it gives one the opportunity to see first hand and experience different people, languages and cultures," she says. Always upbeat, Madera believes that it's important to remember that good choices lead to good fortune.
Marvelous Miami: "What's exciting right now is that buyers have amazing choices and opportunities to grab up some good deals before the market turns again to a seller's market."
Special Situation: "The unique challenges in this area are the dependence on foreign buyers and the respective monetary exchange rates of their countries."
Hands-On Knowledge: "Zillow, Trulia, Redfin, etc., offer value estimates and many times their values are NOT correct. If the clients want to use them to cruise through, that's fine, but if you want real value, you need to ask your realtor."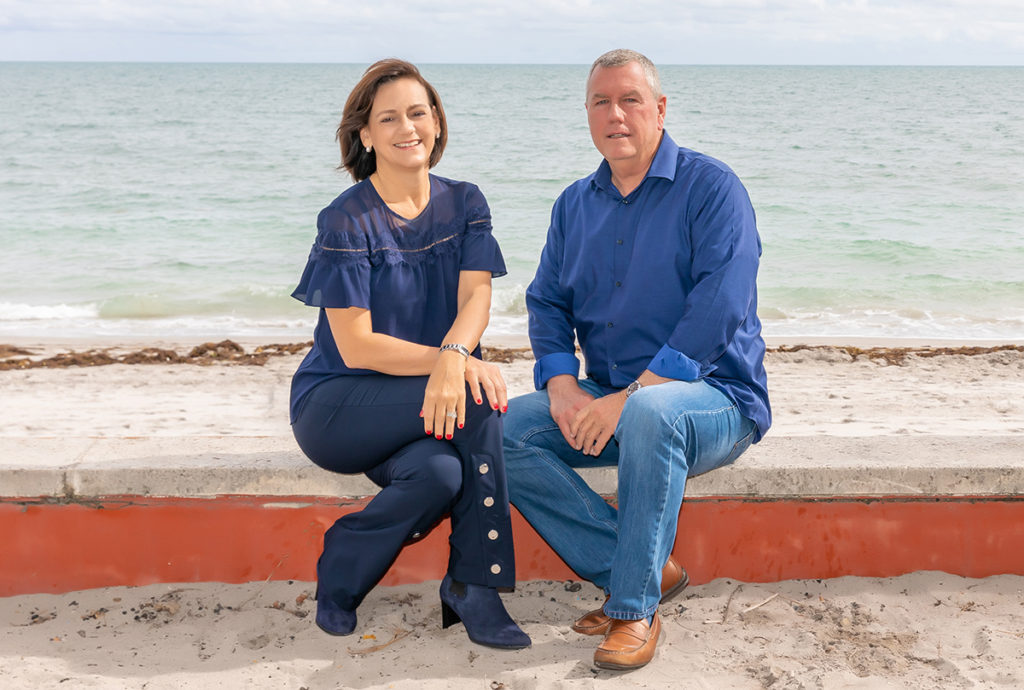 Thania & Robert Vernon
Vernon & Vernon PA
305.582.3761; 305.606,9539
TVernon@FIR.com; Vernon@FIR.com
MiamiWaterfrontProperties.com
"We get calls from people that were here 20 years ago and see that we are still active in the marketplace. We seem to be a staple of the community."
High-end buyers and sellers seek out Thania & Robert Vernon for their extensive knowledge of the marketplace, which is only eclipsed by their tireless work ethic, excellent negotiation skills and attention to detail. To say they "know Key Biscayne" is an understatement. Vernon's Drugstore has been on the island since 1951, and Robert managed that until he joined Fortune International Realty. Throughout his career, he has served on the Key Biscayne Community Counsel; was Mayor and Vice Mayor; and currently sits on the Virginia Key Advisory Board. "His interests have always been for the betterment of our community," says Thania Vernon, who currently serves on the Interior Design Committee for the Key Biscayne Yacht Club. "Robert was born and raised on Key Biscayne, it's his home and there was no other option for me. We do, however, work other markets; I was the broker for our South Beach office for many years and I do a lot of business on Miami Beach." What's more, they constantly go the extra mile, as evidenced by their KeyBiscayeRealEstateValues.com page where you can insert your address and they will give you an evaluation of the property value. "I don't think many individual agents have that," she says.
Well-Deserved Pride: "We have been with Fortune for almost 30 years. I think that speaks for itself."
Superhero Team: "With us, you get two for the price of one."
Small Town: "Thania Vernon was raised in Darlington, Wisconsin — Population: 2,318!"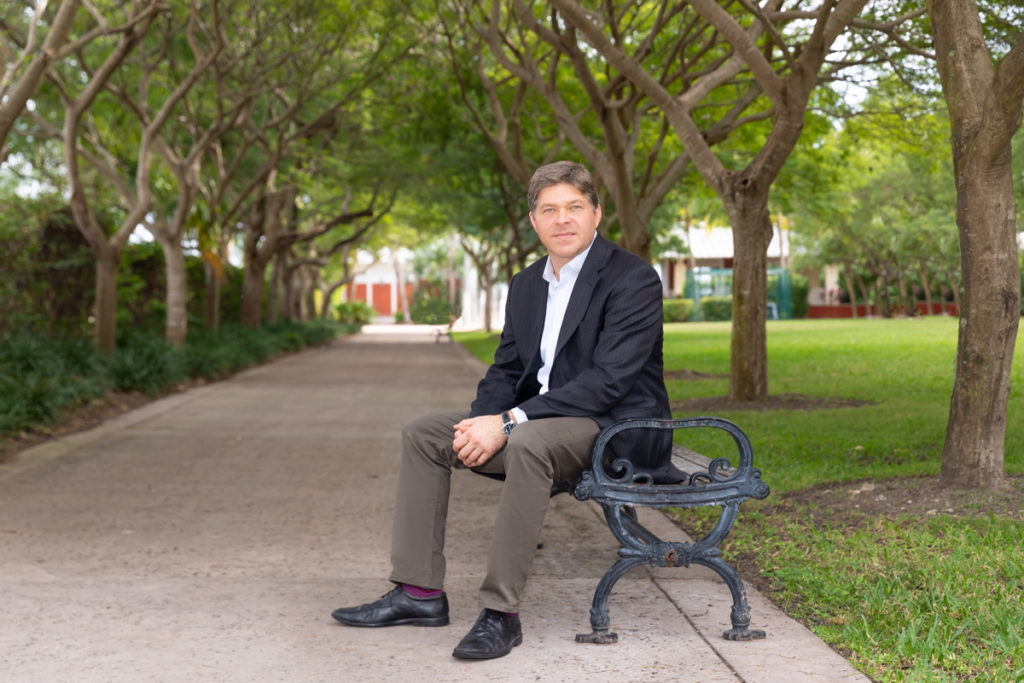 Spencer Raymond PA
The Spencer Raymond Group  
BHHS EWM Realty; 305.951.5970; Spencer@SpencerRaymond.com SpencerRaymondGroup.com
"I go the extra mile and do whatever it takes to ensure my customers are satisfied, whether buying a multi-million dollar property or purchasing their first home."
Spencer Raymond does not have what one would consider a typical background that would lead to a career in real estate. After graduating from Berklee College of Music, he toured professionally as a drummer based out of San Francisco and worked for various start-up tech companies in sales, marketing and consulting positions. "I attribute a lot of my success to my work ethic, strong analytical skills and the fact that I truly enjoy meeting new people and helping them purchase their dream home or guiding them through the sales process," he says. He started his career in Key Biscayne working with Fortune International Realty before joining a top-producing group with EWM Realty International in Coral Gables. It wasn't long before he decided to return to The Key to head up his own top-producing group with BHHS EWM Realty. He has been a Board Member at the Key Biscayne Chamber of Commerce for years and is involved in various philanthropic ventures. "I recently signed on to co-sponsor our next generation of entrepreneurs in the 2nd Key Biscayne Children's Fair," he says. When he has free time, he loves attending live concerts, traveling, spending time with friends and family, and recently took up the bass guitar.
Rewarding Career: "I've been one of the top-producing agents in our Key Biscayne office for many years, and am very proud of the fact that my clients trust me to help them with very important decisions. My sellers know that their properties will be marketed professionally, and that I always make myself available to provide insight, help and advice and that our relationship does not end after the transaction."
Key Life: "I initially came here to visit my grandmother who started vacationing on Key Biscayne in the '80's. Eventually, the rest of my family moved here, and my brother has been teaching on The Key for almost 15 years."
Value of Teamwork: "I lead a team with my two partners Catarina Nene, also based in Key Biscayne, and Jamie Sporrer, who works in our Coral Gables office. We all have different strengths and are all able to work together simultaneously and independently to achieve our goals."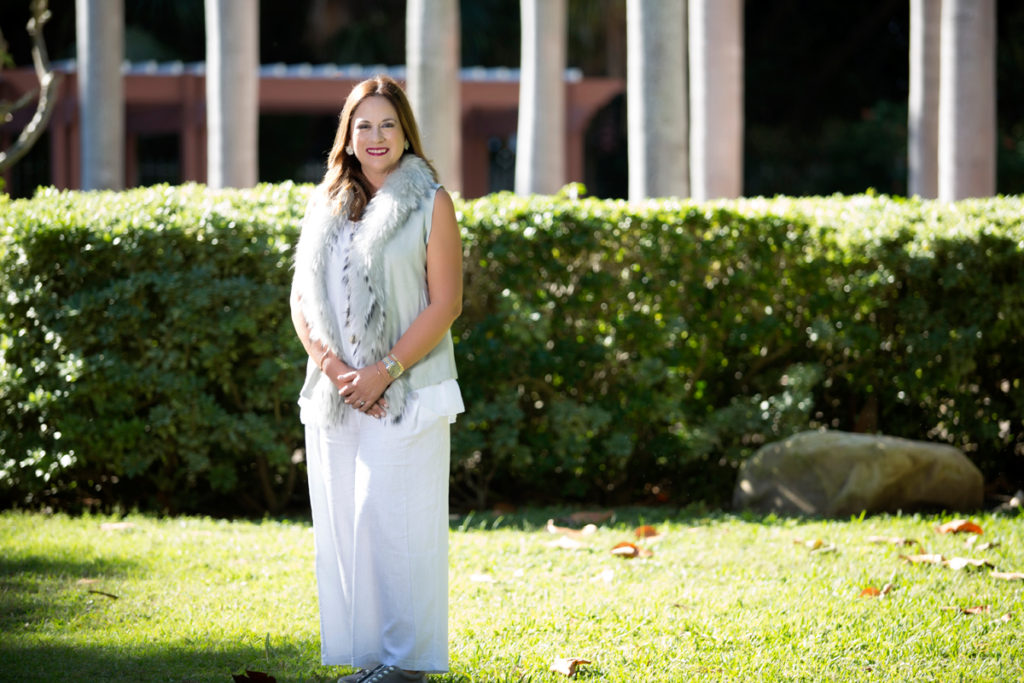 Vivianna Franchy
E Realty International
305.798.6010 
ViviannaDeluxe@AOL.com 
KeyBiscayneOceanfront.com
"Our market is always on the move, absorbing people from all sorts of places and backgrounds. The secret to my success is quick adaptation and hard work."
Vivianna Franchy specializes in all facets of the real estate business, whether it is navigating the way for first time homeowners, guiding luxury buyers both local and international, or helping investors looking to score that perfect property — she knows and has experienced it all. "It was at the beginning of 2005, after having worked in the technology business for over 12 years with companies such as Lexmark, Toshiba and Compaq, servicing the Miami and Latin American markets as Regional Manager, that I decided to become my own boss," she says. "I have believed since Day 1 that our most important quality as professionals is the understanding that we are in the service business. We are here to make the experience flawless, by converging all that needs to happen in a transaction. This is not a numbers game; it's about people." Relying on quantitative data is just part of the picture. "The qualitative approach to the business is as important or even more important than the quantitative aspect," she says. "The latter must be completed and interpreted through the former."
Exciting Times: "A good way to describe my experience in this line of work is that there is never a dull moment; expect the unexpected; enjoy the ride with passion, patience and professionalism — my three P's."
No "I" in TEAM: "This is one of the most individualistic professions I have been in; yet there is nothing you can achieve completely on your own. You need to team up with your sellers/buyers and the professionals who will bring the transaction to fruition."
Closing Sales: "The best way to close is through dedication, hard work, knowledge of the market, understanding of the process and a big smile!"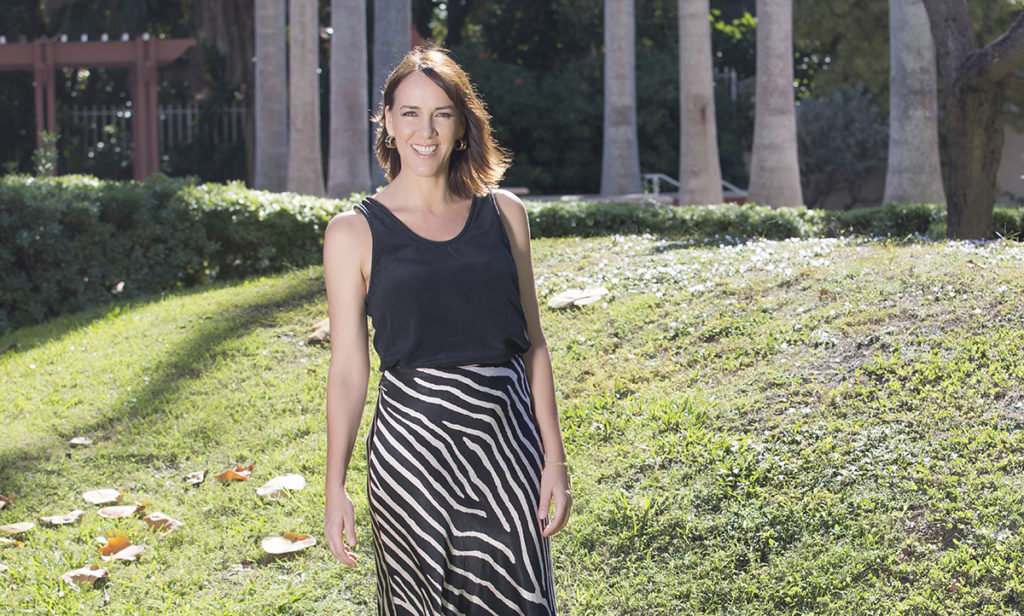 Pilar Mercader
BHHS EWM Realty
786.208.5407
Mercader.P@EWM.com
PilarMercader.EWM.com
"Although it may appear to be a simple task, buying or renting real estate requires the market savviness and transaction skills of a real estate professional."
Pilar Mercarder got into the real estate industry with the goal of serving as a trusted professional in a very challenging time in our history, during the most recent real estate crash that resulted in the Great Recession of the late 2000s and early 2010s. "Miami feels like such a young city," she says. "Along with the ever-changing skyline, there are many possibilities for personal and professional growth." She previously worked in mergers & acquisitions in both in the U.S. and Latin America, as well as business consulting in the latter. "I have a CPA degree, an MBA and a Real Estate Certification," she says. "My background has helped me look at property as a place to live as well as an opportunity." For more than 10 years, she's sat on the board of a non-profit organization that raises funds to support innovative educational projects for underprivileged kids in her native country of Uruguay. She is also involved in her church in Key Biscayne and is a mom of three boys, participating in many school and sports activities. "After so many years of hard work, I'm proud to have helped dozens of clients make a home in Key Biscayne or get the perfect place here where they spend their holidays," she says.
Always Informed: "In my spare time, I take plenty of time to read books, magazines and industry articles."
Stronger Together: "I'm proud of the atmosphere and cooperation in my firm and the common work ethic our team shares in consistently staying atop market trends and predictions."
Success Factors: "I credit my continued success with my passion for my work, a relentless effort in achieving the best results for my clients, and the strong analytical skills that I use for understanding the real estate market."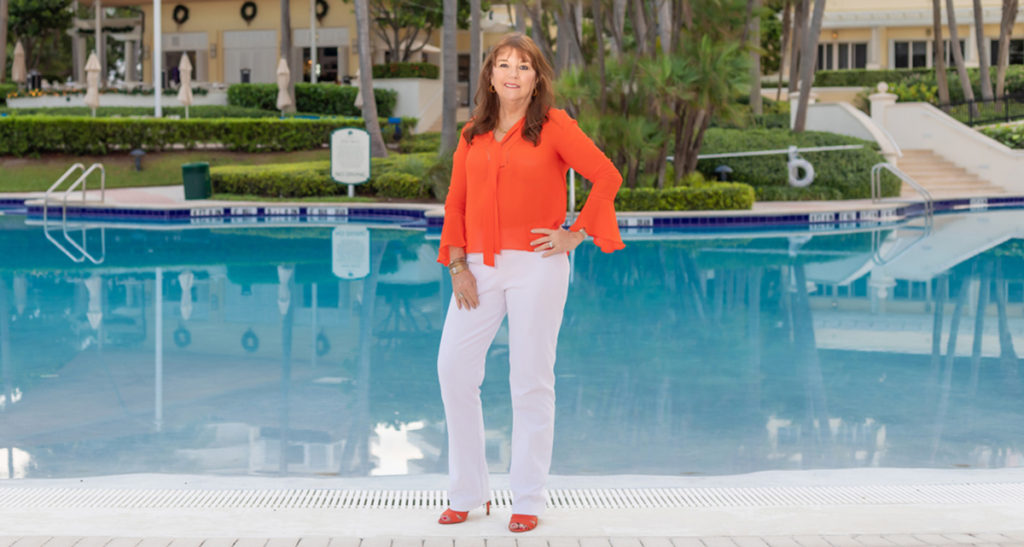 Lorraine F. Neumann
Fortune Int'l Realty
305.322.8108
LorraineN@FIR.com
"What drives me to be the best and truly enjoy my profession is meeting great people and their gratitude when I'm able to service them, their referrals and their happiness."
From the first time clients meet Lorraine F. Neumann, they feel at ease with her professional and personable working style and confident in her ability to represent their best interests throughout any real estate transaction. She began working in the real estate industry in 1988 when the developer of Key Colony, Fritz Scharenberg, offered her a sales position. Before working at Key Colony, she had her own interior design firm and designed residential properties in the Miami area, including Key Biscayne, where she's lived since she was a teenager. Growing up, her parents had invested in several properties on The Key and she was naturally exposed to the real estate market. "They taught me the value of a property's location, accessibility and future potential. At the time, the island was growing rapidly, mainly due to its family-oriented lifestyle, safety and proximity to Miami," she says. "Today, having been in this business for over 30 years, and being fully bilingual, I've been able to serve a growing number of American and South American families moving to Key Biscayne. Europeans have quickly followed, in search of our beautiful weather and lifestyle. An intimate understanding of the real estate market cycles and trends is essential to providing my clientele with the expert guidance they deserve."
Puppy Palooza: "My family and I have raised Boxer dogs all my life, many of them national and international champions. I started showing them at competitive dog shows when I was just 5 years old!"
Fulfilling Life: "My husband and I love to travel and we're grateful that we've been able to visit amazing places, cities and countries. In our spare time, we look for real estate and other investment opportunities."
Inner Workings: "In my opinion, my success is the result of vision, honesty, discretion and integrity. Gratitude toward all my clients, and their loyalty are the ultimate prize and recognition."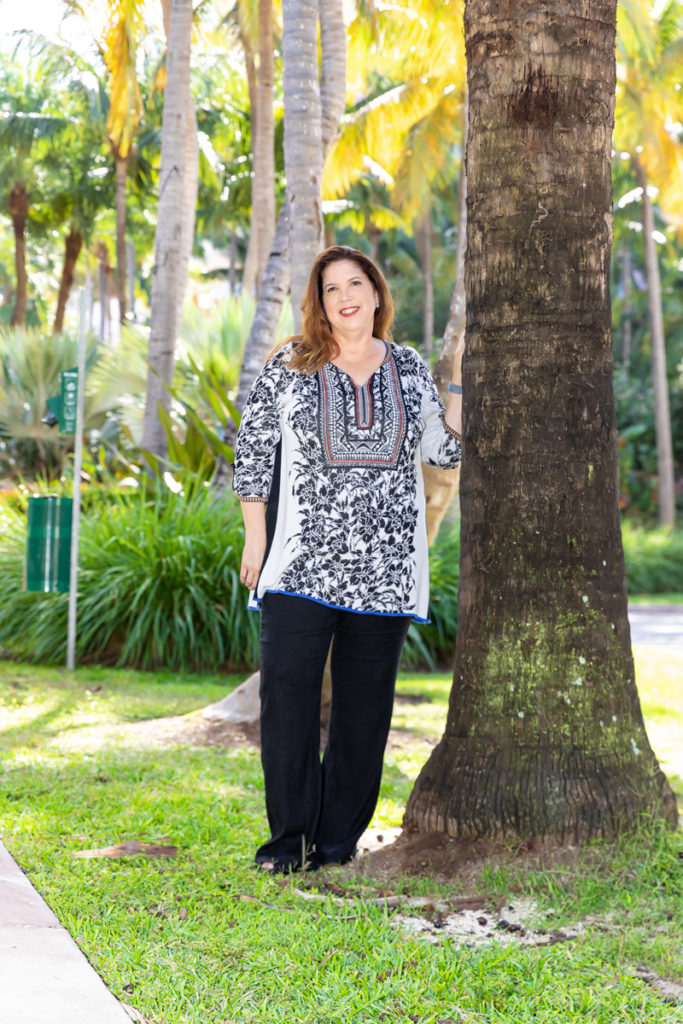 Jacqueline C Gallardo
Engel & Volkers
786.473.3067
Jacquie.Gallardo@EVRealEstate.com
JacquieGallardo.EVRealEstate.com
"My family and friends have encouraged me to become a realtor, especially my mother-in-law who has been in the ​real estate ​business since the ​early ​'80s."
Representing both current and future Miami homeowners, Jacqueline Gallardo understands the numerous intangible benefits of life in Miami, with its unmatched weather, culture and diversity. "I've lived in many areas of the U.S. and abroad and they all hold a special place but Miami and Key Biscayne have always been my home," she says. "I grew up here and have seen the changes and how it's evolved to the exciting and full-of-life city it is today." She enjoys reading, music and taking advantage of the many cultural events the city has to offer. "Lately, I've been traveling a little more than usual," she says. "I take this time to learn about other real estate markets." Gallardo credits her success to listening to her clients and straightforward, hard work. "I study real estate every day," she says. "New designs and materials are being offered all the time for all types of homes. I want to keep learning as much as possible." As such, she has seen many real estate markets and meets each challenge with a patient and positive "can do" attitude. "Every sale has a unique story, and in the end, it all comes together," she says. "Miami is a wonderful place to live and right now there is awesome inventory for all budgets."
The Firm: "I'm in awe of the camaraderie that exists all around."
Pro Factor: "Homeowners should choose a professional realtor over For Sale By Owner because experience matters and a pro will work harder than anyone else."
Generous Nature: "I want to do and give more. My children inspire me to give back. This is a goal that we as a family are achieving together."