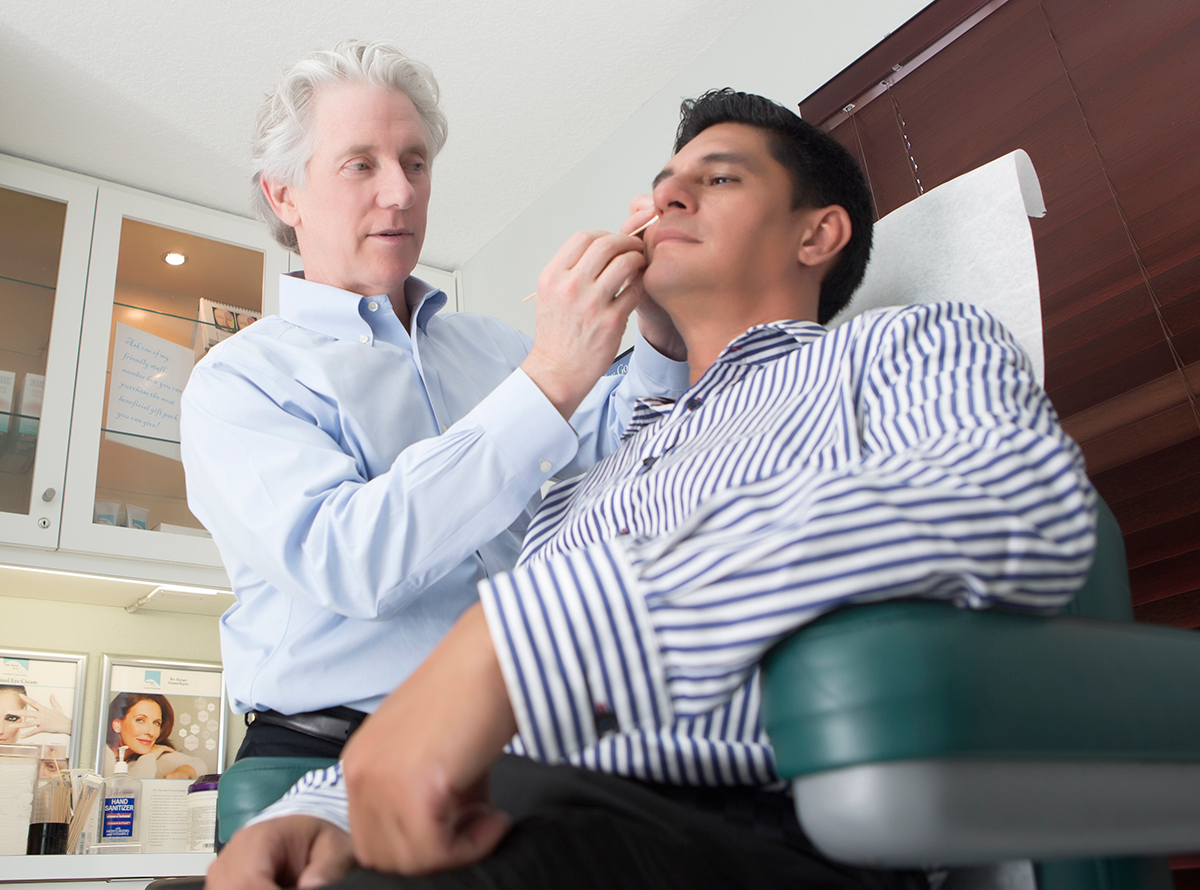 Dr. John J. Martin Jr., MD
2912 S. Douglas Rd., Coral Gables,
305.444.5950
JohnMartinMD.com
A Miami aesthetic industry mainstay just as able authoring papers on cutting-edge techniques as he is in comfortable conversations with his patients, Dr. John Martin, MD, loves every aspect of his position as one of our city's top plastic surgeons. Originally hailing from Massachusetts, Dr. Martin never had any doubt that the only significant success in his field was to be found in our own city's sunny climes. "People in Miami are very concerned with their appearance," he says, "particularly with looking younger and more rejuvenated. And all the sun exposure means there is a need for treatment at an earlier age than in other cities." A dedicated believer in providing the best and most innovative care to his patients, one of Dr. Martin's greatest joys lies in exploring and implementing groundbreaking procedures into his practice. "Our industry is constantly evolving, so it's important for us to stay connected," he says. "Every day new things are being developed for this field, from injectables to skincare products." The particular trend he's most excited to see emerging? "Laser technology," he says. "Patients love it because it's non-invasive but still delivers wonderful results."
"When I think of my favorite things to do in Miami, nothing beats sitting somewhere scenic and enjoying a nice dinner!"
SIGNATURE TREATMENTS
Versed in a wide range of effective aesthetic surgeries, Dr. Martin is an expert in a number of coveted enhancements. Embarrassed by unsightly sagging skin? Infini provides the latest in radiofrequency microneedling treatment, offering dramatic results without costly downtime. Similarly, Sculpsure offers the latest laser platform technology to reduce unsettling pockets of stubborn fat tissue. And, ever important in our singularly sunny city, Dr. Martin is an expert in all manner of skin conditioning lasers to guarantee that you look every bit as fantastic as you feel.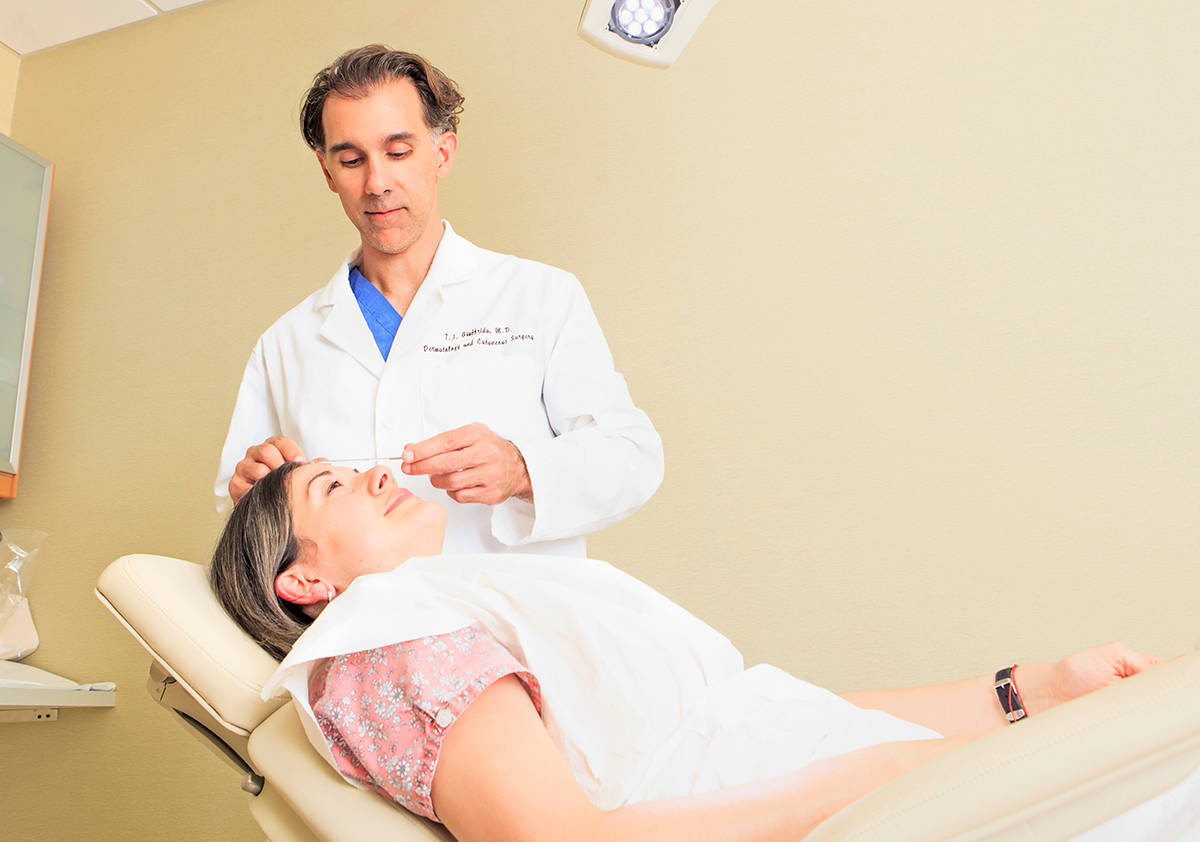 TJ Giuffrida, MD
Dermatology & Skin Cancer Center
3275 Ponce De Leon Blvd., Coral Gables
305.461.2000; MiamiDermCenter.com
A potentially deadly class of diseases striking 1 in 5 Americans, people often underestimate the devastating role skin cancer can play in people's lives, especially in Florida's sun-soaked climes. Fighting on the frontlines against this devastating disease is Dr. T.J. Giuffrida of the Dermatology & Skin Cancer Center, a lifelong Floridian intent that no one should needlessly suffer from such a malady. Amassing training from all across the country, Dr. Giuffrida is pleased to note that the South Florida community seems particularly focused on his area of expertise. "I love the fact that South Floridians care so much about their skin," he says. "They want to take care of their health, and this includes having skin that both feels and looks healthy. No matter where I am in Miami, people are always asking me for skincare advice or for my opinion on different spots they're worried about. It's great to be able to share my knowledge and help them." His advice to those wary of the sun's effects on that most important of organs? "The same thing people have been saying for years: daily sunscreen, wide-brimmed hats and clothing that protects the skin are year-round essentials."
"There's nothing more satisfying than telling a patient I've cured them of their skin cancer."
SIGNATURE TOUCH
One of the few Fellowship-trained Mohs surgeons in Miami, Dr. Giuffrida particularly specializes in this meticulous technique. The most effective and advanced treatment for skin cancer today, the Mohs treatment boasts a 99% cure rate while allowing the doctor to act as surgeon, pathologist and reconstructive specialist to remove the cancer in stages while minimizing the amount of healthy tissue loss and scarring.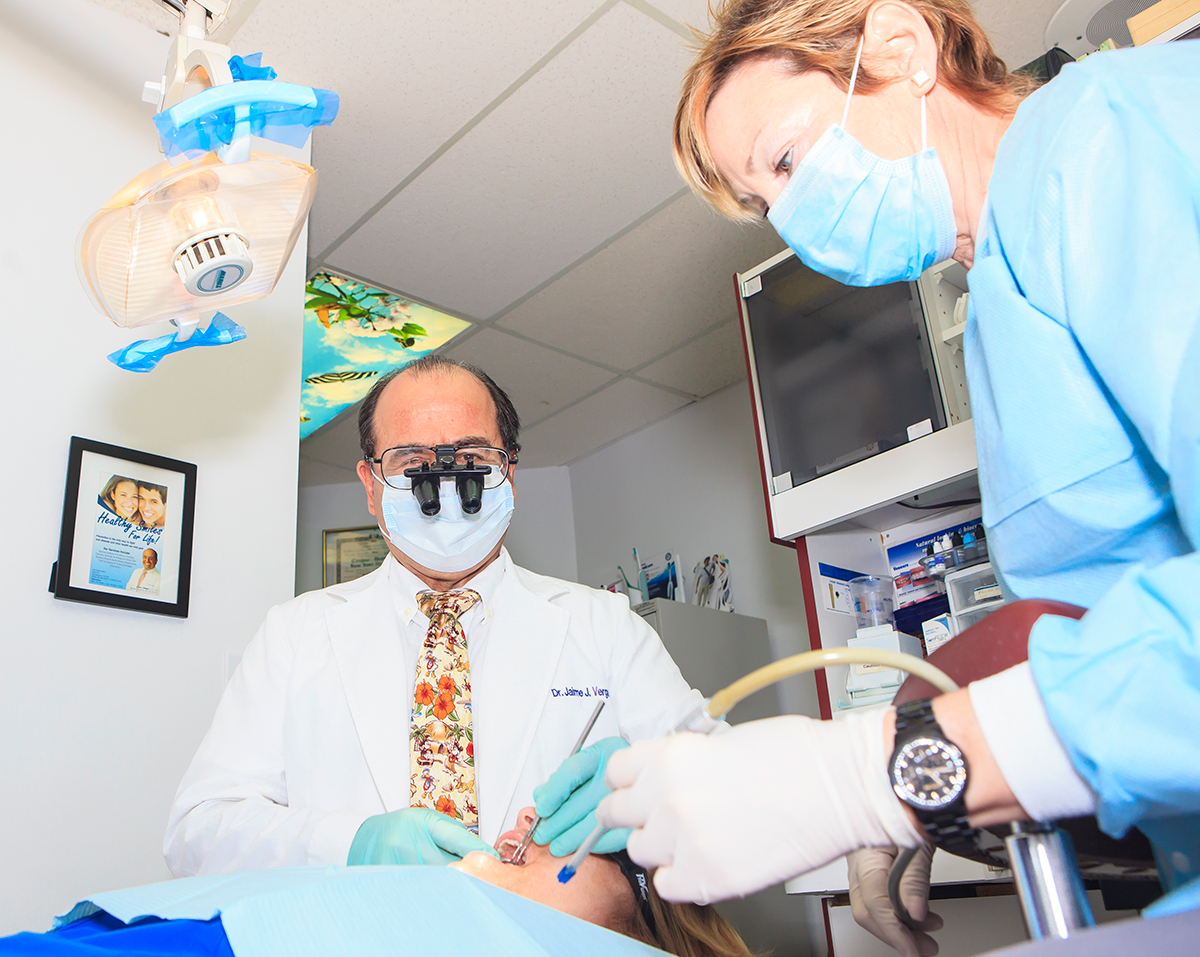 Dr. Jaime J. Vergara, DDS
Key Biscayne Family Dentistry
328 Crandon Blvd., Ste. 220, Key Biscayne
305.361.8002
A 3rd generation dentist arriving in Miami from his native Peru in 1987, Dr. Jaime Vergara and his venerable Key Biscayne Family Dentistry practice have been a big get for South Florida smiles, and an invaluable addition to the community. A talented professional who takes pride in his work, Dr. Vergara loves servicing denizens of our paradise by the sea. "I enjoy working in Miami because people here seem to take more pride in their appearance," he says. "They are concerned about their teeth, and dream about the perfect smile. I'm glad I can help people make those dreams come true." Aware that providing the best service to his clients requires an in-depth knowledge of new and emergent technology and techniques, Dr. Vergara sees a number of notable medical advances making a big difference in his vocation. "I'm very excited about the growth of stem cell technologies," he says. "This treatment could soon help and build up new tissues and vital structures like bone, periodontal ligaments and dental pulp."
"My profession is my passion. It's my hobby. That's why I love and enjoy everything I do!"
SIGNATURE TOUCH
A dedicated designer of the glowing face we show the world, Dr. Vergara specializes in smile design, a multi-tiered technique provided at a premium level of service that's great for both direct or indirect restorations. Additionally, he specializes in ART, or Additive-Reductive Templates, a minimally invasive blueprint for predictable aesthetic cases and thin veneers via Lumineers.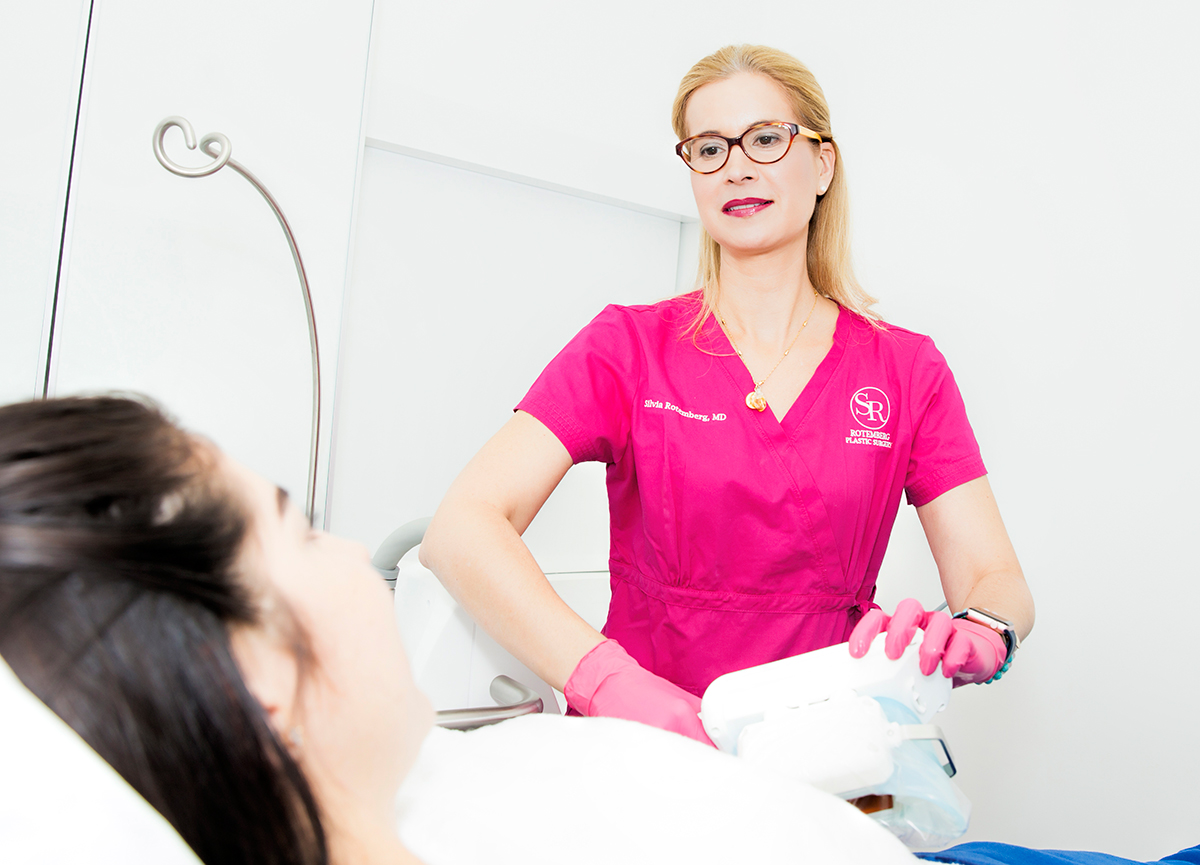 Silvia C. Rotemberg, MD
Rotemberg Plastic Surgery, PLLC
7500 SW 87th Ave., Ste. 201, South Miami
305.274.5170
RotembergMD.comA native of Brazil, Dr. Silvia Rotemberg's meteoric rise from simple Paulista to rising star in the Miami aesthetic enhancement industry came with a few challenges, not the least of which included a rigorous training program at celebrated plastic surgery paragon The Cleveland Institute. Now an established Miami plastic surgeon with legions of diehard fans, the most surprising thing Dr. Rotemberg has learned since arriving in our city is that when it comes to cosmetic surgery in The Magic City, what's good for the goose is good for the gander. "The top trend I've seen emerge in the industry is the rise in male cosmetic procedures, especially Kybella treatments that reduce the double chin," she says. "I love Miami because it's a city that's so beauty-centric and cosmetically focused." Discontent to simply succeed on the professional level, Dr. Rotemberg's global outlook ensures it's not just Miami's elite who enjoy the benefits of her surgical expertise. "I'm very grateful to be able to help develop and participate in a breast reconstruction program in Iquique, Chile," she says. "I'm so glad I can help provide post-mastectomy reconstruction to women who wouldn't have had the opportunity before."
"Early in medical school, I participated in multiple mission trips throughout Brazil. That's when I realized that plastic surgery reconciled the components of art, science and outreach in one perfect package."
SIGNATURE TOUCH
From lifts to reduction, post-mastectomy reconstructions to implant replacement, you'd be hard-pressed to find a better surgeon than Dr. Rotemberg when it comes to this singularly important area of the female anatomy. Also, aware that recovery time is such an essential element in a cosmetic procedures consideration, Dr. Rotemberg has recently expanded into a number of notable non-invasive treatments, including Microneedling and BioTE Hormone Therapy.