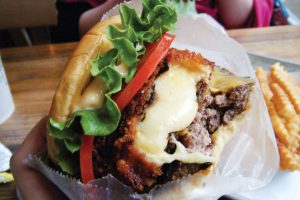 Flavor Shack
Danny Meyer's no hormones, no antibiotics, 100% all-natural angus beef concept found at Shake Shack opened on Lenox Ave. in June 2011. Burger beasts looking for a bite of perfection ought to order a Shack Stack, the union of the famous Shack Burger and a Shroom Burger — a crisp-fried portobello mushroom patty filled with muenster and cheddar cheese; ShakeShack.com.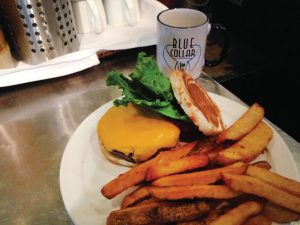 Working Class
If you want a world-class cheeseburger, head over to Blue Collar and order Danny Serfer's aptly named "Real Juicy Cheeseburger." Patriotic and foreign at once, it features prime dry-aged NY strip on a Portuguese muffin topped only with American cheese. Lettuce, tomato and onion are optional…but juicy is mandatory; BlueCollarMiami.com.
Fun Buns
Jamie De Rosa likes to play with his food…and with his burgers. Tongue & Cheek's burger starts off with a house-made brioche bun and sandwiches a beef cheek patty and sweet onions in between. The real kicker is a cheddar pimento cheese spread that's as much fun as it is palatable; TAndCMiami.com.
Burger Royalty
Miami has always been one of my favorite cities to visit. It's vibrant, has great architecture, and I love the music, the art, the people and the amazing food. Burgers, fries, and shakes are a part of the American landscape, and it's definitely one of my favorite meals to have, so we chose to bring the 17th outpost of Bobby's Burger Palace [BBP] to Dadeland in part because of our great relationship with Simon Malls, but also because people come to this mall to shop and have a good time. BBP offers customers the ideal spot to take a break from shopping, where they can relax while enjoying a great burger. Our menu is inspired by the bold regional flavors across the country which I've experienced in my travels: Dallas, Buffalo, Los Angeles, Philadelphia, and, of course, Miami. The Miami Burger stands out because it's the only pressed burger on the menu. It's inspired by the Cuban Sandwich, which I'm personally a huge fan of. We also take our fries and shakes just as serious as we do our burgers. Our fries go through a 2-day process where they are hand-cut and soaked overnight. My go-to shake, and one of the best-kept secrets on the menu, is The Pistachio.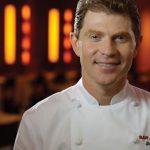 ABOUT THE AUTHOR
› Bobby Flay is a critically-acclaimed Chef, Restaurateur, Award-Winning Cookbook Author & Television Personality. He opened up his first restaurant, Mesa, in NYC circa 1991 and earned a "Best Restaurant Award" from New York Magazine just a year later. Bobby's Burger Palace Dadeland location marks the brands 17th outpost. Photo by Ben Fink